Clean Instagram theme, with white and contrasting colors, and a great eye for photography. Mickey is a visual content creator and photography lover helping small businesses stand out on social media. Continue reading as she reveals her Behind the Feed: favorite filters, theme, photography and business tips & tricks.

Hi Mickey! I'm so happy you're here! Before we start, can you please introduce yourself and tell everyone what you do?
Hey guys! Thank you so much for having me!
My name is Mickey, a young professional who is extremely enthusiastic about the Internet and have been helping creatives tell their visual stories.
As a visual content creator, what does your day typically look like?
Fortunately, my days are never average. Every day is different and varies wildly. Although, I do have a typical morning.
I am admittedly not a morning person, so I love putting on music that instantly puts me in a good mood to start the morning off right. And of course an early morning pot of coffee is one of those must have things before truly starting the day!
As the coffee works its magic on my body, and the music helping my mind prepare for the day ahead, I scroll through the Internet, seeking inspiration.
I usually end up working from 10am and shut off after 6pm. Weeknights are all about evening runs, cooking, couch time and Netflix.
When you start creating Instagram visuals for a brand (or even your own Instagram), where do you find inspiration? What does your creative process look like?
Instagram is one of my favorite places when seeking inspiration for visuals. With such a huge variety of techniques, styles and ideas, I'm always bound to find something that will spark my creativity.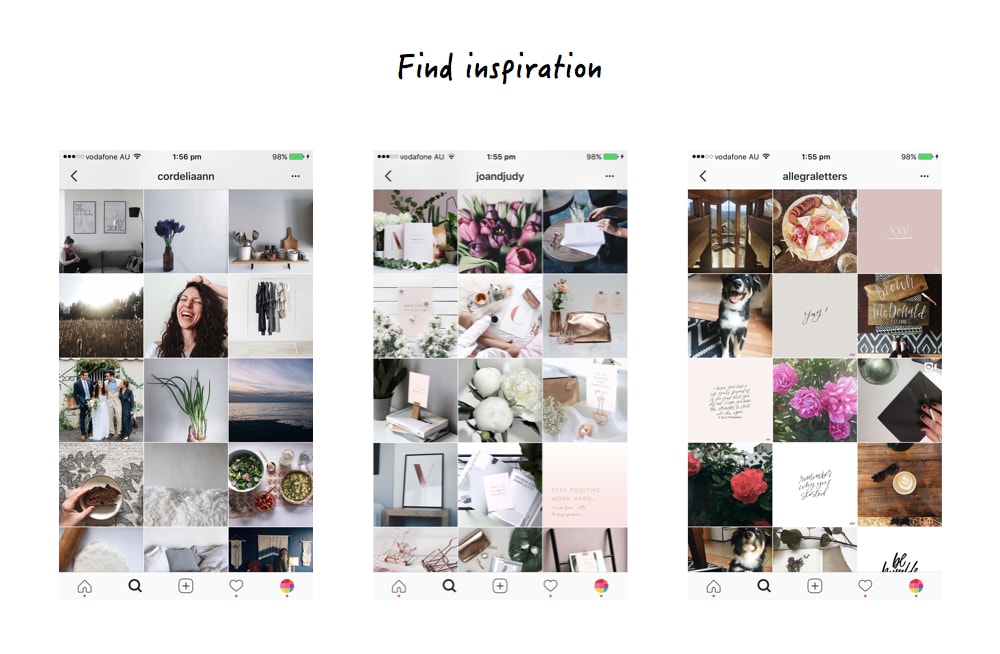 Let's talk about your feed. If you could use only one word to describe it, what would it be?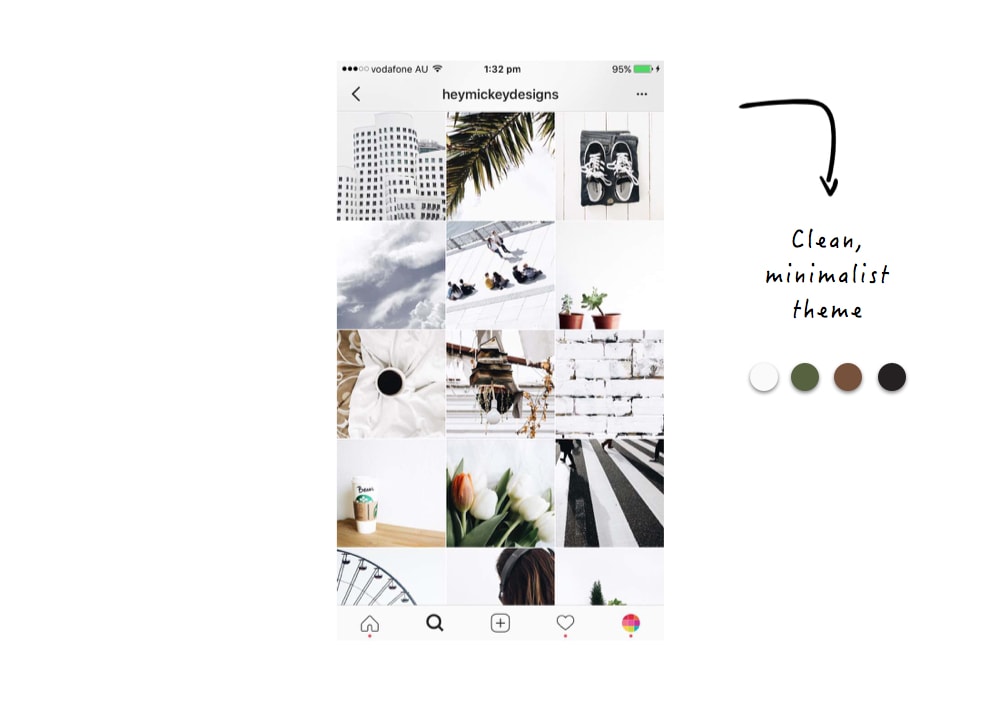 What are your Top 3 tricks to make your clean Instagram theme flow?
Look at your Instagram feed as a whole rather than lots of separate images – To help, use an app to plan out your feed where you can import your images and play around with the order until you find that visual feel of your feed.
Don't just post any image. Be picky. – If you're not 100% loving the lighting, the positioning of your subject or the overall composition of the image, move onto a another image or another day. It always comes down to quality over quantity.
Pick a filter or color scheme – It's those stunningly cohesive and professional feeds that just scream "FOLLOW ME". To find your look just simply ask yourself, "How do I want people to feel when they visit my account?" and "If my Instagram had a personality, what are the 3 best words to describe it?"
Photography & design are a big part of what you do. Can you share your top 3 photography tips?
Lighting is everything – The best light is the kind coming through your window. Move around to find the best spot, even if the best light is in your bathroom!
Include negative space – Emphasize the subject by incorporating negative space in your photos. This helps to keep the photo clean and easy on the eye.
Take A LOT of photos – Getting that one amazing picture doesn't take just one shot. Play around with angles, lighting, different poses, zooming in and out or even standing on chairs, have fun with it! 🙂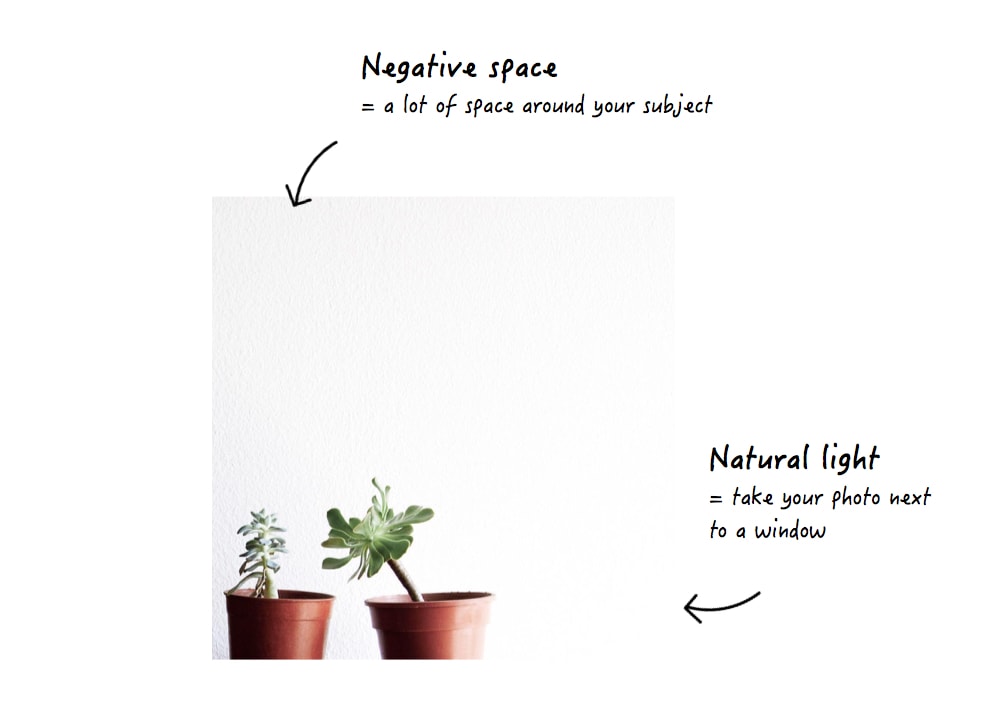 What would you recommend to a small business starting an Instagram feed right now?
To remember that Instagram is a visual medium and the quality of your photos play a huge role in developing your brand's appearance. I strongly stand by "a picture is worth a thousand words" and recommend using that power to its full.
How is Preview app helping you? And what would you say to someone who isn't using it yet?
There's no better feeling than being able to see all my work and preparation set out in front of me. The ability to preview what my scheduled posts will look like and see if they belong to one another has been a huge help thanks to you guys!
If you're looking for a personal Instagram assistant, look no further than Preview App!
Fave filter(s)?
The White (D) Filter Pack! Especially D1.
I use a lot of contrasting colors and this one is perfect for that clean white look!
Thank you for sharing all your tips & tricks, Mickey! The White Filter Packs are also one of my top favorites.
You can find and contact Mickey on Instagram at @HeyMickeyDesigns.
If you have a clean Instagram theme too, leave your Instagram handle below so we can all visit your account.
Until next time, see you all on Instagram (@preview.app) for more tips & tricks.
+300,000 Instagrammers are already using Preview App to edit, plan & schedule their feed. If you haven't tried it, you're missing out.