Are you struggling to stick to an Instagram theme? There are 3 ways you can plan for your Instagram theme.
1. Find your visual voice
The first step in making sure you will keep a consistent theme is to find your visual voice.
Look at some inspiration on Instagram.
For example, if you are a food blogger:
What color combination does the Instagram food community use?
Do they use moody filters, bright filters or colorful filters?
Do they shoot on white background or dark background?
Close-ups or flat-lays?
Do the Instagrammers show themselves, their faces/hands or just the food?
And finding inspiration goes beyond the pretty picture. Because the goal of having a beautiful feed is to create a community who appreciates your work, will engage with you and will stick around.
So look at the captions too:
Do they share recipes?
What type of content gets the most engagement?
All in all:
Find the Instagram style that you like the most.
Make it work for yourself and make it your own.
Find what best represents you, your lifestyle, your brand – because you will be sticking around with it for a while so you better enjoy the process.
Now that you have chosen your visual voice, you have to edit your photos to match that voice.
It is easier than you think.
Preview comes with an in-built Photo Editor and collections of filters to create many different themes (white, brown, moody, grunge and more).
If we go back to the food gallery example, here are different themes in Preview you can use:
Example 1: A 'moody' theme

I used B3 in the "Essentials" filter pack.
Also have a look at the unique collection of pre-made filters called  "Moody".
Example 2: A bright, colorful theme


I used B2 in the "Essentials" filters pack.
You can also have a look at the "White" filter pack.
Then you can always refine your photo using the Photo Editor tool:
Exposure: If you want an overall brighter look, adjust exposure (not the brightness) first so that your highlights look about right.
Brightness: increase brightness for a white crisp look. Brightness is mostly to change your mid-tones.
Contrast: Will accentuate and make your colors pop
Saturation: Bring the colors out
Sharpen: For that crisp, clean finish. Use sparingly.
Whitening tool: If you're after a white look, then make sure there is no yellow tones in the background. Use the whitening tool to "clean" up the image.
There are two other unique ways to make your Instagram gallery stand out:
Use white frames / borders. The Photo Editor comes with a lot of different frames. So play around with them and see what fits.
Fade the photos: to give an overall soft, calm look to your feed after you applied your favorite filter.
3. Place your photos strategically next to each other

Move images around.
Here is what I consider when moving images:
How do the images look like next to each other?
Are the colors of the photos on the right and below coordinated?
Is there too much details all at once? Does it look messy?
The main geometrical shape of what is on the image. Let's go back to the food example. Too many "circles" (like plates) all at once can throw off my feed if my theme is not based on table-top views of plates. Therefore I would space them out to keep the feed balanced.
To move images around in Preview:
Drag & drop to re-arrange photos
Or select two photos and hit the "swap" icon (below).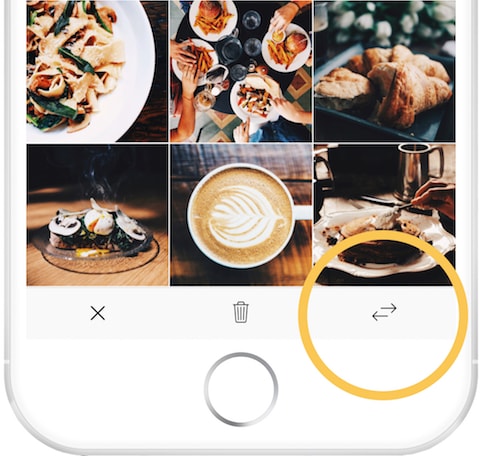 Another tip: If you want some photos to pop in your gallery, you might want to consider photos with negative space and close-ups.
I hope you found these tips useful. You can see how I used Preview to make different types of themes and how easy it is to stay consistent once you found your visual voice.
Please comment below if you have any other tips and if you have any questions.
+400,000 Instagrammers are already using Preview App to edit, plan & schedule their feed. If you haven't tried it, you're missing out.