Update:
The Spy feature in Preview app is coming back this week!
Click here to download Preview.
You can still use Preview to see all the other Instagram analytics and insights, plan your feed and edit your photos.
You can track unlimited accounts on Instagram using Preview app.
Preview app has a whole section dedicated to Instagram Analytics.
Part of the Instagram Analytics is the "Spy" feature.
You can spy on any Instagram accounts you want and see their activity, posts performance, best time to post, top hashtags (and more).
It's literally a window into the Instagram routine of anyone – your favorite Instagrammer, brand or competitor.
Learn from other Instagrammers.
Track Instagram Analytics of as many accounts as you want. And grow yours.
Let me show you how it works.
Step 1: Go in Preview App Instagram Analytics
What you see below is my scheduled feed in Preview app (if you're new download it here).
Tap the "Bar Charts" icon on the top of your screen to go to your Instagram Analytics section: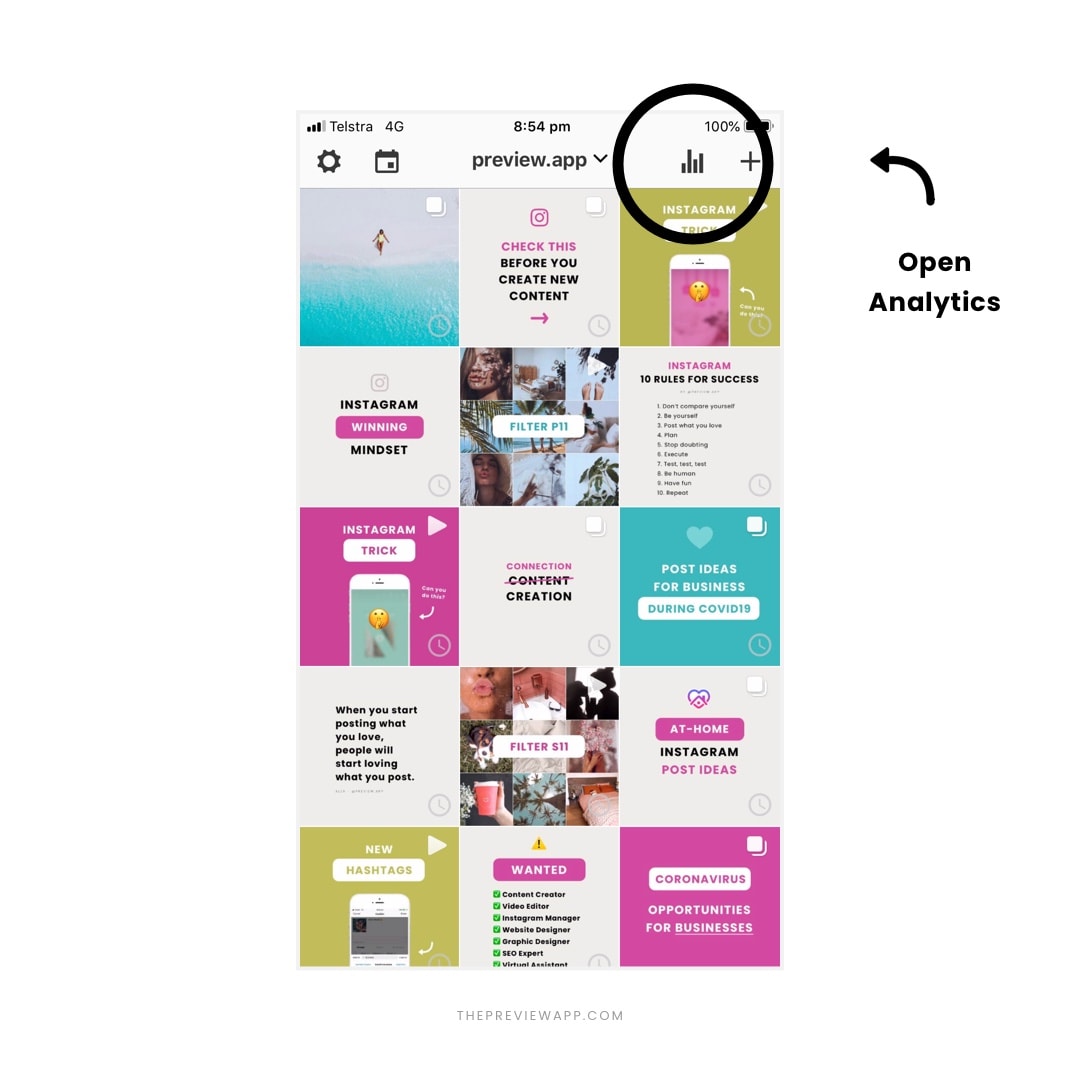 Step 2: Tap on the "Spy" icon
You now see your own Instagram analytics inside Preview.
You'll be able to see the exact same insights for any other Instagrammer you want.
Check this article to see all the Instagram analytics tools inside Preview app.
Let's track someone else's Instagram analytics.
Tap on the "Spy icon" located on the top left corner of your screen: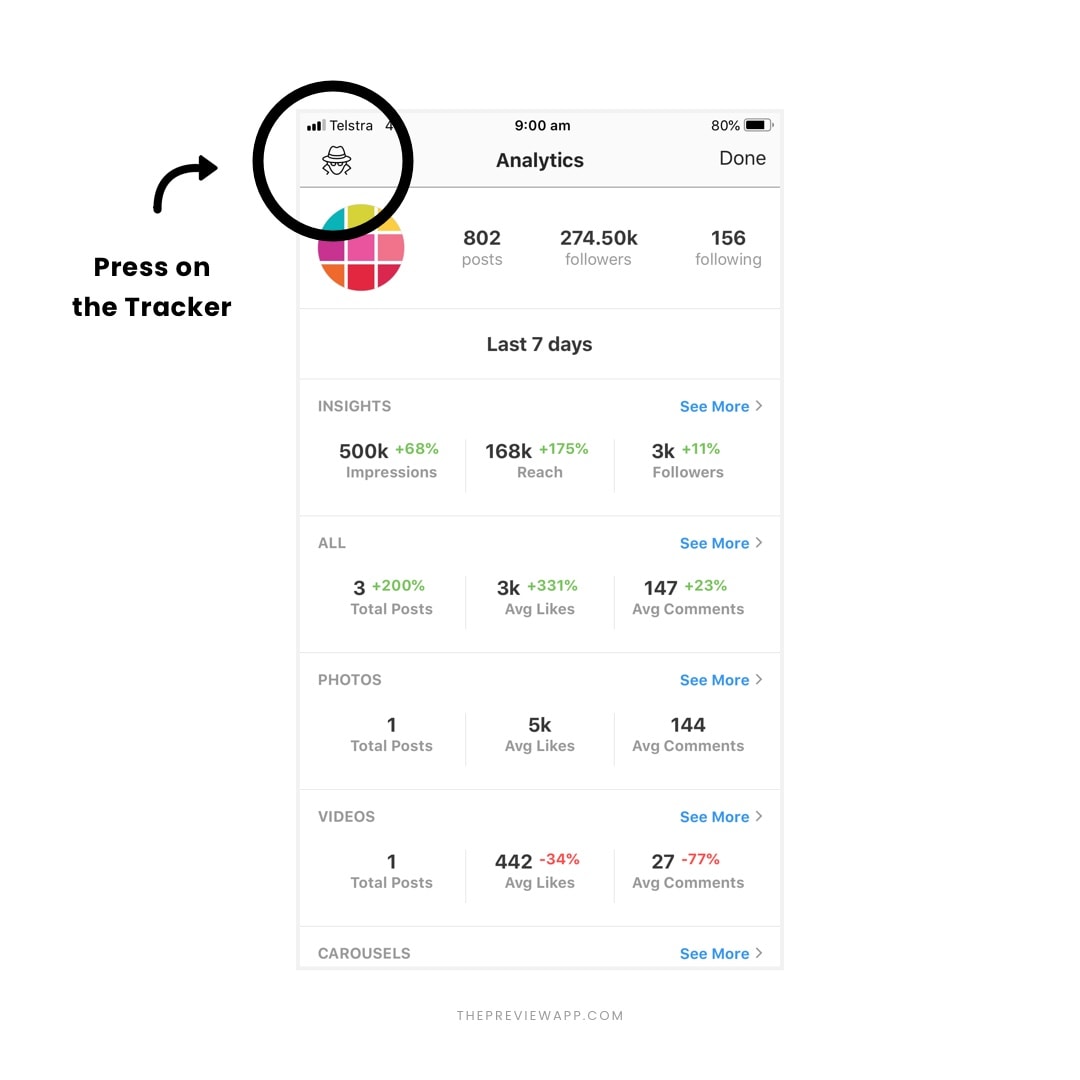 Step 3: Search any Instagrammer, brand or competitor
Type any Instagram username.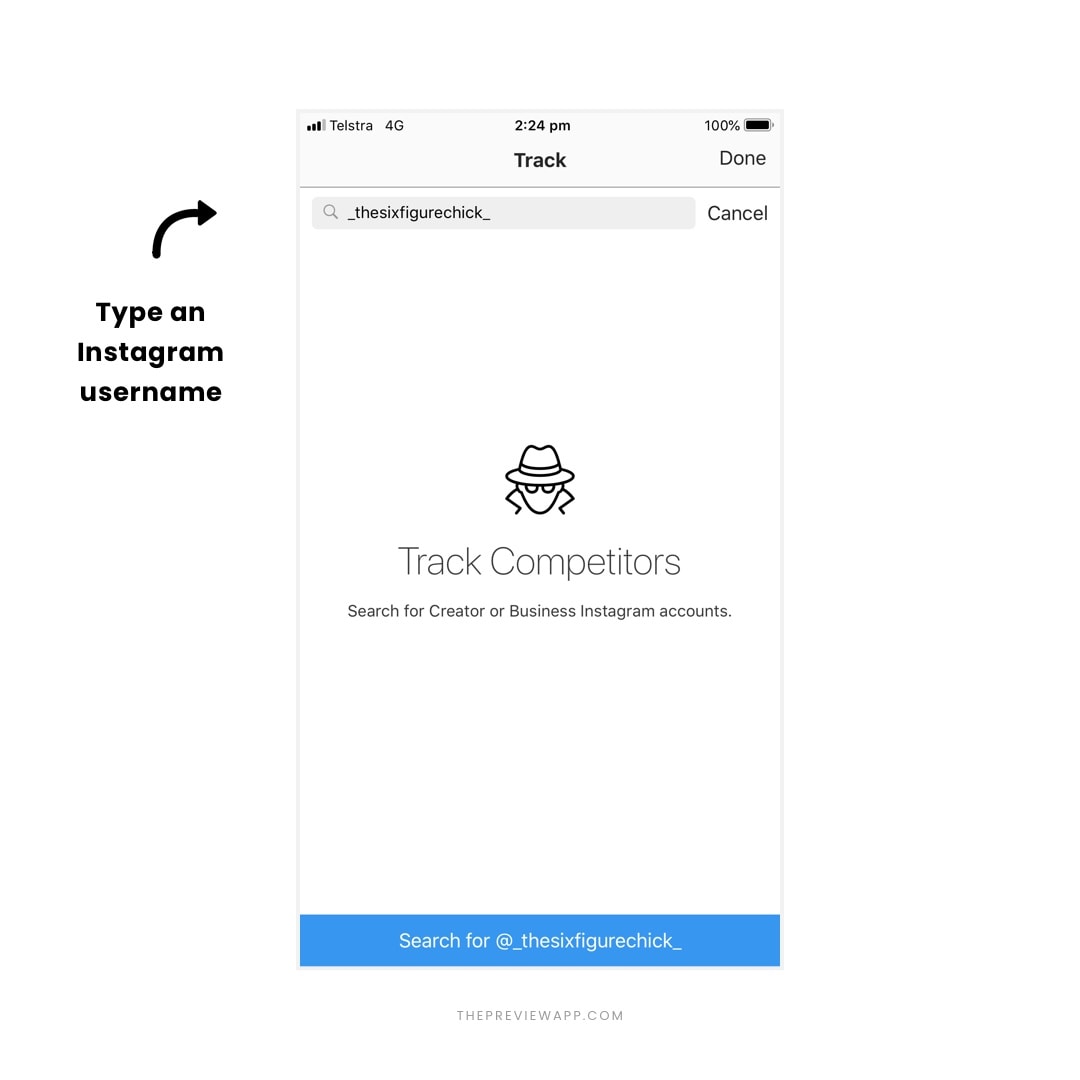 Step 4: See their Instagram Analytics
Done!
Now you can track their Instagram Analytics.
There are 5 main sections:
Photos & videos performance (daily, weekly, monthly)
Engagement rate & growth
Best time to post, best day to post & best time to interact
Hashtag Analytics: track their top hashtags
Hashtag Groups Analytics: track their top hashtag groups (if they use Preview's Hashtag Groups)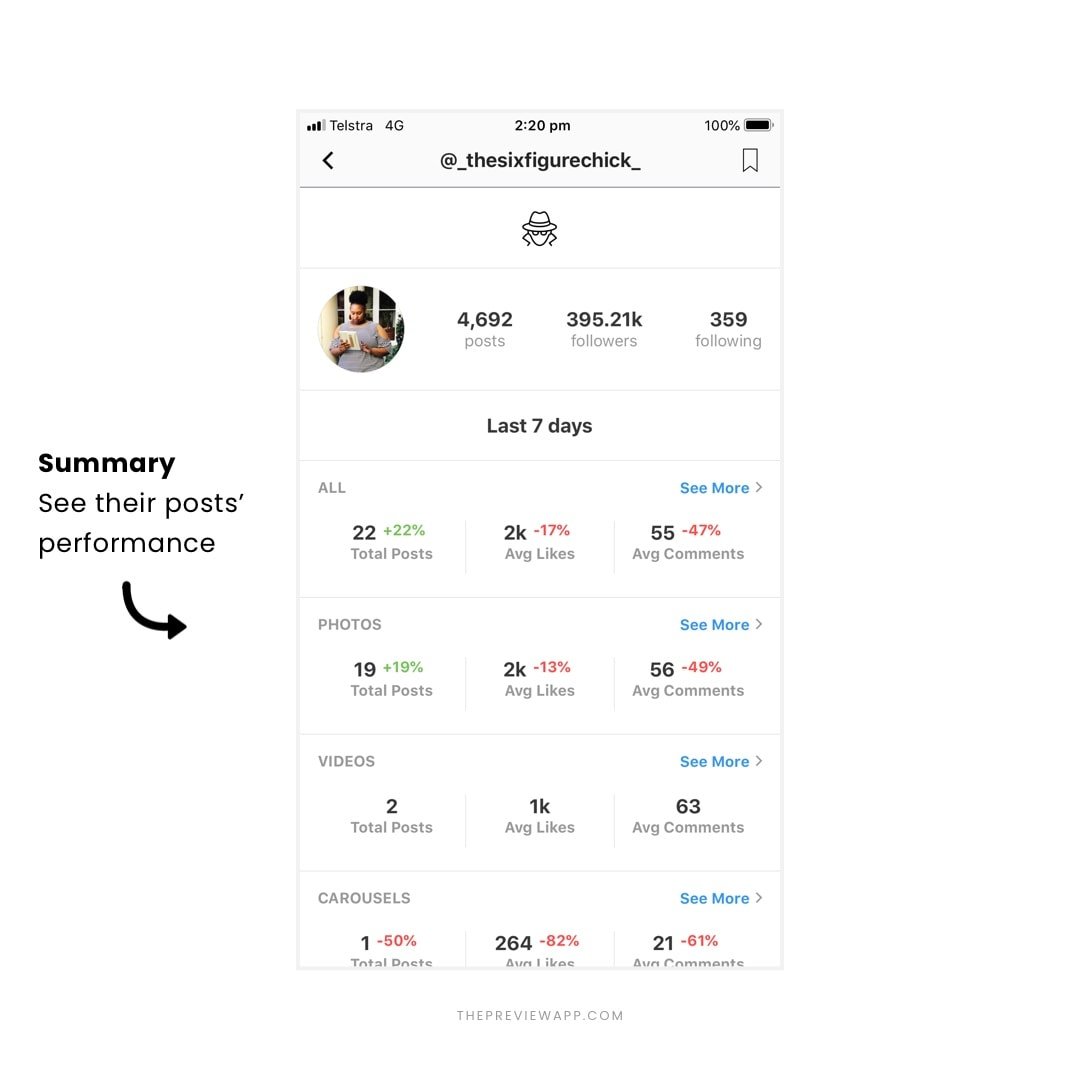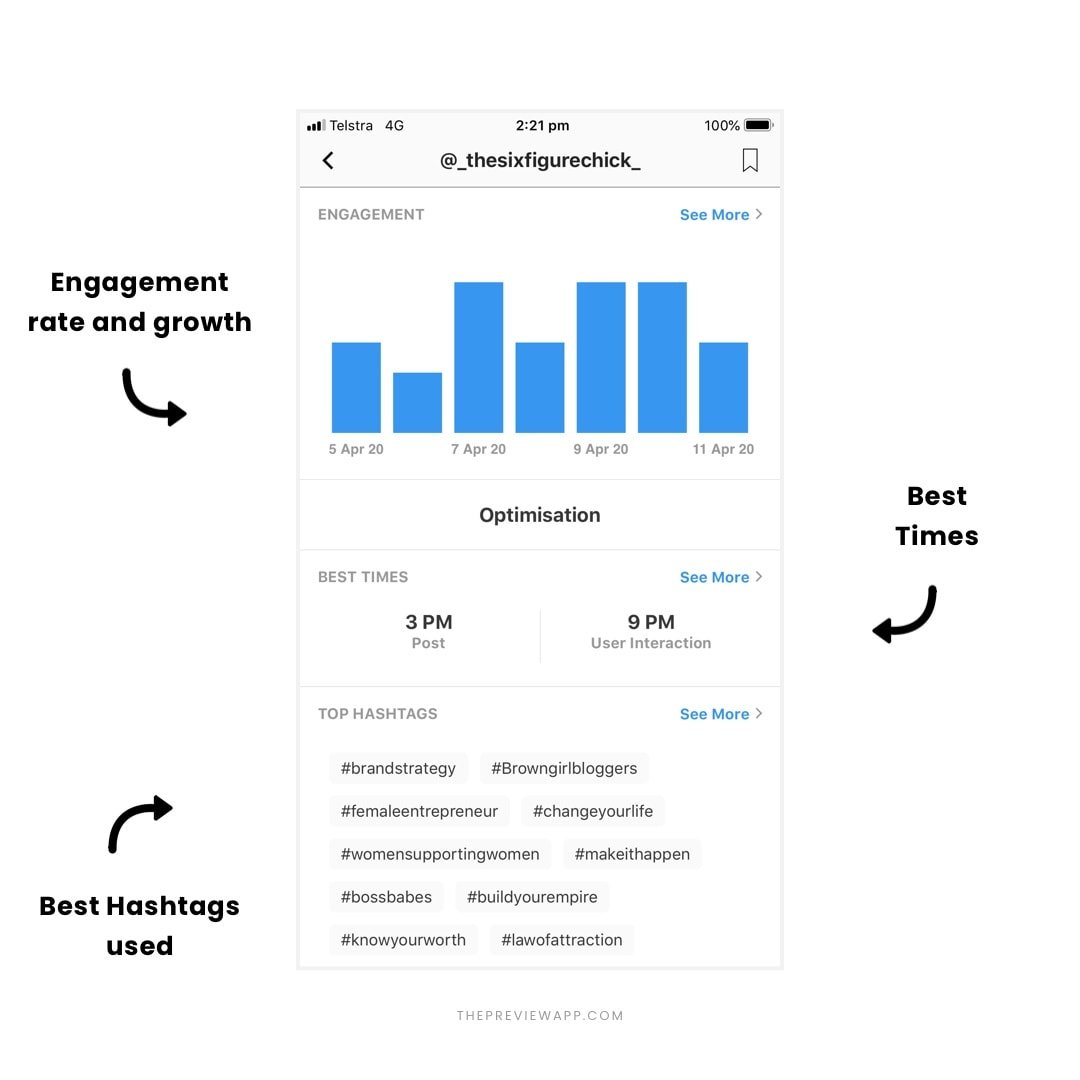 For each section, you can tap on "See More" to go into more details.
I've covered each section in details in my previous article.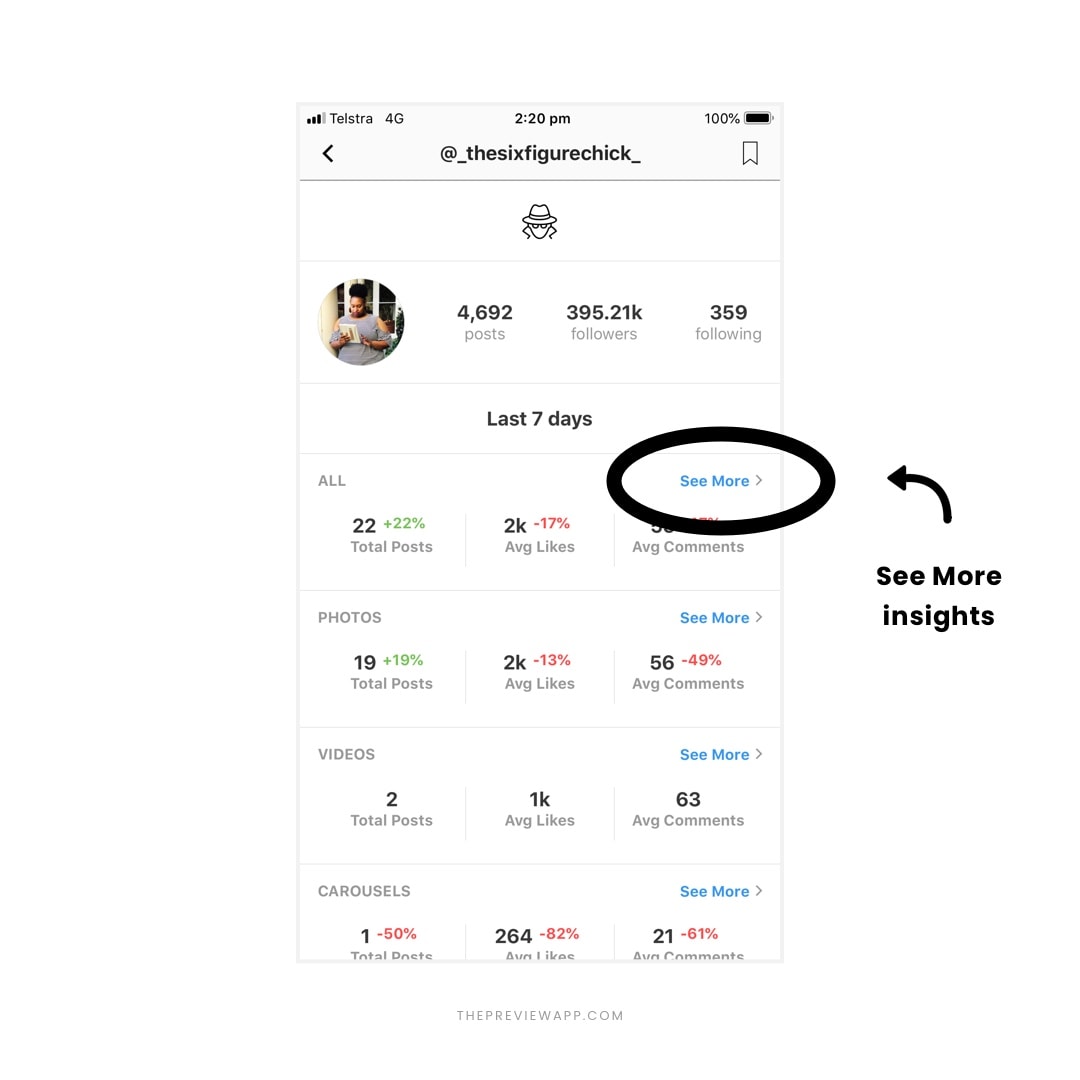 The graphs and hashtags are interactive. Press on one to reveal deeper analytics: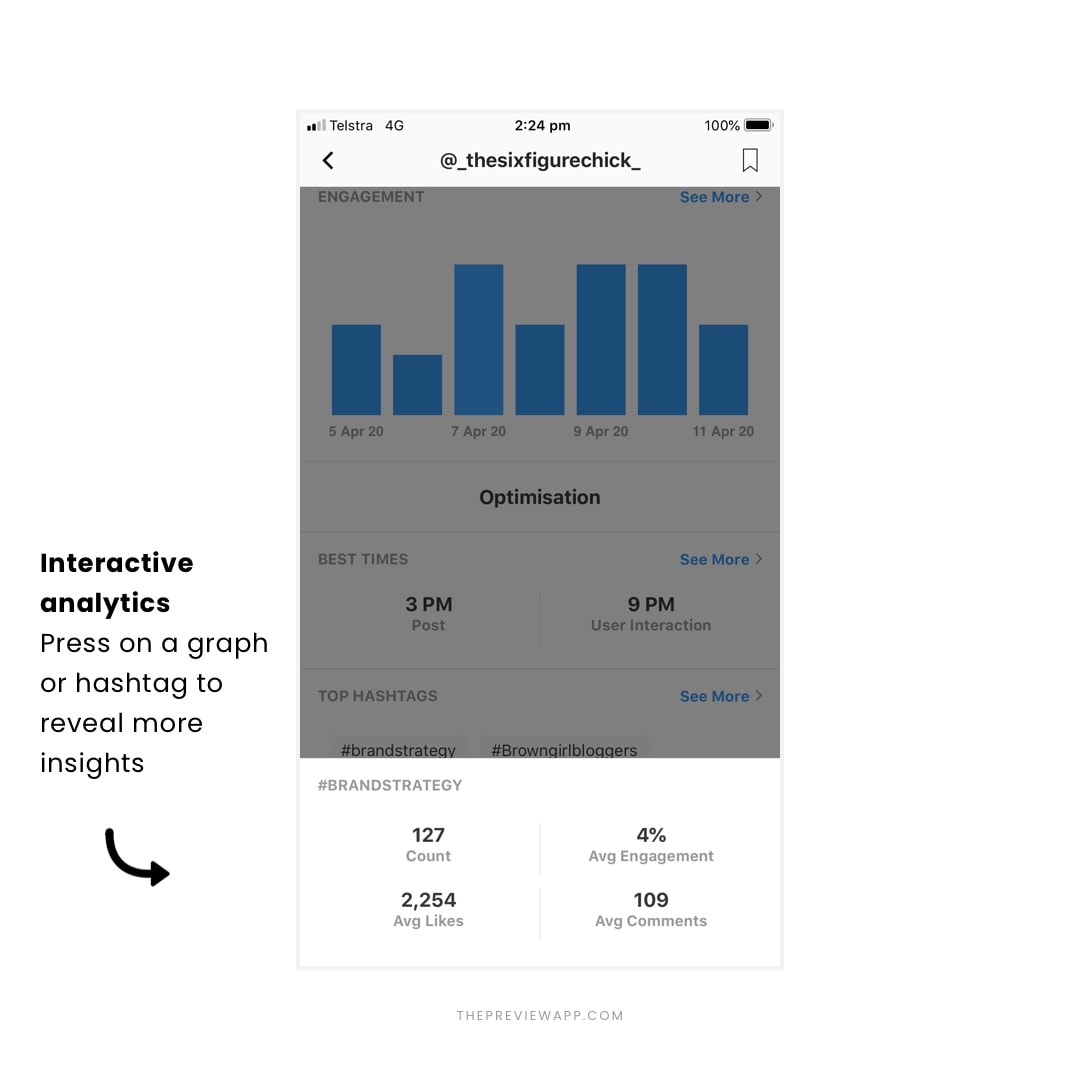 Dive in and see their content performance per day, week and month: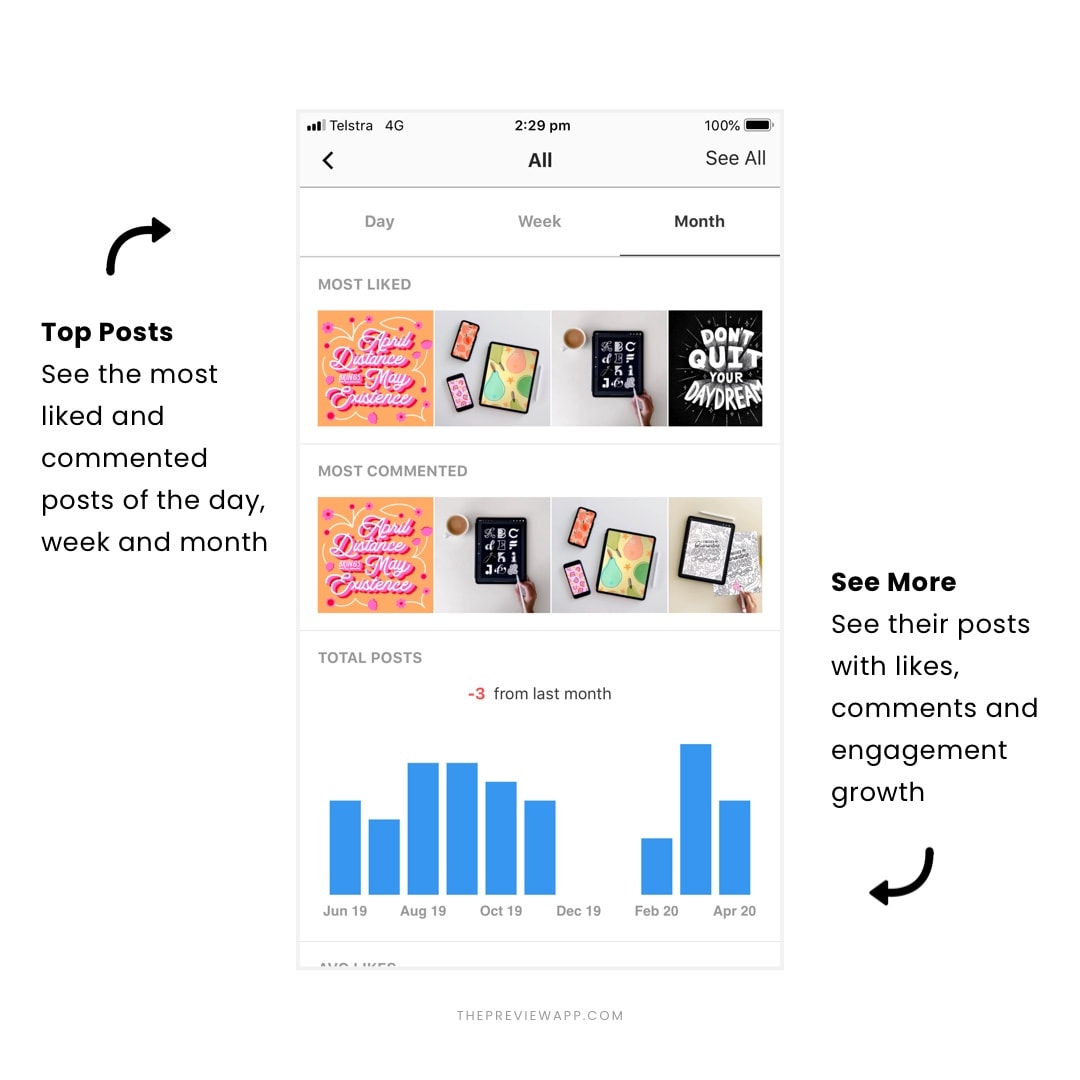 Analyze other people's analytics in depth and see what kind of post make them grow the most: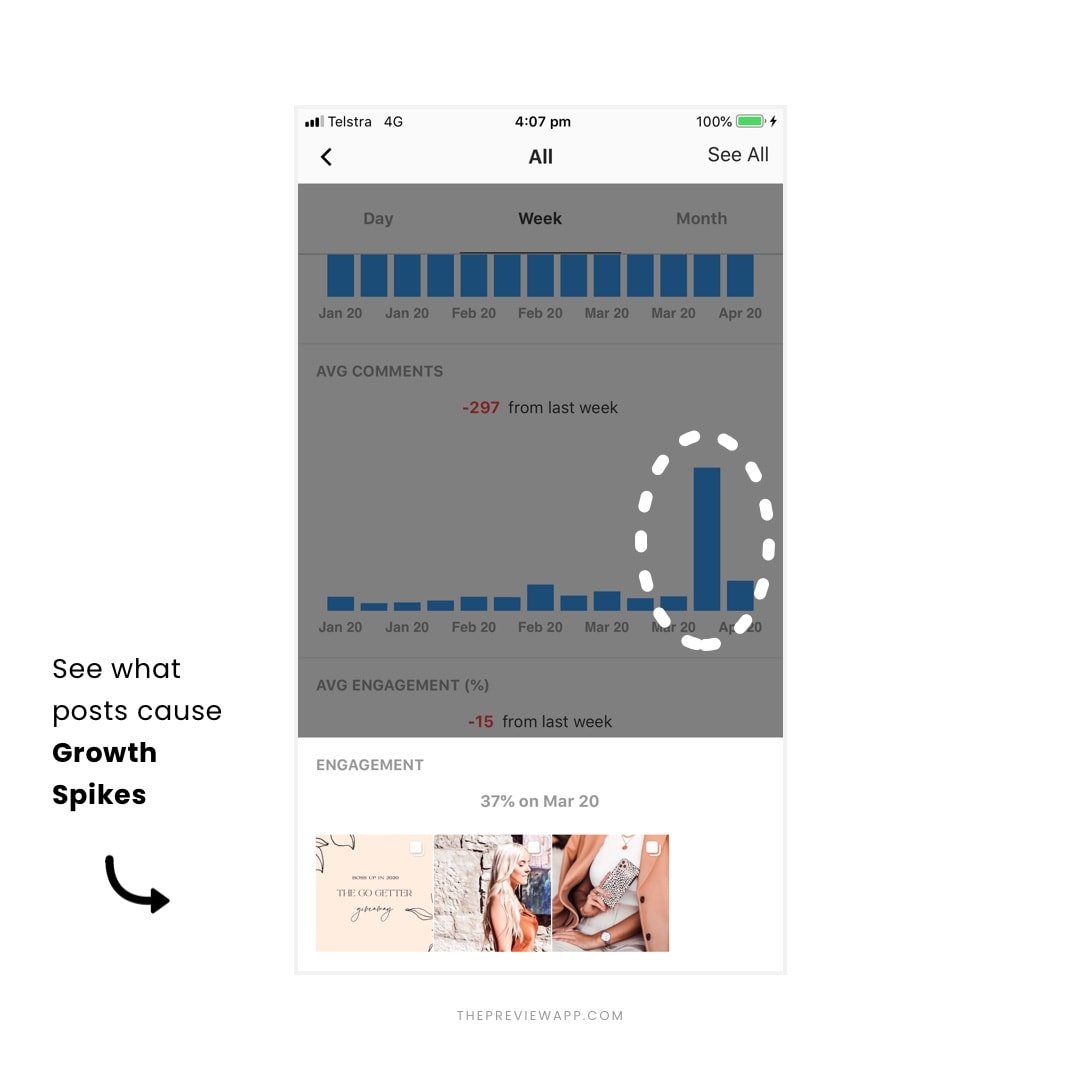 See their Instagram posts ranked by number of likes, comments and engagement. See exactly what works to grow their account: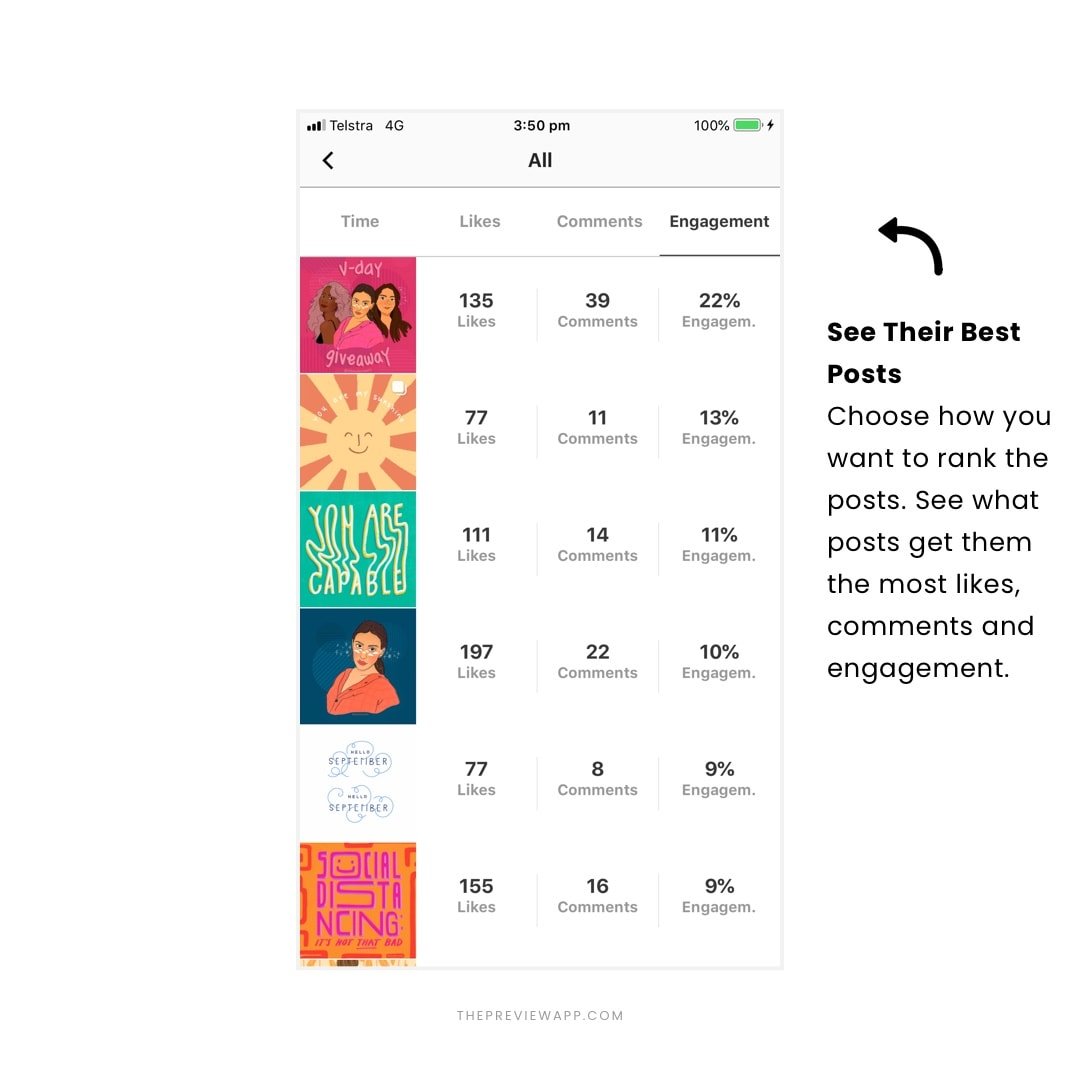 See their best time and day to post, and when their followers are the most active on their account: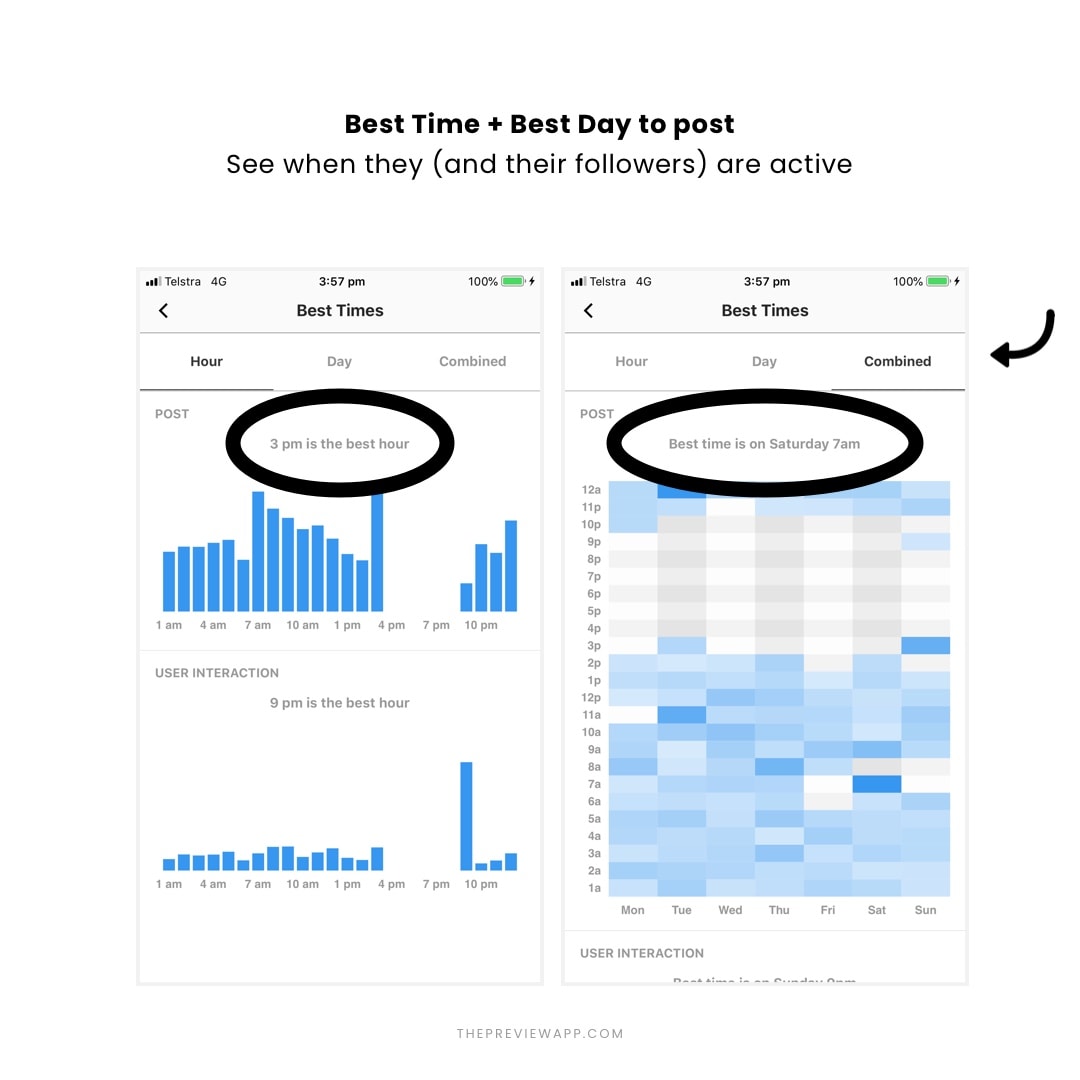 Keep track of their hashtags. See which ones are working well for them: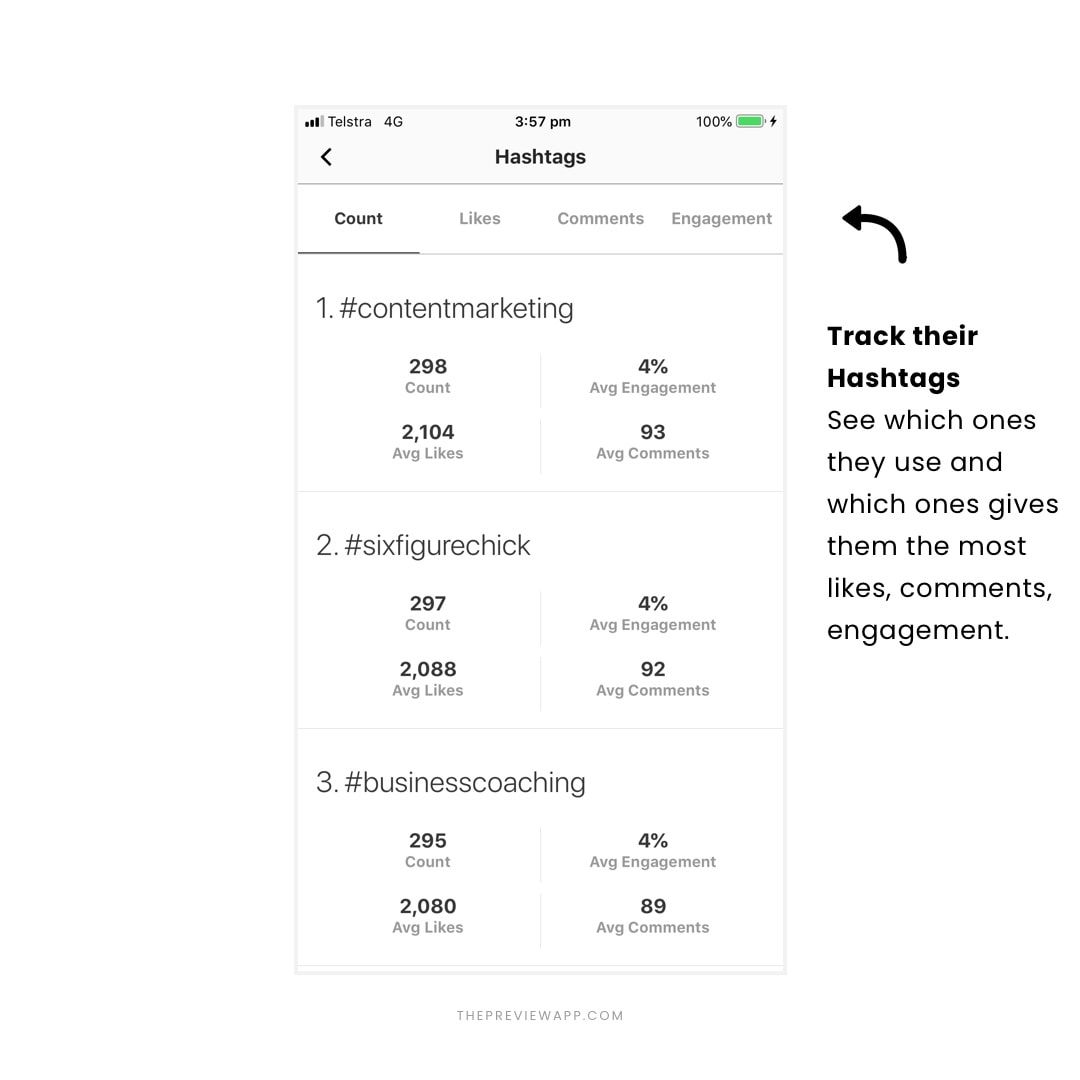 Step 5: Save the account to track their Instagram Analytics
Tap on the "Bookmark" icon located on the top left of your screen to save and track the account.
You can track as many accounts as you want.
There are no limits.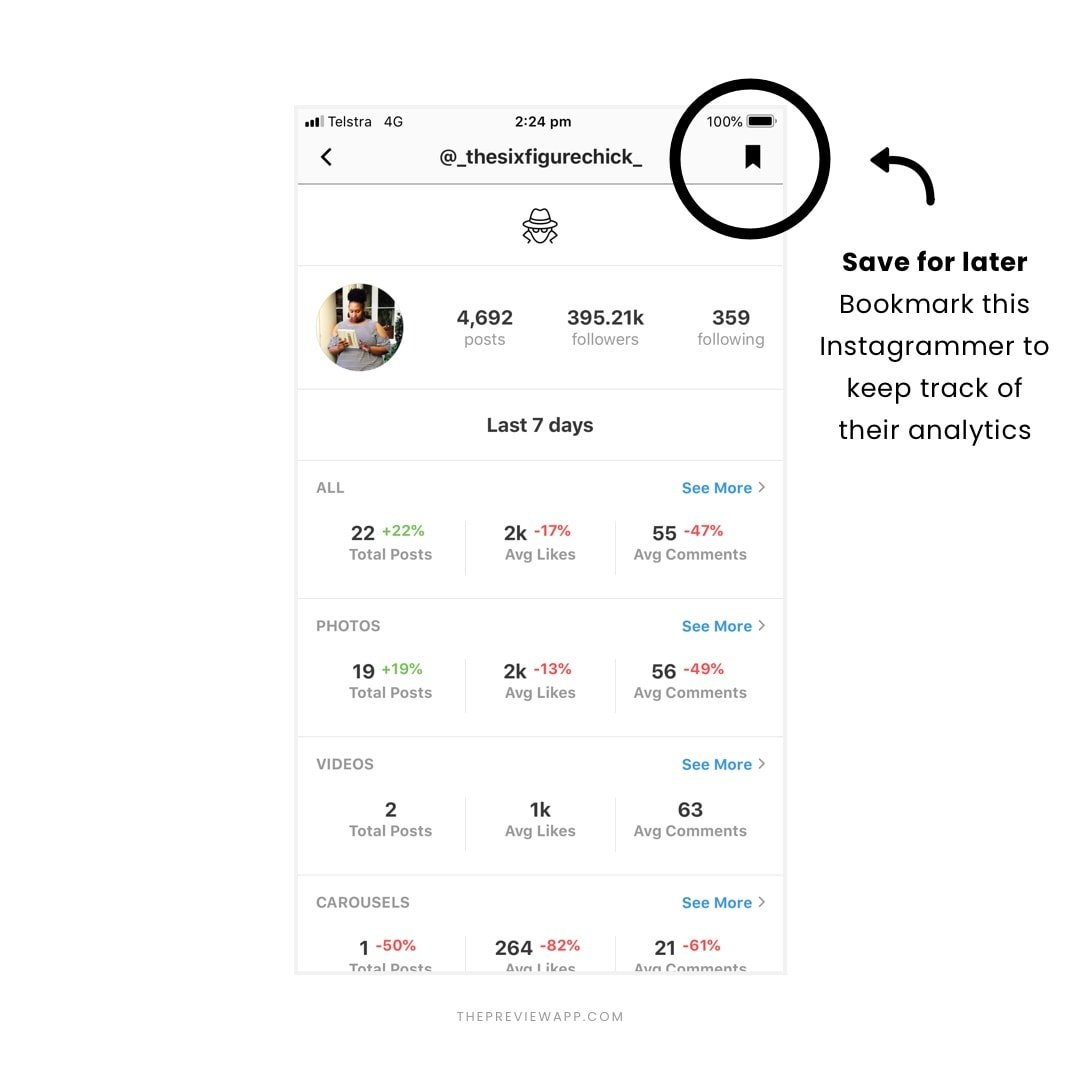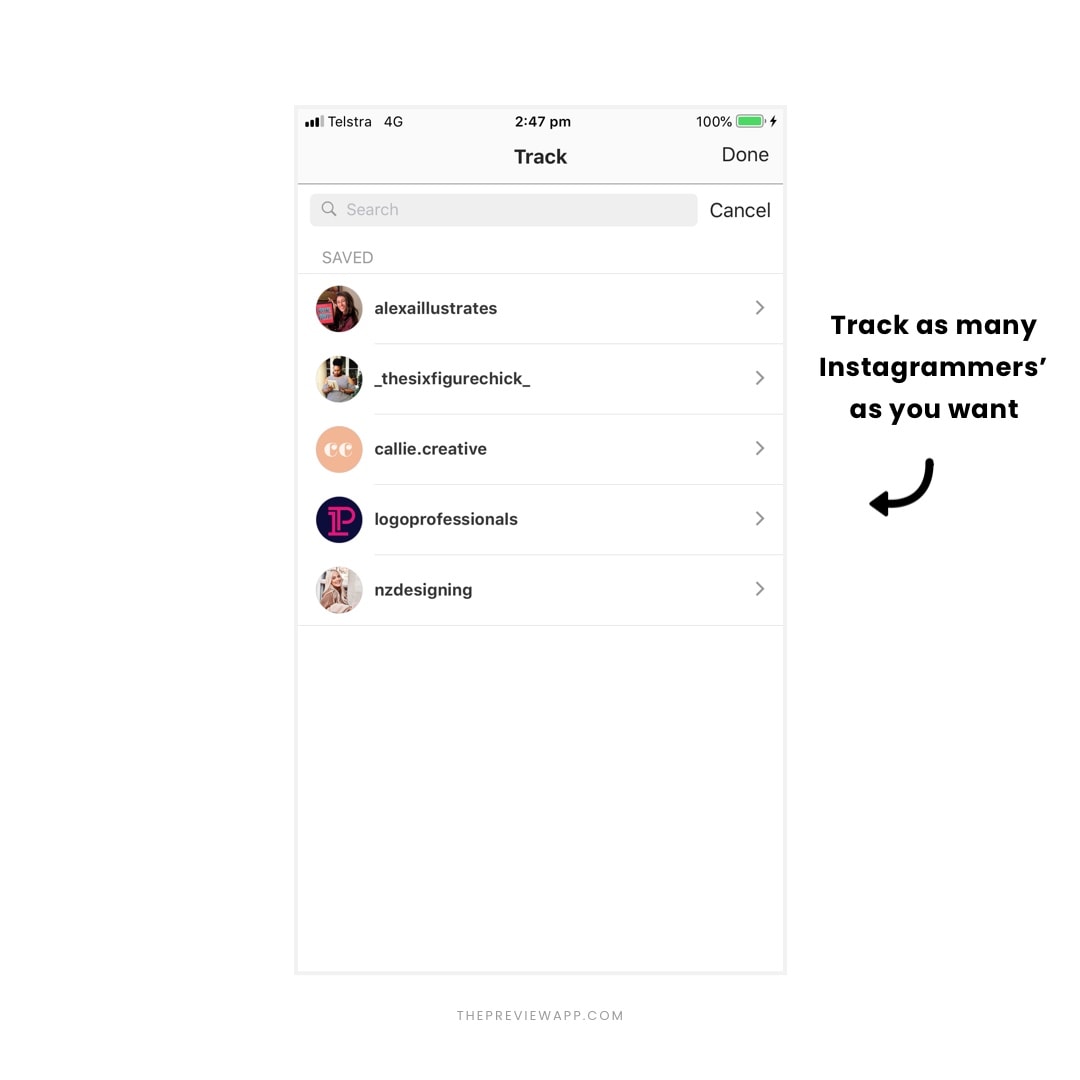 Your turn to learn from other successful Instagrammers! Use your Spy to see anyone's Instagram analytics.
Until next time, see you all on Instagram (@preview.app) for more tips & tricks.