Have you seen the new Instagram Story Sticker?
It's called "Add Yours".
Let's talk about:
What is the "Add Yours" Instagram Story Sticker?
It's a Sticker to start a "trend", "Challenge" or  "Thread".
You start the challenge.
Then your followers tap on the Sticker to add their response to the challenge.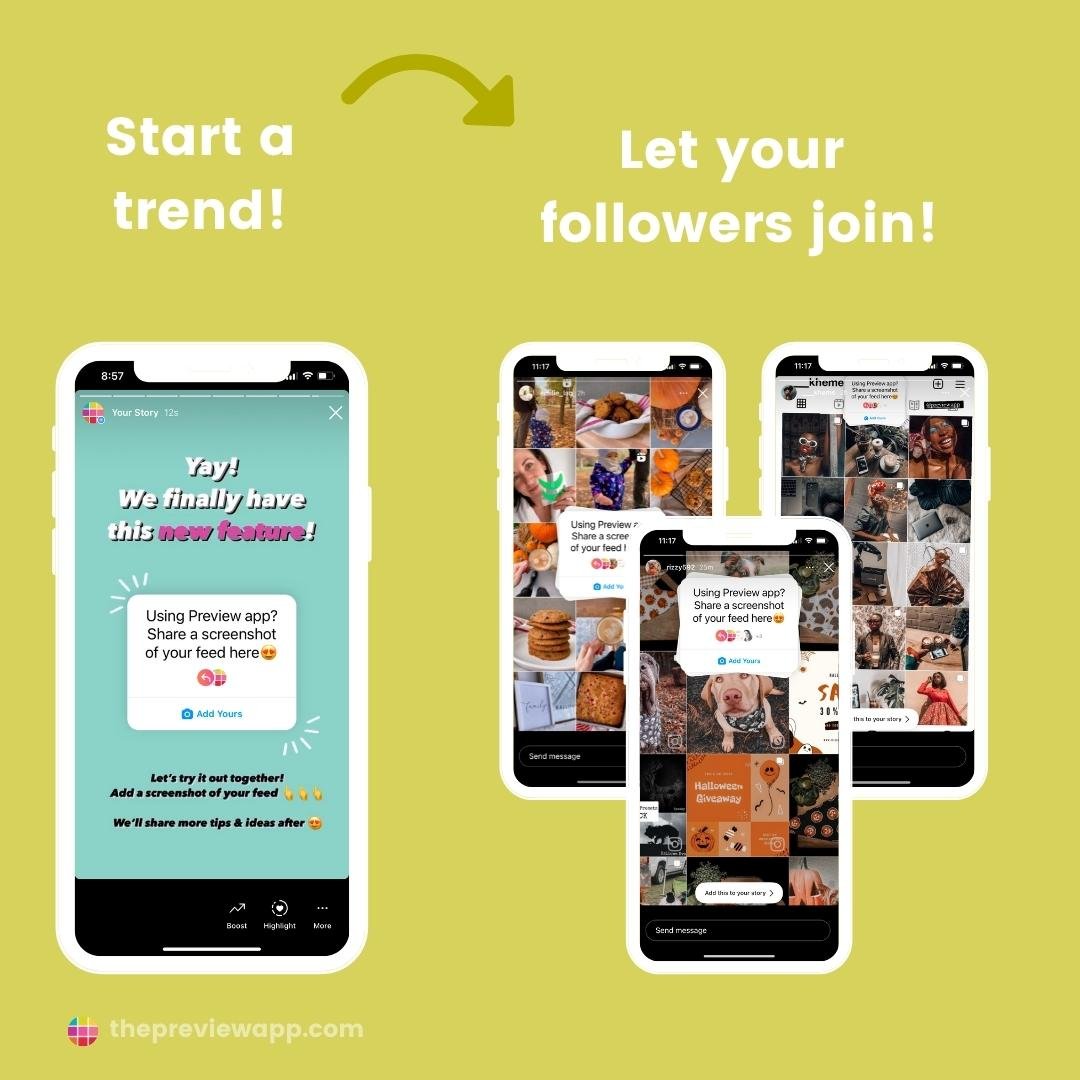 They can respond with a photo, a video, a screenshot or any other media from their camera roll.
The photo / video will appear in THEIR Stories, and you can see all the submitted Stories too!
Other people can also tap on the Sticker and see everyone's Insta Stories. How cool is this?!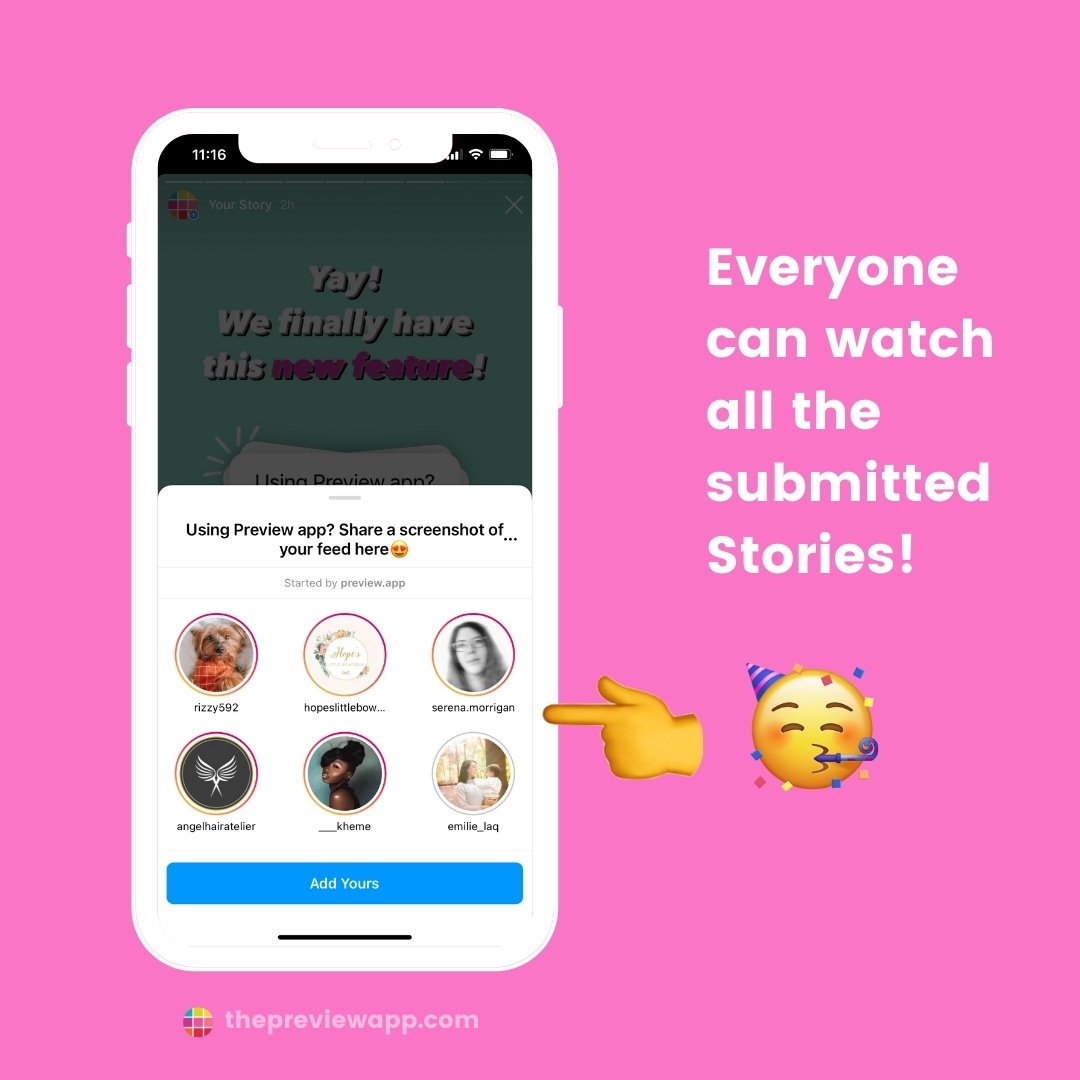 This is AMAZING to:
Have fun!
Bring your community together
Get your account seen by more people (because your followers' followers will see YOUR challenge sticker, and they might check you out and join too!)
More info and ideas below.
First, let's see how to use this "Add Yours" Story sticker.
How to use the new "Add Yours" Instagram Story Sticker
It's super easy.
I'll show you extra tricks too.
Here is how to use the "Add Yours" Instagram Story sticker (image tutorial below):
Add a photo or video in your Story
Press on the "Sticker" button
"Add Yours"
Write a title for your challenge (see ideas below), or
Tap on the "dice" button to generate random challenge idea
Post!
Now wait for people to add their photos or videos.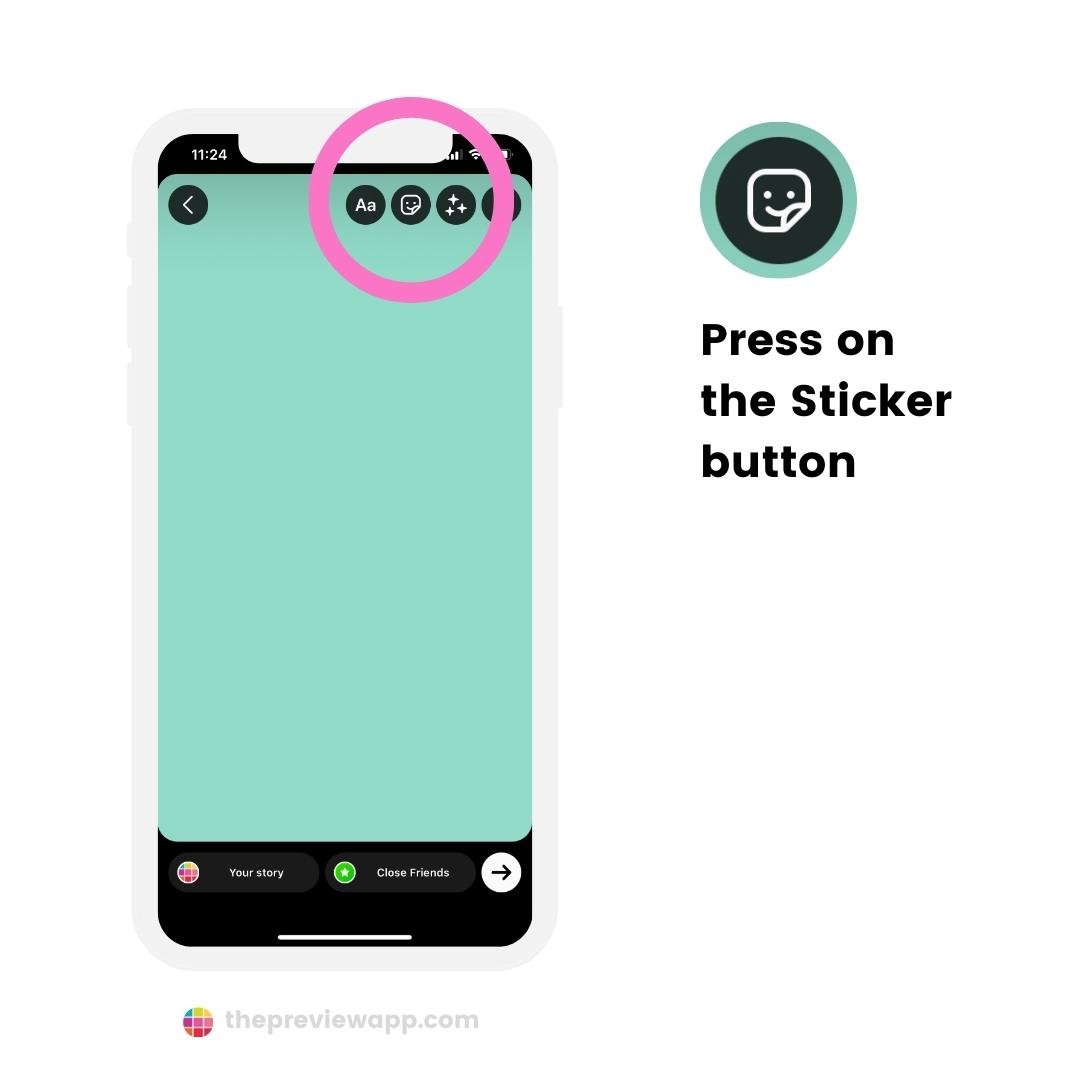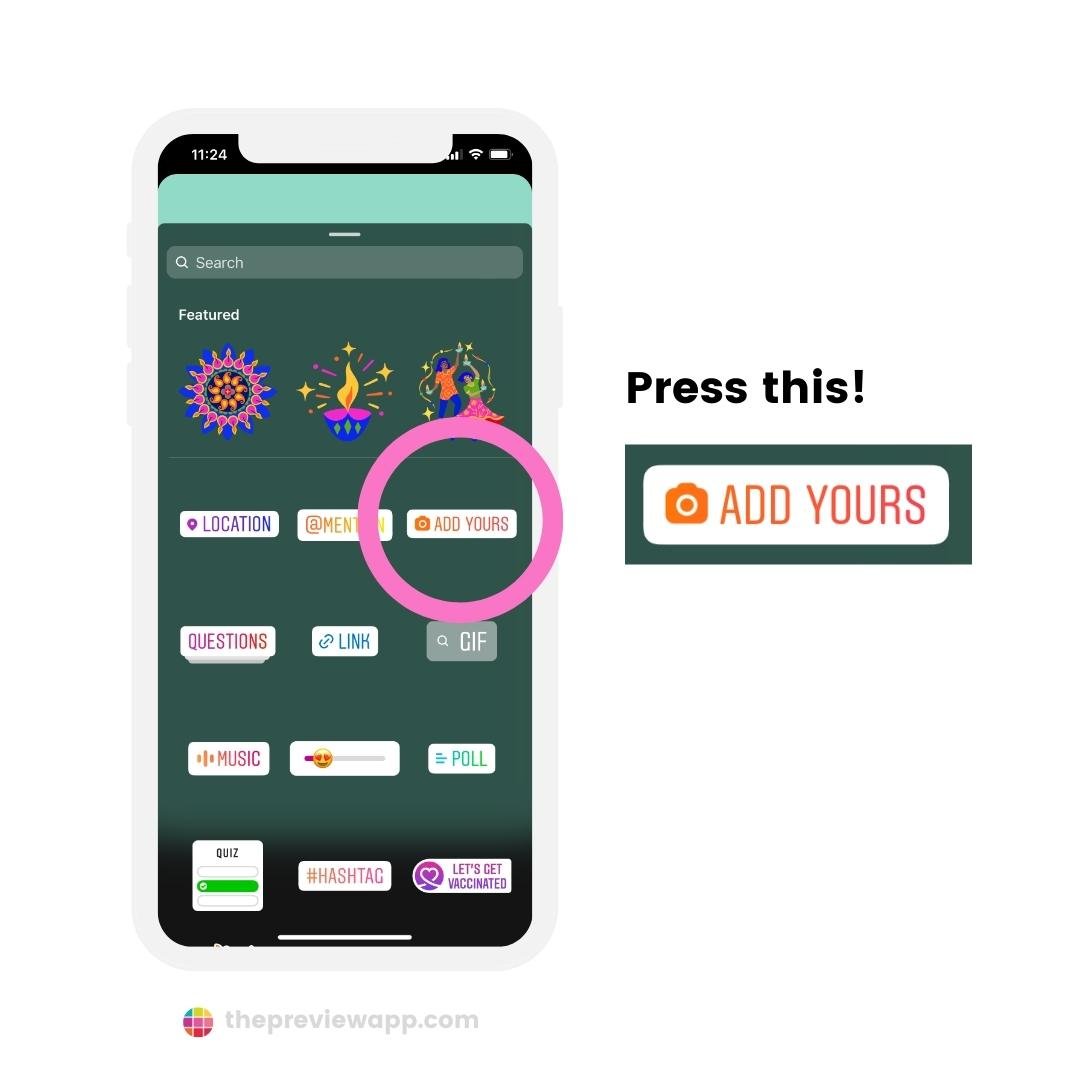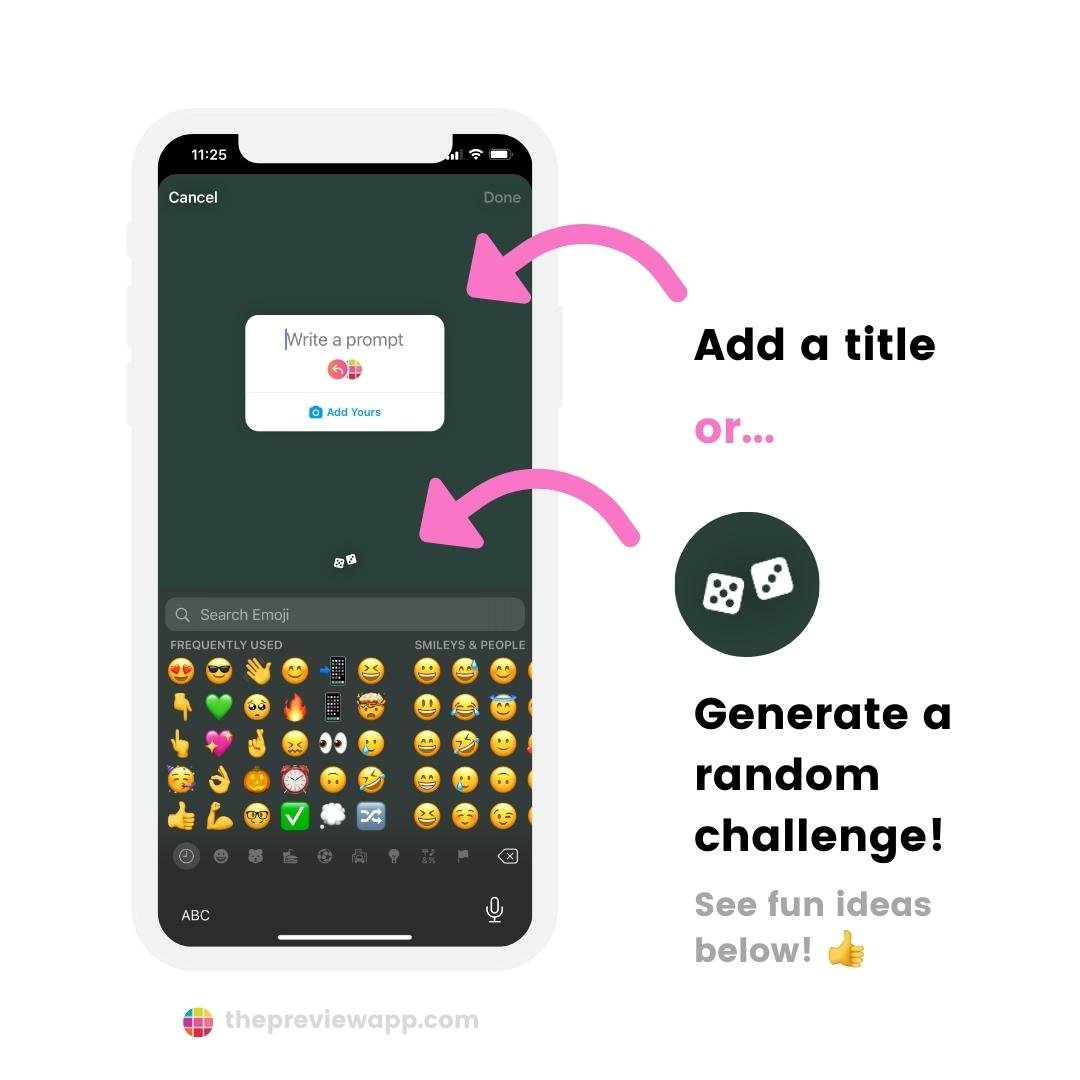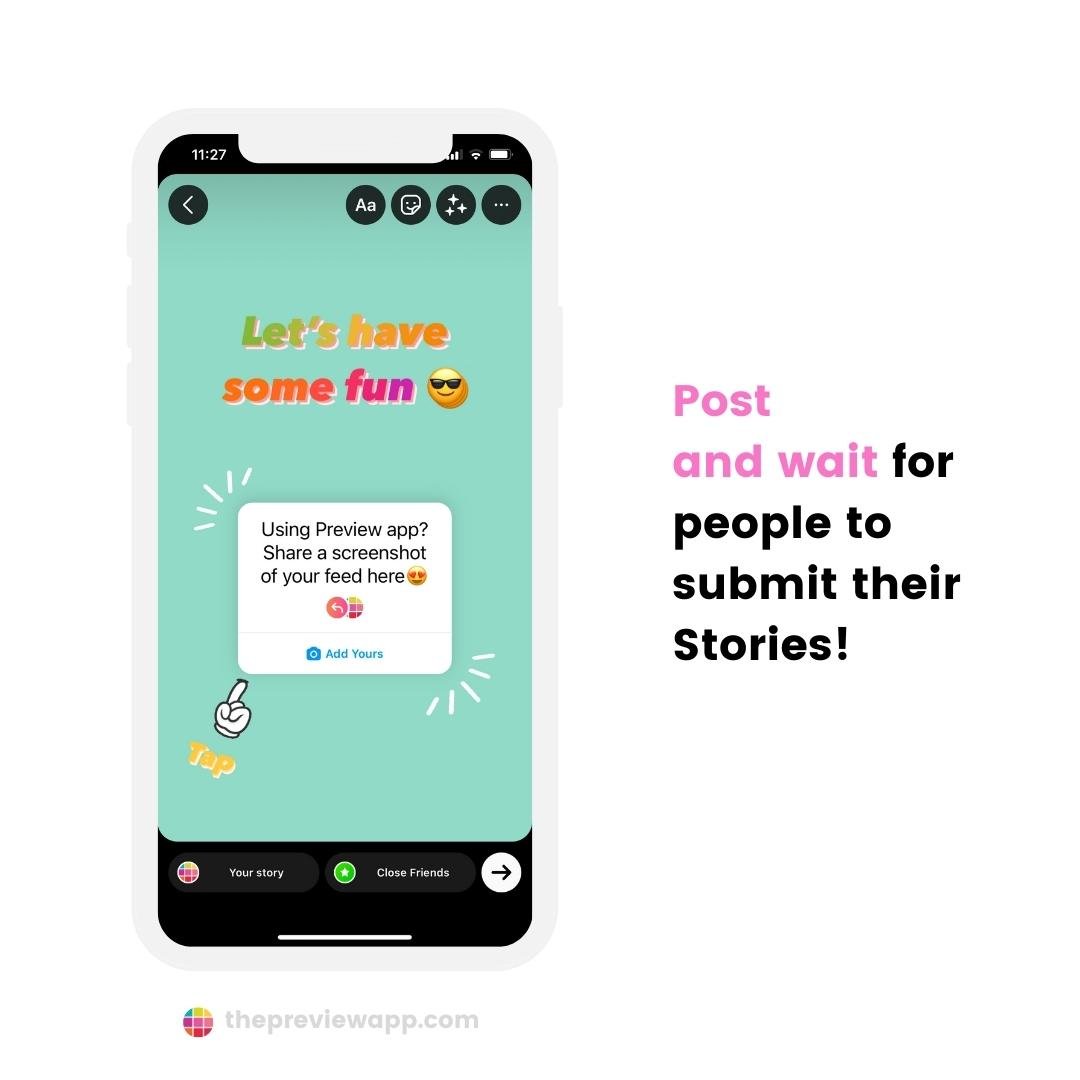 Extra tricks:
When you share your own response, you can design your Story how you want.
You can:
Move the Sticker
Add the Link Sticker (AMAZING to share your blog post or products!!)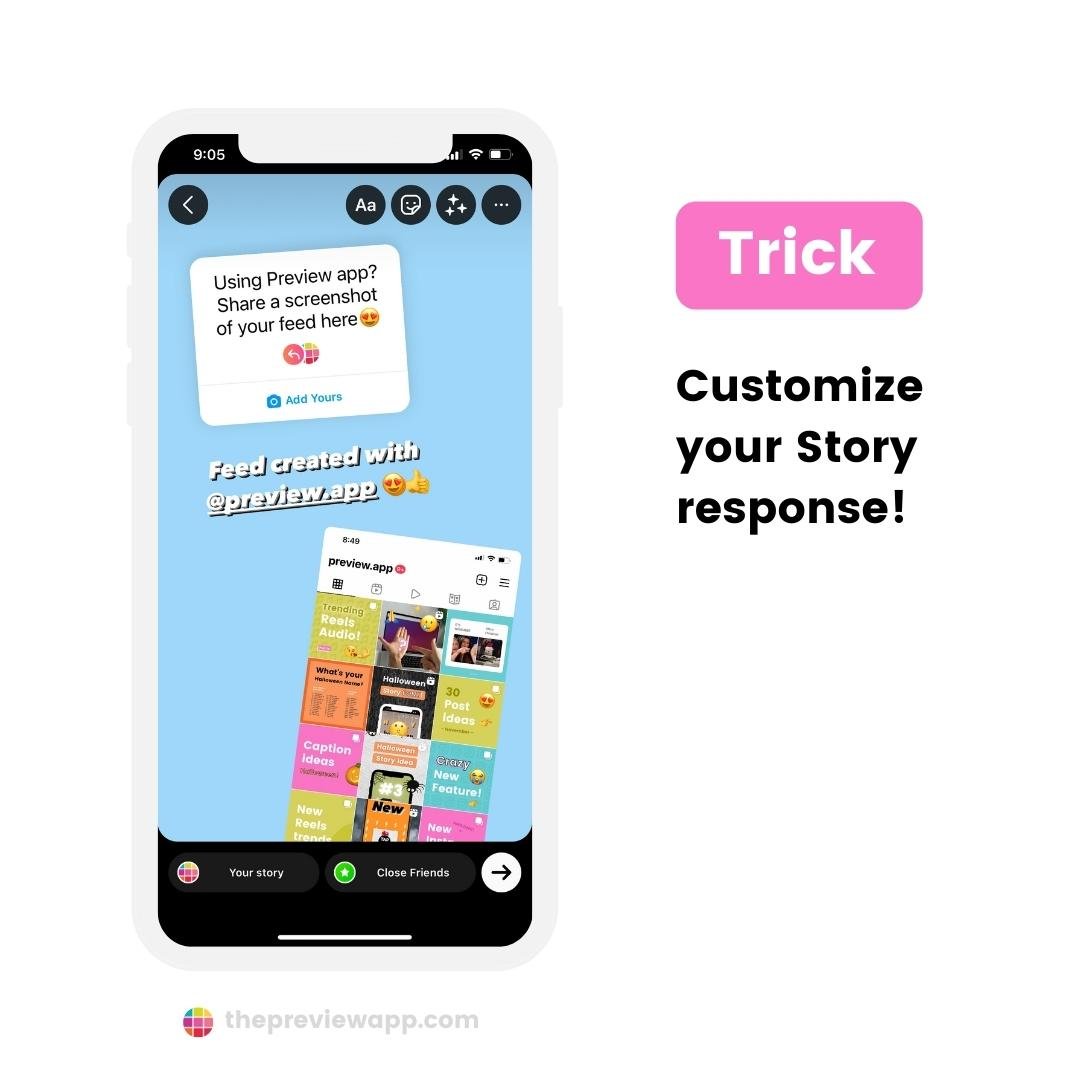 How to see if people added their photos to your "Add Yours" Sticker?
To see people's Story responses:
Open your Story
Tap on your Sticker
You will see people's profile pictures
Tap on one to see their Stories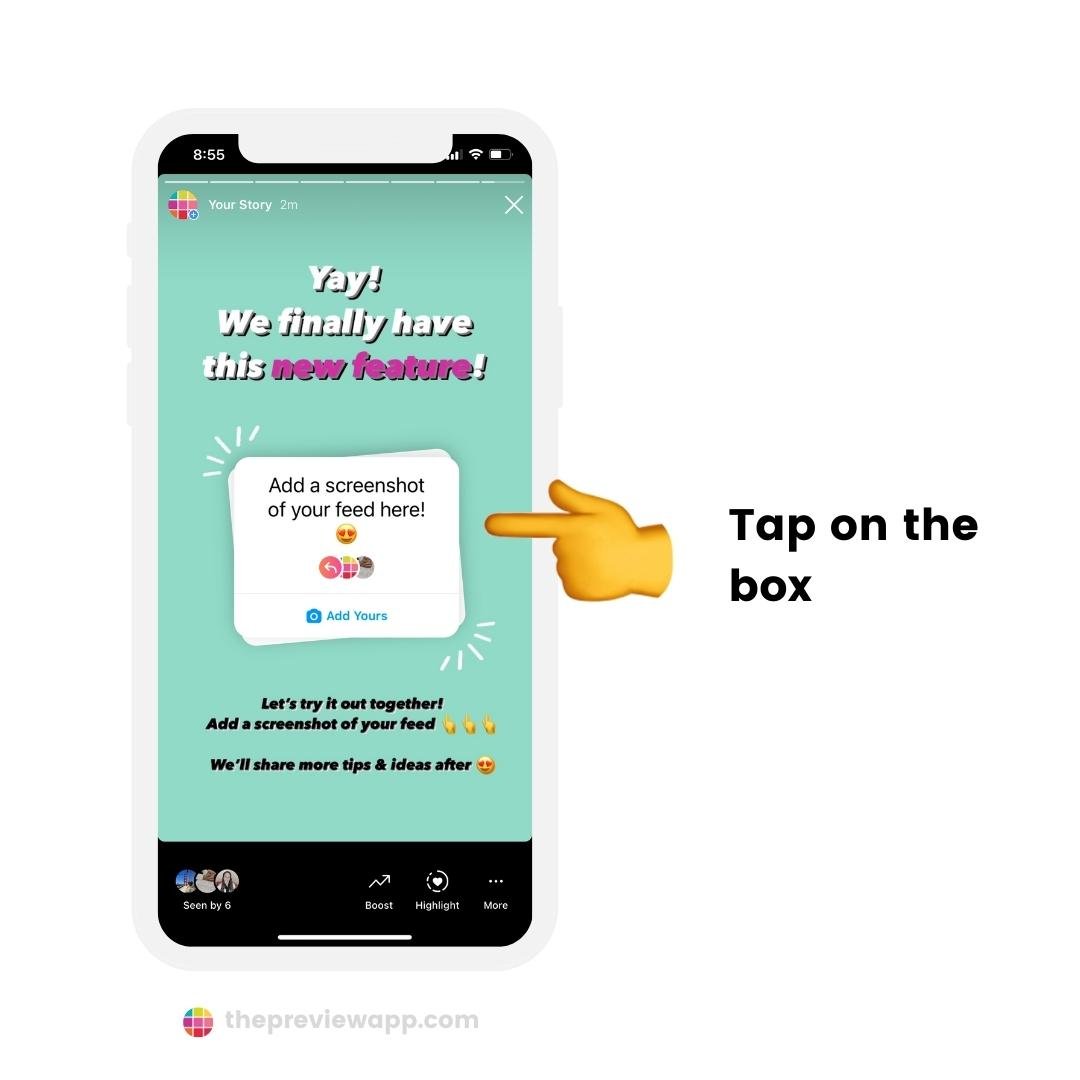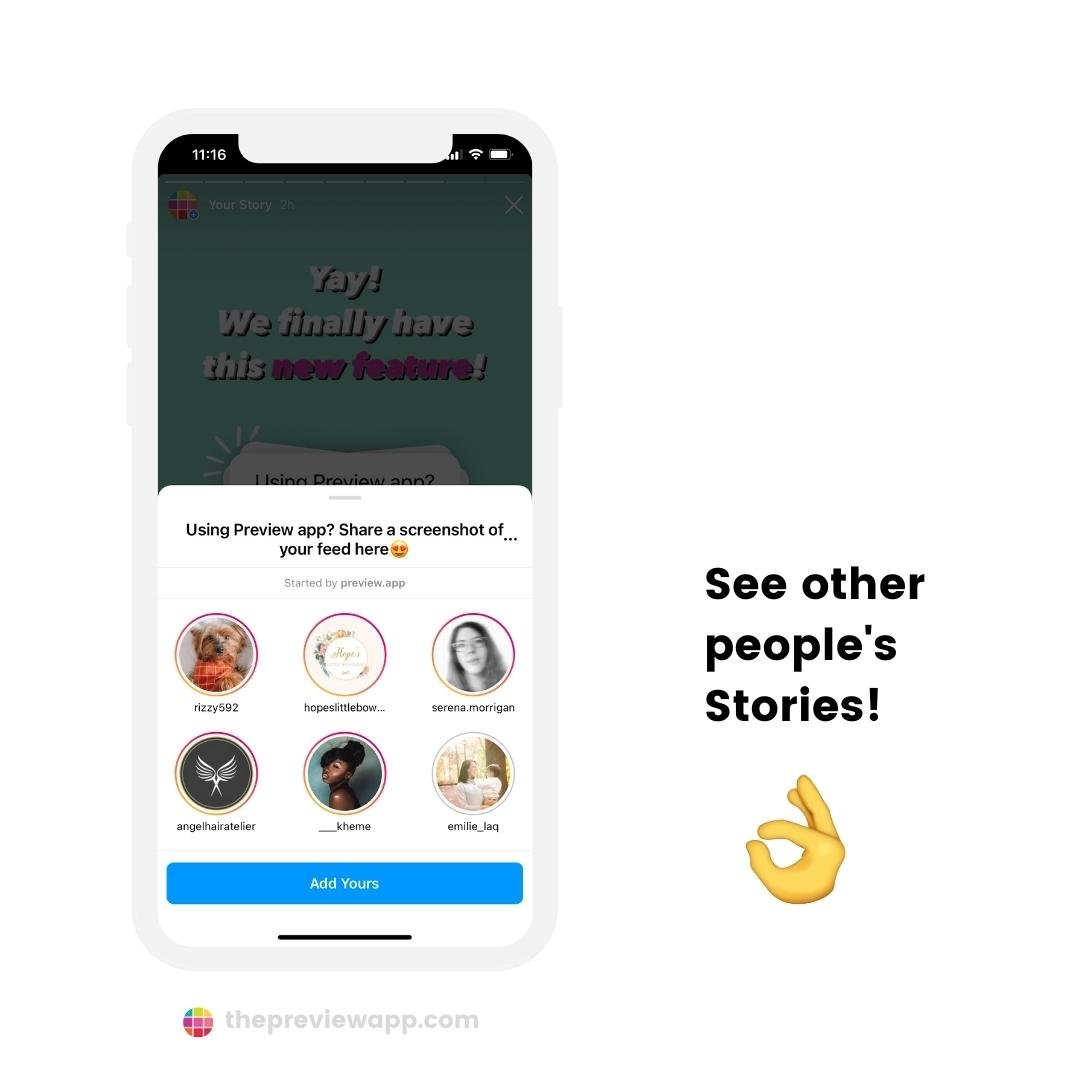 Can you repost their Stories in your Stories?
Let's say you started a Thread.
You check someone's Stories.
Can you re-share their Story in your Story?
Right now, there's no reshare button unfortunately.
Hopefully Instagram will add this new feature soon, because it would be super helpful!
What if you really want to re-share someone's Insta Story in your Story?
You have 2 options:
When you share the "Add Yours" sticker, ask your followers to tag you in their Stories.
Like this: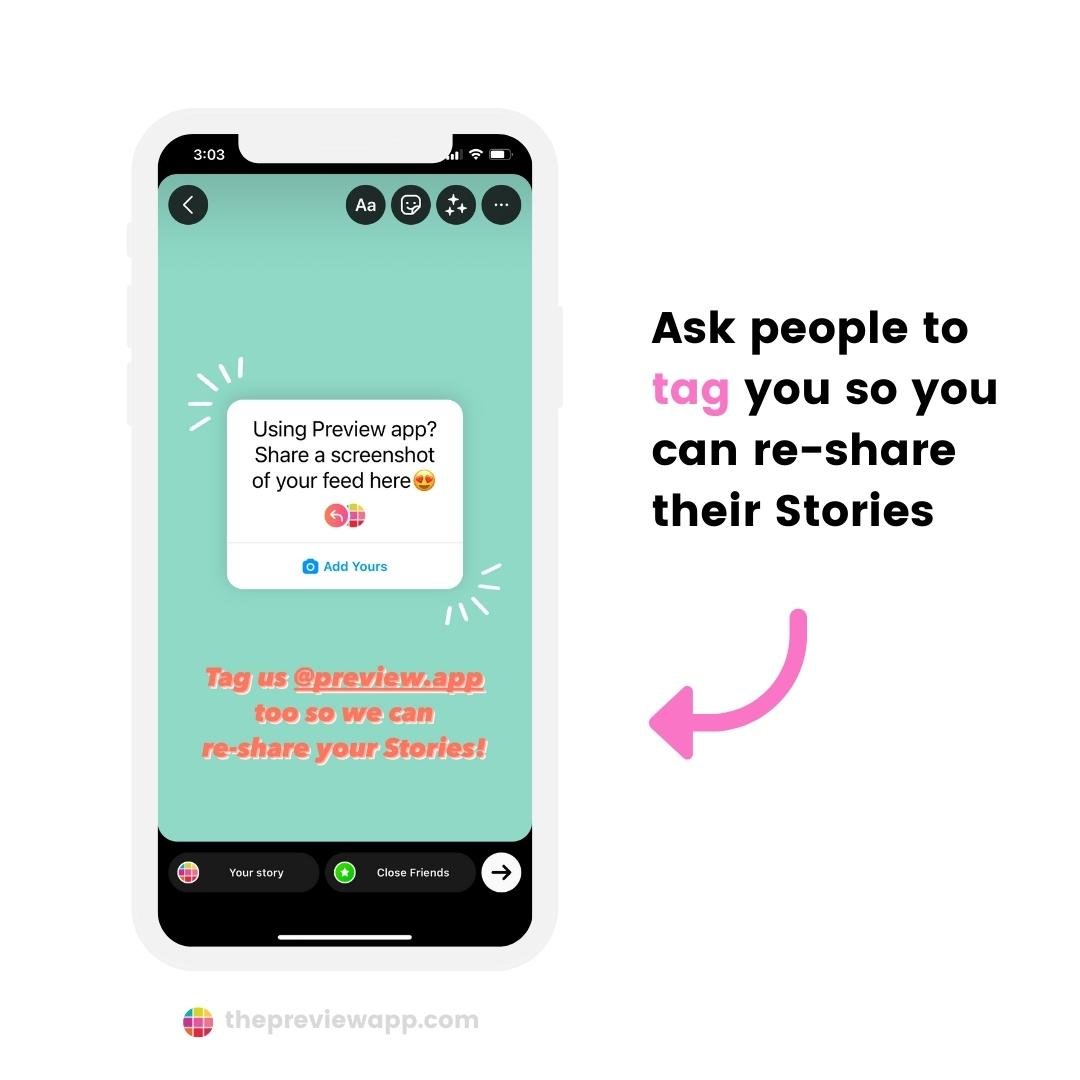 2. Take a screenshot or screen recording of their Stories, then share it in your Story. Click here for the tutorial. Don't forget to tag them in your Story so they can see you re-shared them.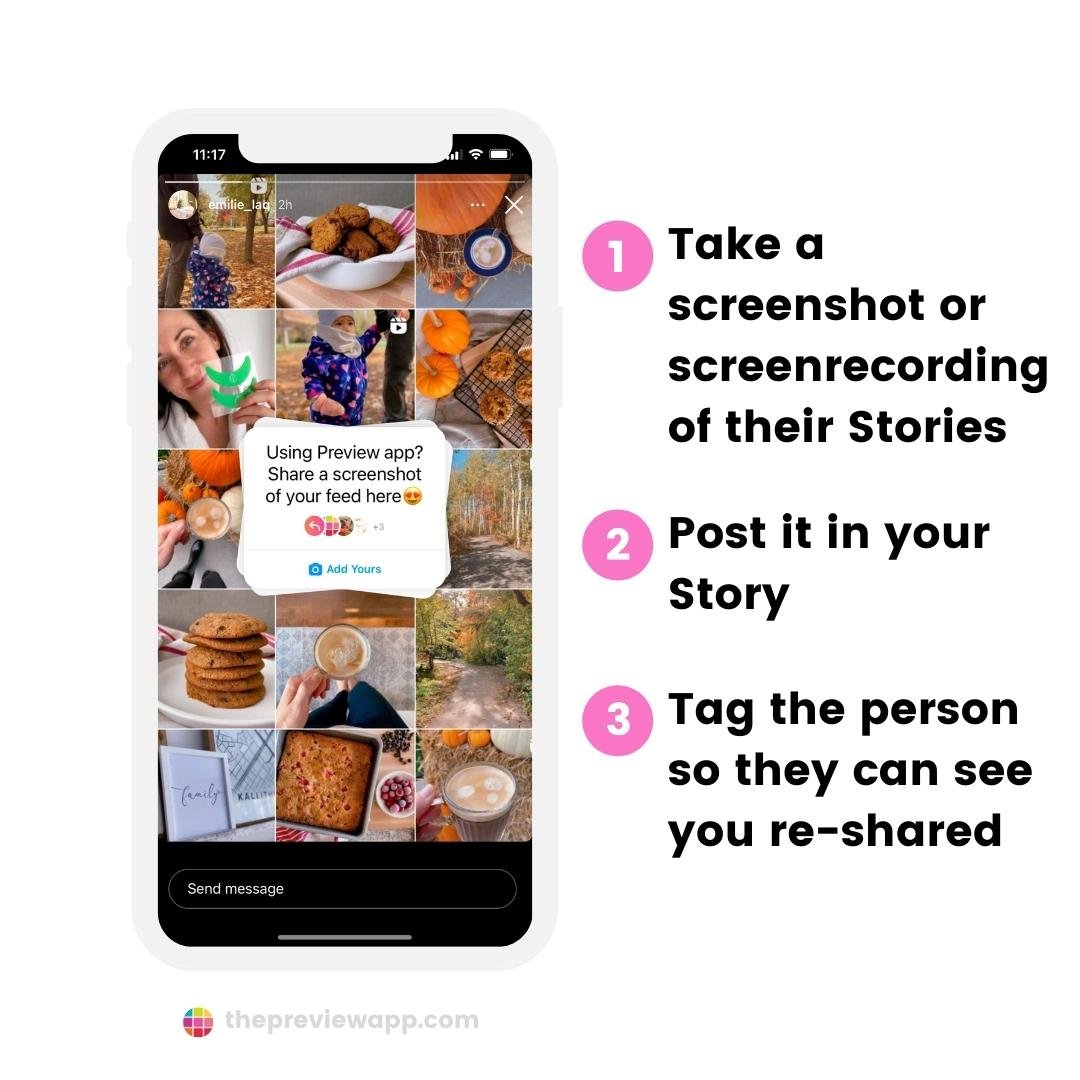 Who can see the photos that are added in the "Add Yours" Sticker?
This is a public challenge.
This means everyone will be able to see your Story.
And by "everyone", I mean everyone who taps on the Sticker to see everyone's entries.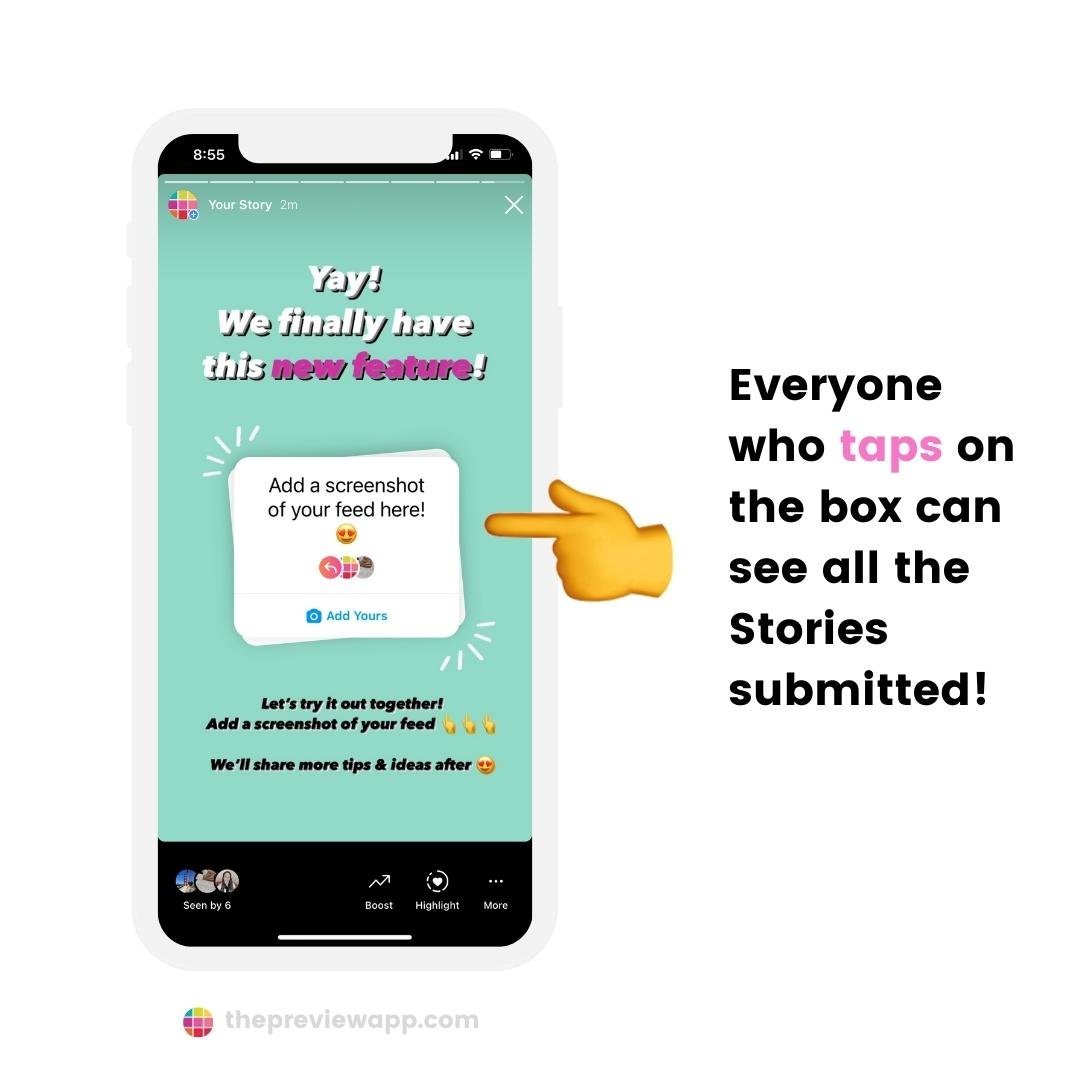 This is an amazing opportunity for you because more people can see YOUR Story! 
This means you could get more views AND new followers!
How fun is that?!
How to get the "Add Yours" Insta Story sticker?
Don't have the "Add Yours" sticker?
Or can't press on the Sticker to add your photo or video?
Instagram usually slowly rolls out new features to everyone around the world.
So it is normal if you don't have it yet.
Go in your App Store and check if you can manually update your Instagram app: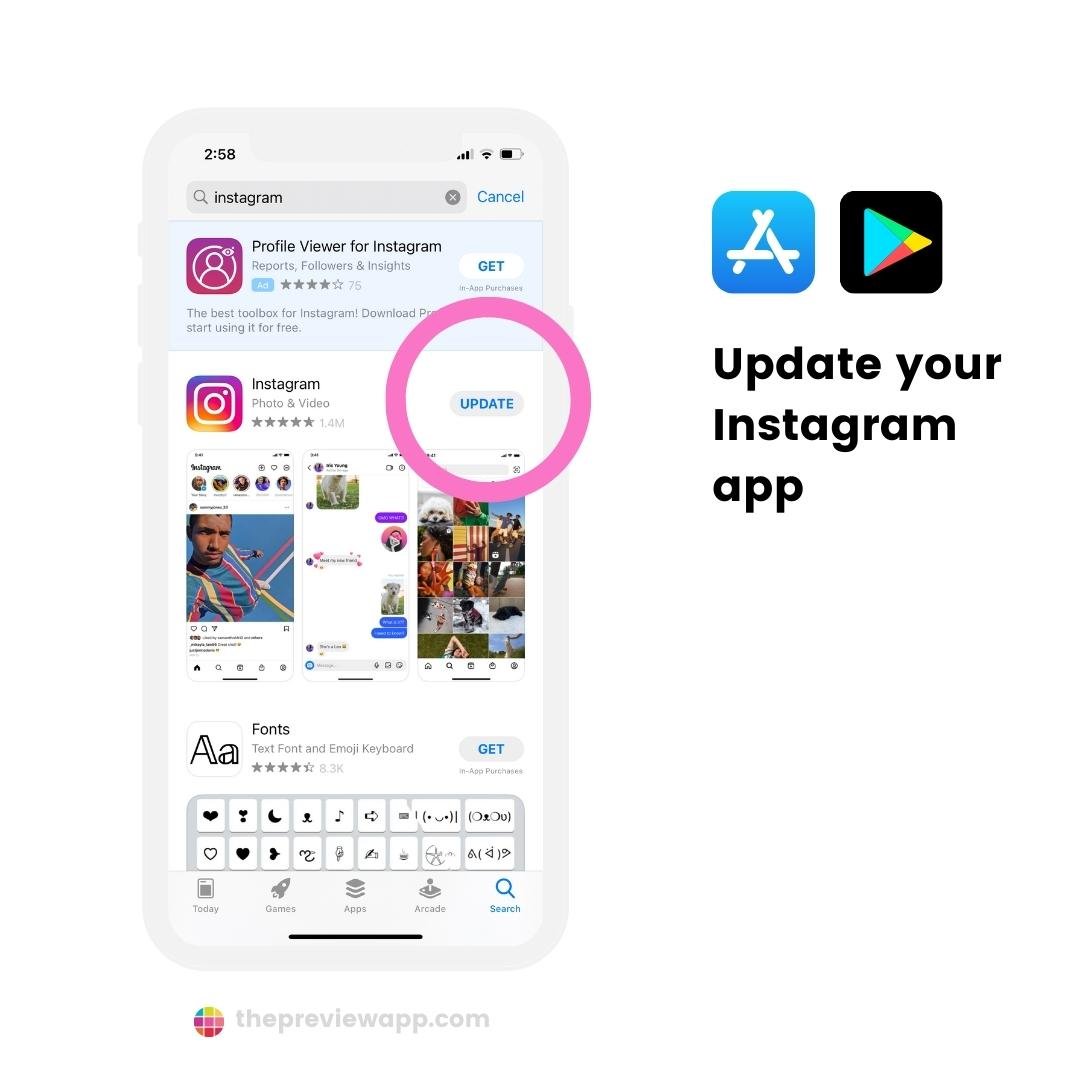 If it is up-to-date and you still don't have it, you will have to wait a little bit.
Instagram will update your account in a few days.
If not, report the problem to Instagram, like this:
Go in your Instagram settings
Help
Report a problem
Then wait a few days and check if the new feature appears.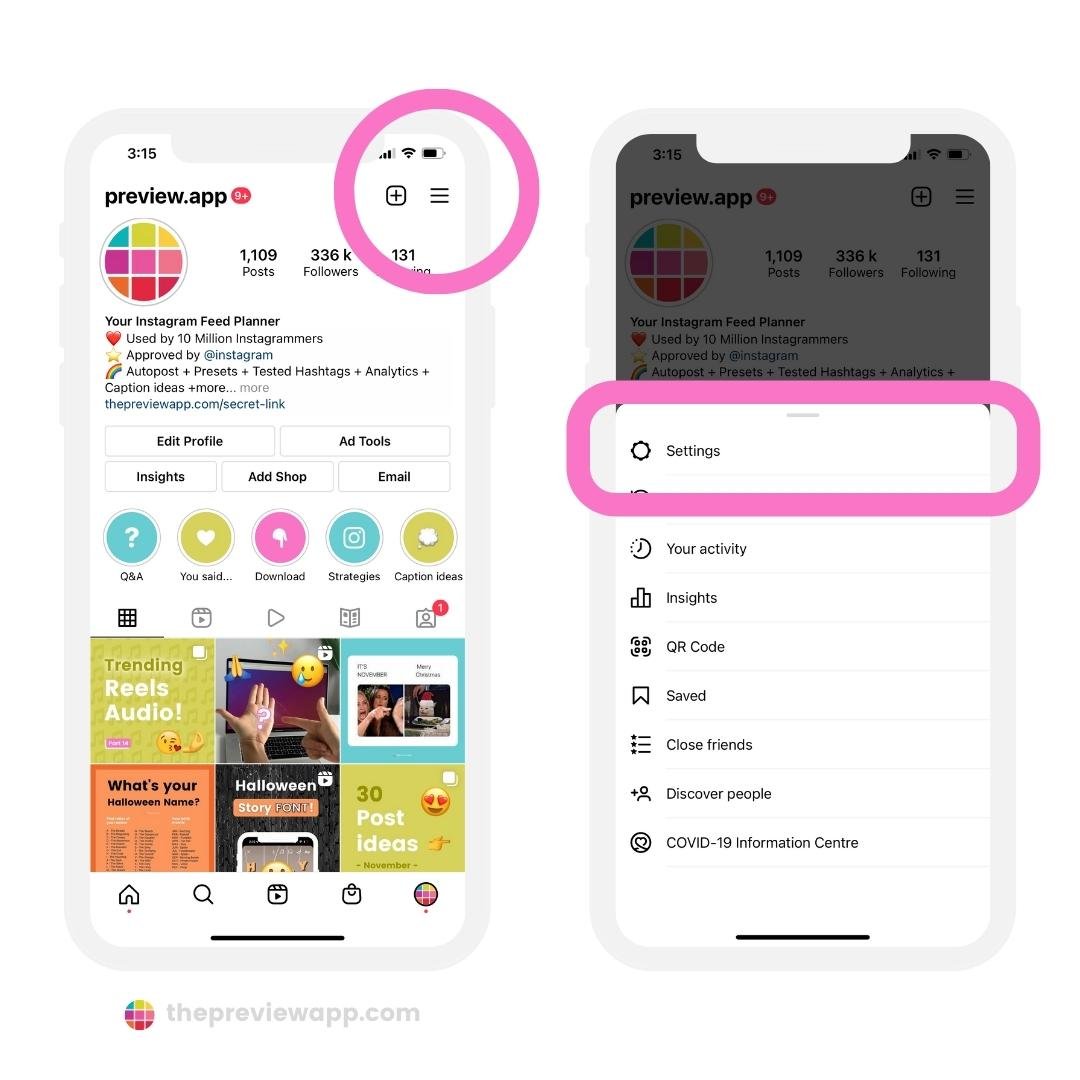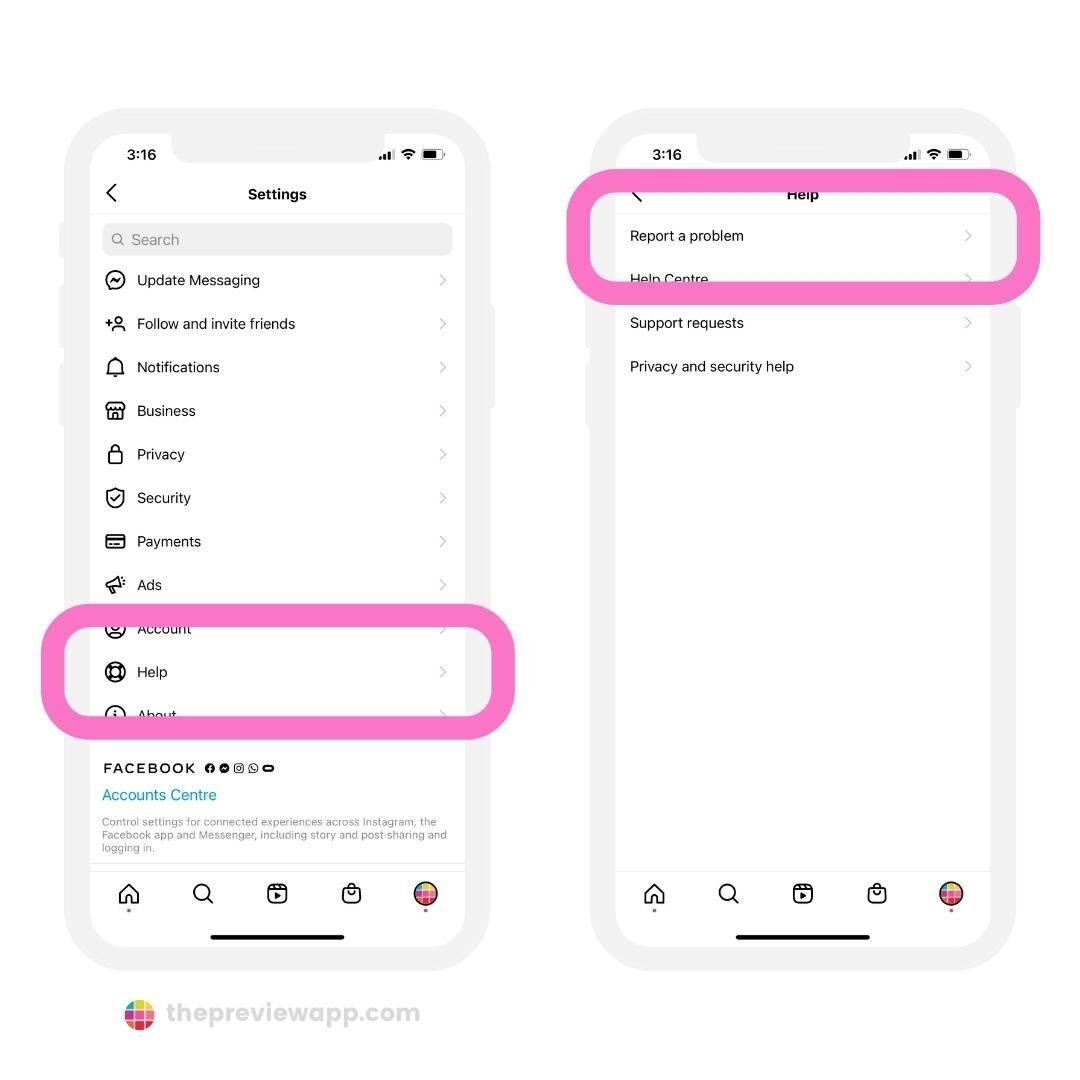 80+ Creative "Add Yours" Ideas
Now onto the fun part!
What fun challenges / threads can YOU start on YOUR account?
Here are 80+ ideas for personal and business accounts: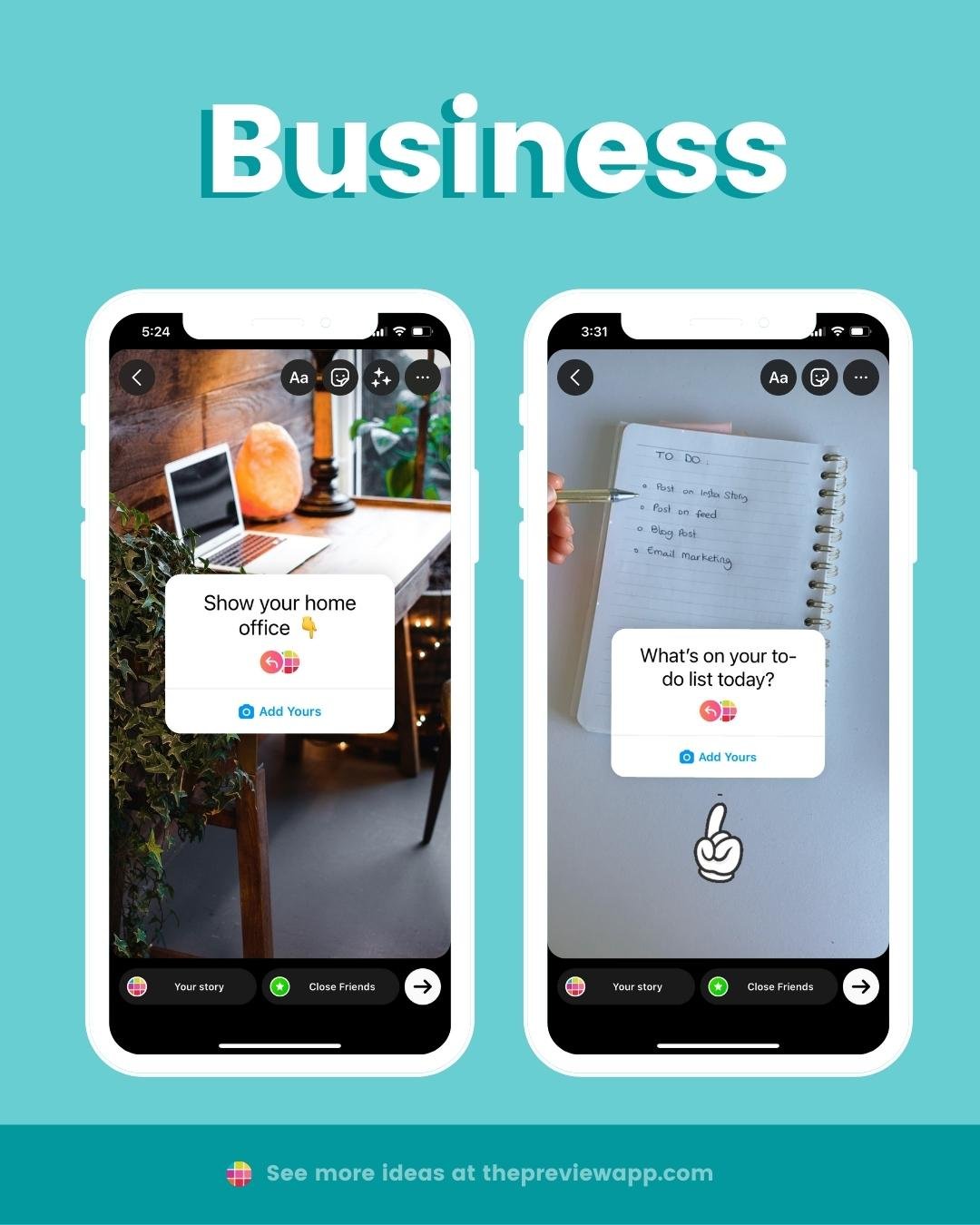 Show your home office
Show your to-do list
Show your favorite tool
Show your behind the scene right now
Show what you're working on right now
Share your favorite motivational quote
Thoughts about ___ [talk about a trend, news or business practice]
Best tip about __ [let people share their top tips about a specific subject]
Introduce yourself!
Tell us about your product / service!
Share your business story
Share the biggest thing you've learned about business
Do you sell products or services?
You can also start these threads to get your customers talking about you in THEIR Stories:
Share your [brand name] photo
Share how you style [this product]
What would you say to a friend about [brand name]?
Your favorite thing about [brand name / product / service]
Travel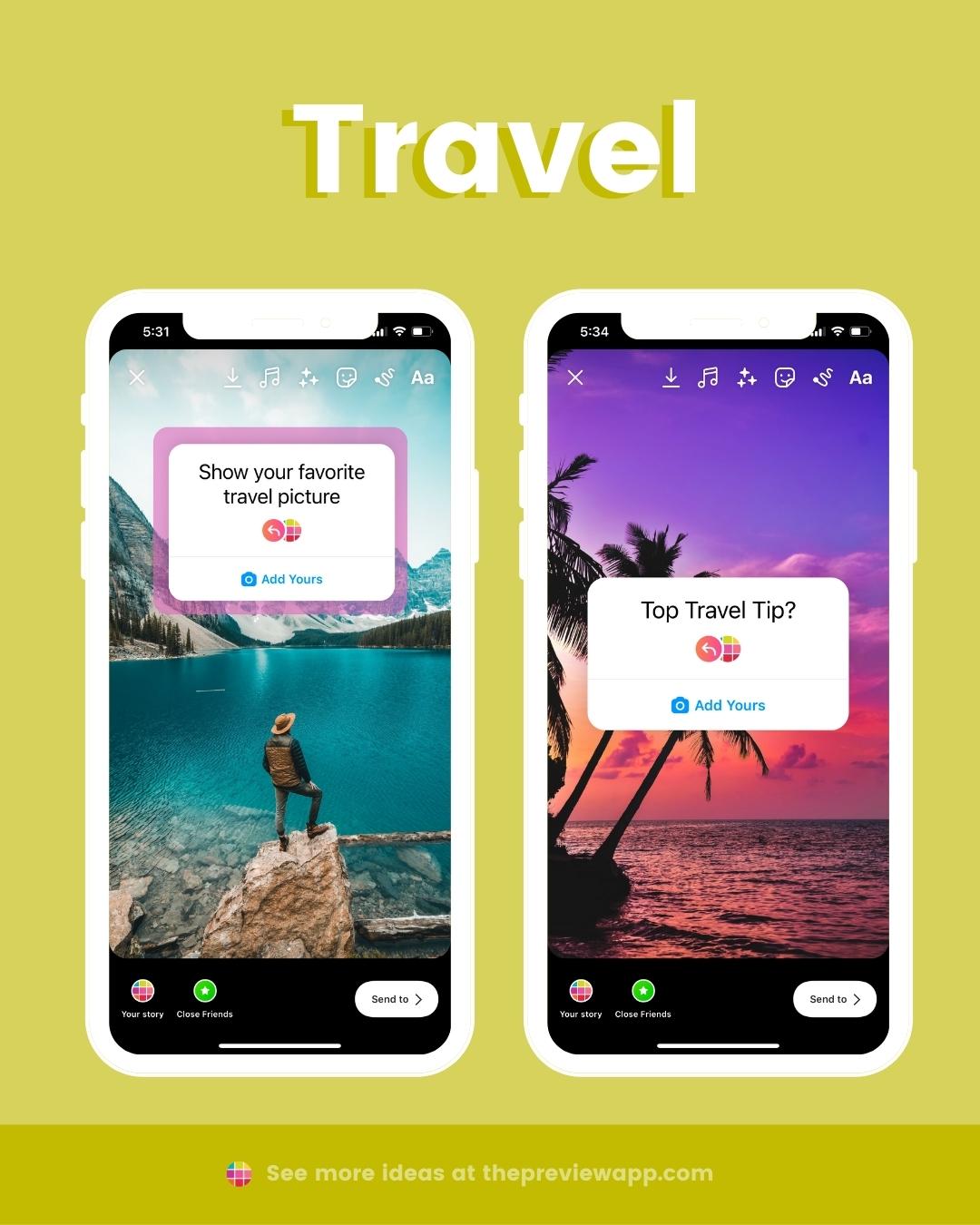 Show your favorite travel picture
Show a photo of your favorite hotel
Favorite trip
Travel recommendations
Travel tips
Favorite summer destination
Favorite beach
Favorite memory
Favorite landscape photo
Fashion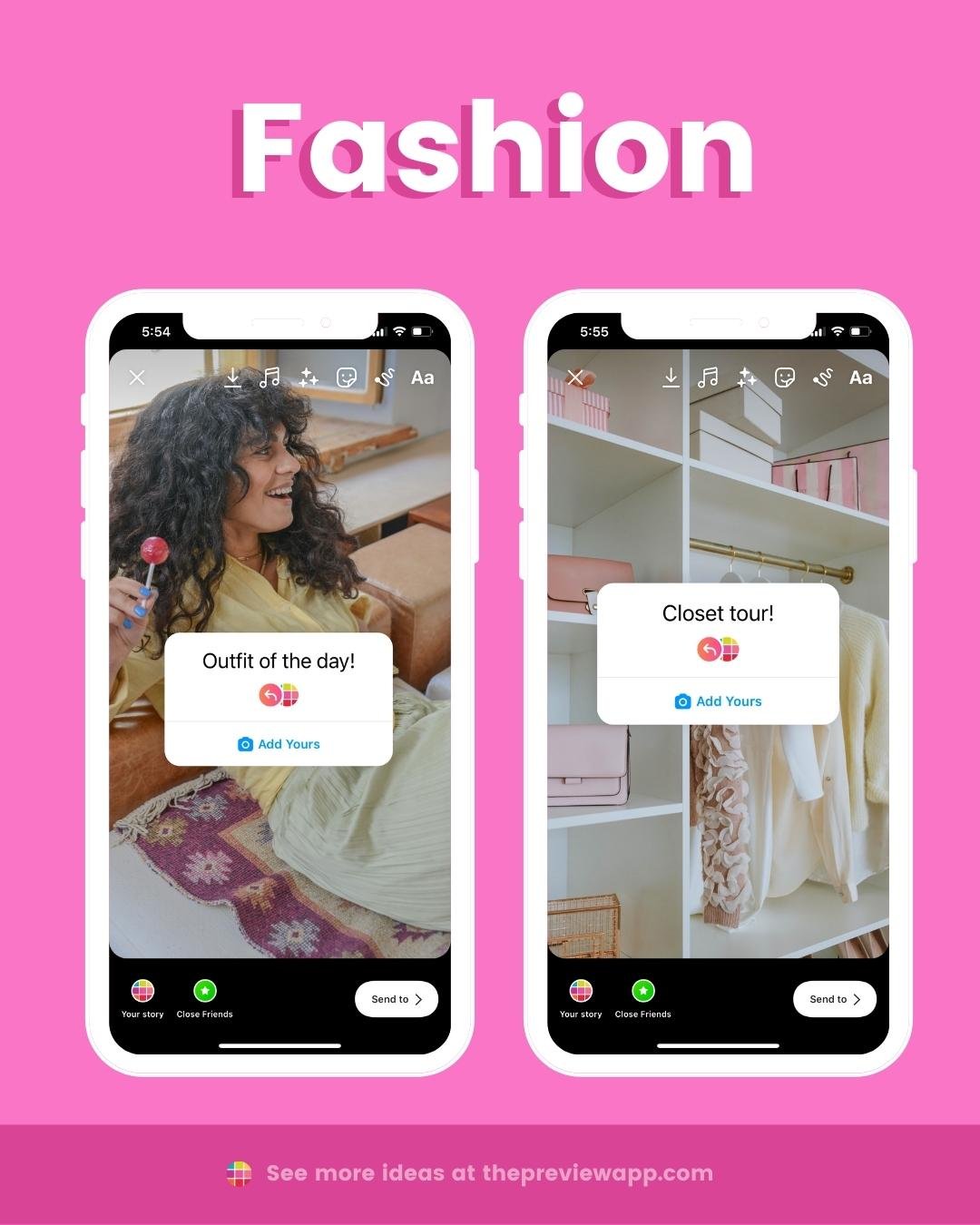 Show your outfit of the day
Fall outfit idea
Share your go-to style
Lounging outfit
Activewear outfit
Worst purchase
Best purchase
Top you wear the most
Best jeans
Favorite dress
Shoes staples
Wardrobe / closet tour
Jewellery collection tour
Beauty, Hair and Makeup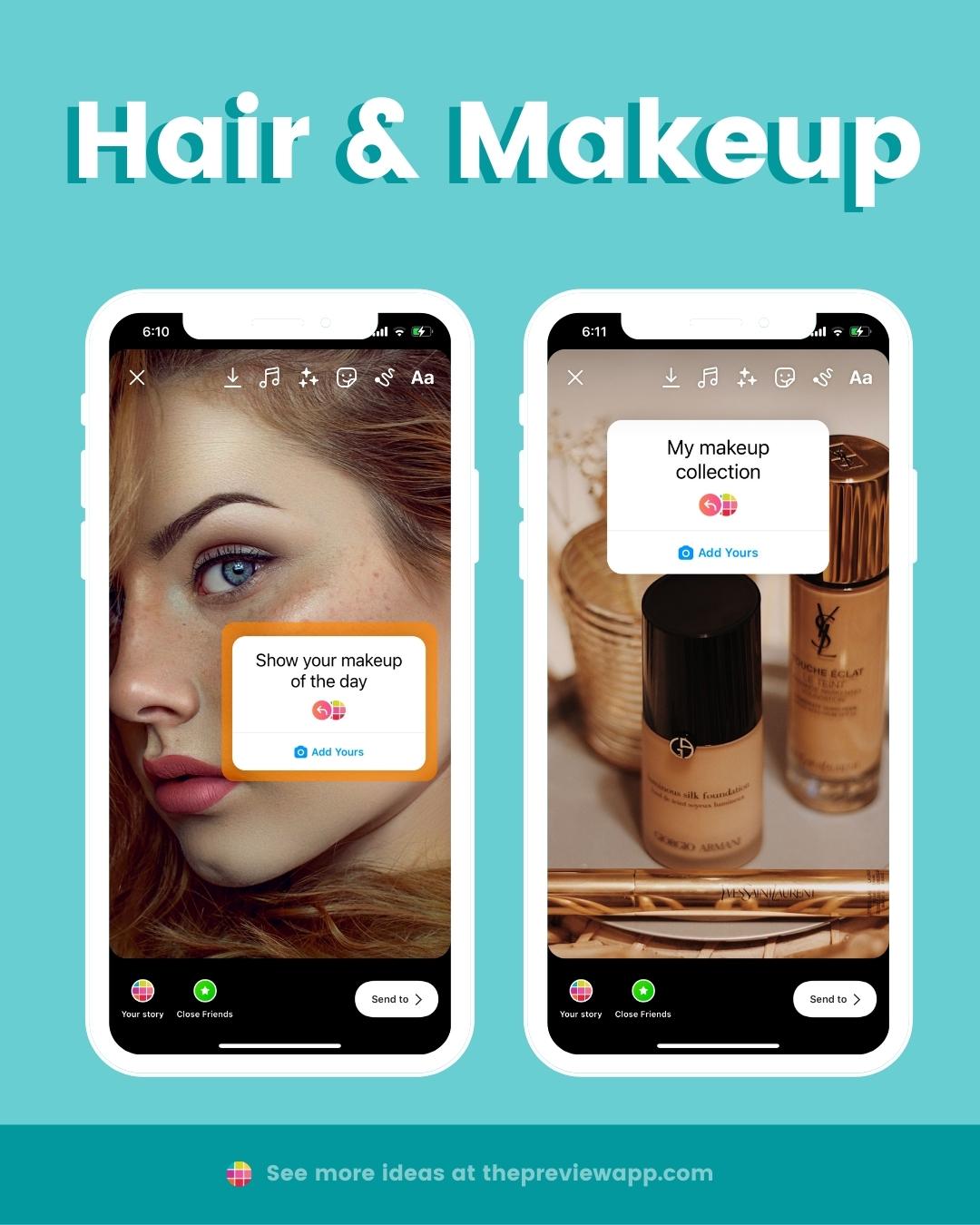 Makeup of the day
Hair of the day
Challenge: do you best wing eyeliner
10 second makeup challenge
Your best hair day
Your worst hair day
Your favorite makeup look
Favorite makeup products
Makeup collection tour
Beauty essentials
Skincare routine
Art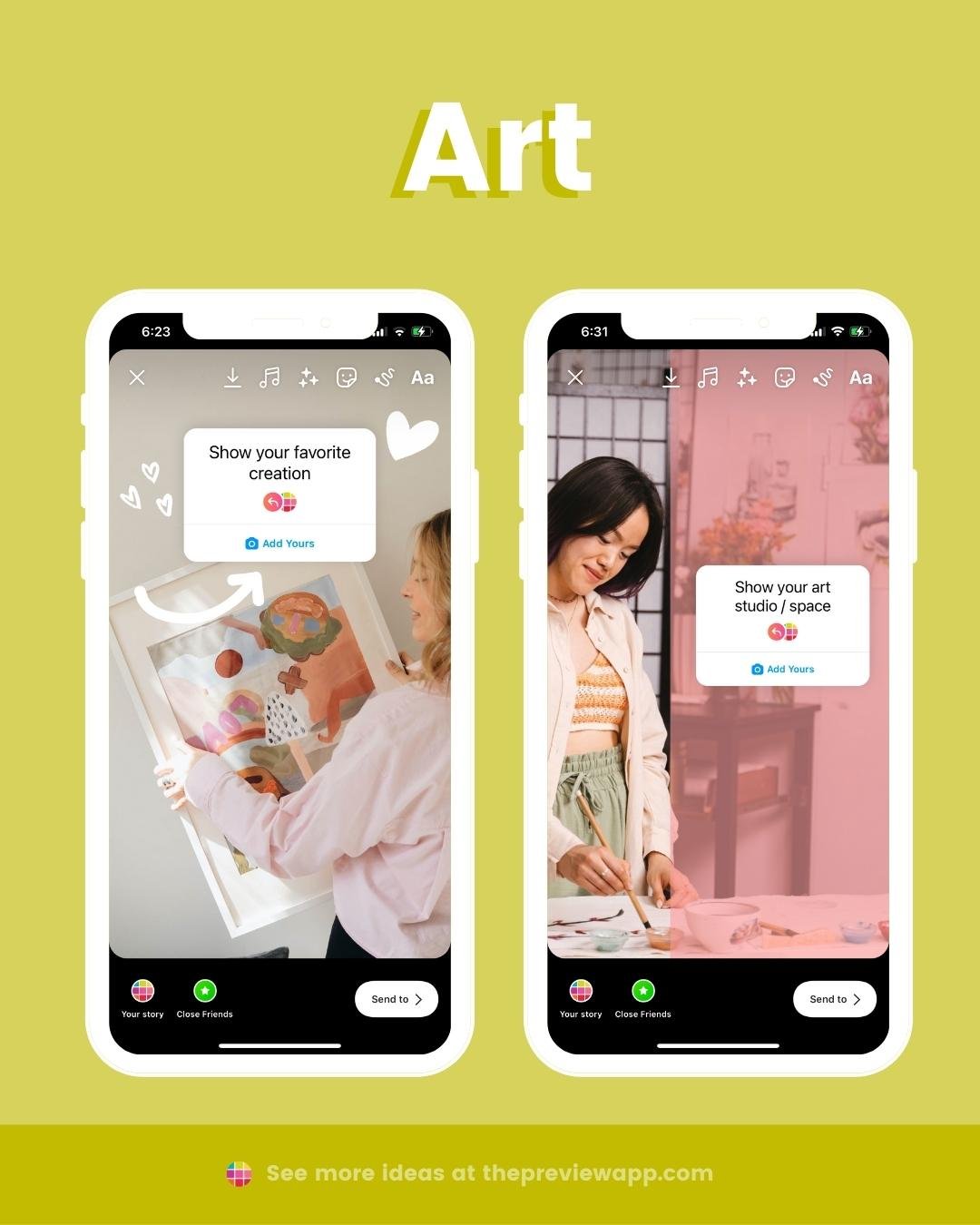 Show your: 
Favorite tools
Favorite materials
Favorite paints
Favorite brushes
Favorite creations
Studio 
What inspires you 
Your first artwork ever
Photographer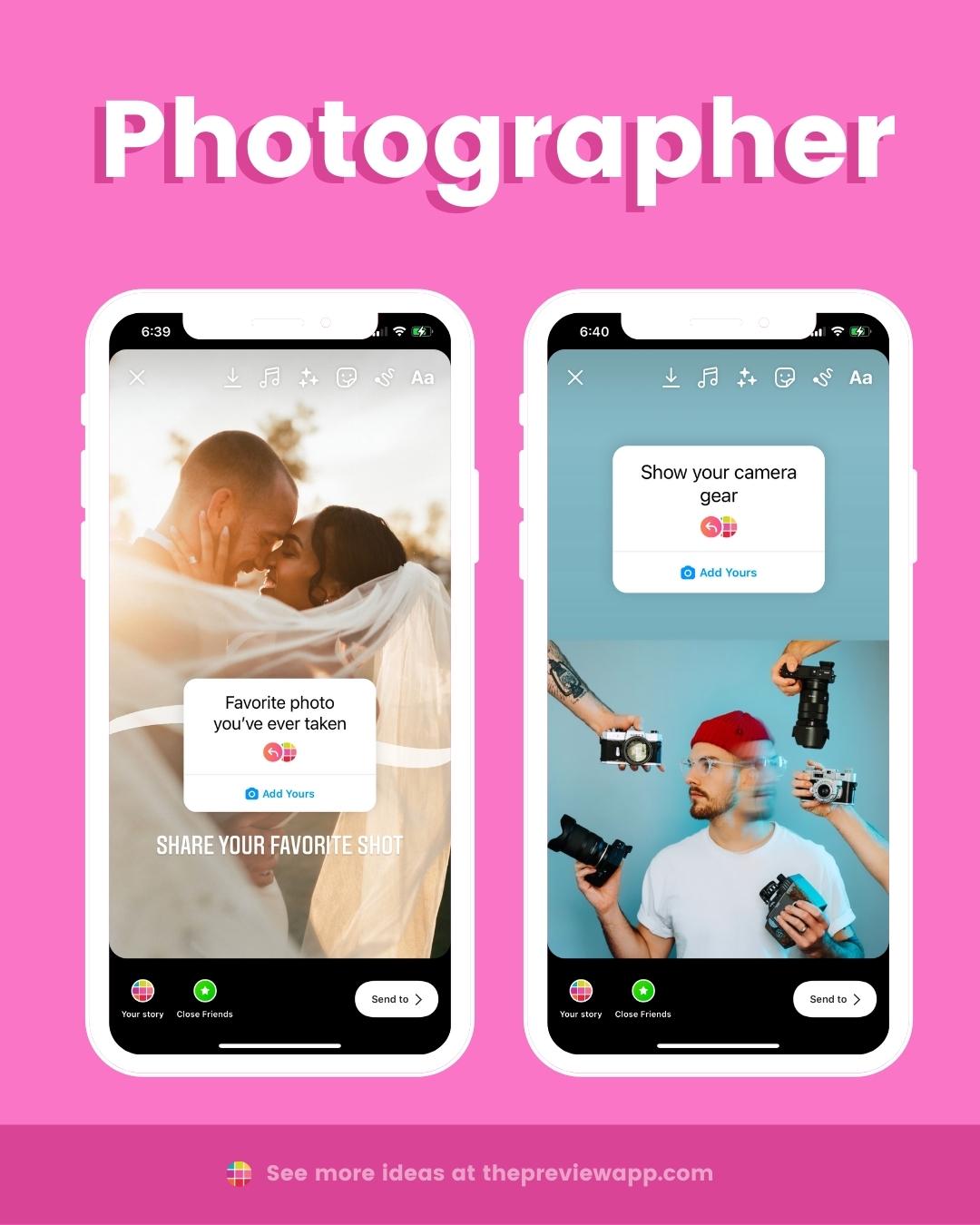 Favorite photo you've taken
Share your camera gear
What was your first camera?
One tip you'd share with beginner photographer
Share a funny behind the scene story
Show a before-after shot
Your favorite sunset photos
Most memorable moment as a photographer
Take a pic of your good profile / side
#CHALLENGE: Creative Shadow Photo
Fitness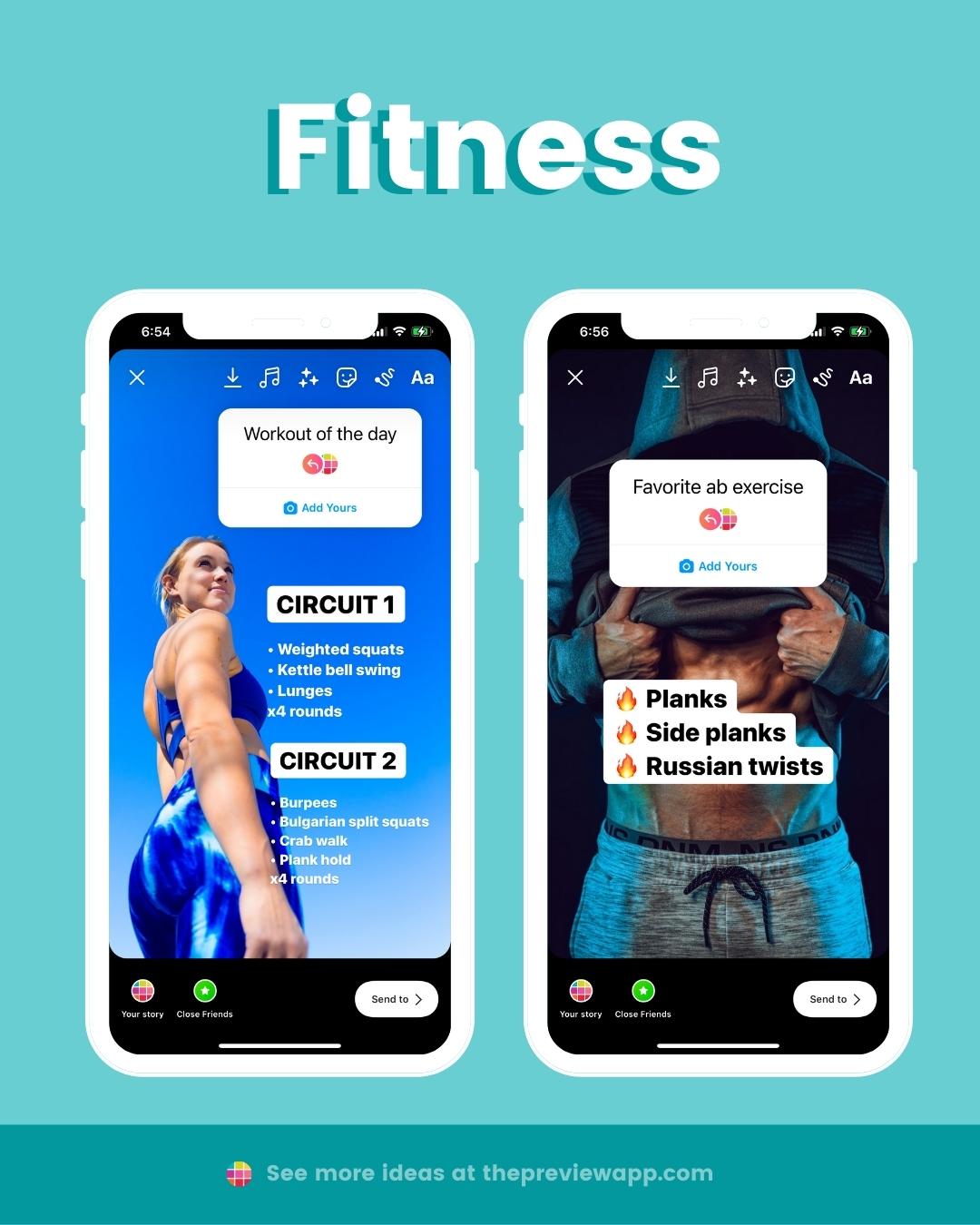 Workout of the day
Favorite leg exercise
Favorite upper body exercise
Favorite full body exercise
Favorite workout equipment
Favorite activewear
Pre-workout drink
Post-workout fuel
Food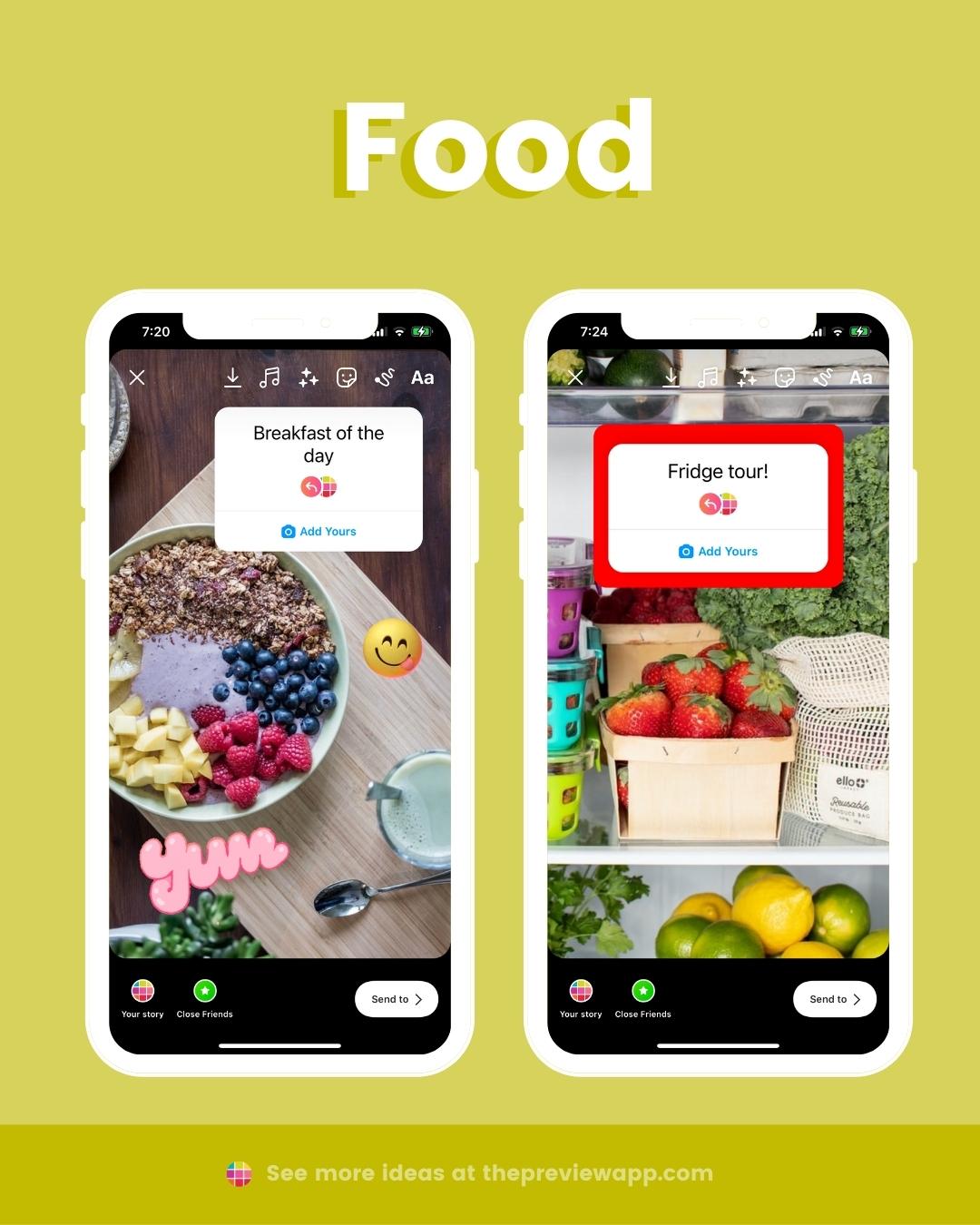 Plate of the day
What's in your pantry
What's in your fridge
Pantry staples
Show your break
Show your lunch
Show your dinner
Show your dessert
Show your kitchen
Show your favorite kitchen utensil
Show something everyone should have in their kitchen
Show your most useless kitchen utensil
Favorite restaurant
Challenge: Make this drink [put the recipe or video on the screen]
Favorite snack in your house right now
Share your best recipe
Seasons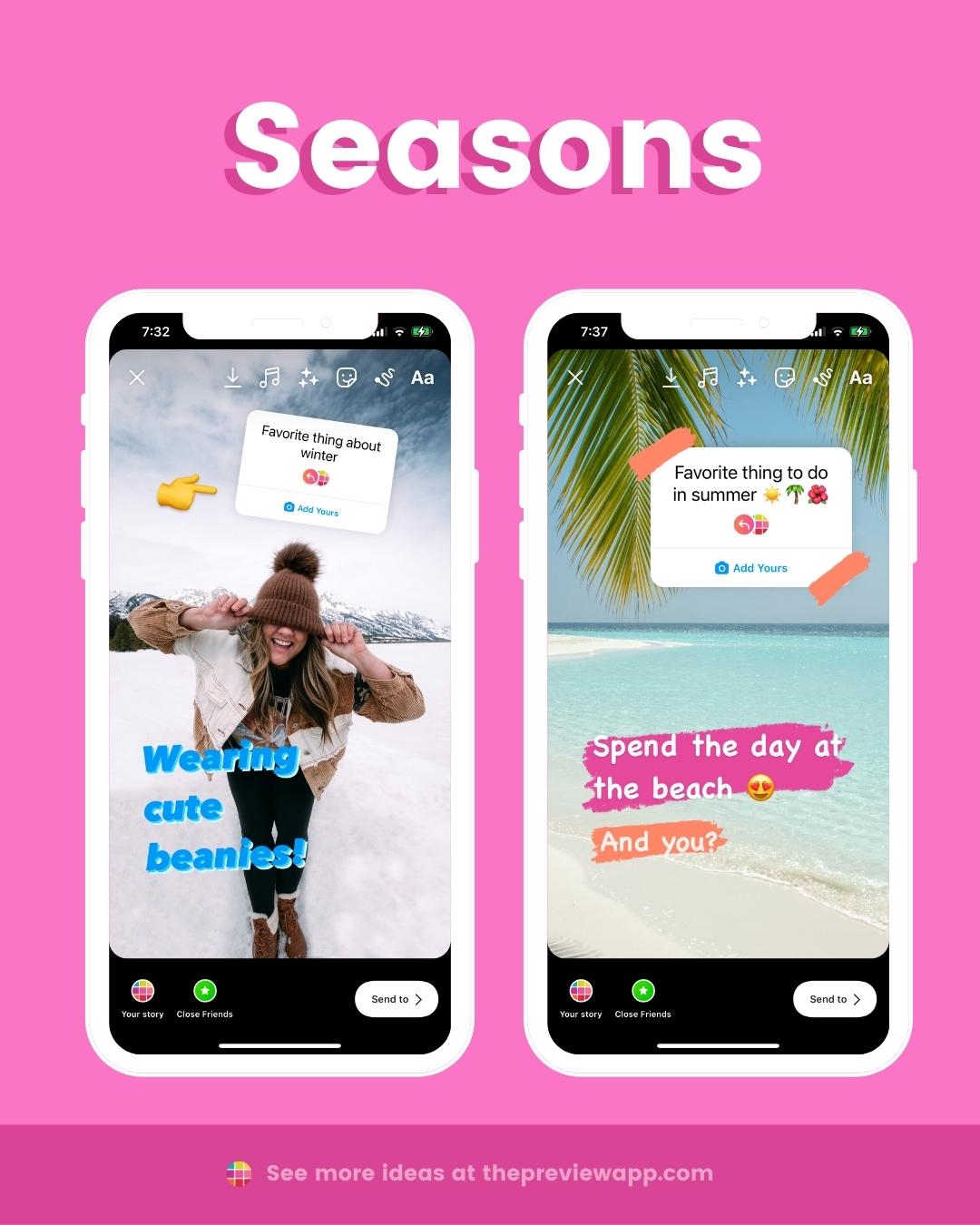 Start trends based on the season. For example:
Favorite thing about winter
Least favorite thing about winter
Favorite winter drink 
How I feel about winter
Beautiful fall photo
Favorite thing to do in summer
Fun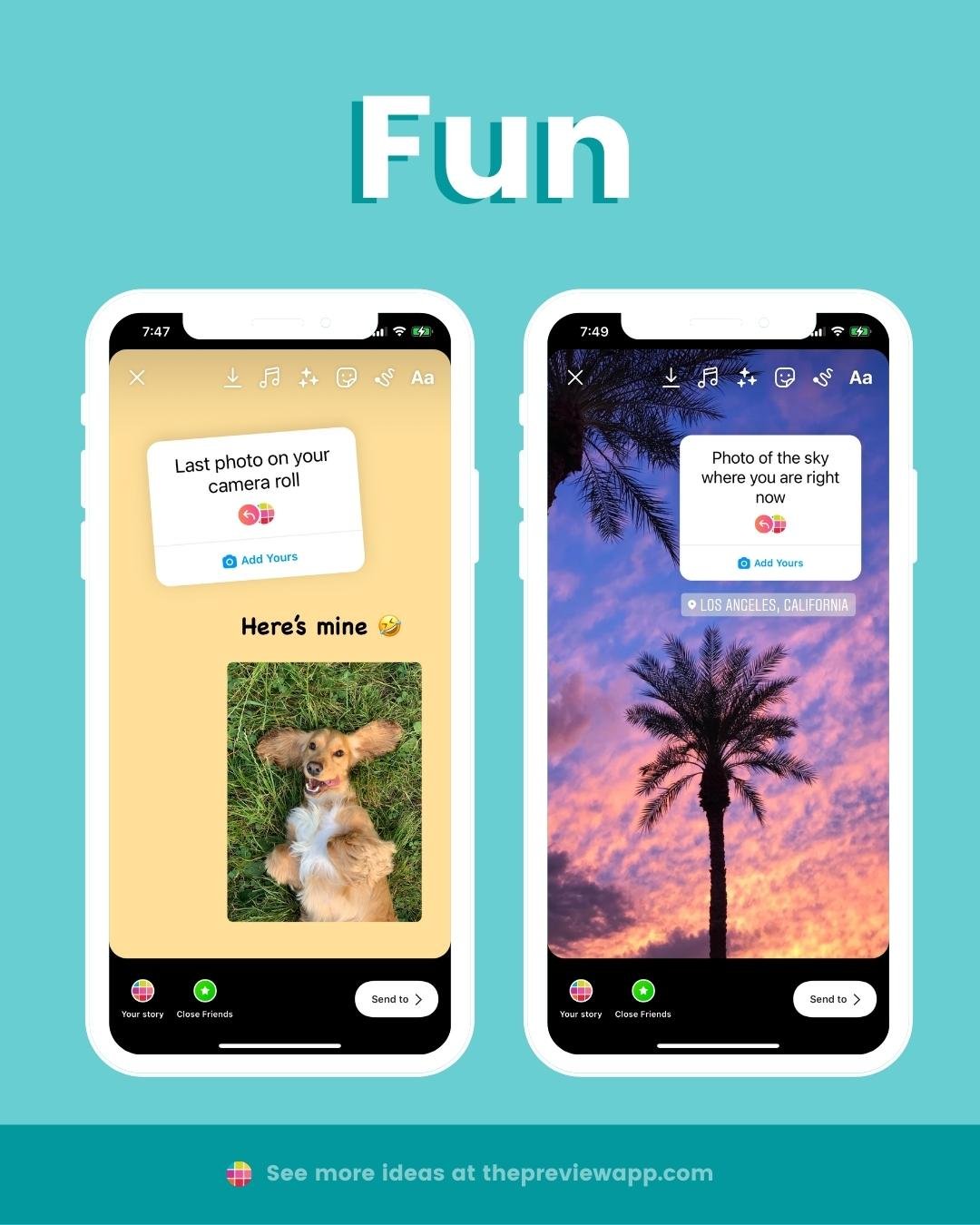 Monday vibes
Ask a question
#JokeDay – Share a joke
Recent photo you took
Share your latest screenshot
What's in your bag
What's on your bedside table
Say this fast: Red lorry, yellow lorry [Write a short tongue twister]
#THROWBACK – Share an old picture of you
Share the first 2021 photo in your camera roll
Share the weirdest fun fact you know
Share a hidden talent
Your view right now
The sky where you are right now
Reaction about… [it can be a big news, ask people to react to the news real-time!]
Did you like this blog post?
Let me know if you did in the comments below!
Have fun trying the new "Add Yours" Sticker!
Tag us @preview.app in your Story if you try it out so we can come check it out too!