All plans come with: Drag and Drop, Unlimited Posts, Filters, Photo Editor, Hashtag Groups Manager, Beautiful Stock Photos, and Photo, Video and Carousel posts.
.
1 User
1 Device
Unlimited Posts
Reels Planner
TikTok Planner

2 Filter Packs

Basic Analytics
Reply to comments

Fonts
.
Free Features

+

Unlimited Posts

Reels Planner

TikTok Planner

All Filter Packs

Full Analytics
Tested Hashtags
Hashtag Analytics
Repost

All Fonts

Image Splitter

$6.67/month*
.
Pro Features

+

Auto-post

Insta Story Planner

Unlimited Reels

Unlimited TikToks

Competitor Analytics

3,000 Caption Ideas

Desktop Planner

Facebook auto-post
User & Location tag
Product Tags
Unlimited Devices
Team Features
Backup

$12.50/month*
* All prices in USD
Billed yearly. Monthly plans available too.
Frequently Asked Questions
How many posts can I schedule per month?
As many as you want. There's no limit. Plan a month, 2 months, 6 months or a year in advance if you want.
What are the "Tested Hashtags"
We personally research and hand-pick every single Instagram hashtags to help you find the right ones for your account. This way, you can be seen by the right people. There are hashtags for different categories, businesses, countries and even Instagram communities.
What are the "caption ideas"?
Preview has a "Caption Finder".
It has over 3,000 caption ideas for personal and business accounts.
You'll find:
Caption Templates
Caption Starters (strategic hooks for the first sentence of your caption)
Quotes
Puns
Captions to get more comments (see the "Get Comments" caption ideas)
Question ideas to ask your followers (to start conversations and get more comments naturally)
Seasonal caption ideas (summer, winter, spring, fall, and key holidays like Mother's Day, Christmas, etc…)
Calls-to-action (for shops, to get people to share your posts, comment, go to the link in bio, and more)
Caption ideas for businesses
Never feel stuck writing caption ever again. And if you need inspiration, scroll through the caption categories to get your creative juices flowing.
How many Insta Stories can I plan?
As many as you want. There is no limit.
How many team members can I invite?
As many as you want. There's no limit. 
You only need one Premium subscription for your entire team – not one subscription per team member.
What if I don't want to give my Instagram password to my team members?
You can invite them as "Team Members". This means you will give them access to your Preview feed and features, without giving your Instagram password.
Just go in your Preview Settings and tap on "Team" to add team members.
Can I give team members special permissions?
Yes you can. Choose what you want them to see (or not see) and do (or not do). For example, you can choose to allow them to view your feed, but not see your analytics.
⭐️⭐️⭐️⭐️⭐️
+100,000
5 Star Reviews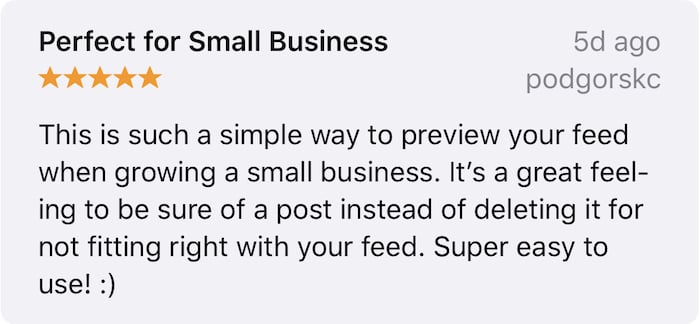 Ready?
Let's plan your posts.