Patrick has one of the most creative Instagram themes out there. He is the creative genius behind @artsypatee, a pastel Instagram theme with a twist… Patrick uses Picsart to edit his photos and Preview App to make his theme come together. Enter his world now as he talks about his Picsart edit process and shares his top tips to make an Instagram theme.
Hi Patrick! Thank you for coming on the blog to reveal your feed! To start, can you please introduce yourself and tell us all what you do?
Hello Instagrammers! So basically I am just a regular guy, people know me for having a well-endowed lengthy name consisting of more than 30 letters they might say. Like a poker card with two faces, I am full of humor but can be very serious as well real quick. Right now I am still a student taking up engineering (which is definitely not my forte, but as I can say is good too) in the middle of college life. I am a person who wants to be unique always and a perfectionist too, meticulous they might say but let's just say "against-the-current" kinda person. I am often loner which is sometimes kinda good I think but hey, I am just an introvert. My friends know me for having an eye for aesthetics, consultant for a certain motif or style, and a curator for the right design. I am a person fascinated about the cosmos, overwhelmed by alluring color schemes, and eye-catching photographs. Being vis-à-vis to crisis, DIYing is my hobby. DIYs like clothes (majorly recycling old clothes and doing riff-offs akin to mainstream and hipster fashion), merch items, and even collectibles for the fact that I always wonder "why spend on something when you can just make it yourself" like a mantra I always evoke. Because people know me for my good penmanship, calligraphies, typographies, and letterings always comes in the way. As a self-taught artist, I always study how simple things work and interact to other things, studying how a simple object can turn into a piece of art, emphasizes very intricate details on every masterpiece I have which takes time but very worth the effort especially when my work is not just prominent by afar, but when close the details makes the work astounding and making illusions create a pattern that draws out as one. So if you are following my account, you're definitely an aesthetic paramour.
Let's talk about your feed. Where do you find your inspiration?
Music is the greatest inspiration of my feed.
After I turned 19, I became more influenced with music and the deeper tones of it; so many influences of artists but they're many names to mention. Growing up being exposed to mainstream artist I became blinded by reality. As I step out of the box and discovering something new, alternative music comes in the way and I was conquered by the constructively lyrical parts of it. Everything becomes pristine, lyrics that inspire me to do more and when mixed together with my creativity, then a photograph was born. When I think of a certain type of music, I mentally convert it to an image then later on the photography. I love every single thing to have mutual reciprocity to each other, that's why I always do concepts to things. On my current feed, amplifying the brightness with an undertone to dark meanings together with colors and pastel makes everything stable. Equilibrium on everything in my feed is not just a photo album, but making it an art gallery.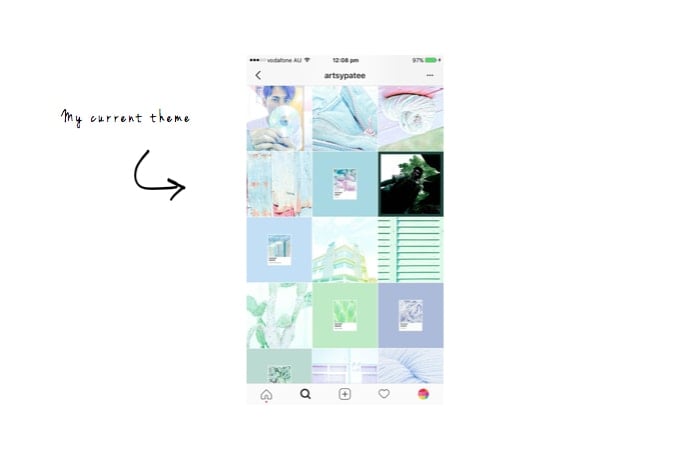 You have a very unique style, which totally caught our attention. To you, what does it mean to have an "Instagram theme"?
As I said a while ago, there should be concepts between every picture you posted.
Instagram is by far my favorite social platform because it is the extension of my artfulness. Having an Instagram theme means what kind of person you are, making people leave such remarks on your space which will make you inspire, gain engagement especially when your goal is to share others what you feel, and encourages you to be more which is a very good thing actually, because if you have a neat feed, it is a very "scroll-down-for-more" worthy. In every post that I make, every picture has its on dialogue and story. I guess being a regular guy lurking just at his home, on his way to school (because it is the only place that I wander) and at the small city I live in, makes me more innovative because in just a limited space and resources around I can make simple things more subjective; what more if I travel to many other places? Being an introvert and socially-sick person is not a hindrance to my potentials. Believe me, you can turn small things revealing and special, it is why my works and settings are home-based.
Can you tell us about your "behind the scenes"? How do you make your theme? How do you make digital art? Basically, tell us how do you get from a photo to an Instagram post?
First things first, you should have a high quality photo as a raw image. Based on experience, editing on your phone takes a lot of time (especially if you are editing it for the best) and also a lot of apps because unlike from a computer software, you can edit image all in one due to its various tools to choose from. Compare to mobile editing, there is only a specified app for a specific edit. Exporting it for many times into the other apps losses its quality but not the resolution (you may be quite oblivious at that but it is a fact). Having a resolution 1500 pixels or above is the minimum size or resolution that I have been using. If you're a keen observer, you may notice a slight change in tint and unnecessary pixels and noise that destroys the quality, thus maintaining the resolution. As a pro tip, before jumping into a new app for editing, make sure it's final.
So let's move on to editing, as an enthusiast for minimalism, I start off with the subject then capture it on a plain background, then I remove the background using a background eraser app then save it as PNG. Then on the app Picsart, select draw and change the background color as desired then add your PNG image (the one with no background).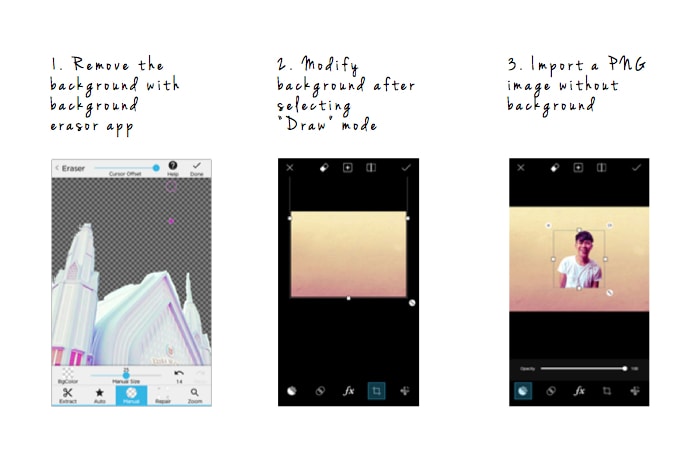 Also, in editing my photos especially on my theme, I remove the shadows and improve highlights then I minimize saturation and minimize the vibrancy. For my digital art, as I said a while ago, find time for looking for a perfect inspiration then experiment how they edit and alter some changes to be unique (because that's what I always do).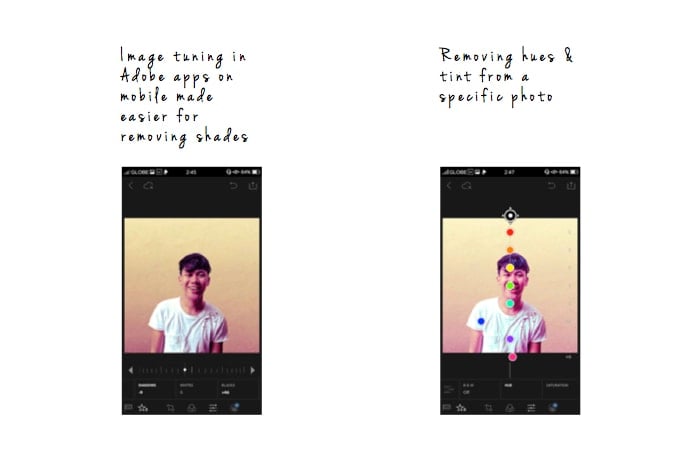 From a bland photo to an edited one, remember this tip that I always do with my theme: Balancing your posts (see examples below) by adding minimal shots to contemporary photo (or the one with no space, either positive or negative space), and I am sure you will have the Instagram feed that you've been dreaming of.
And most importantly, don't let edited photos look like very "edited" like they have very noticeable flaws (if you know what I mean) because we would not want that to be very "distinct" (tbh, my past edits from 6 years ago, was so tacky–no lie). It takes time seriously because there comes a point that my past edits are not that appealing; just follow my helpful tips and you'll be outstanding ;).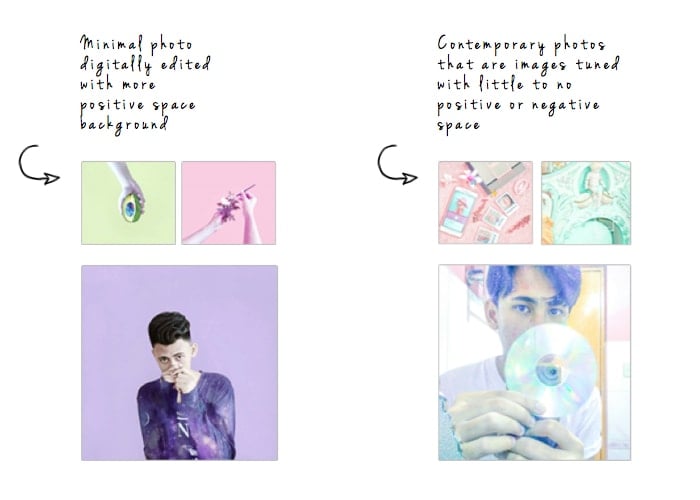 What's your biggest advice to someone who wants to start a theme?
In starting a theme, you should know what your goal is.
Provide and spend time experimenting with your skills and looking for inspirations which is very helpful in maintaining a feed gallery. It is very important to be unique with your theme. Having an edge among others does not always make you special but rather makes other people label you as this or that which makes you noteworthy. Having a concept of your own and experimenting things is not always a risk but when achieved, (beguiling as it is) all things will interact with each other to reveal a bodacious content not just for a beautiful façade but also for the meaning of your photo. There should be an equal level of content between the photo and also the caption. Sometimes captions takes time to formulate, but every photo needs a certain connection and has something to say on point, that's why should put captions. Captions that rhymes and tells a story definitely is my genre. Having an aesthetic feed like mine gathers attentions and mass followers comprising of numbers of incredible people that I met, making me an extrovert to social media (hahahah). The better presentation, the more online interaction you will gain (trust me 😉 ).
How is Preview app helping you? And what would you say to someone who isn't using it yet?
Being the best is an understatement but Preview is truly perfect (with matching spotlight). It is completely free to use and making a theme is so easy with this app. Rearranging is only by drag, swap, and drop. I like to take time rearranging and designing my theme, so swapping a photo to another is so much easier in this app. I plan my future posts in 3 months advance and as I can say the app has unlimited grids too!
Scheduling my posts so that I will never miss a thing and planning for multiple posts is so convenient too. Making caption in advance because trust me, adding captions takes a lot of time too especially when you want your post to be fully packed with content. In general, Preview app will not just level you up but will truly save your life. So if you want to start something new, to achieve consistent theme, unlimited filters, and plan like you've never planned before, the community of Preview users is waiting for you. They'll come and rescue you for very helpful tricks every grammers need.
Thank you so much for spending time reading my article. I am so grateful to help you with my helpful tips to be creative just like me. I hope I didn't bore you to death but please read from start 'til the end. I am hoping you'll be inspired from my help, lovelots!!
Thank you Patrick for sharing your awesome tips with everyone! Please go follow Patrick on Instagram @artsypatee. If you like his feed and his "Behind the Feed" leave a comment below: what's your favorite thing about his style? Your favorite  tip?
+400,000 Instagrammers are already using Preview App to edit, plan & schedule their feed. If you haven't tried it, you're missing out.