I have a special guest for this article! Hilda is a sweetheart on Instagram. Her feed is gorgeous and so are her products. She is the boss lady behind ElskaBody. But I'll let her tell you all about that.
She has been using Preview app for a while now to plan her Instagram feed. And here she is sharing her experience and tips. Enjoy!
HI HILDA! CAN YOU PLEASE INTRODUCE YOURSELF TO EVERYONE. TELL US ABOUT YOUR BUSINESS AND VISION.
My name is Hilda Thorarinsdottir and I own and operate ElskaBody, a small home-based business. ElskaBody products are natural, organic, and handcrafted.
I started a few years back when I wanted to make all natural bath and body products for me and my 2 little girls. I was becoming increasingly skeptic of big brand commercial products and the more I read about the many ingredients that were potentially harmful to your body that are routinely used in these, the more determined I became to find simpler products.
I realized I could make these products myself, thereby knowing exactly what I was putting on our bodies and I could choose just the quality organic ingredients I wanted.
Basically, it started with sugar scrubs and bath bombs, but I quickly moved on to making other things as well, including the best selling whipped body butter and hand and body lotions. The more the products sold, the more determined I was to continue.
After initially selling only locally to friends and family, I opened the ElskaBody.com store and here we are. I absolutely LOVE making the products and hearing from customer how well they work

WHY DID YOU CHOOSE INSTAGRAM AS A PLATFORM TO REALIZE YOUR VISION?
At the beginning, I was mostly pushing my business on Facebook. But quickly realized how FB was limiting my exposure to my audience. Even when I paid, the exposure was just not there. So I moved over to Instagram in April 2016. Since then I've seen such a huge growth.
I LOVE how personal Instagram is, how I can directly connect and "talk" to my clients. It's a wonderful platform for creatives as long as you authentically engage. There is nothing worse than the bot comments and follow/unfollow trend going around.

YOU TOLD ME YOU USED TO USE LATER. WHY DID YOU SWITCH FROM LATER TO PREVIEW APP? WHAT WENT THROUGH YOUR MIND. AND WHY DID YOU CHOOSE PREVIEW AFTER ALL?
After joining #TheGramGang and doing their InstaChallenge, I saw a big difference in the likes and comments the ElskaBody feed was getting. There I learned about Later, an app that you can use to schedule posts. I did the free trial, then started paying monthly. But for a small business these kinds of small fees add up. I liked Later, but wasn't keen on the monthly fee.
After a while I heard about Preview. Yes, it has a very minimal fee to start, and there are a few in-app purchases like the White filter pack I use ALL.THE.TIME 🙂 but then that's it.
I LOVE the photo editing, it's awesome. The personal support has been great, a quick answer ever time I had a question. The scheduling works great and I've never had a problem uploading to IG. Overall, I just really like it and am definitely sticking with Preview.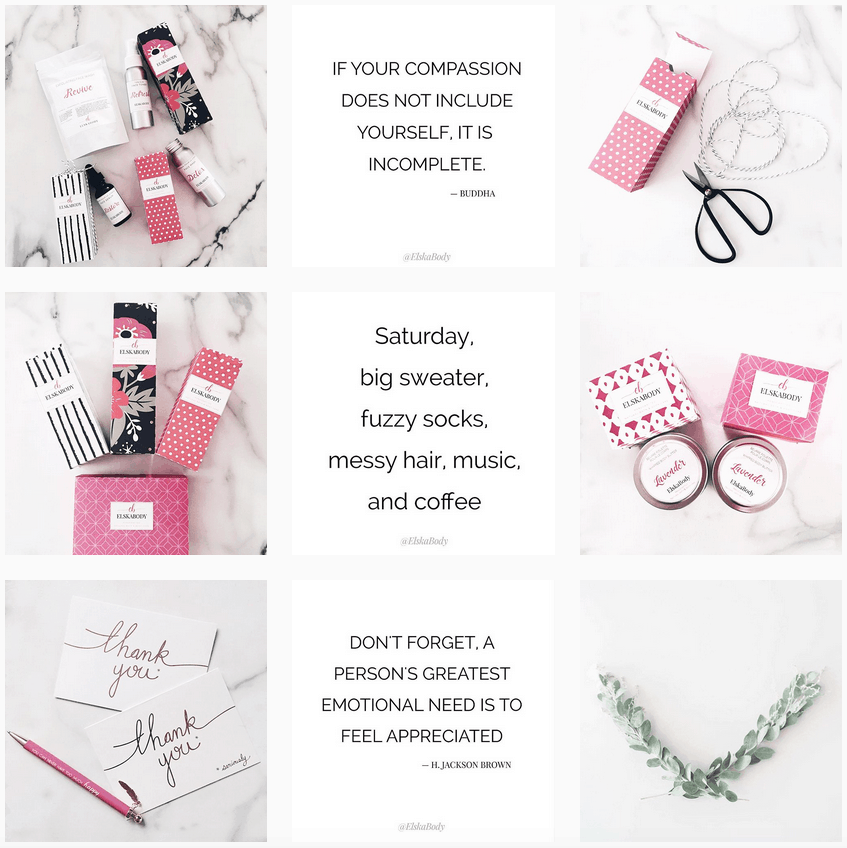 YOUR FEED IS BEAUTIFUL. IF YOU COULD GIVE ONLY ONE TIP TO STICK TO AN INSTAGRAM THEME, WHAT WOULD IT BE?
Thank you 🙂 Stick with one color scheme.
I use the WHITE filter pack and specifically D6 a lot, but I adjust each picture until it looks just right to me.
Another is to upload a bunch of photos at a time into Preview, edit them, and then play around with what fits best next to each other.
Ok, that's more than 1 tip… LOL.. there are just so many I couldn't help myself!
ONE MORE QUESTION BEFORE YOU LEAVE. IF YOU COULD DESCRIBE PREVIEW IN ONE (OR TWO) WORD, WHAT WOULD IT BE?
+400,000 Instagrammers are already using Preview App to edit, plan & schedule their feed. If you haven't tried it, you're missing out.