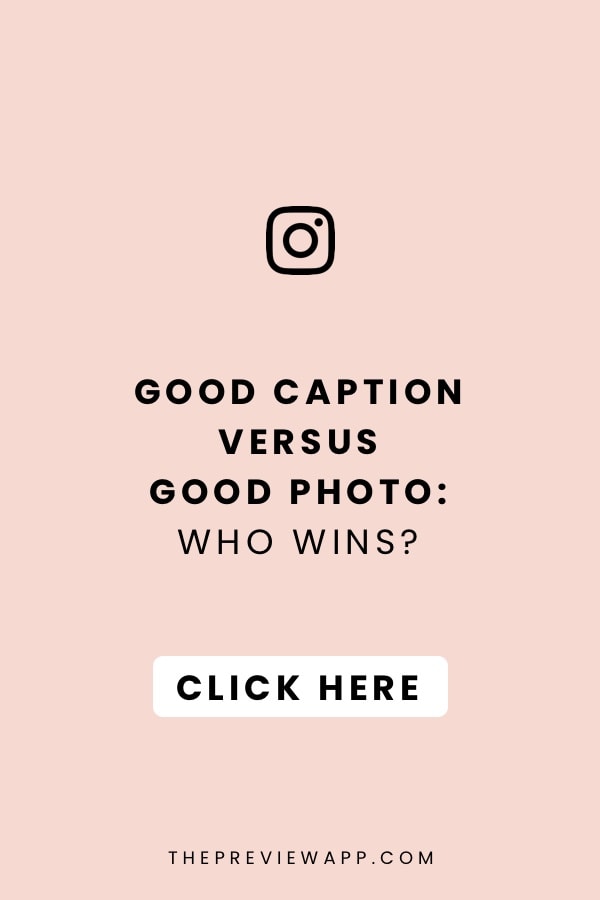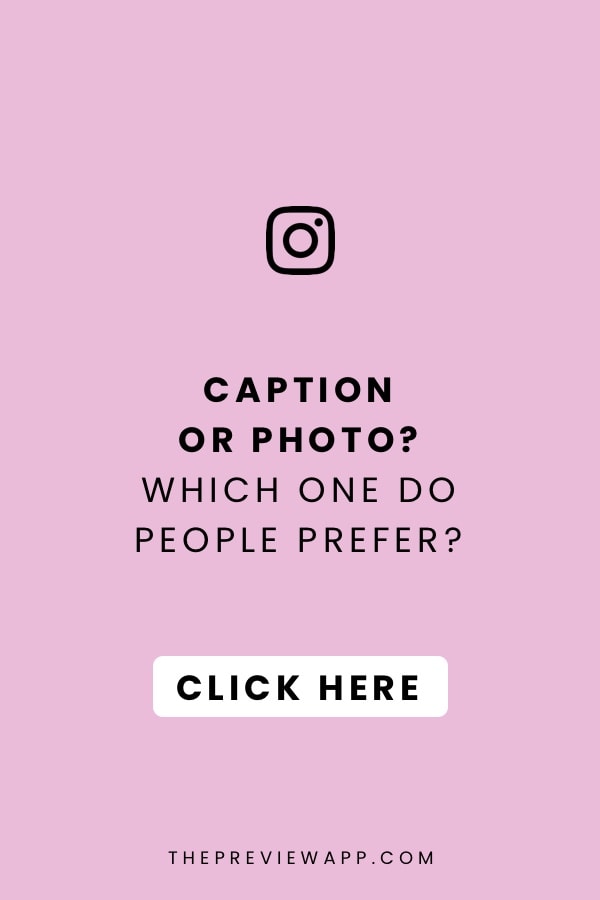 Big question, uh?
We asked our peeps on Instagram what they thought was the best:
A good photo?
Or a good caption?
Join the conversation too!
Tell us in the comments below:
Which one do you think is more important?
Is one better than the other?
Or do you think they are both important?
We did a poll on Instagram:
84% think a good photo is better
16% think a good caption is better
BUT!
We received a lot of messages from some of you saying: both are important.
Ah. Let's dive deeper and see what people are saying.
Team "A good photo is the most important"
Is a good photo more important on Instagram?
@minhtrann__: Photo certainly ?
@growmeupmarketing: "A picture says a thousand words" ?
@monsesalazarr: If I like the picture then I'll probably read the caption soooo… I say photo!
@lilibearrr: I'm working on captions but I think a good photo is most important. A good photo can capture attention but a caption can further get attention; having a good caption would be to include a qotd (engage with viewers). I know this was not part of the question but I think a good photo is most important (personally). ??✨
@mama_et_mia: A good photo… We are all very visual and Instagram is made for photos. You can post a photo without a word. But not words without a photo.
@frederiquemurphy: In my work (and in general in my opinion?), WORDS are always key, BUT on Insta, I'd say, PHOTOS first, as these are the first things our audience see and then, they might read the captions but it seems to me that a lot of people double tap on pics only first.
@herbalintentions_: Tough decision for a blogger/business owner to decide, I love words so caption, but photos make me purchase an item so photo, I'm going crazy trying to decide ?
@yogamomjen1: A good photo for sure! That leads them in to read the good caption. That first line better be awesome to make them read further.
@monseibarrac: A photo that describes the caption!
@loveandwater: Come for the photo and stay for the story I say.
@bree.palmer: Both are important but either or in my opinion!! If you don't have a good photo it better have a rocking caption. If you have an amazing photo paired with a great caption that's best but the great photo will be ok alone! ?
@mileekae: Definitely a good photo! Most people don't even read the caption.
@daoukjewelry: Photo first!! We sense that most of the times caption are not read ?
@cheeryuse: My experience tells me this: most of the audience do not read captions, but some of them do and appreciate good ones. Those deserve to keep writing good captions and keep them satisfied. One more thing to add, depending on the type of product/service, good captions are more or less required. Photos should always be good, no doubt about that.
Now let's see what people say about Instagram captions.
Team "A good caption is the most important"
@mollymarshallmarketing: I'm going with Team Caption! Without words, many images don't have any context. Words move people!
@theshopfiles: Captions over everything! ✨ especially as a business (and I love how much people aren't picking sides ?) good photos of course are necessary and draw people in, but are often not what actually engage your followers to take ACTION.
@theannbellow: Interesting…I think a good caption. Ultimately, it comes down to that if I'll make a comment.
@lifestylesocialco: A good photo will always catch someone's eye but a great caption will make up for an average photo!
Team "Both are important"
Here is what people think about Instagram photos and captions:

@designedbyyourstruly: A photo is the first impression you'll make. HOWEVER your captions are what will make people stay. It's just like a relationship with looks and personality??
@gummybearsworld: Like in a relationship, people will get attracted to us by looks first but it is the inside core that makes them stay.
@thisjustinne: Think of it this way: Instagram is a museum. The photos are very good, but if the audience would like to know more about the photo, they would go to the caption to learn more.
@rochelle_caviar: I good photo captures interest and a good caption keeps it!!!!!! ☺️
@nicolettelonjers: Both! The headline is also important. ?
@kauffmanedna: IG is visual, if the picture is of high quality or relate to me I'll check out the caption. For me a caption is how you perceive things, show me your authenticity. I love spreading love so I'm giving love to almost everyone but I engage more when the caption and value relate with me.
@lovechloejane: Porque no los dos? ?? Seriously though, one without the other is like gin without tonic, pizza without garlic bread, sunset without the sea: together they are so much more beautiful ????
@corinthsuarez: They're both just as important I think. The photo is what makes people look, the caption is an invitation for people to really check you out. I'm usually turned off by captions that are so short and impersonal no matter how great their pictures are.
@french.creative I think both are important. They complete each other! It's very important to have a good quality photo that will grab the attention first and make people want to read the caption after.
@medleythink: I think the visuals are important to catch the attention, but the caption is something that hooks up the reader and generates engagement. Occasionally, you can create design that people will want to react to (by sharing your authentic quotes, asking questions, showing the behind the scenes etc.)…But I think in general they work together or not at all. Bad visuals means nobody will stop to read and bad caption means you wasted time by creating those visuals because people won't come back for more.?
Thanks for sharing your thoughts guys!
Here is what we've learned:
Use photos to capture the attention of people.
Then use your caption to capture the heart and mind of people.
It's ok if the photo or video is the main focus of your post and if the caption is not a masterpiece every single time. Depending on what you post and depending on the type of account you have, some people just love to scroll to see beautiful / fun / captivating / inspiring posts. Sometimes that's all they want to do and that's totally fine.
If you have a shop or business, good photos are a must.
If you write a caption, make the first sentence captivating. A lot of people said that if the first sentence catches their attention, they will keep reading (@lizwhite.co, @jasminestar, @wordfetti are great at doing this).
What about you? What do you think?
Do you prefer a good photo or a good caption?
Is one more important than the other?