Note: If you already use Preview App to schedule your Instagram posts, then don't worry about the rest of this blog post. Preview automatically adds line breaks in your caption when you prepare your caption. Enjoy!
Instagram does not take into consideration line breaks and paragraph spacing. So we have to use a trick.
There are 2 ways to add line spaces in your Instagram captions.
Read until the end for very important rules to make sure your line break works.
This is the easiest and fastest way to add a line break in your caption.
I use that technique all the time.
You can use a dash, a full stop, a wave, an emoji… whatever you would like to use. This extra character will act as a space.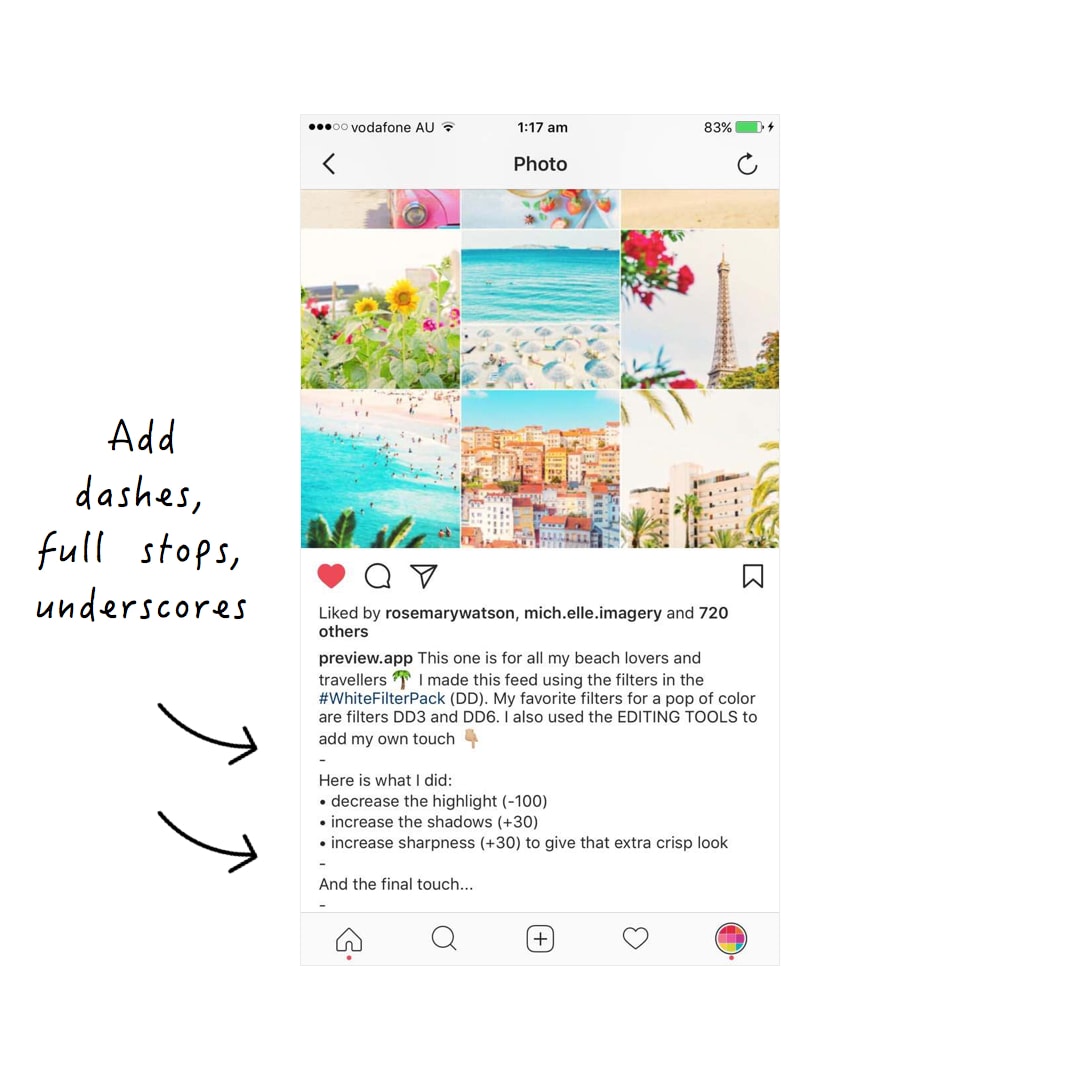 Obviously, it will be visible in your caption. If you want an invisible line break between your paragraphs, use this second method.
2. Add an invisible line break in Instagram caption
To add invisible line breaks in your Instagram caption, you need to use a certain number of special "spaces".
Follow these 4 steps.
Step 1. Write your caption in your Preview app (or your Notes app)
I use Preview App because it's the app I use to schedule my Instagram feed.
Step 2. Copy and paste these invisible spaces in your caption
Ready to add line breaks in your caption?
Press the "Return" key to go to the next line.
Now paste these special invisible spaces:
The special invisible spaces you need are in between the brackets above.
Paste multiple times if you need more lines.
Keep reading to see how I add invisible line breaks automatically in caption – without copying and pasting them all the time.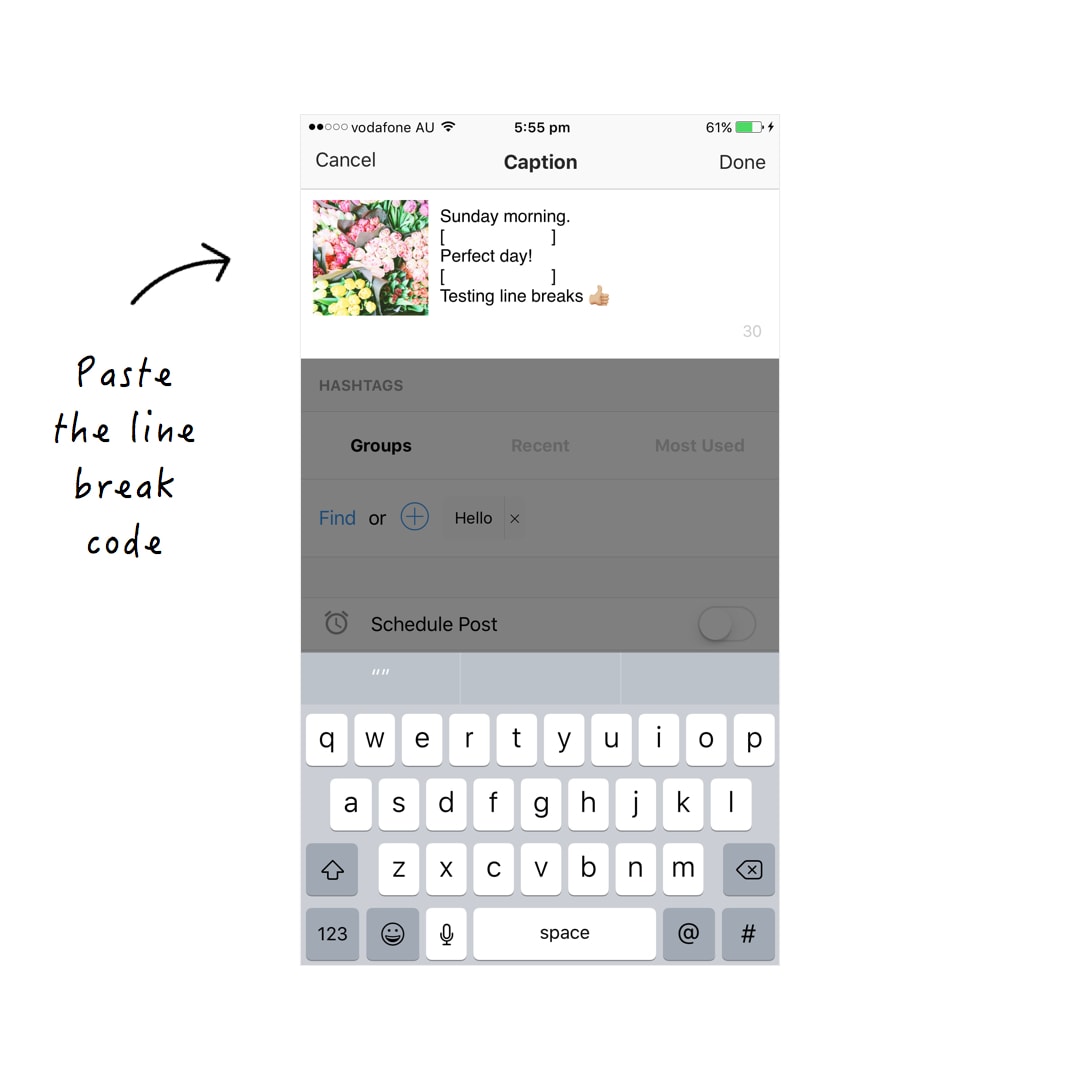 Step 3. Remove the brackets
Now delete your brackets. You will be left with invisible space.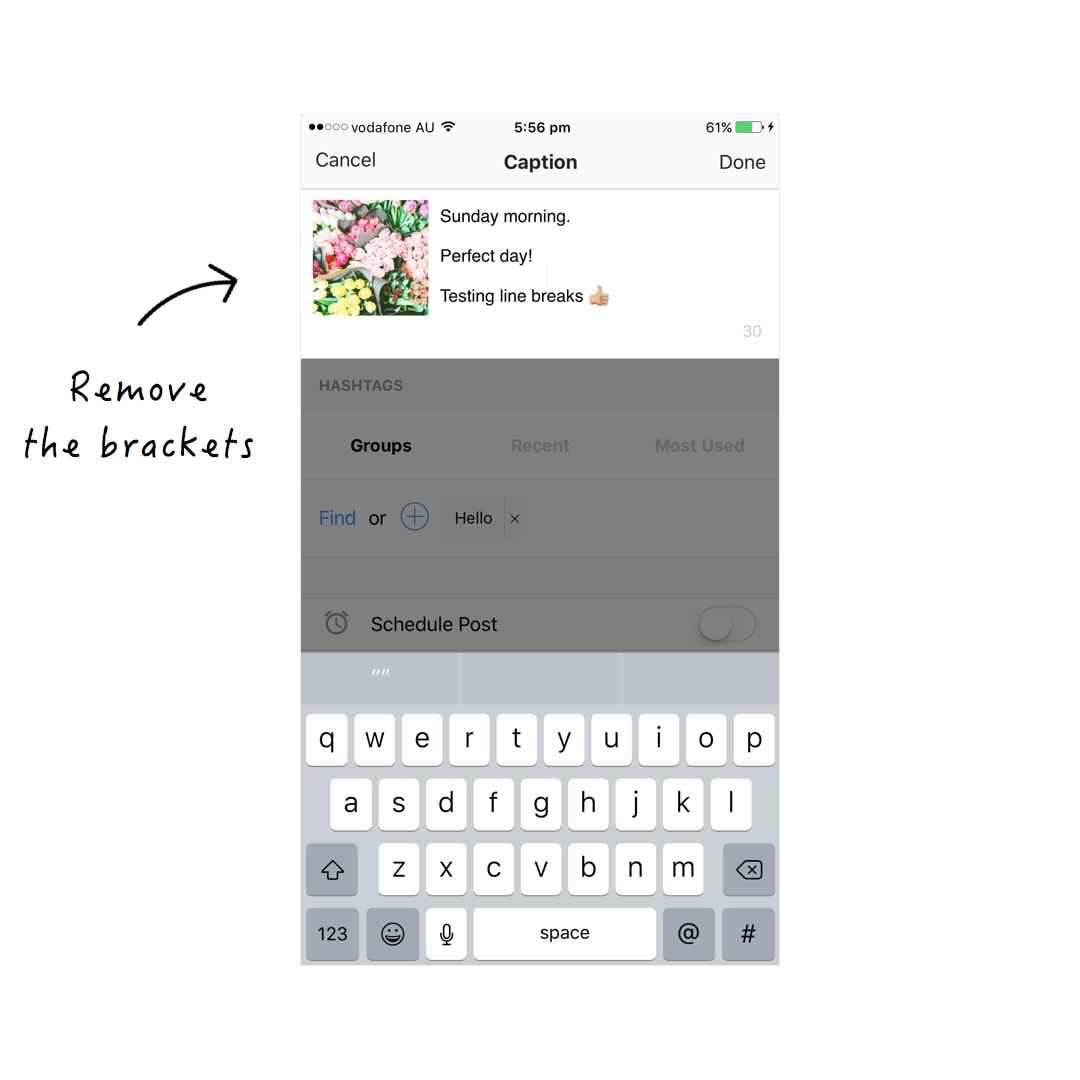 Step 4. Copy and paste your caption in Instagram
Now simply copy and paste your whole caption with line breaks in your Instagram caption.
Or if you are using Preview, just send your scheduled post to Instagram as usual. Your caption and line breaks will be automatically copied to your keyboard. Just paste your Instagram caption and post.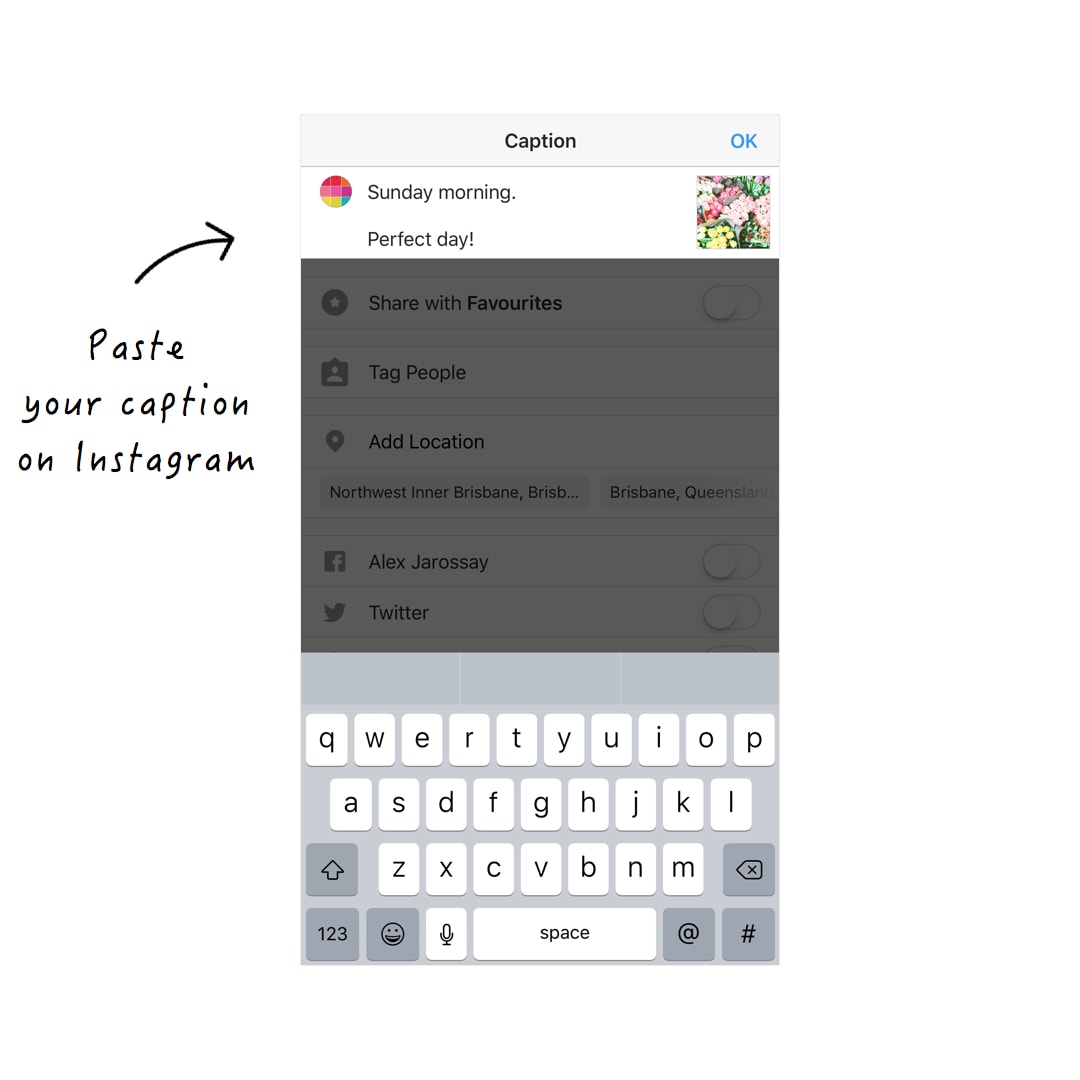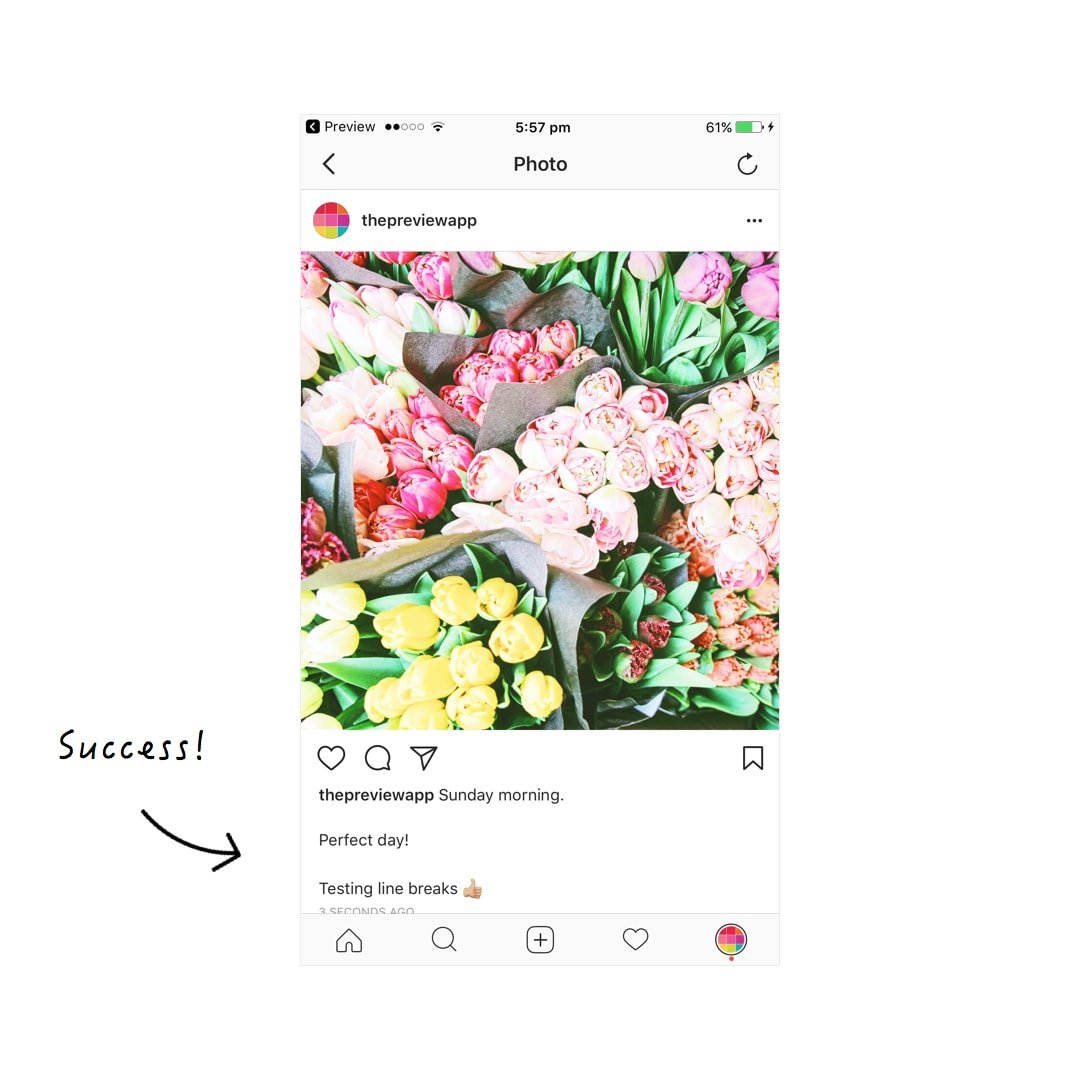 3. Very important rules to add line spaces
Don't add extra spaces after the last word in the paragraph before the invisible spaces.
For example, if you write a sentence and finish with a full stop. Do not add an extra space after the full stop. Just press "Return" straight away and then add your invisible line breaks.
Look at the image below to see what I mean. I added an extra space after the full stop. My line break didn't work.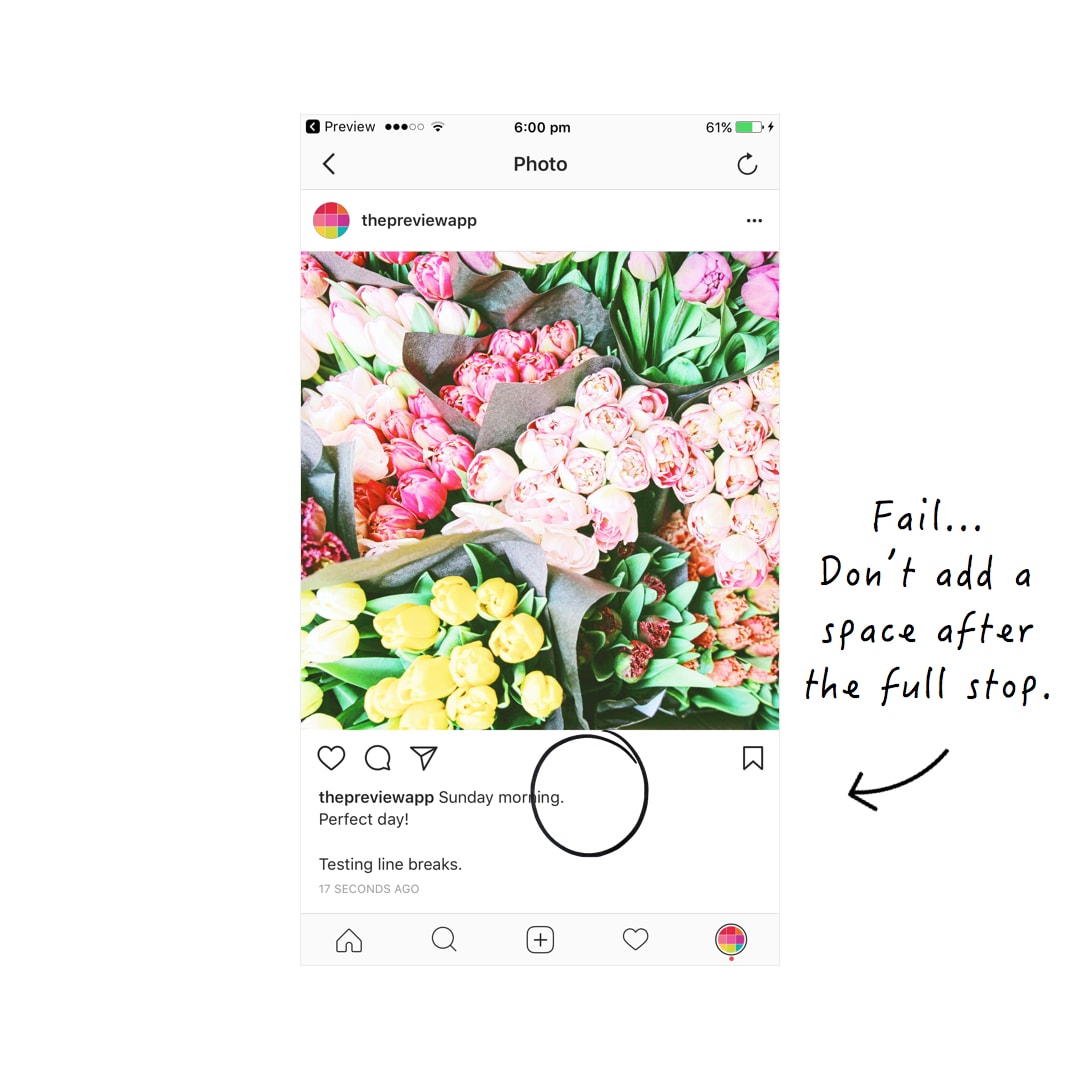 4. How to automatically add the line break in your caption
If you don't want to copy and paste your invisible line breaks, use a keyboard shortcut. It means that every time you write a special word (like "Bbb") your line break will be automatically added in your caption.
On your iPhone and iPad:
Go in your Settings
General
Keyboard
Text Replacement
Select the "+" button to add a new shortcut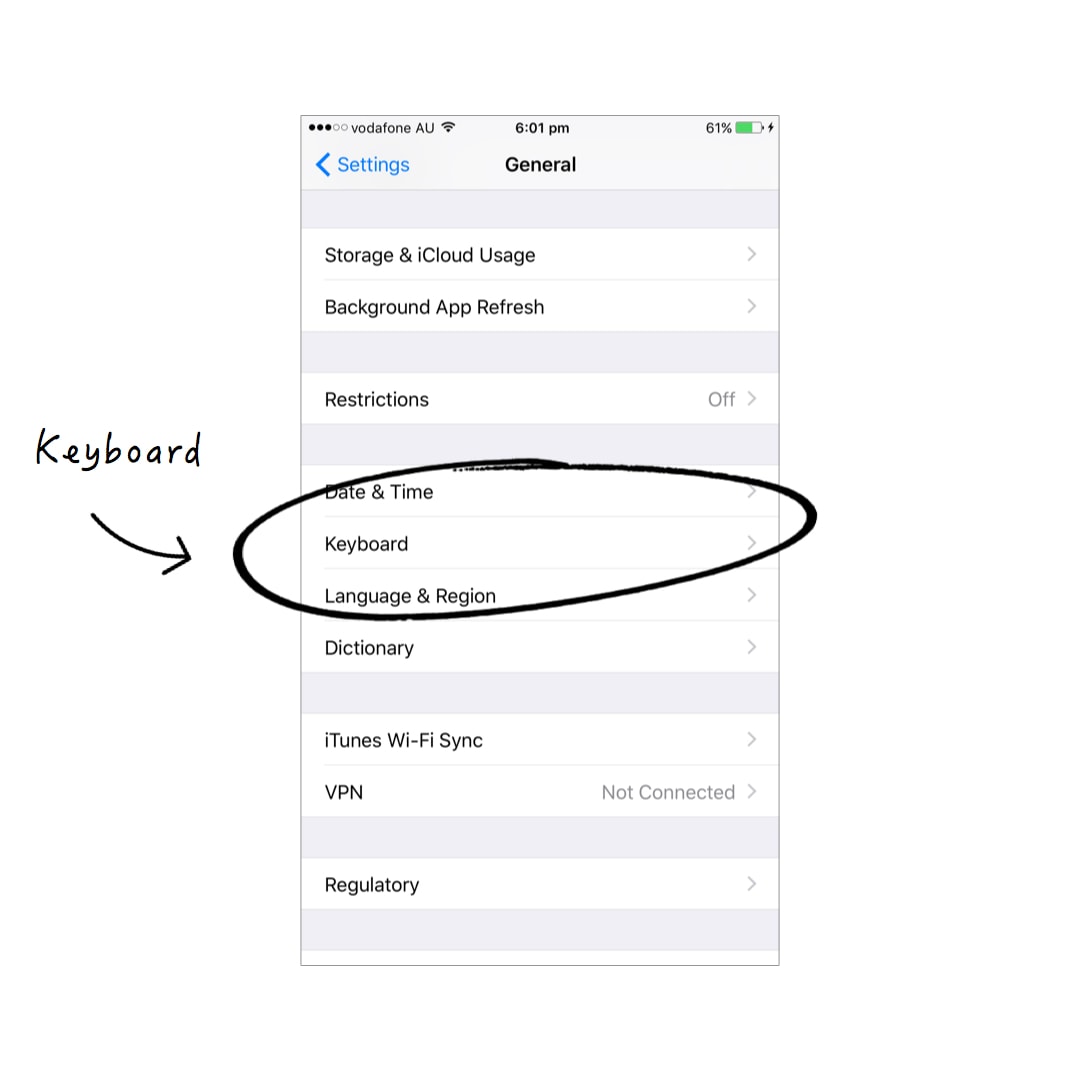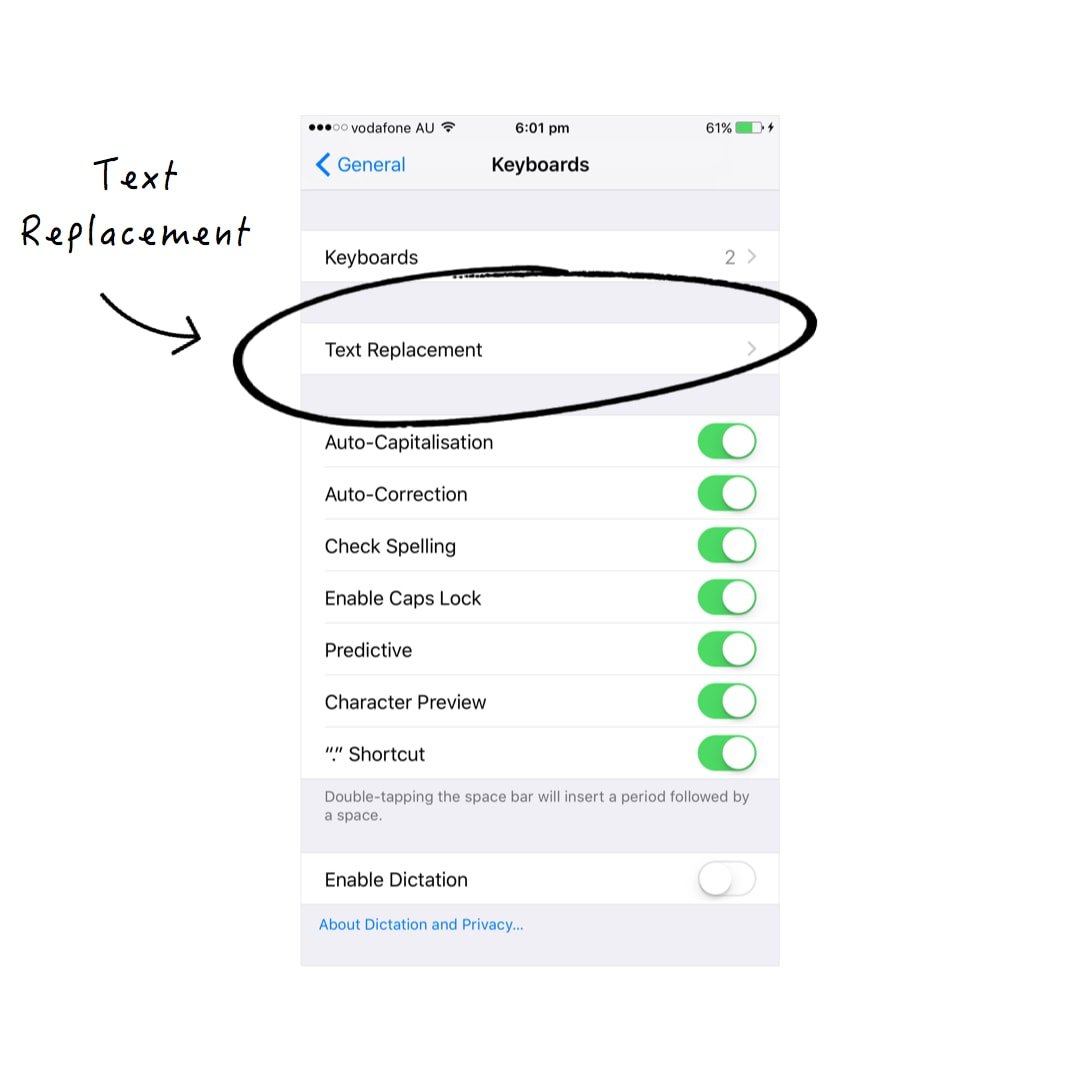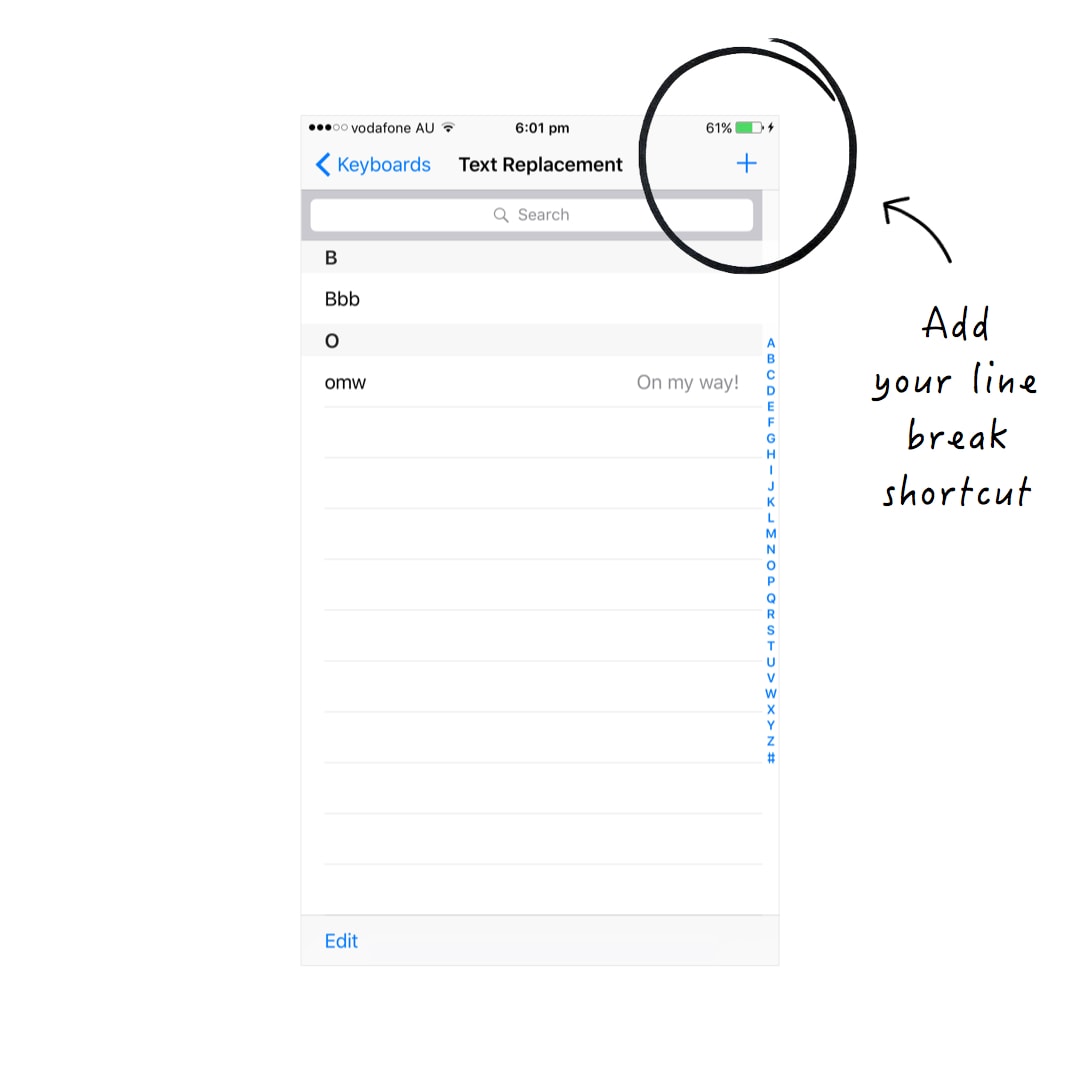 In the phrase field, paste the invisible spaces.
In the Shortcut field: type a (random) word you want to be replaced by the phrase. For example, I use "Bbb". Every time I will write "Bbb" the invisible line break will appear.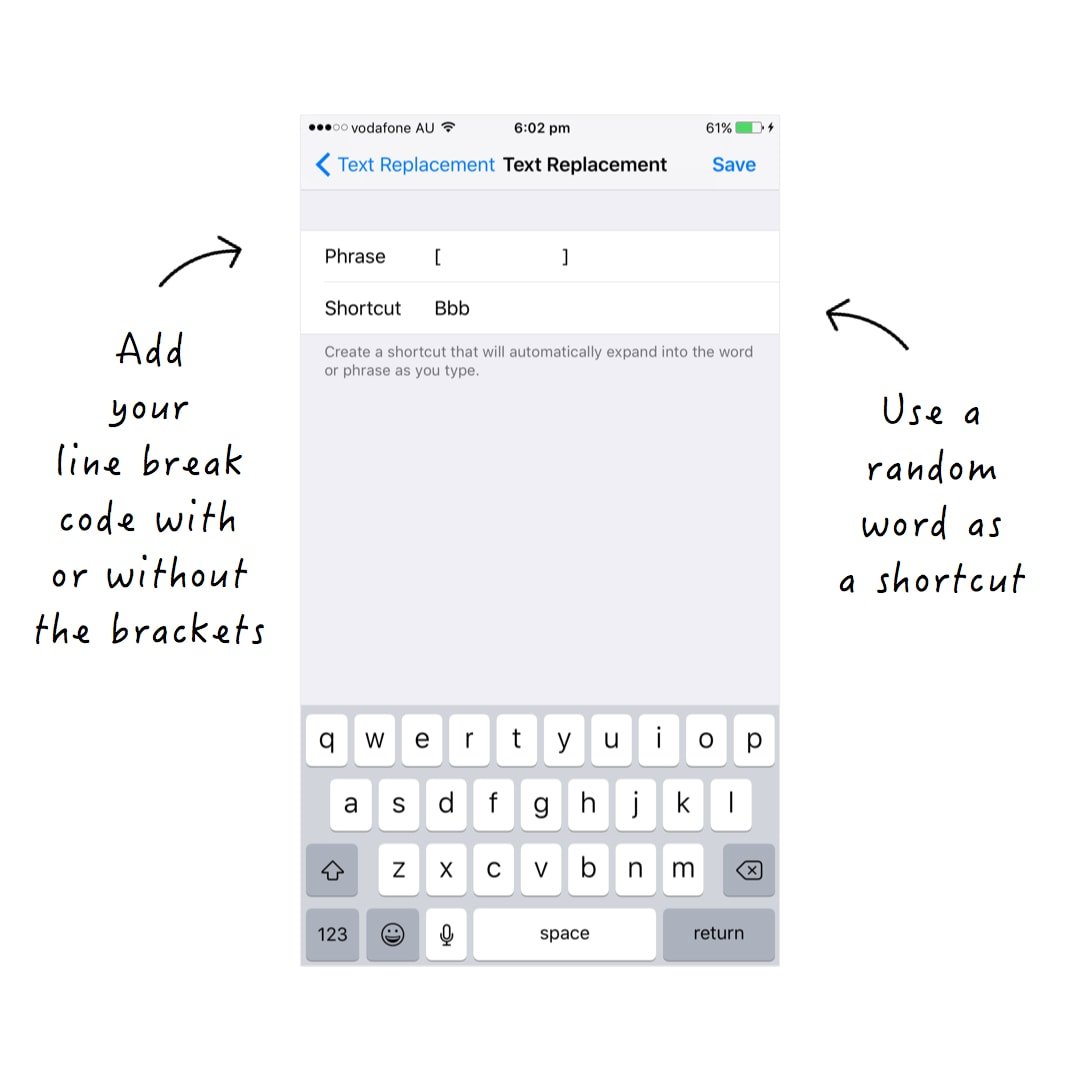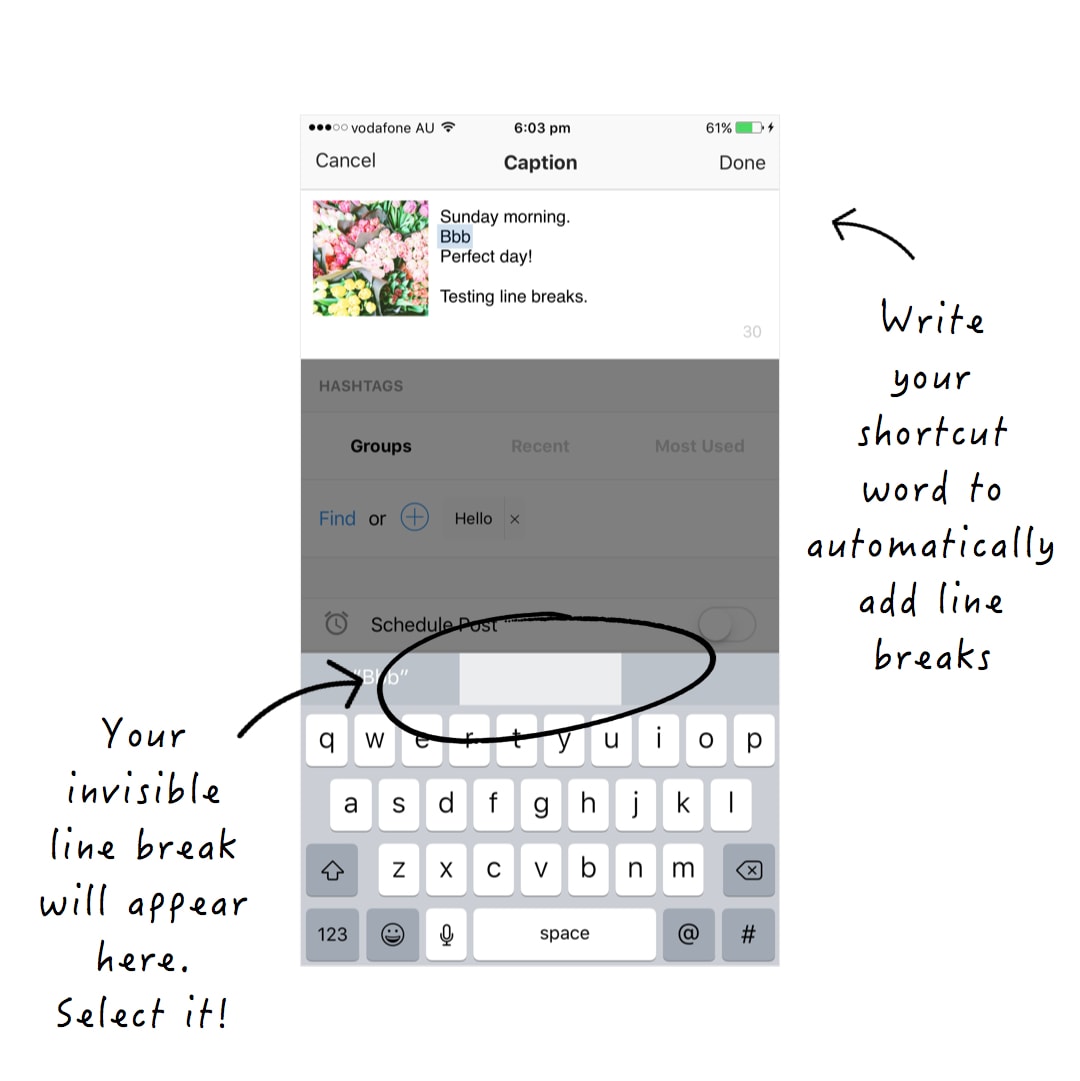 Done! Add your line breaks to Instagram caption automatically
Was this tutorial helpful?
Let me know in the comments if you have any questions.
Until next time, see you all on Instagram (@preview.app) for more tips, tricks and Instagram theme ideas.
+400,000 Instagrammers are already using Preview App to edit, plan & schedule their feed. If you haven't tried it, you're missing out.