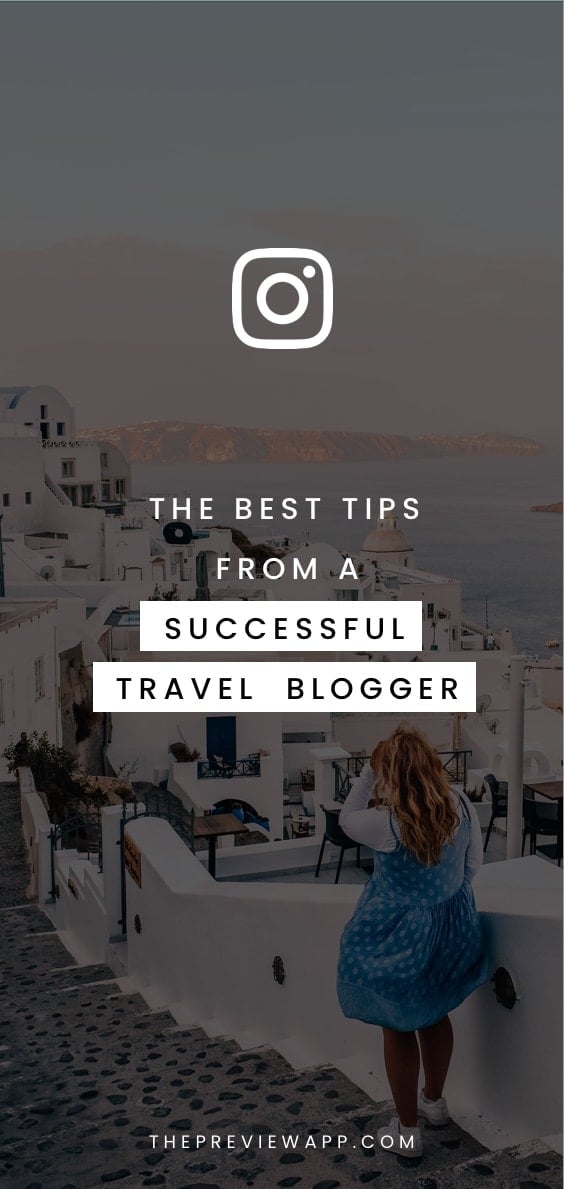 Helene. Does she even need an introduction?
Helene is a pillar of our Preview community. She is kind, down-to-earth, a freaking girl boss, Instagram mentor (check out her blog), dog lover (she travels with her dogs!), creative, and oh yeah, successful travel blogger.
Over 200,000 people read her blog every month! She is surrounded by a loving community of passionate travellers. She keeps us up-to-date with her latest adventures and travel tips on her Instagram and blog. The year is not even over yet, and she has already been to 17 countries. And with all that going on, I wonder if she ever sleeps.
Thank you to everyone who sent questions for Helene. We really hope you'll enjoy this special Behind the Feed!
Are you ready? Let's jump right into it!
Hello Helene! Before we start, can you introduce yourself to everyone? Who are you, where are you from and what do you do?
Hi y'all! If you can tell from that, I'm from Dallas, Texas but currently live in Heidelberg, Germany. I work full time as a blogger with my husband. We moved abroad to travel and see more of Europe.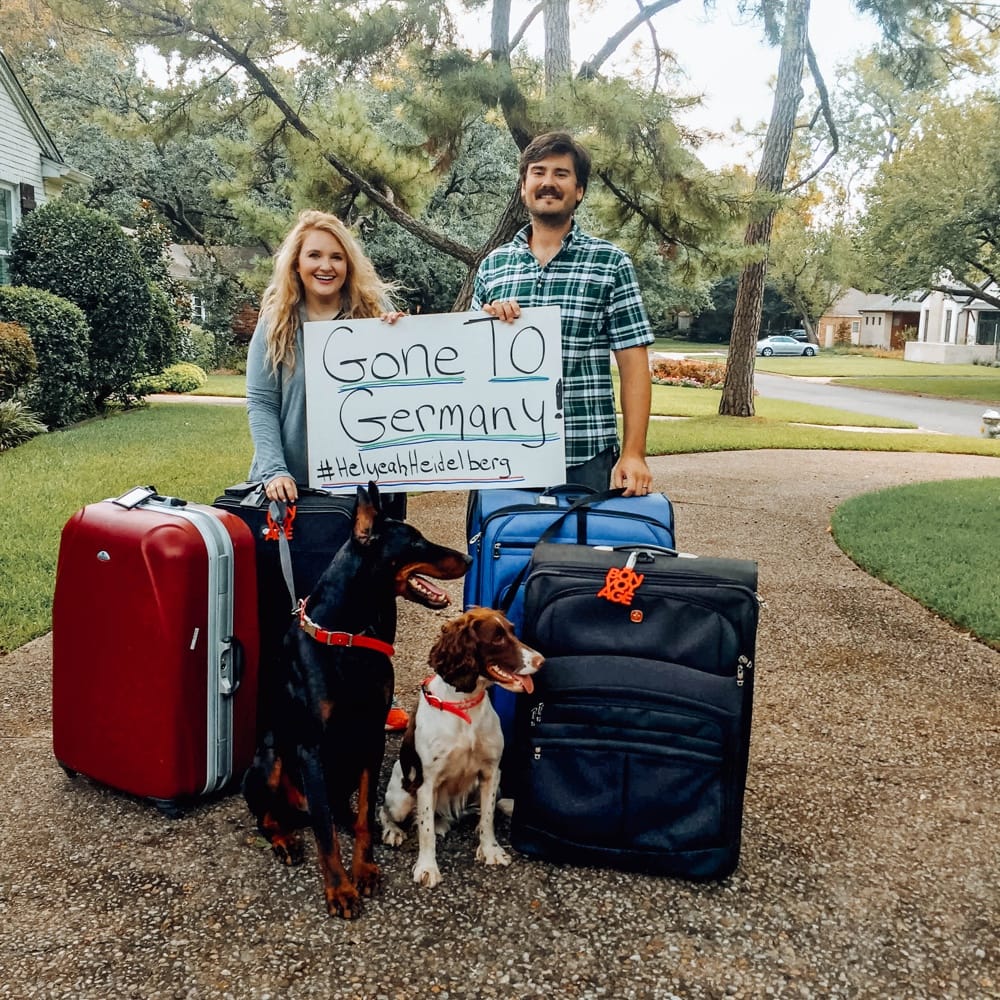 Can you please tell us how you got started? Did you sponsor your own trips?
Question from @angelrqd
I've been blogging for 7 years and I still try to take most of my own trips. Meaning, I try to limit the number of sponsored trips I take because I want to truly see a place for myself and go places I want to go. I started traveling because I'm just passionate about it and believe that traveling is the key to learning more about yourself and creating a life you love.
I started blogging because I wanted to share about what I'm passionate about. I monetized my blog through digital products, ads, affiliate links, and some sponsored posts/trips. But because I don't have to take trips to make money I believe my posts on travel come from a more authentic place.
How did you establish yourself as a travel blogger?
Question from @im.an.outlander
My blog has always been about me, and a big part of my life is travel. When I moved abroad two years ago I knew that would be an even bigger influence. I went to a few travel conferences (I recommend Social Travel Summit and Traverse) and tried to network with other travel bloggers.
What is your favorite thing about being a travel blogger?
Question from @preview.app
I think the ability to help people make choices on destinations and things to do when traveling. So often we're influenced by the "instagrammable" places when traveling. I hope to also share the places that help you understand more about a culture and its history. As well as its beauty.
The hardest thing about being a travel blogger?
Question from @preview.app
There are just so many tasks: plan the trip, photograph, edit, write posts, go to the museums, try the food, experience it like a local, the list goes on. I want to share posts that are meaningful but also that people might be interested in writing. I feel that I always walk that fine line!
How do you manage to travel with dogs?
Question from @mathilda_petrins
The great thing about Europe is that it's very dog friendly. Our two dogs might as well be like our kids, so we try and find dog friendly places. One of the reasons we moved to Germany because they don't have strict quarantine laws. We also bought a car so it would be easier to take them on trips. This post also explains more: click here.
Where are the most pet friendly places you've ever been to?
Question from @nooarnyc
Austria! There are so many pet friendly hotels and activities you never have to leave your pet at home. Germany is a close second.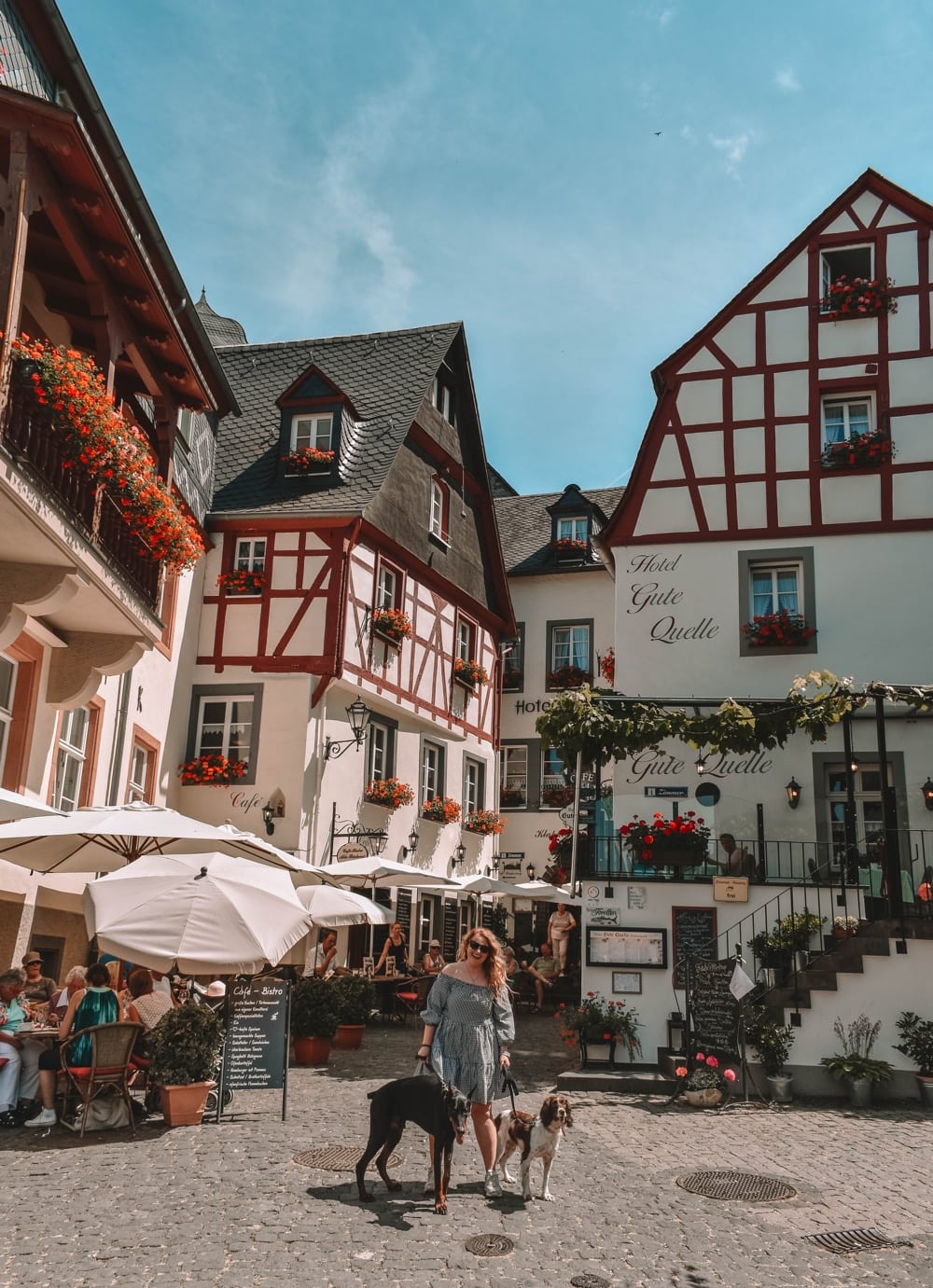 Let's talk about your photos.
What camera do you use to take photos for your Instagram?
Question from @jemyconeme
Do you always travel with a computer?
Question from @jemyconeme
I do. Because blogging is my job I need to be able to work on the go. I also edit almost all of my photos in the desktop version of Lightroom.
Are your photos spur of the moment or planned?
Question from @bashertjewelry
Most are spur of the moment. I once read that a girl spent 45 minutes taking ONE shot for Instagram. I vowed to never be that girl. I want to see the world! Of course I go to "instagrammable" places, but it doesn't dictate my trip.
You've taken so many photos over the years. What do you think makes a great Instagram photo? Are there certain things you always pay attention to?
Question from @preview.app
First, what do YOU like when you scroll through Instagram. I tend to like warm tones, bright blues, and happiness radiating through the picture. I think something that is Instagrammable is beautiful, but that's subjective.  I also want to capture the moment. What I was feeling and thinking in that place. I try to take share photos that align with all of the above.
Tips for getting non-photographer family / friends to take your picture?
Question from @theariannasantiago
I've learned to be bold and to make fun of myself. I will say, "Gotta do it for the 'gram." Or laugh that I'm over-the-top posing. Let them in on the joke and it becomes more comfortable for everyone. Also tell them to just keep snapping, and you just keep moving.
Tips for posing for non-posers?
Question from @theariannasantiago
Move! Move around. Put your hands up and down. Smile, laugh, walk. Motion, I think, makes for an awesome picture. And laugh at yourself. It's more fun that way.
Is it stressful to look decent for your Instagram photos when you're always on the go? (I always look crazy when I travel)
Question from @rayowag
I love this question. Can we please focus on looking crazier?
When did people climb mountains in a dress in heels – they didn't! 98% of my pictures you'll see a pair of white Adidas. It's all I wear. I think it's important to share what real travel looks like. Sure, you can sometimes throw on a dress, but for the most part, dress like you normally would. PLEASE.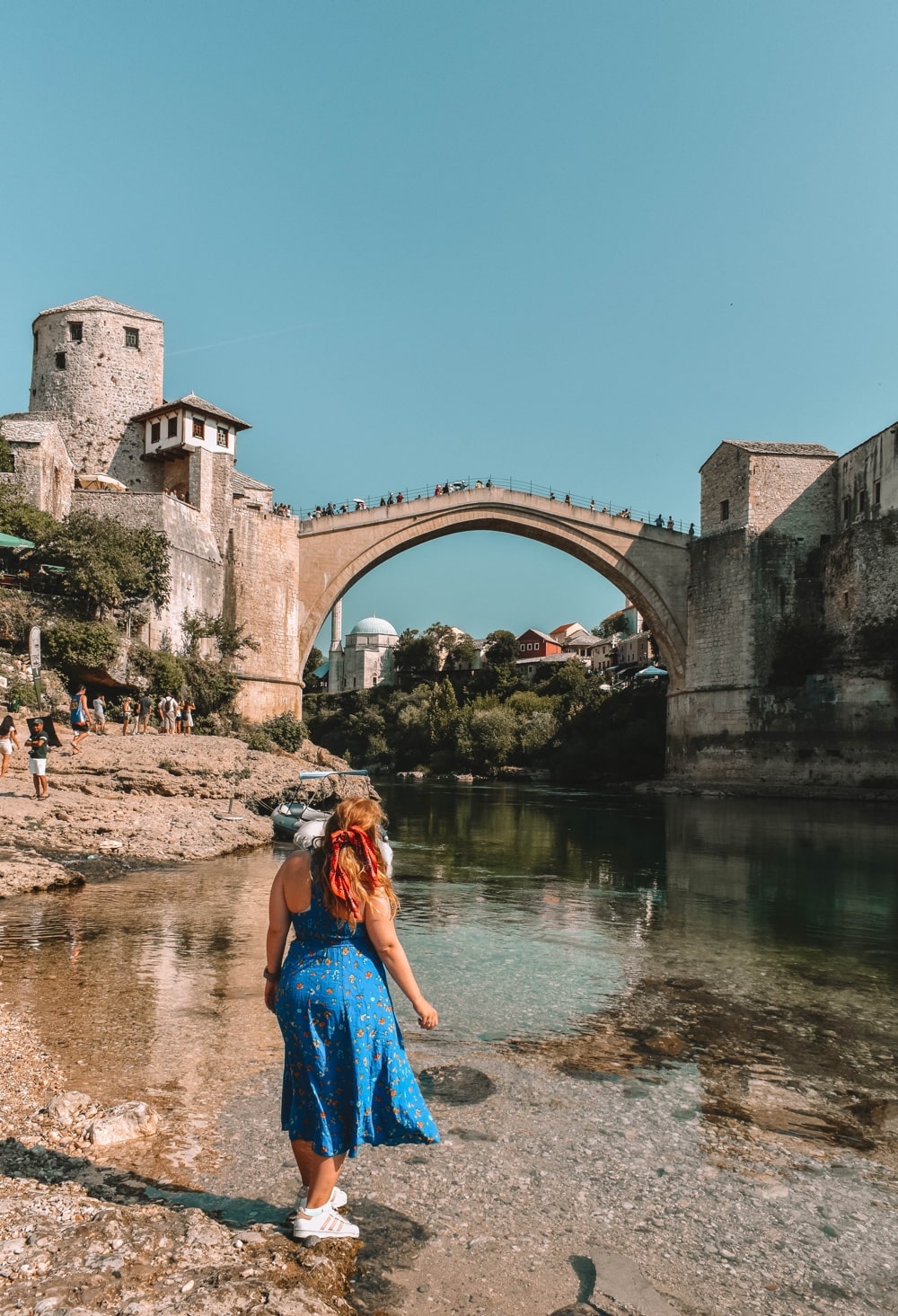 How do you find places that look good in pictures?
Question from @rayowag
My husband Michael does research before we take a trip. He usually looks at the top things to do in a place and those places are typically beautiful. I don't go out of my way to find places that are pretty, I find you usually find them when you start exploring.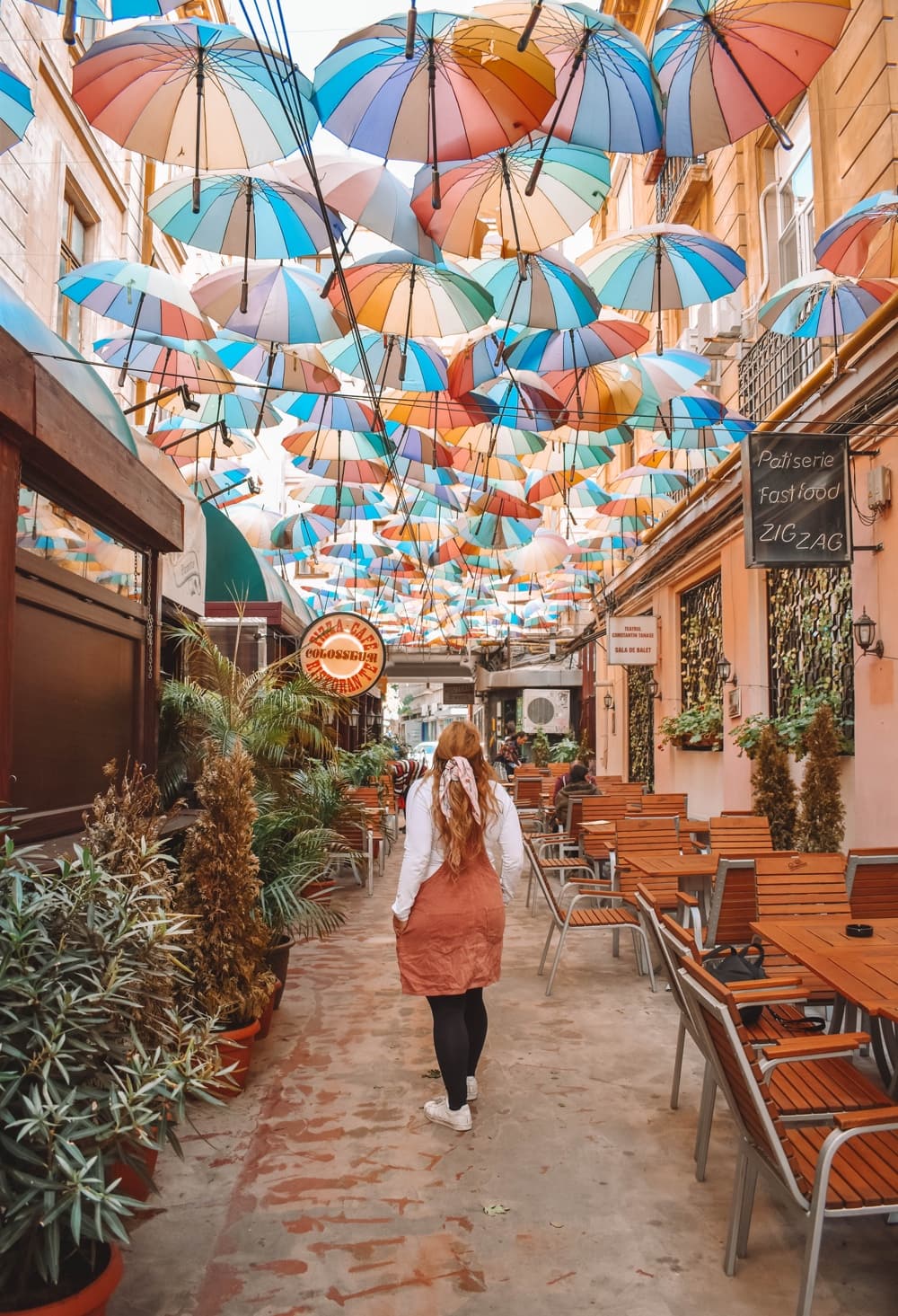 How many photos do you usually take on a trip?
Question from @preview.app
Oh a lot! On my 5 day trip to Santorini I took over 1,000! But it can range from about 200 and up. I write blog posts about my trip so I like to make sure I have pictures of everything I need!
How do you pick which photo to post on your feed?
Question from @preview.app
I use Preview! Seriously, there isn't a picture that is posted that I don't load into Preview first to make sure it flows with my feed.
Let's talk about your planning your feed.
How do you edit your photos?
Question from @phoebedance05, @_morgz.stefano_, @h.o.t.potato, @doha_krayem, @the.miss.unique, @im.an.outlander, @dimpi_ahmed, @phoebeangelaa, @abdulhamit.gms
Lightroom is the best way to edit. I'm able to really streamline my process, bulk edit, save presets and capture the colors and tones I love. Here's how I edit: click here.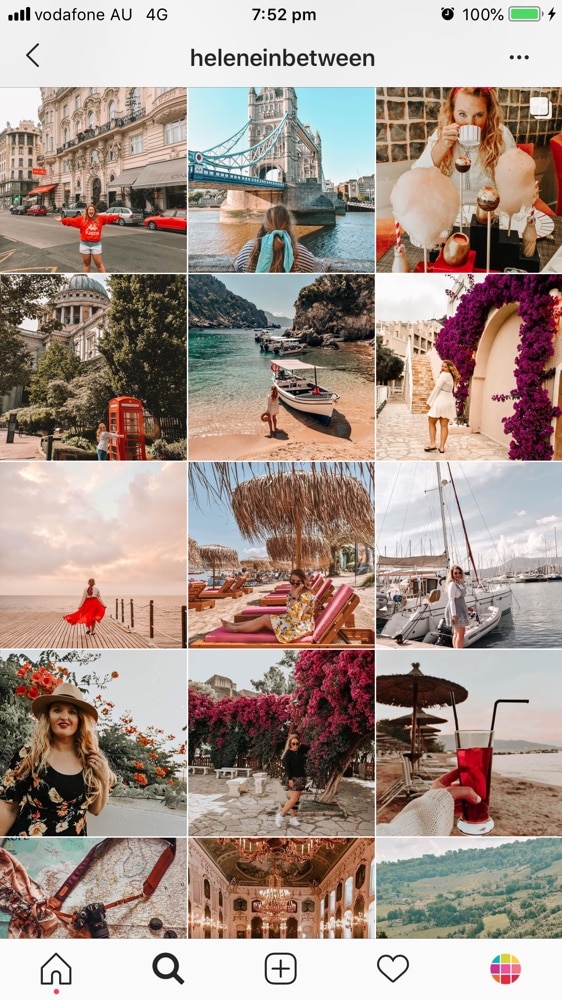 What are your top tips to maintain a beautiful feed?
Question from @phoebeangelaa, @fish._.9, @imdeepak9
I really can't recommend planning it out enough. It really helps to visualize the flow and story of your pictures. To me, Instagram is like a book. Your top nine photos are the introductory chapters. People need to get a sense of who you are and what you're about and those photos tell your story. Laying out your feed is the best way to do this.
How far in advance do you plan your feed?
Question from @preview.app
I try to plan my feed a couple days in advance but I like sharing photos of where I am. For instance, if I'm in Barcelona then I will share images from there, usually from the previous day or days. Here's a sneak peek at my Preview app: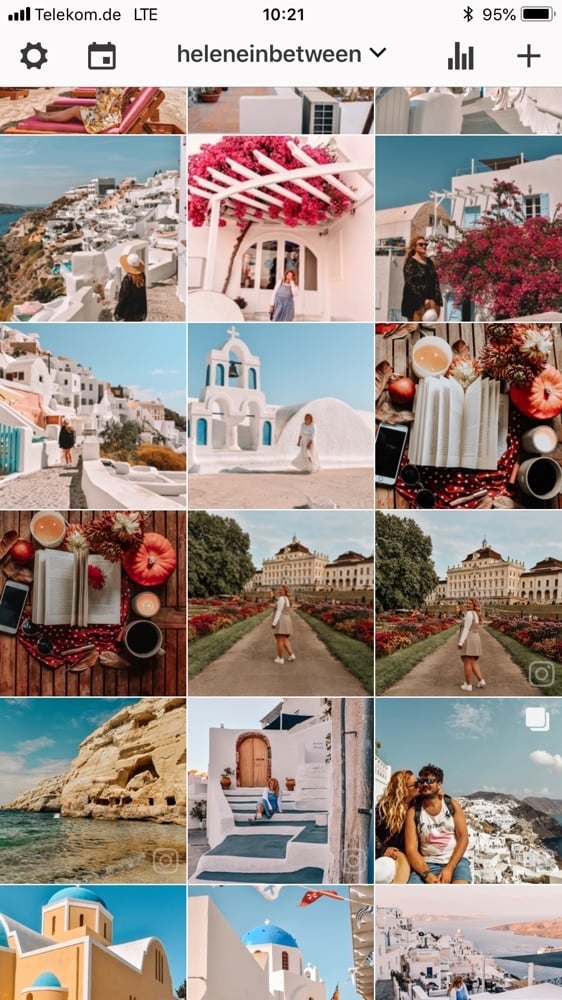 How much time do you invest in planning your posts?
Question from @im.an.outlander
I really value my time and the importance of actually traveling and living life. So I don't spend tons of time planning my feed. Especially using Preview it takes me just a few minutes a day.
How do you get inspiration to write catchy captions for your photos?
Question from @angelrqd
I love writing captions! I love writing in general (both my parents are writers) and I really think the caption helps people understand you. I like having a mixture of funny, helpful, personal and factual about the places I'm in. I actually have a blog post sharing exactly how to come up with catchy captions: click here.
Do you write your captions in advance? Or when you post?
Question from @preview.app
Yes! I have all my caption ideas saved. If I think of something witty or interesting I always write it down.
How do you manage to consistently post awesome content everyday?
Question from @angelrqd
I think of Instagram like my job. I think it's important for me to share something everyday. So I make sure I have extra photos loaded into my Preview app that are ready to go with captions. That way, if I'm busy or tired, I have something to share.
Let's talk strategy
How did you grow your audience on Instagram?
Question from @angelrqd
My background is in social media and marketing, and I'm also a blogger. I'm pretty nerdy and love looking at what's working on Instagram. I often change up my strategy but one thing I try to always do is realize that Instagram is not about me. It's about creating a community. It's about sharing things that others might find admirable or aspirational. You might hear me say that again because that, to me, is the most significant way to grow your Instagram.
How long did it take you to grow your Instagram to where it is at today?
Question from @angelrqd
I've been on Instagram for about 7 years. At first, it was just for fun. But when I realized I could use it as a tool to grow my blog and business I started getting serious. Growing it has taken me about 3 years to make it something that drives traffic and helps me make money.
Do you think newcomers can be successful on Instagram / blogging or is it saturated?
Question from @es_thefanyk
Saying the market is oversaturated is the same as saying there are too many shoe stores. Are there too many? No! The world can always use another one. Just like the world can always hear your voice and story. So my advice is to JUST DO IT. Like the shoe store, Nike (had to go there).
What are your top tips for people who want to become content creators in the travel industry?
Question from @angelrqd
This might be a little bit different from what you hear, but my advice is to travel on your own. Share what you love.
To me, the best kind of success come from passion. If you're already interested in travel then it will come naturally to share. It will also mean your voice comes from an authentic place.
When you're traveling tag and interact with companies you already use or love. That way, you start being on their radar. I also recommend for signing up for third party companies that connect you with companies so you can get started doing that.
Quick fire questions
Which one is your favorite photo ever?
Question from @bleisure_lifestyle
This one without question. Funny story, my husband (and often photographer) and I were fighting when he took this and I love the expression on my face because I was so mad!!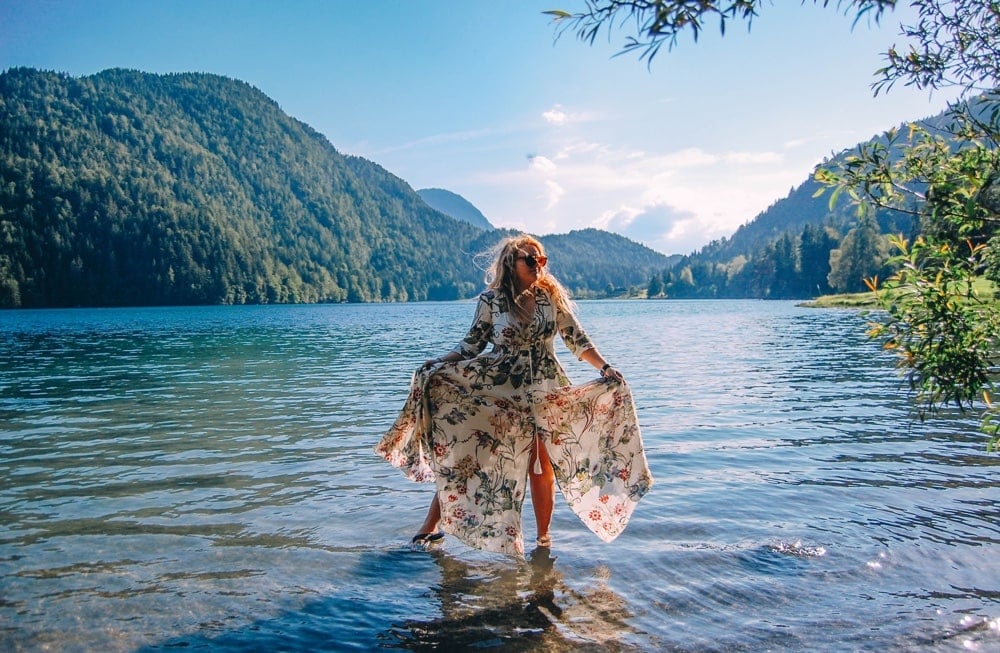 Favorite destination and why?
Question from @pratik14111999, @xxl_blog.ch
So hard… but I adore Austria. Beautiful mountains, lakes as clear as the sea, pristine wooden chalets, and it's super dog friendly. Plus they are much cheaper (and just as pretty) as Switzerland!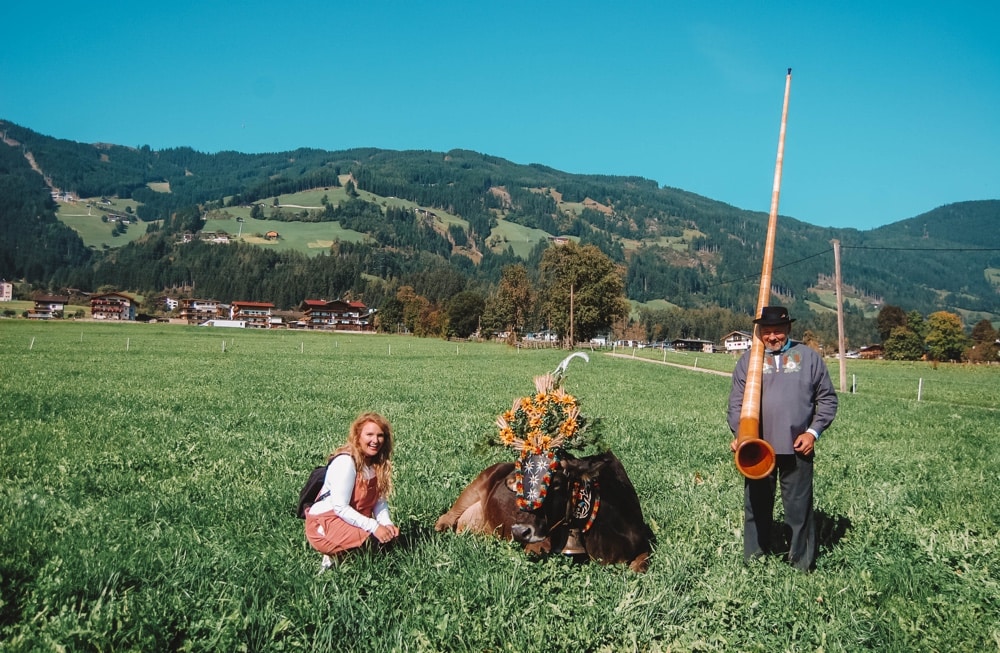 Which place do you think everyone should visit at least once in their life?
Question from @pratik14111999
The islands of Greece. There is just something magical about these little islands. The people are super friendly, delicious food, and there scenery is unbeatable.
Your favorite travel Instagrammer(s)?
Question from @preview.app
I'm inspired by so many. I love:
Anything else you would like to say to everyone?
My main advice when it comes to Instagram and growth is not be so stressed. I know it can feel incredibly overwhelming but I truly feel authenticity shines through. Think about what you're interested and passionate about. Share about those things along with your story. I know it's hard, but don't compare. Every path is different. Lastly, have fun with it! Instagram is social media. And when you're not agonizing over it, you usually find your stride.