Welcome back Preview lovers! I'm very excited to introduce you to Joanne. She is the (very) creative girl behind @simplywhytedesign. You will know her for her beautiful animated collages and grids on Instagram. She's been using Preview App for a little while now to plan her Instagram feed, so it was about time she jumped on here to share her tips and tricks with us.
She is going to tell you her Instagram routine: from making collages, grids and to scheduling her posts. She's also going to tell you her favorite filters.
If you are new: Welcome! Behind the Feed is a blog post series featuring amazing Preview app users. We are a community of over 300,000 Instagram lovers. We're here to share our story and tips.
Hi Joanne! Can you please introduce yourself and tell everyone what you do?
Hi everyone, I'm really excited to be featured on here and so glad to virtually meet you all.
I'm a down to earth but super friendly freelance graphic, web and digital designer, living in Auckland, New Zealand. I craft unique creations for small to medium sized businesses seeking to capture the attention of their dream audience.
I have two hyper little dogs, two horses and a wonderful fiancé who supports my crazy dreams and ideas.
I create brands, Squarespace sites, print material but lately I have been getting into doing collages and digital design for social media.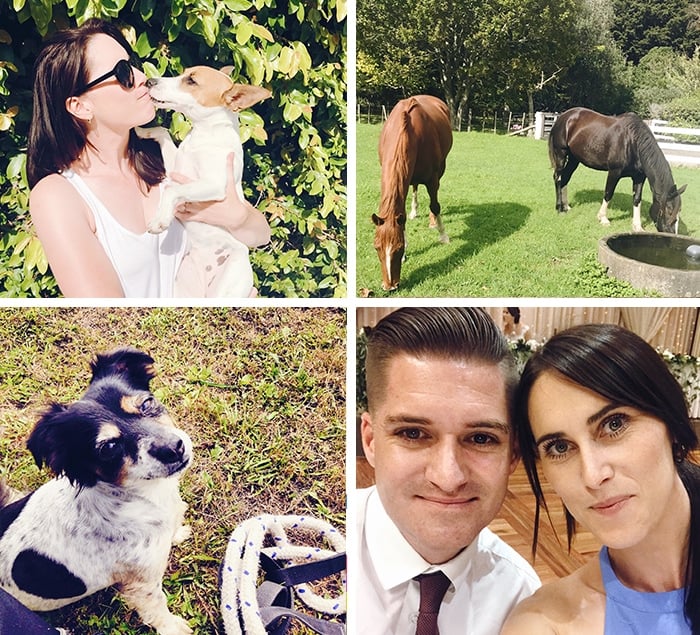 If you could describe your feed using one word only, what would it be?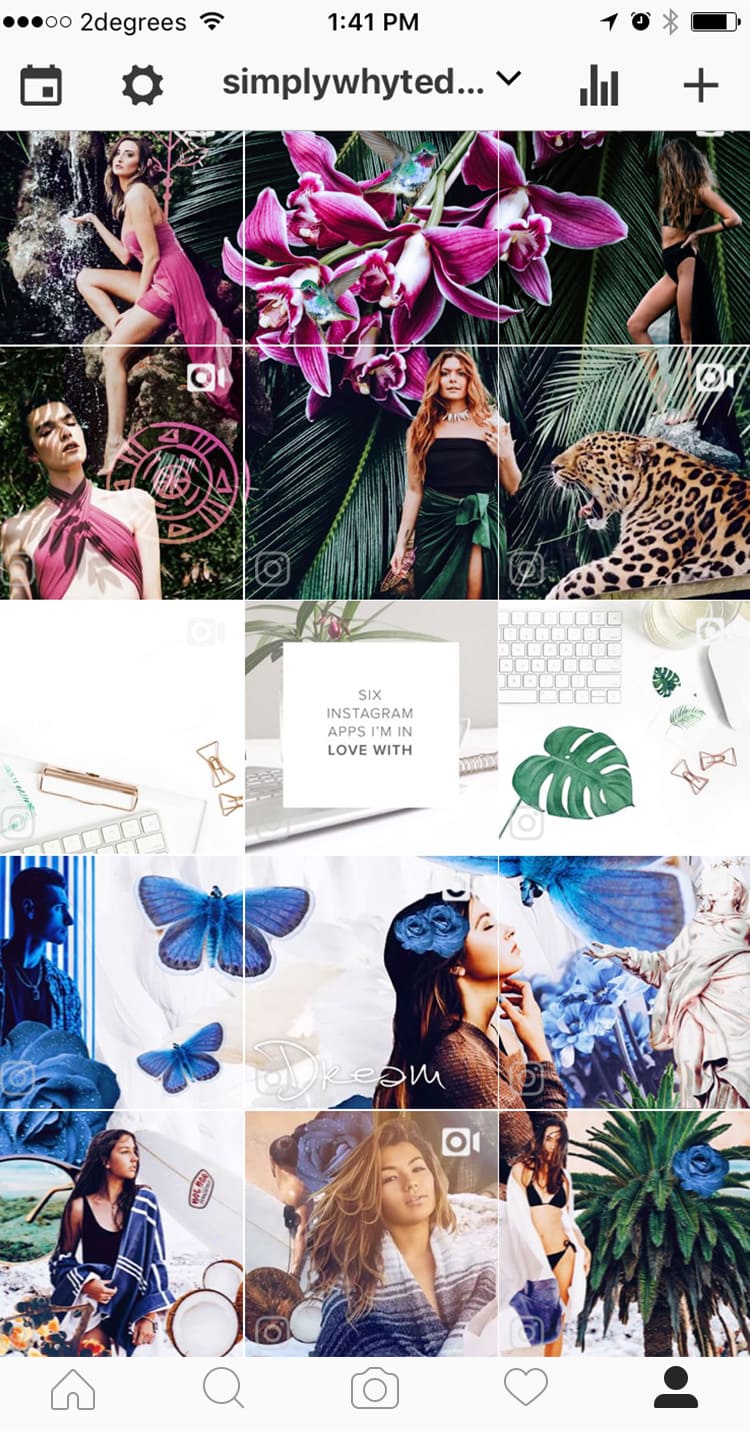 3 things that inspire you?
1. Beautiful photography
2. Fashion
3. Everything I see on Pinterest lol
Your Instagram feed is VERY unique. How (or where) do you find inspiration to make your collages?
Inspiration for me can come from anything. I'll see something and it triggers an idea. I could be browsing the Internet, just about to go to sleep, be outside and just see a colour, a texture or an image and I think to myself hmmm… what if I did something like this?
If I'm struggling with an idea or concept there are a few things I do to help;
Remember those old school brain storms you did in primary school, yea, I do those, they still work lol
I look at other designers work that I admire
I look at design that is not related to what I'm doing
Browse through Pinterest, Dribble, Behance and magazines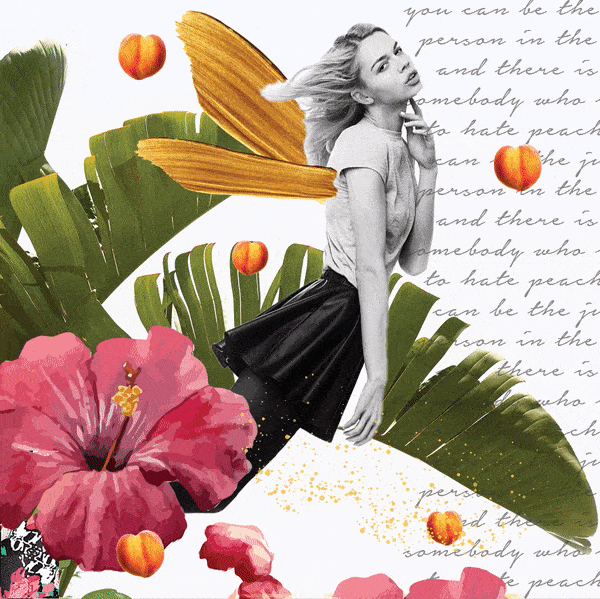 Many of us struggle finding our own unique style. How did you manage to find yours?
Finding your own unique style takes a long time. Some people are lucky and are born with a style and know exactly what they are going to create but I had to figure mine out.
I did this by researching, looking at good design, reading and by religiously creating something every day.
I guess that's also why I landed up doing collages for my IG feed because I have so much freedom and can cover so many subjects. I'm not restricted in any way and can creatively express anything.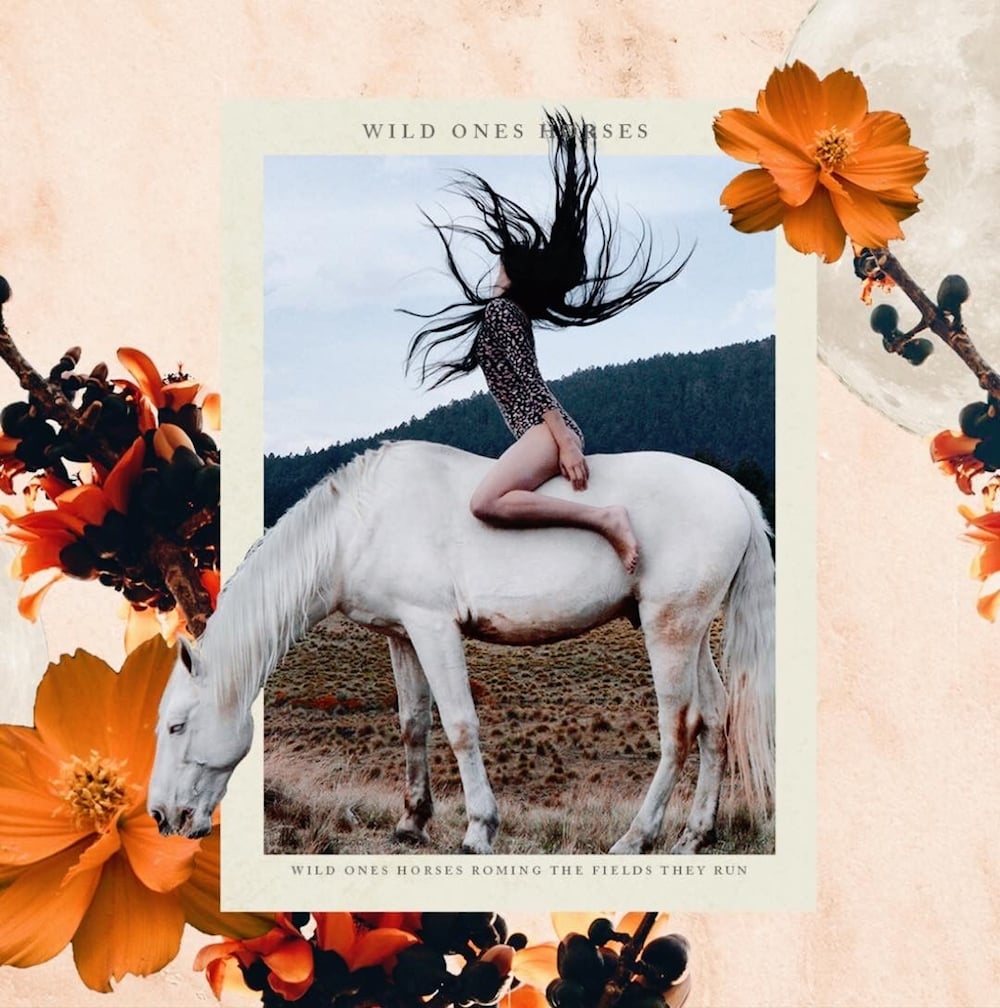 How long does it take you to make a collage?
I do spend quite a bit of time on them, but they are a creative release for me as well as making my feed a bit different.
Sometimes a grid of three will take me an hour and a half other times I will spend a lot longer if it's quite complex and has lots of elements or animation.
I'm working on creating collages for other people and brands as well so depending on what they want, depends on how long it takes.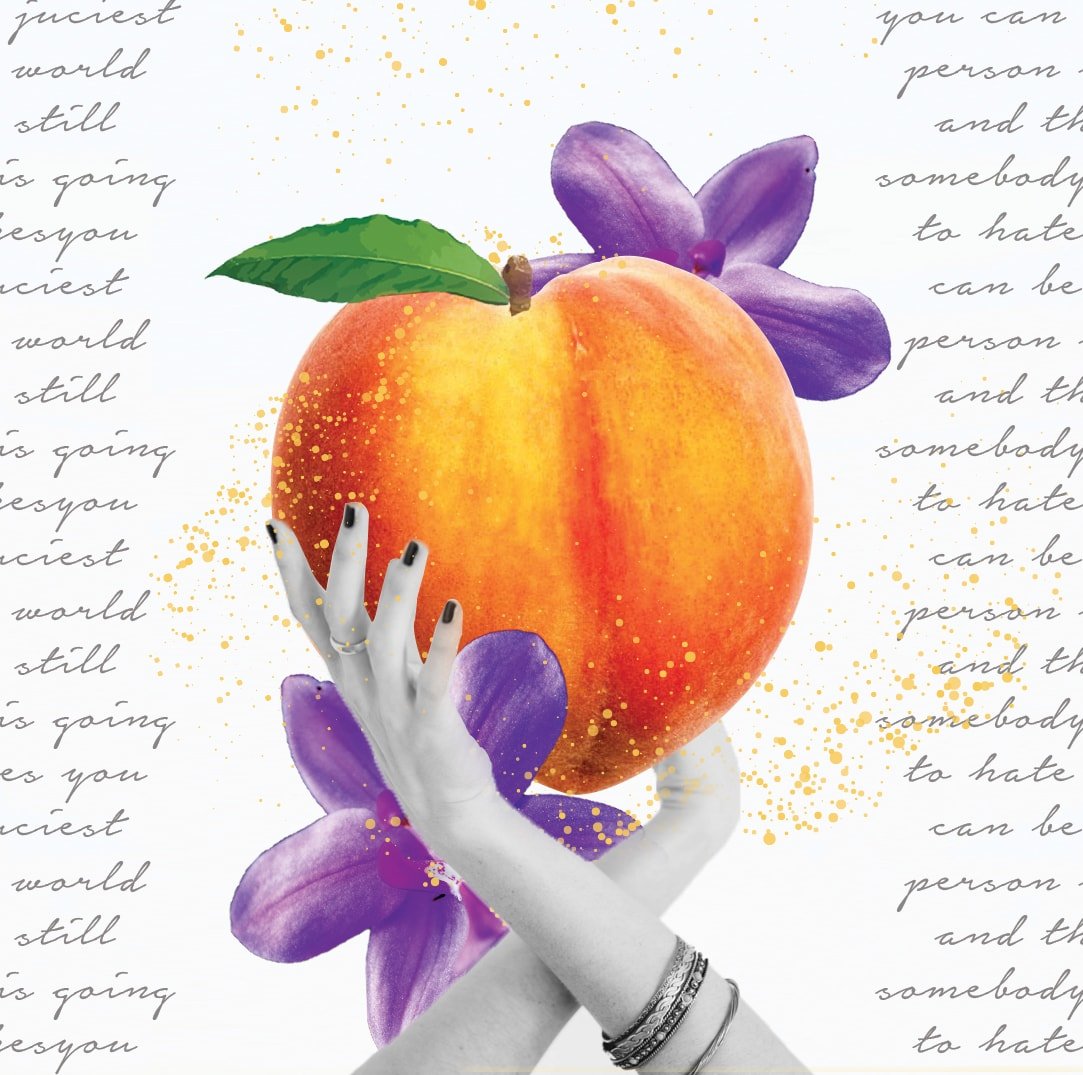 What tool(s) do you use to prepare your collages and grids before you send them to your Preview app?
Most of what I do for the design the collages before they go into the Preview app is done in Photoshop, sometimes if I find a nice image though and it just needs a bit of lightening up in certain areas, Snapseed is really good as you can highlight certain areas to whiten but mainly my designs are done in Photoshop.
One good tip I can give you is that when you are designing for Instagram, you need to think of your whole feed, more like it's a magazine, not just each square.
Check out here all the apps I use to manage my Instagram feed and create animations.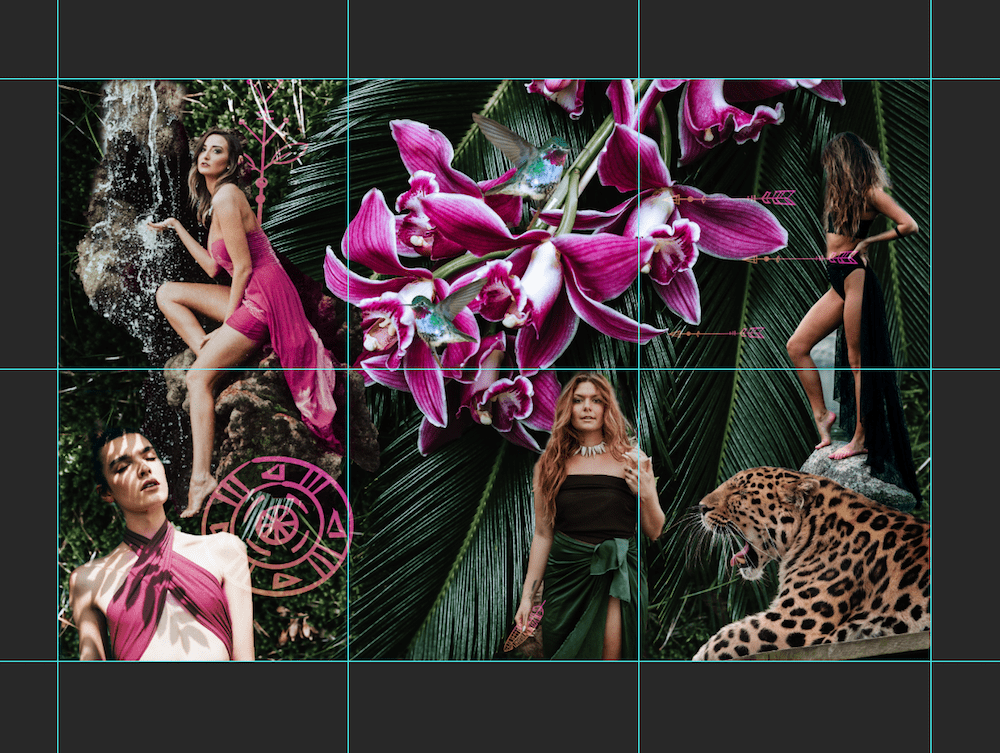 How do you send your images to your Preview app? How does your process look like (from creation to Preview)?
I have DropBox on my computer and my phone set up so its really easy.
I create the design in Photoshop
Slice up the grid
Save to my Dropbox
Go into preview app and import everything
Edit the images, add the captions and schedule
I try make the process as easy and efficient as possible so I can spend more time on designing.
Here is how my feed in Preview looks like: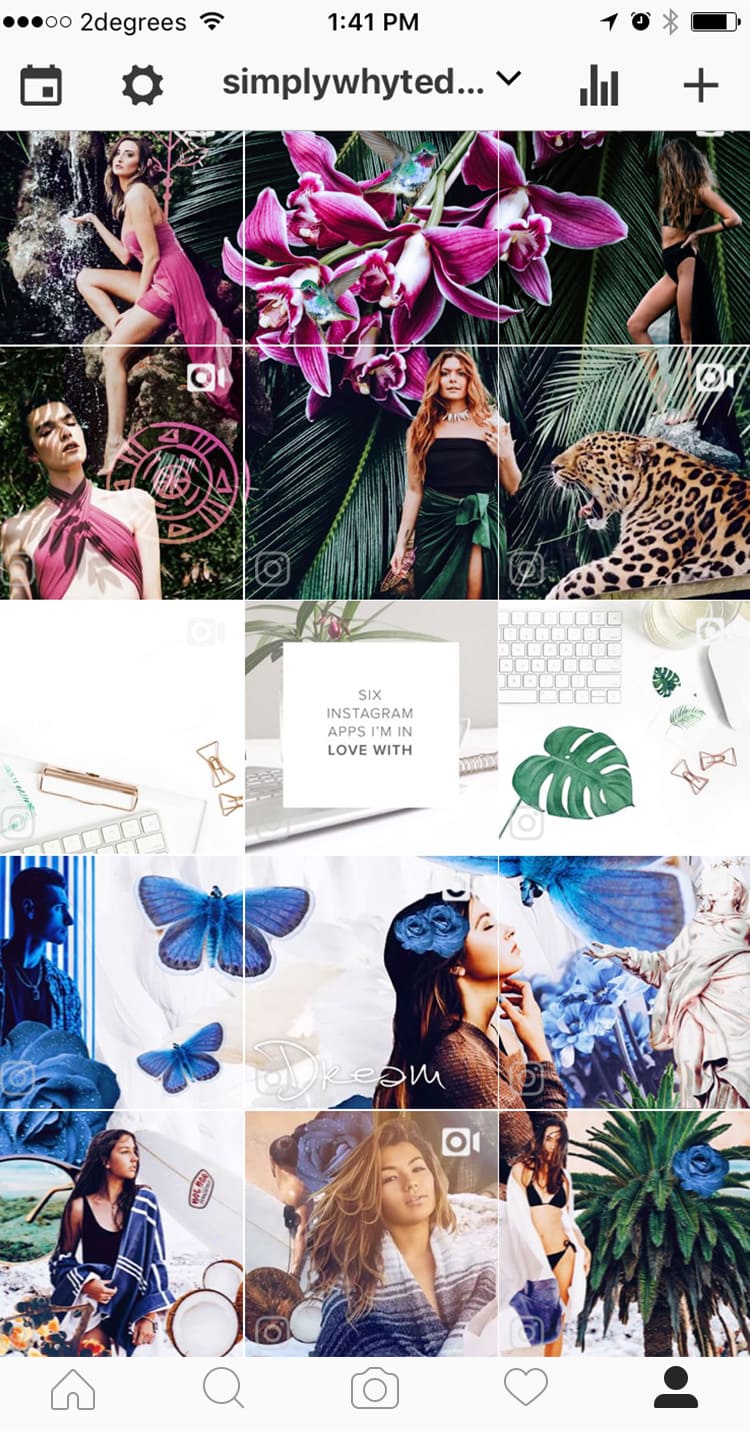 How far in advance do you plan your feed?
Usually just a week because I post twice a day, but sometimes if I get on a creative roll I can do two weeks or sometimes more, it all depends on my schedule and workload. Preview app is great for me because I can plan and see what my feed it going to look like before I release it and this is an essential for me when I'm creating posts that link together.
What do you do if you have a creative block?
I take a break, get outside with my animals, go for a walk, ride my horse. Anything that is away from the computer screen. On the odd occasion I jump up dance around to Flume to get the blood flowing back to my brain.
How is Preview app helping you? And what would you say to someone who is not using it yet?
If they are not using they are really missing out. If you are a busy person, need help wth IG and want to make social media work for you this is the king or queen of all IG apps.
I save time, I've been able to do way more detailed designs and create a feed that is more together than all over the place. There are also so many features that have helped me and that I love, reposting, saving hashtags, my stats, the list really goes on.
My favourite filter is the white filter pack two, DD1 and DD7, I use these on most of my designs and I find it quite good because it works with a lot of them.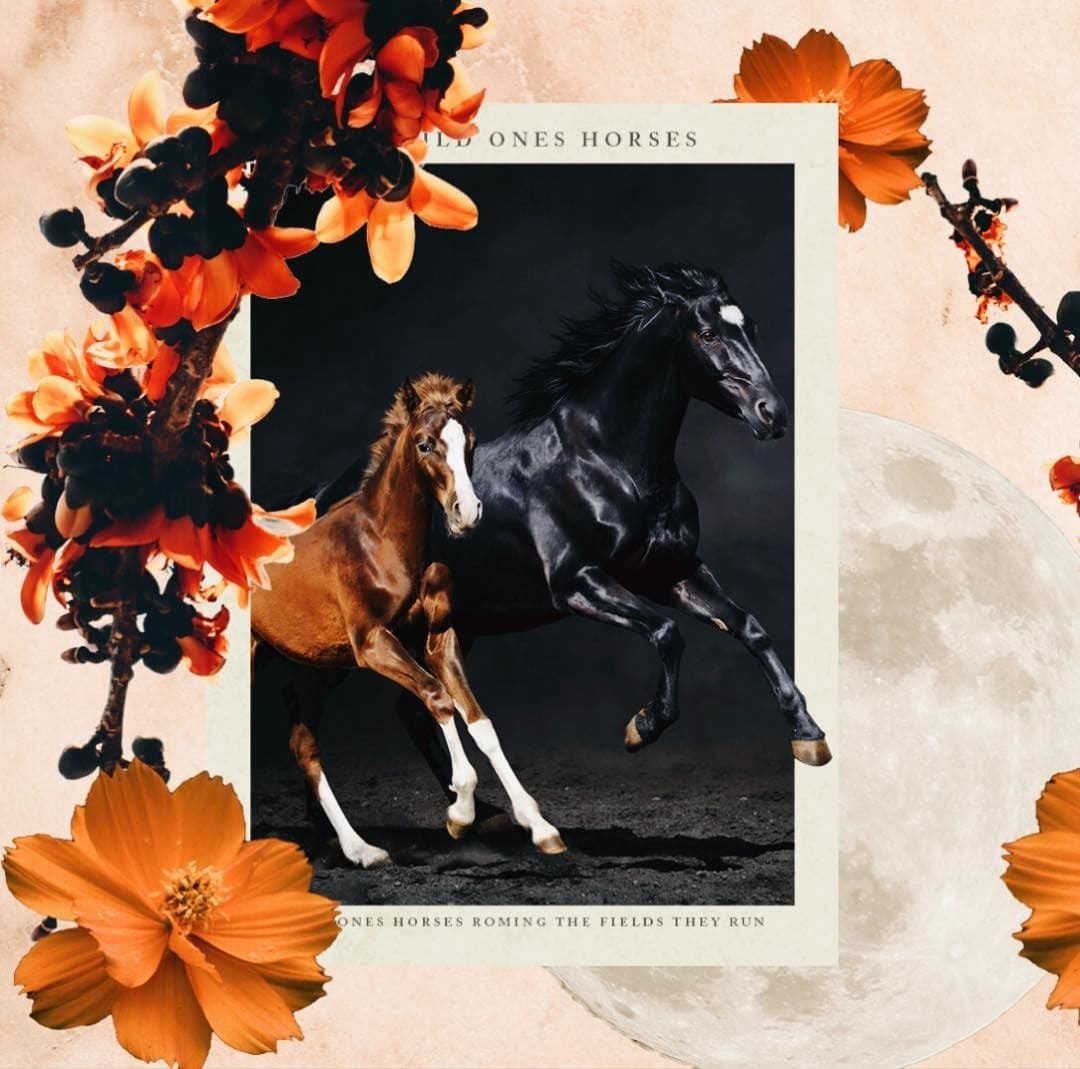 +400,000 Instagrammers are already using Preview App to edit, plan & schedule their feed. If you haven't tried it, you're missing out.