Janelle talks about how she improved her Instagram feed using Preview App. She shares her top social media marketing secrets as the Marketing Director of physical products. How can you use social media to drive profits and create memorable customer experiences? Keep reading for powerful social media insights.
Hi Janelle! We're so excited for you to take us behind your dreamy feed! First and foremost, can you please introduce yourself and tell everyone what you do?
I'm Janelle. Also known as the overly caffeine-induced marketing director at Blenz Coffee – a coffee shop with 65 locations across British Columbia. Once upon a time, my Instagram feed was a complete mess. But that all changed once I started planning my feed and understanding how to create a story through pictures.
At night, I'm working on launching a blog and a marketing/social media consulting service so I can help others and assist businesses grow! Watch out for it. 😉
Let's talk about your feed. If you could use only one word to describe it, what would it be?
Ah that's tough use just one word. I can think of a phrase to describe it:
If only my life looked that pink and bright all the time.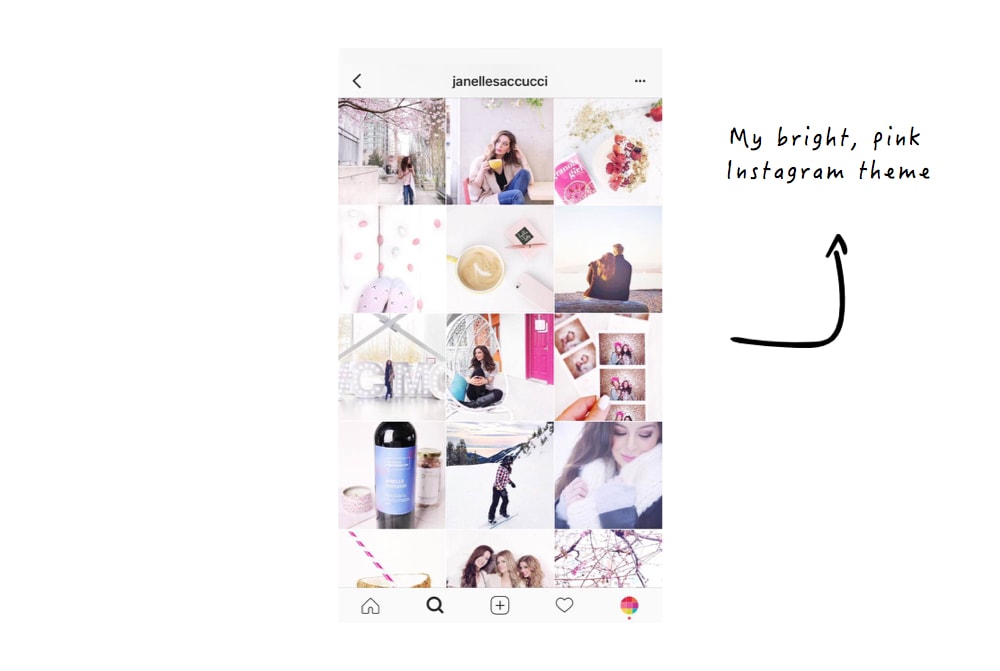 Your overall theme is stunning! How did you find your Instagram aesthetic / style? And how long did it take you to know what "theme" you wanted to make?
Okay real talk – about a year ago a started with a white and bright theme. I wasn't too specific on what needed to be coloured white or how the pictures should flow together in a grid. I just overexposed certain areas of my pictures and increased the brightness. I couldn't figure out how these gorgeous Instagram accounts made all their photos work together, so my solution was to create a page with as much white colour as possible to start some sort of a theme.
Everything began to make sense after I read the Preview App blog. Honestly.
You can tell on my feed where the pictures started looking unified together. Scroll down two full iPhone screens on my Instagram page and you'll see what I mean.
Before Christmas, all my pictures all have some white elements in them, but no repetitive colors or items in the pictures. Post New Years – when I downloaded Preview App / read the blog posts – all my pictures started flowing together. I chose pink, black and white as my feature colors and I tried to keep the items I took pictures of to three things: myself, nature (flowers), and product/architecture design. I spaced out the pictures and my photos started to flow. My Instagram page had an artistic memoir to it, not just a personal photo diary.
What advice do you have for someone who wants to make a theme like yours?
Get an Insta-best friend/mentor. If you're just getting started, this will go farther than you think. Have someone that will help take photos for you, and who you can ask for photo advice. If you look through my text messages, I send my friends who understand photography multiple photos and ask, "Which picture do you like the best?" It helped me understand which photos work and which don't. I once took a photo of pink flowers, sent it to my friend and she said, "It looks like these are from a funeral. The flowers need a story." So, I retook the picture with a latte, and a notepad to tell a visual story. It's vulnerable to send your friends random photos and ask for advice, but they will be able to catch things you don't catch. Or plan your feed on Preview App and ask your friends their thoughts on your layout. I work in a creative office with talented designers, so sometimes I'll go over to my coworkers' desks and show them my Preview App feed, and they'll move a couple pictures around and change things I wouldn't have noticed.
Know ahead of time what you can edit to match your theme. I know that I can brighten the cloudy sky to be whiter, but I can't edit vibrant green grass to be whiter. So, if I'm outside, I'll take my picture with more sky than grass. Have your theme in mind when taking photos. It might sound prescriptive right now, but it will save you in the long run. Also – notice that most of my clothes in my Instagram are pink, black or white. If I'm going to an event I'll want to post photos of for my Instagram, I probably won't wear a neon yellow dress (I swear I don't have a neon yellow dress I would want to wear to an event anyway).
Think bigger picture. Think about yourself and what you would want out of this. You have the chance to curate what your story is. What kind of audience do you want to attract? What are you trying to showcase with your Instagram aesthetic and why? It's okay not to know the answer right away. For me, I know that I want to inspire people with beautiful images, and share my advice about the marketing world while showing people a bit of my personality.
BONUS TIP: read the Preview App Blog. It's like the golden key to the secret world of Instagram theme perfection.
I know you are the Marketing Director of Blenz Coffee. What are your top 3 tips for anyone looking into social media to grow their brand and attract clients in a brick and mortar shop.
Motivate people to get off their phones and get into your store. Do you have a feature wall or product? An "Instagrammable" item you are selling? And if you're wondering what an Instagrammable item is, it's "we have to go to this coffee shop for the BLANK." Fill in the blank for us. Showcase it on your feed. Make people want to come in your store to take pictures. It's the Instagram circle of life: someone posts a photo of a café's cool feature wall Instagram >>> new people see the photo and visit the cafe to take a photo of the cool feature wall >>> those people then post the café wall photo on Instagram to show their followers the awesome places they sip their lattes at >>> more people see the café and now want to check it out and take photos. Repeat cycle. Repeat sales.
Everyone on social media is a potential customer, so have genuine conversations with people. You're probably a cool person, so why not show your future customers your personality with your comments on their posts? I'm way more likely to pay attention to a store that comments on my posts. And none of those heart emojis – just a real comment about the picture. And don't forget about the people who already follow you. They already told you they like you by following you, so talk with them about whatever it is they posted in their pictures. It's like having a party – don't spend all your time trying to invite more people to the party but forgetting to talk to people who are already at the party (your Instagram page is the party).
Have social media only exclusive promotions. Little secret about people: they love to feel special and exclusive. Create a promotion that is just for people who follow you on Instagram. And not one of those overly spammy discount code offers on every post (nothing against discount codes), just a genuine 'social media gift' for your followers. If you have a hair salon, why not offer 2-for-1 Mother's Day styling sessions – V.I.P. offer for your social media fans? That way, the social media follower feels pampered because of special deal, and you'll probably get a new customer (the mom), who didn't know about your salon before.
How is Preview app helping you? And what would you say to someone who isn't using it yet?
I would say, "Why haven't you started using your favourite free employee who creates your dream Instagram feed and works exclusively for you but doesn't want to get paid?"
Preview App has answered all the questions I wanted to know, but had no idea who to ask. Once I read the blog, everything started clicking together. Once I started a consistent Instagram theme, I noticed my followers, likes and comments go up significantly.
People want to follow an account that has an understandable message and visual story. Show people what to expect from your page in the first three seconds of them looking at your feed. If you can do that, people are more likely to follow you.
DD3! It makes my photos look so bright, warm, and dreamy. Add DD3 with the whitening tool, and you're set.
Thank you so much for your time and awesome tips Janelle!
You can find Janelle on Instagram.
I will keep you posted when her blog is live.
Tell us in the comments below, which tip resonated with you the most?
+400,000 Instagrammers are already using Preview App to edit, plan & schedule their feed. If you haven't tried it, you're missing out.