Welcome back to another Behind the Feed interview! Today I am joined by Jennifer, founder of The InstantBoss Club.
One of her old accounts boomed on Instagram after she started selling her clothes. She made a whooping $100K.  She decided to start her on Instagram Club to help business owners grow their Instagram account organically.
Keep reading, she's going to tell you:
How she manages her InstantBossClub Instagram account
Her strategy to grow her community
How she increases her sales /conversion on Instagram
Ready? Let's go!
If you are new: Welcome! Behind the Feed is an interview series featuring amazing Preview app users. We are a community of over 400,000 Instagram lovers. We're here to share our story and tips. Enjoy!
Hello Jennifer! Can you please introduce yourself and tell everyone what you do?
My name is Jennifer, I am the owner of The InstantBoss Club – a membership site designed to help female entrepreneurs grow their businesses on Social Media! I started the Club June 2016 and the club is now filled with over 7,000 women!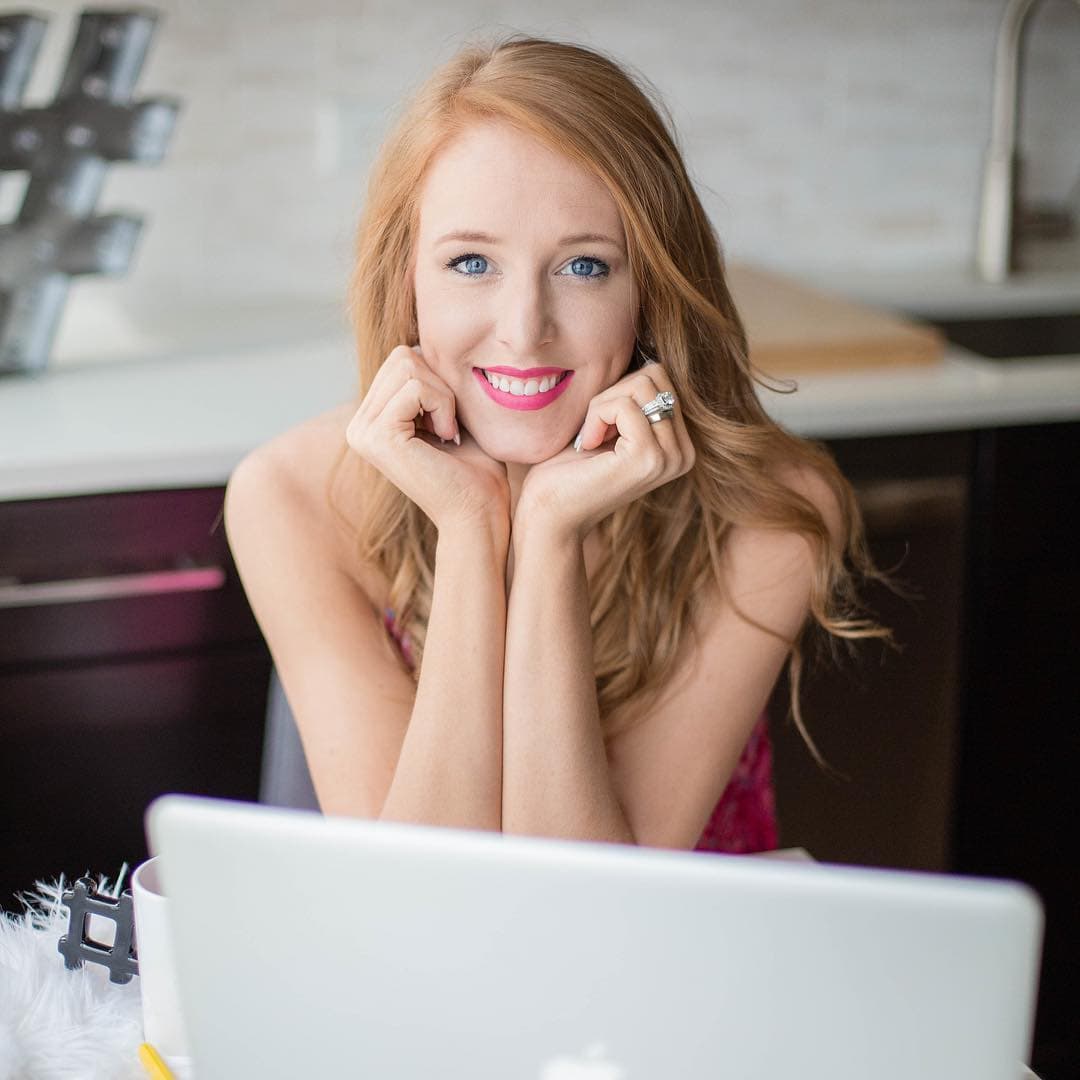 If you could describe your Instagram feed using one word, what would it be?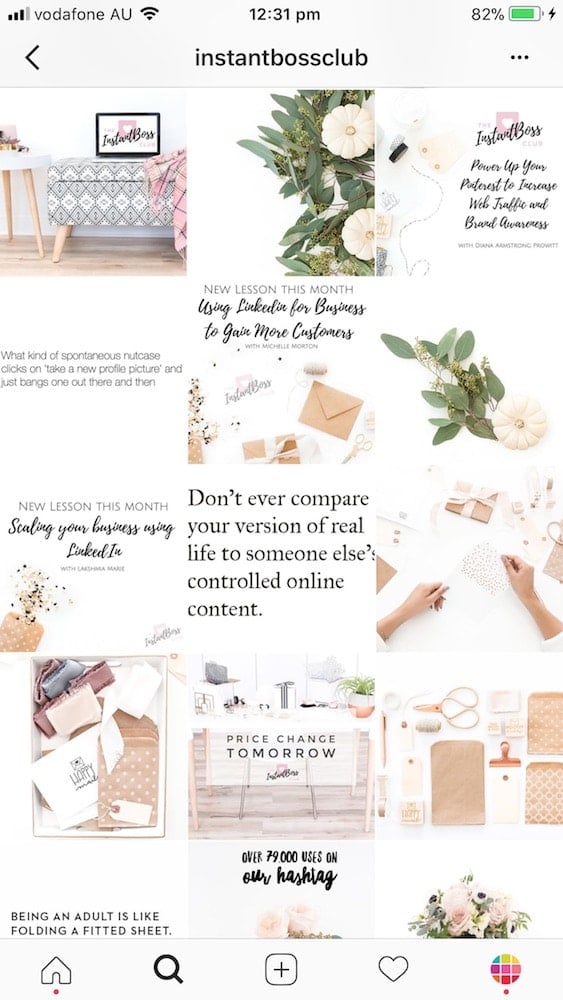 How long have you been on Instagram?
I have been on Instagram since 2015 (back when Instagram didn't have so many rules and algorithm changes).
Can you tell us how you plan your feed step-by-step?
I like to keep my feed with the same type of images for visual consistency and branding.
I find those images from Haute Stock.
Haute Stock is such a lifesaver! The owner Rachel has put together a site that is filled with over 500 beautiful stock photos that I use every single day!
I like to use the app: WordSwag along with the images from Haute Stock to create my Instagram images!
How far in advance do you schedule your feed?
I like to schedule my feed a month in advance!
I used to just post when I felt like it, but if you can figure out the best times to post and what images work best for your feed it makes it a lot easier to plan ahead!
I know you're the boss girl behind The Instant Boss Club. When did you start the community?
I started the community June 2017 two days before my wedding! It was a wild ride getting everything set up and going.
The Club was something I had in my mind for YEARS and I was able to quit my full time job because of the income of my online boutique. So I had time to focus that time and energy into creating the club!
Let's talk business. Why did you start The Instant Boss Club? And what can people expect when they join?
I started the club because I didn't see any other space online that would give female entrepreneurs everything they need to grow their businesses online using social media.
Yes, there were plenty of "how to" courses out there, but no membership sites that are keeping up with the ever changing social media strategies.
When joining the club you can expect to have updated lessons about all types of social media outlets (Facebook, Instagram, Snapchat, Pinterest, LinkedIn and more) created by leading experts in the industry.
You can also expect to be given the tools you need to succeed. Such as hashtag, exact places to promote, the best apps, and stock photos.
What are the 3 most important things you do to grow your community?
I make sure people get value before, during and after they join the Club:
Before: Plan promotions. Show up on social media. I am setting up ways to promote the club months in advance
During: Create freebies. I created freebies to grow my email list. I use Leadpages.
After: Provide value to my community. Once they are subscribed I make sure I am providing even more resources to my community members. I created emails to go out to that email list. I give them valuable information to grow their accounts that in turn will help them see that the Club is the place to be!
I know you have a lot of experience with using Instagram to sell and you have made over $100K thanks to Instagram. Can you tell us more about your business and how you manage to achieve such success?
Like I said before I originally starts on Instagram with my online boutique. I was selling women's clothing through Instagram and through many many strategies was able to grow that account to over 53,000 followers with those followers came paying customers!
Now a days I mainly focus on The InstantBoss Club and teaching people how I was able to create success on Instagram and how easy it is for them to recreate what I did!
Many people are unsure about the power of Instagram to sell. In your experience, is it hard to sell on Instagram?
It is SO EASY to sell on Instagram if you understand what strategies to use and what tools can help get you there!
Is Instagram good platform for anybody, in any industry?
Do you think people need a lot of followers to sell on Instagram?
NO, does it help? Absolutely, but I made my first sale on Instagram with 300 followers!
What are the 3 most important things you do to increase conversion / sales on Instagram?
Using hashtag: I have a great blog post about this. I show you 6 hashtag tips I use every time I post on Instagram. For example, you need to use a good mix of hashtags and all 30 hashtags. Hashtags can get you in the Top 9 Posts of Instagram, which will increase your page visibility. So you need to use the right hashtags to grow your account.
Having great photos: Instagram is a visually driven app. High quality photos attract people. Like I said before, I am subscribe to Haute Chocolate. I have access to over 500 high quality photos. Make sure your photo reflect your brand. I subscribed to Haute Chocolate because she takes stylish feminine photos. I am targeting female entrepreneurs. So it makes sense for me to share feminine photos on my Instagram.
Optimise your link: Instagram only gives us one link. It is the link in our bio. Get the most out of the ONE LINK Instagram allows you. LinkTree is amazing to manage this link. If you're not onto it yet, you should. I show you how to set up mine in this blog post: Instagram Marketing.
Quick tip: Test your hashtags in Preview app to know which one give you the most likes, comments and engagement.
Let's finish with some tips.
What are 3 mistakes you see people make when they're trying to grow their account?
NOT using keywords in their bio! This video will walk you through how to use keywords- https://youtu.be/9lKpdMo13oM
NOT using LinkTree for your Instagram link (as stated above)
NOT growing your account organically and trying to take the easy route of using bots for engagement, not only are these against Instagrams TOS but they also create FAKE engagement which can get your Instagram account shut down and gone FOREVER!
Finally, how is Preview helping you and what would you say to someone who isn't using it yet?
I love that Preview allows you to plan out your feed in advance it allows you to see how pictures will look next to each other without imagining it!
Favorite feature in Preview?
The Analytics feature is a great feature to have for those that don't have a business profile or want more analytics for their Instagram.