Welcome back to our "Behind the Feed" series!
We're starting again with someone who has been using Preview for over 2 years. She is always creating different Instagram themes (changing with the seasons).
We chose her to start our Behind the Feed series again because we know that many of you are students and struggling to manage life, studies and Instagram. Alisa is the perfect example for you to show that it is possible to manage everything while studying hard and having fun on Instagram.
She has been growing her Instagram account consistently and naturally. So if you are starting your Instagram account and/or you think it is impossible to grow on Instagram in 2019, then Alisa is the perfect example to show you that it is possible, and that you can do it too.
Let's start!
Hello Alisa! Before we start, can you please introduce yourself to everyone? What's your name, where are you from and what do you do?
Hello everyone! I am so glad to be doing this interview with one of my go-to apps! I am Alisa and I am a content creator from Romania. Romania is a country in Europe that has the most amazing landscapes, architecture and history. You've probably heard about Dracula, haha. About me? I am a 23 year old student; I study psychology and I am graduating this summer. Instagram is my passion, I find joy in brainstorming new photo ideas and in socializing on this platform; I feel like you can express a lot more in a picture. Your feed can basically tell people a lot about who you are as a person.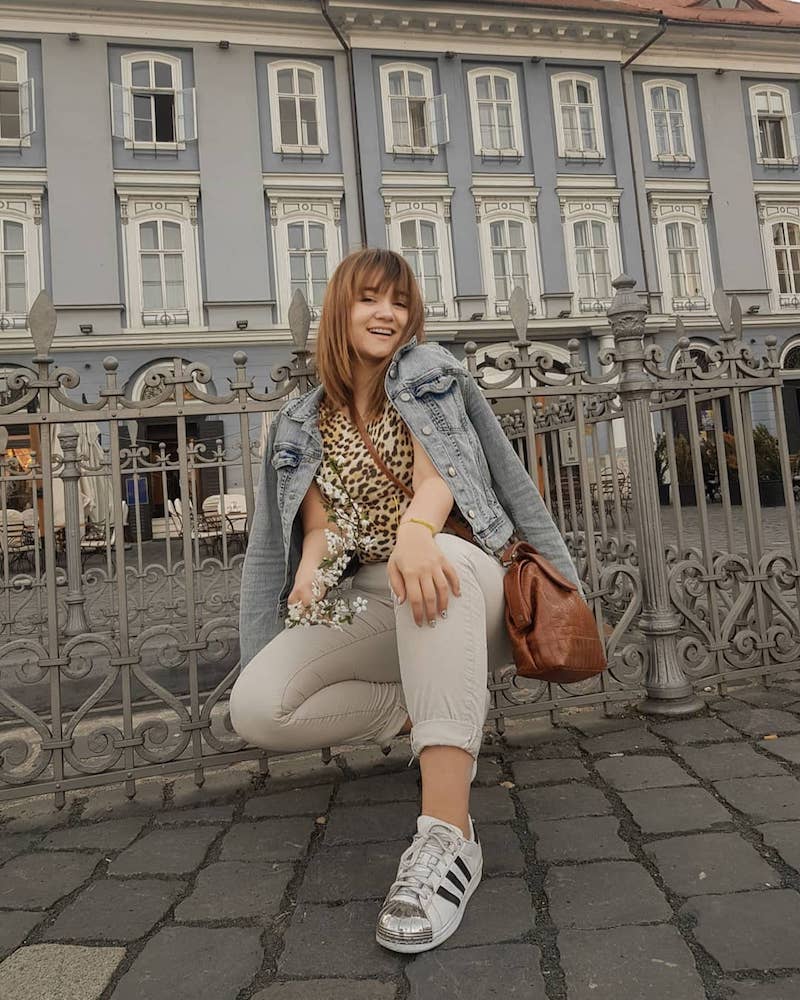 What camera do you use to take photos?
I only use my phone to take pictures. I have a Samsung S8, and it does the job. In my opinion it's all about the angles and the light, and most importantly about the ideas and emotions you transmit through your photos.
Do you take photos for your Instagram on the day, or do you take a lot of photos in advance to post them later?
I try to have at least 3 pictures ahead; being a student takes out a lot of time, so I mostly take pictures on the weekend. I brainstorm some ideas during the week and Saturday morning I know exactly what I want from a photoshoot. Taking pictures on the weekend also allows me to post 3-4 pictures per week, and I can focus more on what I have to do as a student during the week, without stressing about taking pictures.
I only post on the day, unplanned, when I have an important event, like graduation, a birthday, or some event that I got invited to.
How many photos do you usually take before you post some on Instagram?
I love to take a series on my phone, a lot of them. So my total of pictures/photoshoot is around 500 to 1000. I am all about candid shots and that is the best way to get one. Of course, you'll never get it from the first series, but if you keep on trying I guarantee that you'll find the best one. It's a lot of work afterwards, when you have to look at each photo, but oh well…
How do you choose which photos to post on your feed?
I always have a "print-screen" of my feed in my head and that, combined with knowing exactly what you want from a photoshoot makes my job easier. I am looking for one specific picture to match my idea.
And for filler photos (simple photos), I choose photos that match the best with the pictures around it. My main photos (like photos of myself) are not fillers, so those are taken more seriously; but fillers help me achieve that airy feed, not too crowded and not a lot of "me" in every single photo.
In my Preview app, I use placeholders (the black squares you see below). The placeholders are where I want my filler photos to be. Once I take a filler photo, I will replace the placeholder with the real photo.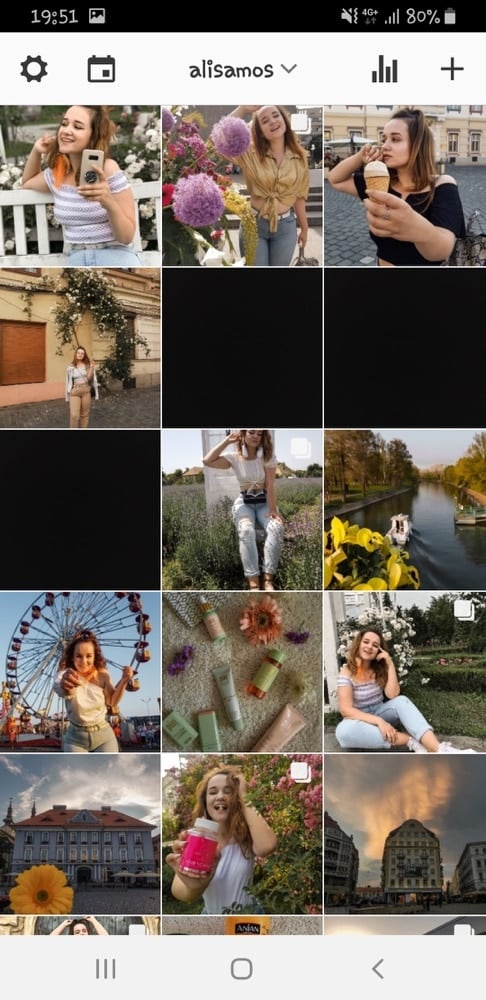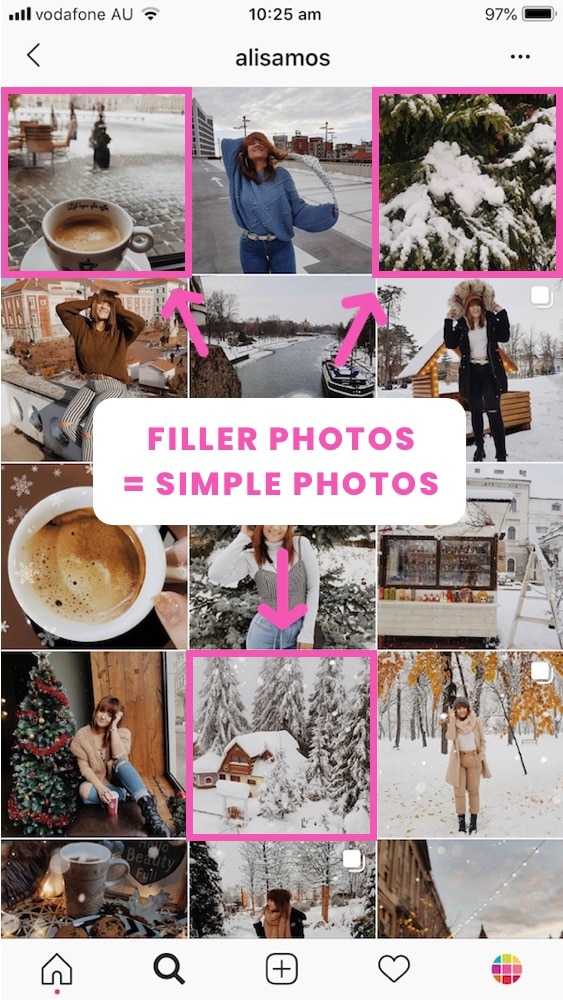 Where do you find inspiration? How do you come up with content for your feed to post consistently on Instagram? How do you know what photos to take?
My holy grail is Pinterest. I am constantly scrolling there when I run out of ideas.
Another place where I find inspo is on Instagram's Explore page. But that happens when I don't come up with my own ideas.
Instagram is a platform where you can express yourself, your ideas and your own personality – I like to brainstorm my own type of content, and I think that is how you differentiate yourself from the rest of the content creators.
How I do that? I know what I like, what my style is, what colors I love, what type of content I enjoy seeing and that is my base for creating content.
If you know those things you can be yourself and make good, original content that will attract people like you.
For example: I like yellow, warm tones and casual outfits, can you see that in my feed?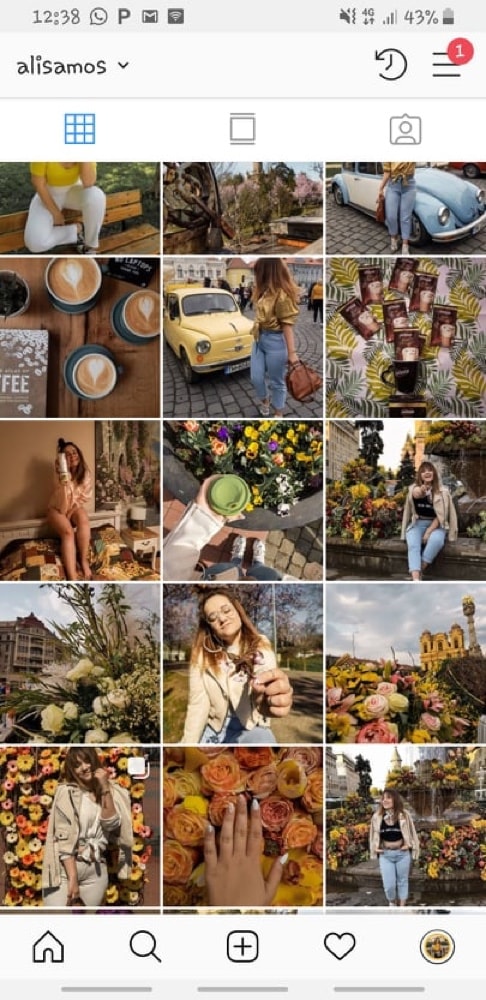 How do you edit your photos?
For editing I use Lightroom, I have my own set of presets and I mainly use those.
I like warm tones, hints of orange, a little more exposure and contrast and that is it.
I don't take ages to edit. I try to keep my photos as close to reality as possible. I just play a little with tones and lights.
Again, do you. If you like cool tones and green, go for it, be you.
Preview app also has great presets, I occasionally use those too. I really love A7 and B3.
What are your top tips to stick to a theme when you're designing your feed? I love how you changed the color themes depending on the seasons of the year.
Thank you, good observation!
As I said, I like to keep my photos as close to reality as possible; on my feed you'll never find a pink sky or orange trees in the summer. I like to edit according to my surroundings.
In fall my feed is yellow-orange, in the winter it is mostly white, and in the summer time it is colorful.
My top tips are:
Do mostly the same edits on every picture
Use the same tones (warm or cool)
This way, all the photos will go well together, like a puzzle.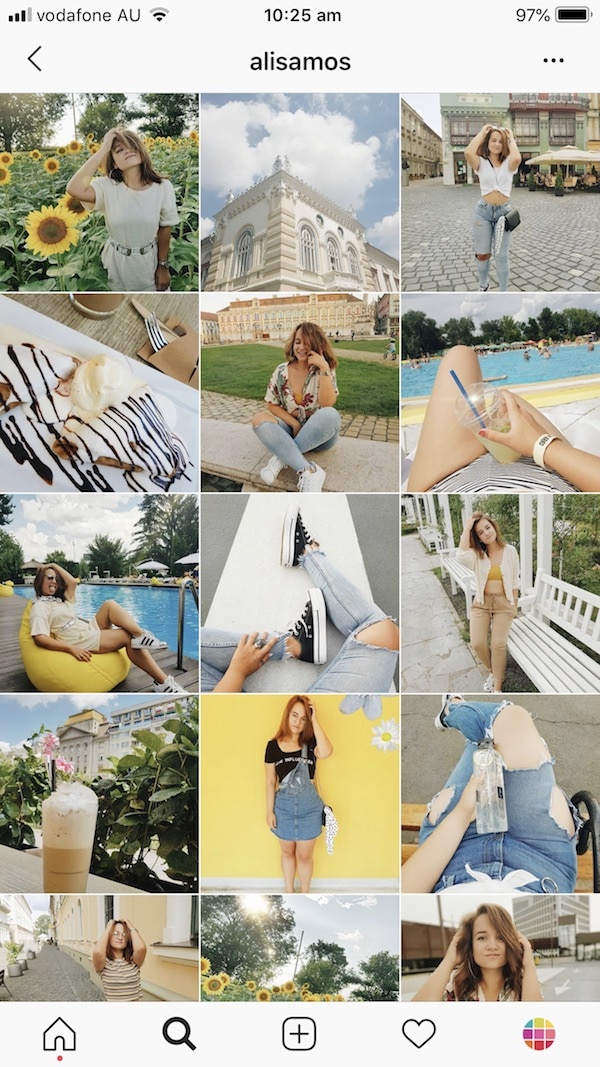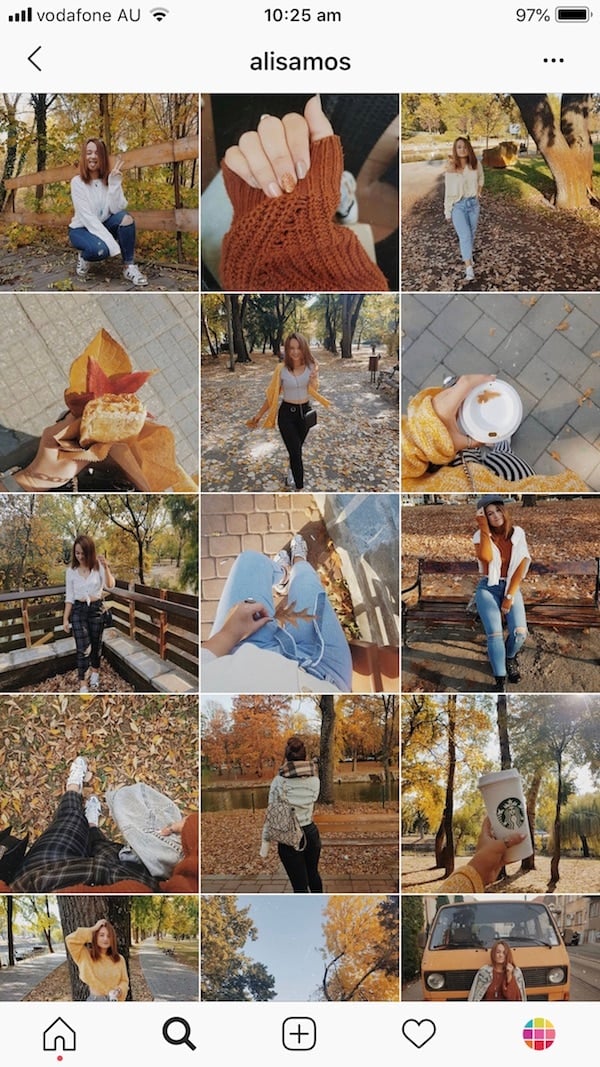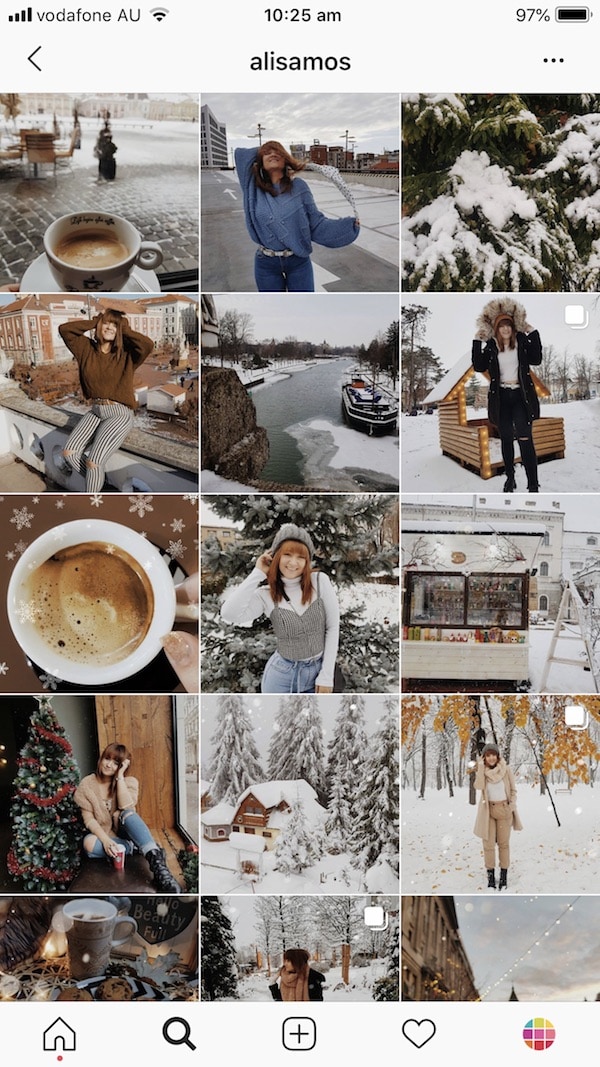 How far in advance do you usually plan your Instagram feed?
I have at least 3-6 pictures ahead. I can change my fillers to what works the best (because I take filler photos all the time, haha) but my main pictures will stay in the same position.
And I have a tip here: use blank black/white pictures to kind of delimitate what you want to post and what you don't, in this way you can put more pictures in Preview as back-ups. I do this all the time and it makes planning a lot easier.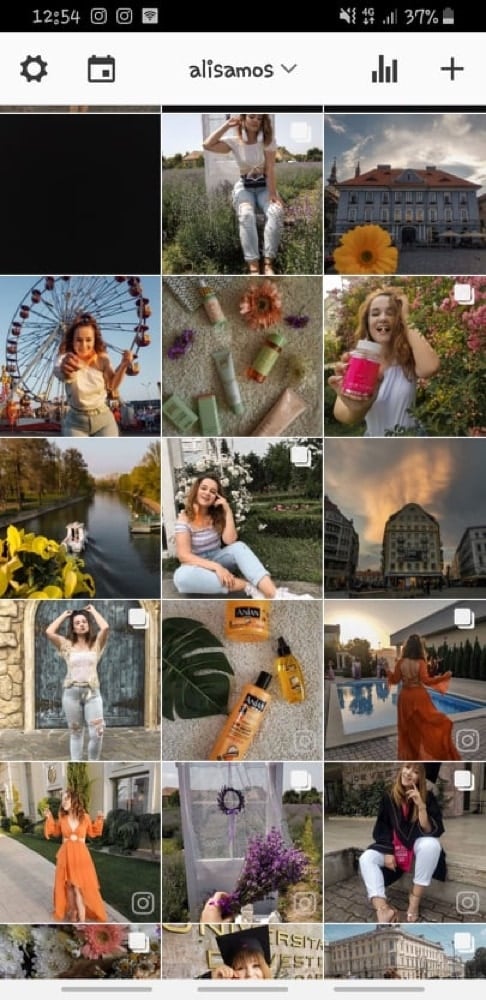 Do you write your caption in advance? Or when you post?
I write it in advance. At least a few hours before I post.
I write it in Preview and then I can just paste it when I want to post.
I like to have everything ready to go at my posting hour.
Tips for posing in photos?
Your smile and your eyes are the most important parts in expressing emotions
Try to control them when you pose
Work in angles, curves and lines of your body
Work with the architecture of the buildings around you
Be candid
Try to interact with your audience. For example: reach for the camera when taking a photo. I'll leave some examples below.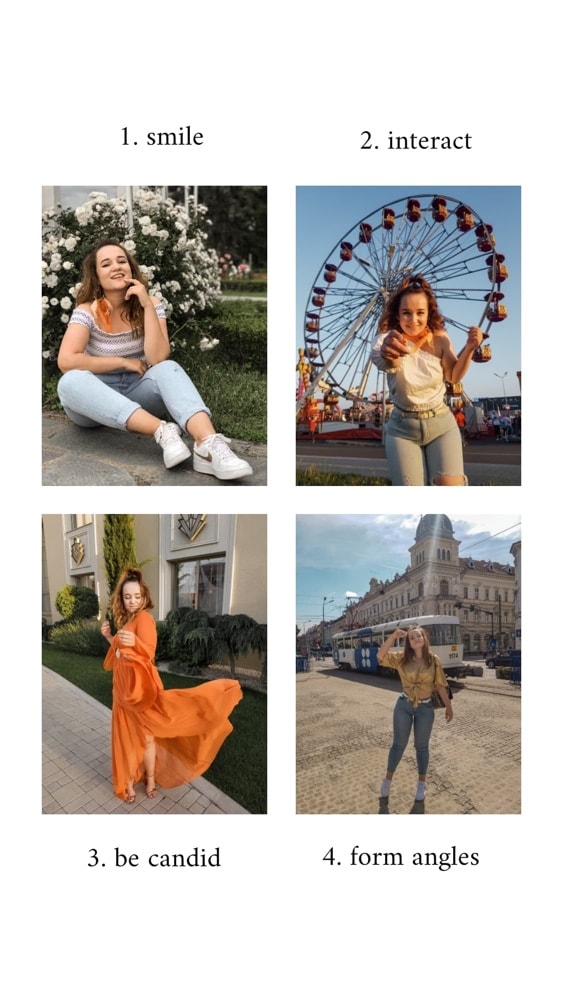 Tips for taking good photos?
The light! It is so important to take photos in the shade, during the day, so the light won't form weird shadows on your face/body.
Know what angles work best for you and have some go-to poses that you know you look good in. It really comes with practice.
I always take my pictures with the camera angled up, so i can look a bit taller; but if you want the reverse you can angle your camera down, and try to always be in the center of the photo.
How long did it take you to grow your account to where it is at today?
My account is still growing. I started taking Instagram seriously last year, so I have around one year and a few months of "experience" and I am happy with my achievements.
What do you do to grow your Instagram account? What are the main things you do that help you grow your account?
I am one of a few content creators that can say that they grew their account through their pictures. At first, I didn't even know any tricks to grow my account, I just posted and people came and followed if they liked my content, and that is the best way to grow and the slowest, sadly. Back then the algorithm was better and it would actually show your content, even if you were a smaller account.
Now, what I have seen works the best are giveaways, people follow you for the price, that is true, but if 100 of 500 of them stay that is your win because those people genuinely like you and your content.
Hashtags also work wonders, because new people can find you through them, as well; but I feel like everyone knows about them and talks about their importance, so I won't go into details now; but just know that hashtags work.
I have around 5 sets in my Preview account that I rotate and use.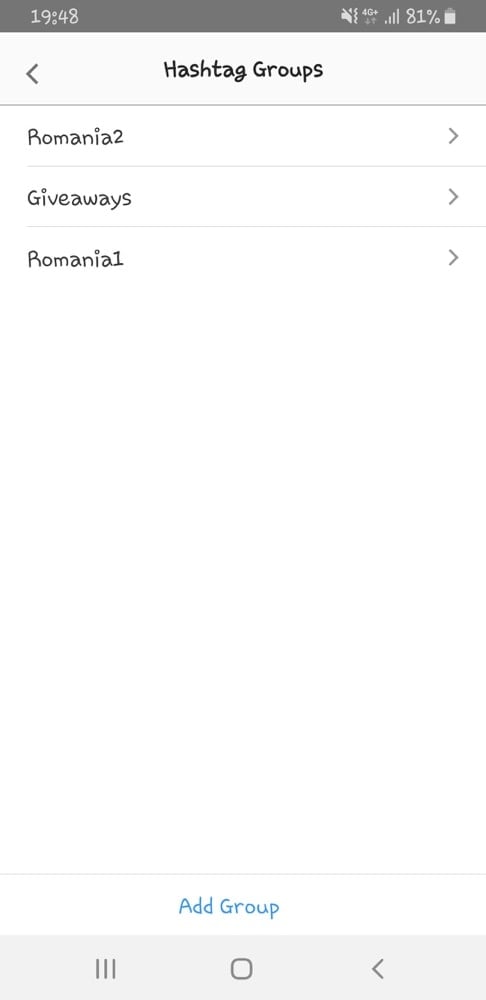 That's it! Anything else you would like to share with everyone?
It was my first interview on this subject and I hope I did good. I am so glad that I was chosen and I hope that if one thing from this whole interview that sticks with you, it's this:
"Be yourself, express how you are and don't worry about likes/followers; they will come and will be the good ones."
Thanks for sharing your Behind the Feed with us Alisa!