Looking for an Instagram Captions App?
Need captions that connect with your followers or potential customers?
All the captions are inside Preview App.
There are HUNDREDS of Instagram captions in the app.
You'll find:
Instagram Caption Starters
Calls-to-Action (to get people to contact you or click on the link in your bio for example)
Questions to ask your followers (to increase your engagement)
Instagram Caption Templates (to help you tell your story when you just feel uninspired or don't know what to write)
Captions for Businesses
Seasons and holidays
Puns and quotes
Captions for your selfies
And much more.
There are captions for your personal Instagram account and for your business too (from hair stylists, service-based business, jewelry business, clothing brands to restaurants, etc…).
You'll have captions ready for the entire year – so you never have to wonder again "what the heck should I write?"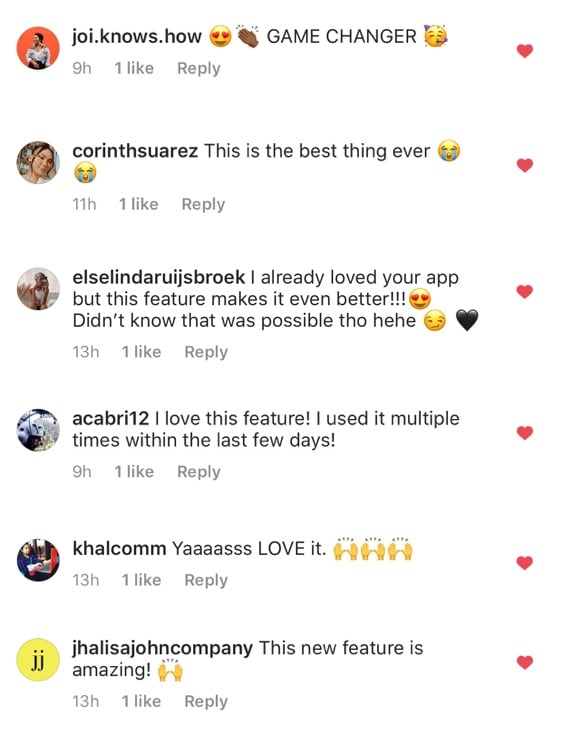 Instagram Caption "Starters"
The first few words of your captions are crucial to quickly grab the attention of people.
It's psychological.
Everyone is scrolling quickly. We naturally screen the first words of a caption.
If it sounds interesting, we will continue reading.
If not, we continue scrolling. Unfortunately people will be missing a lot of useful information in your caption if the first few words didn't catch their attention.
That's why "Caption Starters" are the bomb.
Anyone can use the "Starters".
Whether you have a business, a blog, or a personal account just for fun. Caption Starters are every Instagrammers' best friend and a must for anyone wanting to get people to "read more".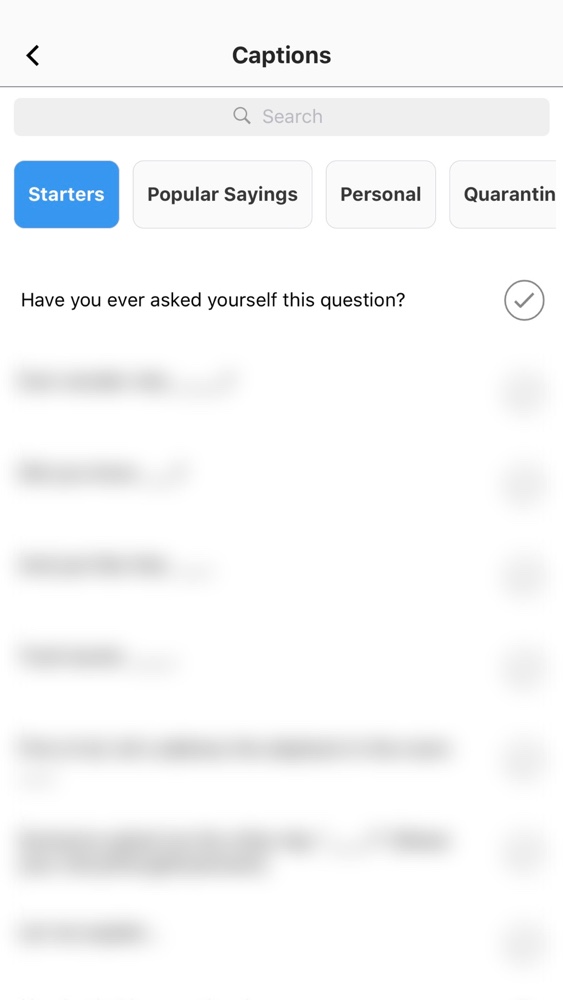 Call-to-action captions is what you can add at the end of your caption.
If you have a business: call-to-actions are crucial for you.
Use a call-to-action to encourage people to take action.
For example, you might want them to click on the link in your bio, or contact you to book, or visit your shop, etc… 
There are so many creative ways to write call-to-actions.
You'll find them all inside the caption app: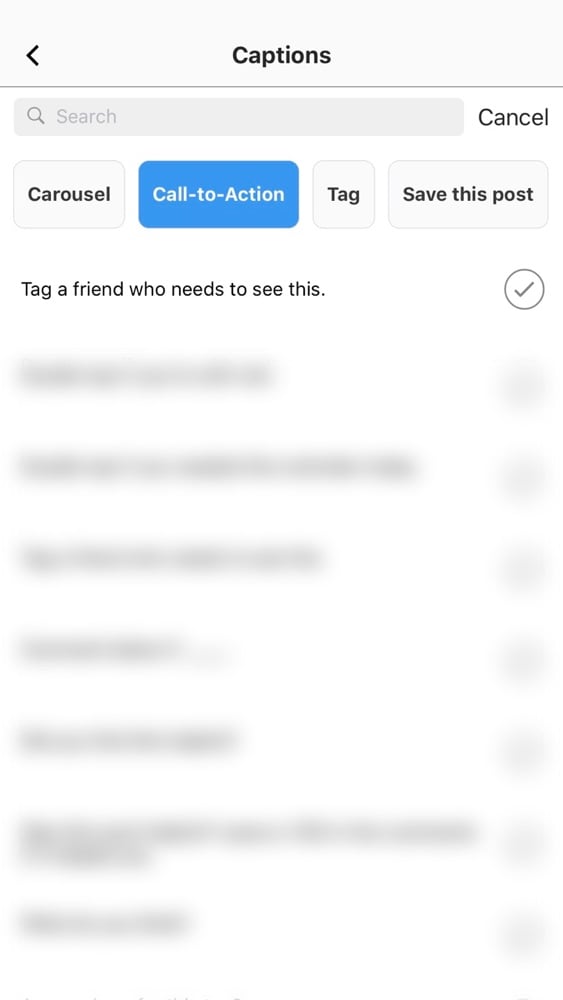 Instagram Caption Templates
If you ever feel stuck and just don't know what to write, then you can use the Caption Templates.
There are hundreds of Instagram Caption Templates in the app.
Choose a template and just fill in the blank to tell your own story.
There are templates available for different types of Instagram accounts / categories.
For example, here's a template in the "Handmade Business" category, to help handmade business owners talk about one of their new products: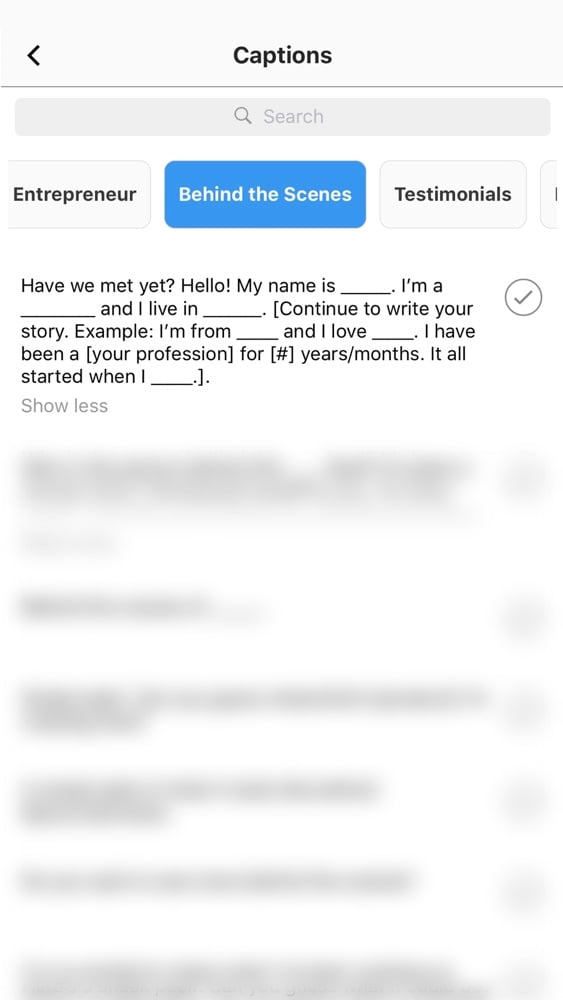 Instagram "Question" Captions
I LOVE Instagram Caption questions!
Instagram is a SOCIAL media platform.
Some of the best Instagram accounts out there are from people who INTERACT with their followers. They're being social. They're having fun. They're getting to know each other. And it all starts with asking questions to start conversations.
You'll find questions for many different categories and types of posts.
Extra tip:
If one of your goals is to get more engagement on your account, then definitely check out the "Questions" and "Get Comments" Captions: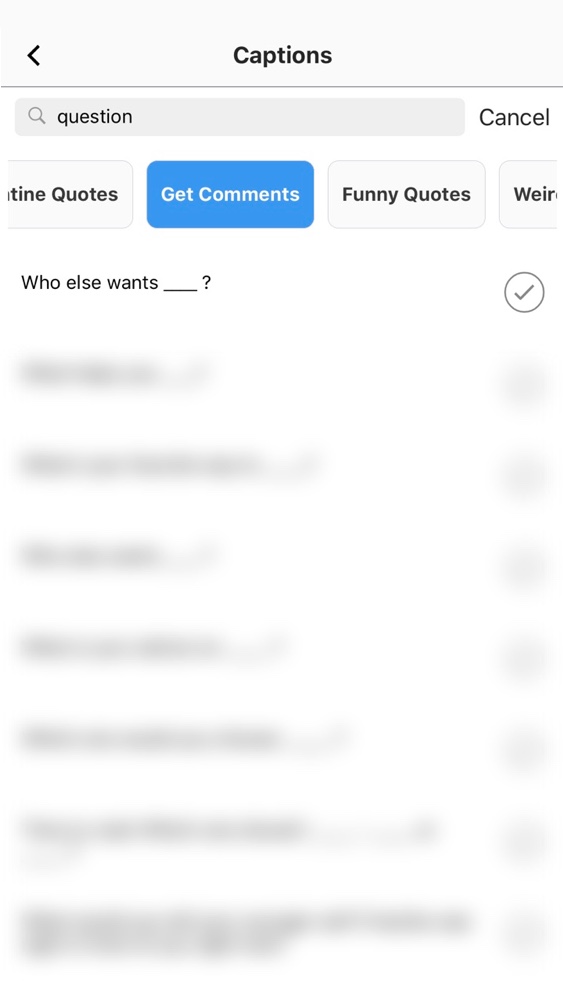 Instagram Captions for Business
If you have a business, you'll find hundreds of captions for your business. Whether you have a service-based business or a product-based business, there are captions for you.
There are caption templates you can use:
For day-to-day posts
To promote your offers
To show your expertise
To help people get to know you, your passion and values
To show your behind-the-scenes
To share customer testimonials
And more.
Here is one of my favorite caption categories in the app, for "Service-based Businesses":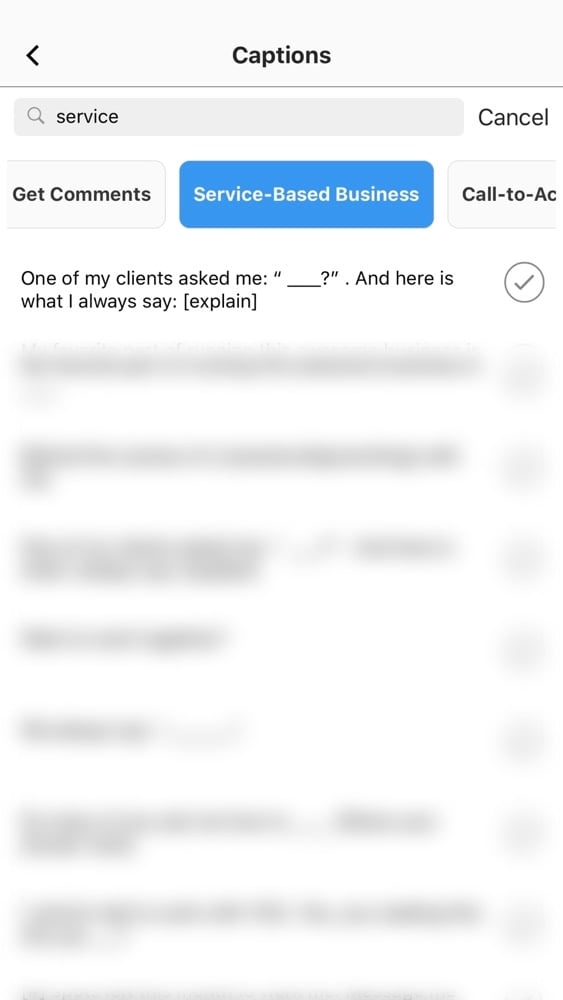 Instagram is known to be the place where everyone loves a good pun / word-play.
If you don't know what to write in your caption, then use a pun.
Influencers and bloggers are renowned for using puns. 
Puns are short Instagram captions. They're witty and funny. And it makes people smile on the other side of their screen 🙂
If you want to infuse your Instagram account with some fun, then definitely use some puns.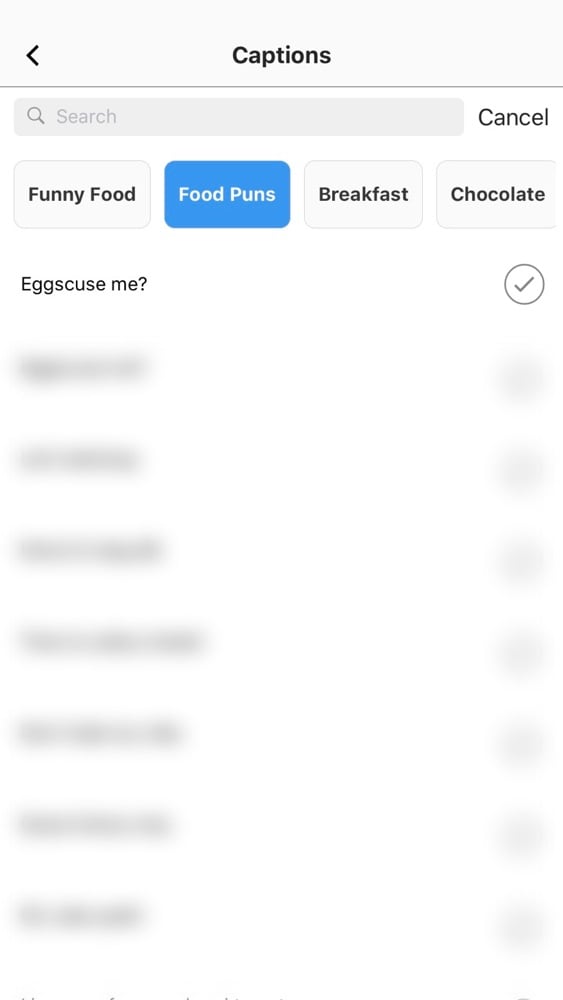 There are caption ideas for each season and holiday of the year (new Instagram captions will appear a few weeks before a holiday or season starts, to give you a head-start if you like to plan your feed).
You'll find Instagram captions for:
Valentine's Day (and yes, even some captions if you're single so you can celebrate too)

Halloween

Christmas

Winter

Spring

Summer

Fall / autumn
And more.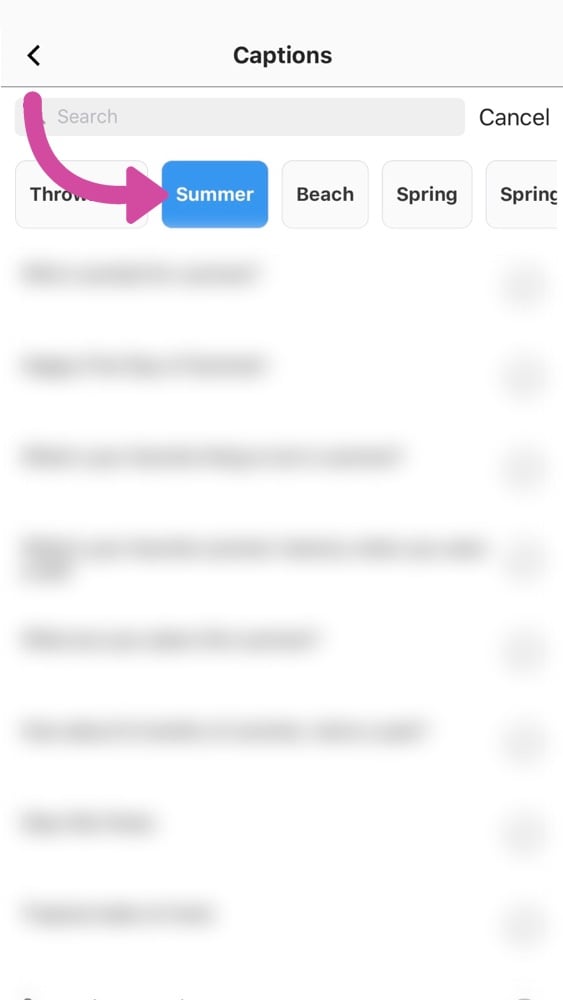 Ok.
Ready to use the Instagram captions app yourself?
How to use the Instagram Captions App
Think of Preview App as your Instagram expert in your pocket.
You'll get Instagram Captions.
And you'll also be able to plan your posts, get access to HUNDREDS of beautiful filters to help you make your feed look incredible AND get the best Instagram Hashtags to help you increase your reach.
It's so easy to use.
If you just want to use the Caption Finder, you can just use this feature.
Here's how:
1. Upload a post
To write a caption, you need a post. So upload a photo or video first:
Press on the + button

Press on "Photos/Videos"

Choose your photos
Done.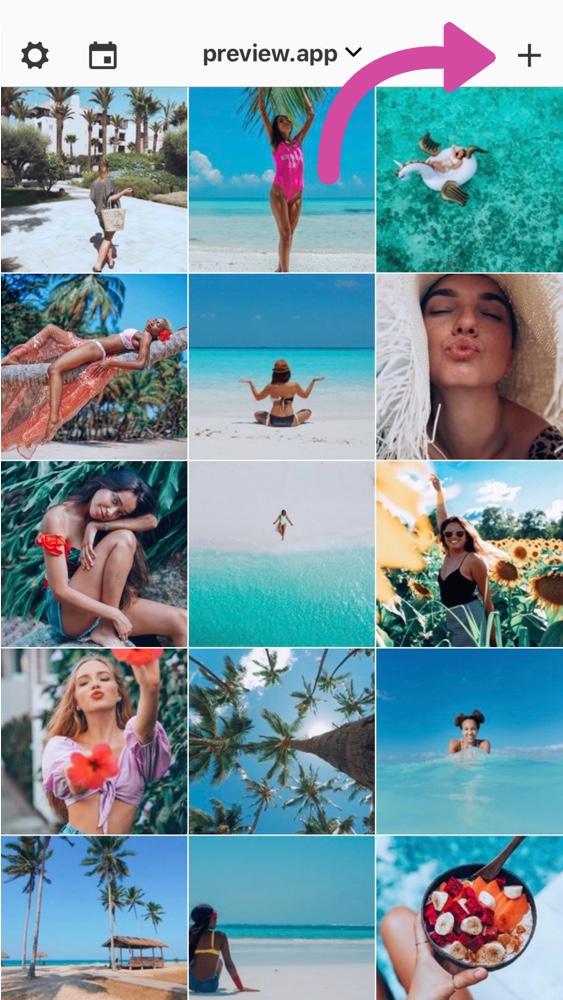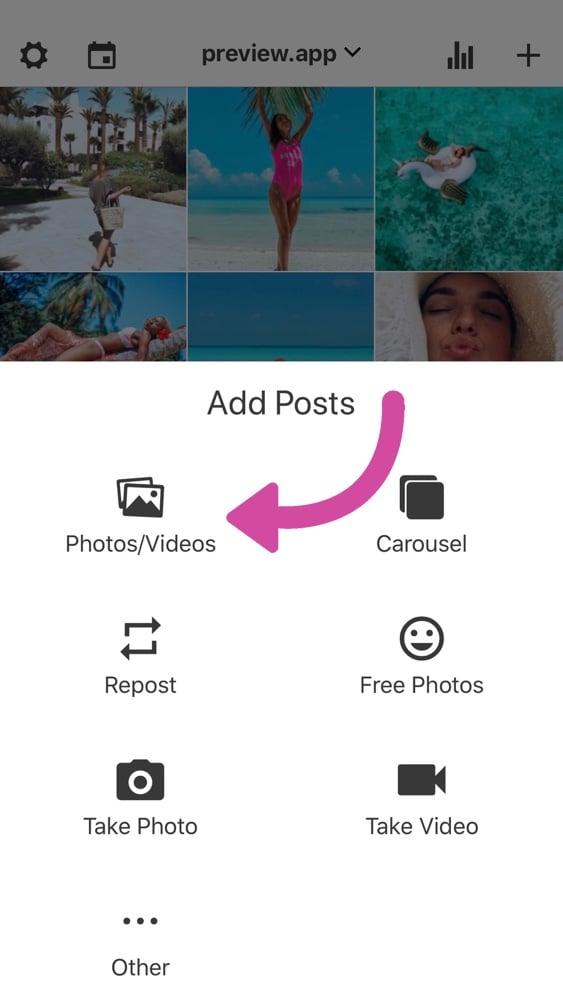 2. Open Caption
Press on your post

Press on the "Caption" button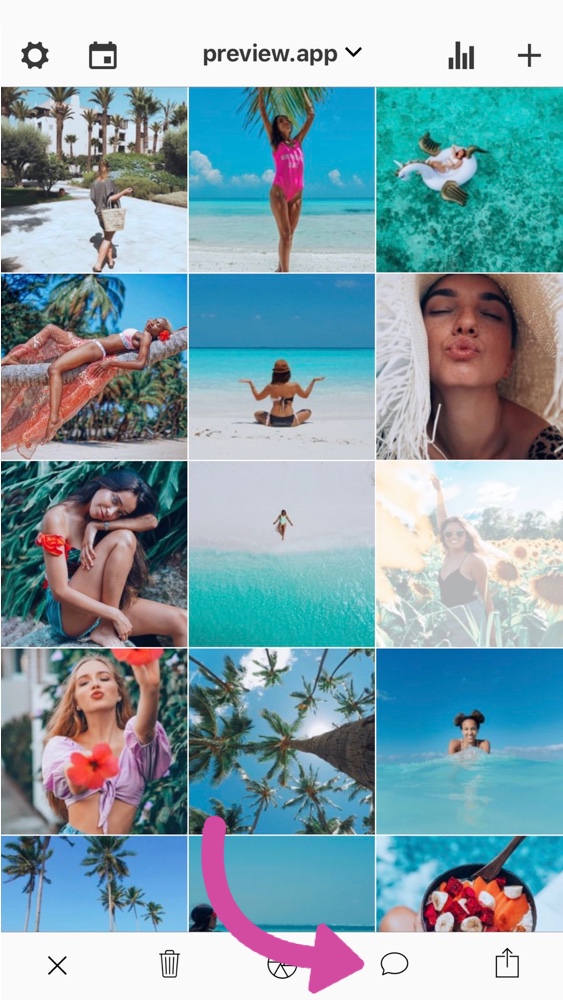 3. Press on "Find Captions"
This will open the "Caption Finder".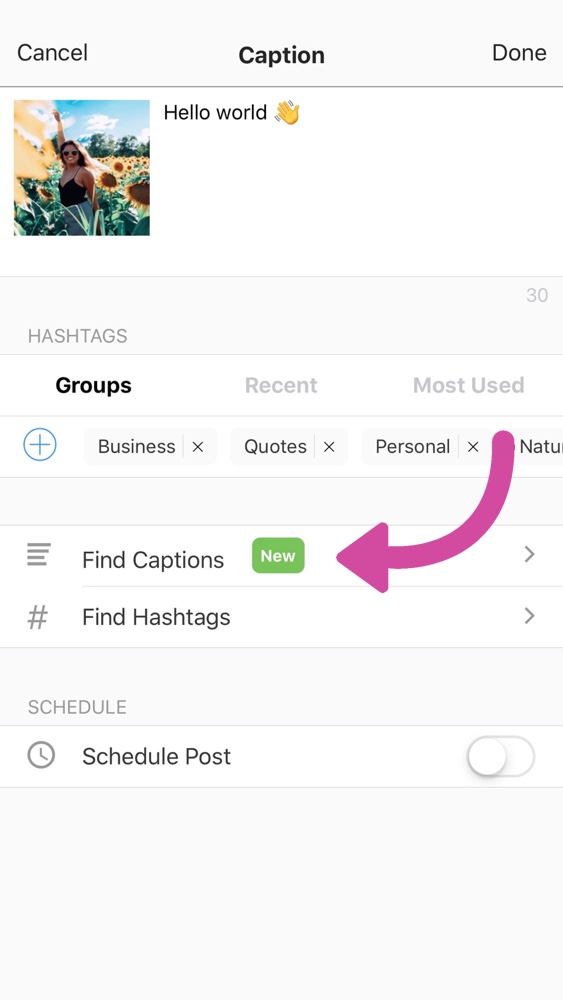 4. Choose an Instagram Caption
Now you can choose any Instagram caption you want.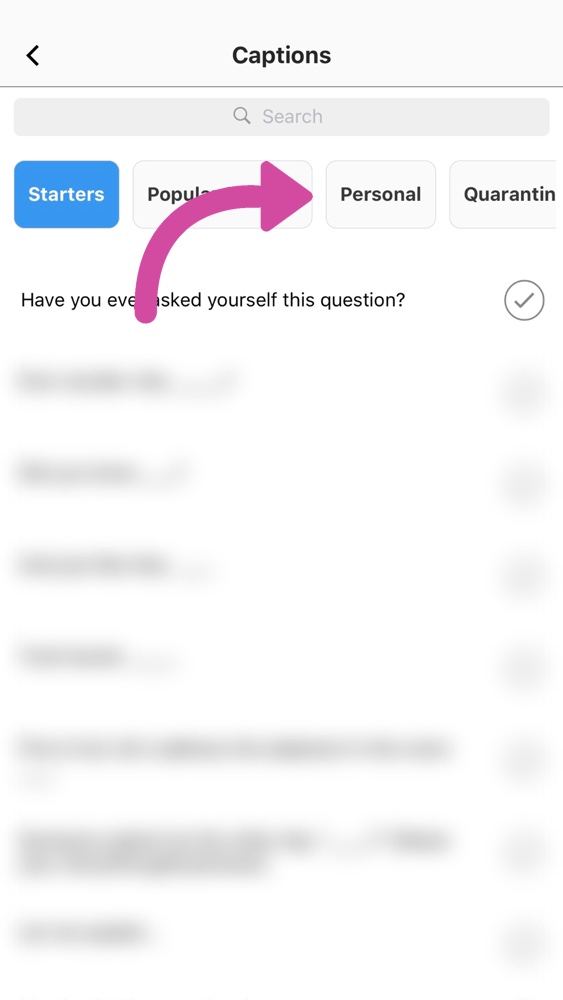 When you find a caption you want to use, press on the "checkmark" button next to it: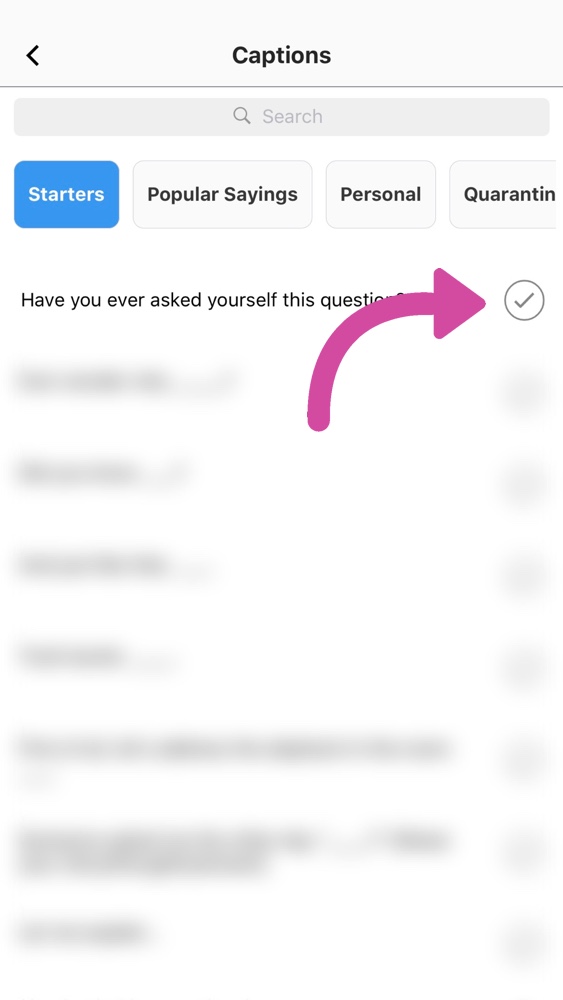 The caption will automatically be added in your caption box.
And you're ready to post!