Want to create a seamless, panoramic Instagram carousel post?
A carousel post where each slide is connected when you swipe through the album?

It's one of the new Instagram trends.
We've created 12 beautiful Instagram carousel templates for you.
All the templates are free.
All you need is:
A Canva account

Your photos
I recommend following the steps on your computer because it's easier and faster.
Ready?
Here's how to use them:
1. Choose one of the Instagram Carousel Templates
I want to make sure you know exactly what to do before you start using the templates. So just keep reading the tutorial to get the special link with all the templates.
When you will open the special link, you will see all the templates.
Choose which carousel template you want to use.
We've given a name to each template.
There's a "Simple" template, "Polaroid" template, "Personal Journal" template, "Galaxy" template, and more.
We've also created an empty template so you can create your own unique design too.
Choose your favorite template: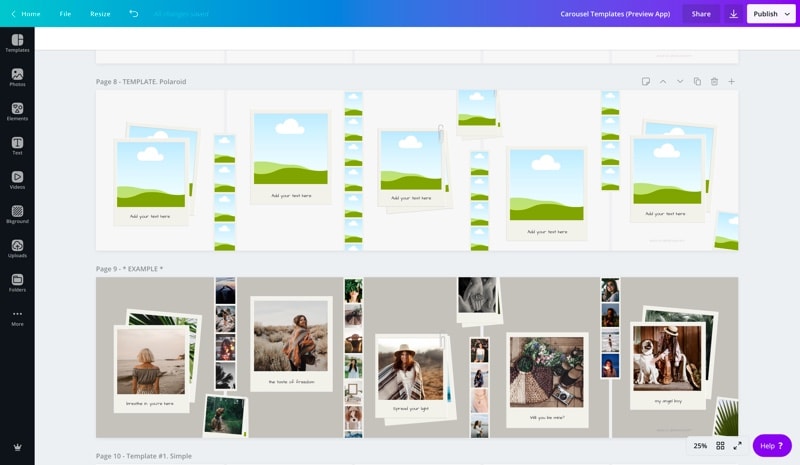 To upload your photos:
Press on the upload button (in the left menu bar)
Upload your photos
Or drag and drop the image anywhere on your screen.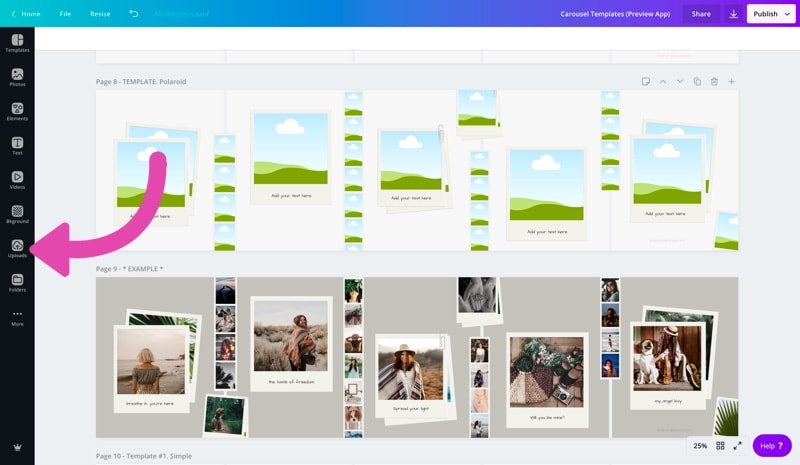 And to add your photo inside of the Carousel Template:
Drag and Drop the photo from the upload window into the carousel template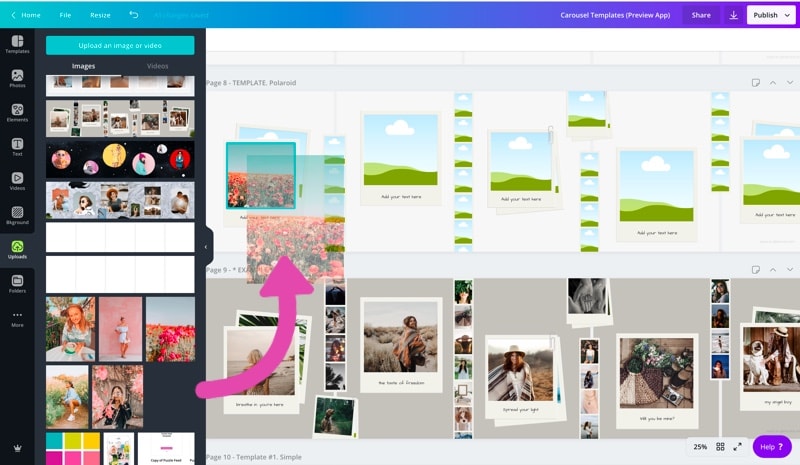 3. Change the colors, background and text
Customise as much as you want.
You can change all the colors, background colors, background image, fonts and borders.
You can also add your own text, stickers and other images.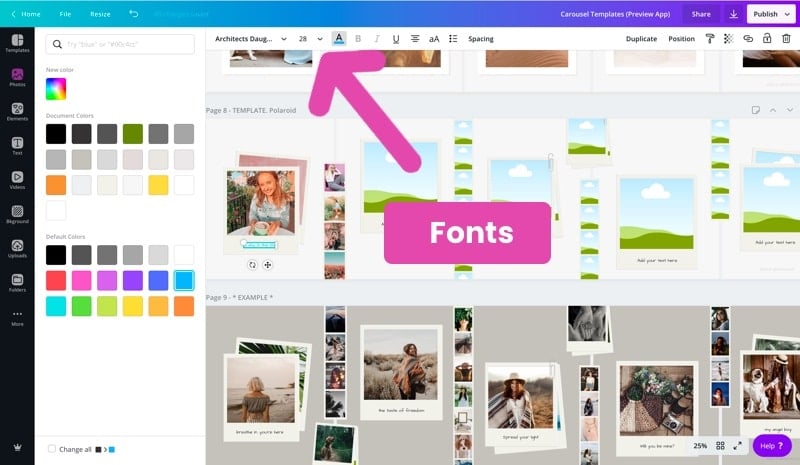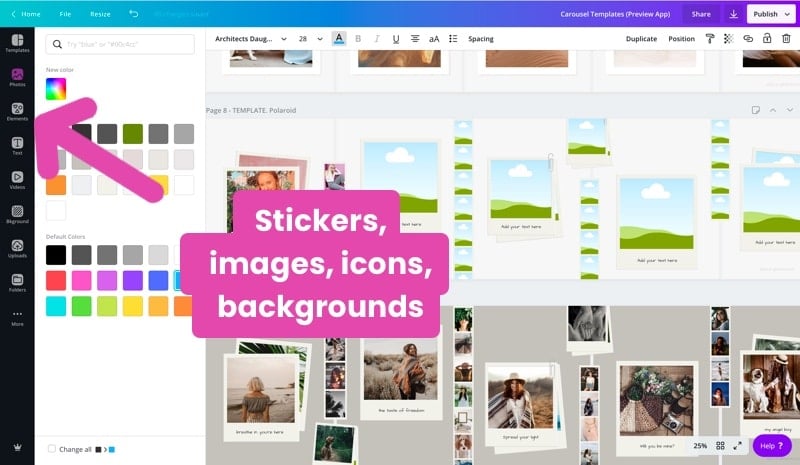 As you can see there are vertical grey lines on the carousel designs.
The grey lines are just here to help you visualise where the slides are.
Once you are done with your design, delete the grey lines.
To delete the lines:
Select one line
Press on your delete button on your keyboard (or the rubbish bin icon in the top right corner of your screen)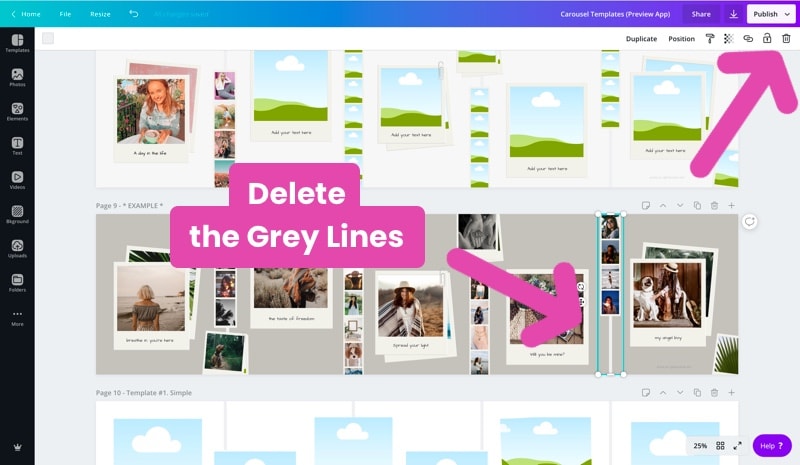 5. Download your final design
Time to download your carousel design.
To download your final design:
Check which page number your design is on (for example page 8)
Click on the download button (top right corner of your screen)
Select the page where your design is
Press "Done"
Click "Download"
Save your design on your computer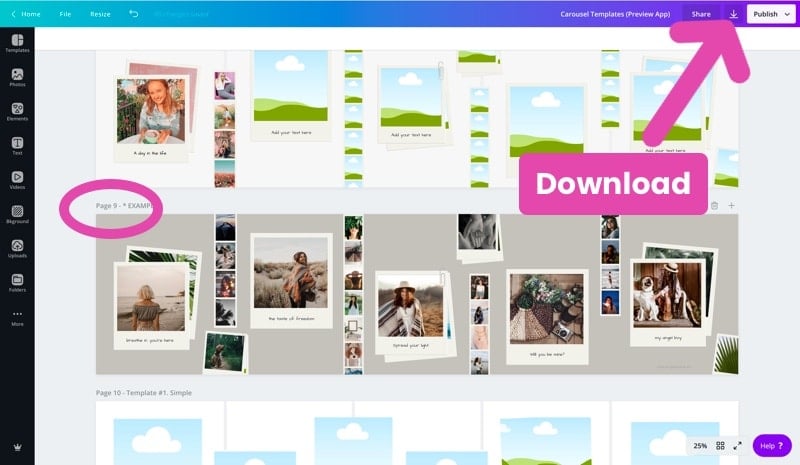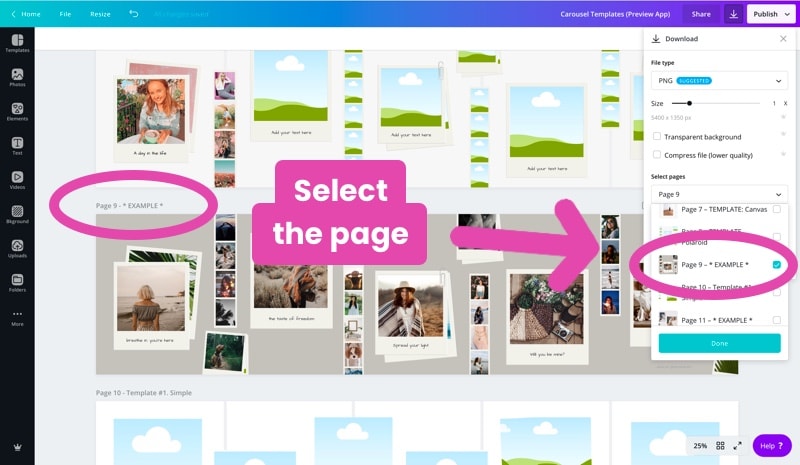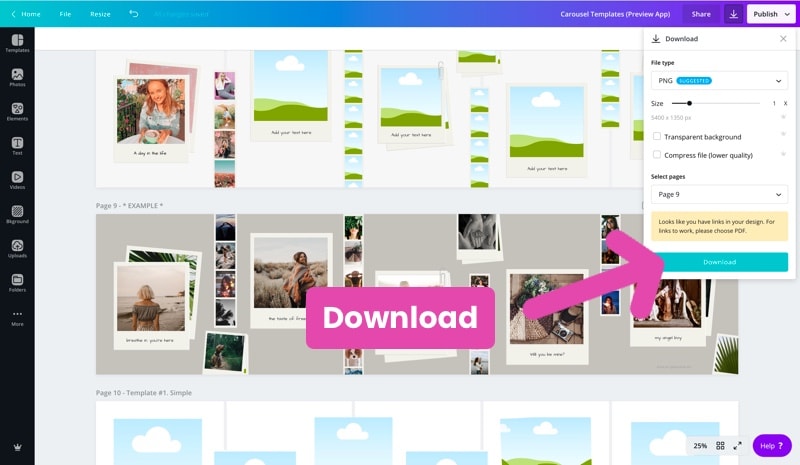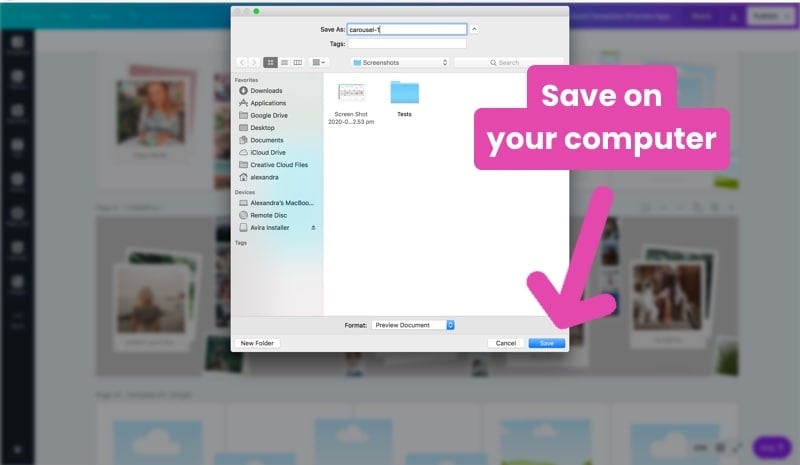 Now let's split the big carousel image into small pieces (which will be each slide).
Open the website PicTools Split and upload your image.
Enter this information:
Width: 5400
Height: 1350
Rows: 1
Column: 5
Then press "Split".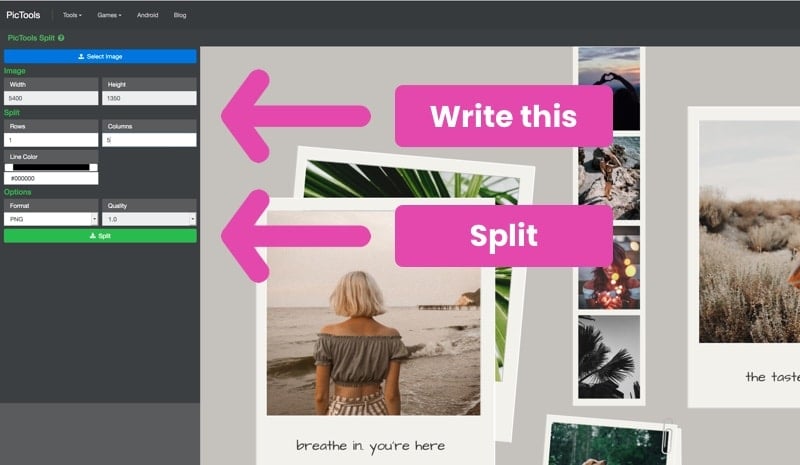 After you press "Split" a pop-up will appear to save each individual image on your computer.
Save the document somewhere on your computer.
Congratulations!
You've created your carousel slides!
8. Upload your carousel in Preview app
Now it's time to recreate your Carousel, so it's ready to be posted on Instagram.
You can use Preview App on your phone or on your computer.
Preview is an app to plan your Instagram feed.
You can use it to literally "preview" your feed before you post on Instagram (and prepare your captions, find hashtags, edit photos, test your hashtags and analytics).
If you are using Preview on your computer:
Press "+"
Select "Carousel"
Upload your photos
Done.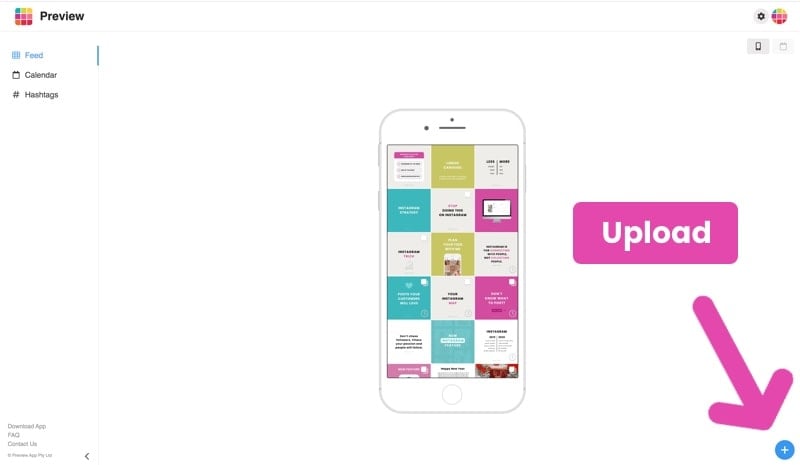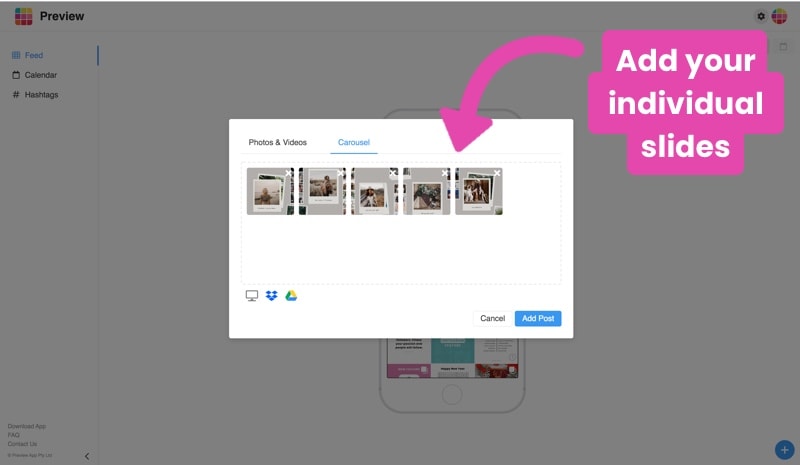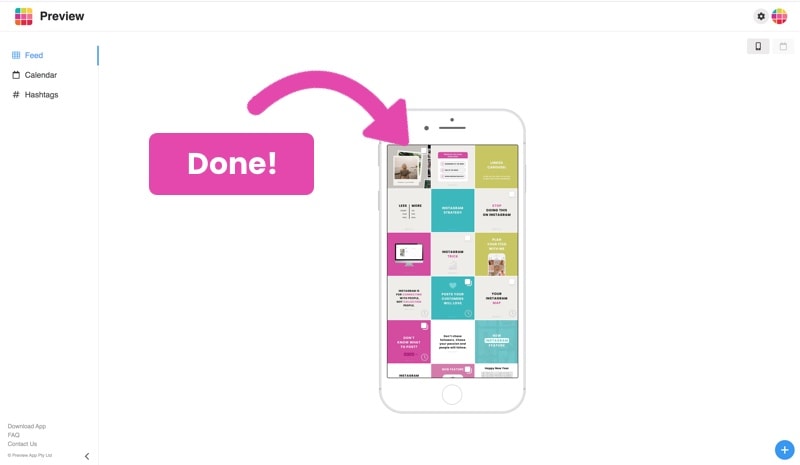 If you are on your phone:
Send the images to your phone
Open your

Preview App

Press on "+"
Select "Carousel"
Select your photos
Done.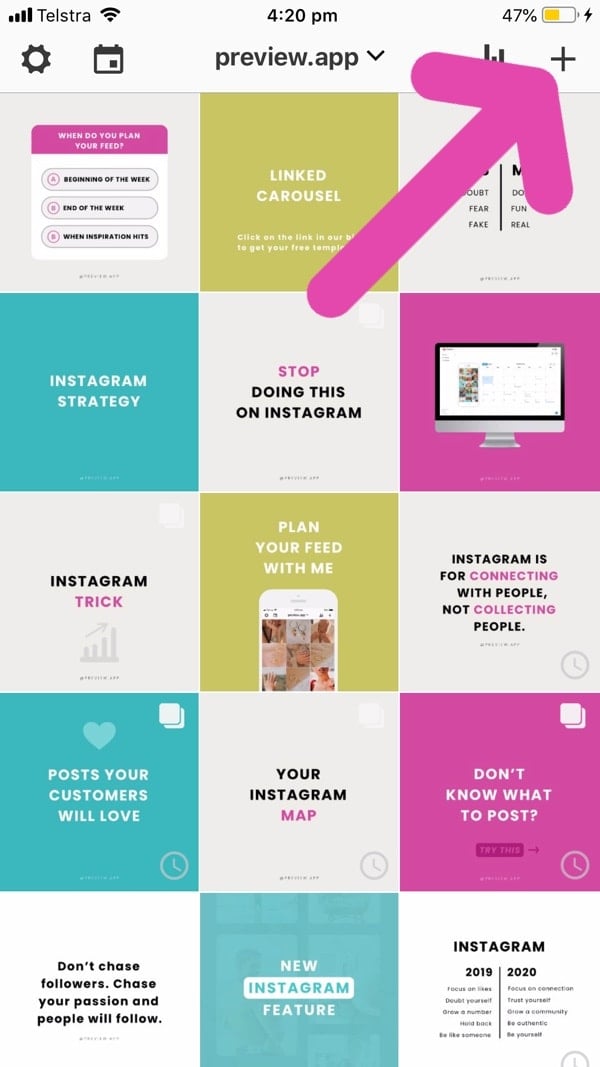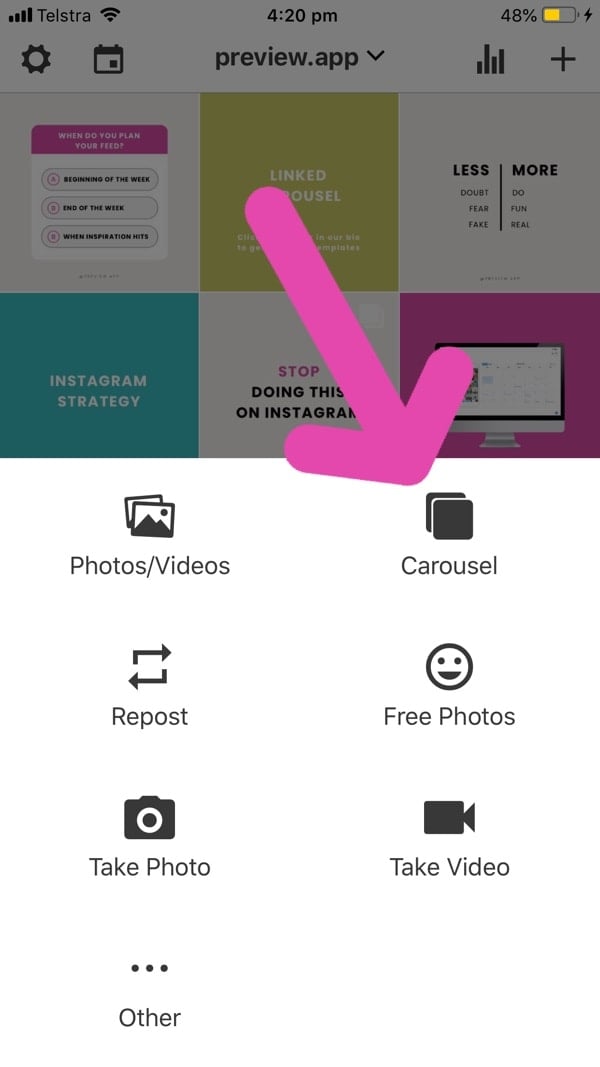 Note:
If your carousel slides are not in the right order, you can rearrange them:
Select the carousel
Press the "circle" icon
Rearrange the order of the slides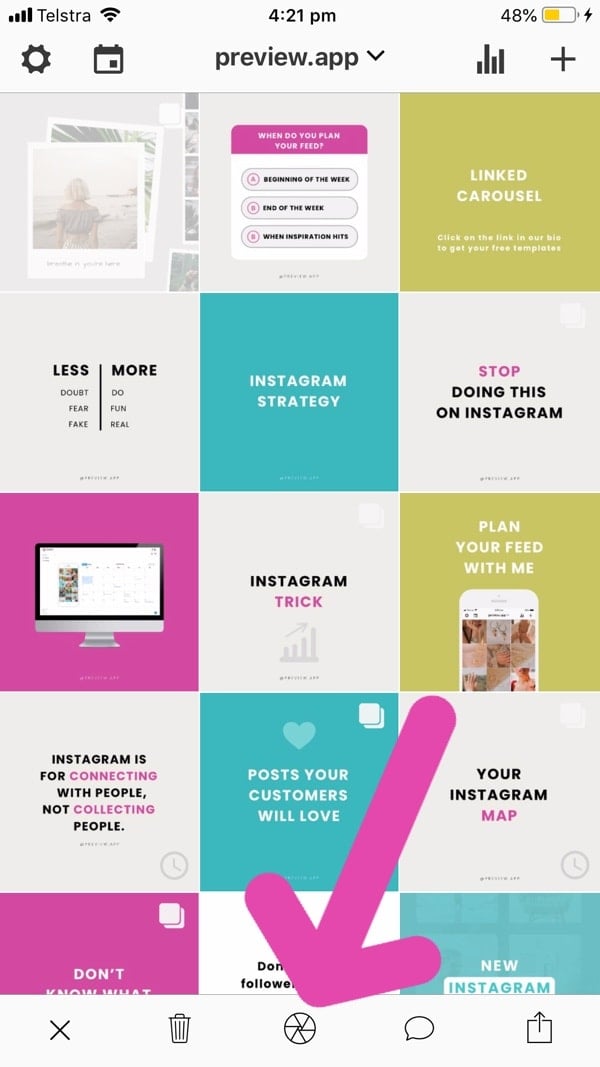 Trick:
Double tap on the post to open the carousel in big and to preview how it will look like when you swipe through it.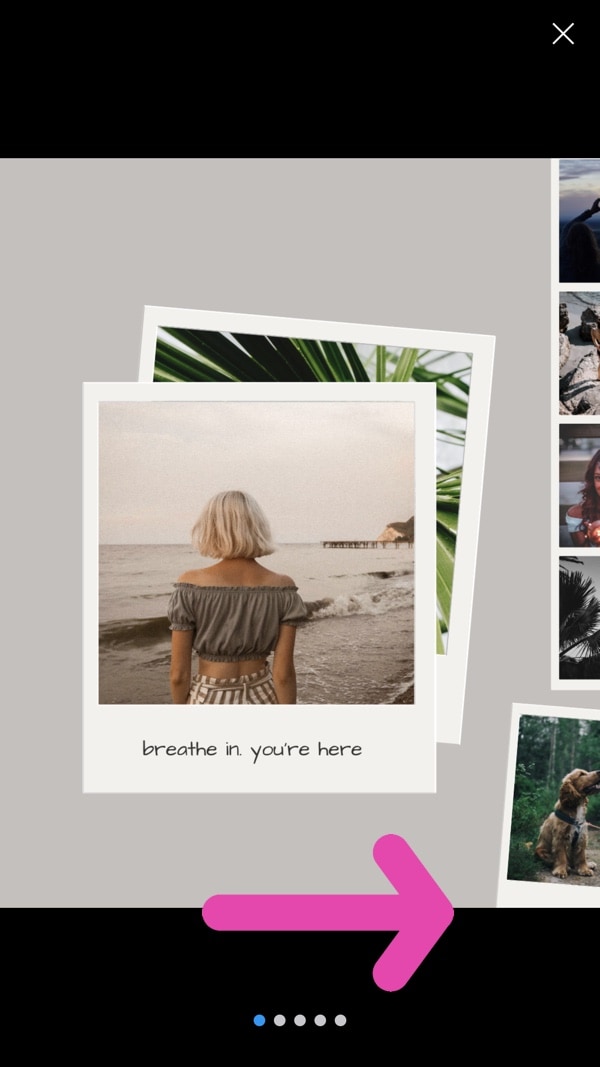 Ready to Get your Instagram Carousel Templates?
🙂
Quick note:
If you want to do a 2 slide carousel, or only 3 slides, or 4 slides: you can still use the template and follow the exact same steps in the tutorial. When you upload your carousel in your Preview app, just upload the slides you actually need.
If you have any questions, just ask in the comments here.
As you'll see the last template is a blank template so you can create your own carousel post.
One more thing: I'd love to see your final creations on Instagram.
Tag us @preview.app on your photo so I can see it and share it.
That's it for now.
Enjoy!
– Alex