Want to see your Instagram Reels insights and Analytics?
Instagram doesn't have a section for Instagram Reels insights at the moment.
But you can check your insights in Preview app.
Here's an example of our insights in Preview app before and after posting a Reels video: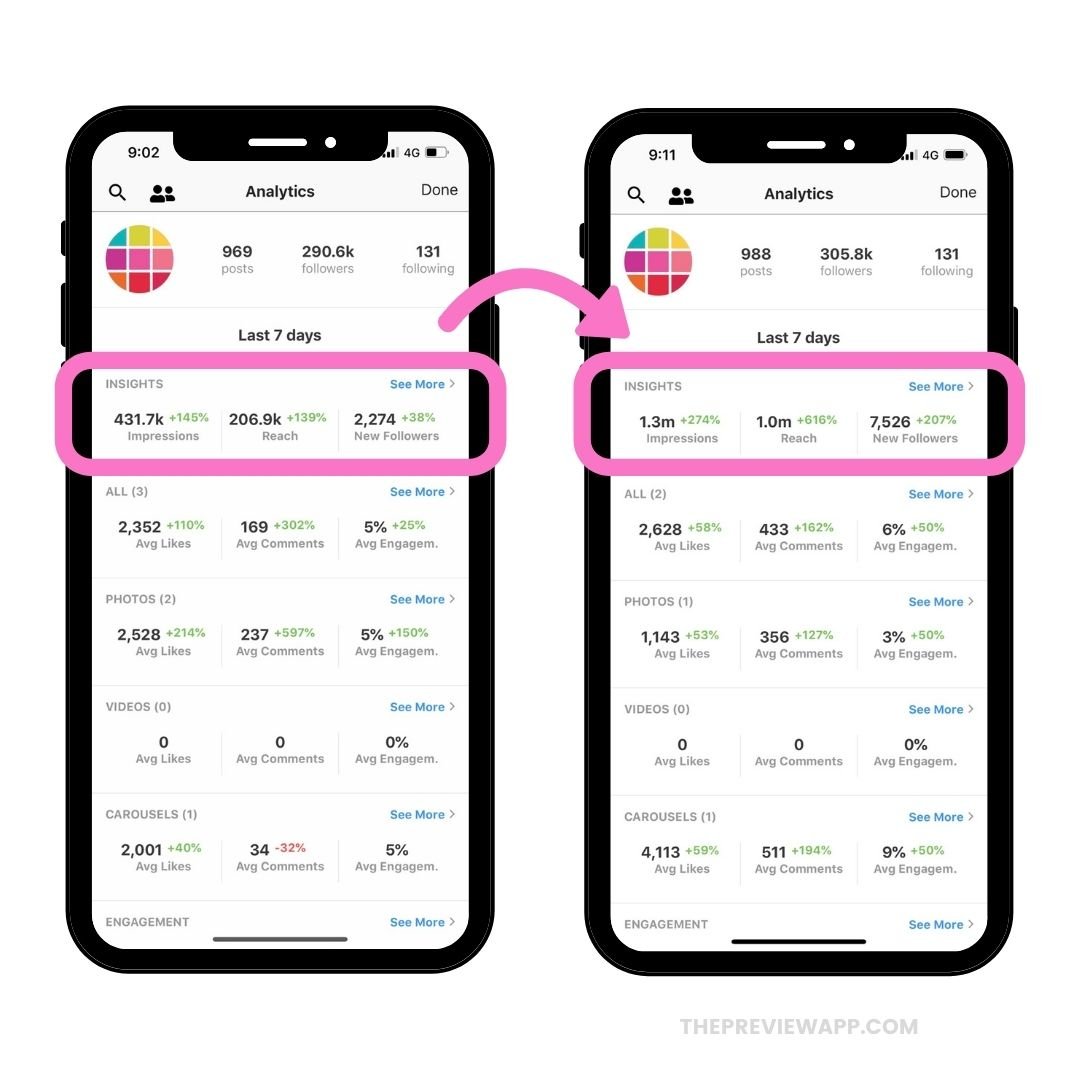 Note: I forgot to take a screenshot of our insights before posting the Reels. But the "before" is pretty much how our insights look like when we don't post Reels.
What we noticed is that the best way to check your Instagram Reels insights is by checking the growth of your Reach, Impressions and new followers: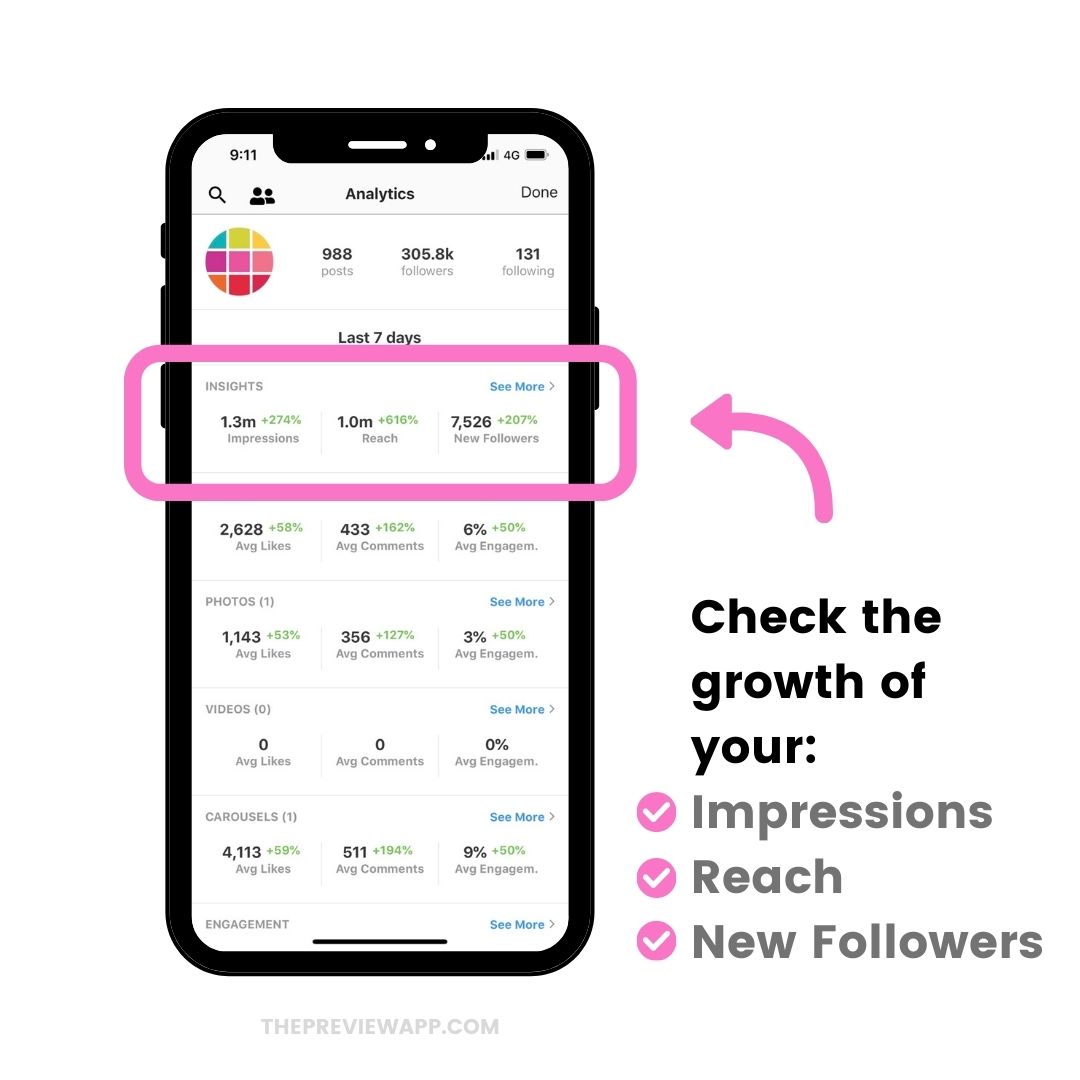 The more your Reach and Impressions increase, the more new people are seeing your content.
This is an indication that your Reels is helping your grow your account.
Then, here's the cool thing:
If more people check your page, your normal posts' likes and comments can go up too (since more people will check out your other content).
Here's how to check your insights in Preview (including on Preview Desktop version):
First, press on the "Analytics" button on top of your screen.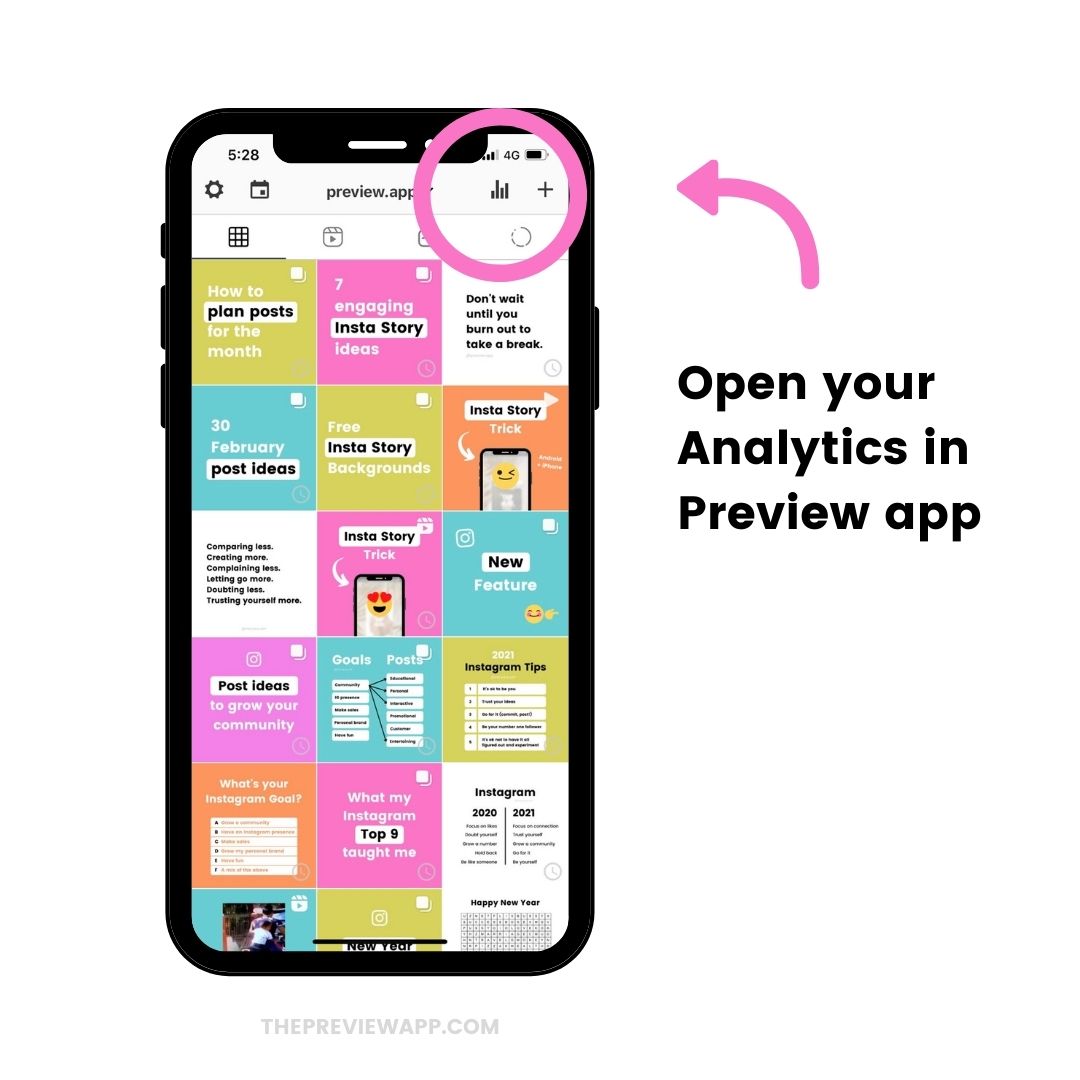 2. Check your Instagram insights
On this screen, you'll see your Weekly Growth.
If you see a lot of "Green", it means a lot of people are seeing your content. And therefore, your Reels is performing well.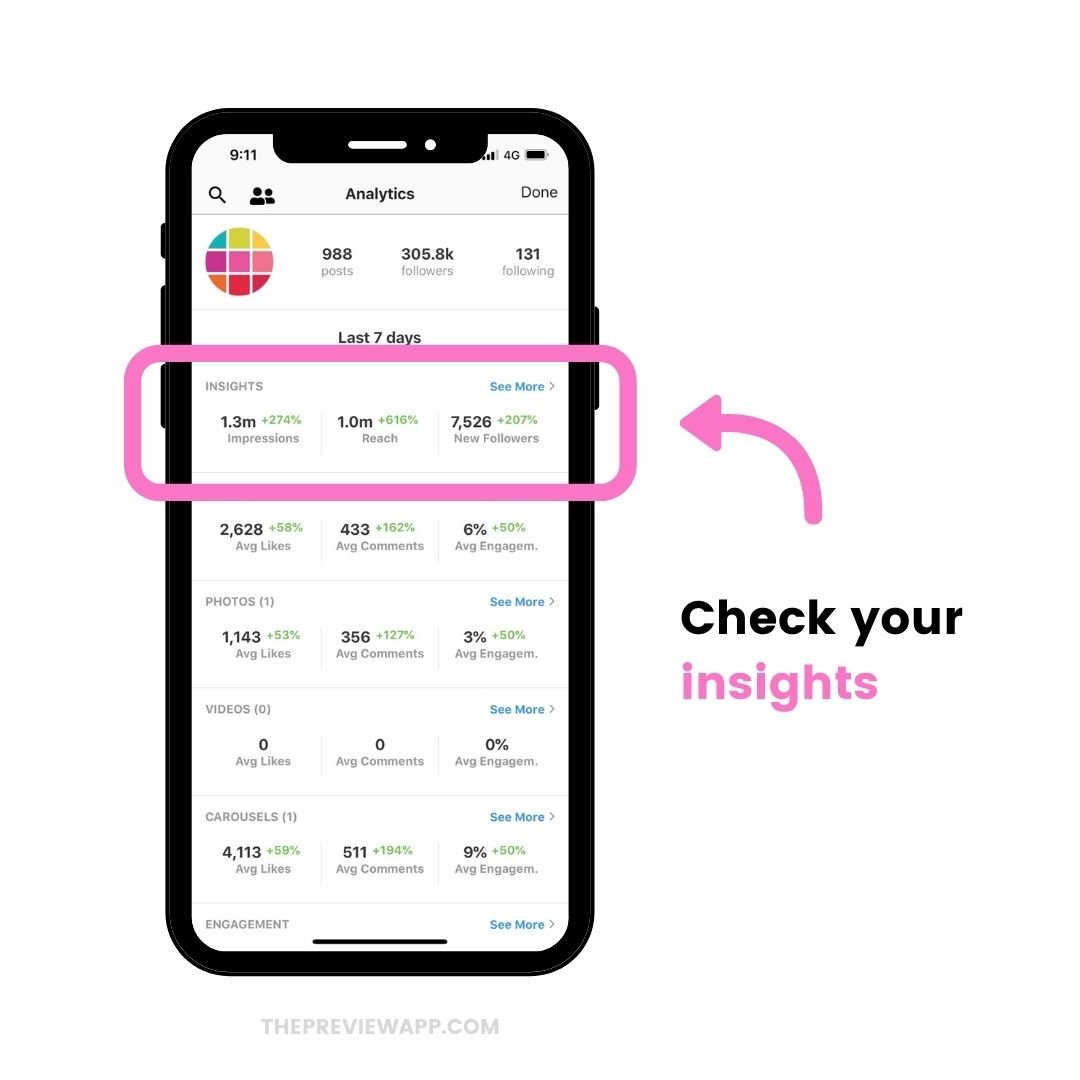 Note: Be patient. The Reels "algorithm" is different from the one for normal posts. It can take up to 2 weeks for a Reels to go viral. So keep an eye on your insights. You might notice a massive jump a few days (or weeks) after you post your Reels.
We also noticed that a Reels can go "viral" or "perform amazingly" for at least 3 days. Which means, you will continue to have amazing Reach and impressions for a LONG time. So keep posting content on your normal feed and Stories too. New people are discovering you.
3. Press on "See More" to see more insights
Want to see more insights?
Press on "See More":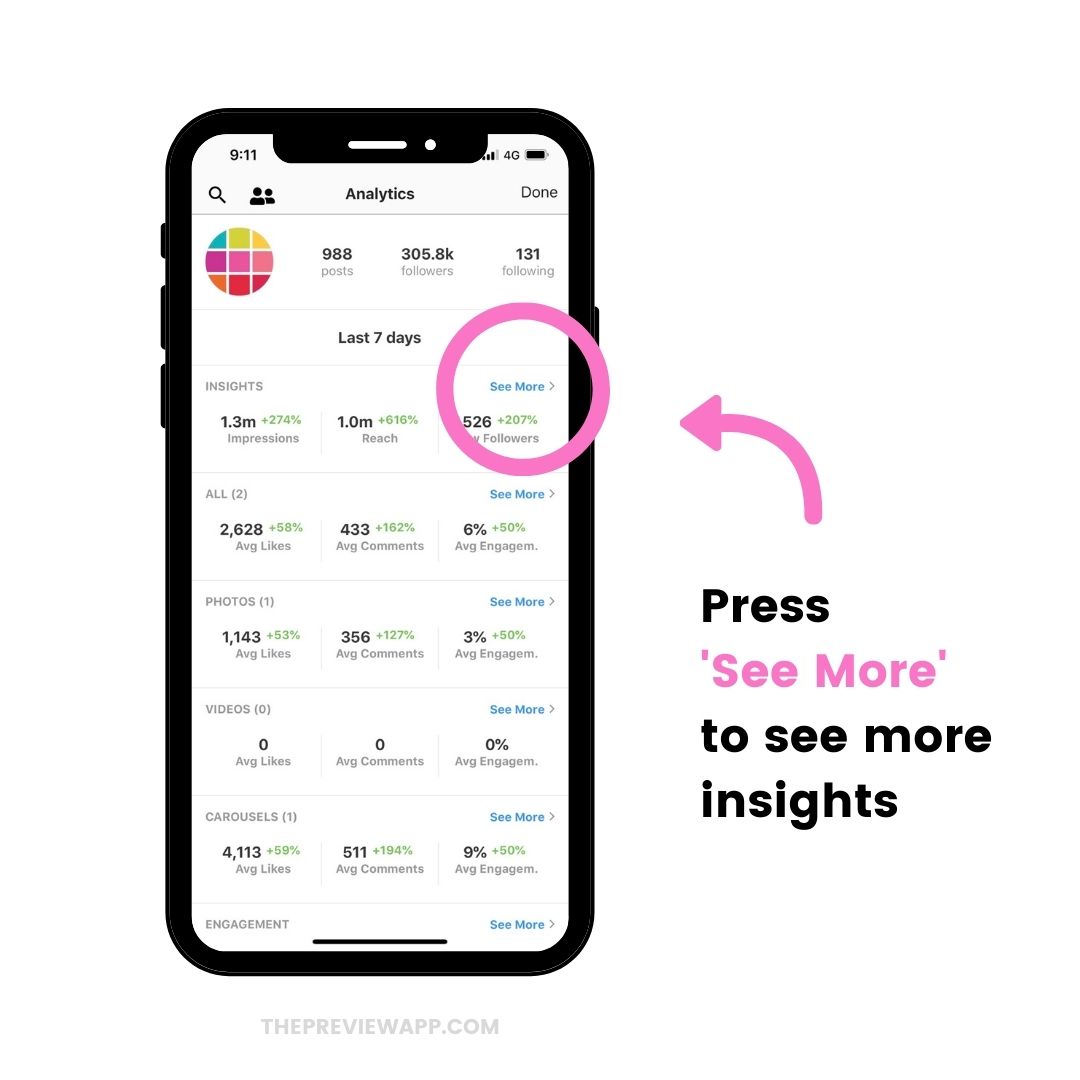 Here you can check your overall performance and growth.
Tap on any "blue bar" to see what you posted that day, and see more analytics for that post.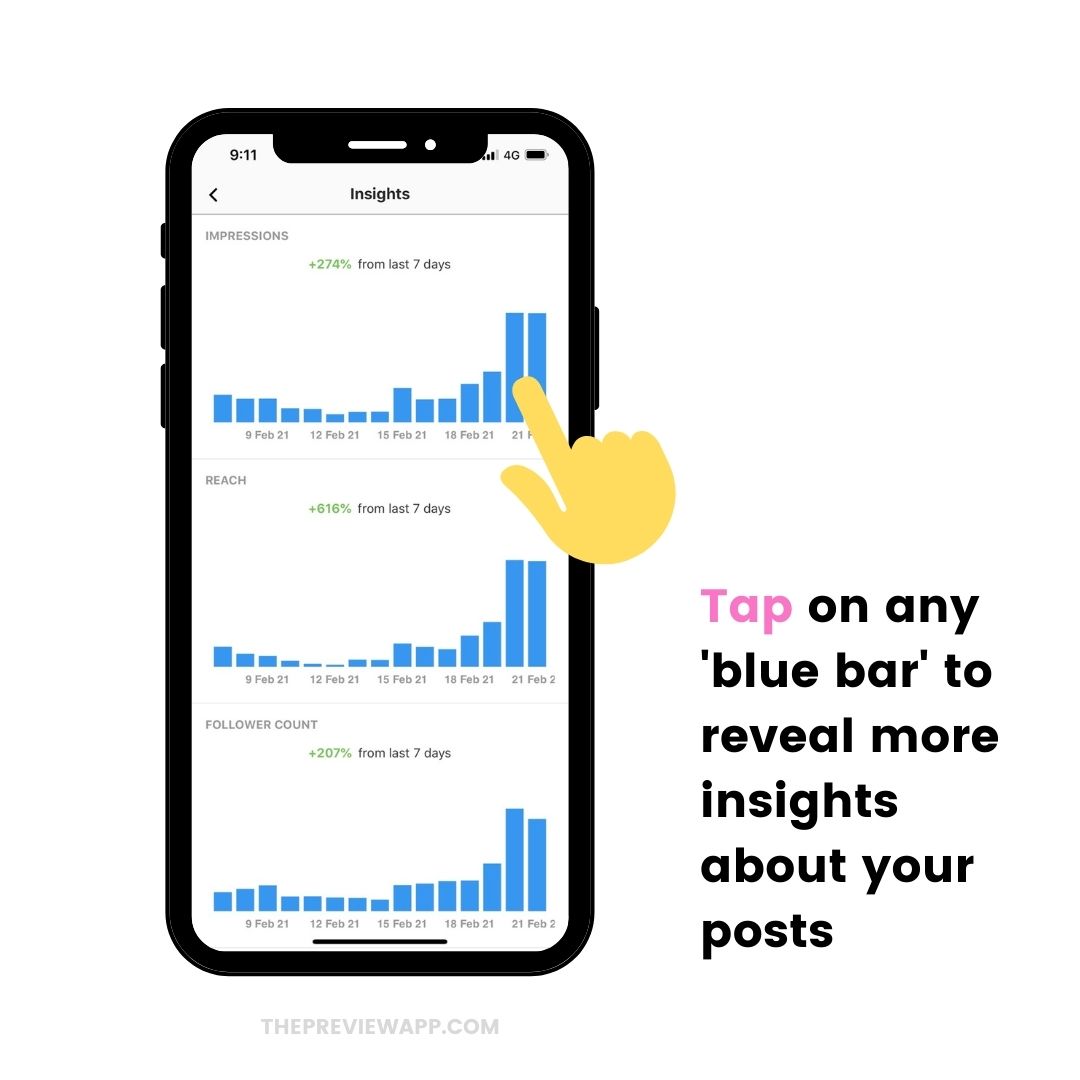 That's it! You know how to see Instagram Reels insights!
Like I said before, right now this is the best (and only Instagram-approved / safe way) to check your Instagram Reels insights: by checking how many more people see your content (Reach and Impressions).
Be patient. Your next Reels could go viral, and it's pretty awesome to see your analytics turn green all of a sudden.
Have fun!