If you're not into reading, watch this video.
Can we automate Instagram posts? Are there any websites or apps that do auto scheduling?
These are by far the most frequently asked questions.
Instagram is the only super popular social media platform that doesn't seem to have auto scheduling tools.
And there is a good reason for that.
Please read until the end. I will tell you how you can protect yourself and prevent your Instagram account from being blocked or banned by Instagram.
Can you automate Instagram posts?
Unfortunately not. Instagram does not allow any other apps to AUTOMATICALLY post for you.
It is against their terms & conditions.
It can get your account banned or blocked.
Do not take the risk.
But as soon as Instagram allows it. We will roll out the feature in Preview app.
What about the other apps that do auto posting?
If you see any other apps or websites claiming to do auto posting, then beware. Your account can be blocked or banned by Instagram.
Protect your Instagram account and personal information
How do you know if you are safe and if you are using an Instagram approved app?
An easy way to tell is by the way you log in with your Instagram account.
If the login form looks like this (see below) and Instagram asks for your authorization – then you will be fine.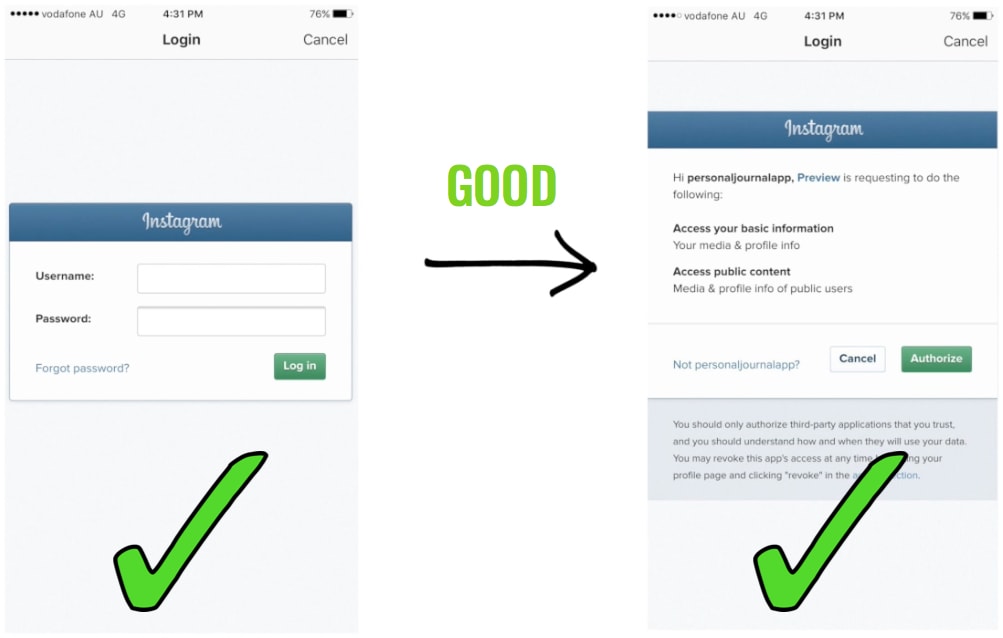 This (above) is the approved Instagram method. Your username and password are sent straight away to Instagram. The website or app you are using won't have any access of your login details.
However, your account can be banned or blocked by Instagram if:
The login form doesn't look like this: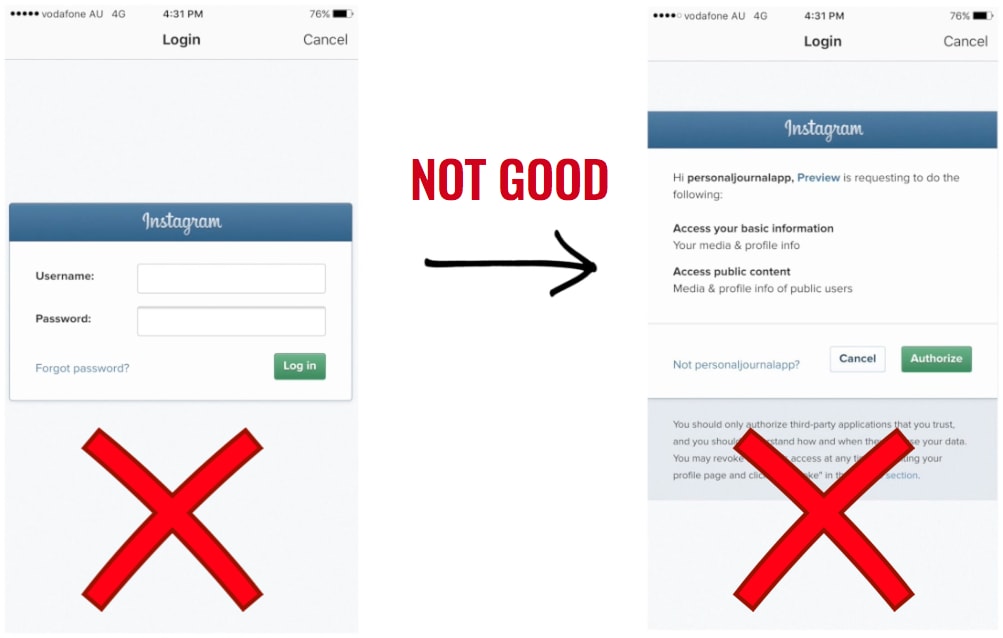 The login form looks like this, but doesn't ask your authorization: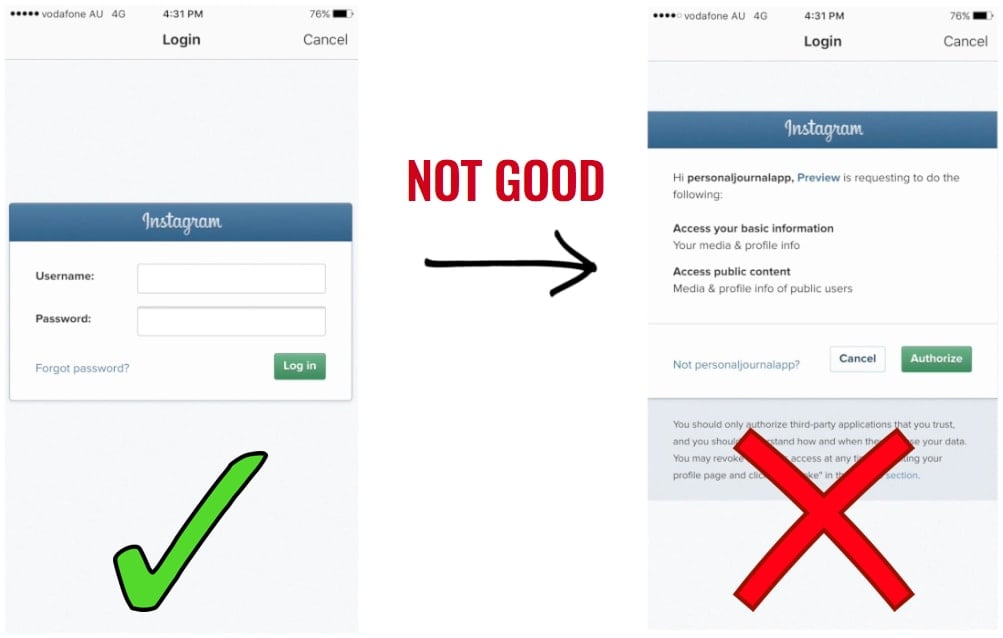 Avoid automated tools for Instagram if you are serious about your Instagram game.
And honestly, we think it is a good choice by Instagram to not allow automated posts. This ensures quality content and no spam that we commonly see on other social media platforms.
How to Schedule Posts on Instagram
So what is the best way and safest way to schedule your Instagram posts?
Right now, the best way to schedule your Instagram posts is to:
Prepare your post in advance.
Receive a notification when it's time to post.
Send your post to Instagram to share it with the world.
It literally takes less than 30 seconds.
Schedule posts and plan your feed with Preview app
If you're looking for a safe way to schedule your post, check out Preview app.
You can drag & drop and edit your images to plan your Instagram feed in advance. And you can schedule your posts.
Have fun planning your feed!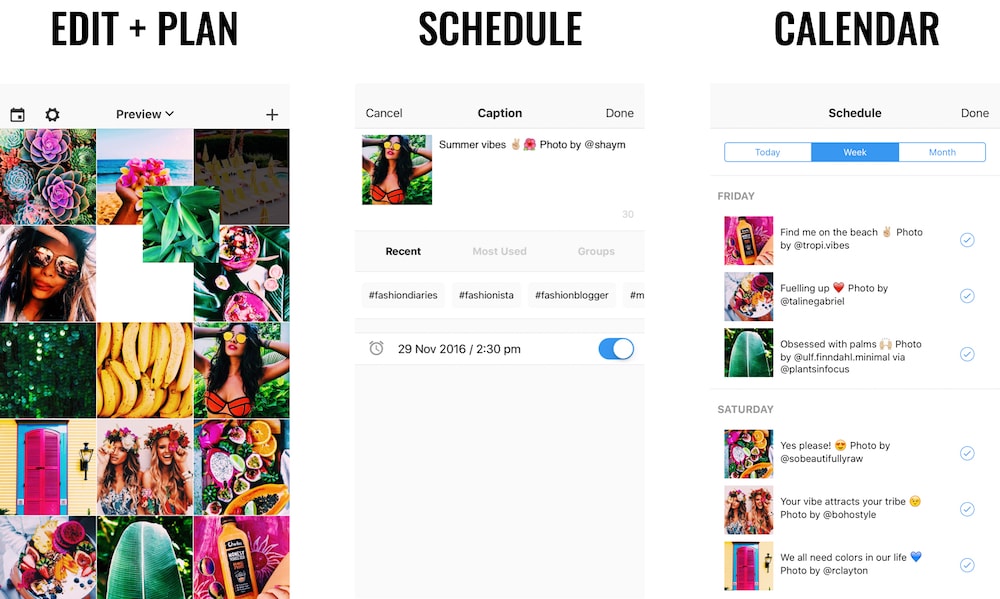 +400,000 Instagrammers are already using Preview App to edit, plan & schedule their feed. If you haven't tried it, you're missing out.