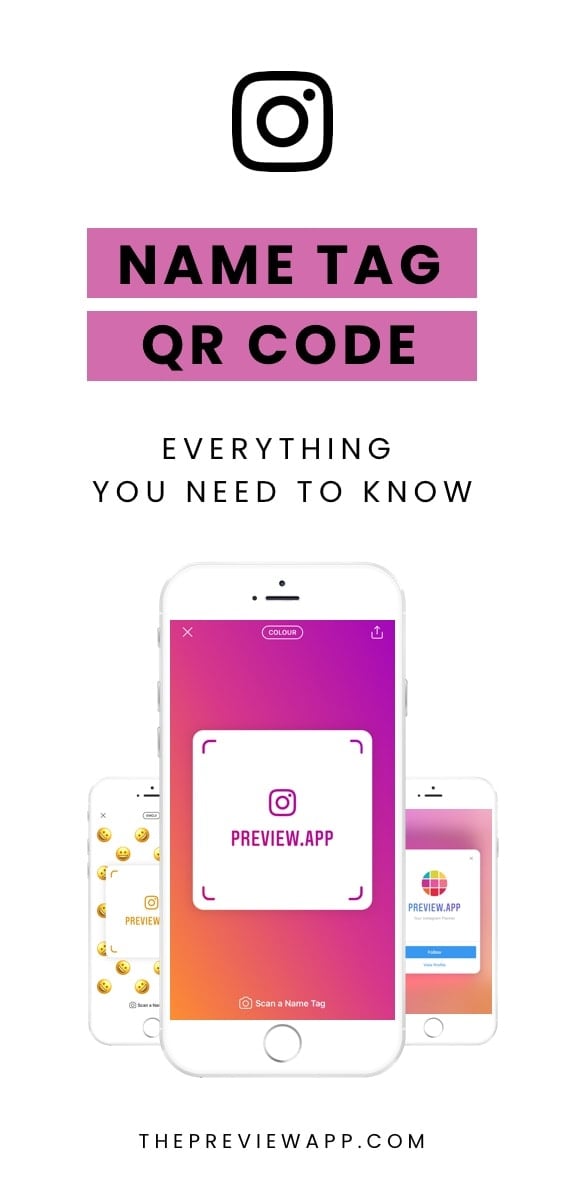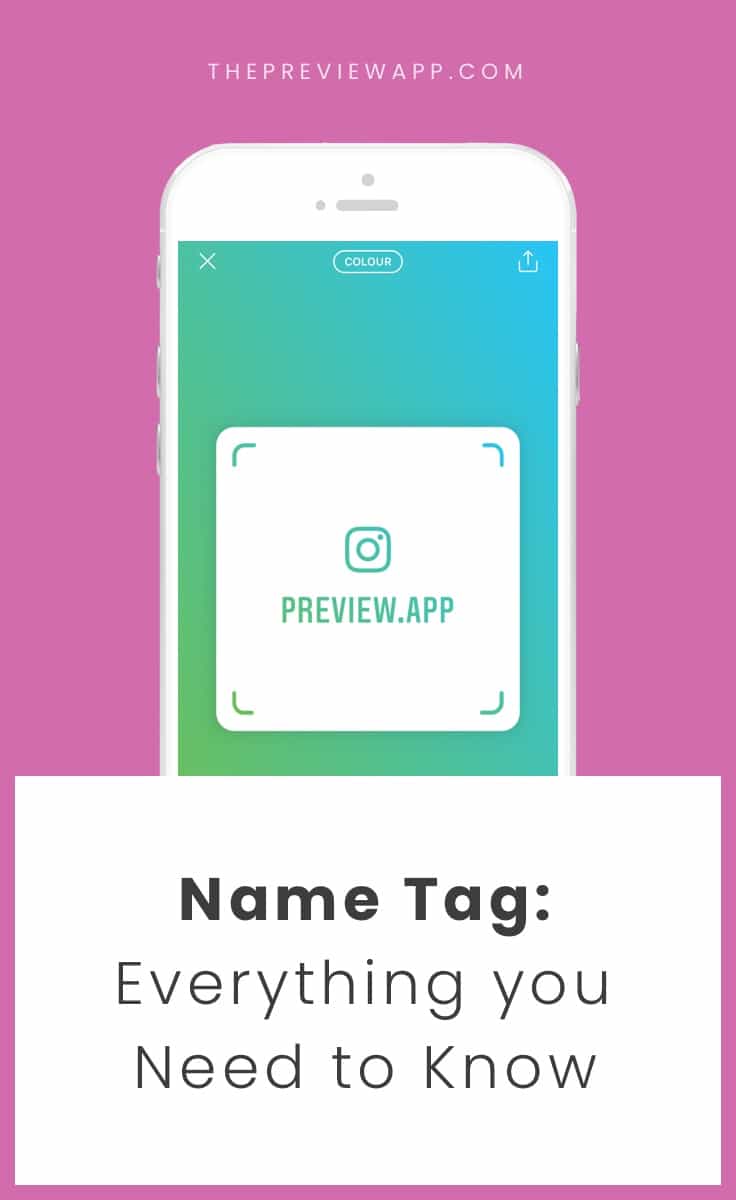 Say hello to the new awesome Instagram feature called "Name Tag".
What is it?
A Name Tag = a special image (like a QR code) that people can scan – in person – to instantly go to your Instagram page and follow you.
Pretty cool right?
Even more cool: There are different Name Tag designs available (I'm going to show you everything below).
Even more more cool: Your Name Tag is a new way for people to easily find your Instagram account and follow you straight away.
And even more more more cool: Your Name Tag means that you can promote your Instagram account in a lot of new exciting ways (I'll give you some ideas to promote your Instagram at the end of this post).
Sounds good?
Let's start!
Here is everything you need to know about the Name Tag feature.
How to create your own Instagram Name Tag / QR code image?
Let's create a Name Tag for your Instagram account.
To create your own custom Instagram QR code:
Open your Instagram app
Go to your Instagram profile
Press on the Name Tag icon on top of your screen (the second icon)
You will see your Name Tag screen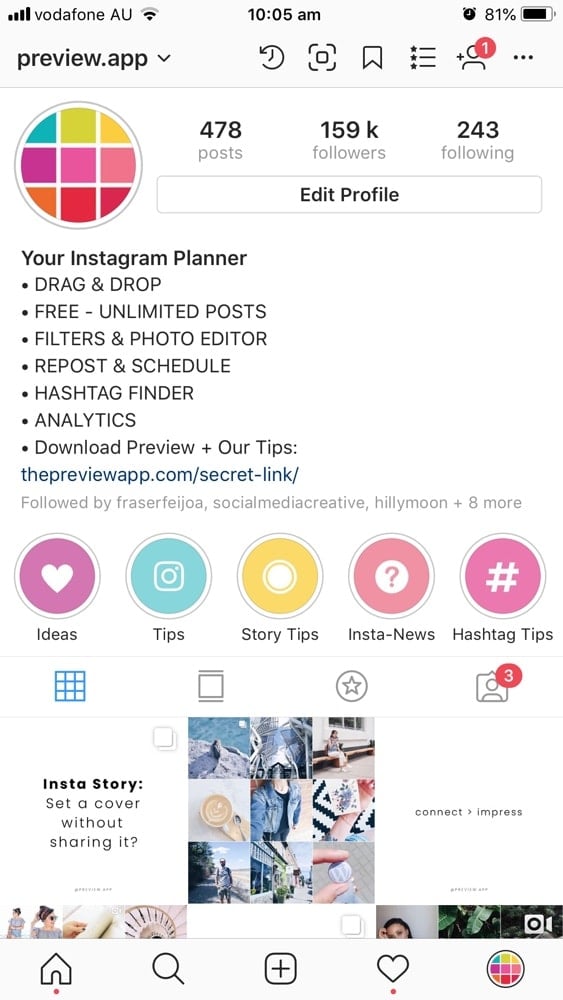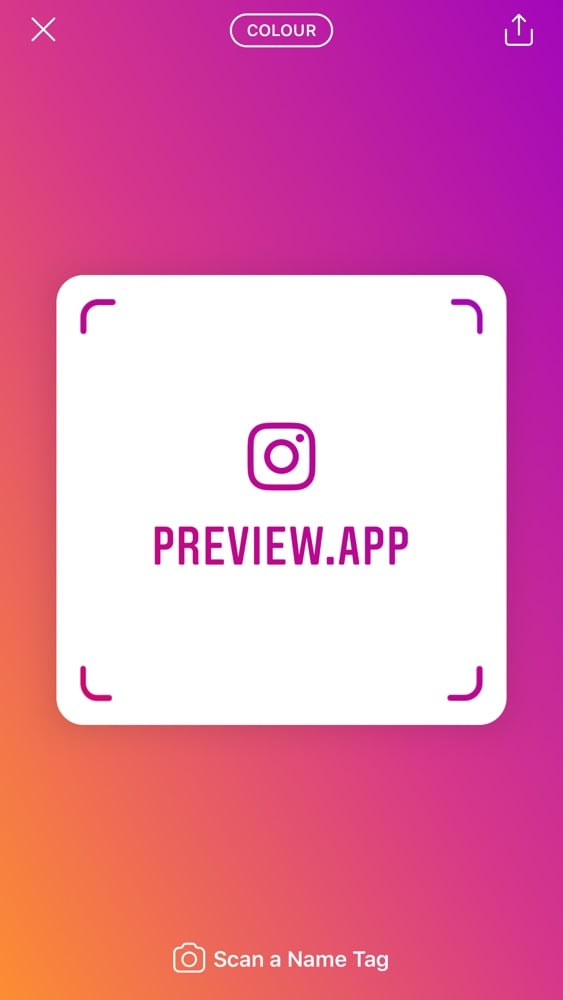 From this Name Tag screen you can do 3 things:
Create your custom Name Tag
Save your custom Name Tag to your camera roll or send it to someone
Scan someone else's Name Tag to go to their Instagram profile
I'm going to show you how to do these 3 things.
First, let's create your custom Instagram Name Tag.
Right now, you should see your Instagram username on your screen (as you can see, our username is @preview.app).
The default Name Tag design is this rainbow color gradient background. But you can change it.
Color
You can change the background color. Just tap anywhere on the background and the color will change.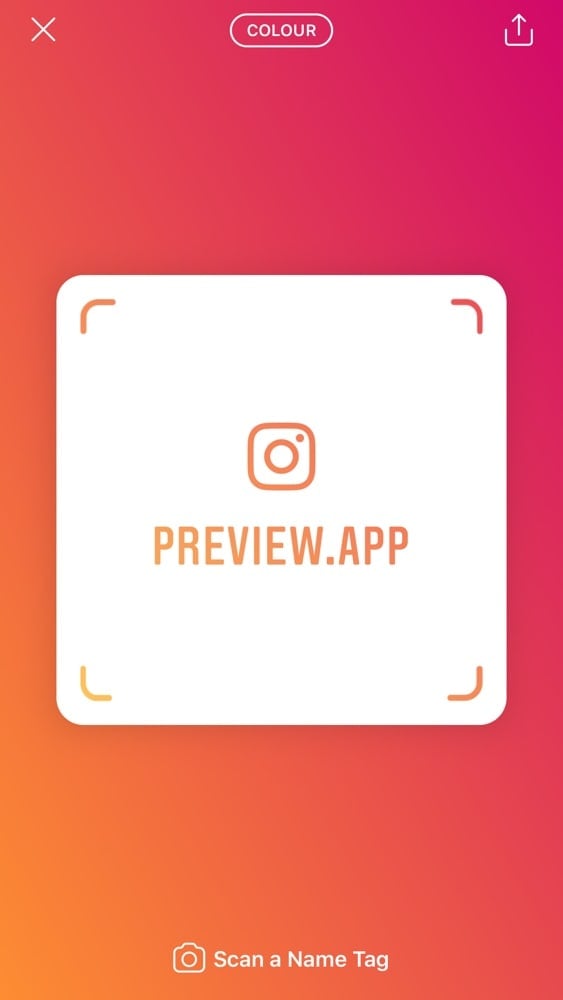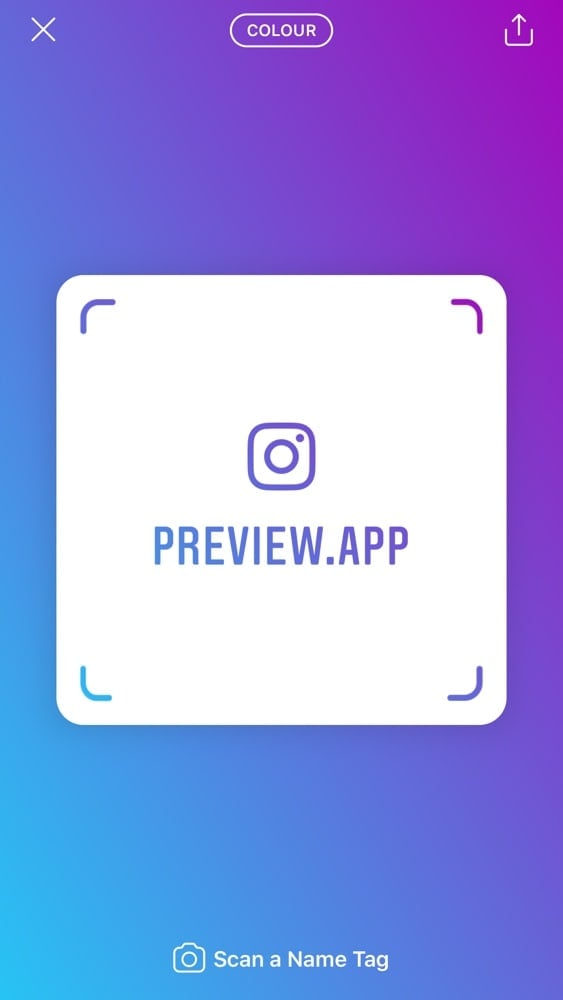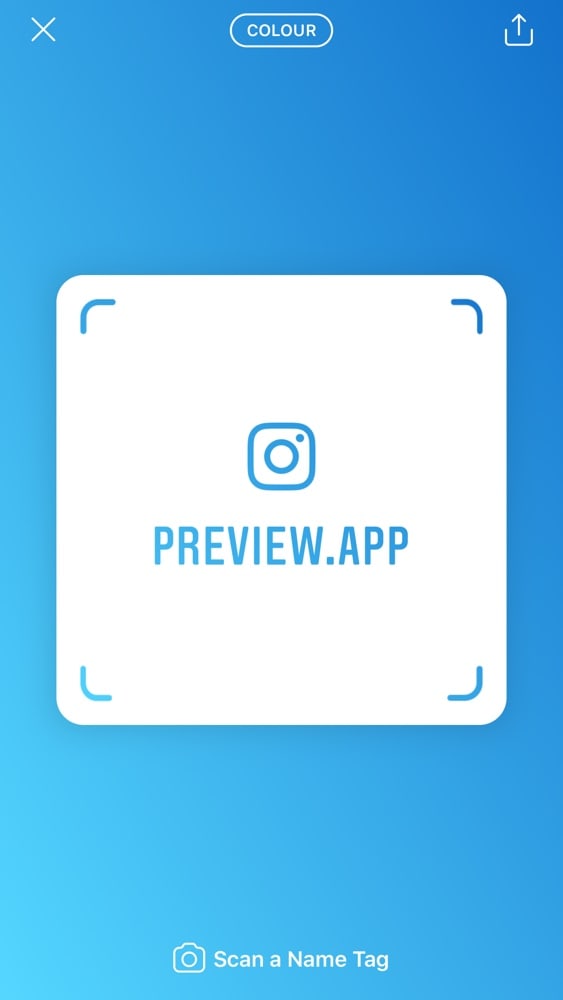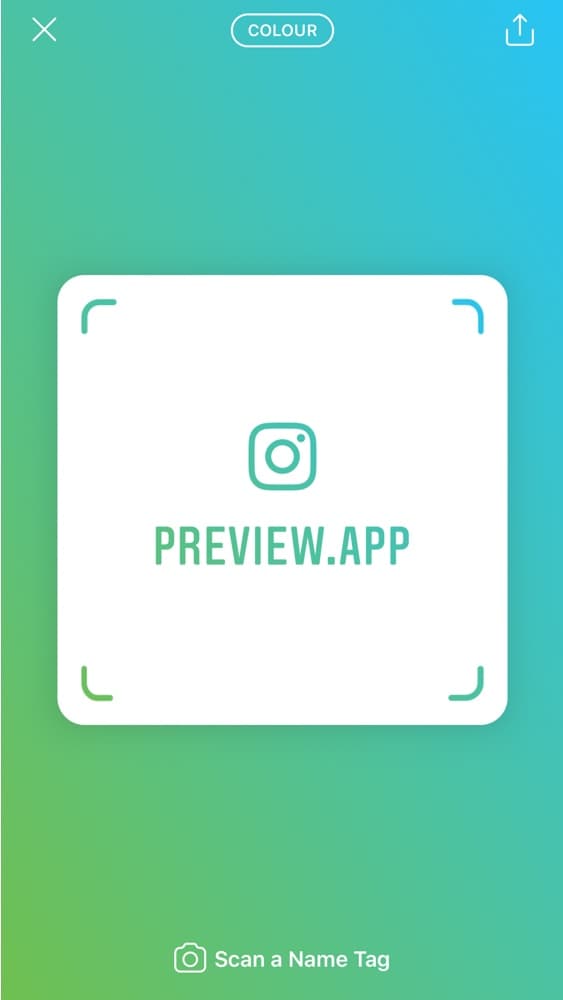 But there's more!
You have 2 other Name Tag design options:
Emoji: Choose an emoji for your background
Selfie: Take a selfie with a fun sticker
To change the design, just press on the box on top of your screen: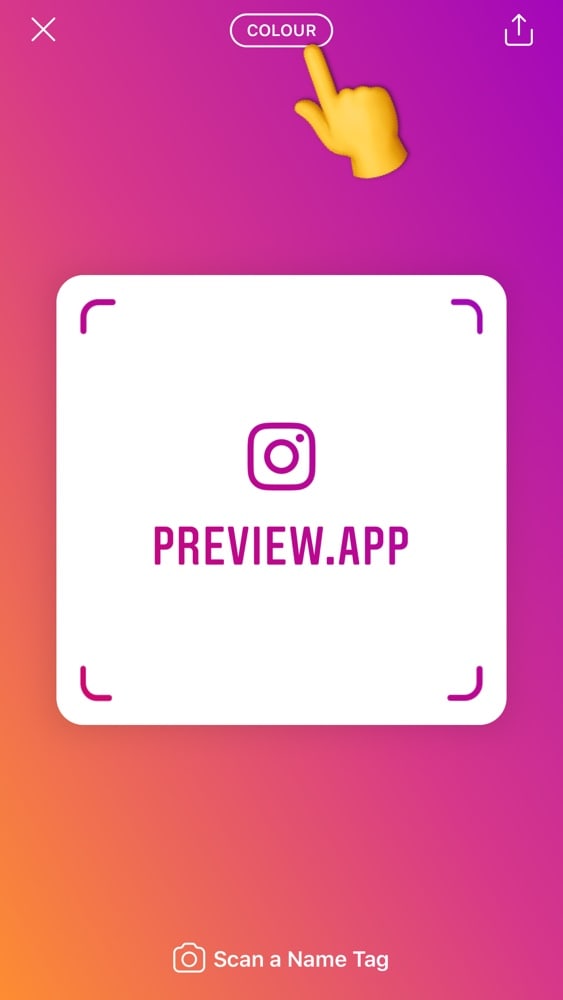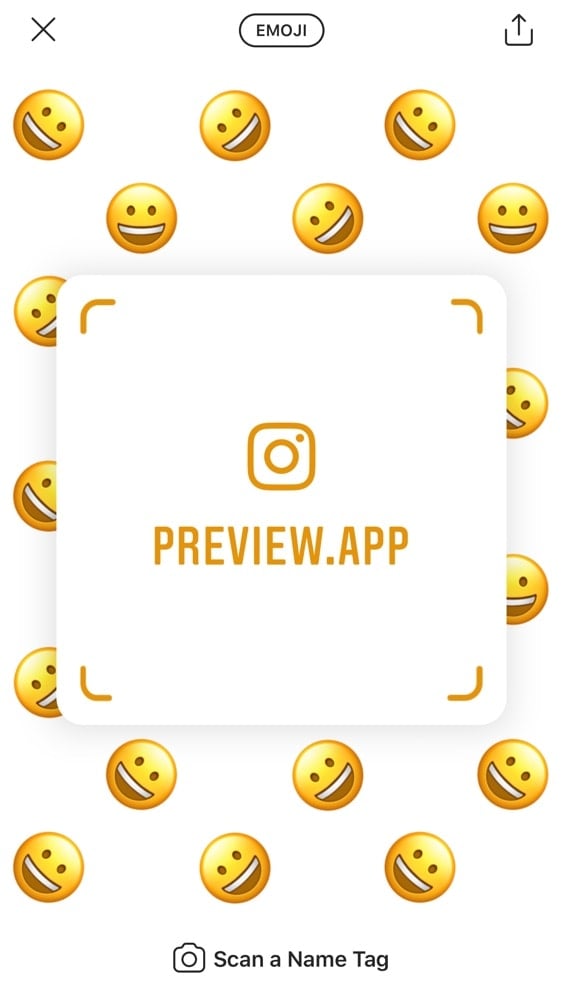 Emojis
To change the emojis in the background, tap anywhere on the background and the emoji selection screen will appear: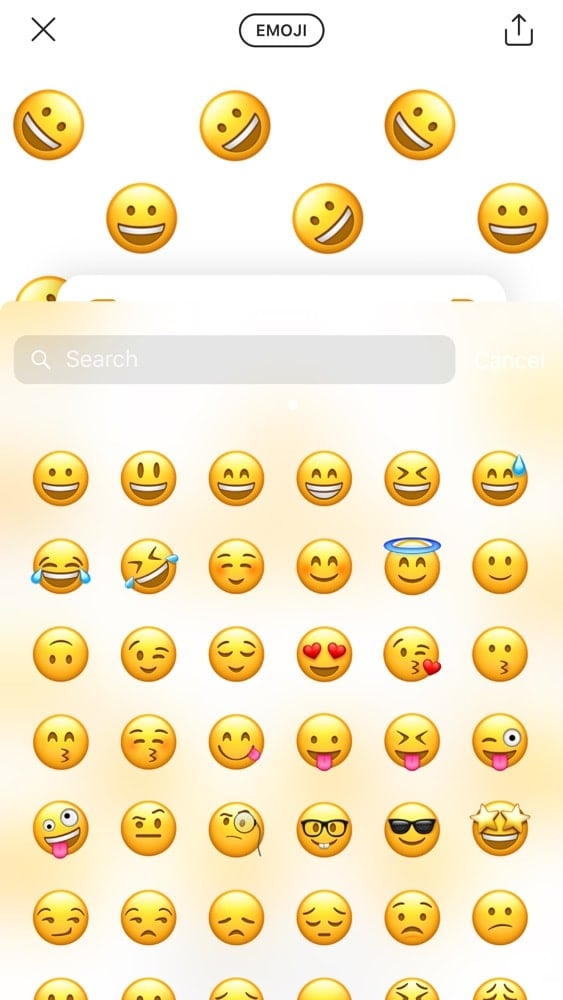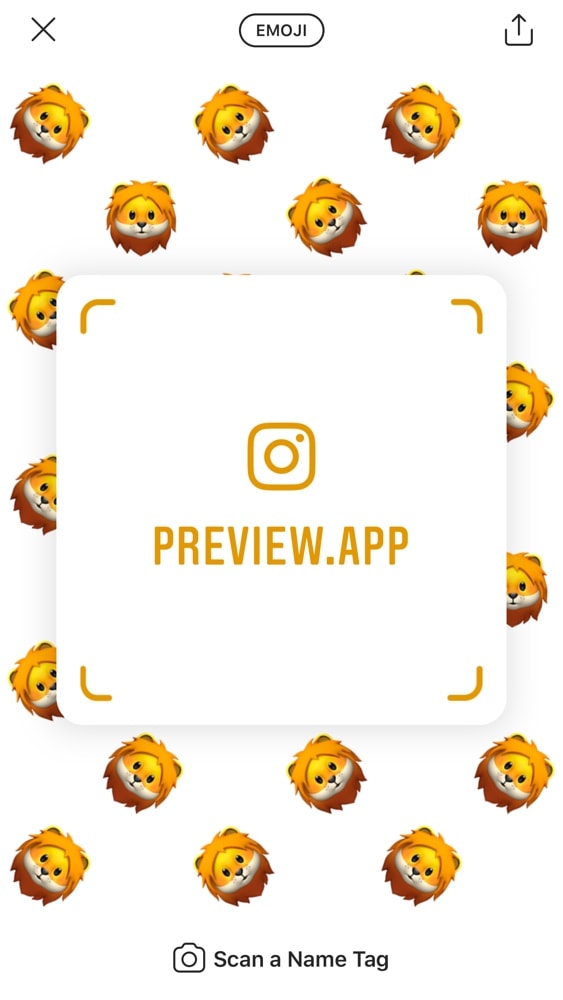 Selfie
Fun trick: You can change the sticker that comes on your selfie. There are different stickers you can choose from:
Sunglasses (default)
Heart eyes
Glasses
Mustache
Unicorn
Fact: After you take a selfie with a sticker, this selfie will cover the whole background of your Name Tag. It's super fun!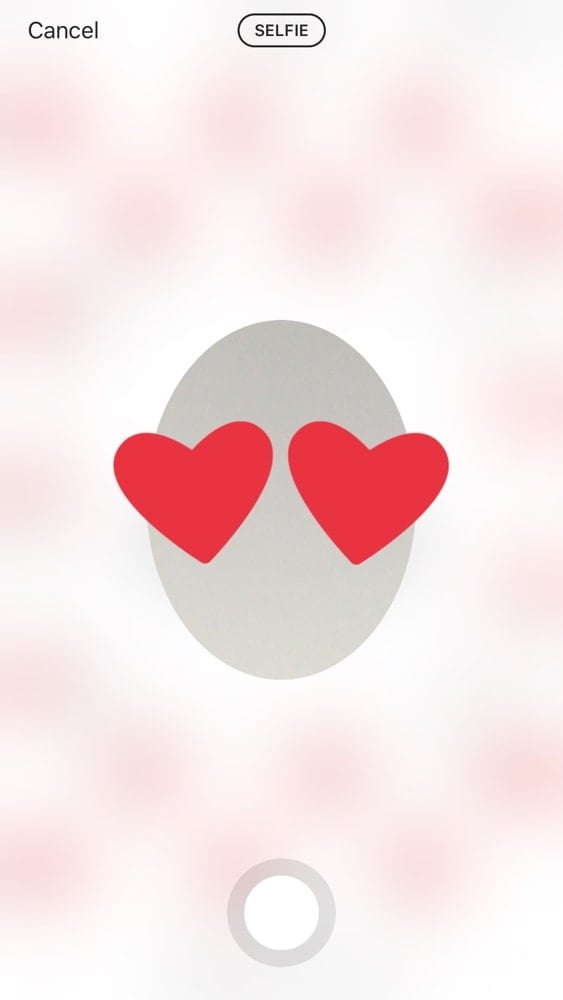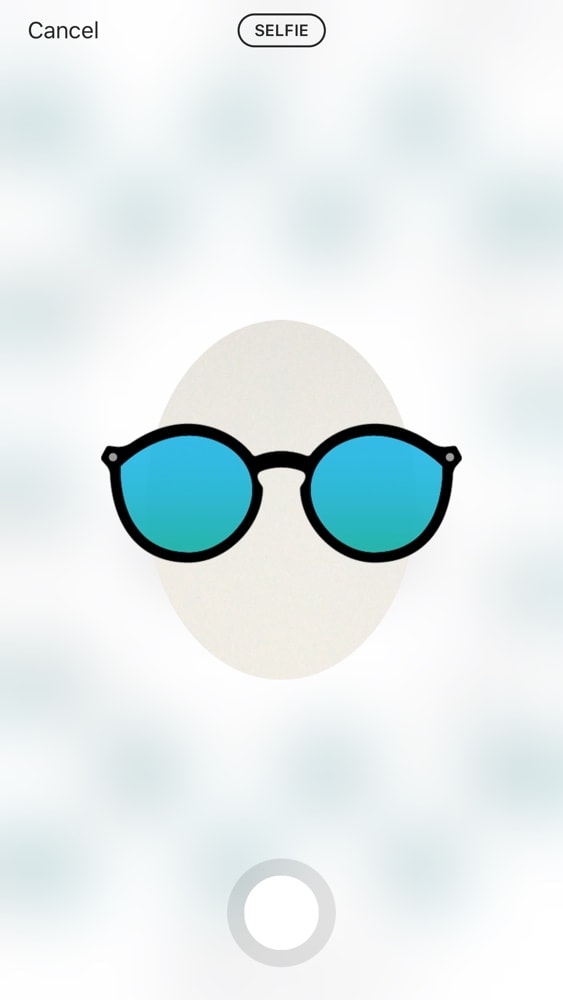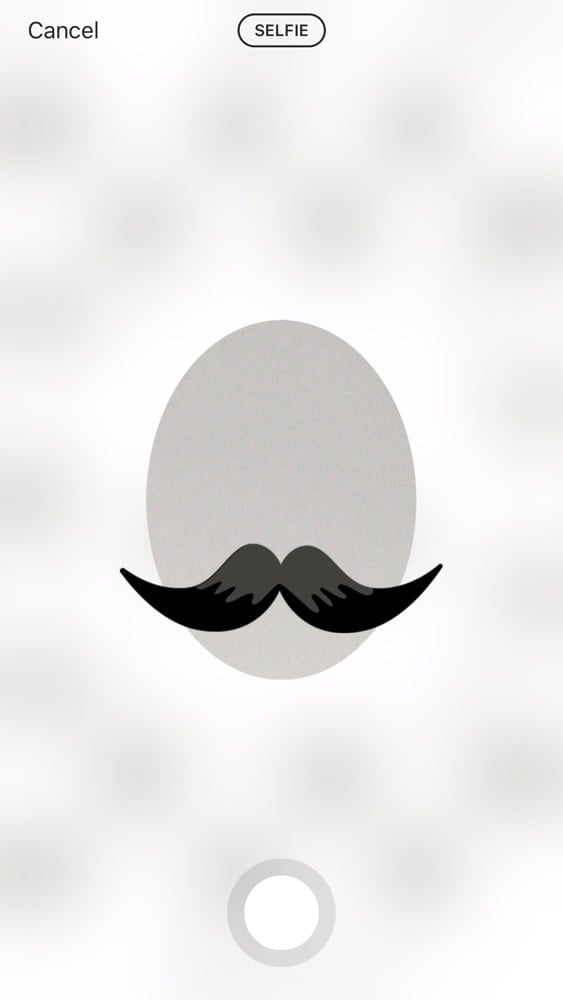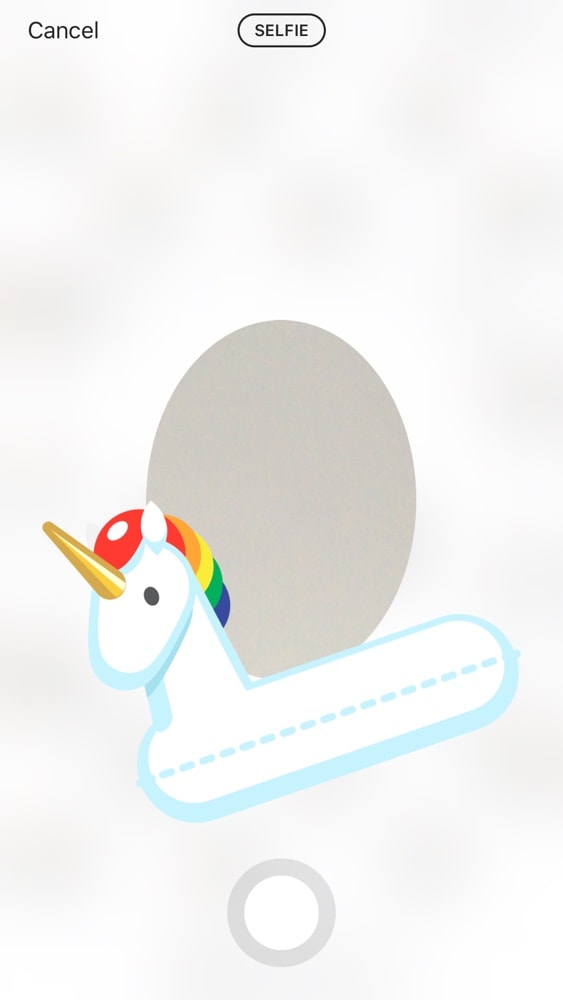 I took a selfie of my cat for demonstration purposes. She nailed it.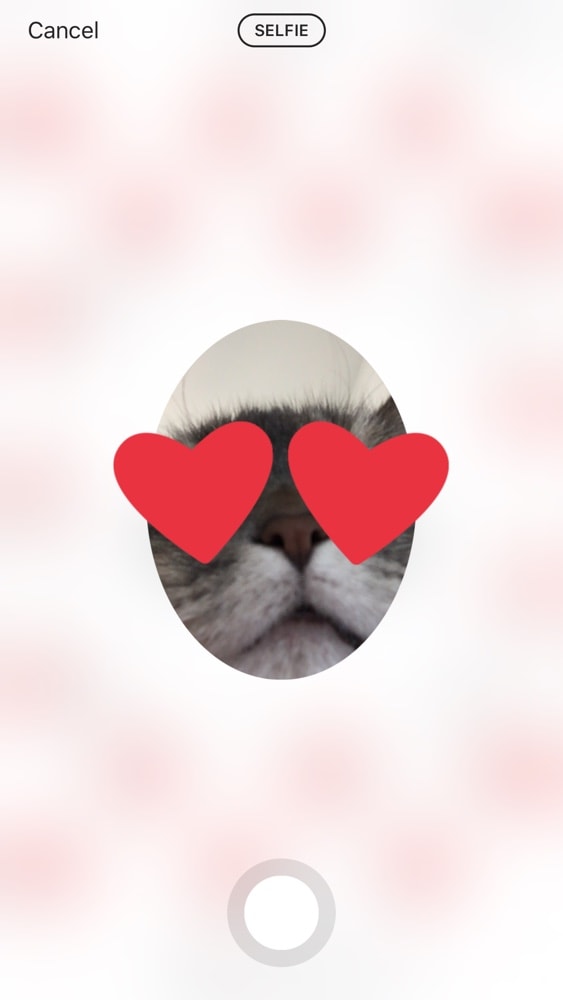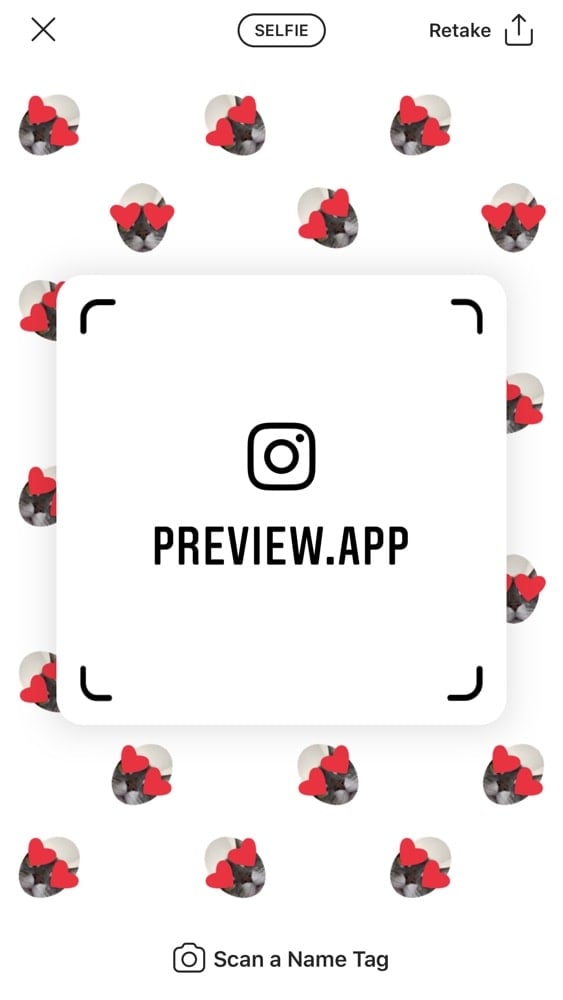 How to scan an Instagram QR code?
What if you see an Instagram Name Tag somewhere and you want to scan it? How do you scan it?
Super easy!
You have 2 options.
Option 1:
Open the name tag screen again
Press "Scan a Name Tag" at the bottom of your screen
A new screen will appear so that you can scan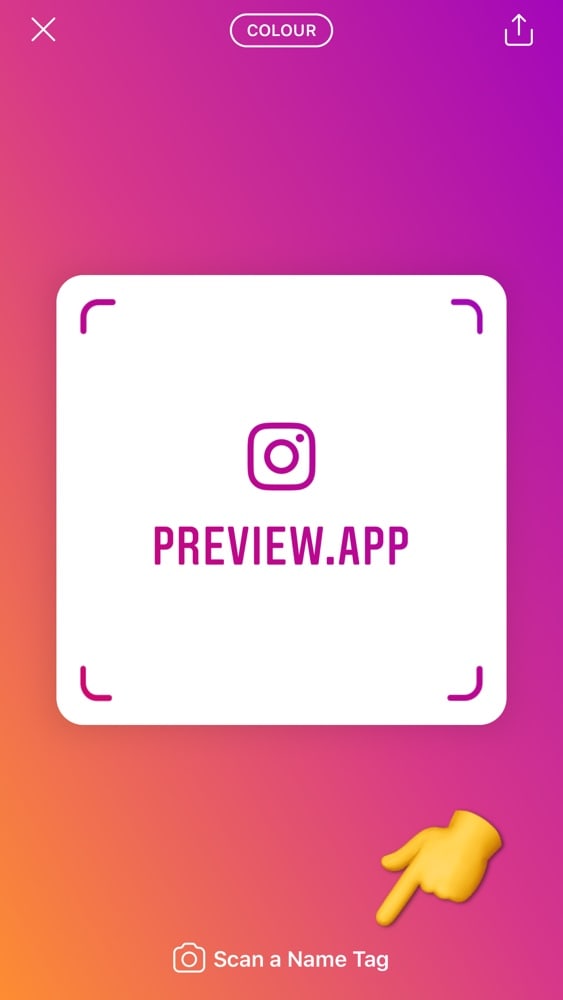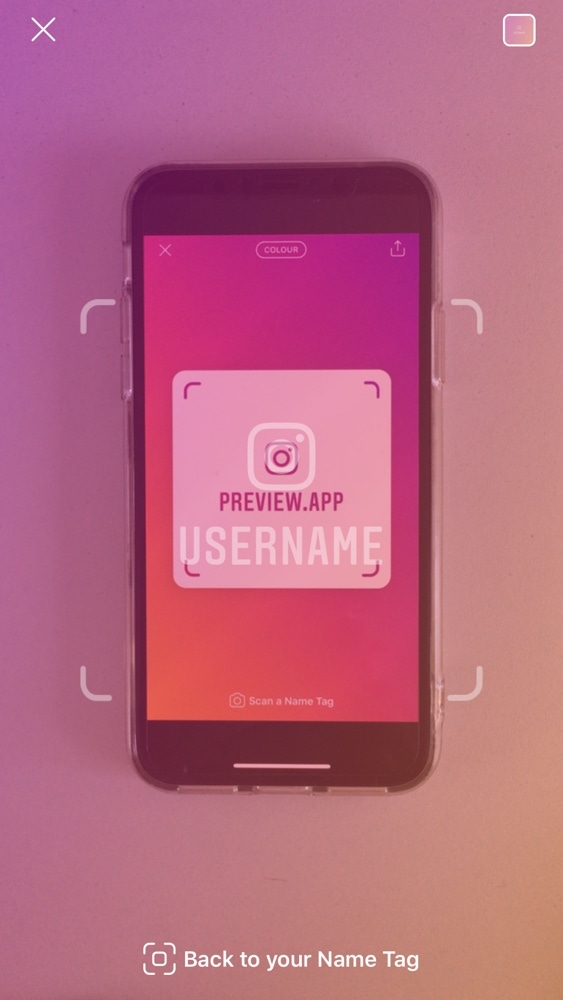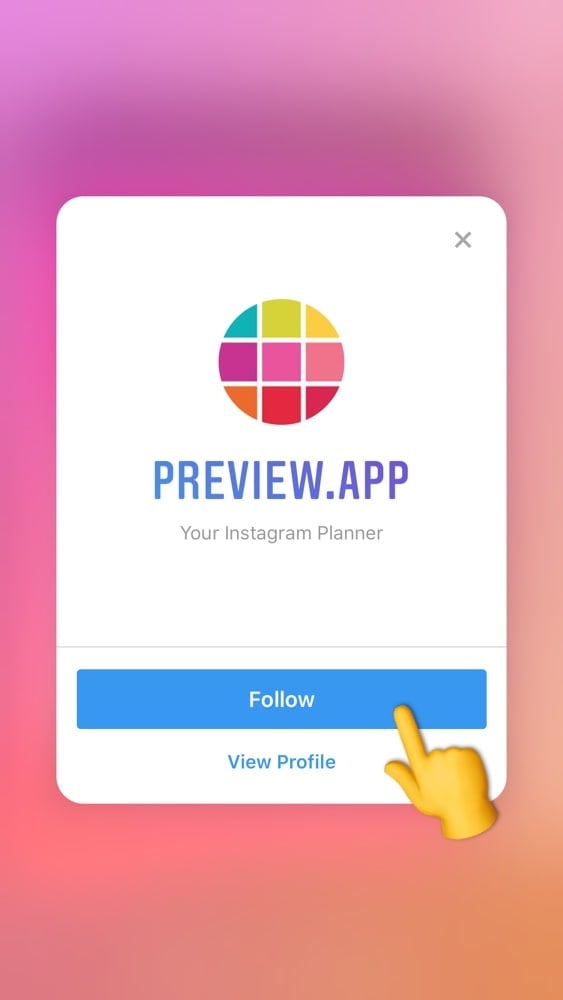 Option 2:
Open your Insta Story screen (as if you wanted to take a photo for your Insta Story)
Point your camera to the Name Tag
Press on your screen and hold your finger on your screen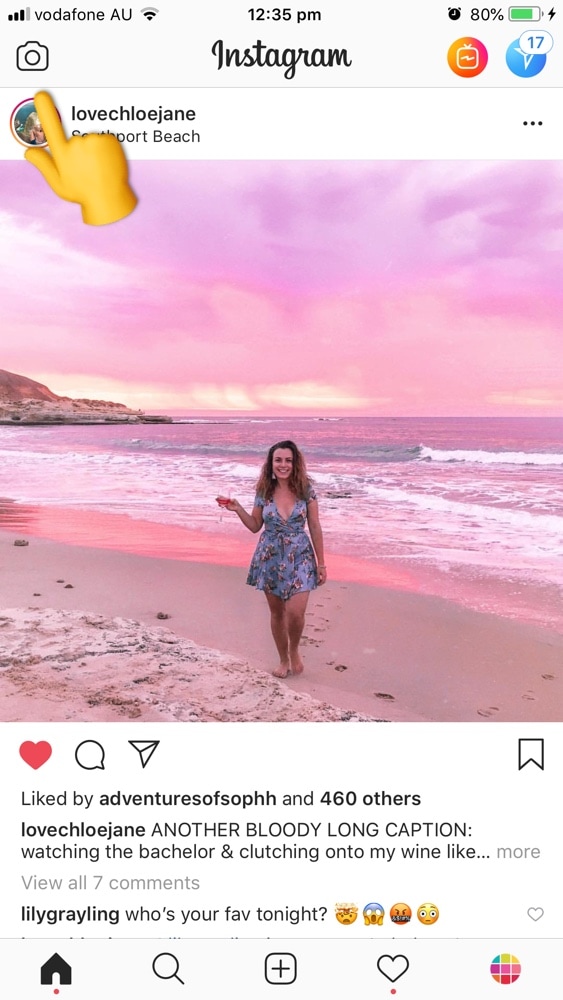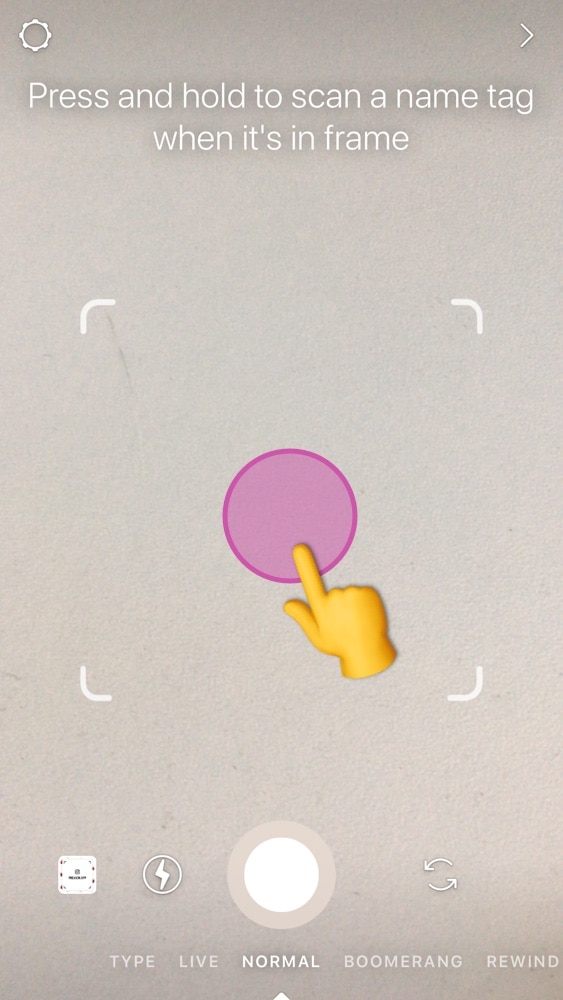 How to share your Instagram Name Tag QR Code? (via email, text, etc…)
This – is – so – cool.
You can share your Name Tag everywhere and to anyone:
Open your Name Tag screen
Press on the "Share" icon (top right corner of your screen)
Save your Name Tag to your camera roll (cool if you want to send it to people when you are on the go, or if you want to make some flyers with your Name Tag ?)
Share your Name Tag wherever you want (Pinterest, Facebook)

Send it to anyone via email, text, Facebook message, etc…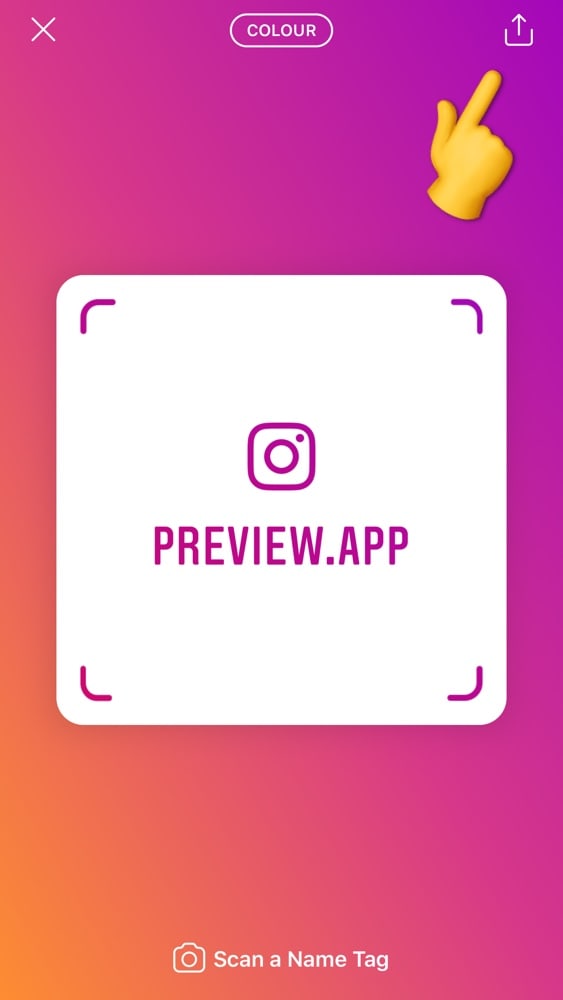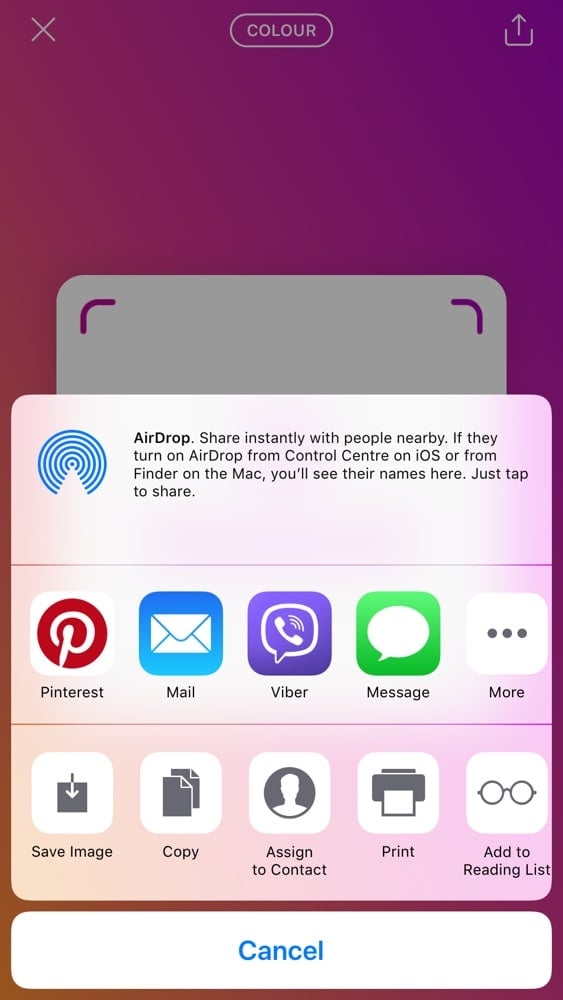 Can I say this is awesome? This is a new way to promote your Instagram page and very quickly send your Instagram profile to people in a fun and interactive way.
Bloggers and businesses, the sky is the limit for what you can do with your Instagram name tag to promote your Instagram page and business. How can you use this new feature to your advantage to grow your tribe and engage with them?
How to use your Name Tags for your Business or Blog?
So what can you do with this awesome Instagram name tag?
Here are some ideas for your business or blog:
On your website:
Add the name tag on your about page
On your blog (like in the side bar, or bottom of your blog page)
On your "Contact us" page
Outside of your website:
Email signature
Your PDF freebies
In your YouTube videos
Pin it on Pinterest
If you have a physical shop / restaurant:
On your storefront window
On the tags of your products
Is your product shipped in a box? Make it easy for your new customer to connect with you on Instagram, AND make it easier for them to share YOUR products on their Instagram = sneak in a little flyer with your Name Tag
At your counter
On the dining tables (as a fun flyer that people can scan straight away)
Marketing strategies:
Take your time to think about some marketing strategies for your business. Here are some ideas:
"Scan our Name Tag and follow you on Instagram for a chance to win a free drink / for 10% off / etc…"
"Want 10 % off your purchase today? Scan our Name Tag, follow us and share your experience in your Insta Story to get 10% off your purchase!" (imagine this strategy for hairstylists. If I was a customer, I would so do it!!!)
Guys, there are so many opportunities I'm getting way to excited for you!!!
I'm going to stop right there. I hope you enjoyed this blog post. If you did, please leave a comment below. And let me know what YOU think about this new feature. Is it a ? or ? for you? Do you have other ideas?