Hello hair lovers!
I'm going to share with you some of the best Instagram hashtags for hair.
These are not random, general hashtags.
These are hashtags that the hair community on Instagram use to connect with themselves and to get featured on hair accounts.
All the hashtags are inside the Preview App: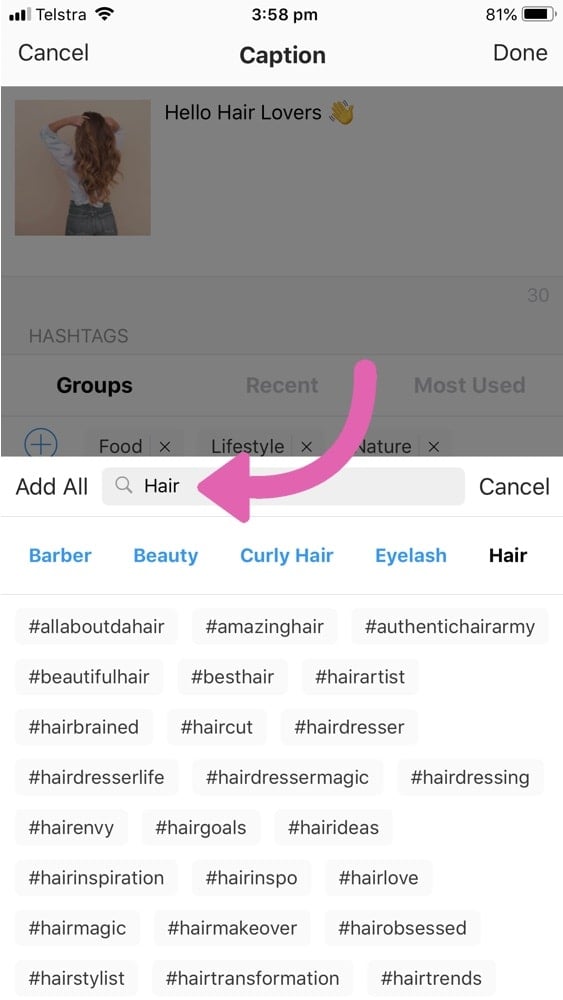 Each single hashtag in the app is hand-picked and tested to make sure they are powerful and safe to use (because some hashtags can get your account blocked / banned).
This app is an Instagrammers' dream come true because you can:
Plan your Instagram feed

before you post anything on Instagram

See your Instagram

analytics

Use

Hair Filters

to make your Instagram feed look professional and cohesive
And of course:
There is the Hashtag Finder with some of the best hair Instagram hashtags.
Select the hashtags you want to use and then you are ready to post.
There are a bunch of different hair hashtags for Instagram in the app.
Let's have a look:
Instagram Hashtags for Hair
The first hair Instagram hashtag group you can use is the "Hair" hashtag group.
These are the most popular hair hashtags on Instagram at the moment. Most of the hairstylists and hair lovers use these hashtags. These hair hashtags are the core of the hair community on Instagram.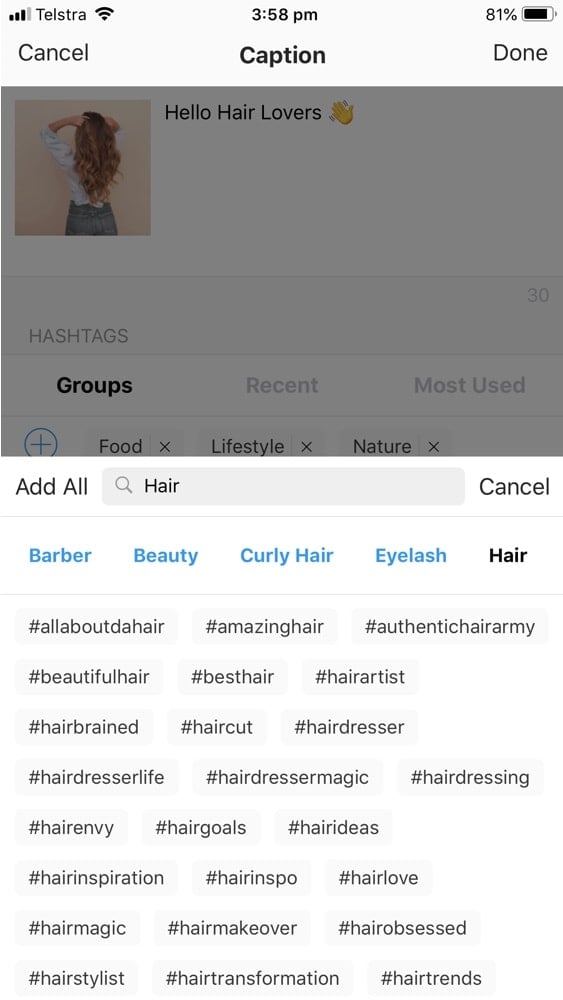 Instagram Hashtags for Natural Hair
Specialising in natural hair? Check out these "Natural Hair" Instagram hashtags.
Once again, these are some of the top hair hashtags for natural hair.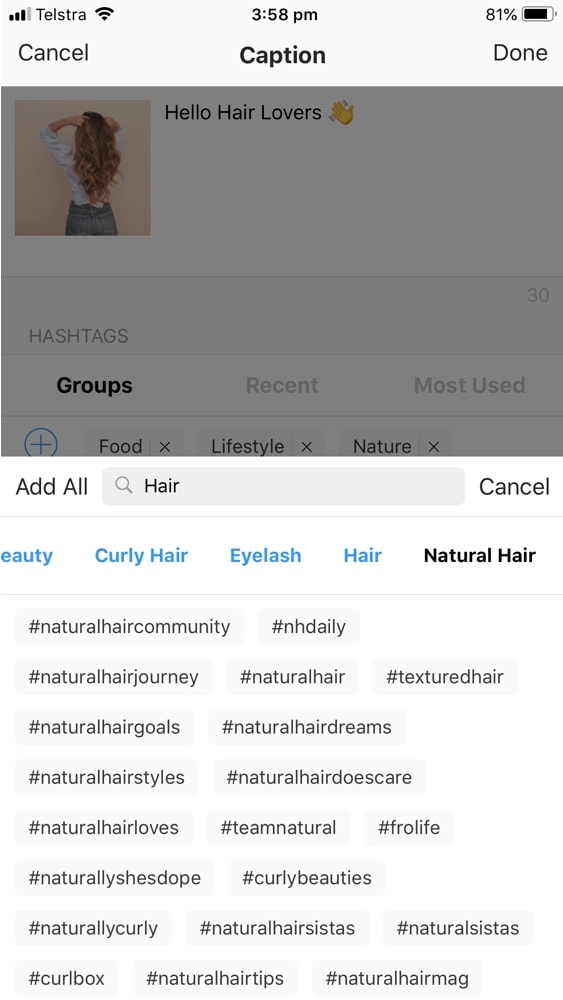 Instagram Hashtags for Curly Hair
The Curly Hair community on Instagram is very strong. These are some of the top Instagram hashtags they use for curly hair.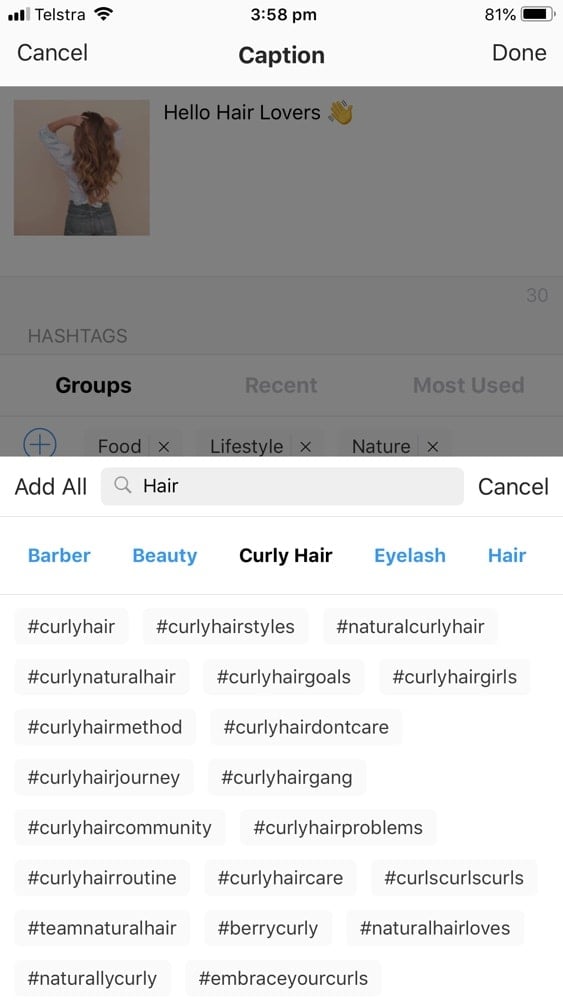 Instagram Hashtags for Barbers
There are also Instagram hashtags for barbers. Feel free to mix and match the hashtags for your account. You can use some of the "Hair" hashtags and some of the "Barber" hashtags.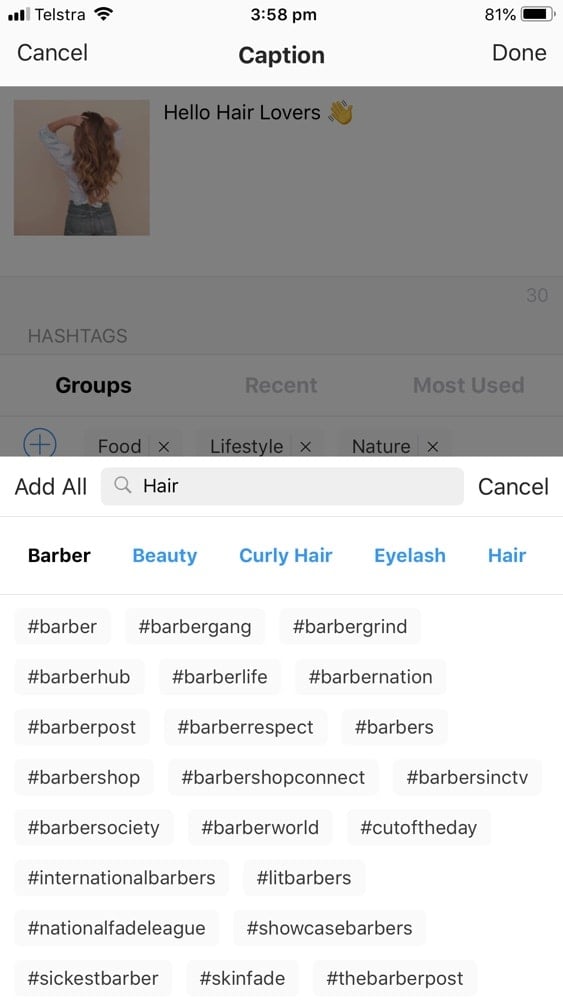 Instagram Hashtags for Beauty
The Hair community is part of the broader "beauty" community.
You can definitely use some of the "Beauty" hashtags to show your post to the larger beauty community, who for sure also want to see hair photos.