Hello hair lovers!
I'm going to share with you some of the best Instagram hashtags for hair.
These are not random, general hashtags.
These are hashtags that the hair community on Instagram use to connect with themselves and to get featured on hair accounts.
All the hashtags are inside the Preview App: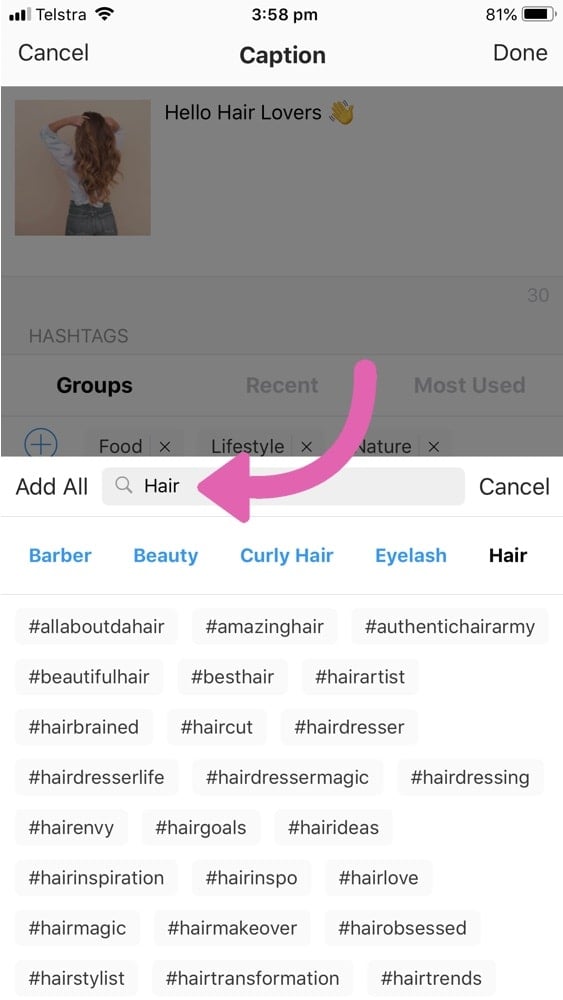 Each single hashtag in the app is hand-picked and tested to make sure they are powerful and safe to use (because some hashtags can get your account blocked / banned).
This app is an Instagrammers' dream come true because you can:
Plan your Instagram feed

before you post anything on Instagram

See your Instagram

analytics

Use

Hair Filters

to make your Instagram feed look professional and cohesive
And of course:
There is the Hashtag Finder with some of the best hair Instagram hashtags.
Select the hashtags you want to use and then you are ready to post.
There are a bunch of different hair hashtags for Instagram in the app.
Let's have a look:
Instagram Hashtags for Hair
The first hair Instagram hashtag group you can use is the "Hair" hashtag group.
These are the most popular hair hashtags on Instagram at the moment. Most of the hairstylists and hair lovers use these hashtags. These hair hashtags are the core of the hair community on Instagram.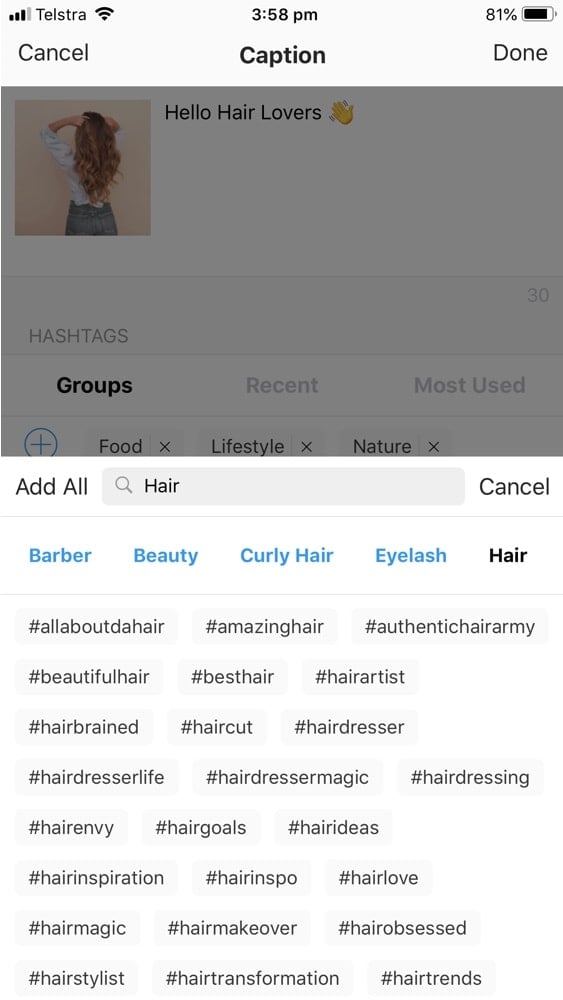 Instagram Hashtags for Natural Hair
Specialising in natural hair? Check out these "Natural Hair" Instagram hashtags.
Once again, these are some of the top hair hashtags for natural hair.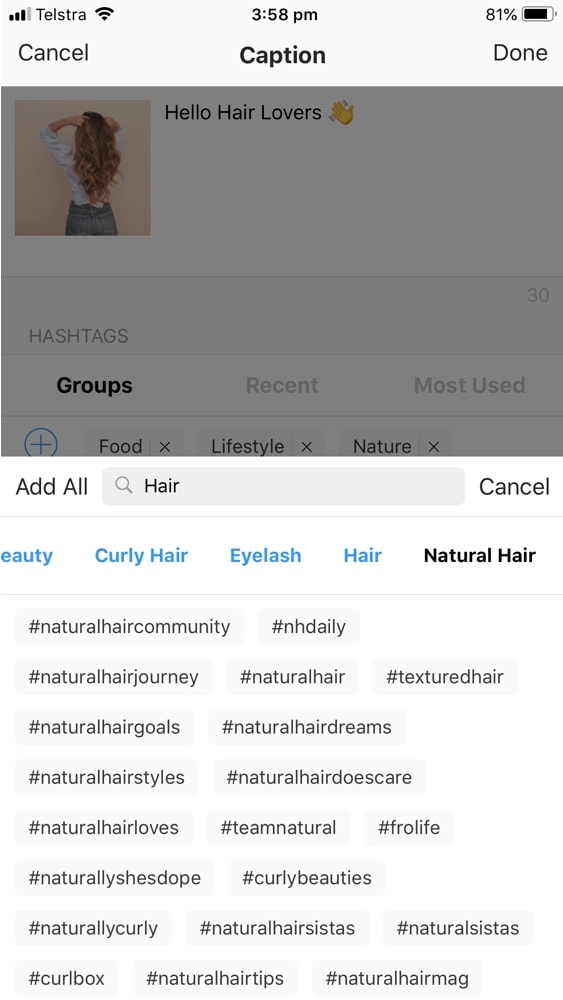 Instagram Hashtags for Curly Hair
The Curly Hair community on Instagram is very strong. These are some of the top Instagram hashtags they use for curly hair.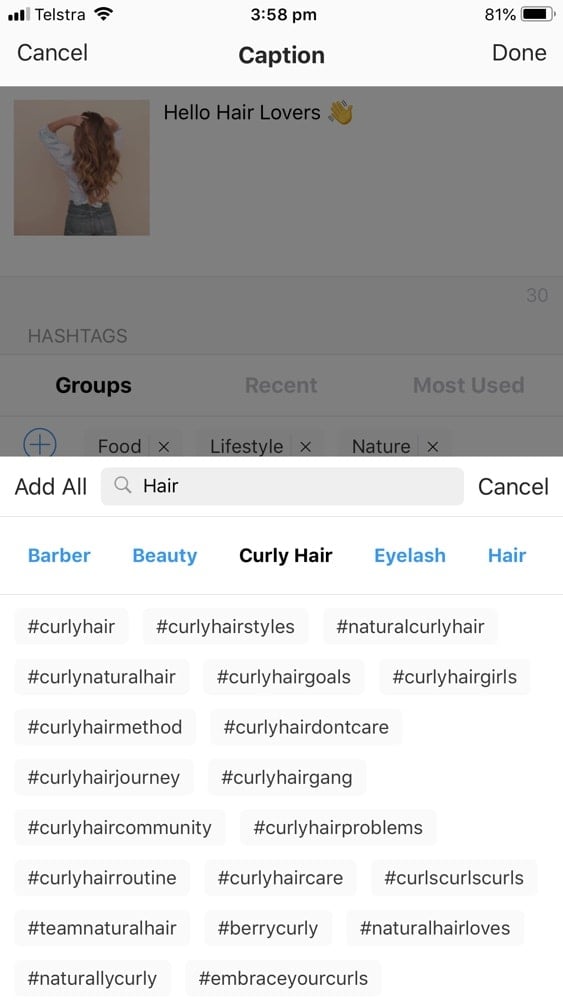 Instagram Hashtags for Barbers
There are also Instagram hashtags for barbers. Feel free to mix and match the hashtags for your account. You can use some of the "Hair" hashtags and some of the "Barber" hashtags.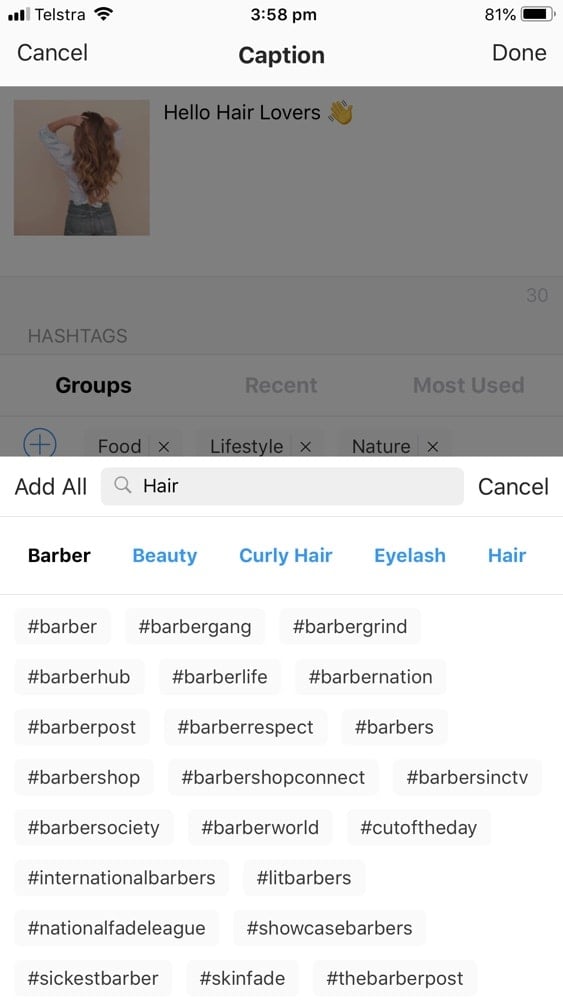 Instagram Hashtags for Beauty
The Hair community is part of the broader "beauty" community.
You can definitely use some of the "Beauty" hashtags to show your post to the larger beauty community, who for sure also want to see hair photos.
Instagram Hashtags for your Location
If you have a hair salon, you should definitely use location hashtags.
This way, people in your area will get a chance to view your photos. This is how you can potentially get new clients.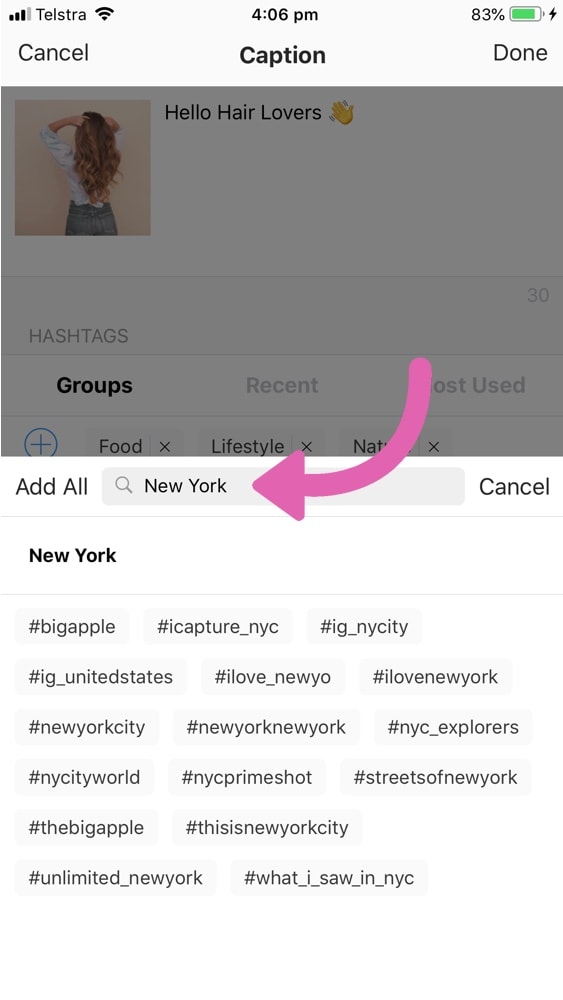 Instagram Hashtags to attract clients
Talking about getting clients, a great Instagram hashtag strategy is to combine hashtags.
A lot of hairdressers, hairstylists and salons will combine hashtags.
Combine 2 hashtags: the hashtags "specialty" + "location".
Example:
If you're a hairstylist in London, you can create (and use) these hashtags:
#londonhairstylists

#londonhairdressers
#hairdresserlondon
#hairstylistlondon
Pro Tip: Check if these hashtags already exist/
Go on Instagram

Start typing your hashtag combination (speciality + location / location + speciality)

See what comes up

Check which one is used the most

Write down the ones you want to use
Like this: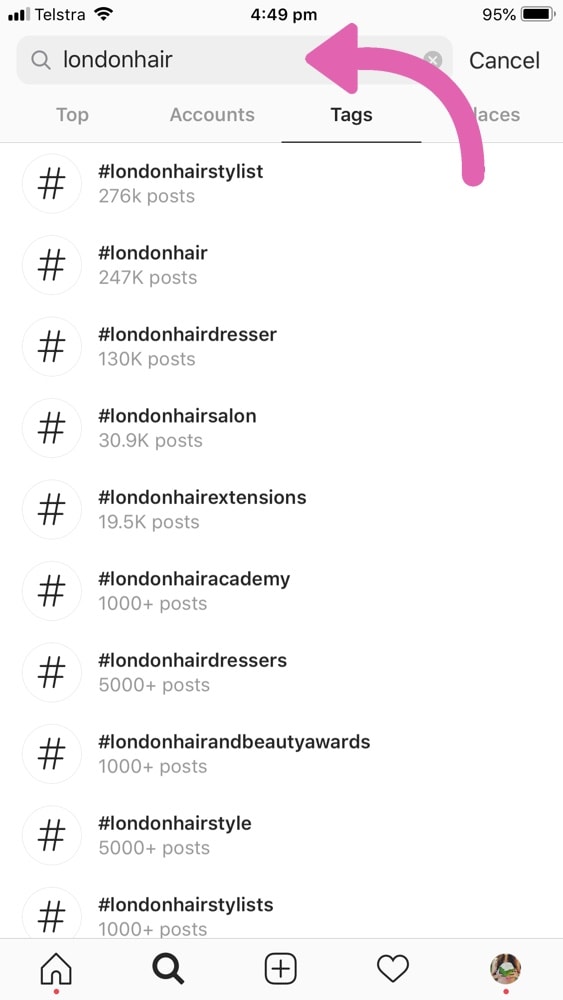 Instagram Hashtags for Hair Products
Do you use a specific brand of hair product? Want to be noticed by the brand? And potentially re-shared on their account?
You can save your own hashtag group.
This way you can add the exact hashtags you need in your caption in one click. #SaveTime
To save your own hashtags:
Write the hashtags in your caption: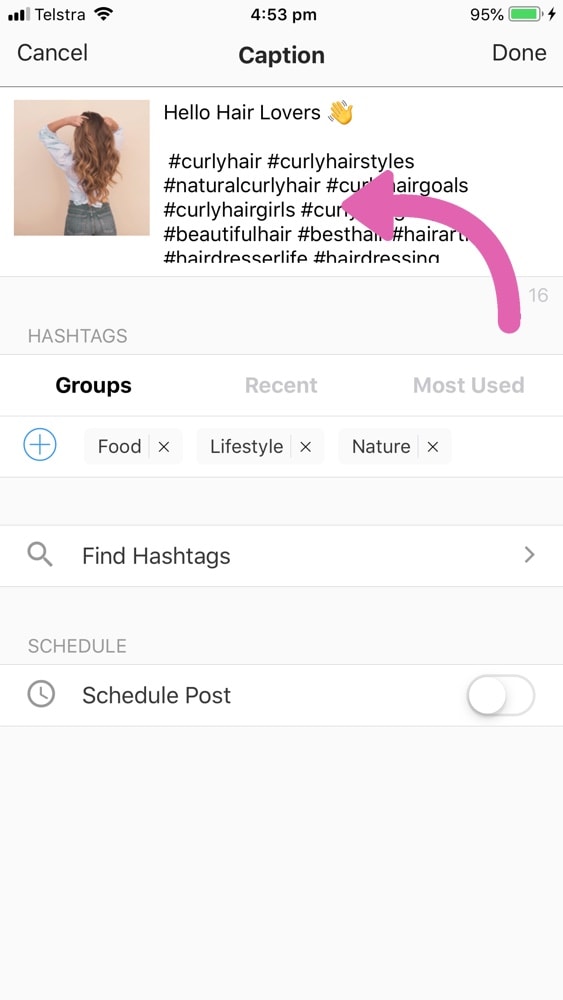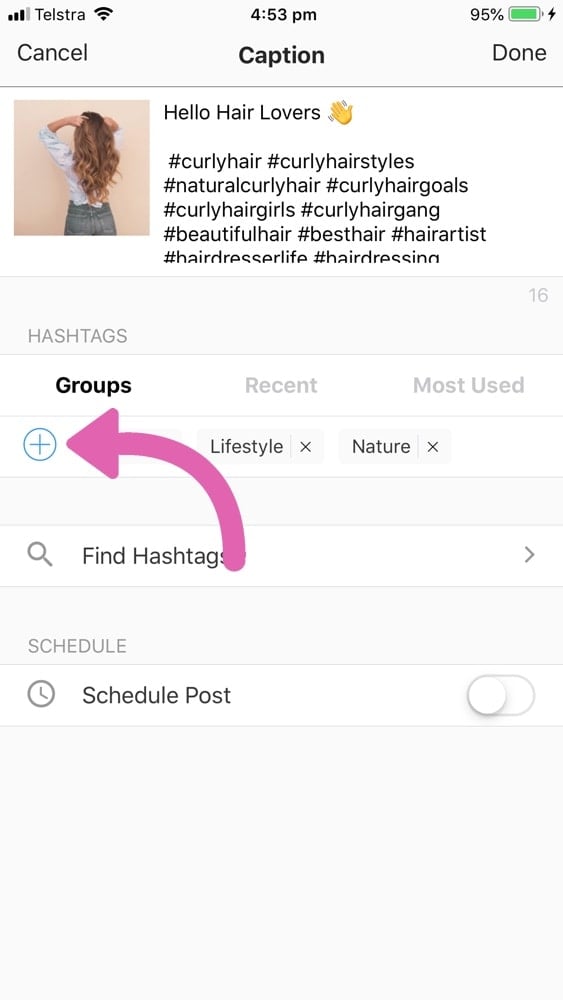 Give a name to your hashtag group and save:
Done!
Click on your your hashtag group anytime you want to add these hashtags in your caption: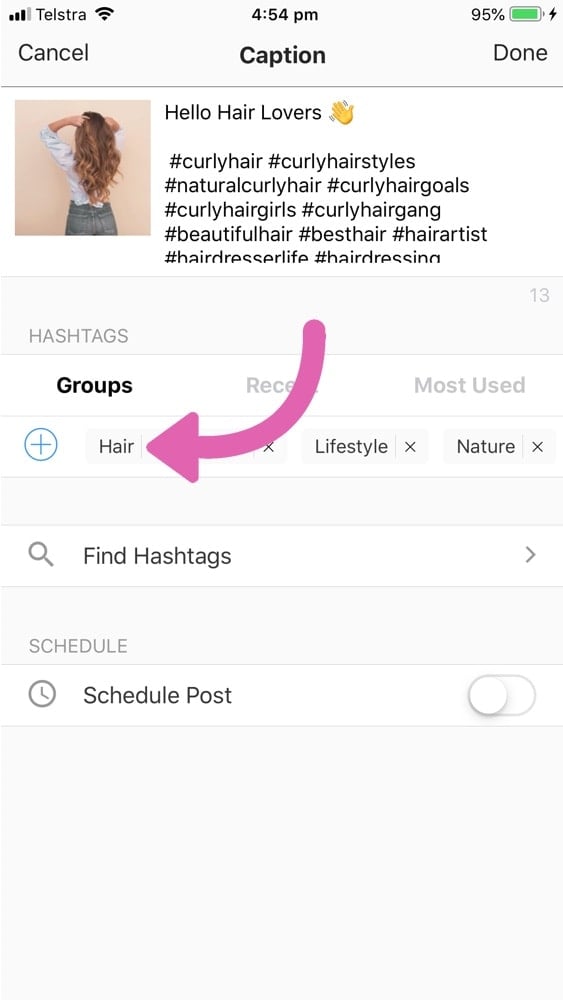 Bonus: Preview App will automatically test your hashtag groups to tell you which one gives you the most likes, comments and engagement.
Pro Tip:
Go to a Hair Brand's Instagram account (example GHD)

Check what hashtags they are using

Use their hashtags for a chance to be featured on their account
Example:
I can see GHD uses #ghd #ghdstyle #ghdhairpro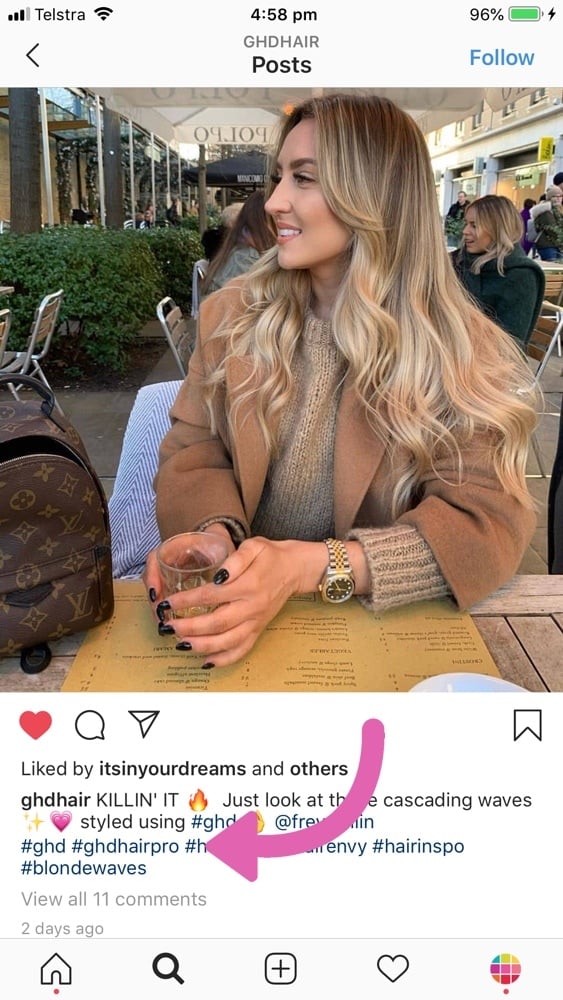 Click here to download Preview App (also available on Desktop computers).
Have fun using your hashtags.
And let me know in the comments what other hair hashtags for Instagram you'd like to see in the app. I'll add it to our to-do list.
Until next time, see you on the app or on Instagram ?
Alex