Want to increase your reach and visibility?
Instagram SEO is where it's at.
Your account can get seen by key people on Instagram and Google!
Yes, your Instagram post (or account) can appear on Google too, just like a website or blog post.
How amazing is that?
It all comes down to "SEO".
So let's talk about:
Go through the blog post to see the tips.
If you need help choosing your keywords, let me know what your account is about in the comments. We can brainstorm together.
Ready?
Let's start!
"SEO" stands for "Search Engine Optimization".
Basically, you want to optimize your Instagram account and posts so that people can find you.
How?
By using keywords and features that matter.
Why?
Because of these 4 benefits.
Benefits of Instagram SEO
Anyone can benefit from Instagram SEO.
But if you're a business owner… You're going to LOVE it.
So what are the benefits of Instagram SEO?
There are 4 main benefits:
1. Small accounts can get more exposure.
Don't have many followers, likes or comments? No problem.
With Instagram SEO, your posts can get seen by the right people, no matter the size of your account.
2. You have more control.
You don't have to only rely on the Instagram Algorithm to show your post to people.
You control your posts, keywords and SEO practices.
People can actually find your posts more easily.
Which leads us to benefit #3.
3. Your posts can be more easily found on Instagram.
How?
Thanks to the new Instagram Search Feature.
People can type anything they want in the Instagram Search bar.
If you did your Instagram SEO well, people will see you in the Instagram Search Results Page.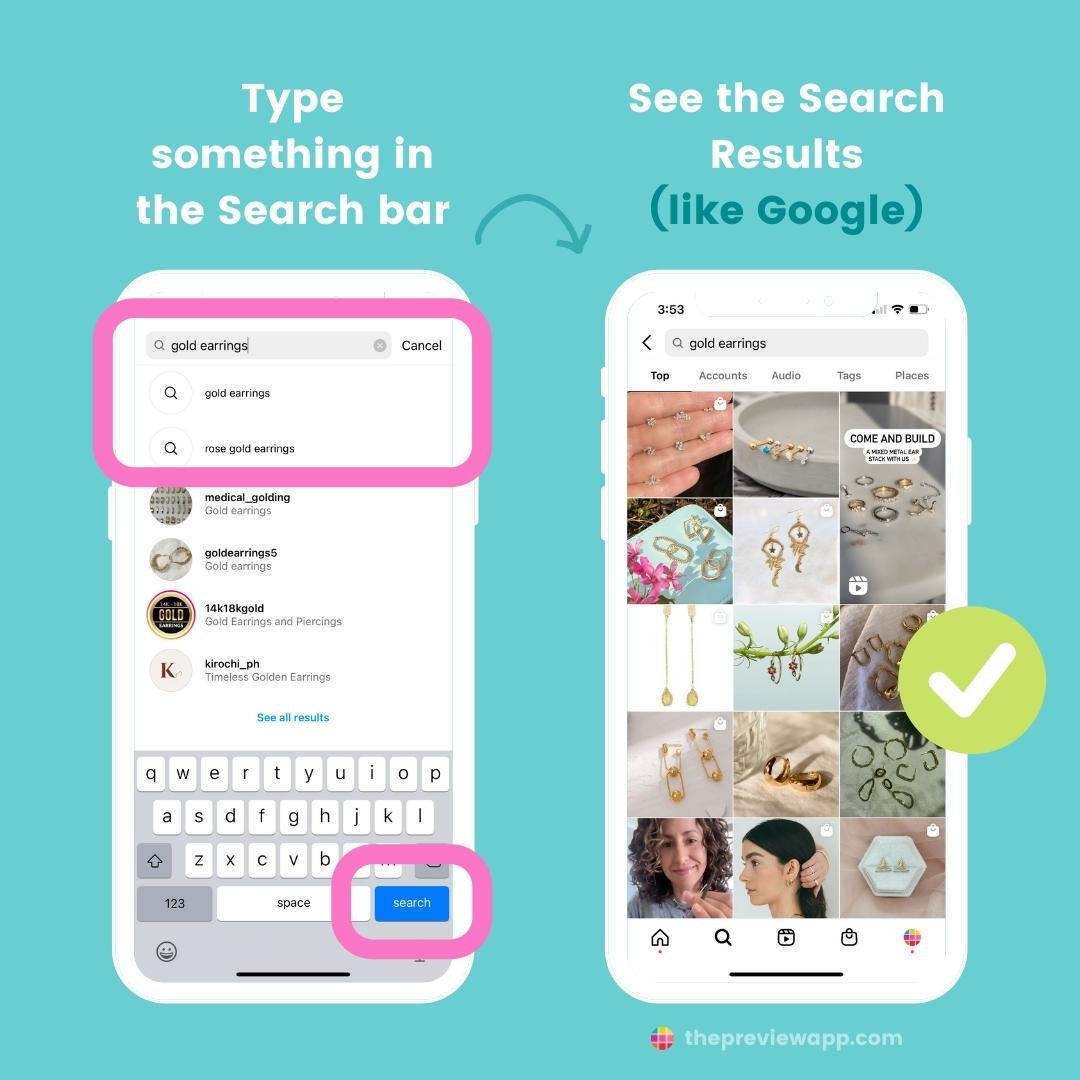 4. Appear on Google.
Your Instagram profile and posts can appear on the Google Search Results page, like websites, blog posts, YouTube videos and Pinterest posts.
Let's say someone is looking to buy "gold jewelry in Australia". If you did your Instagram SEO well, your Instagram account (or one of your posts) can appear in the Google Search Results.
So now the big question is:
How can you practice Instagram SEO?
Thankfully, it's very easy.
There are 5 main techniques.
Add keywords in your caption.
What keywords?
Think about what people would type in the search bar to find you (or your product).
For example, if you have a jewelry brand and sell gold earrings, add "gold earrings" in your caption. "Gold earrings" is a keyword.
Here is an example with our posts. I typed "Instagram Story tips" and two of our posts show up in the "Top" Page: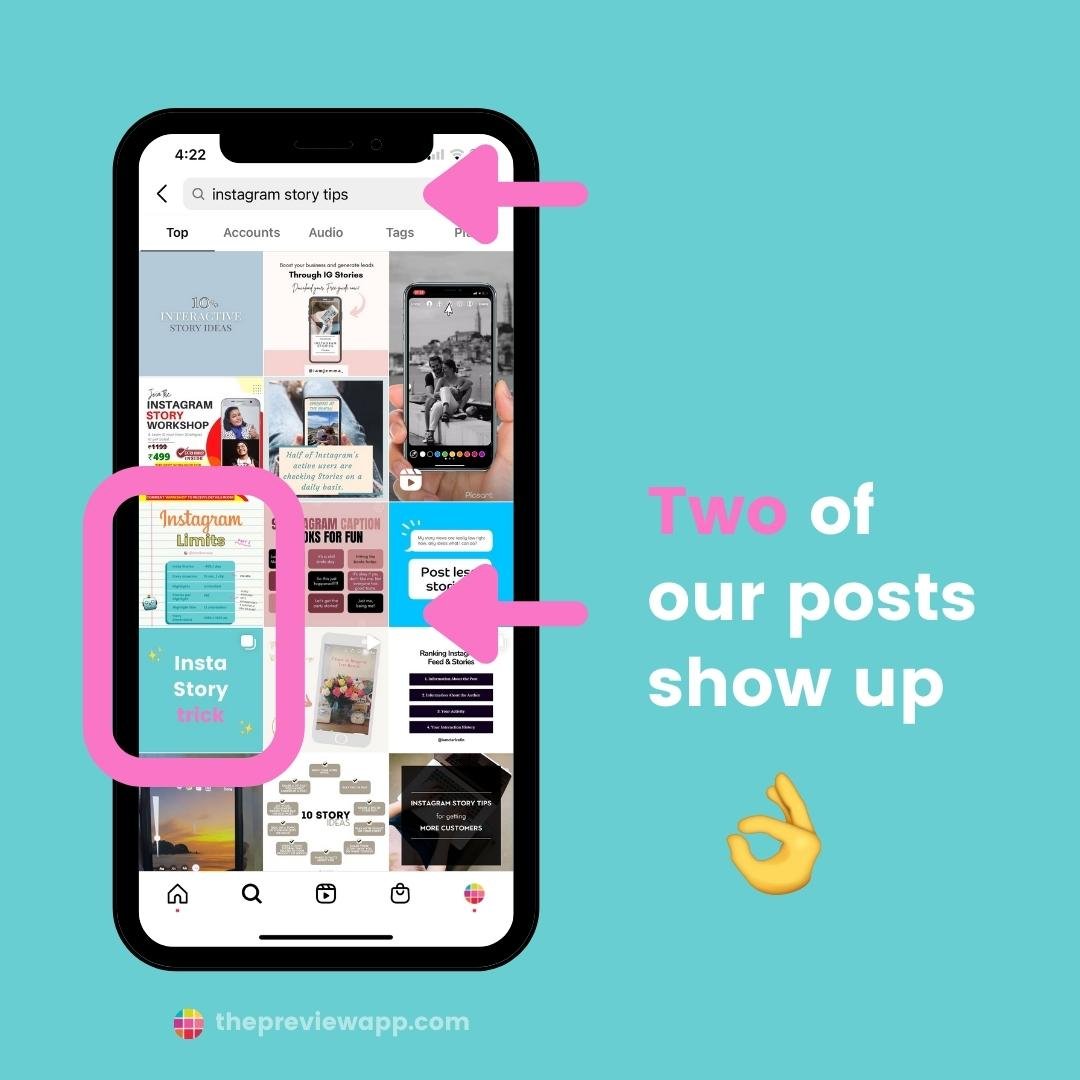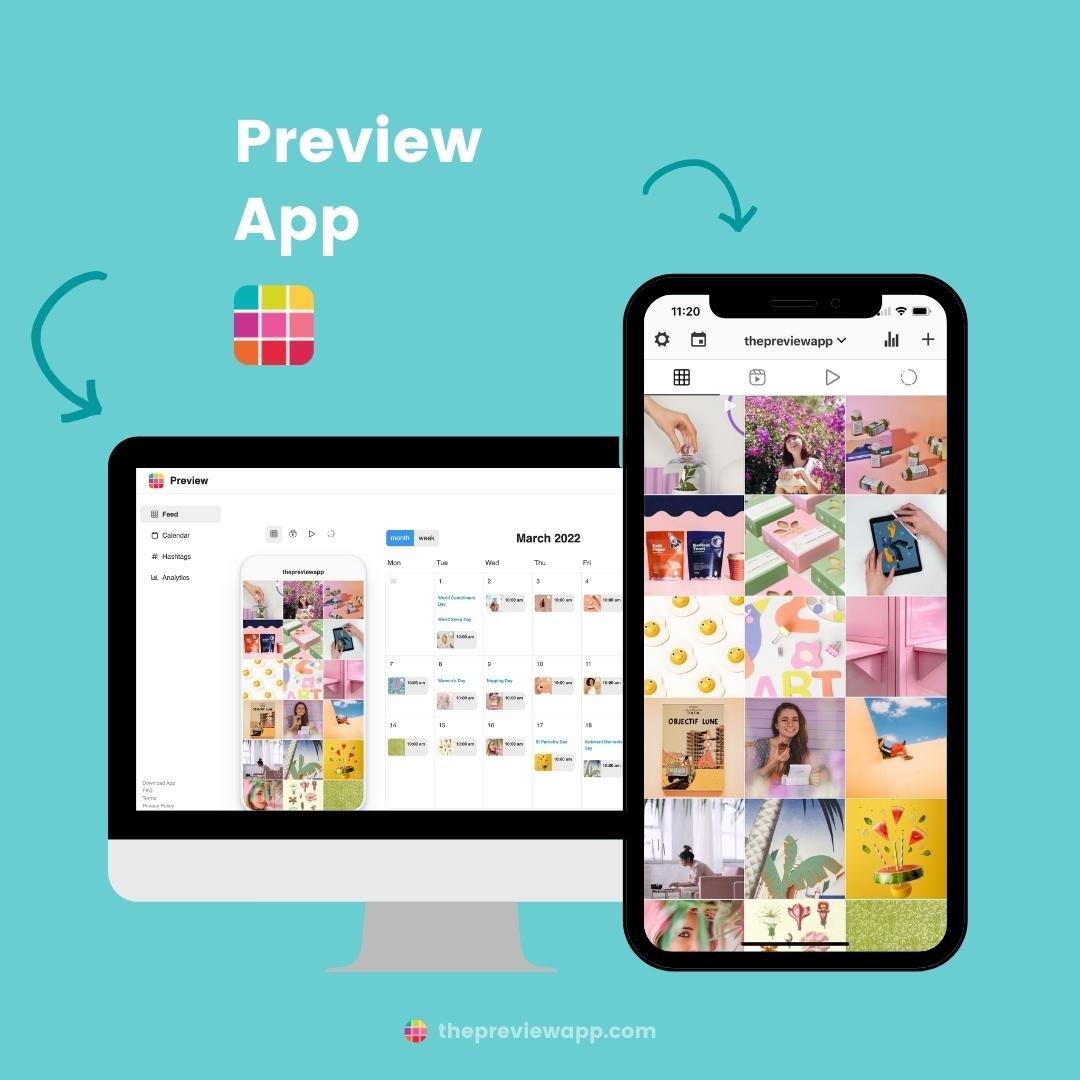 Your caption might not sound natural if you try to overload it with keywords.
That's when hashtags come handy.
There are 2 reasons why I like to use hashtags:
Hashtags are keywords for SEO, and
People can also find you on hashtag pages
It's a win-win situation.
What hashtags to use?
Use hashtags that describe your product.
Use hashtags your ideal customer / followers use.
Use "industry" hashtags (for example, if you sell jewelry, you can use "Fashion" hashtags so fashion lovers can find you too).
Here's an example. I looked for "Gold earrings". This post is on the "Top" Page but didn't use keywords in the caption. They used hashtags as keywords: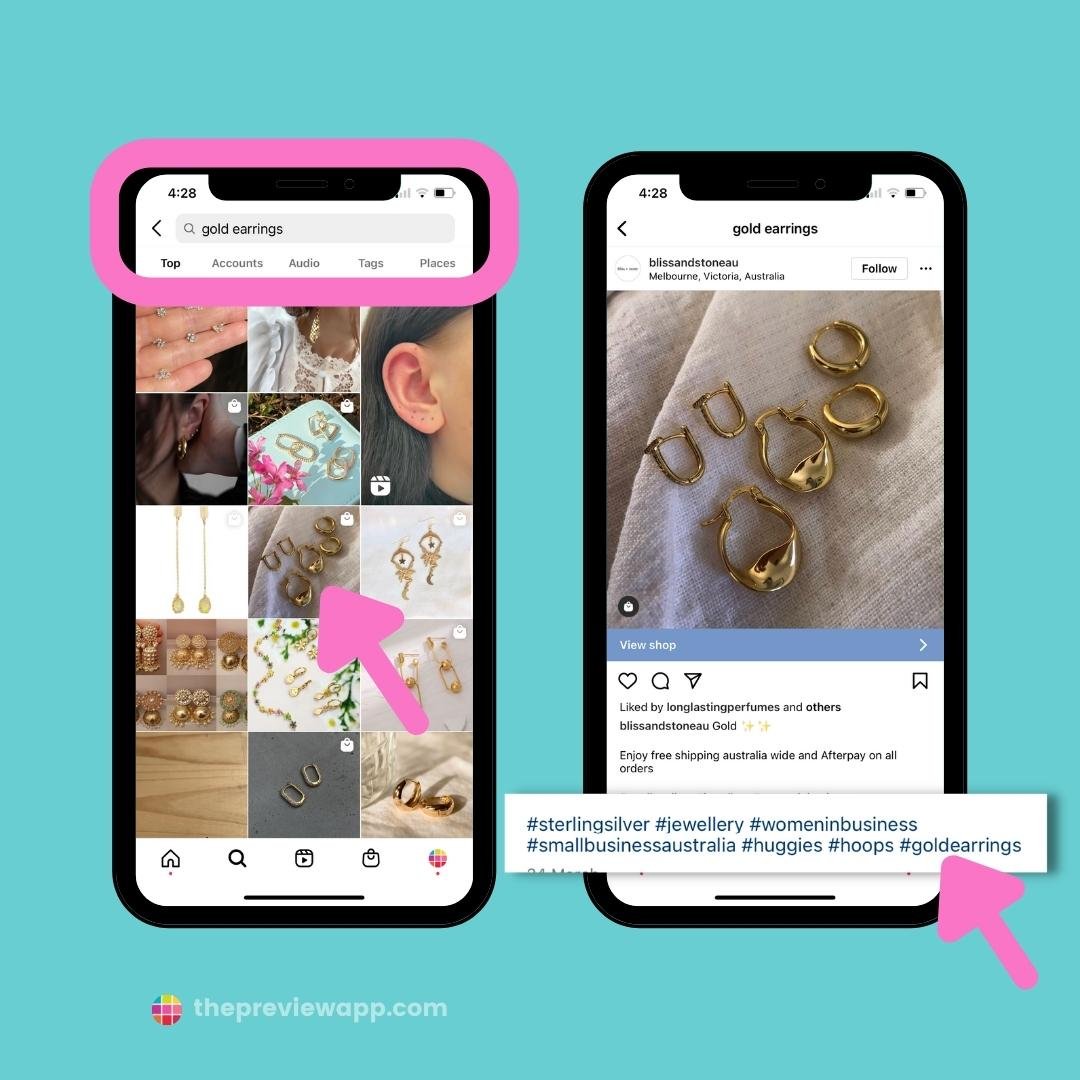 Tip: Need help finding hashtags that work? Use Preview App. The research and strategy has been done for you. It gives you hashtag recommendations based on your account, what is on your post, and your industry.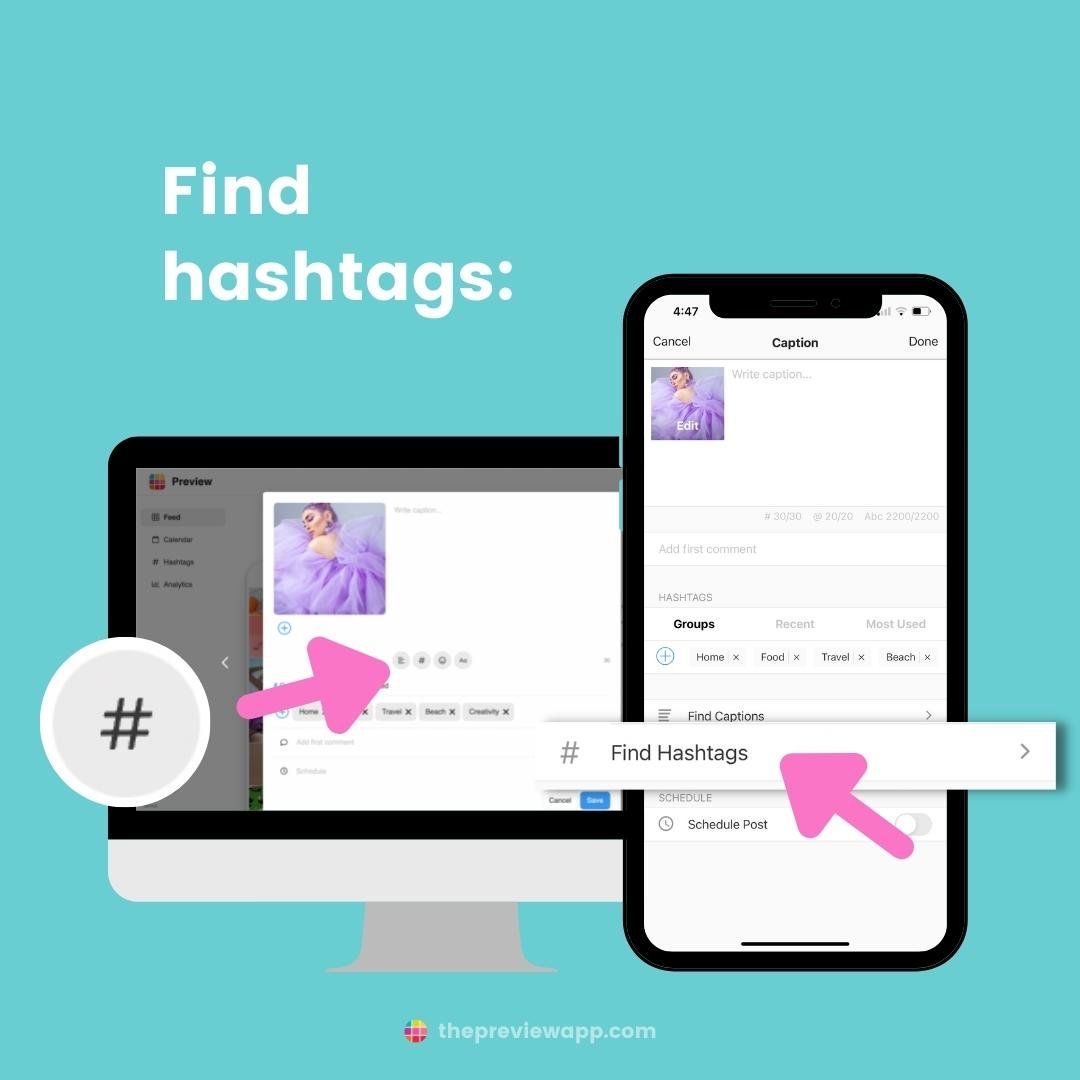 This is important if you want local people to see your post the most. For example, if you have a local business.
Add the location tag on your post
Use location hashtags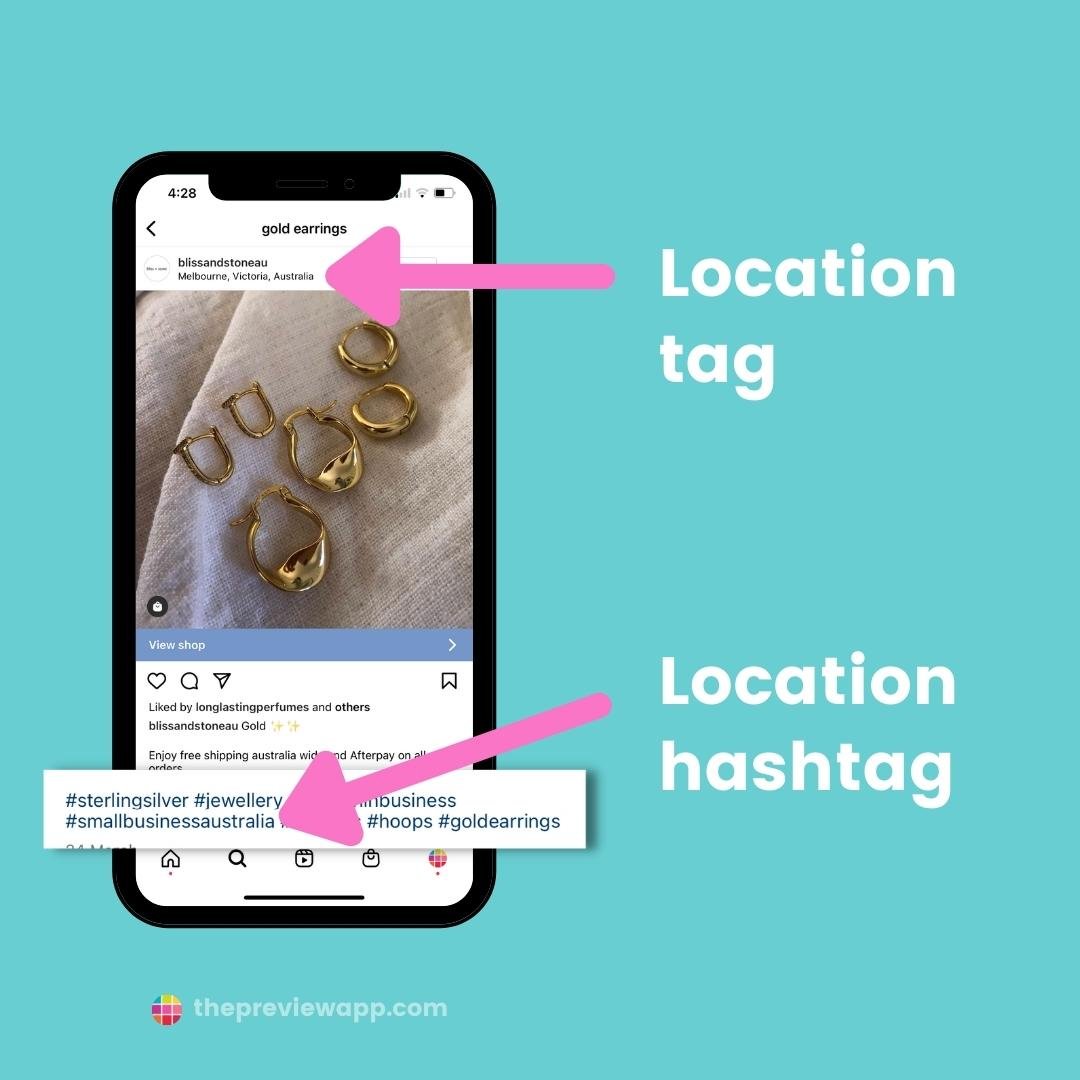 Tip: Plan your location tag with Preview App as well. Preview has been reviewed and approved by Instagram itself.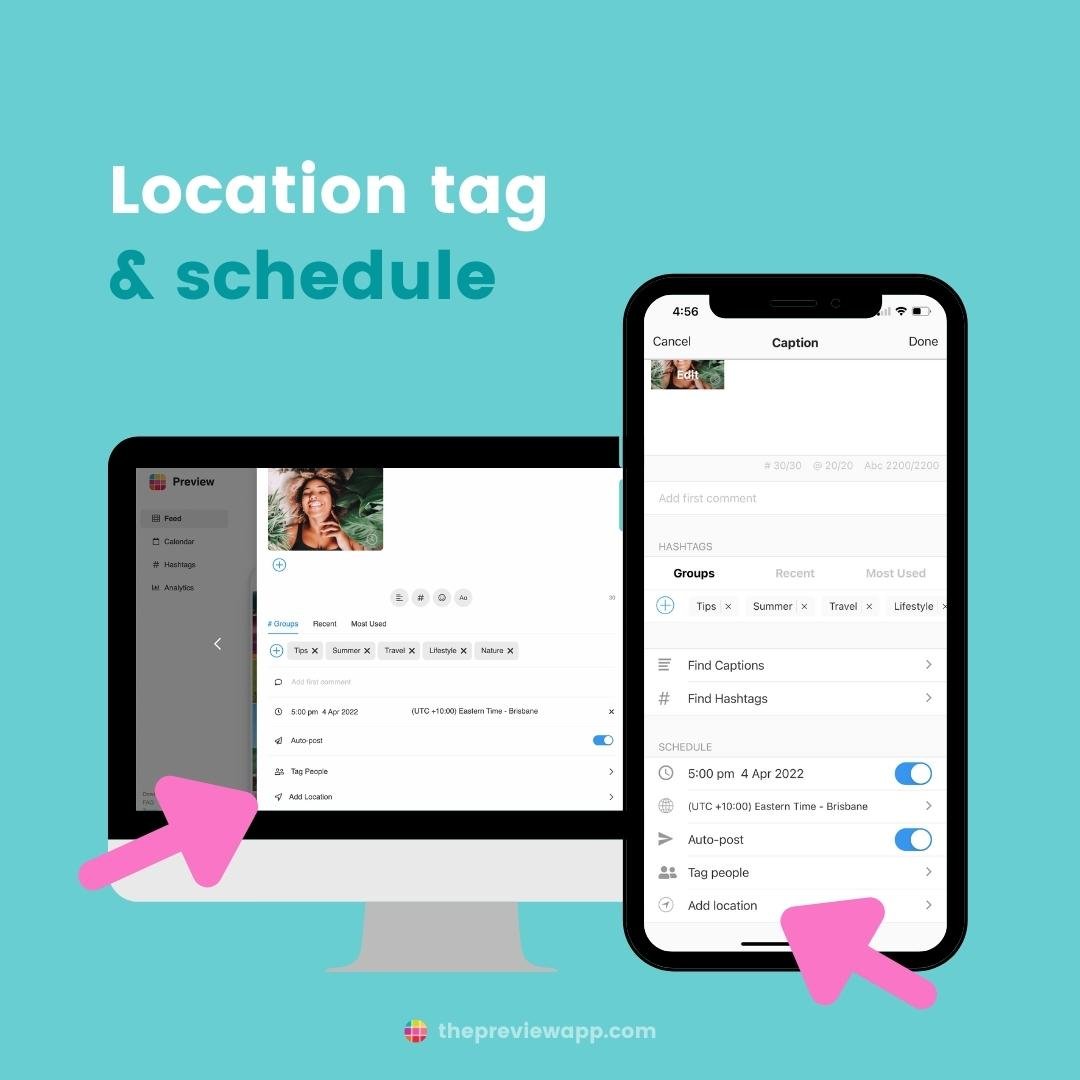 This is an underused Instagram SEO tool.
If you have a website, you probably already know the importance of Alt Text.
Alt Text stands for "Alternative Text". It is a text that should describe what is in your photo.
Add your ALT text before or after you post, like this: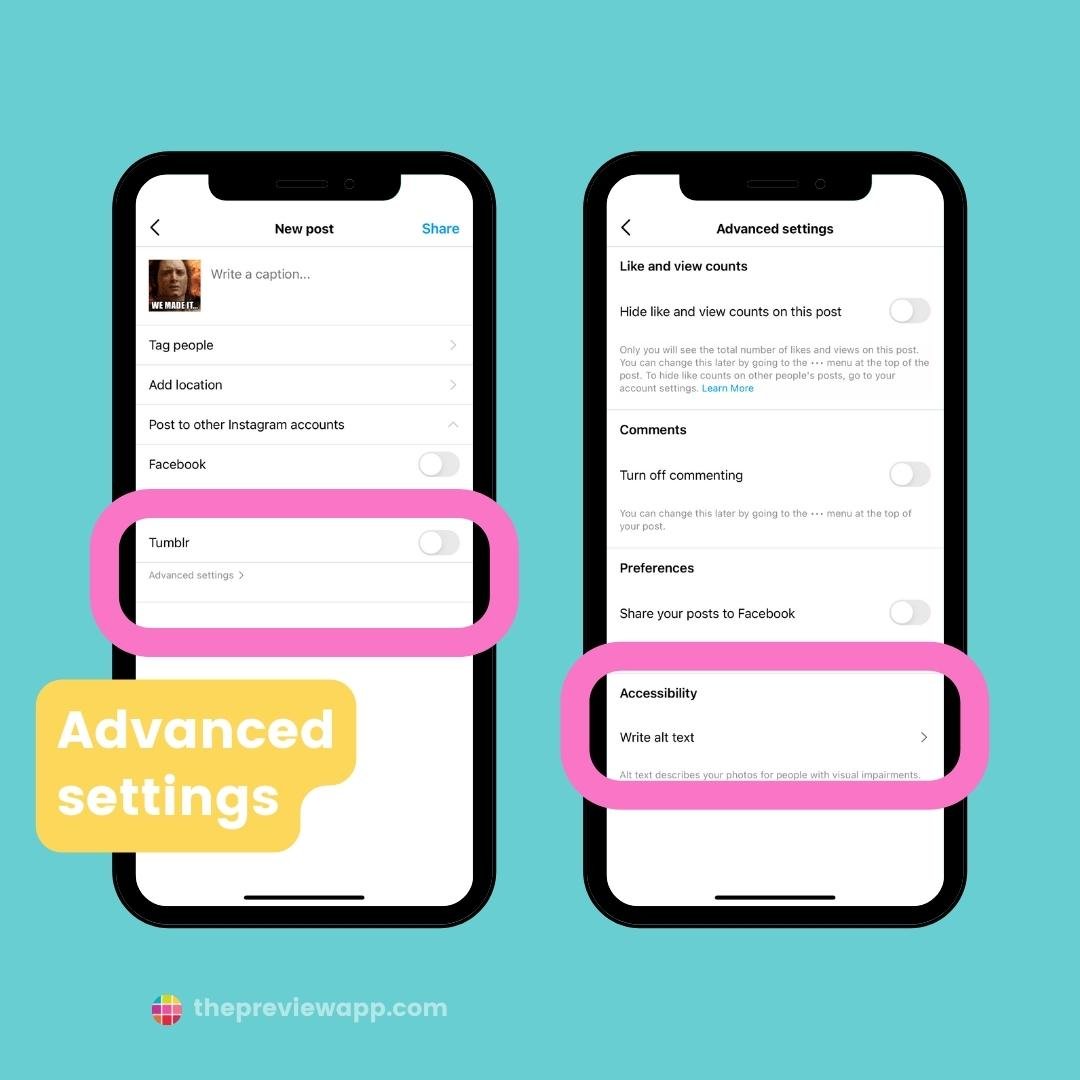 If you already posted, add your Alt Text like this: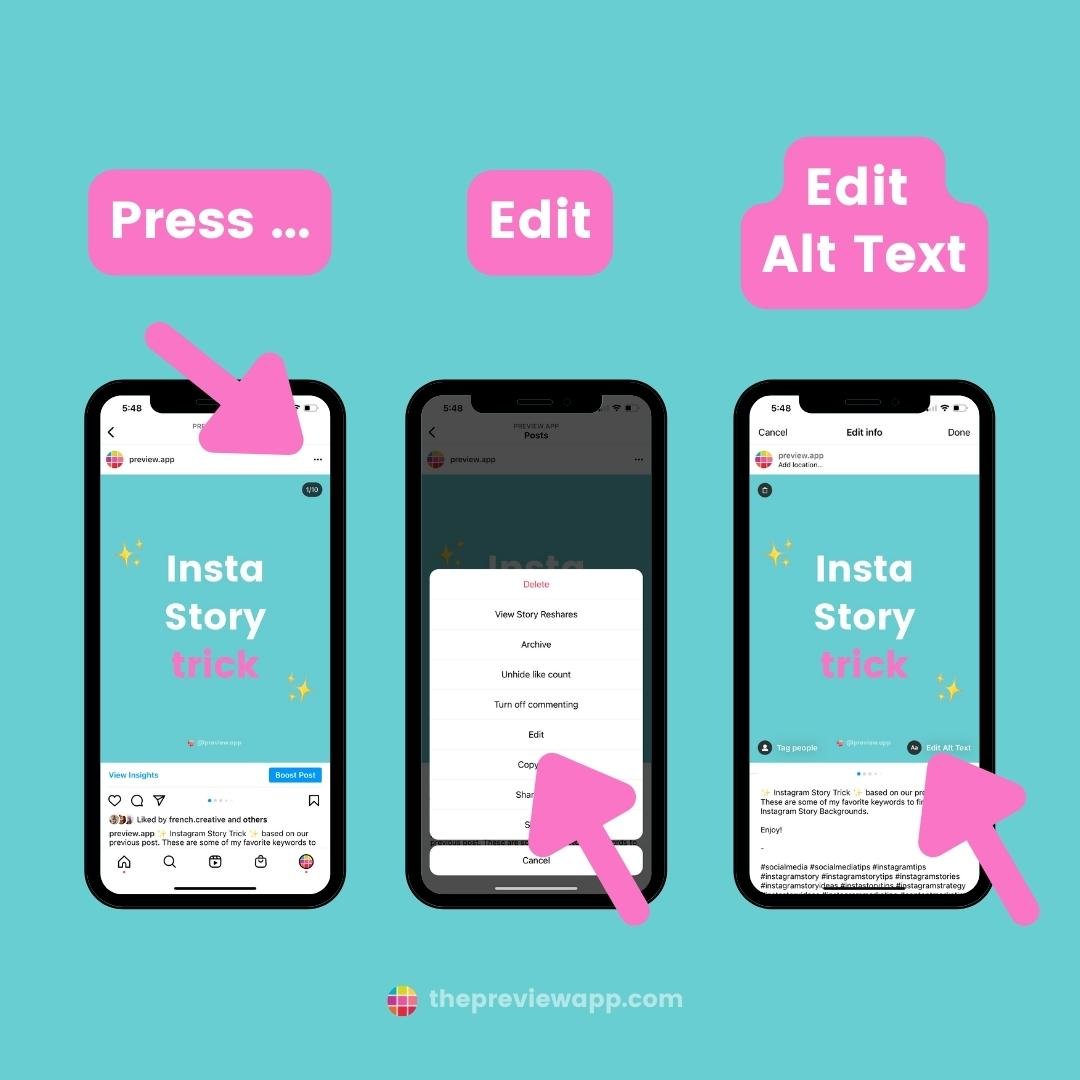 What to write as your Alt Text?
Write what is on your photo or video
Be as descriptive as you can (color, size, material, location, etc…)
For example, if you are posting a photo of a gold earring with pearls, write the keywords "gold earrings with pearls"
This will help Instagram Algorithm know what is on your post to recommend it to the right people.
I suspect Instagram will continue to improve its SEO capabilities. Which means that Instagram photos could also appear on Google Images as well.
Therefore, Alt Text is crucial.
And lastly, optimize your Instagram bio.
There are 2 things to optimize (if you can):
Your username
Your display name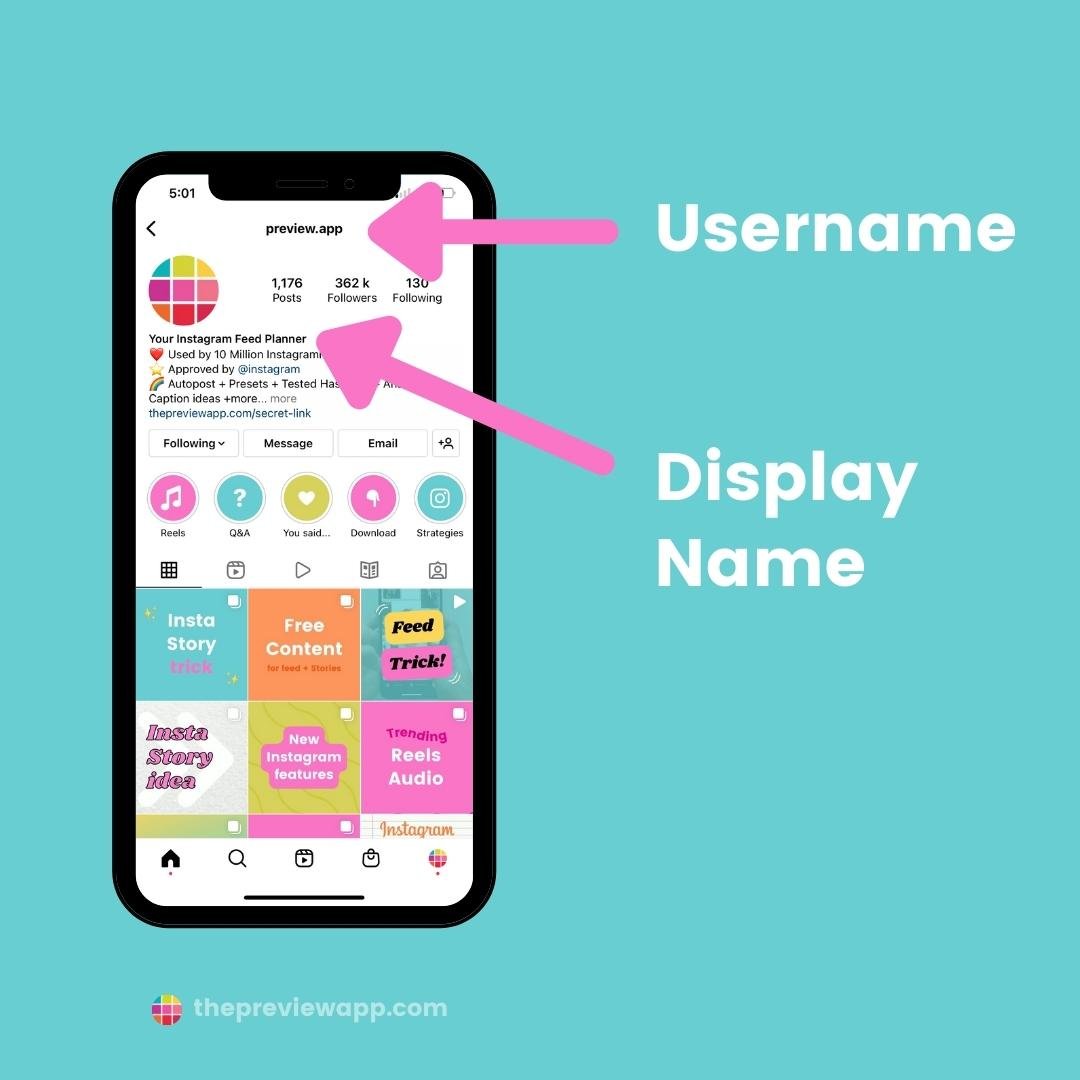 These two act as keywords for Instagram and Google.
If you use the right keywords in your username and / or your display name, your Instagram page can appear in the Google Search results.
Let's say I have a jewelry shop in Sydney, Australia, called "Sunny".
What are the most important keywords for your jewelry business?
Here are examples:
"Jewelry"
"Sydney" or "Australia" (if you want Australians to find you, or the Instagram Algorithm to show you on top of the Search Results or Hashtag Pages of fellow Australian Instagrammers)
"Gold" (if you sell gold jewelry only)
"Handmade" (if you create handmade pieces)
"Conscious" or "Mindful" (if you consciously curate pieces)
"Sustainable" (if you sell sustainable pieces and you)
Make a list of keywords that matter to you. Choose one or two that are the most important.
Here is how I would optimize:
@sunny_jewelry (brand name + product)
Handmade Gold Jewelry – Sydney
Gold Rings, Earrings, Necklace – Sydney
Conscious, Gold, Hand-Crafted in Sydney
Your turn!
Now let's talk about Instagram SEO tools.
As you saw, captions and hashtags are crucial for Instagram SEO.
Not sure what keywords to use for your captions or hashtags?
Here are 3 tools you can use:
1. Instagram's suggested keywords
Instagram suggests keywords on top of the Explore Page.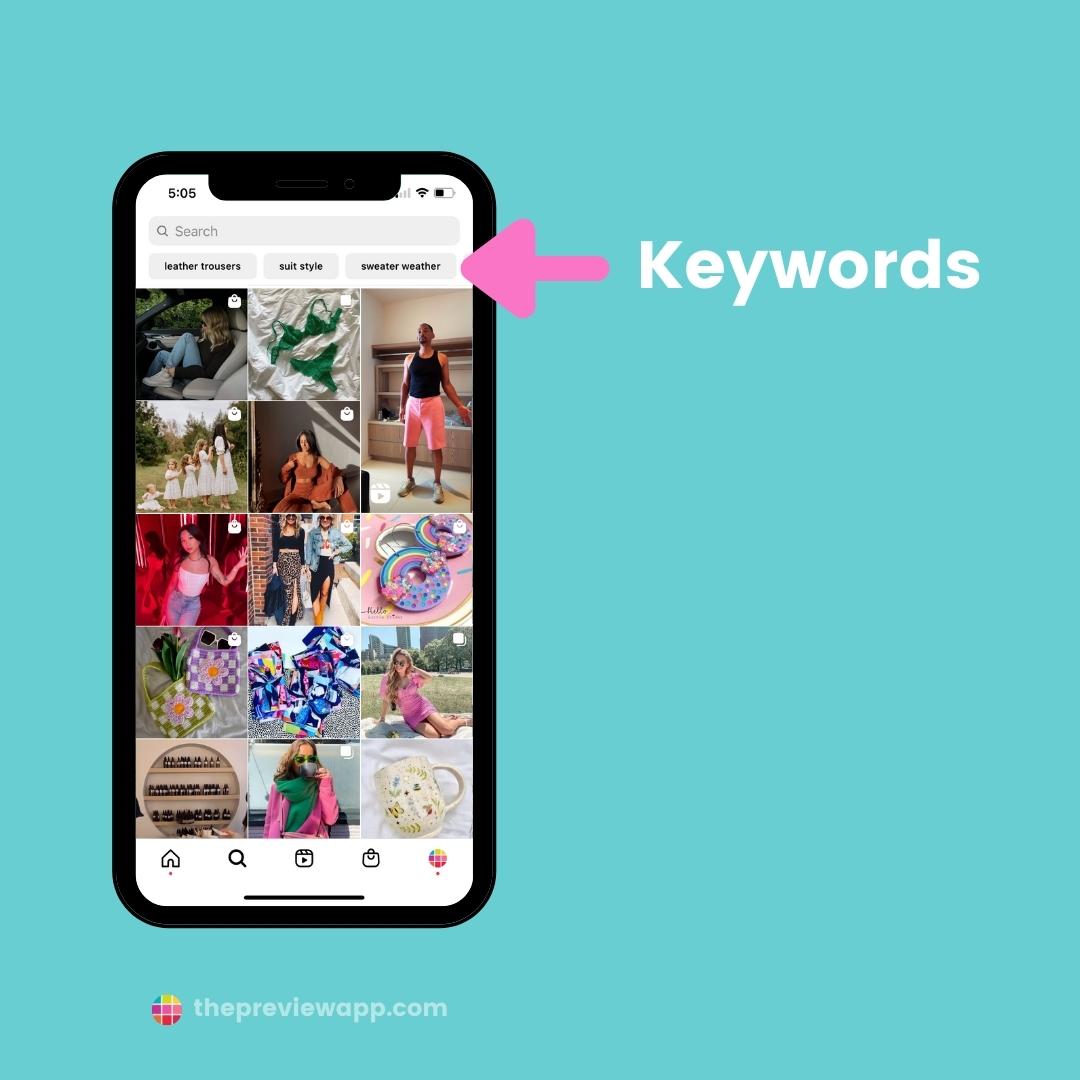 The Explore Page shows what you're most interested in.
So if you have a jewelry business, and your Explore Page is full of jewelry photos. Instagram will therefore recommend jewelry keywords.
These keywords are what most people type / search for.
Use them in your caption and / or hashtags.
2. Premium Hashtag Finder
Preview comes with a Hashtag Finder.
It is different from other "Hashtag Generators" out there.
Actual human beings did the hashtag research and strategy – manually – without bots (because bots cannot think outside the box and recommend parallel hashtags).
And the hashtags work: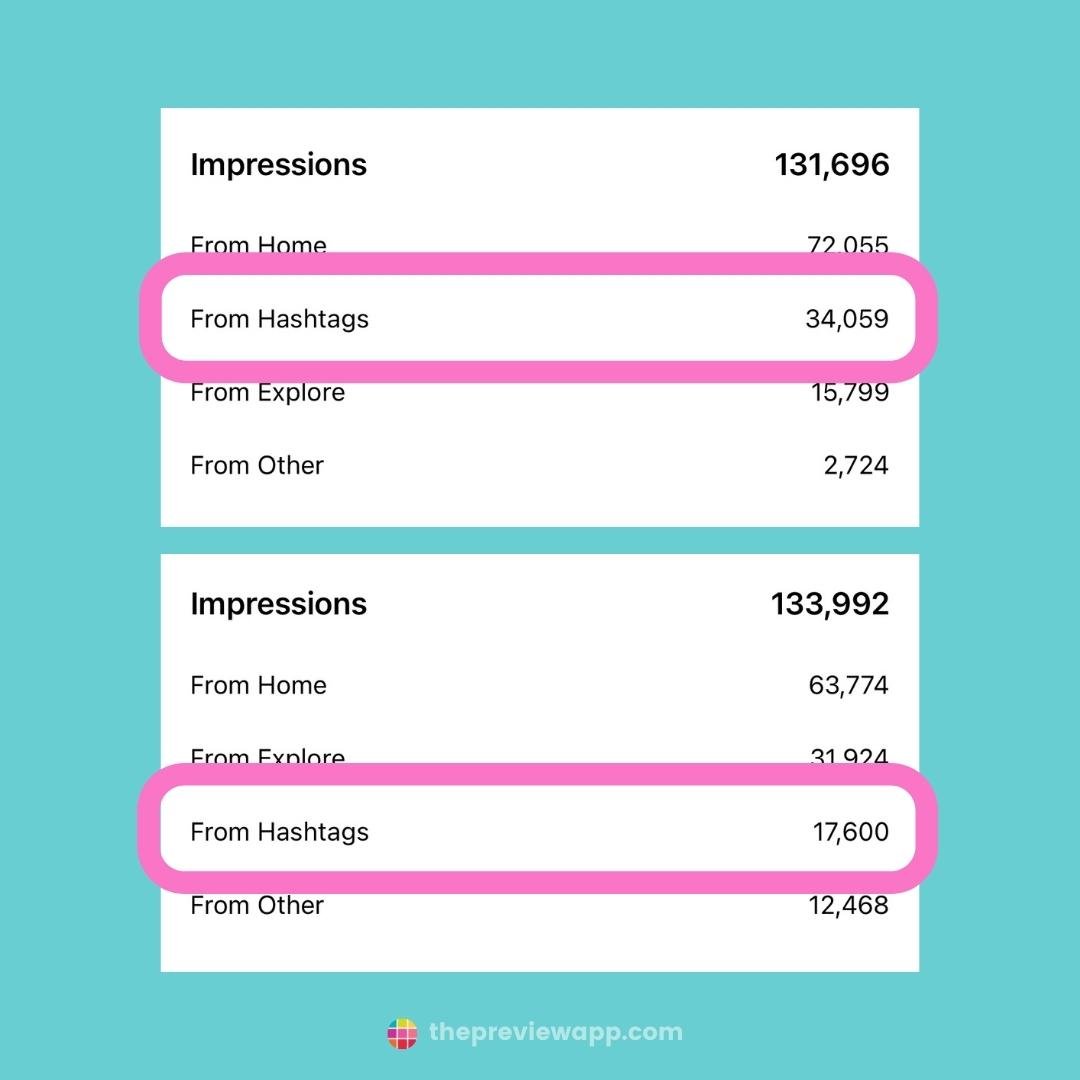 Open Preview App (on your phone or computer)
Open your caption
Press on "Find Hashtags" or the hashtag button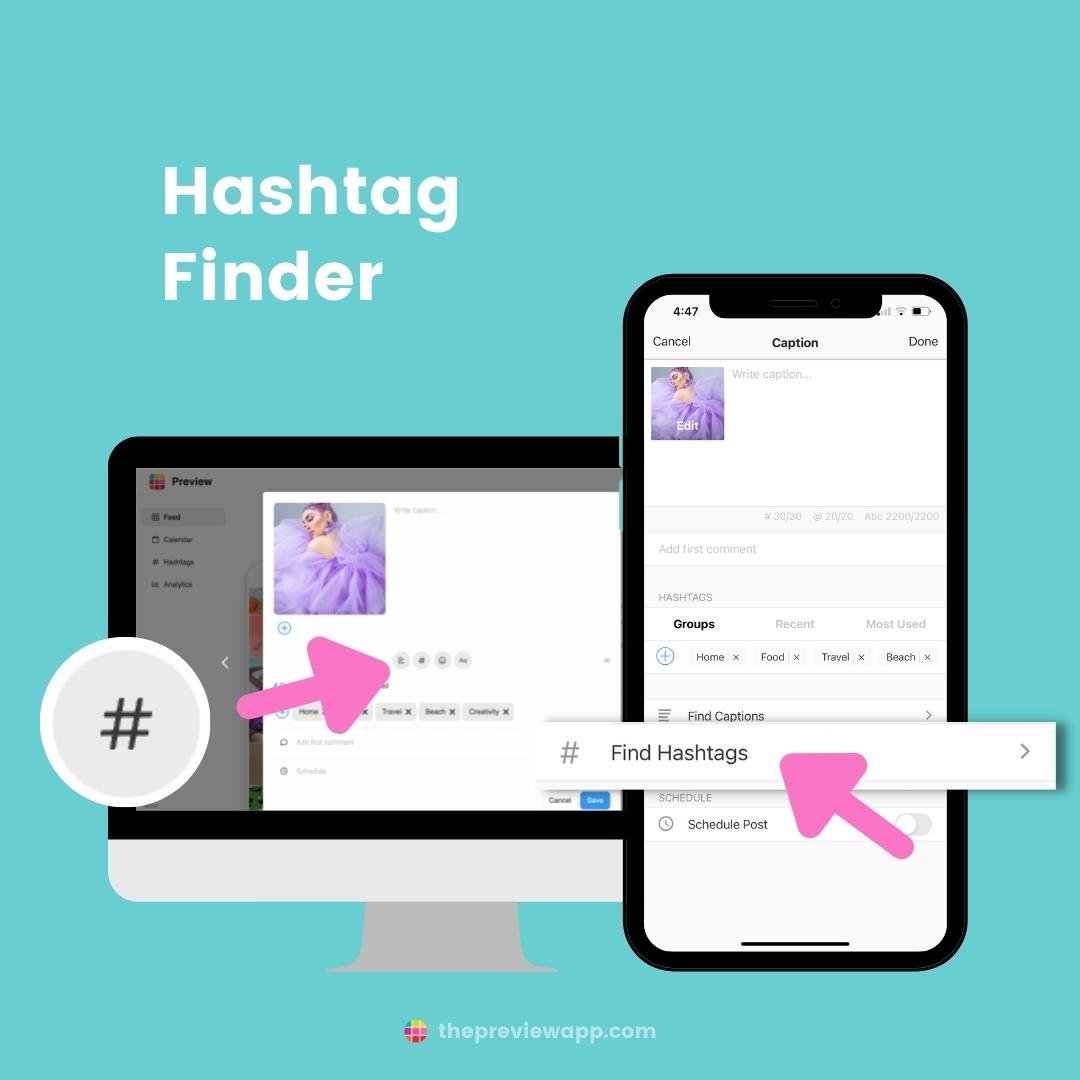 3. Your Competitors' best hashtags
What hashtags perform the best for your competitors?
Use them too!
Open Preview App (on your phone or computer)
Tap on the "Analytics" button
Tap on the "Search" button
Type their username
Scroll down to see their "Top Hashtags"
Write the hashtags you want to use for your account
Like this: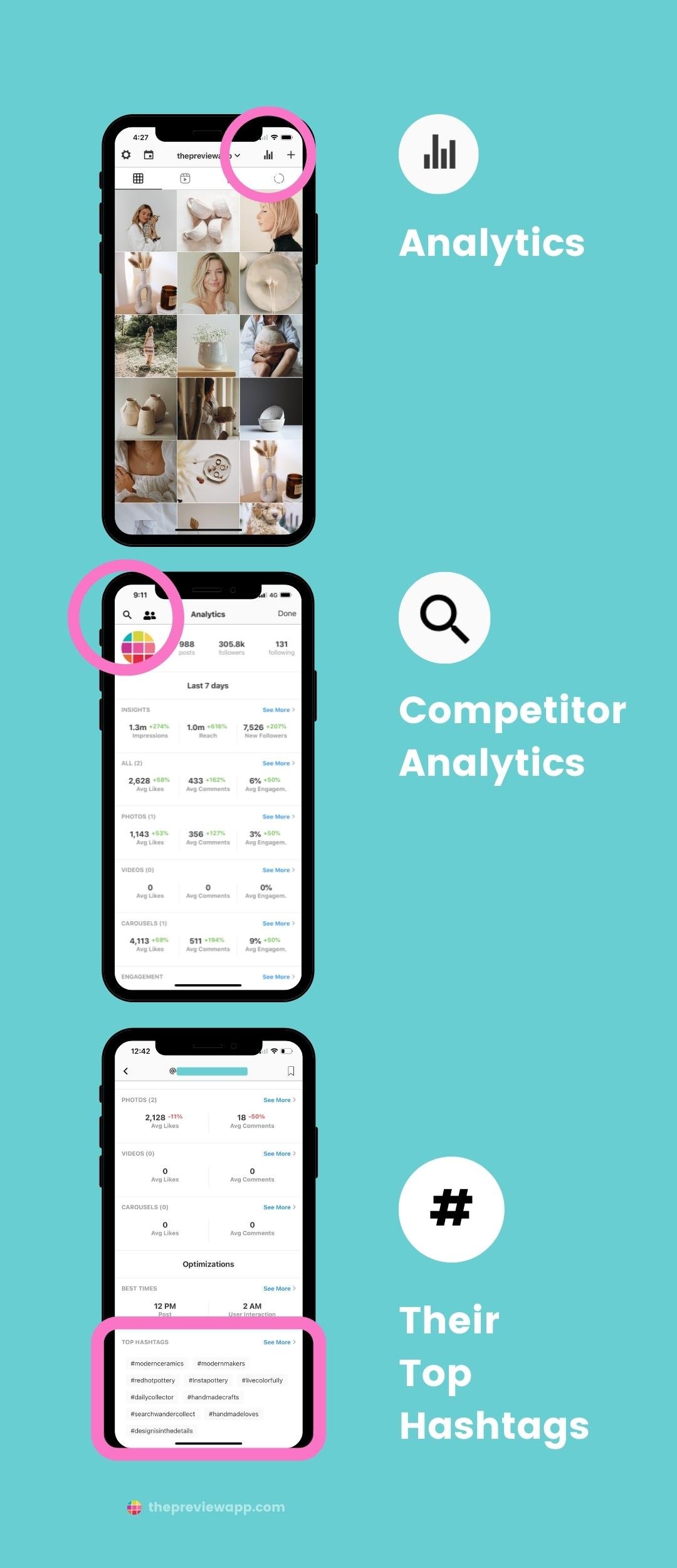 Was this blog post helpful?
Let me know in the comments below if you have any questions.
Don't know what to write in your username, Instagram name, captions or hashtags? Let me know what your account is about in the comments below. We can brainstorm together. 
Otherwise, have fun optimizing your account!