There's a new feature in Preview App, called the "Hashtag Finder".
What is it? It is an Instagram hashtag generator, a selection of the best Instagram hashtags, ready to be added to your post.
We have hand-picked the top Instagram hashtags by category, related to certain topics, subjects and communities.
Communities are the heart and soul of Instagram. So it was important for us to search and add the best hashtags used by our communities – so you can trend, reach more people and be featured on other people's accounts.
You will find Instagram hashtags for photographers, food lovers, fitness junkies, bloggers, creative entrepreneurs… and much more. The list will be expanding.
What the hell is Preview App?
If this is your first time reading our blog, I owe you a quick explanation.
Preview App is a visual planner and scheduler for Instagram. It has a bunch of neat features in it (like filters, photos editor, whitening tool). Therefore, you can plan your feed, captions and hashtags in advance.
When talking about hashtags, I always emphasize how important it is to do your hashtag research.
Why?
Because hashtags = growth.
However doing hashtag research is very time consuming.
The beauty of this new feature is that:
We've done the hard work for you
You don't need to copy and paste between apps
You can search for a topic to generate relevant Instagram hashtags
You can boost your hashtag strategy to reach the right people
Where is the "Instagram Hashtag Generator" in Preview App
Go in the caption section
Under "Groups", select "Find"
Choose the best hashtag category for your post
There are many hashtag categories to choose from.
Instead of scrolling, you can search by typing a keyword that relates to your photo the best: for example "blogger", "creativity", "photographer", "sport", "food", "wedding", "makeup".
Preview App will automatically narrow down the list for you.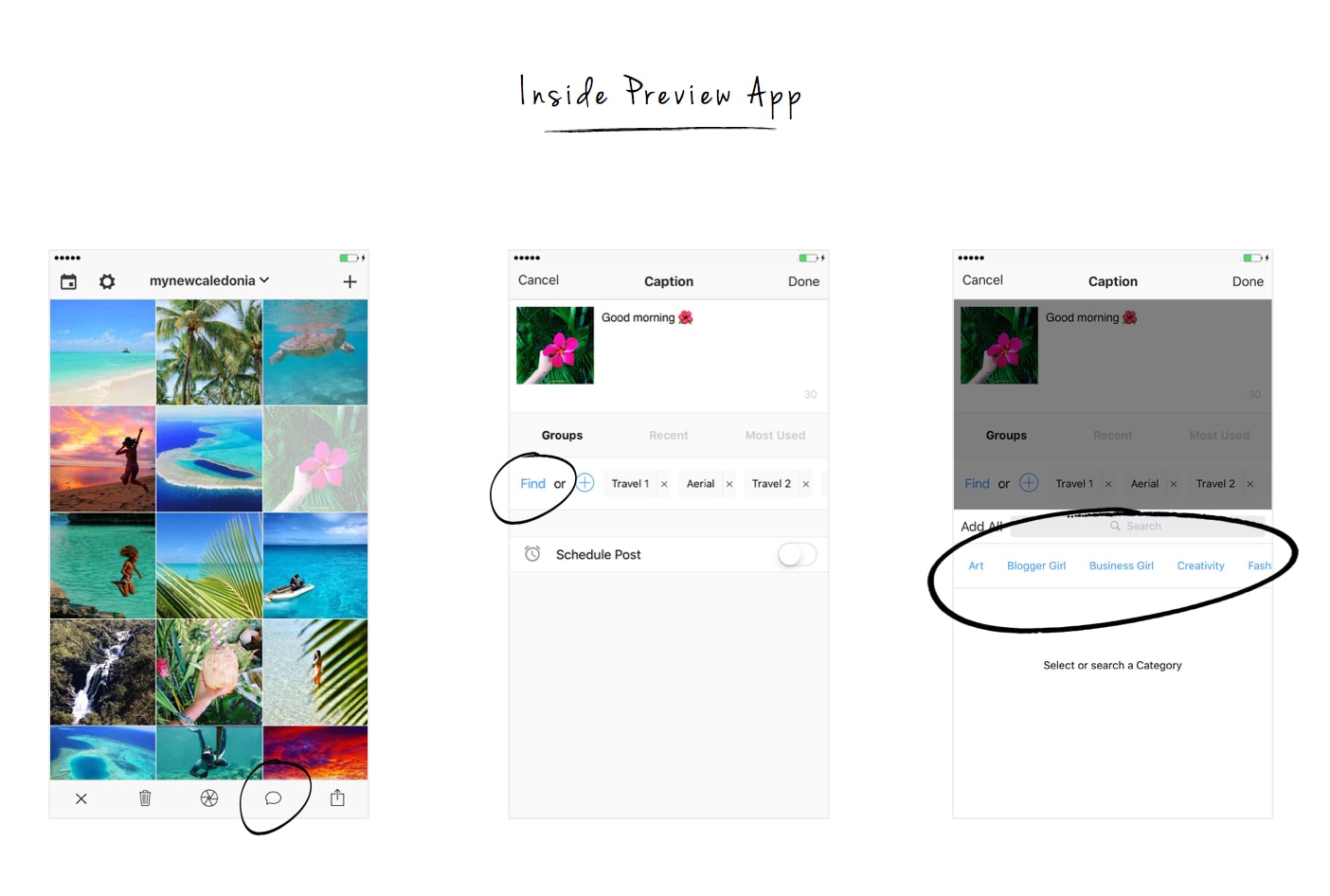 How to add the hashtags to your caption
There are two ways you can add hashtags to your caption:
"Add All": this will add all the hashtags in your caption
"Hand-pick": if you don't want to add all the hashtags, simply tap on the hashtag you want to add to your caption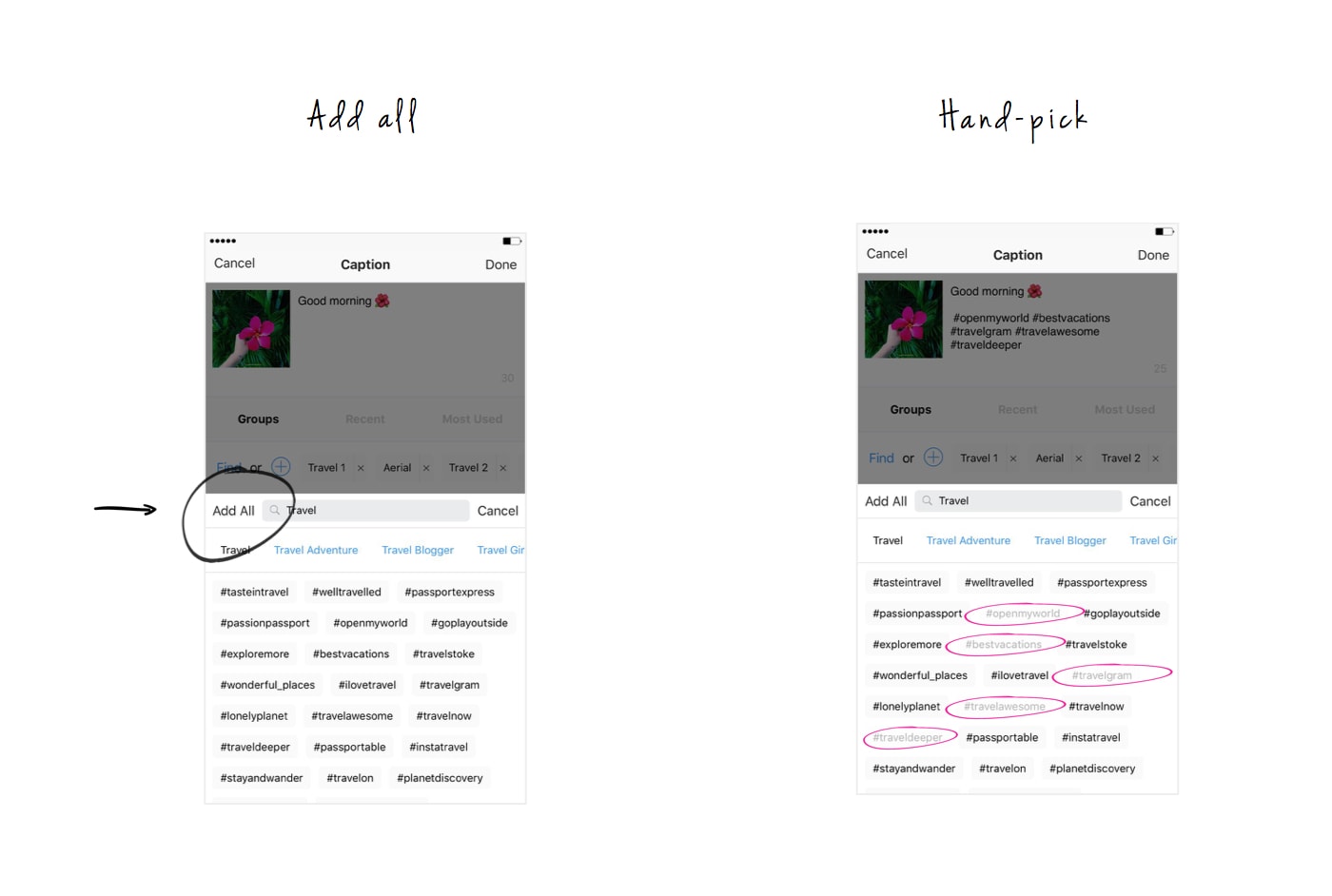 Mix Instagram hashtag categories
The second option above is a great way to start creating your own hashtag groups, using the "Hashtag Finder".
For example, let's say you have a photo of a sunset and you are a travel blogger.
First search: "sunset" and pick your favorite sunset hashtags.
And then search: "travel" and pick more hashtags from the list.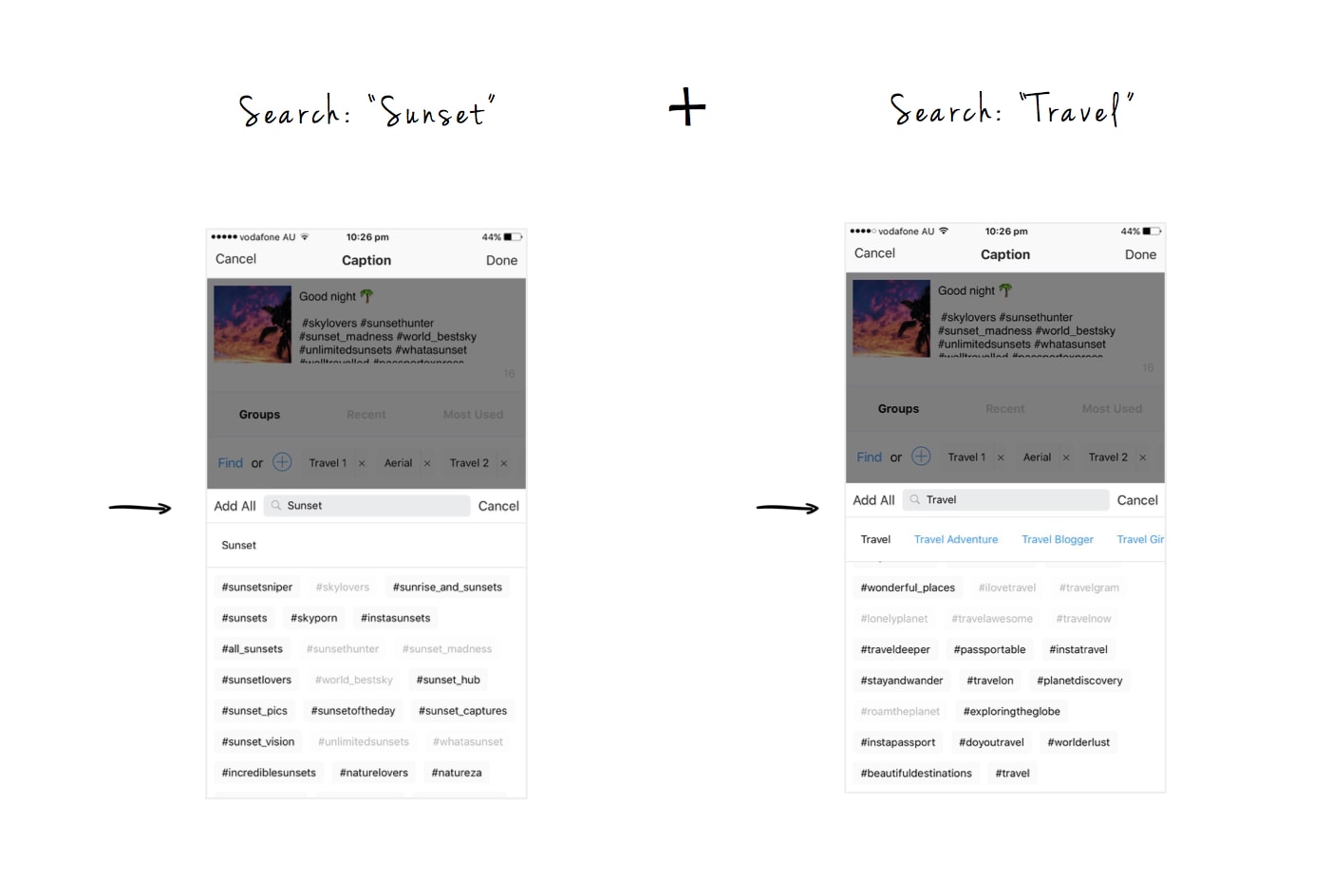 Tip: Instagram allows 30 hashtags per post. Preview App will show you a countdown of the number of hashtags you have left to use.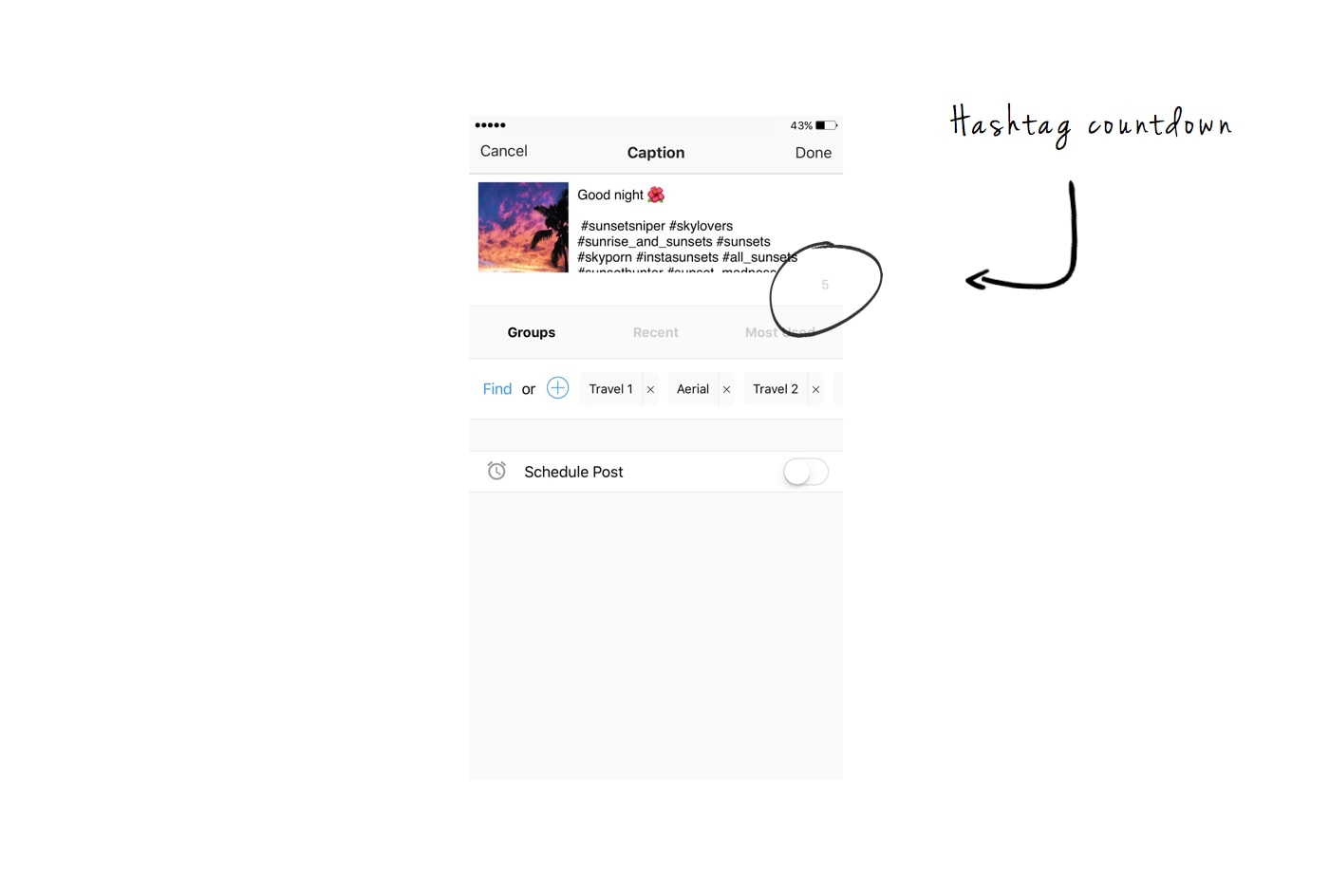 How to save your hashtag groups in Preview App
Do you want to catapult your hashtag strategy?
This is a totally optional extra step.
If you are serious about saving time and optimizing your Instagram strategy, then you will love this.
Once you have added your hashtags in your caption (in Preview App):
Tap the "+" button to save that hashtag bundle (so you never have to copy and paste in your life again)
Type the name of that group
Done!
You can then re-use your custom hashtag group whenever you want! In one tap.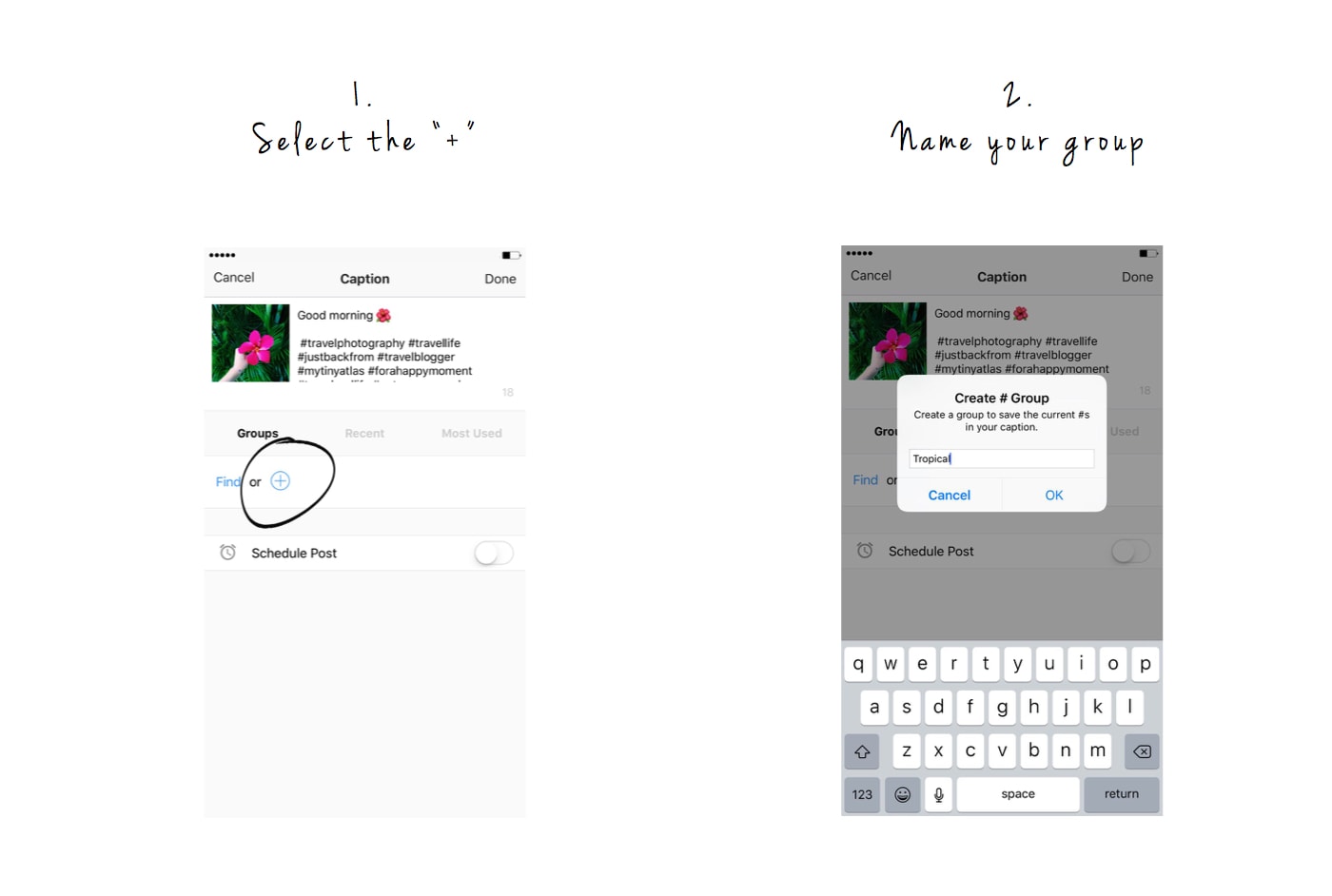 Done!
You can then re-use your custom hashtag group whenever you want!
In one tap: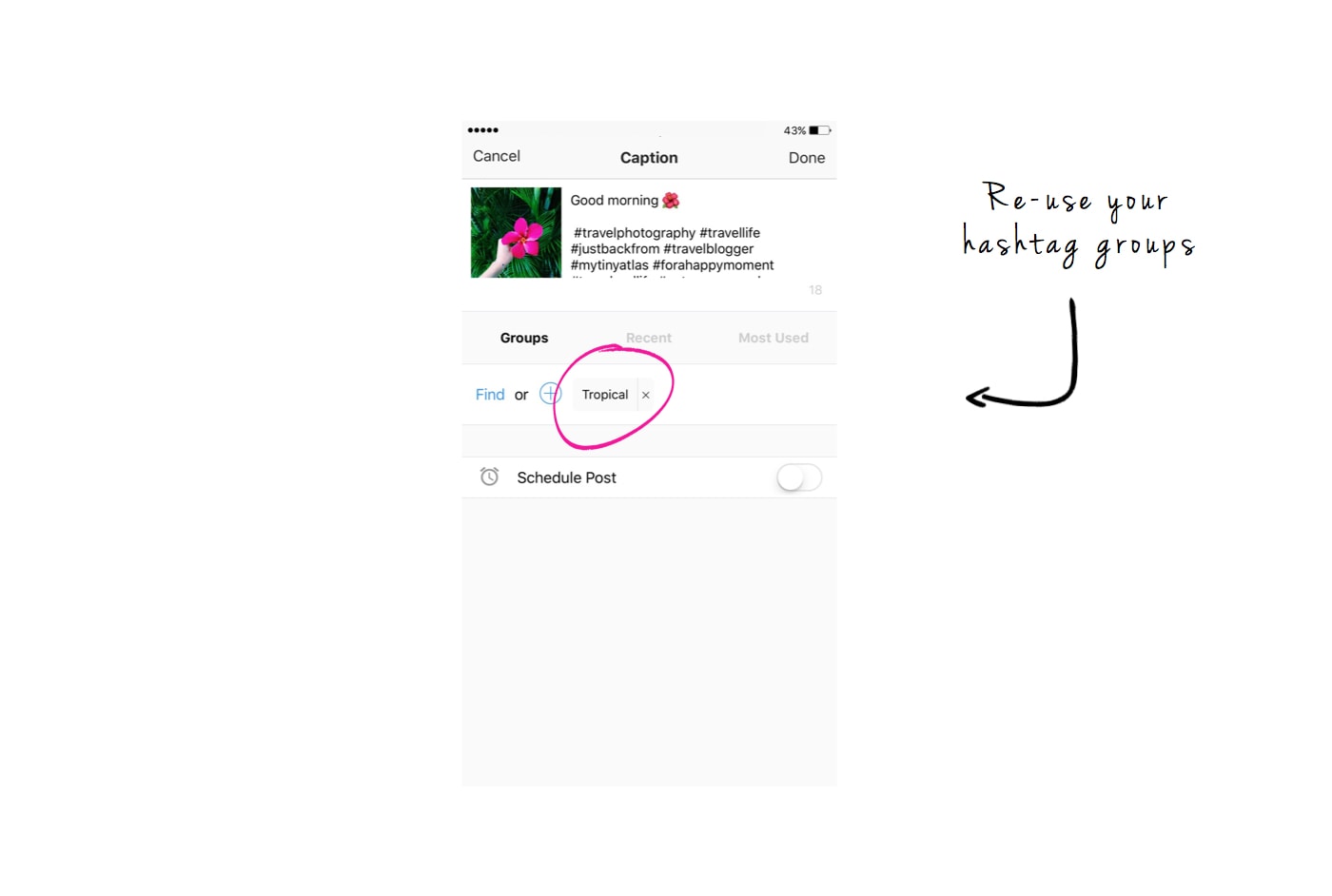 Enjoy the Instagram Hashtag Generator
Try the Hashtag Finder. Use the tips above if you want to make your own hashtag categories.
And then come back here and tell us: How has Preview helped? Have you seen more engagement on your account? What tricks did you use?
Alexandra
+400,000 Instagrammers are already using Preview App to edit, plan & schedule their feed. If you haven't tried it, you're missing out.