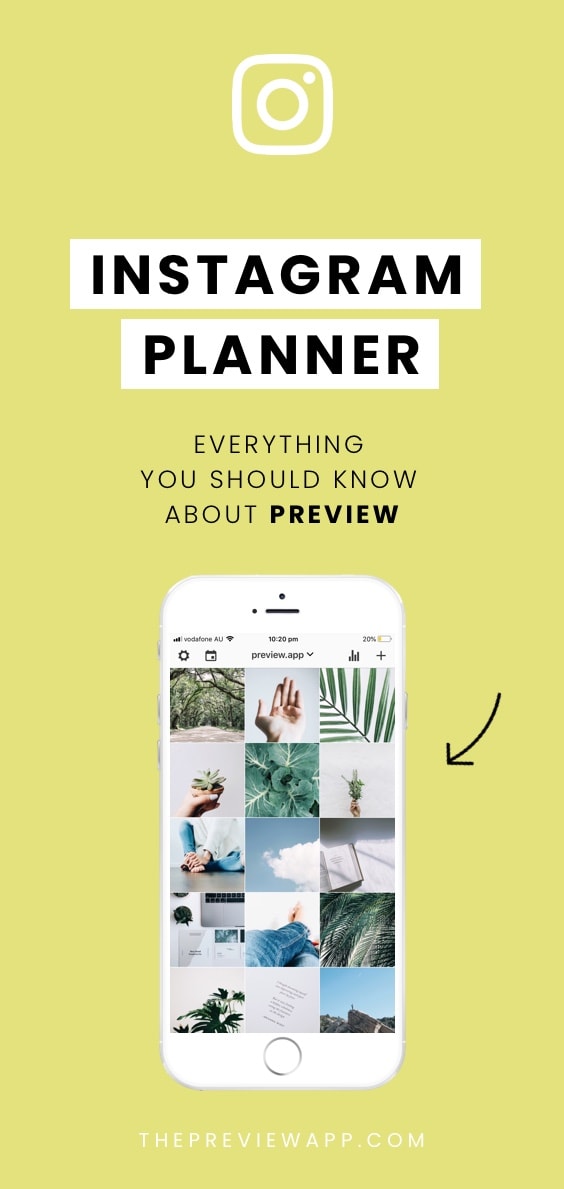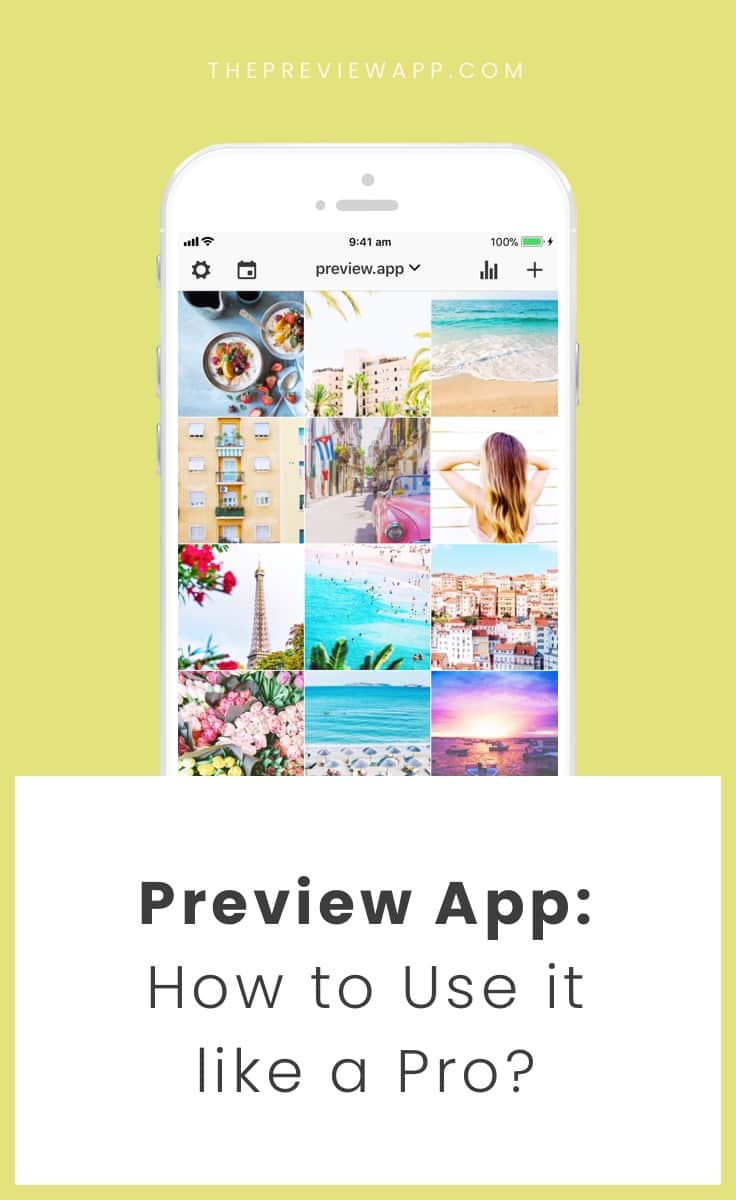 Once you know how to use Preview App for Instagram, you'll be an Instagram pro.
Preview combines the best Instagram tools into one simple app.
You can plan your Instagram feed on your phone and on your computer.
You can rearrange the order of your posts, edit your photos, find top trending hashtags, test your hashtags, check your analytics, see the analytics of other Instagrammers, find awesome Instagram captions. And more.
Sounds good?
So how to use Preview app for Instagram?
Let's look at each feature, step-by-step:
If you want to see how to use Preview's Desktop version: click here.
Let's start.
When you open Preview for the first time, you will have to create your account.
You have the choice between 3 plans:
Free

: You can use the core features of Preview for free, forever.

Pro

: If you want to unlock more features (like all the filters)

Premium

: If you want to unlock ALL the features and tools.
Note: You can plan unlimited posts for free on all plans.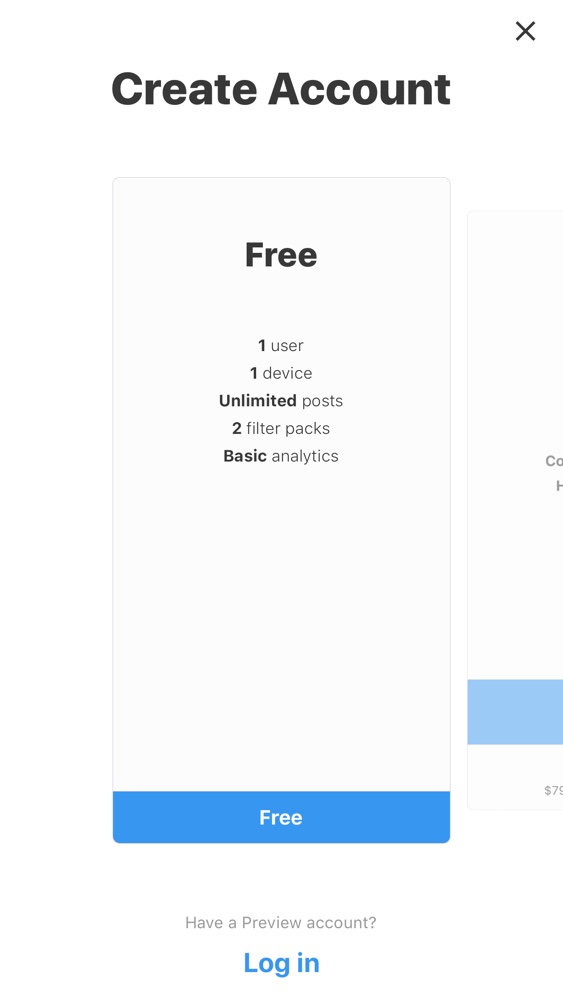 The "Login" option:
Have you already created an account with Preview before? If so, you can just log in to your account: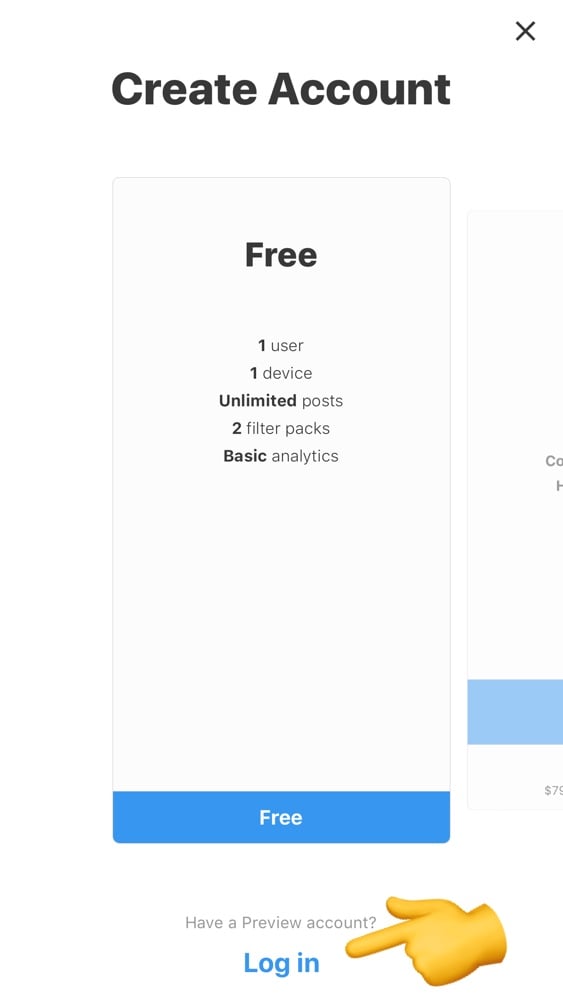 If you need help logging in, press on the little "i" button: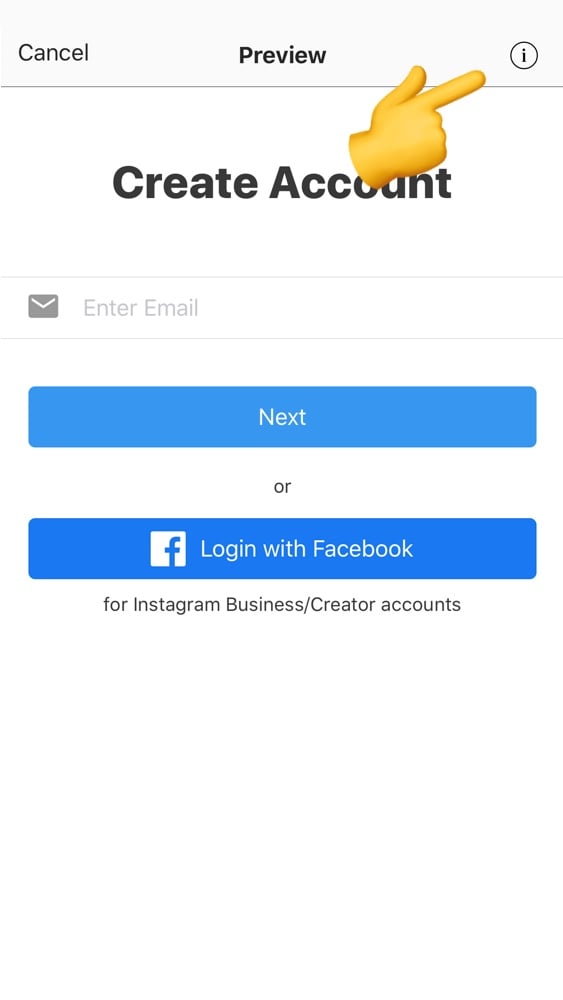 2. Upload photos and videos in Preview app
You're in!
Now you can upload as many posts as you want.
To upload photos and videos:
Press the "+" button
Select "Photos/Videos"
Choose your photos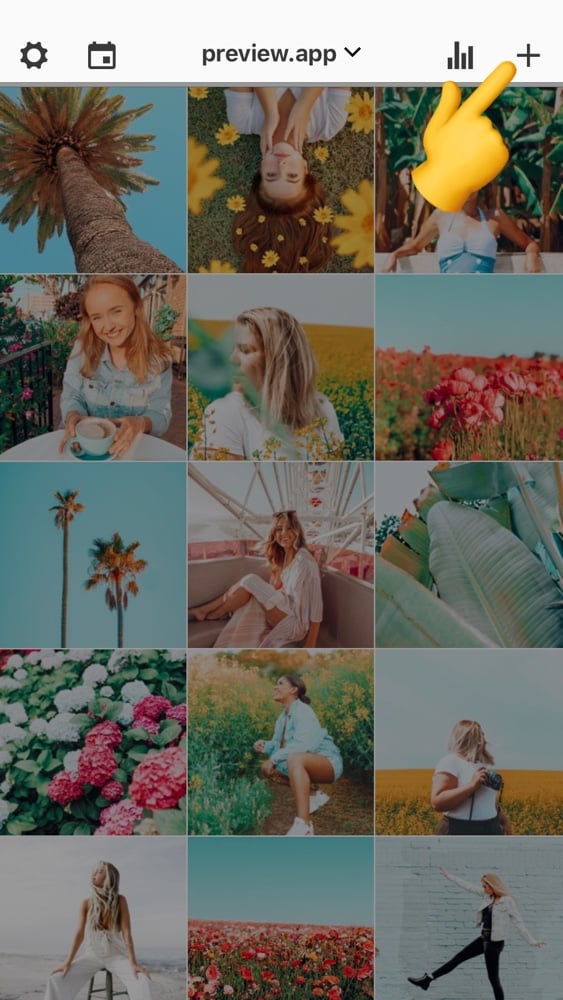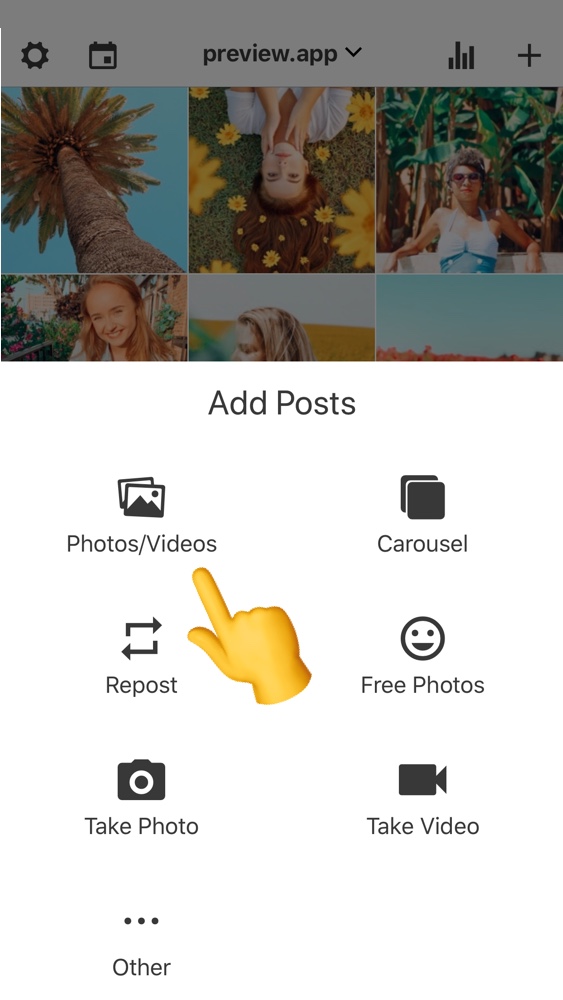 Your photos will appear in your Preview feed: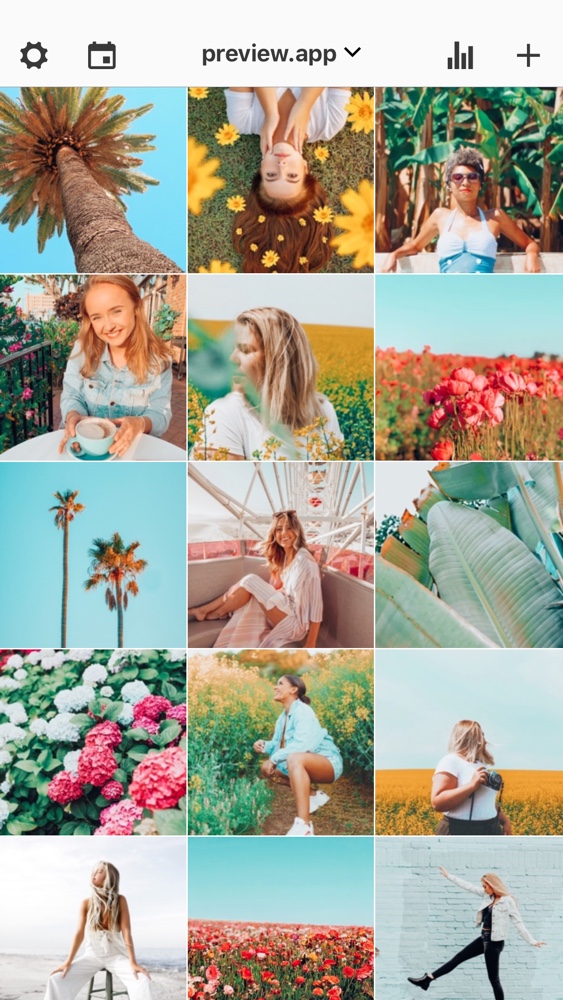 Tip for Android phones:
To select multiple photos:
Hold your finger pressed on a photo, or
Select photos from the "Photos" app.
A carousel is an Instagram post that has multiple photos and videos in one post. It's also called an "album" or an "album carousel".
To create a carousel post:
Press the "+" button
Select "Carousel"
Choose your photos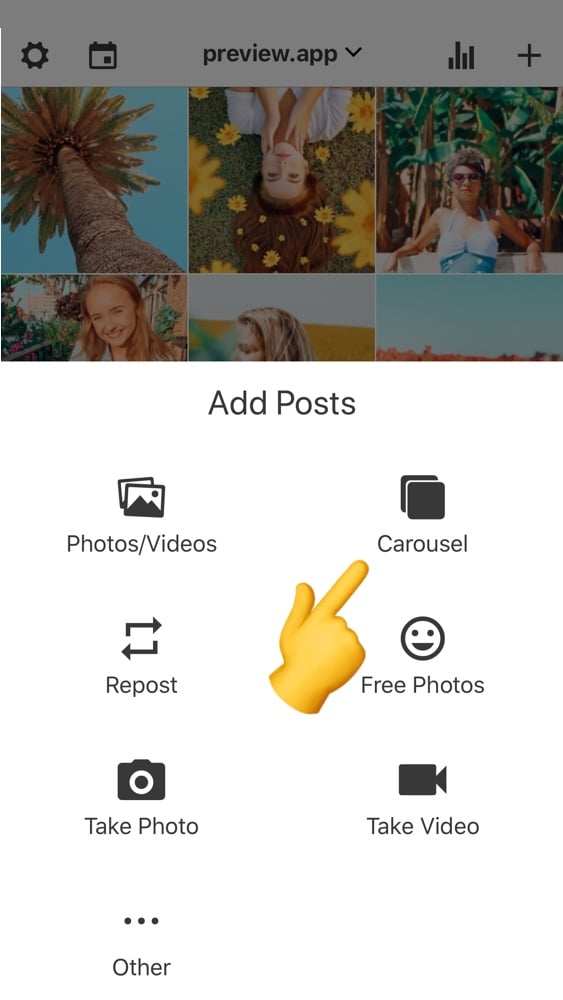 You can repost other people's posts. You can repost as many posts as you want, with no watermark.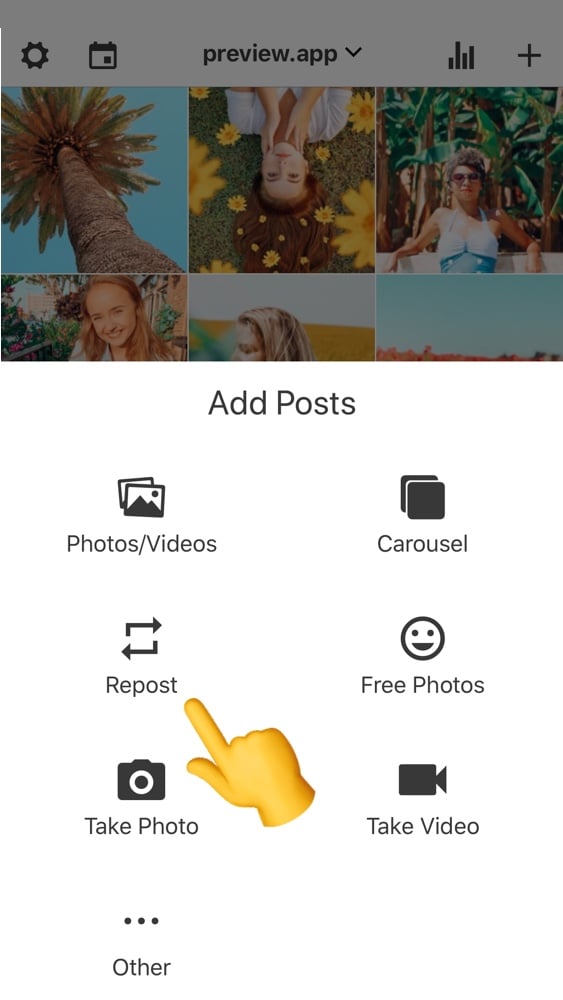 If you don't have any photos to post, you can use the "Free Photos" feature.
There are over 1 million beautiful photos available.
Preview has integrated with the amazing community of photographers at Unsplash to give you beautiful, free photos for your Instagram feed.
You can use as many photos as you want and you can do whatever you want with them. You can edit them if you want to. Crediting the photographer is not required, however it is appreciated if you want to.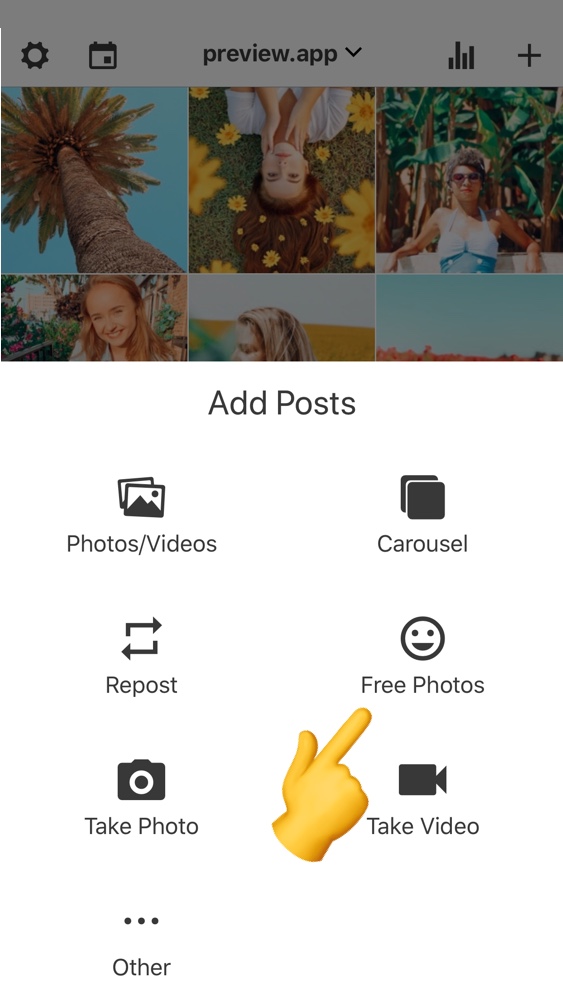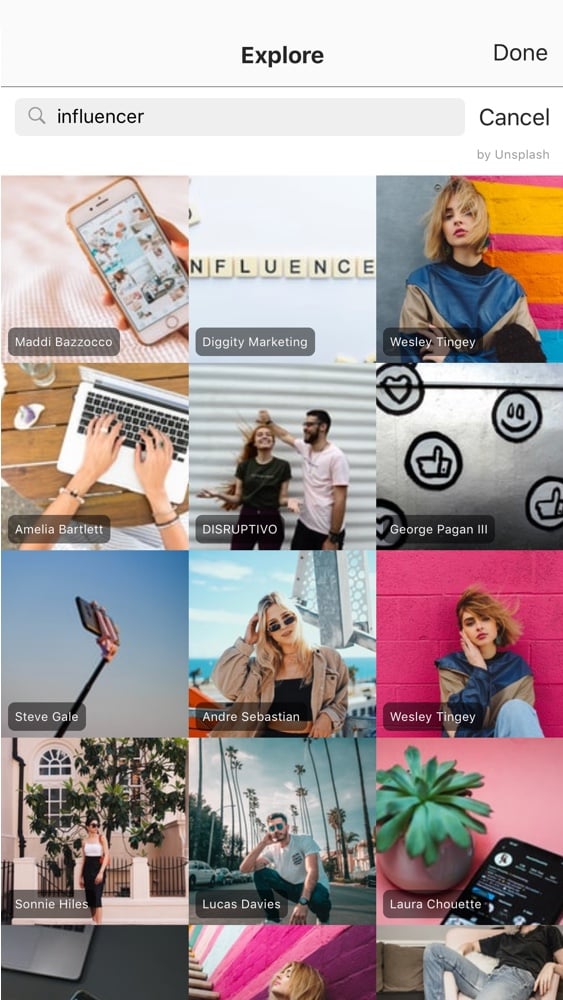 6. Rearrange the order of your posts
Now that you have uploaded photos in your Preview app, you can rearrange their order.
You have 3 options:
Drag and Drop: Hold your finger pressed on a photo and drag it
Swap: Select 2 photos you want to swap places
Shuffle: Select more than 2 photos and press the "shuffle arrows" icon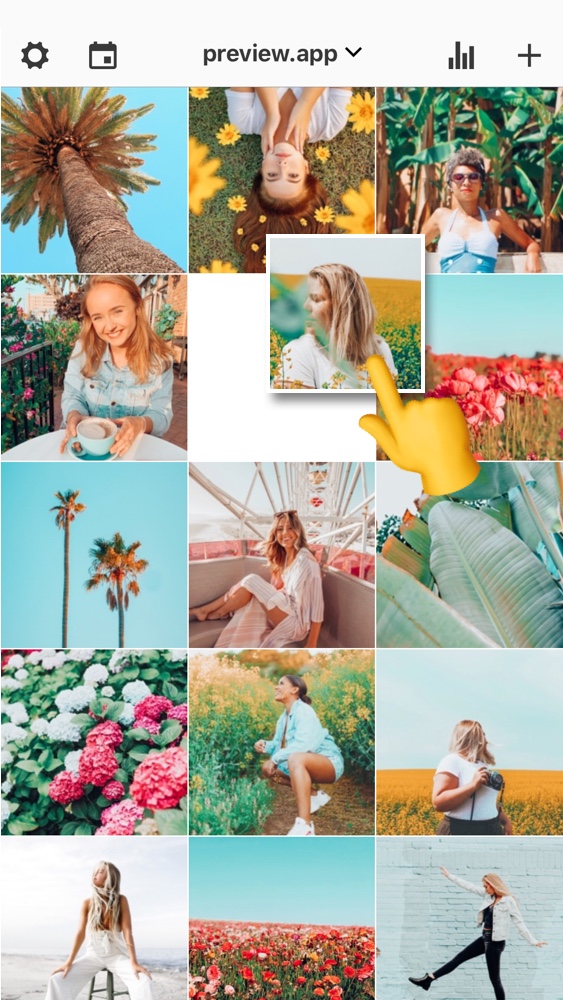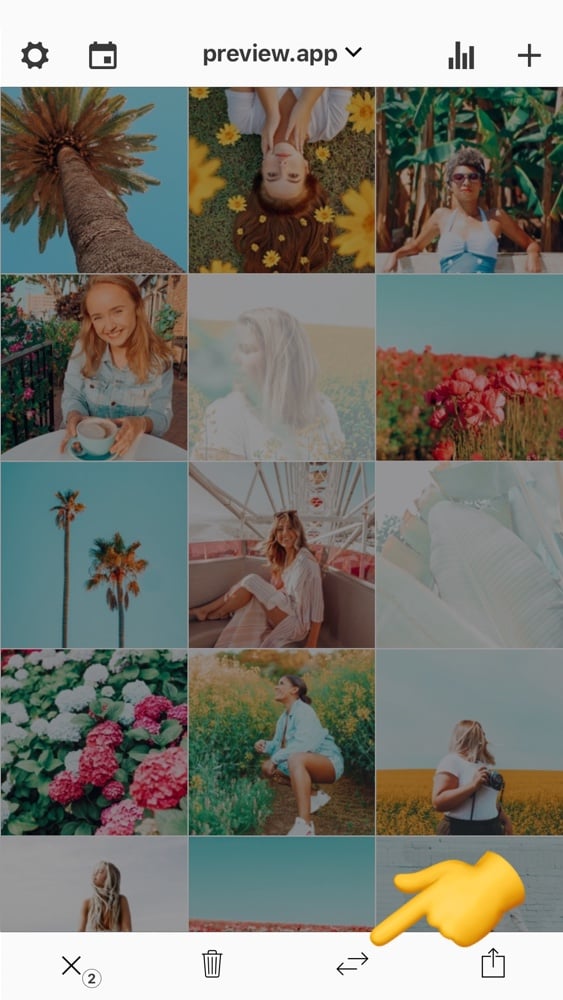 Remember: Instagram doesn't allow anyone to rearrange or edit photos that are already posted on Instagram. Use Preview to plan your future posts and see how your feed will look like before you post on Instagram.
Want to delete a post you've uploaded in Preview?
Select the post(s)
A menu bar will appear at the bottom of your screen
Press on the "bin" icon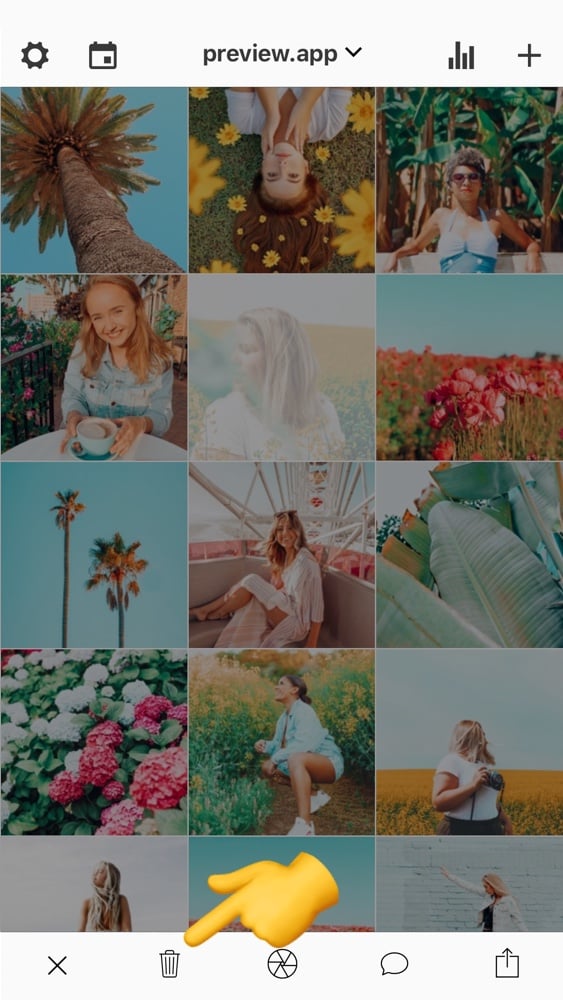 As you can see, there are other options in the menu bar.
Let's talk about editing first.
Preview has hundreds of beautiful Instagram filters and presets to help you make your feed look beautiful and cohesive.
To edit a photo:
Press on one photo
Press on the "circle" icon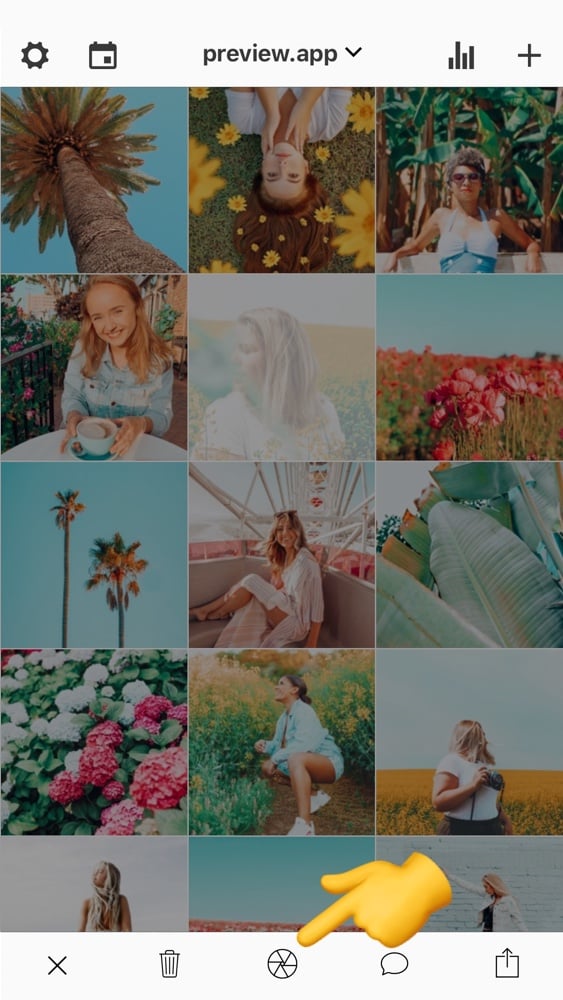 What you see:
The Filters

at the bottom of your screen

The

Editing Tools

button on the top left

The

Filter Packs

button on the top right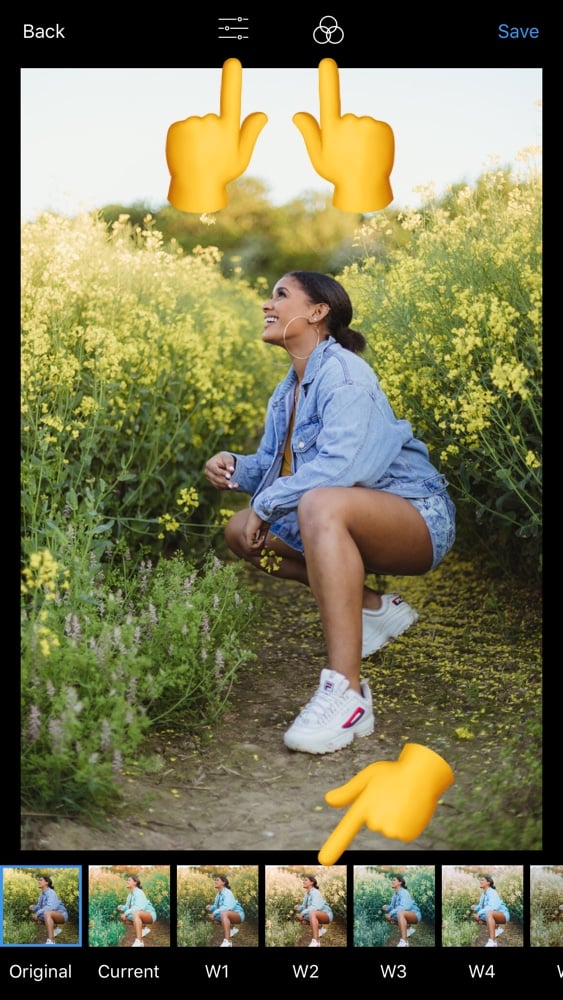 Let's look at the Editing Tools.
Press on the "Editing Tools" button.
You will see the essential editing tools like contrast, saturation, crop, text, etc…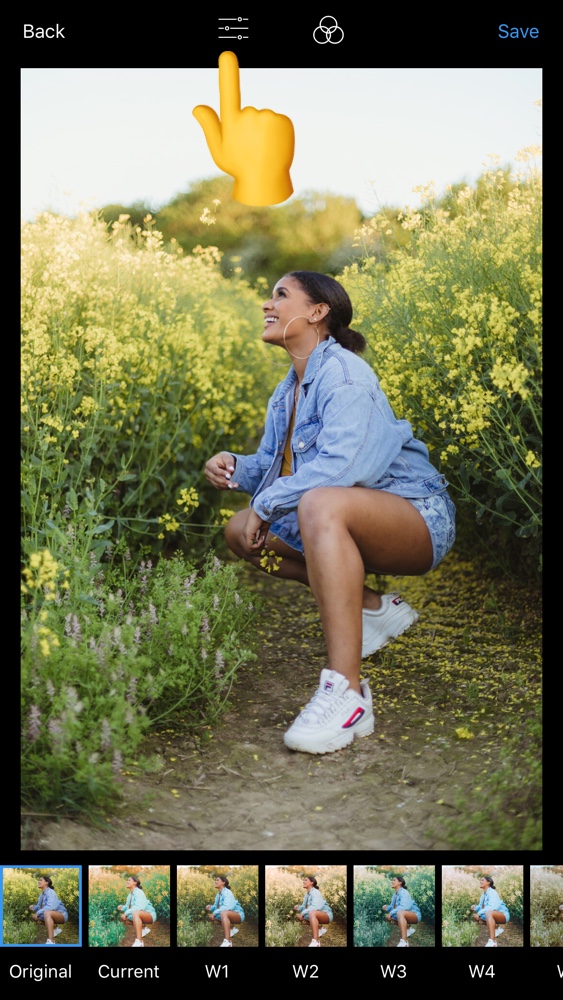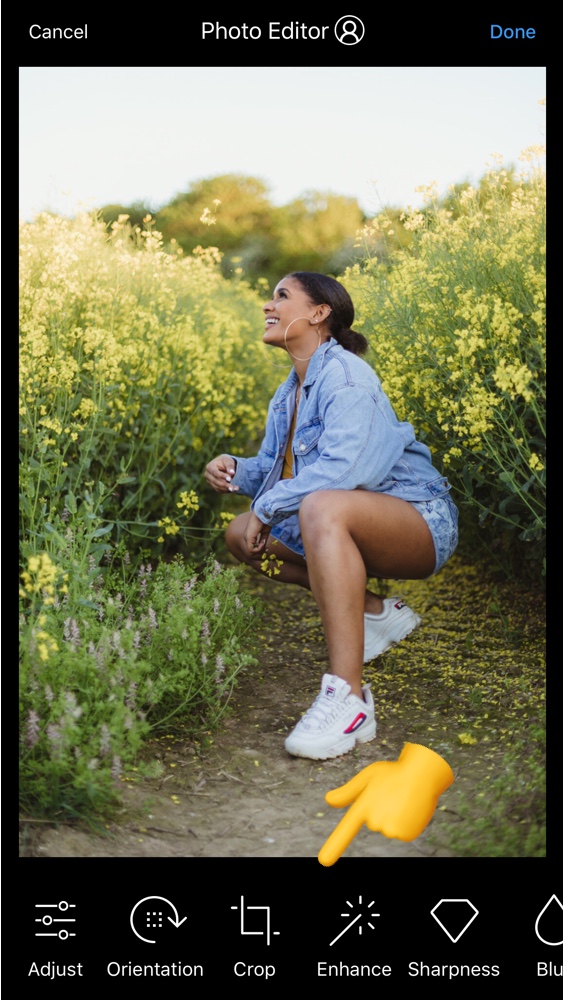 Let's look at the Filter Packs:
Press on the Filter Packs button on top of your screen.
You will see all the Filter Packs available. There are filters for a lot of different types of photos and accounts.
The most popular filter packs in Preview are:
"Winter"
"Summer"
"Blogger"
"Cream"
"Retro"
"Food"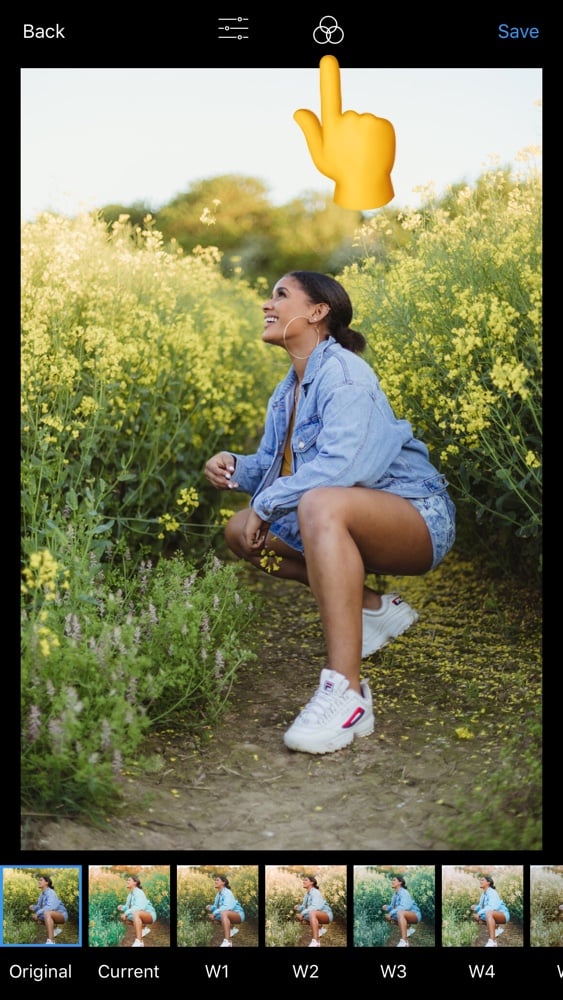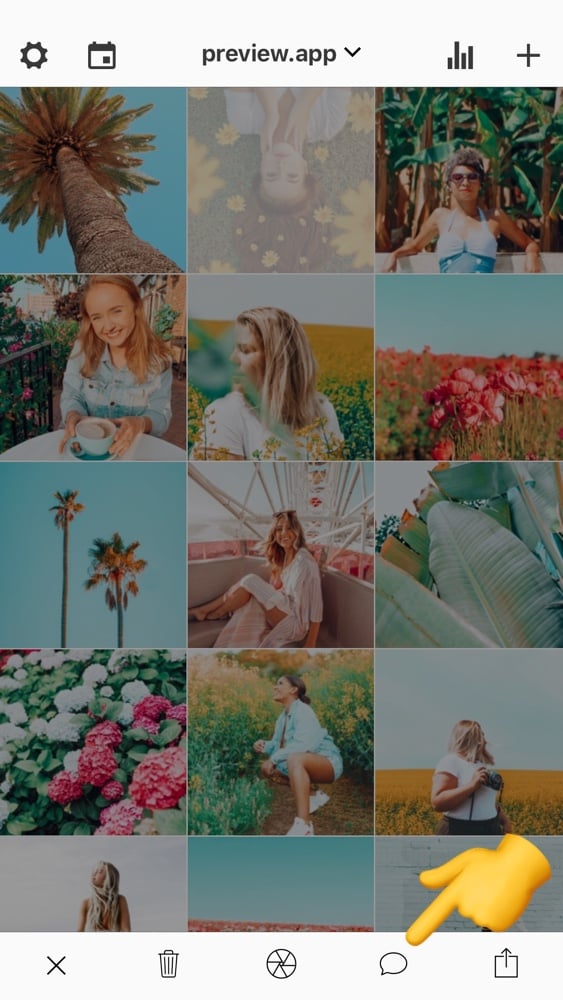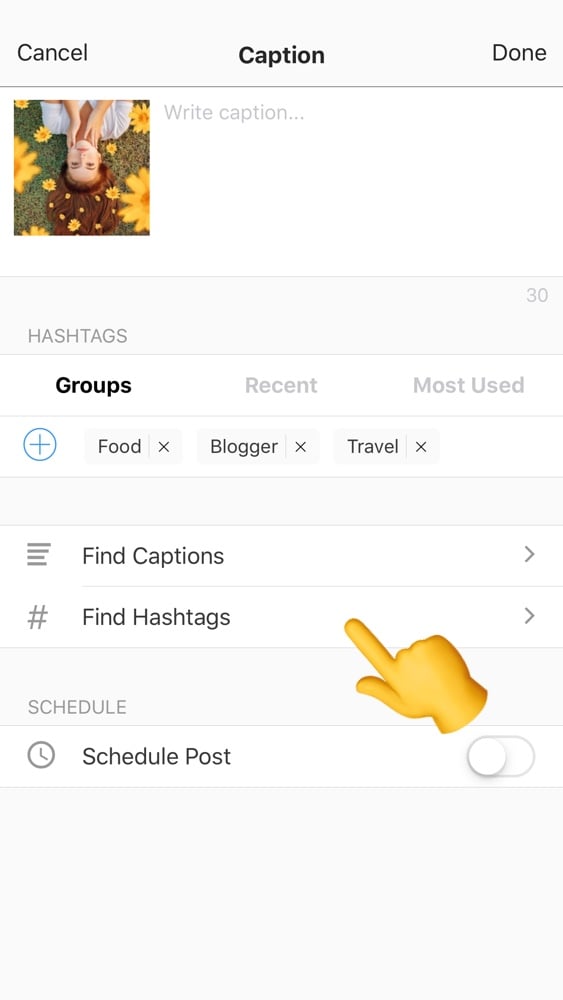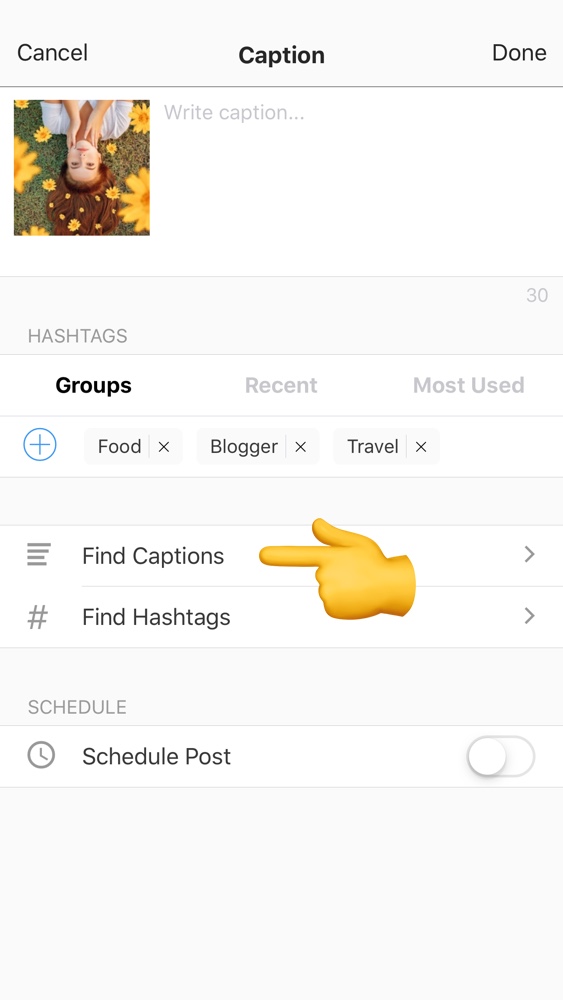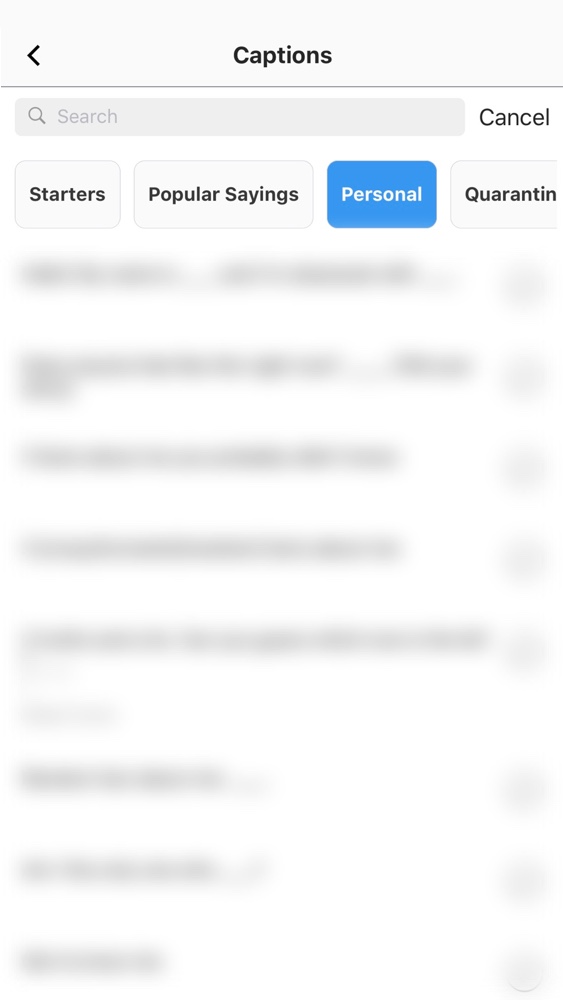 If you're not sure what hashtags to use for your account: check the Hashtag Finder.
The Hashtag Finder is an Instagram Hashtags Generator.
We personally and manually research and hand-pick every single hashtag before we add them in the app. We create a powerful mix of hashtags to help you grow your account.
There are hashtags for different accounts, countries, categories and even Instagram communities.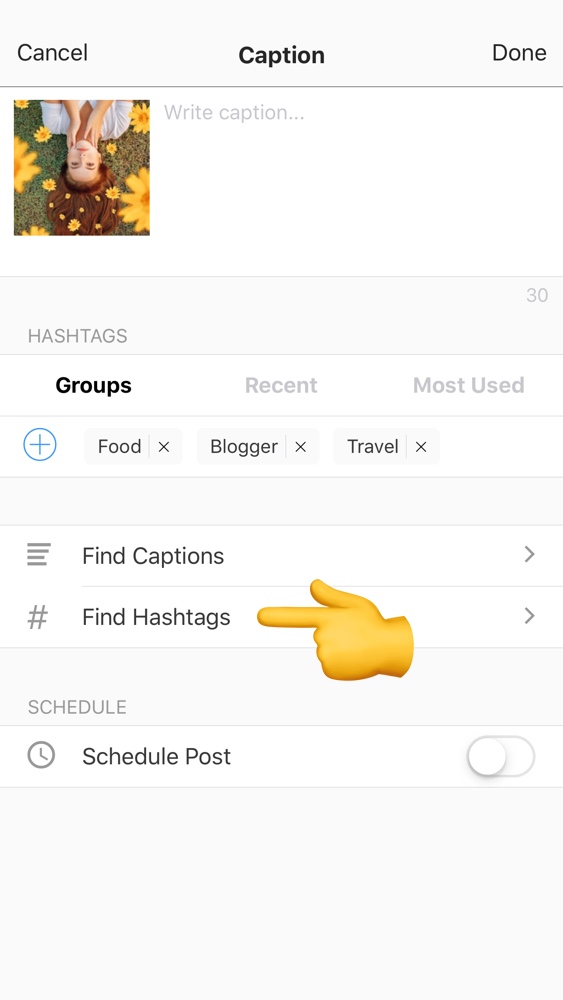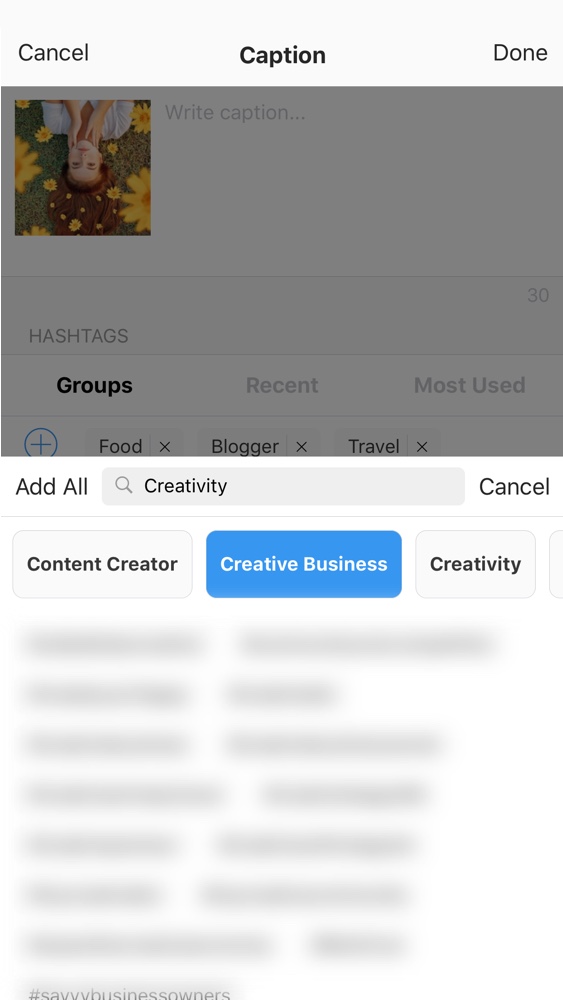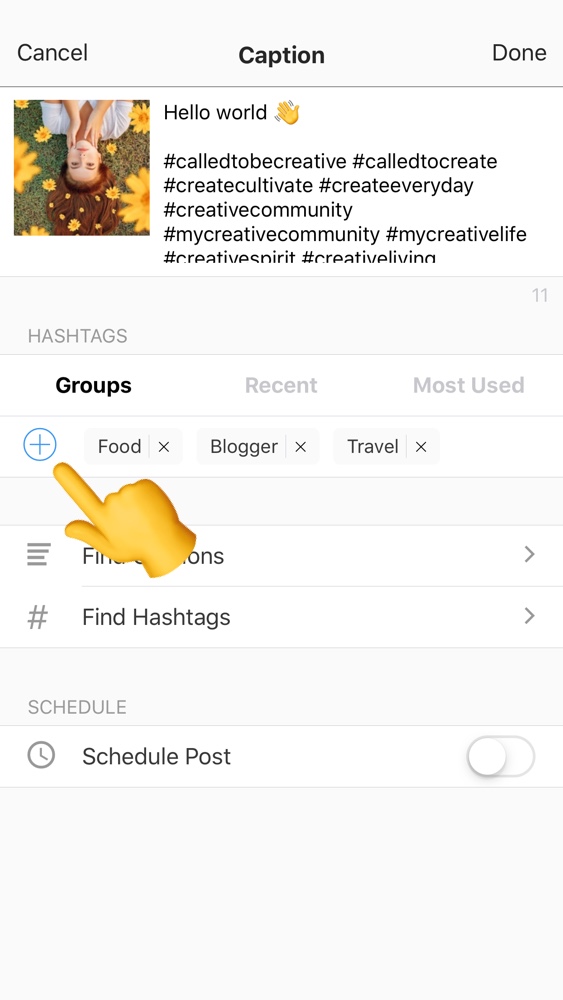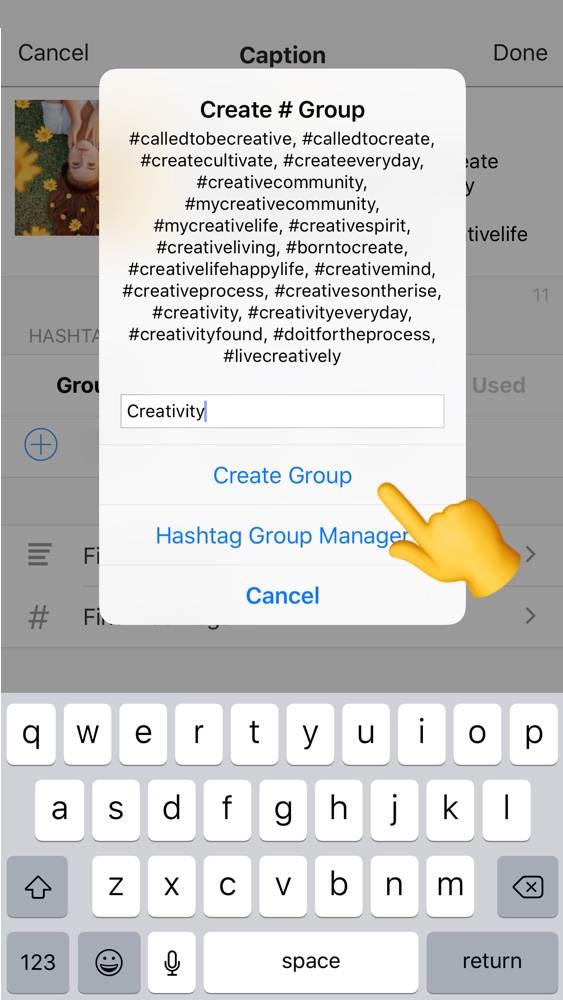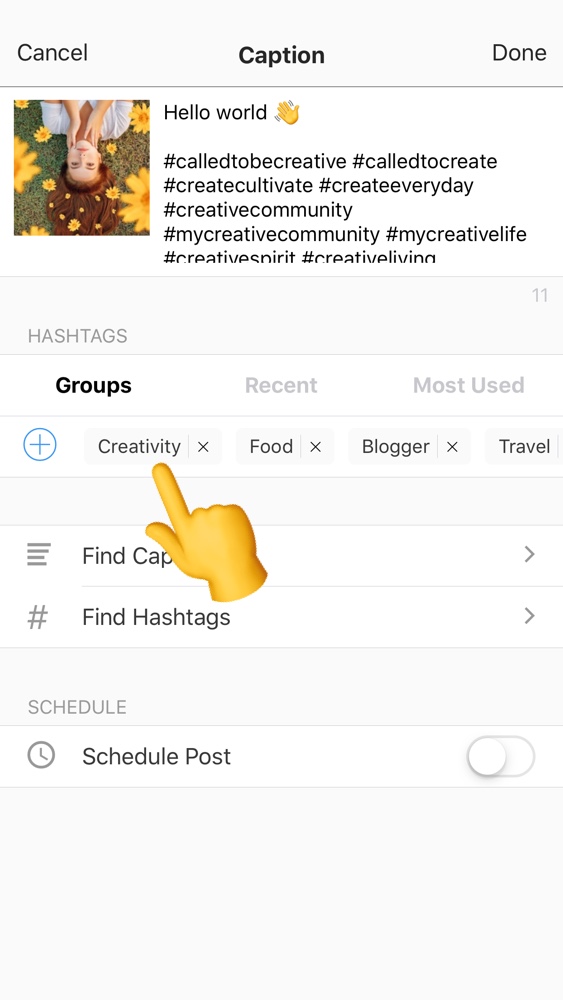 We love this feature because:
1.You save time, and
2. Preview will automatically test your hashtag groups. You will be able to see which one helps you grow your account. Preview will show you which ones give you the most likes, comments and engagement.
​To schedule your post: Turn on the "Schedule Post" button.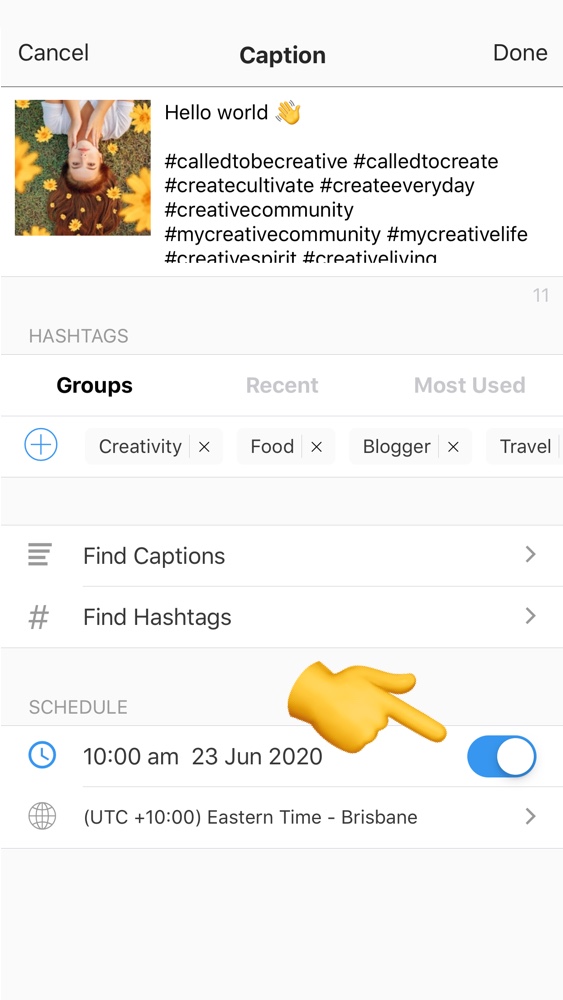 Do you want to see what you have planned for the day, week or month? 
Press on the "Calendar" button to see your posts in a calendar.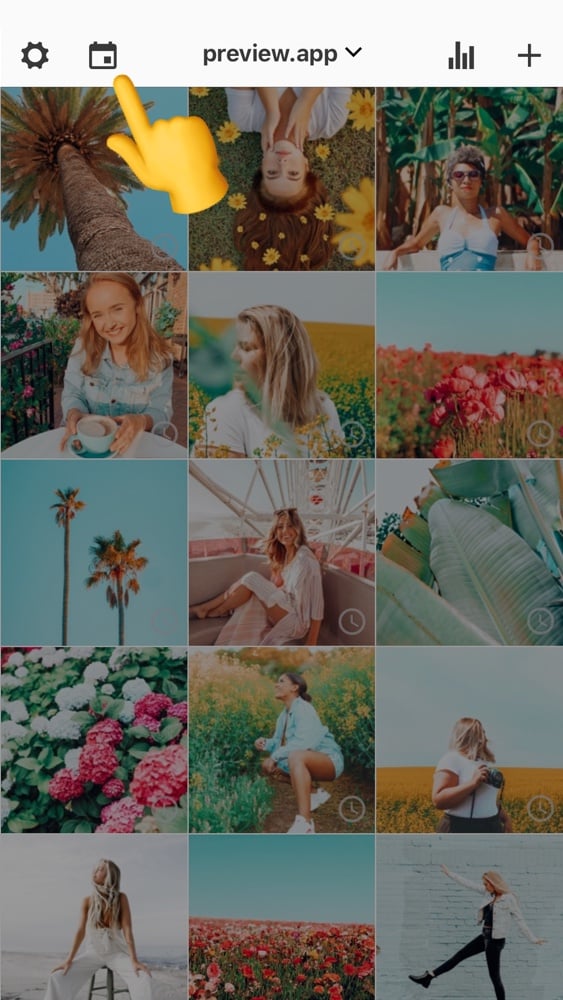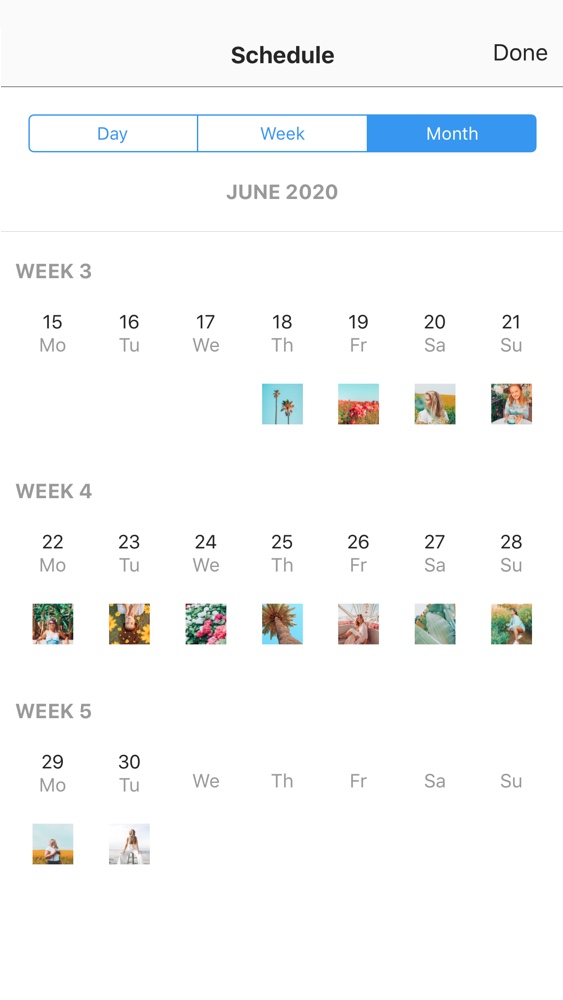 If you turned on the auto-post, your posts will be automatically posted on Instagram. You don't need to do anything else. Keep scrolling to see the other features.
You can also post on Instagram manually. If you post manually, you will receive a notification when it is time to post:
Select the photo you need to post
Press the "Export" button to share it on Instagram
Paste your caption and hashtags on Instagram (Preview automatically copied it for you)
Post
Done.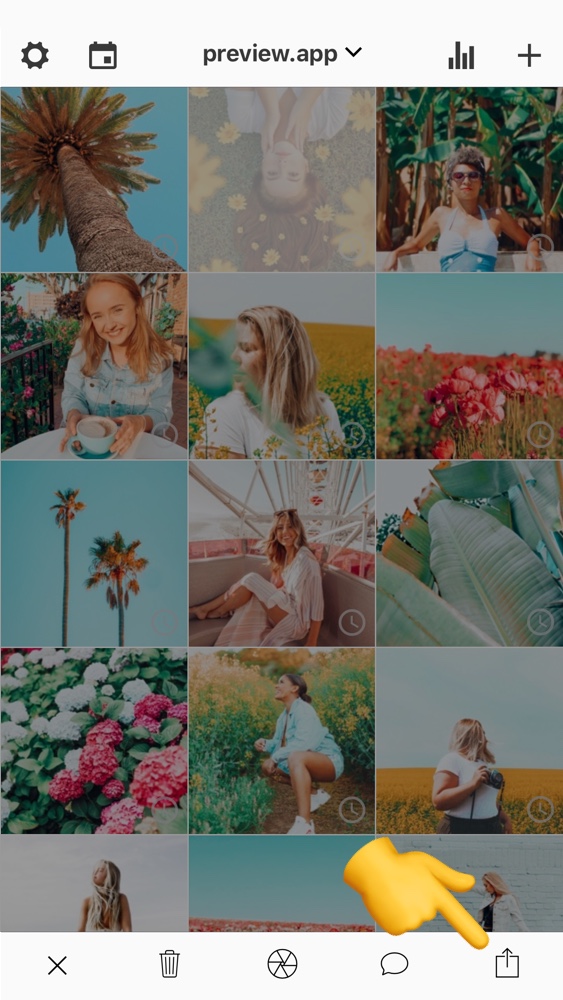 You can check how your account is going in your Analytics.
Preview will show you what's working and what's not working in your strategy.
You can see your:
Weekly Wrap
Growth (impressions, reach, engagement, clicks to your website)
Followers Growth
Top Posts
Top Hashtags
Top Hashtag Groups
Best time to post
And more.
Click here to see all the Instagram Analytics tools in Preview (and the interactive analytics feature).
To see your Analytics, Press on the "Analytics" button: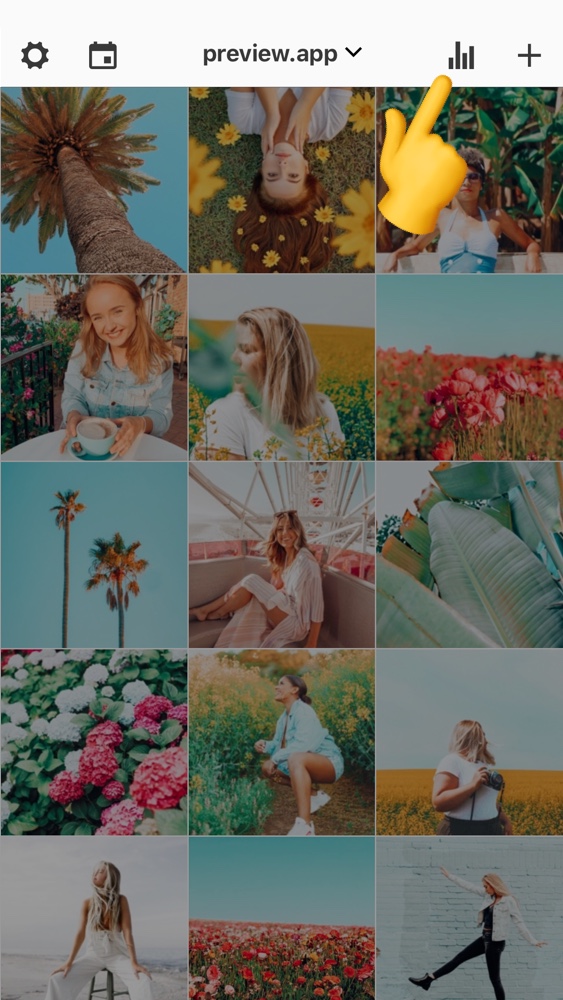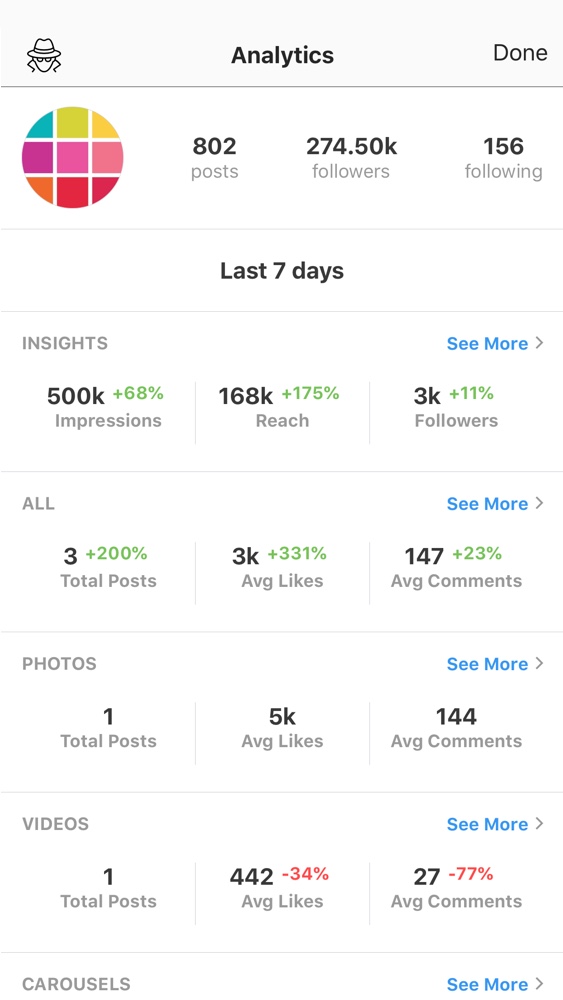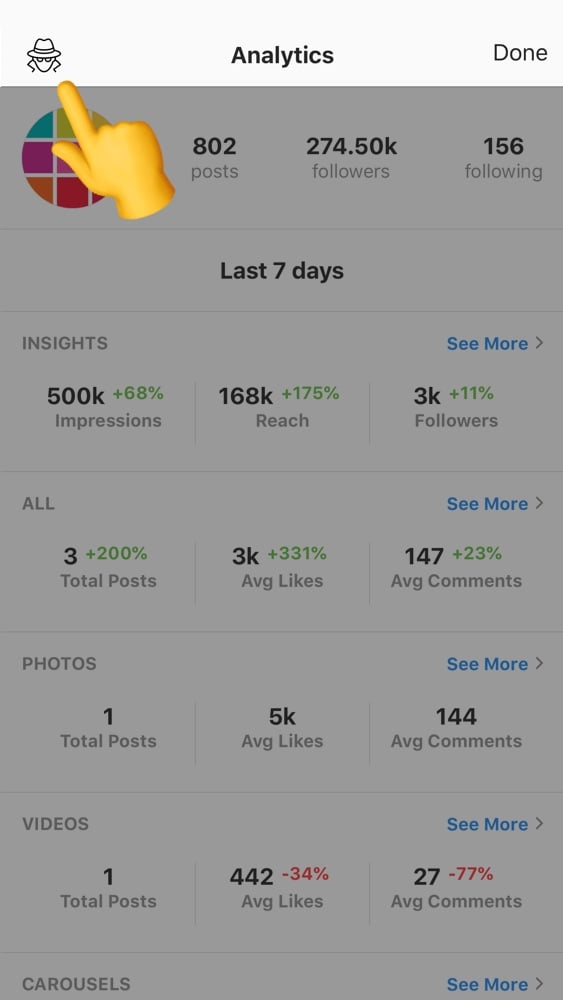 18. Add more Instagram accounts
You can manage multiple Instagram accounts in Preview.
Press on the username on top of your screen
Press "+ Add Account"
Select the Pro or Premium plan for your new account
Done.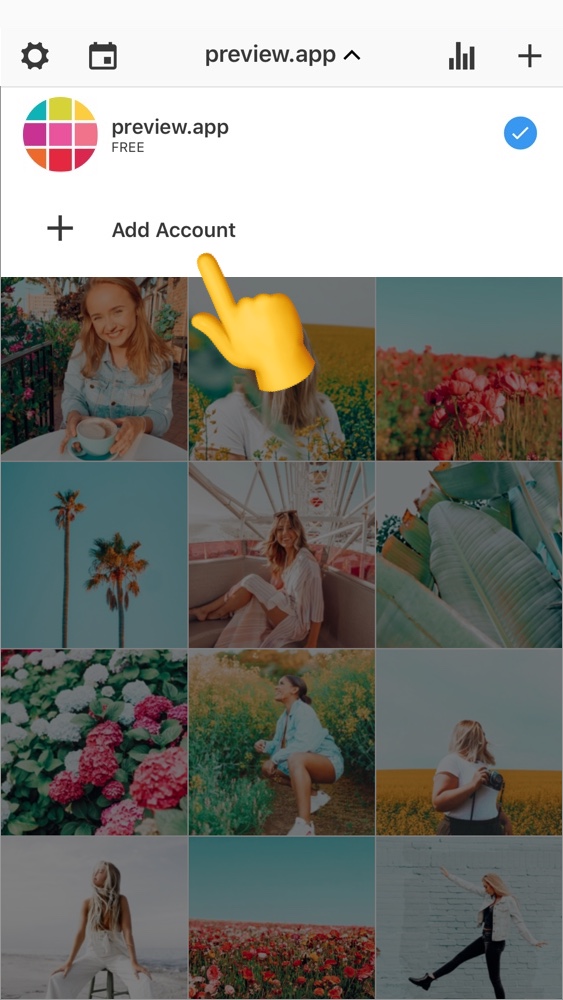 And finally, let's look at your settings.
In your settings you can decide if you want to:
Manage your subscription
Add team members (see below)
Manage your Hashtag Groups (see below)
Load your Instagram posts
Automatically delete your scheduled photos after you post them on Instagram
Logout or delete your account
Press on "Need help with creating a beautiful feed" to download our Instagram Guide
See our FAQ page if you have any issues
Contact us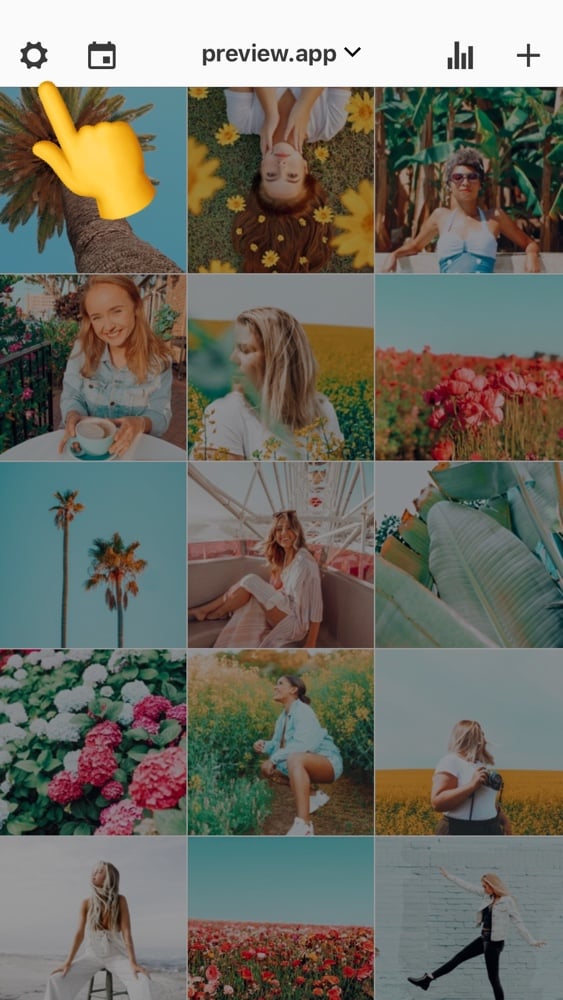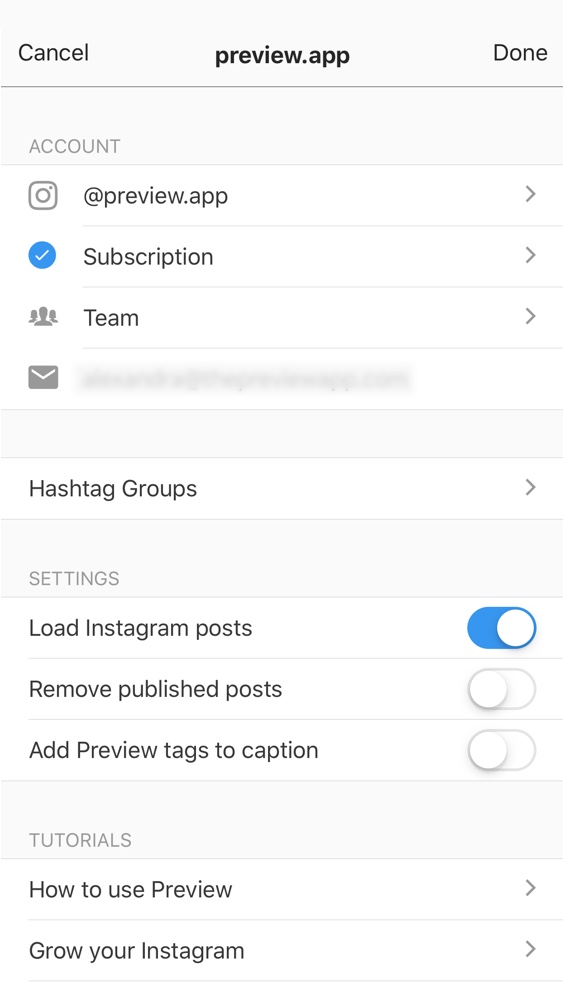 20. Remove planned posts from your Preview feed after you post them
You can manually delete the post yourself after you've posted it on Instagram.
Or you can turn on the option to remove it: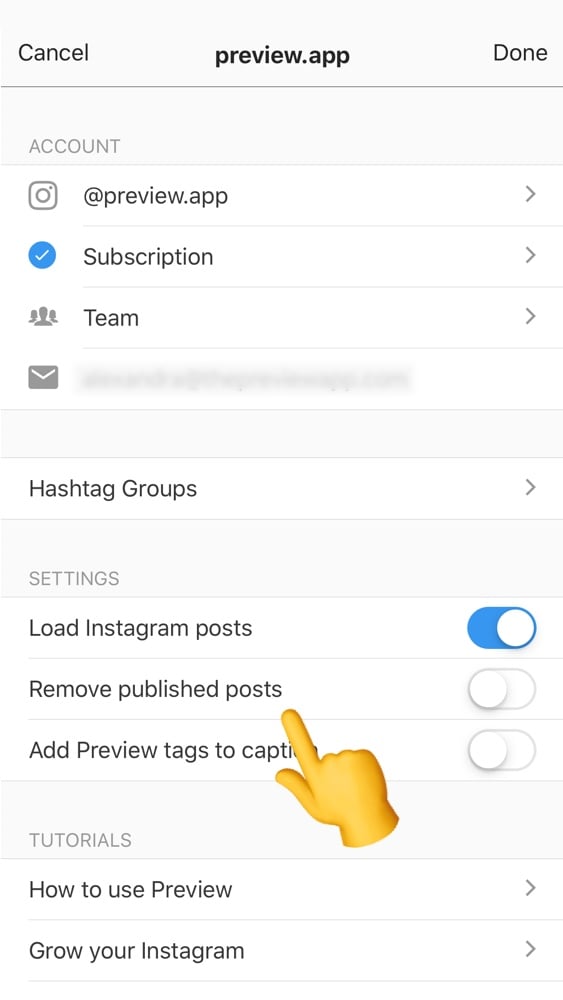 21. Manage your hashtag groups
You can create and manage your Hashtag Groups from your caption (like we showed you in step 12), or you can manage them from your settings.
Press on "Hashtag Groups" to create, edit or delete your hashtag groups.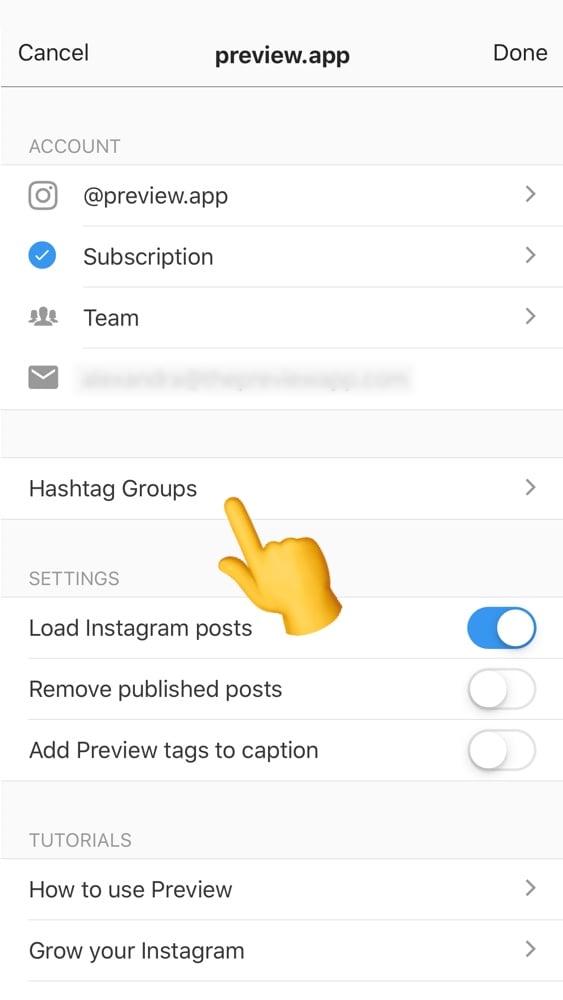 Are you planning your feed with (or for) other people?
You can share your Preview account with as many people as you want.
This feature is available on the Premium plan (you only need one plan for all your team).
You have 2 options:
Give your Instagram password so they can login in their Preview app, or
Add them as Team Members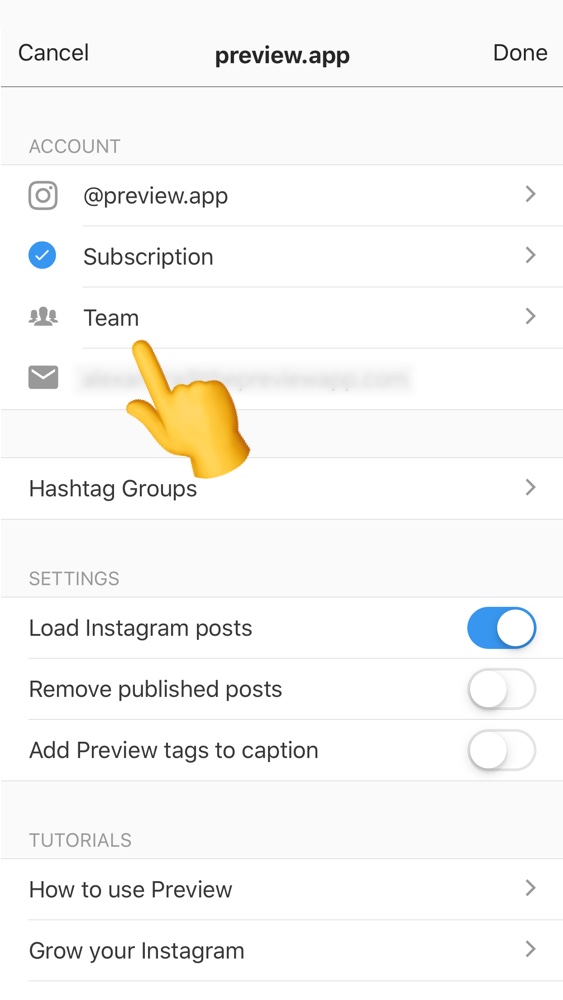 The Content Calendar is available on Preview's Desktop version.
It has all the social media holidays you can join throughout the year.
Instagram literally becomes a big party during days like #coffeeday or #puppyday.
Having the Content Calendar in front of your eyes will help you keep track of all the fun – so you can join the fun and stay relevant.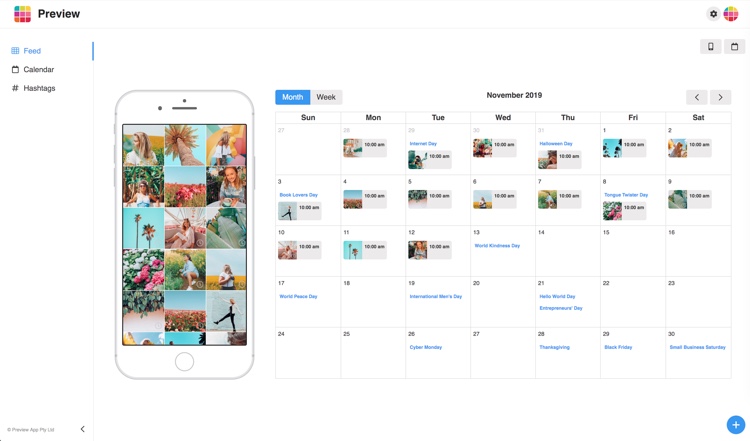 Now you know how to use Preview app for Instagram!
Have fun planning your feed.
Don't hesitate to contact us if you have any questions.
And until next time, see you on Instagram @preview.app!