This article is for you if:
You want to rearrange our Instagram feed
You want to know how to order your photos
You're wondering what photos go well next to each other
You want to color coordinate your feed
You're struggling to know what to post next
And you want to make a consistent "Instagram theme"
Note: Instagram doesn't allow to move & edit the photos you have already posted on Instagram. Use Preview App to plan your feed in advance.
Rearrange Instagram feed to make a beautiful "magazine"
Does your feed makes us want to follow you? Purchase your products? Click on the link in your bio?
An "Instagram theme" is when your feed looks like overall. As you will see throughout the blog, I will often refer to it as your visual voice. Your theme should speak for itself. Our Instagram feeds have become a personal portfolio, a diary or even the face of our business.
So it is so important to make it visually appealing. Part of making it visually appealing is to know how to make a theme = how to rearrange the order of your photos.
I like to think about an Instagram as a "magazine". Except that instead of turning pages, you are scrolling.
Would you read an ugly magazine?
Let me rephrase that: would you buy an ugly magazine?
I hope you said no to that question.
Let's get started. I will give you my 3 biggest tips to rearrange and order your Instagram posts.
I use these tricks all the time when I plan themes. They make it so much easier to stick to a design / grid layout.
You can watch this video to know how to arrange your Instagram photos. Or you can just keep reading.
I will make reference to Preview app because I use it to visually plan my Instagram.
Tip 1. Theme in blocks
My first tip is to start a theme by focusing on a grid of 6, 9 or 12 photos. Instead of focusing on your whole feed all at once.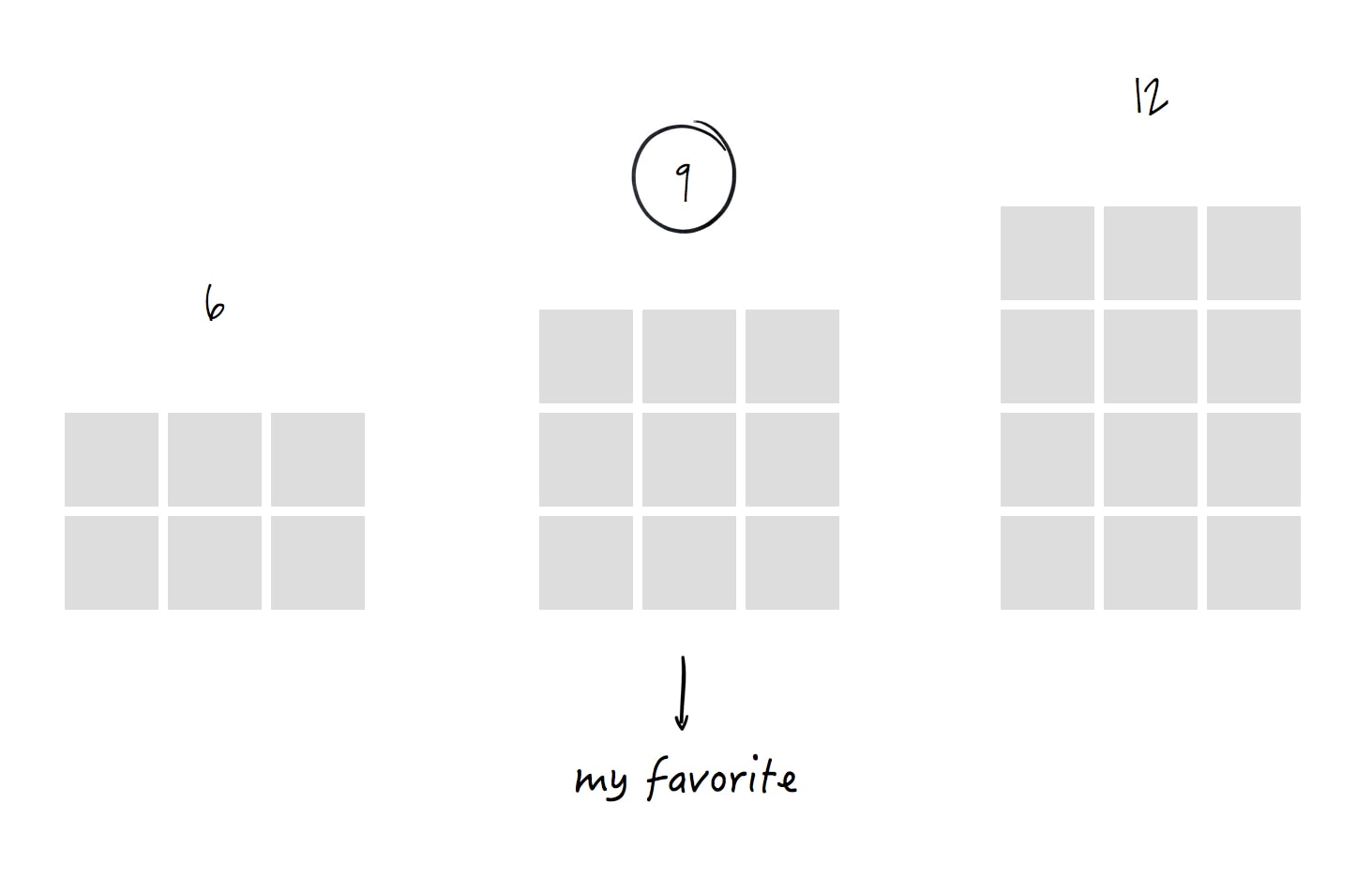 I actually prefer to focus on 9 photos when I start my theme. It's easier and faster.
There are two other big reasons why I like to focus on a grid of 9 photos:
This way I only have to focus my attention on a square (3 x 3 square of photos)
I usually pick a color palette of 3-4 colors for my theme. It makes it much easier to color coordinate the overall feed (just keep reading, I'll tell you how)
After I finish designing my grid of 9 photos, I always import 3 photos at a time in Preview. Always. Not 1 photo only. Not 2. Not 5.
3.
Why? Because it helps me break up the shots and stick to my theme.
Which is my second big tip.
You need to break up the shots.
Here are examples of themes I have started in Preview:
Bulk upload your photos in Preview:
In iOS: Tap the + and select multiple photos from your camera roll
In Android: Select photos from the "Photos" folder or "Recent" (not "Galleries").
Tip 2. Break up the shots

I will show you at the end of this article how to put this tip in practice.
But first, I am going to tell you in detail how you can order your Instagram photos.

The most frequently asked questions are:
What should I post next?
I don't want to have to delete a photo after I post it on Instagram. How do you make sure my next photo will actually fit with the rest of my theme?
And that's when the drag & drop feature in Preview comes in.
When you design your feed, look at the photo that is on the right, left, top and bottom.
Why? Because you do not want to have 3 cups of tea next to each other and then no more cup of tea for another 10 photos. Unless you're all about cups of tea and it's part of your style / branding, you want to space them out.
Analyze your image to make sure that it fits in and that it is balanced against the other images in your feed.
To break up the shots, there are 4 things I always pay attention to when I put photos next to each other:
1. The colors in the photos

It really helps if you choose a color palette for your feed because it is easier to color coordinate your feed and be on autopilot when you prepare your next post
Look at the background colors of your photos
Look the color of the elements in your photos: like a cup of coffee that might be pink
Make them match
Or contrast/coordinate them
2. The subjects in the photos

The subject can be: a person, a group of people, an object or food.
Based on the subjects assess if the photo is detail heavy or light (minimalistic)
3. The type of photo

Balance between landscapes, close-ups, selfies, quotes, etc…
Avoid putting 3 selfies next to each other (unless showing your face is part of your branding).
4. The context of your feed

For example: do you want the quote to relate to the photos next to it?
People like to visualize a story. Let's say you're a travel blogger, it is a good idea to post photos of one destination instead of mixing many different country all at once. People want to follow your journey. You could also share the name of your destination as a photo, or better a quote related to that destination (for example, a beach quote if you travelled to an island).
Tip 3. Two ways to rearrange your Instagram feed

Move photos around.
There are 2 ways you can move images in Preview:
Drag & Drop: with your finger press and hold a  photo then drag it onto another one.
Swap: select the two photos you would like to swap and tap the swap icon on the bottom right corner of your screen.
Experiment with color coordination. See what works for your photos and be creative.
Put into practice what I just told you:
Theme in blocks: Start by focusing on a grid of 9 photos first.
Break up the shots: based on the colors of the photos, the elements and the context.
Pro tip: What I also do is create multiple galleries in Preview. This way I can experiment different filters and styles.
Ready to put into practice those tips?
Look at my example below. There are 3 main colors that pop: green, pink and yellow. And sometimes you might have a photo that combine all of these colors.
I notice those colors. And I space them out.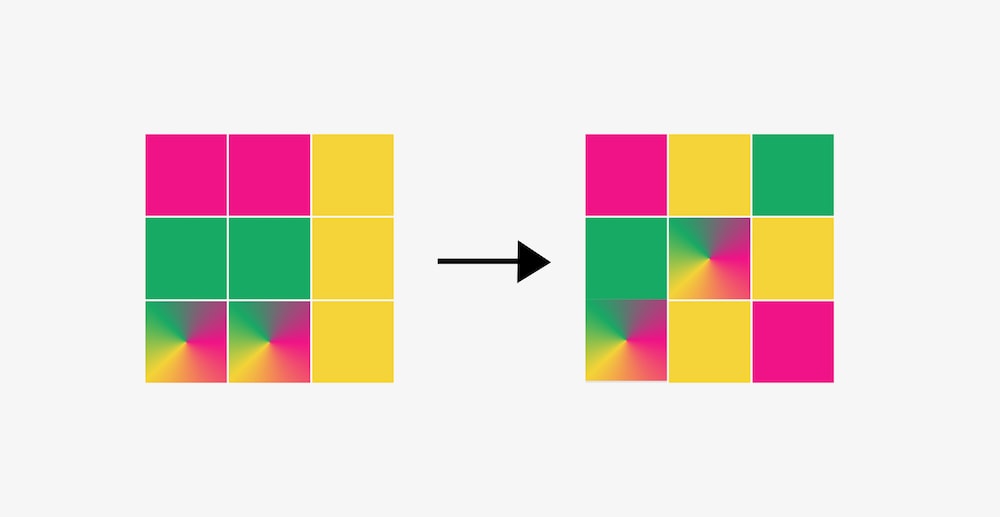 Now add another layer of complexity / fun: Imagine that you have actual photos of food, beach, plants, selfies and landscapes. Or just look at your own feed right now.
These are the mental steps I follow:
Step 1: Notice the colors in each individual photo
Step 2: Notice the elements in each individual photo
Step 3: Space them out!
Pro tip 1: By looking at the colors you can also make certain photos pop more than other ones, you can draw people's attention to certain photos more than other ones.

Pro tip 2: Choose a filter that complement your types of photos. This will give an edge to your gallery.
More Instagram Tips
Delete photos that don't fit
Experiment, experiment, experiment
You don't have to follow the crowd. Make your own magazine.
If you'd like what I am talking about in action, have a look at Melissa's feed. She is the talented girl behind the White Corner Creative and she is using Preview.
See how she spaces out her posts? Based on their colors and the type of content?
I really hope you found this article useful. Have fun creating, drag & dropping!
Until next time, see you on the gram.
Save
Save
Save
+200,000 Instagrammers are already using Preview App to edit, plan & schedule their feed. If you haven't tried it, you're missing out.