Hi everyone! I'm back with Instagram theme ideas for summer. I'll show you how to create different types of summer feeds using Preview App:
Colorful
Bright & white
White borders
Natural
Blue & green
Warm & brown
Pastel
I'll also give you theme and editing tips on how to achieve similar themes yourself.
Shoutout to our amazing Preview family for creating the beautiful feeds you're about to see.
Let's start!
(If you use Preview, leave your Instagram handle in the comments and what filter you use for your theme 😉 )
Another beautiful summer Instagram theme is a bright, white feed.
Filter used:
White II Filter Pack (DD)
Colors in the photos:
Pink is the accent color in the theme (flowers, outfits, sunsets, food)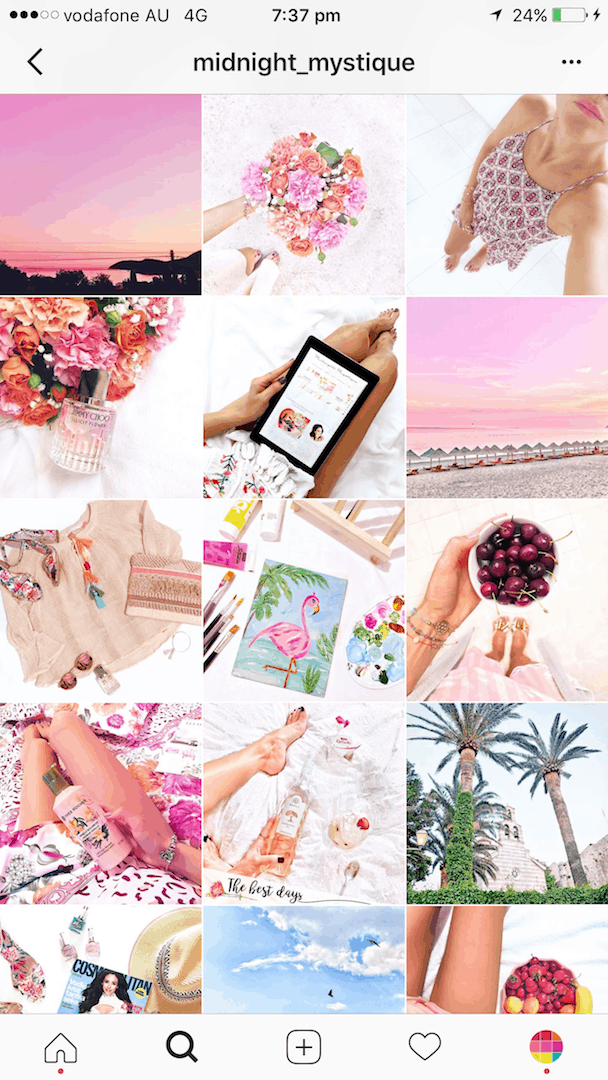 Filter used:
D2 (the White Filter Pack)
Photos used:
Any type of photos, as long as it looks summery
Use photos with white backgrounds
Danni also uses photos that have pink in them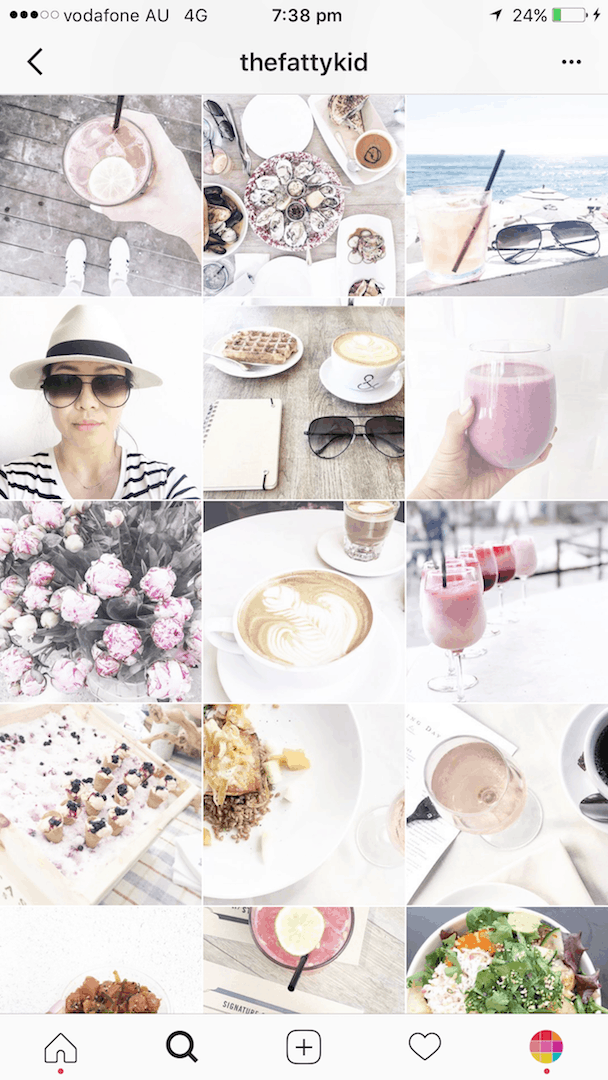 Quick tip: Use the Whitening tool in Preview to whiten the some elements of the photos (like a background). The whitening tool is in the Editing tools section.
Summer theme with white border
NOTE: The borders are not available in Preview anymore. We are working on brand new borders. You can still use Preview to plan your feed in advance, use our beautiful filters, and find the best hashtags. If you are looking for borders some alternative apps we recommend are Instasize, Pic Stitch and Photo Collage.
This is such a fun summer theme idea!
There are a lot of different white borders inside Preview app. My personal favorites are Aura, Vela and Sole.
A white border puts space between your photos. So it's great if you are taking photos of a LOT of different things (everything and anything).
Quick tip: Borders are called "Frames" in Preview. Crop your photo "square" before you add a border. This will ensure your white border is the same on all your photos.
Blue and green for the beach
Summer is also all about the beach. If you are taking photos with a lot of turquoise water and palm trees, here is some inspiration for you.
Making brown summer themes is very trendy at the moment.
A warm brown summer theme is great because you can keep this theme throughout the seasons – not just for summer. For example, once it's fall / autumn, you can keep the same filter. All you have to do is change the types of photos you are sharing (like cups of tea or coffee, warm cozy bed, candles).
Filters: Brown Filter Pack (F) or Fall Filter Pack (C)
Colors in the photos for a similar effect: Surround yourself with a lot of earthy colors like light and dark brown, white and green.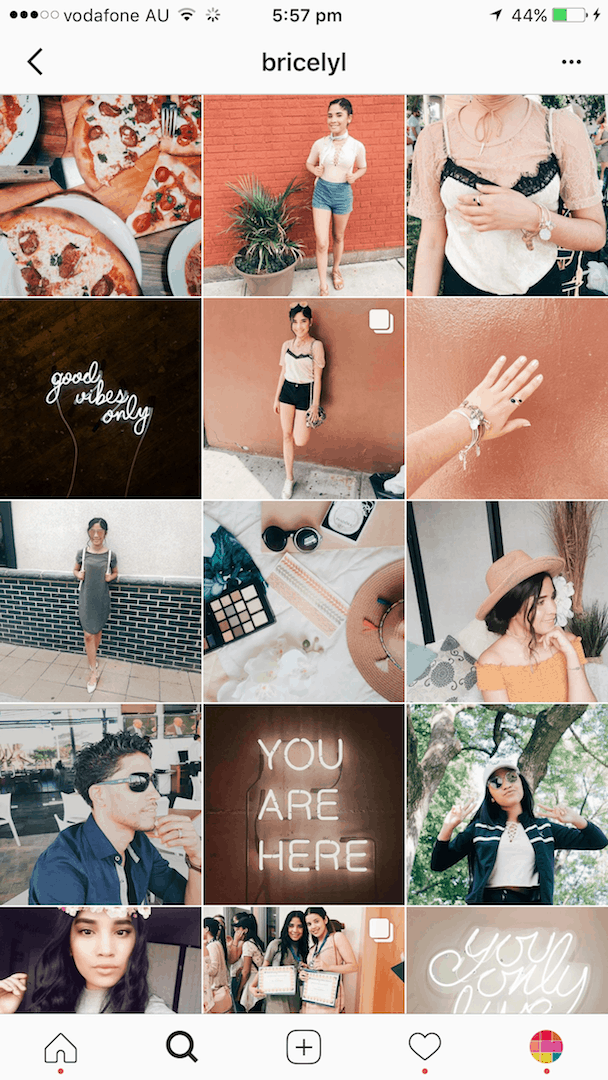 Filters used: C1 (Fall Filter Pack) + F2 (Brown Filter Pack)
Photos used: Any summery photos will work.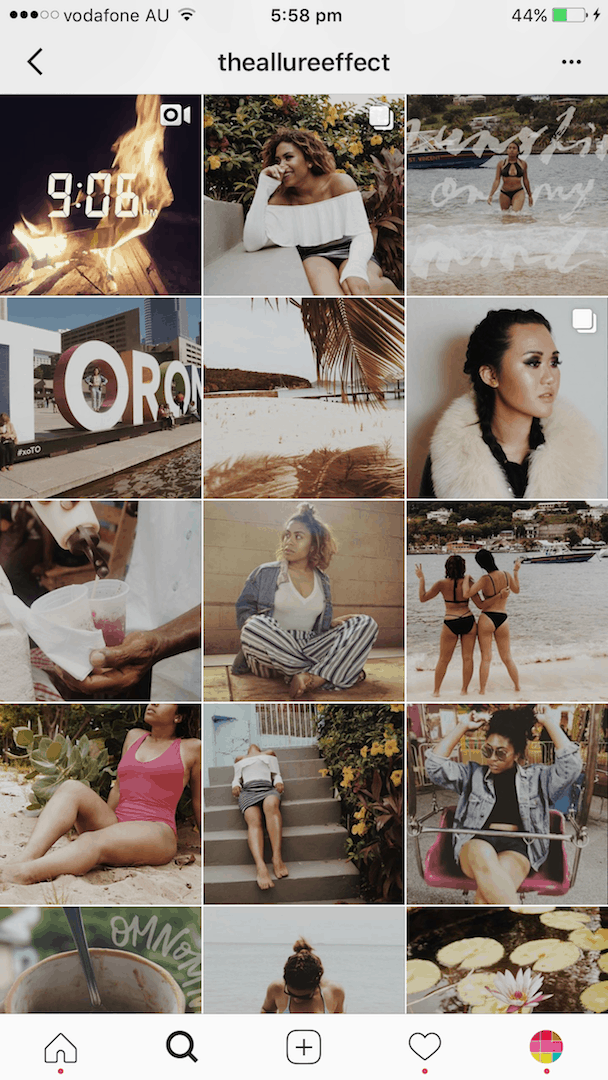 And the last summer Instagram theme idea is a pastel theme.
A pastel theme is so fun to create. It is a colorful theme with a hint of pink or purple in the photos. It's a very pretty effect.
Take photos with pink, blue and yellow in them for the best effect.
Show me your summer Instagram theme
Leave your Instagram handle in the comments below. I'll come check out your feed.
If you're a Preview user, also tell me what filter you are using 😉
Until next time, see you all on Instagram (@preview.app) for more tips, tricks & theme ideas!
+400,000 Instagrammers are already using Preview App to edit, plan & schedule their feed. If you haven't tried it, you're missing out.