If you don't know what the Instagram shadowban is, read this first:
How to Avoid Instagram Shadowban: 4 Crucial Tricks
The Instagram Shadowban Tester is a website that claims it can tell you whether or not your account has been shadowbanned.
We recently heard about it and thought we should put it to the test.  Here is the link to the website: https://shadowban.azurewebsites.net.
Once you open it, you will be greeted with this: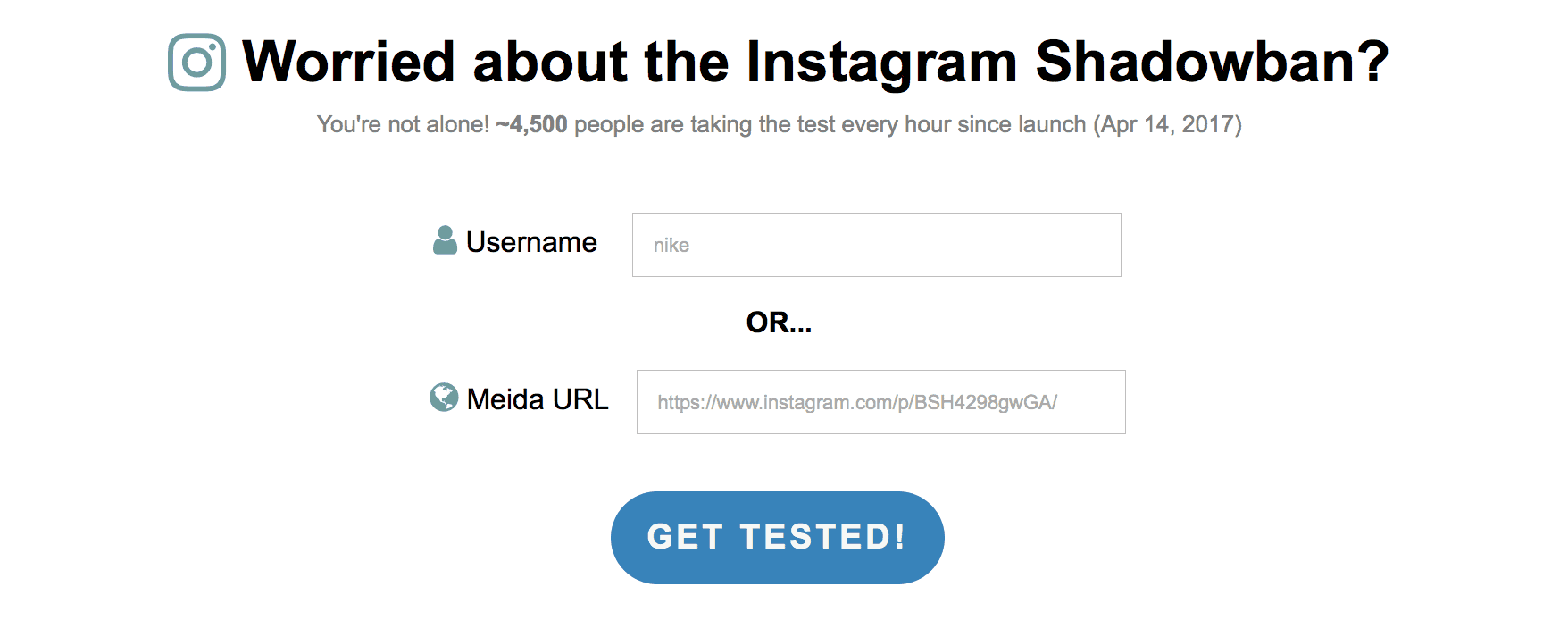 A very basic website with some spelling mistakes.
How does the Instagram Shadowban Tester work?
There are two ways to test whether your account has been showbanned using this tool:
Enter the url of an Instagram media
Enter your Instagram username – If you enter a username, the website will just get the last media that was posted by this account.
That's it. Then it will tell you if the media has been shadowbanned.
Why do we think that the Instagram Shadowban Tester website doesn't work?
We tested a bunch of photos. Some that we know are shadowbanned and some that aren't. The results were wrong. Many photos that are shadowbanned were not picked up by the website. And many photos that are not shadowbanned were classified as shadowbanned.
While running the tests we noticed a pattern: All the photo that were marked as shadowbanned had one thing in common. They had their hashtags added in the first comment and not in the caption.
So essentially this website classifies photos as being shadowbanned if the hashtags are added in the comments only. If the comments are added in the caption, the photo won't be marked as shadowbanned. This is not a proper way of checking whether your photos are shadowbaned. For a reliable and definite way to check whether your photos are being shadowbanned by Instagram read this:
How to Know You Have Been Shadowbanned on Instagram.
So don't worry if your photos are marked as shadowbanned by this website. The method it uses to check whether your Instagram media has been shadowbanned is not correct.
Don't believe us? Try it out yourself. (Try photos with hashtags in the caption and comments and let us about it in the comments below)
Until next time, see you all on Instagram (@preview.app) for more tips & tricks.
+400,000 Instagrammers are already using Preview App to edit, plan & schedule their feed. If you haven't tried it, you're missing out.