There's a new Filter Pack in Preview App: White II.
Create a consistent bright, white Instagram theme in just one tap.
You don't need to spend hours editing your white background photos. You don't need to go back and forth in your editing software to get a clean, white theme. All you need is to just apply one white filter.
This filter pack is perfect to make bright, white Instagram themes.
There are 7 unique filters in that pack. They will make your white background whiter and your photos brighter.
You can use these filters on any type of photo (not just photo with white backgrounds). But for the purpose of this blog post I will show you a theme with white backgrounds and green as the main color.
Let your imagination run wild and let our filters do the work.
Enjoy!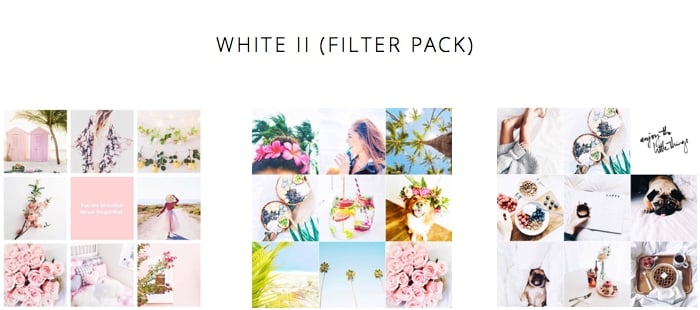 White Instagram Theme with DD1
An everyday, go-to filter, for a clean, crisp white theme.
It is a slightly "cool" (cold) filter which looks perfect with a white background.
It is a great filter for everyday photos because the saturation is balanced and brings out the subjects in the photo. So if you want a clean, bright and white Instagram theme for everyday photos, this filter is just what you need.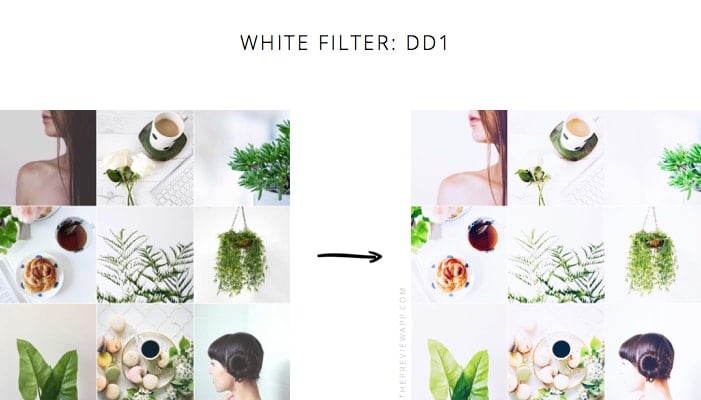 White Instagram Theme with DD2
Tone it down a bit. This white filter is clean and natural.
DD2 screams simplicity. If you want your photos less saturated and brighter, this filter is for you. You will create a moody, calm, clean white theme with this filter.
If you happen to take a very colorful photo, DD2 will come to the rescue. Use this filter to tone it down a notch so it can fit with the rest of your white theme.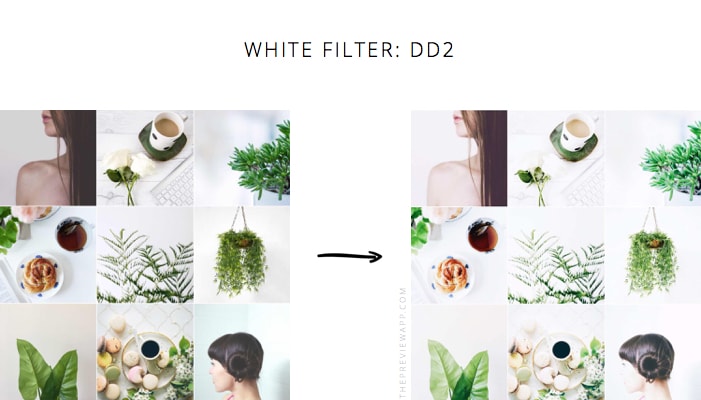 White Instagram Theme with DD3
Want a little more saturation?
DD3 is a warm filter as you can see from the overall glow of this white theme.
This warm filter has the perfect amount of saturation to bring the colors out of your photo.
You can use it as a vintage white filter. Not only does it bring out the warmth in photos, it also makes skin glow.
Use this filter on colorful photos if you want to make them stand out.
It will also make a perfect summer, bright filter.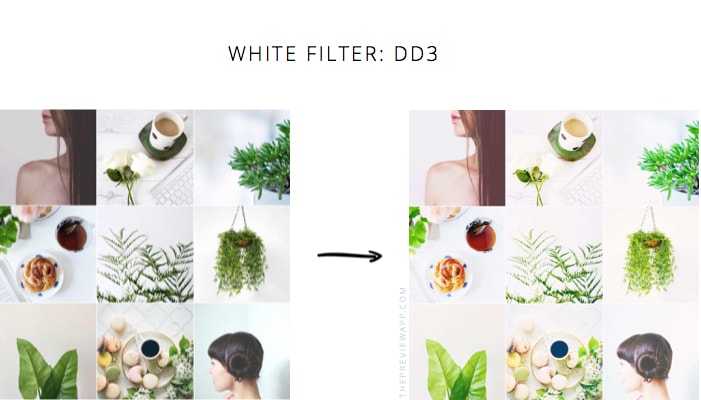 White Instagram Theme with DD4
More faded and pale. This filter is a for a soft white Instagram theme.
DD4 is perfect for a faded look. It is very airy, relaxing and soft.
If you want your whole Instagram theme to look "calm" and relaxing, this filter is perfect.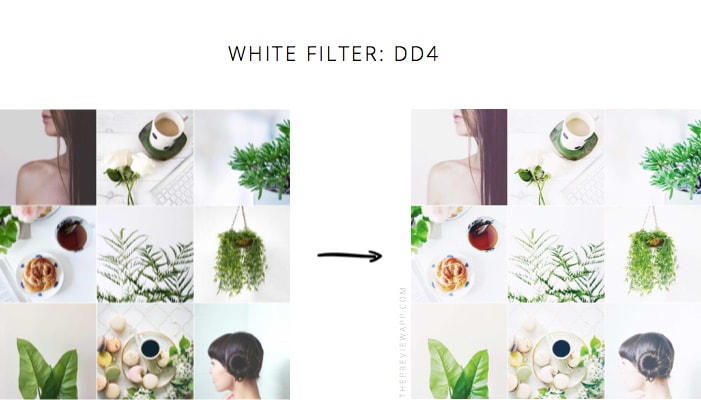 White Instagram Theme with DD5
Contrast perfection. Create a "grungy" white theme (yes, that's possible).
DD5 is a bold and grounded filter. Its strength is its contrast. Subject stand out. White background get whiter. Saturation is under control.
If you are an edgy fashion blogger, you will love it.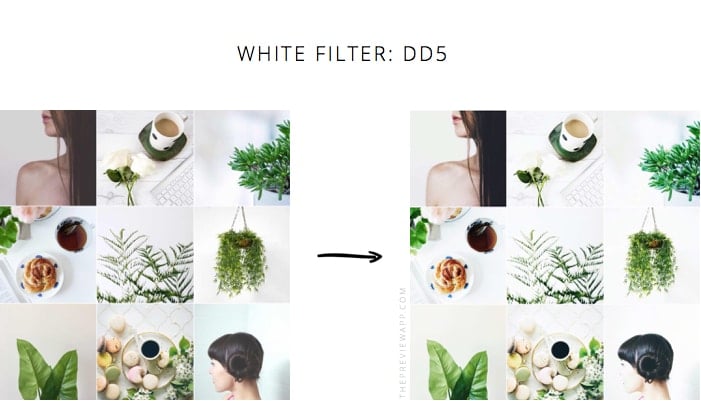 White Instagram Theme with DD6
Color lovers, this one is for you. Make colors POP with filter DD6.
If you loved DD3, you will love DD6 even more (they are the perfect pair). DD6 is a warm filter.
It's about celebrating the colors in our lives. Make your photos bright, colorful and vibrant. No doubt your photos will stand out with DD6.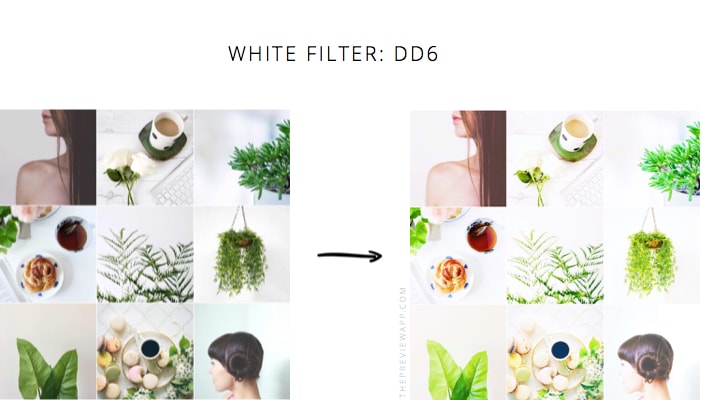 White Instagram Theme with DD7
Faded, cool and soft. This is beautiful white filter DD7.
DD7 ain't nothing you've seen before. It is peaceful and airy.
It is a "cold" filter for the ultimate white Instagram theme.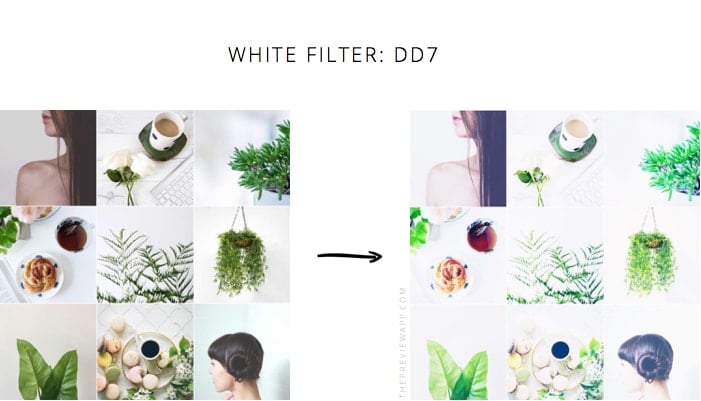 +400,000 Instagrammers are already using Preview App to edit, plan & schedule their feed. If you haven't tried it, you're missing out.