I know so many of you are bloggers and business owners. I want to make sure you are taking full advantage of the Instagram tools inside of Preview app. There's quite a few in there, but I'll keep it to the 5 most important ones to grow your account.
I'm going to share with you the tools you can use to:
improve your Instagram feed,
connect with the right audience, and
increase your visibility on Instagram
These 3 goals are some of the most important goals if you want to grow your Instagram page. So you need tools to (1) manage your feed and (2) manage your hashtags.
It's super simple. Let's get into it.
Here are 5 tools:
Feed planner
Safe Instagram Scheduler
Hashtag Groups Planner
Hashtag Finder
Hashtag Analytics to increase your visibility
Tool 1. Instagram feed planner app
If you're new to Preview, I have to introduce you to the main feature of the app: the feed planner.
You can upload as many posts as you want and rearrange their order (yes – unlimited photos and videos, for free).
You can see how your whole feed looks like before you post on Instagram.
You can upload photos, videos and carousels / slideshows.
Then all you have to do is drag and drop photos around to design your feed.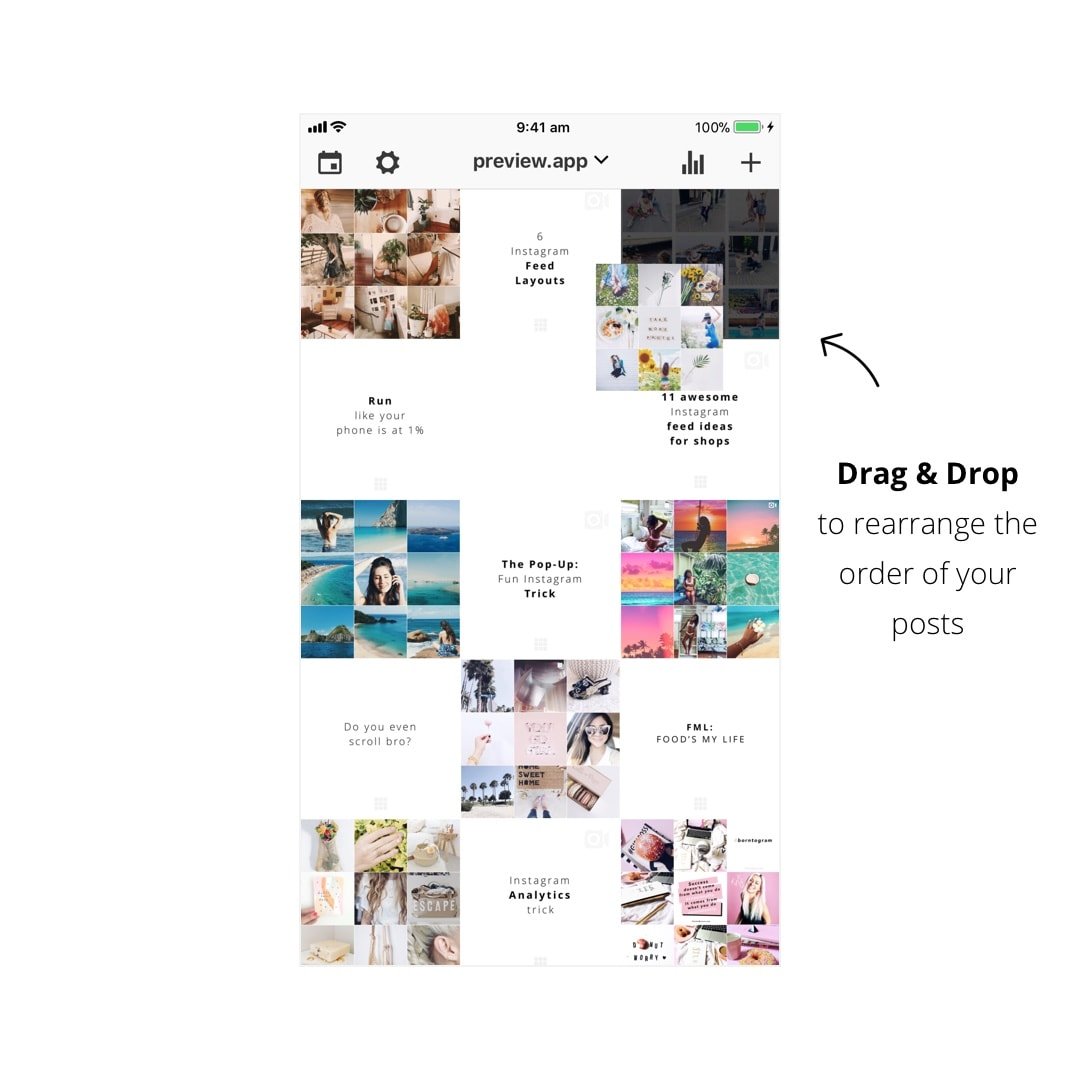 Tool 2. A safe Instagram scheduling app
Any successful blogger will tell you the same thing: post consistently.
The easiest way to post consistently is to schedule your posts.
Scheduling is super important. But Instagram is very different from any other social media.
Instagram doesn't allow anyone to use apps or websites that automatically post for you. It's against their Policy and can get your account banned, blocked or penalised.
If you think about it, it's actually a good thing they don't allow auto-posting because it forces everyone to share quality content, not spam and connect with each other. Instagram is really a rare platform where we can connect with people, customers and communities DIRECTLY. Cherish that.
Preview is approved by Instagram. To schedule your posts in Preview:
Select a photo
Press on the "bubble" icon
Turn on "Schedule Post"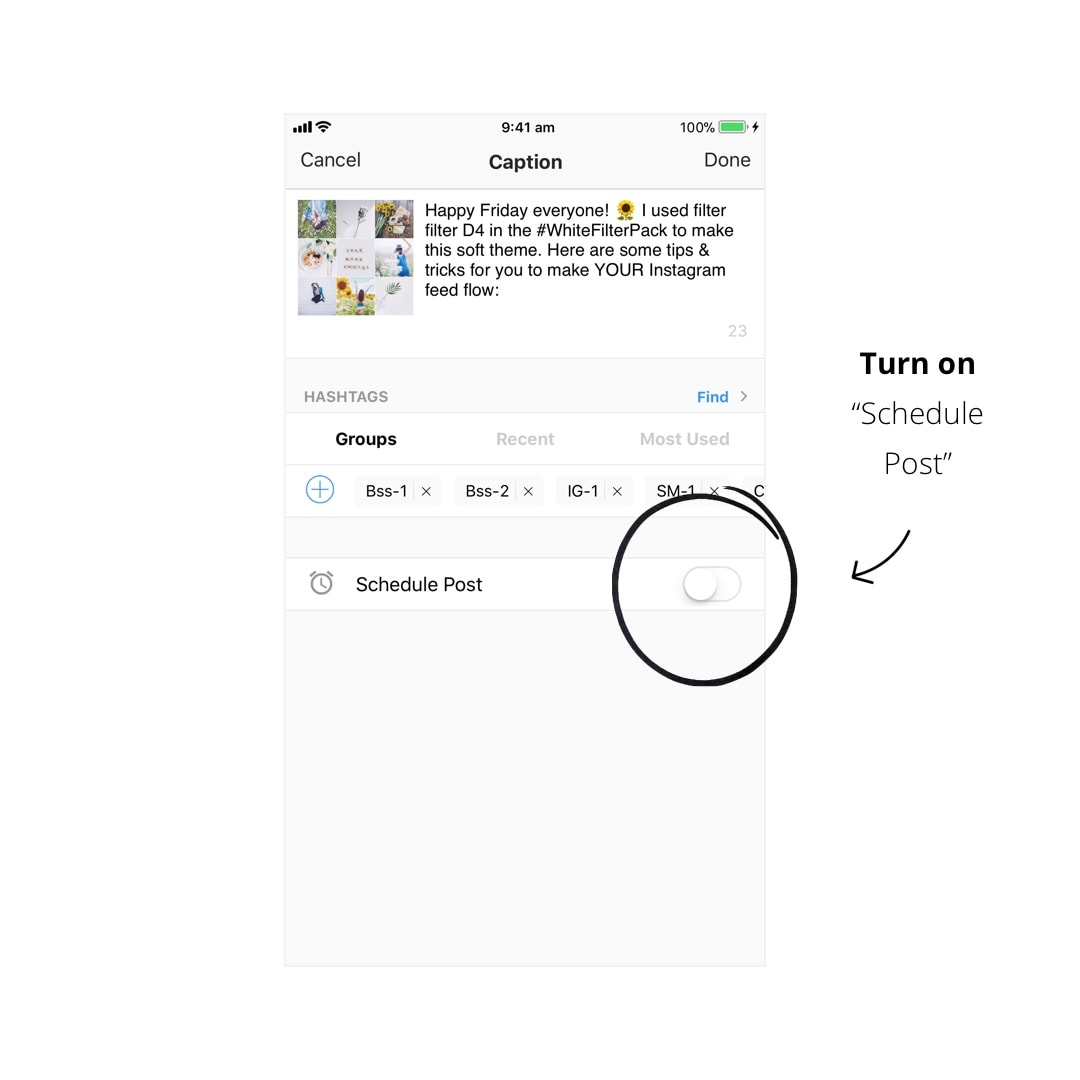 You will receive a notification when it's time to post.
All you have to do is press the "Export" button to send your post to Instagram.
Cool thing: Preview automatically copies your caption and hashtags for you. Just paste them in your Instagram caption and post!
Tool 3. Hashtag Groups planner
The next Instagram tool I want to show you is the Hashtag Group Planner.
I bet you are using the same hashtags all the time. The bunch of hashtags you use is called a "hashtag group". You might have some favorite groups depending on what photo you post (food, outfits, business, etc…).
You can save all your hashtag groups in Preview.
That way you don't have to copy and paste them anymore from one app to another.
They are all in one place. You can add them to your post whenever you want.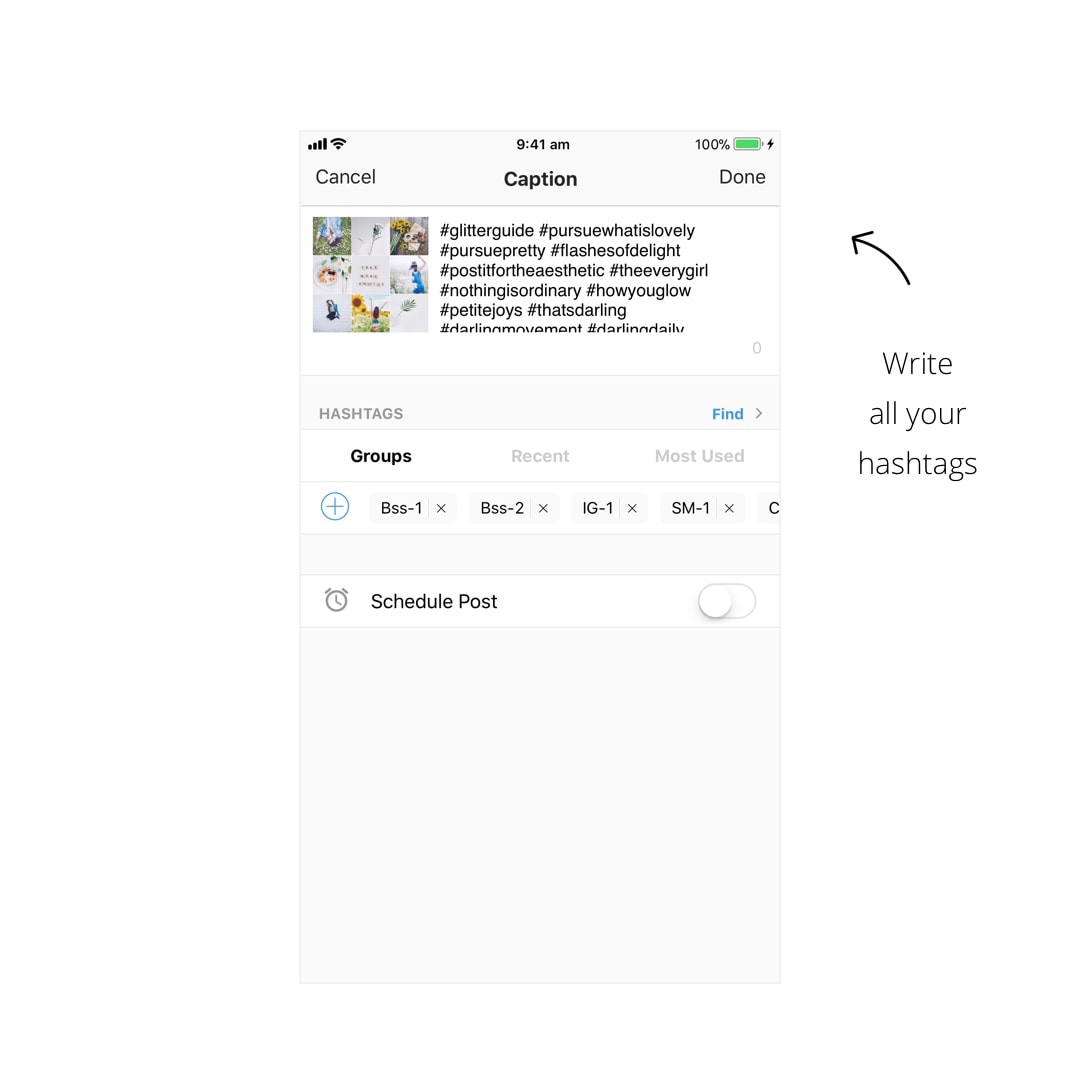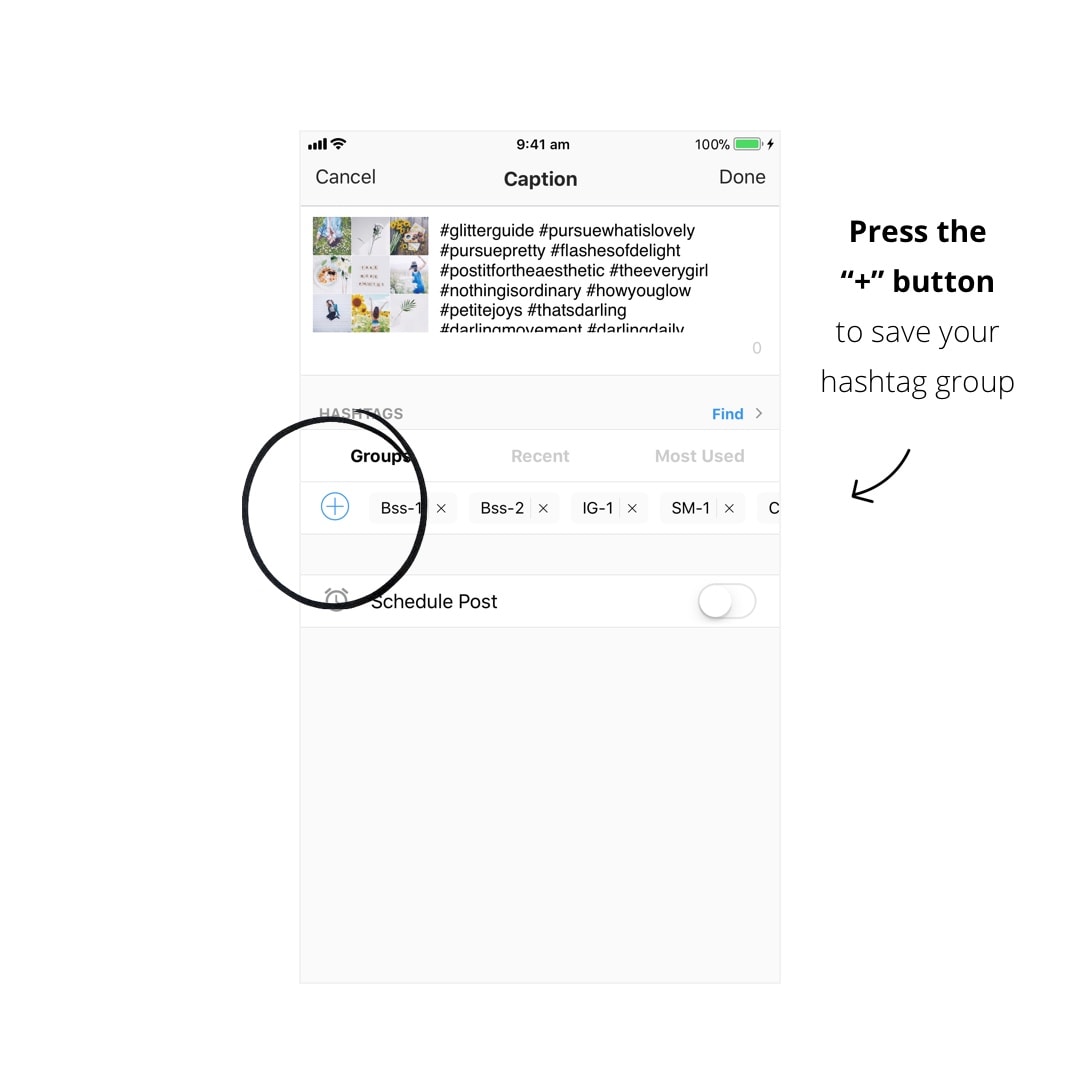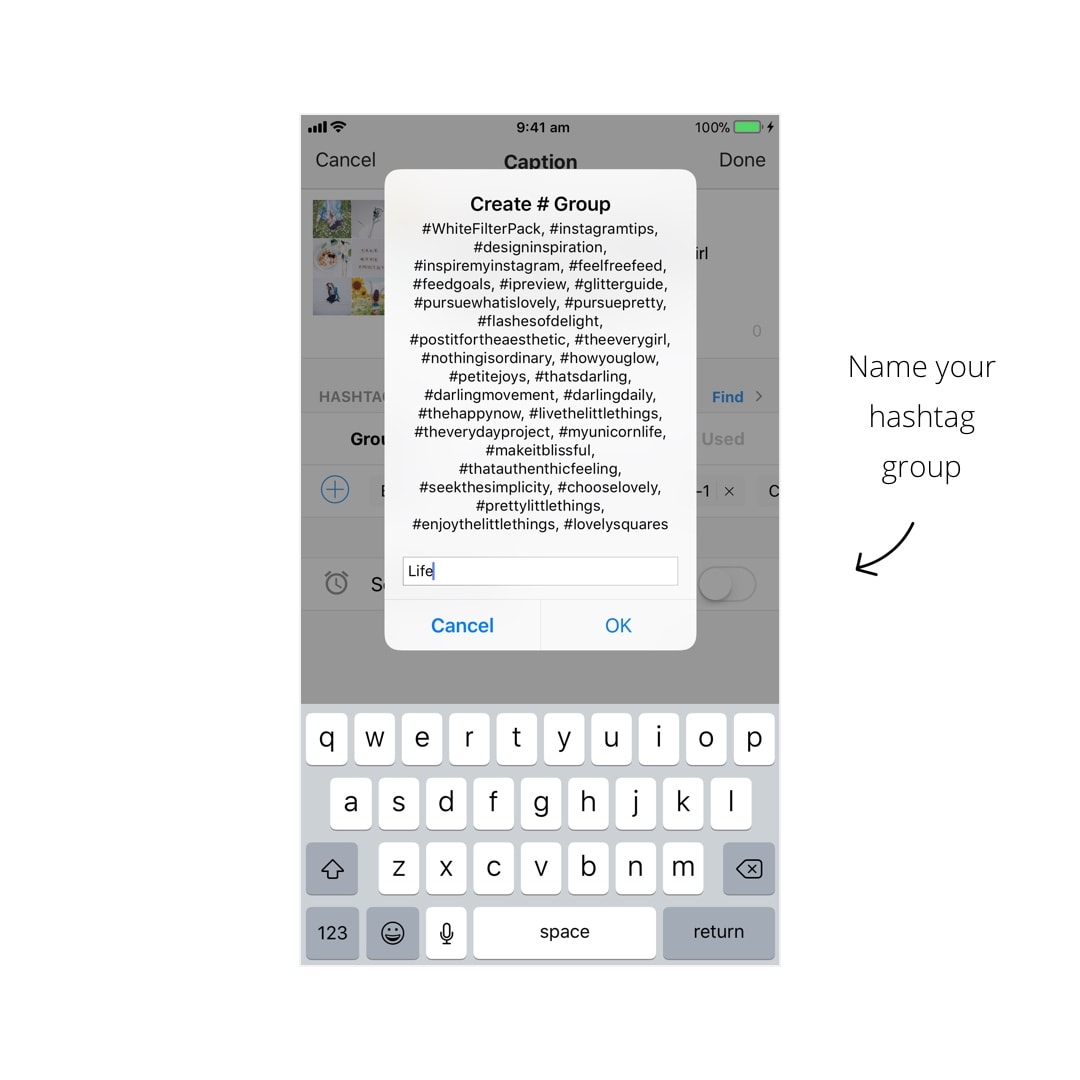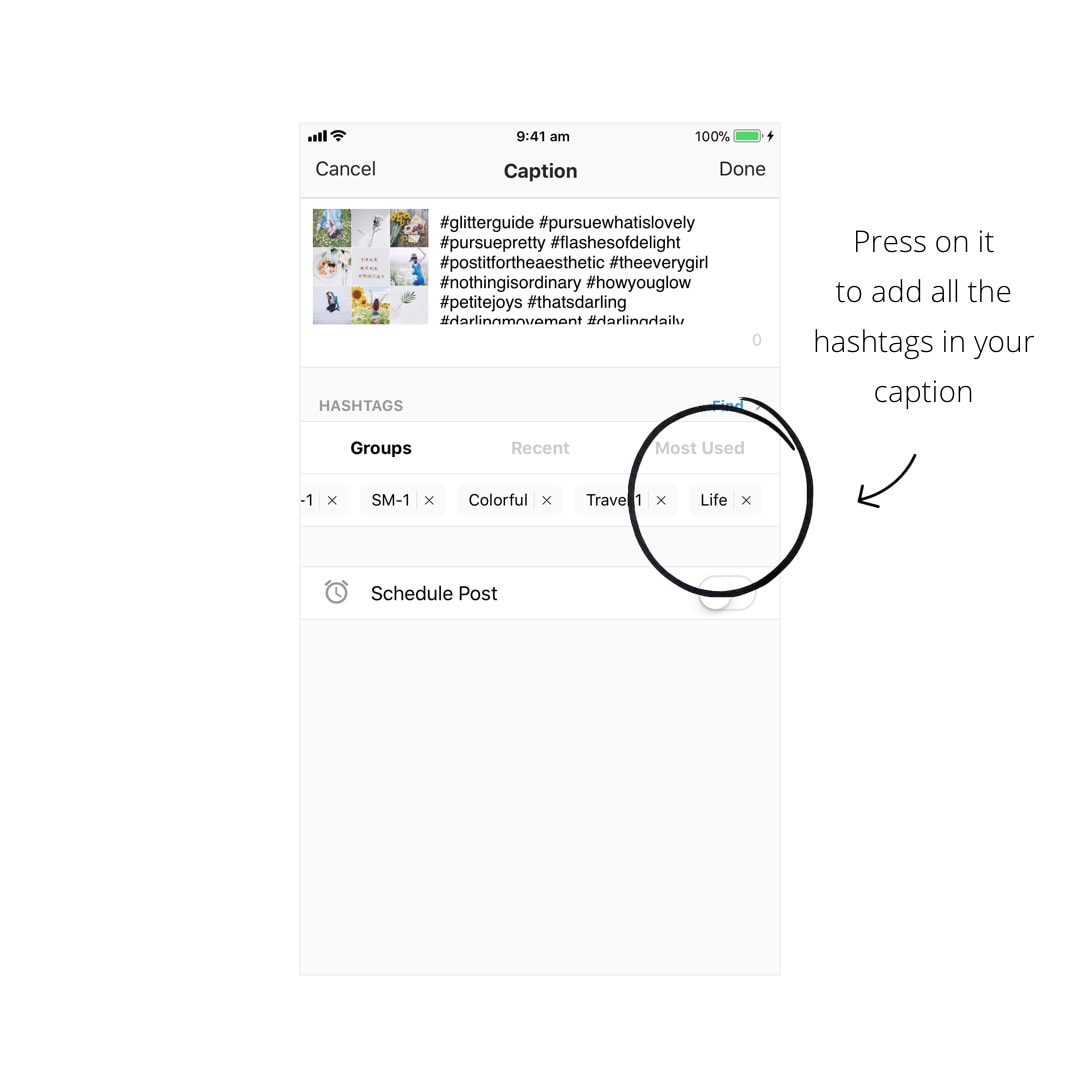 The cool thing about saving your hashtag groups in Preview is that the app automatically tests your hashtag groups for you.
It will tell you your Top Hashtag Groups (in the Analytics section). You will see which ones give you the most likes, comments and engagement.
Tool 4. Instagram Hashtag Finder
Remember I was telling you about connecting with the right audience?
Connecting with the right people means using the right hashtags.
A hashtag = a community.
Preview has an Instagram Hashtag Finder.
The hashtags are hand-picked for specific topics, countries and Instagram communities.
The Hashtag Finder is located where you write your caption and schedule your posts:
Press "Find"
Search for a topic or location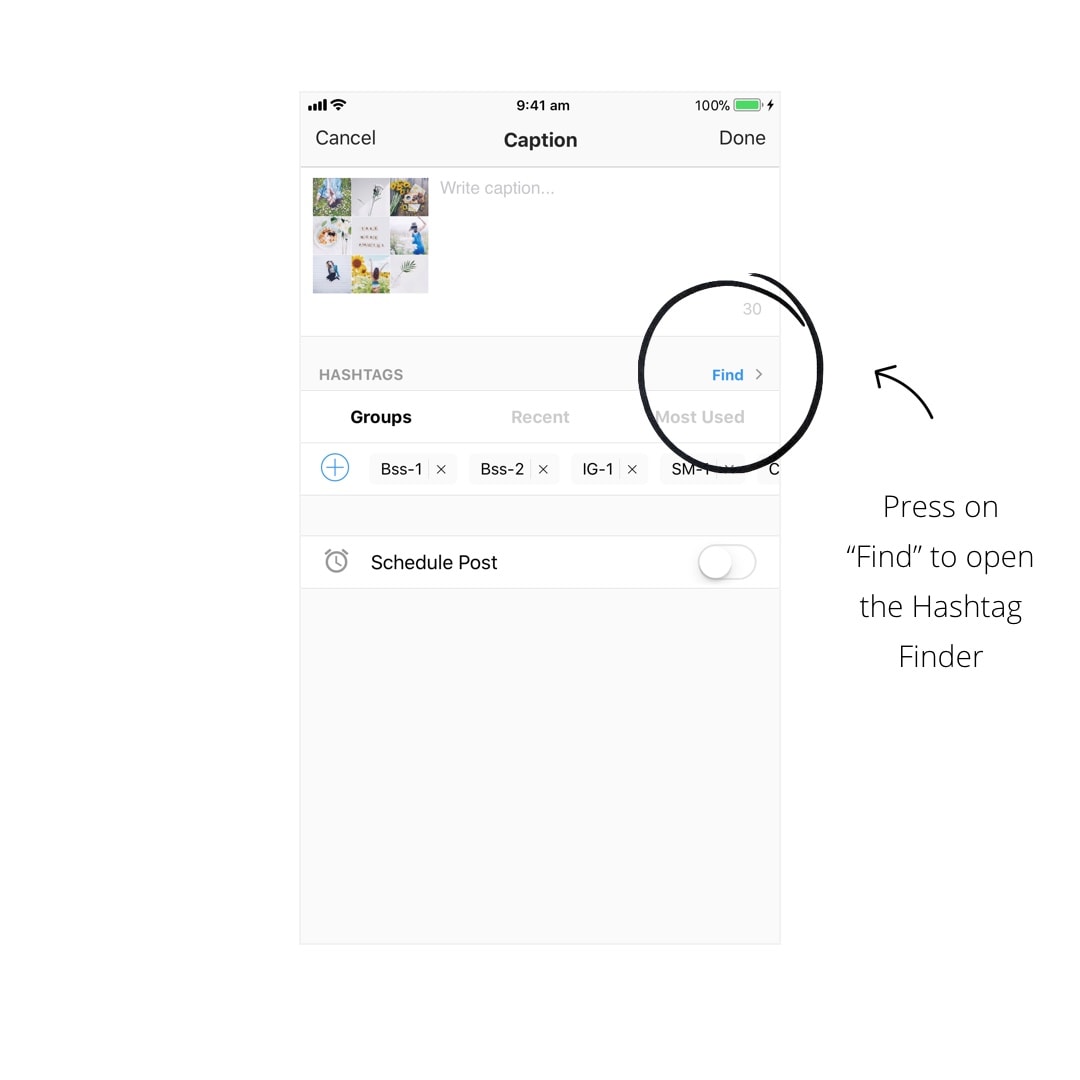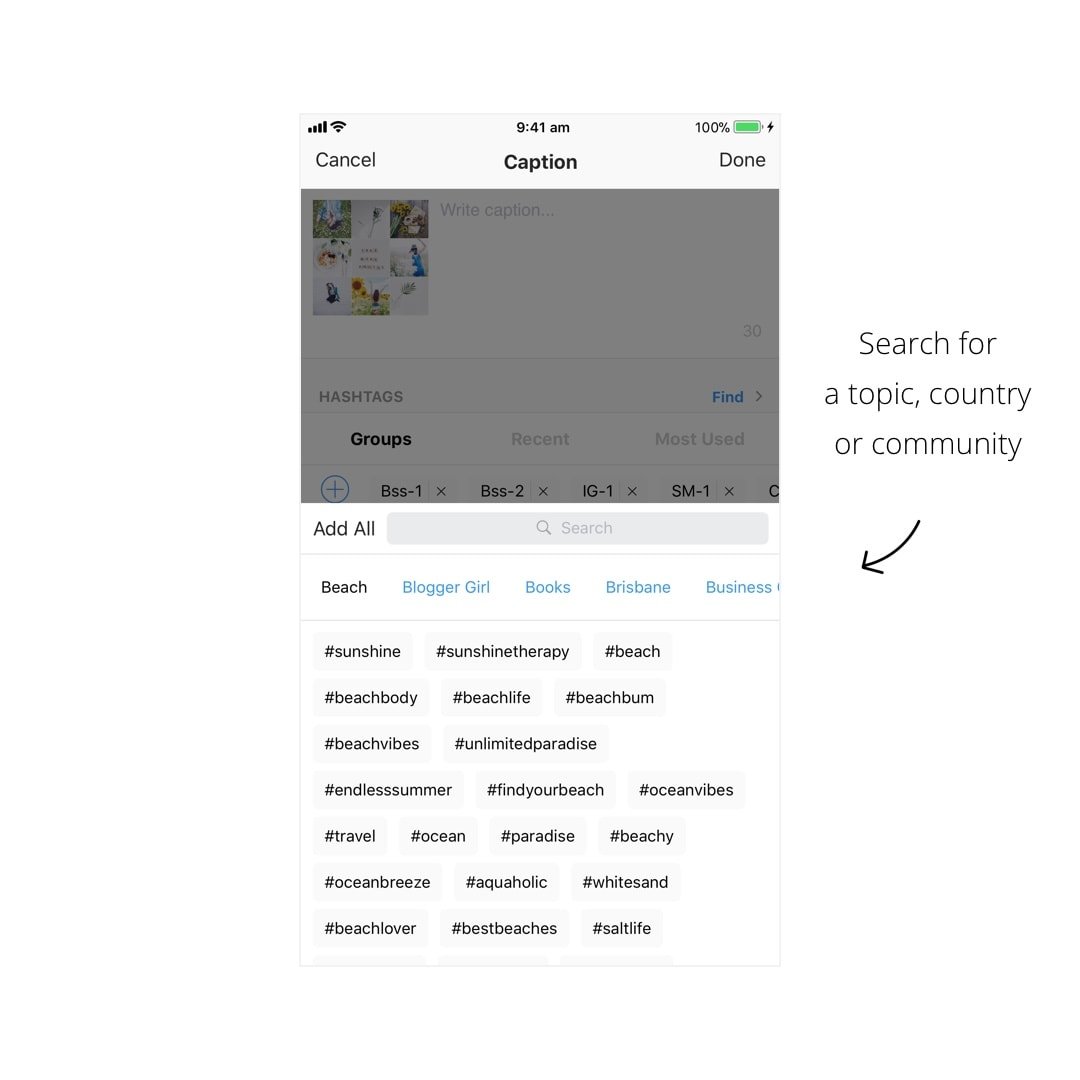 Tool 5. Hashtag Analytics = visibility
As you can tell, I love hashtags. There's a good reason why I'm sharing with you all these Instagram hashtag tools.
You are a business owner. You want people to find your page. Hashtags are made for that:
Hashtags are how people find you when they search for a hashtag
That's how you can appear on the Instagram "Explore" page of other people
You can rank in the "Top 9 posts" of a hashtag page
Hashtags = visibility.
You need to nail your hashtag strategy.
Preview comes with lots of Instagram analytics tools. But let's focus on the Hashtag Analytics tool for now.
Every month I test new hashtags (that's how much I value hashtags – and so should you if you want to grow your account).
In Preview app:
Go in the Analytics section
Scroll down to "Top Hashtags"
See your "Top hashtags"
These hashtags will change as you change your Instagram strategy. So keep an eye on them.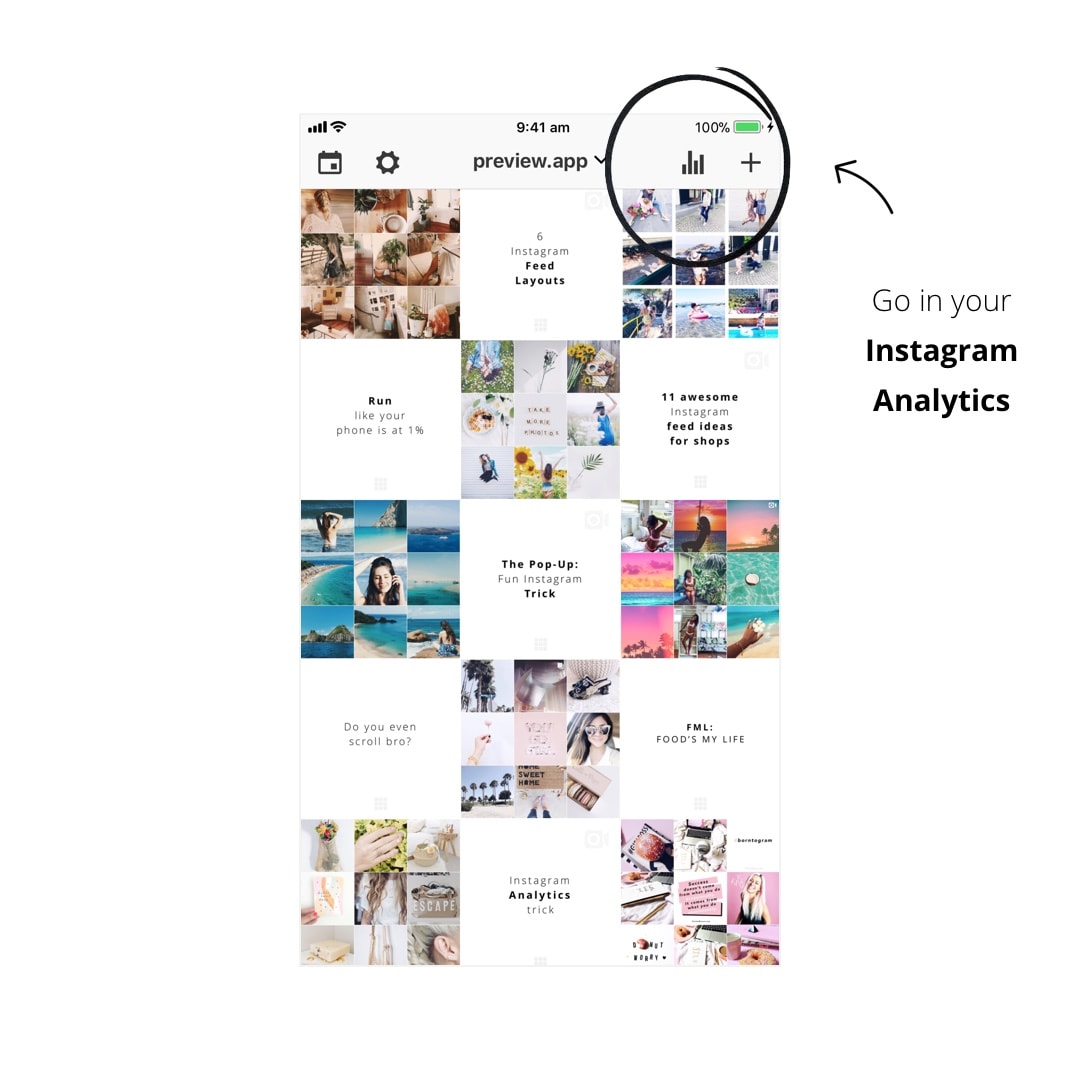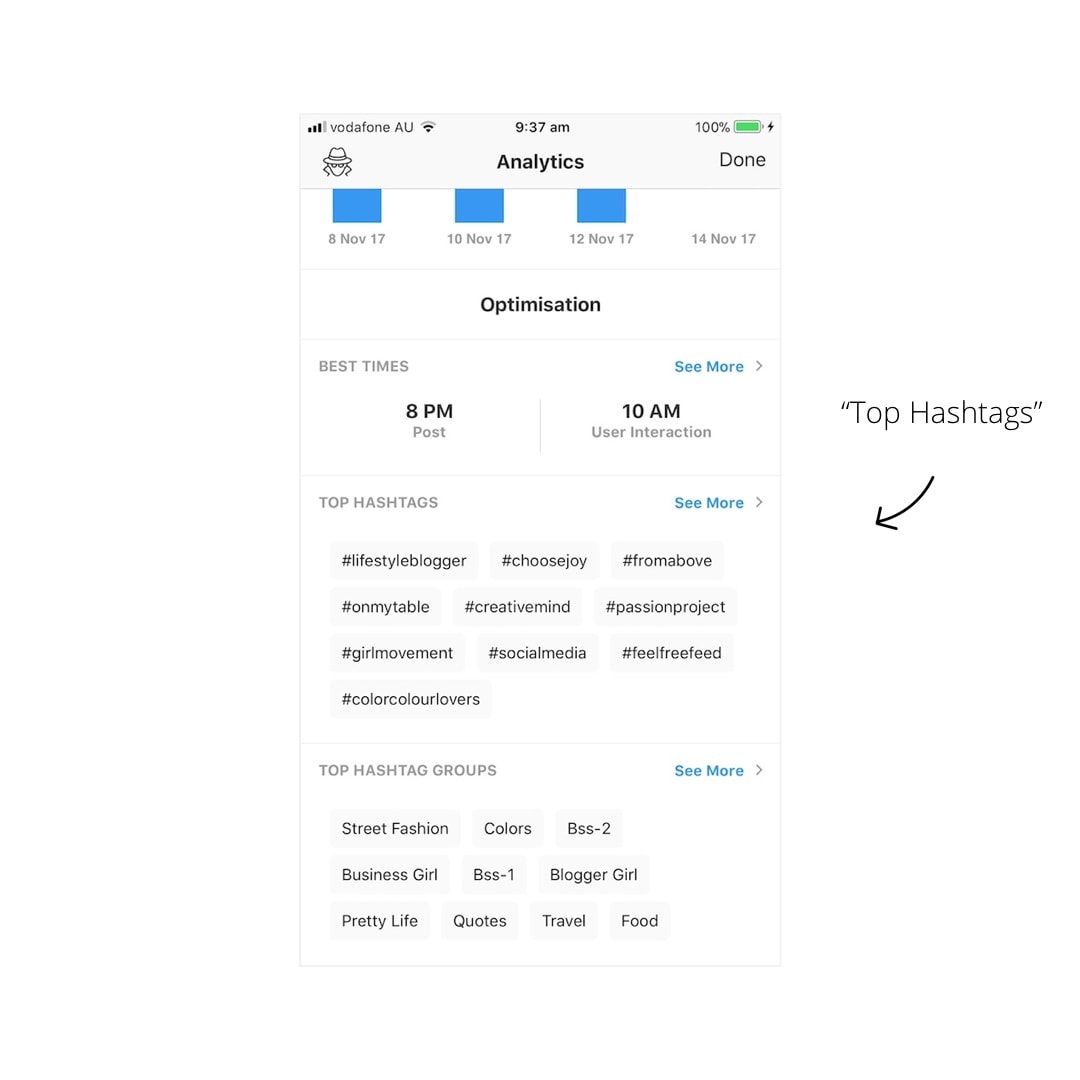 Press "See More" to see detailed hashtag analytics. Preview ranks your hashtags based on which one gives you the most likes, comments and engagement.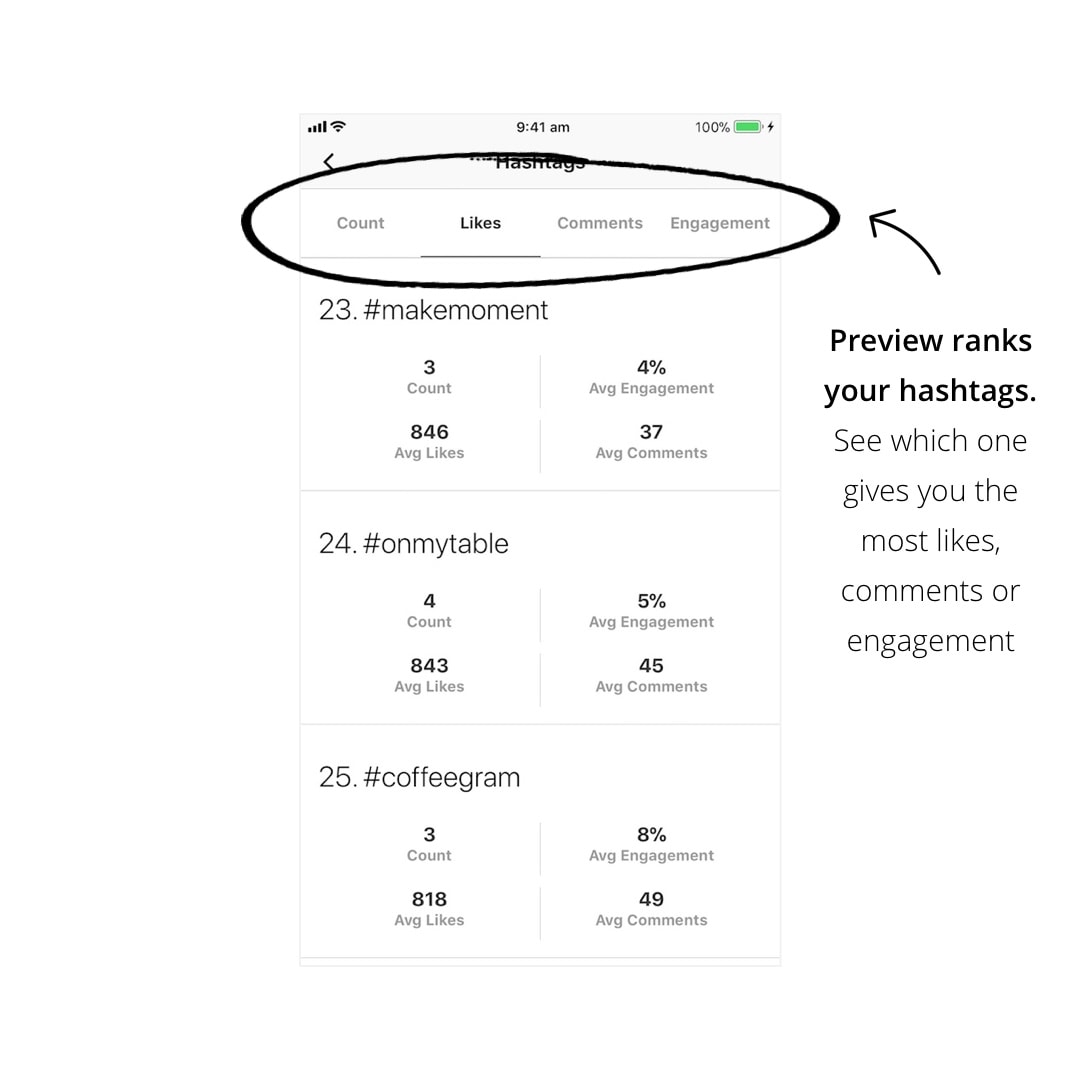 That's it! What Instagram tools will you use for your business?
I really hope these 5 Instagram tools will help you grow your Instagram page.
Leave a comment below if you have any questions!