Instagram hashtags are the bomb dot com. They are incredibly powerful and can help you get more likes, comments and followers.
Thanks to hashtags, Instagram features you:
On their Explore page
Their hashtag page
Their Location page
On the home feed of other people (that's amazing!)
And… your photo can be reposted by other Instagrammers, on their account!
So how to use Instagram hashtags correctly?
What are some things you should do and shouldn't do?
Should you put your hashtags in the comments or caption?
Where to find the right hashtags?
How to mix hashtags?
How to organize your hashtags?
What about hashtag analytics?
I'm going to tell you everything I know and do.
Here are my 17 rules on how to use Instagram hashtags:
Instagram allows you to use 30 hashtags on one post. Use all 30 hashtags.
Each hashtag is an opportunity to get your post in front of people. The more hashtags you use, the more chances you have to be seen by different people.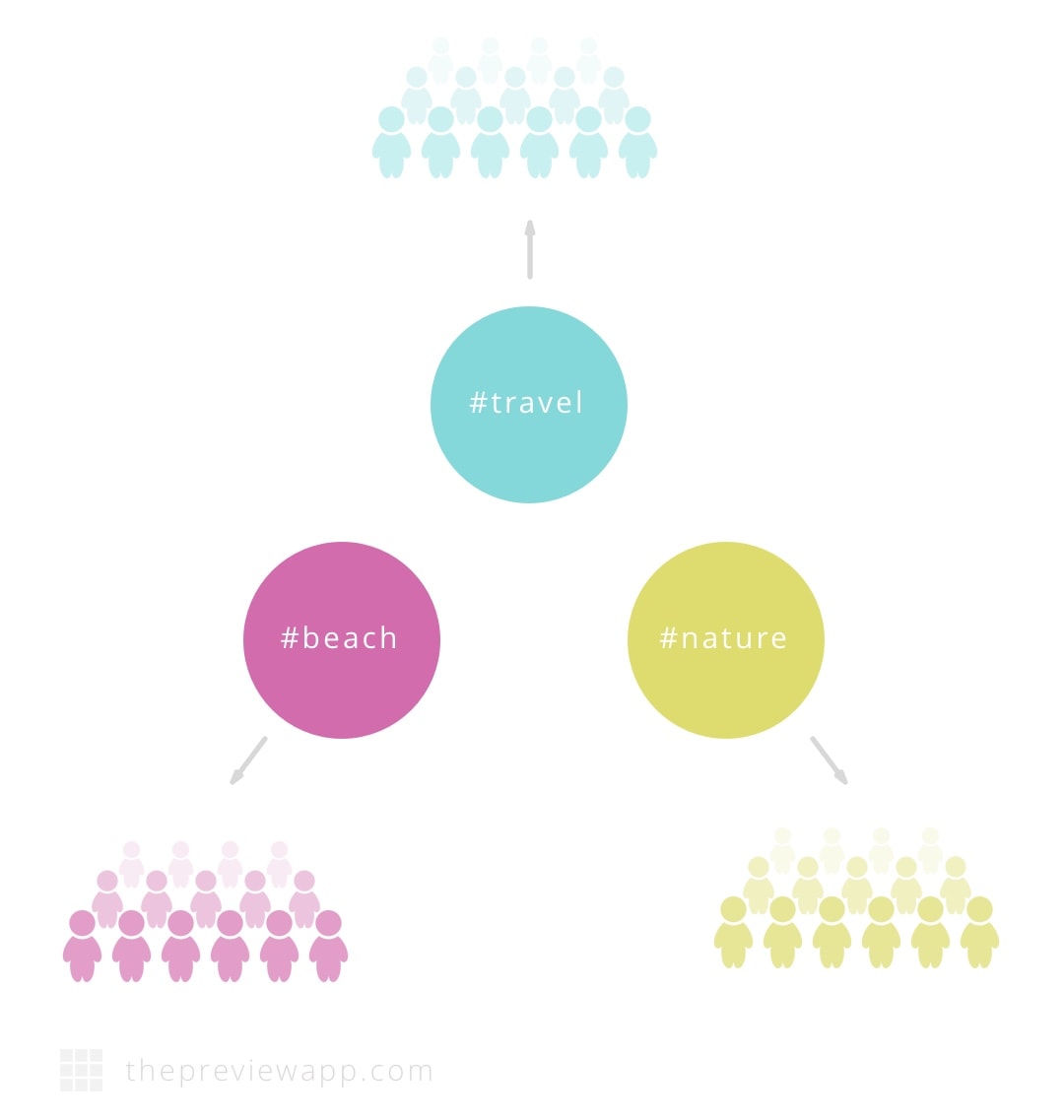 2. Don't use banned hashtags
Always check a hashtag before you use it. Instagram banned over 114,000 hashtags. And they're very innocent hashtags like #desk, #valentinesday, #romance, #lean, #tgif…
Check out this list of banned Instagram hashtags. I'm also showing you how you can check if the hashtags you are using are banned.
Don't use banned hashtags. Instagram is banning them for a reason.
Don't to send the wrong signal to Instagram and be associated with banned hashtags.
Plus, if you use a banned hashtag your post won't show up on the hashtag page.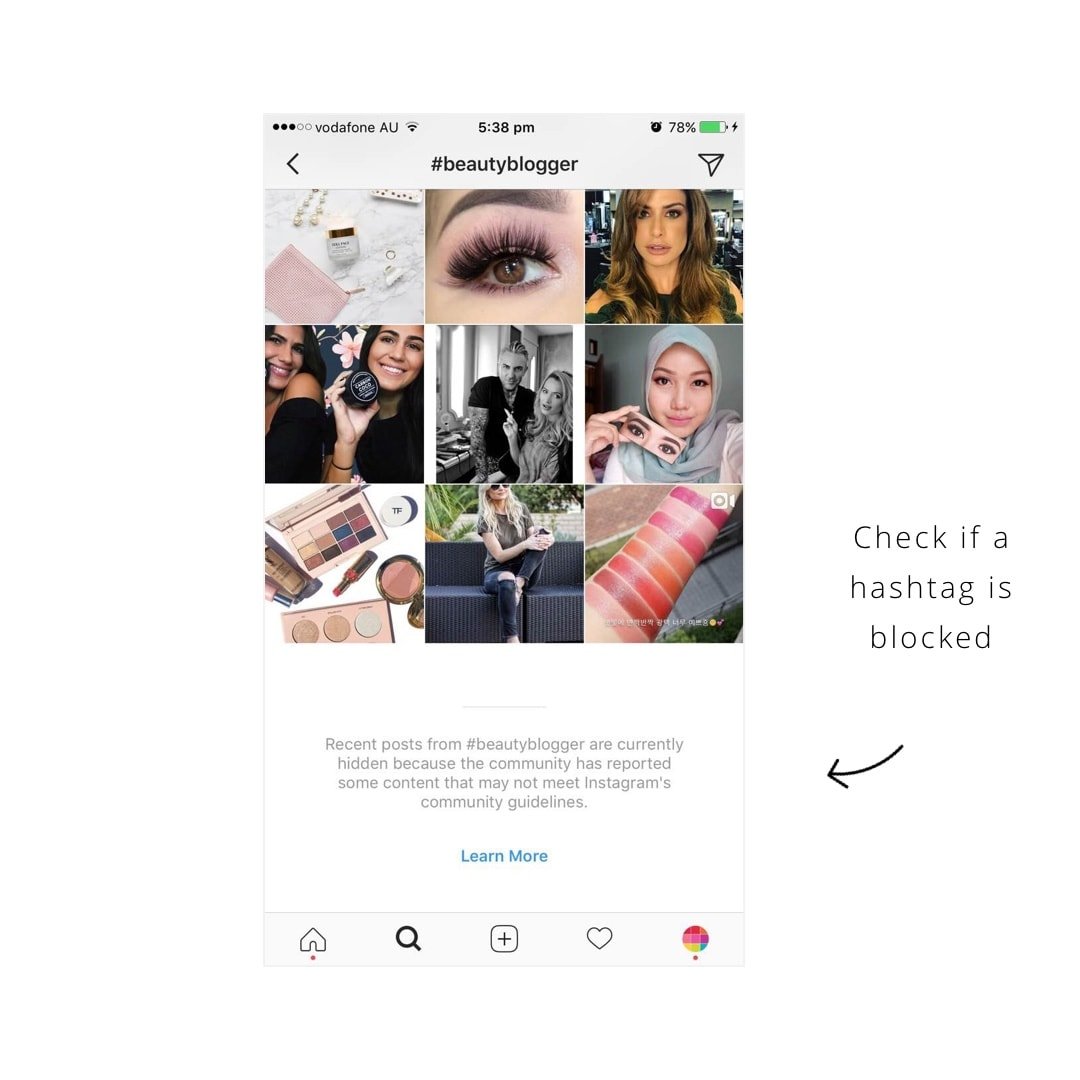 3. Write down your hashtags somewhere
Ok, let's get into it. Take a pen and paper (or your phone) if you want to write down the perfect hashtag for your account now… as you read the tips below.
You'll need to write your hashtags somewhere:
To keep track of which ones you want use
To create your hashtag groups
To avoid searching and typing them over and over and over again on Instagram (there's a way you can save your hashtag groups to re-use them whenever you need. I'll show you below)
4. Research your hashtags and make a list of your favorite ones
What hashtags should you use?
It's time to research your hashtags. It's very easy:
Know your category (example: travel blogger, foodie, creative entrepreneur)
Find an Instagram account you really like (big accounts and smaller ones)
Look what hashtags they use
Write down some of the hashtags you like
Press on a hashtag to open the hashtag page
Look at the "Related" hashtags on top of the screen
Continue to write your list
Always look at what hashtags people are using. You might find a gold nugget from time to time.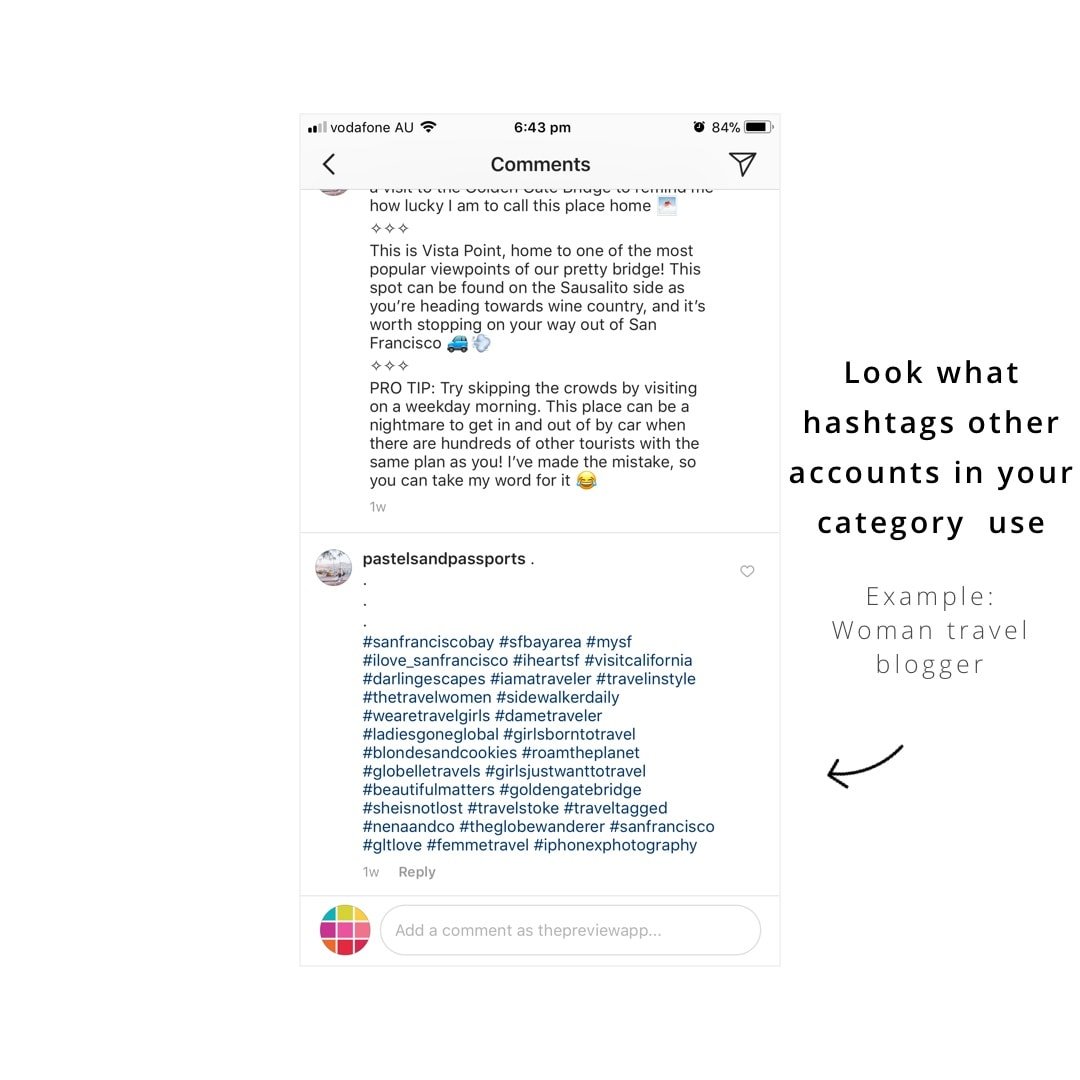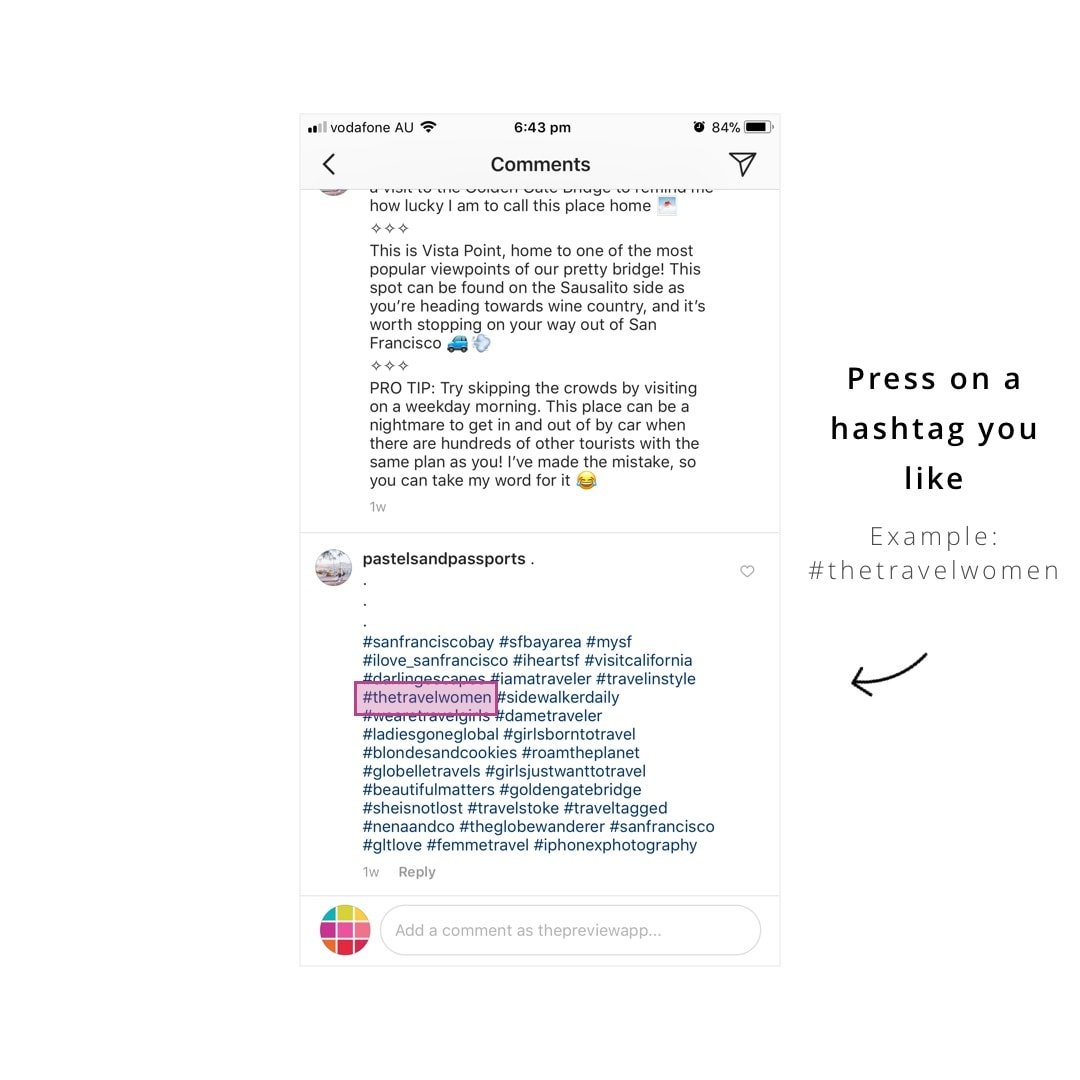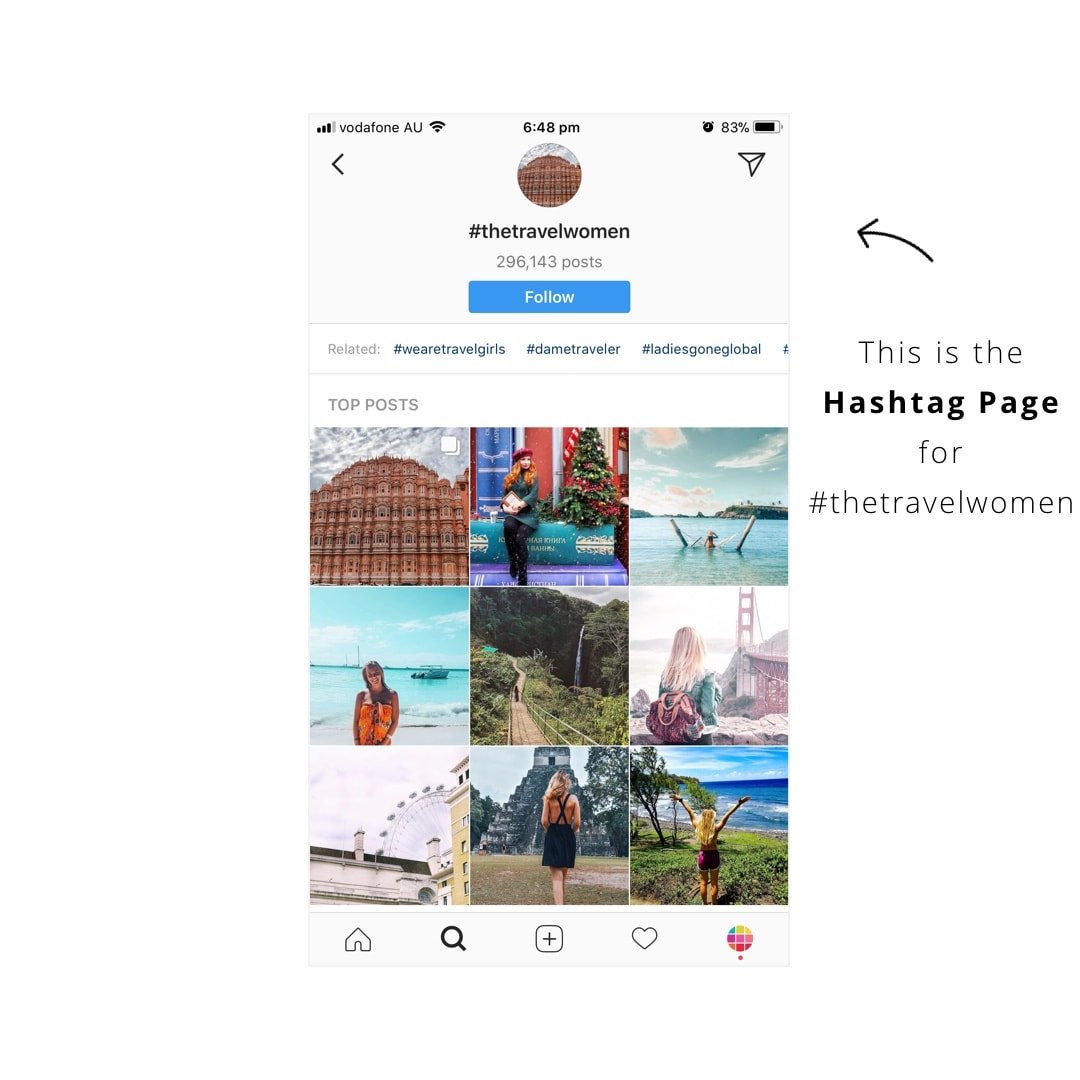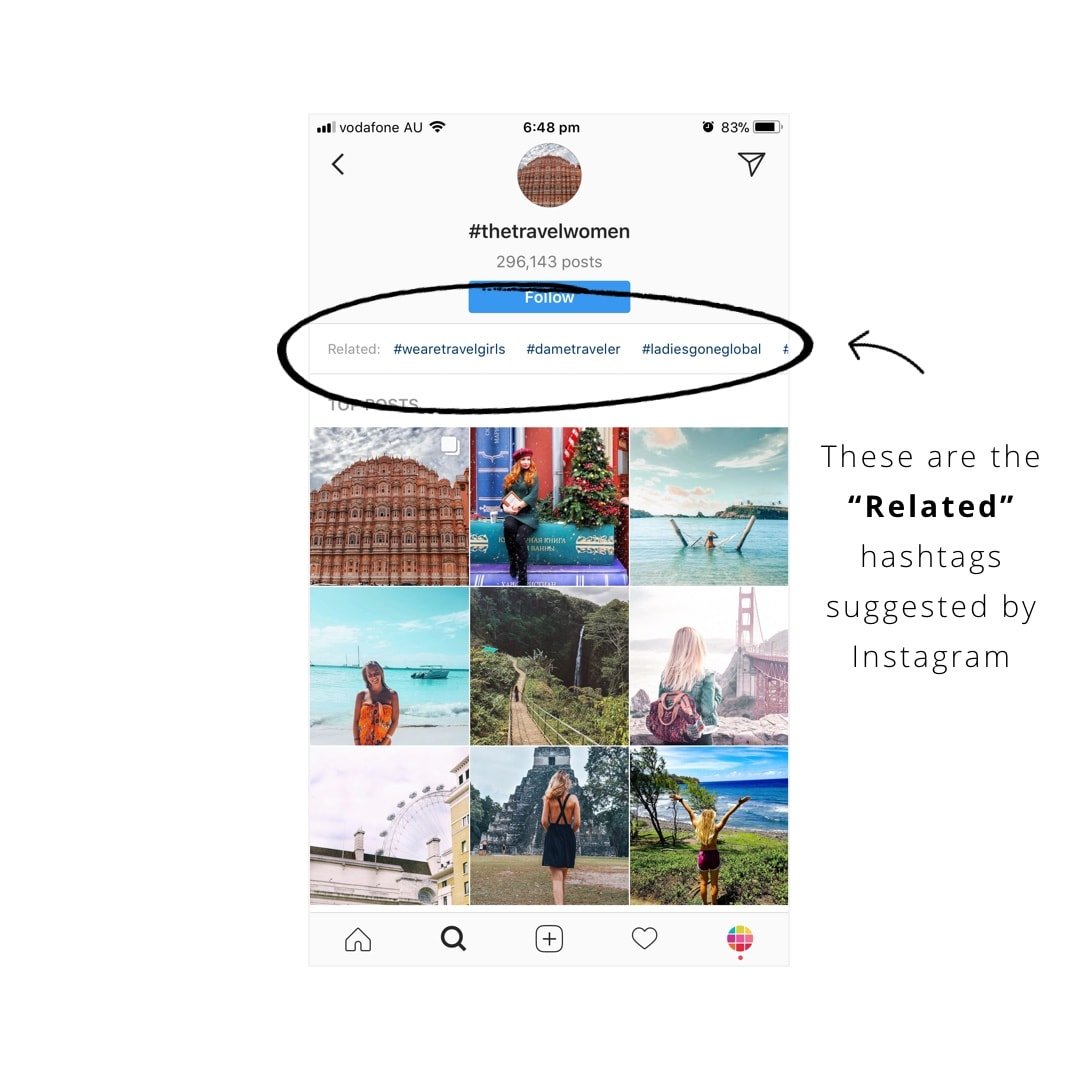 5. Use the Instagram Hashtag Finder in Preview app
Want to find Instagram hashtags by category? Community? Or country?
You can use the Instagram Hashtag Finder in Preview app.
Note: If you're new, Preview app is an app to schedule, edit and plan your posts. When you prepare your caption you can also search for hashtags (within the app). This is the Hashtag Finder.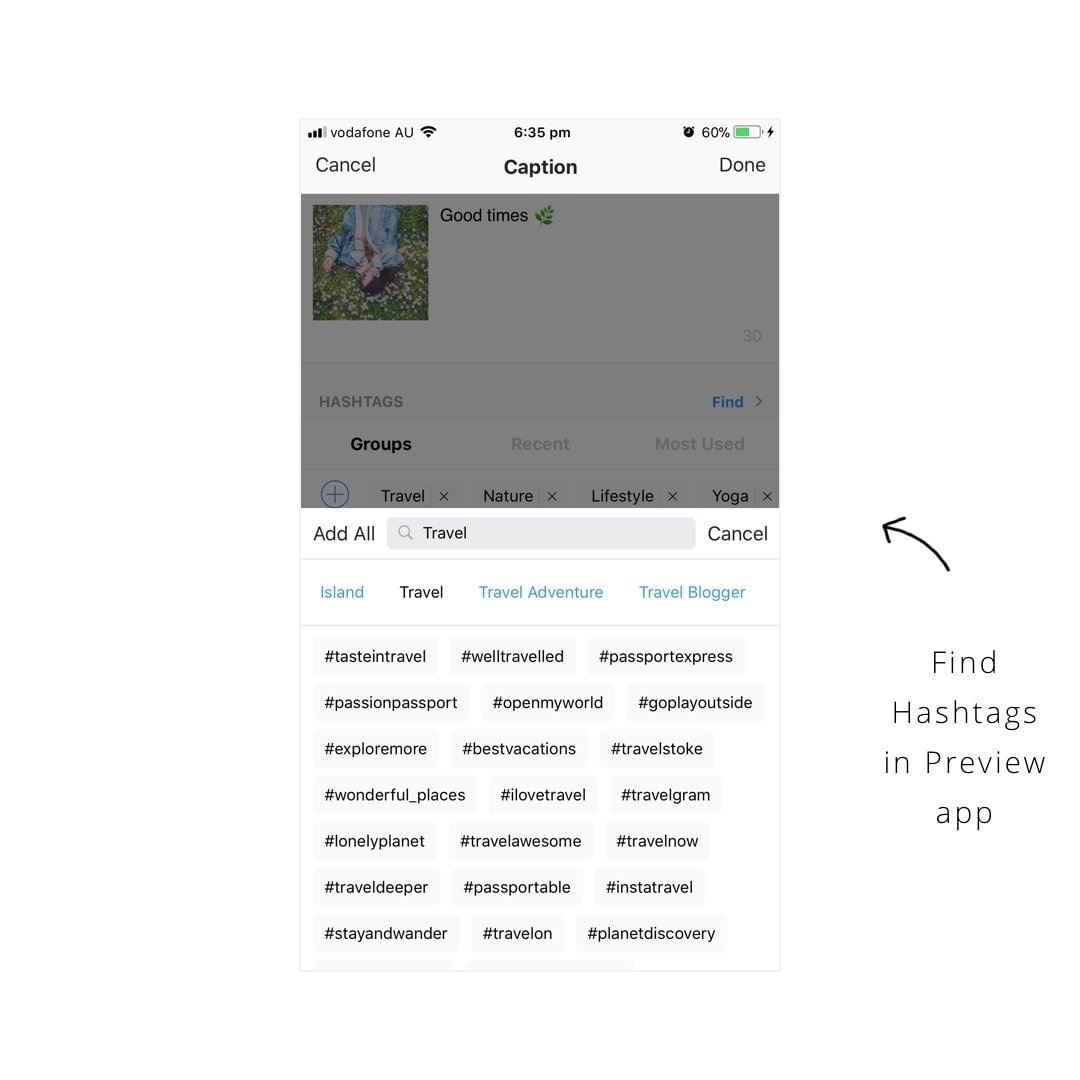 6. Check the hashtag page to see how many posts it has
Instagram counts how many times a hashtag has been used: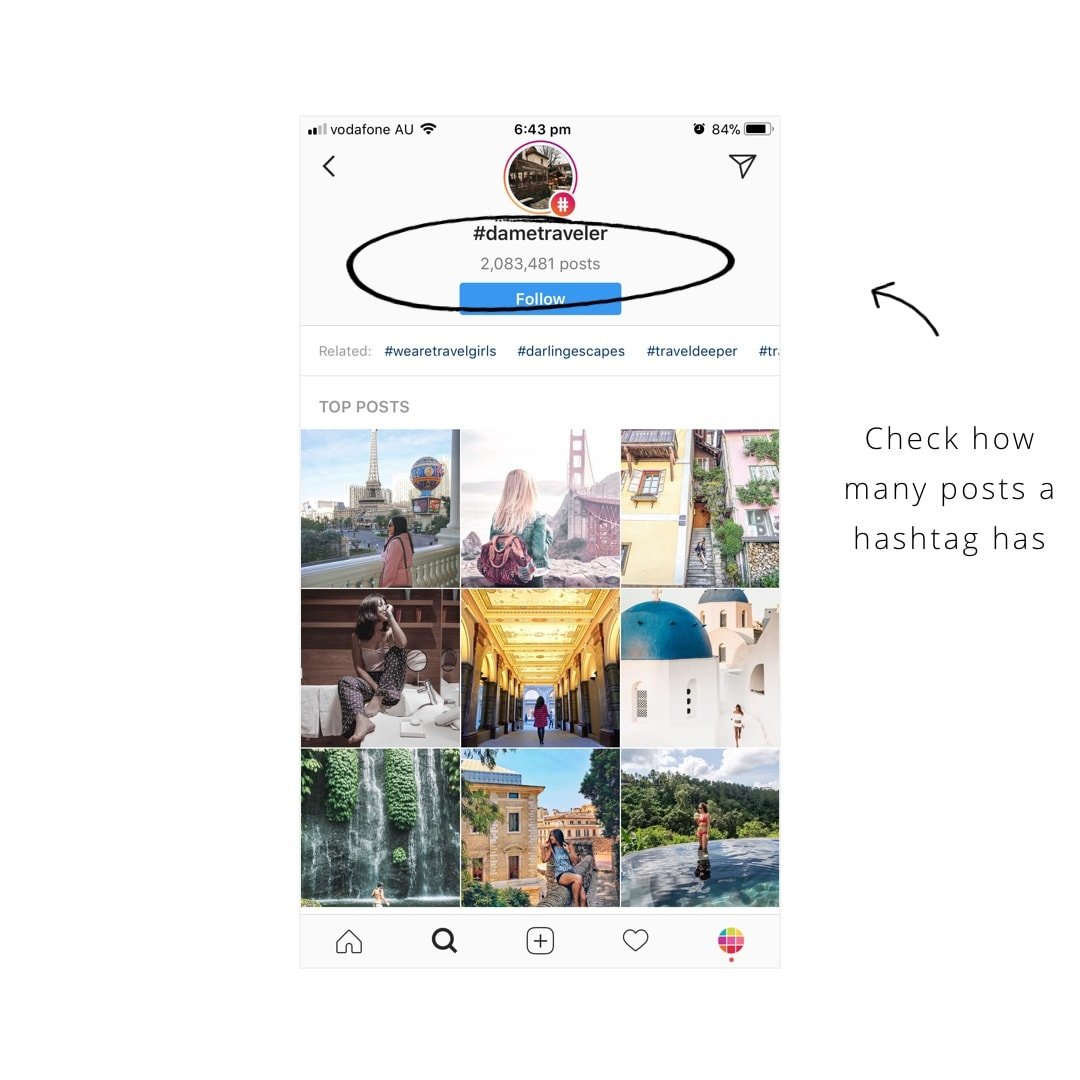 I like to group Instagram hashtags into 4 categories:
Big hashtags: have millions of posts, they are often general hashtags, there's a lot of competition, don't use them too much. Use them to categorise your posts (example: #wedding, #love, #travel, #business)
Medium hashtags: have around a million posts, they are still general.
Community hashtags: have less than 1 million posts.
Micro-community hashtags: have less than 50,000 posts (sometimes even around 1,000 posts).
The smaller the number of posts:
The less the competition
The more chances to be featured in the Top 9
The more chances people will find your account when they scroll through the hashtag page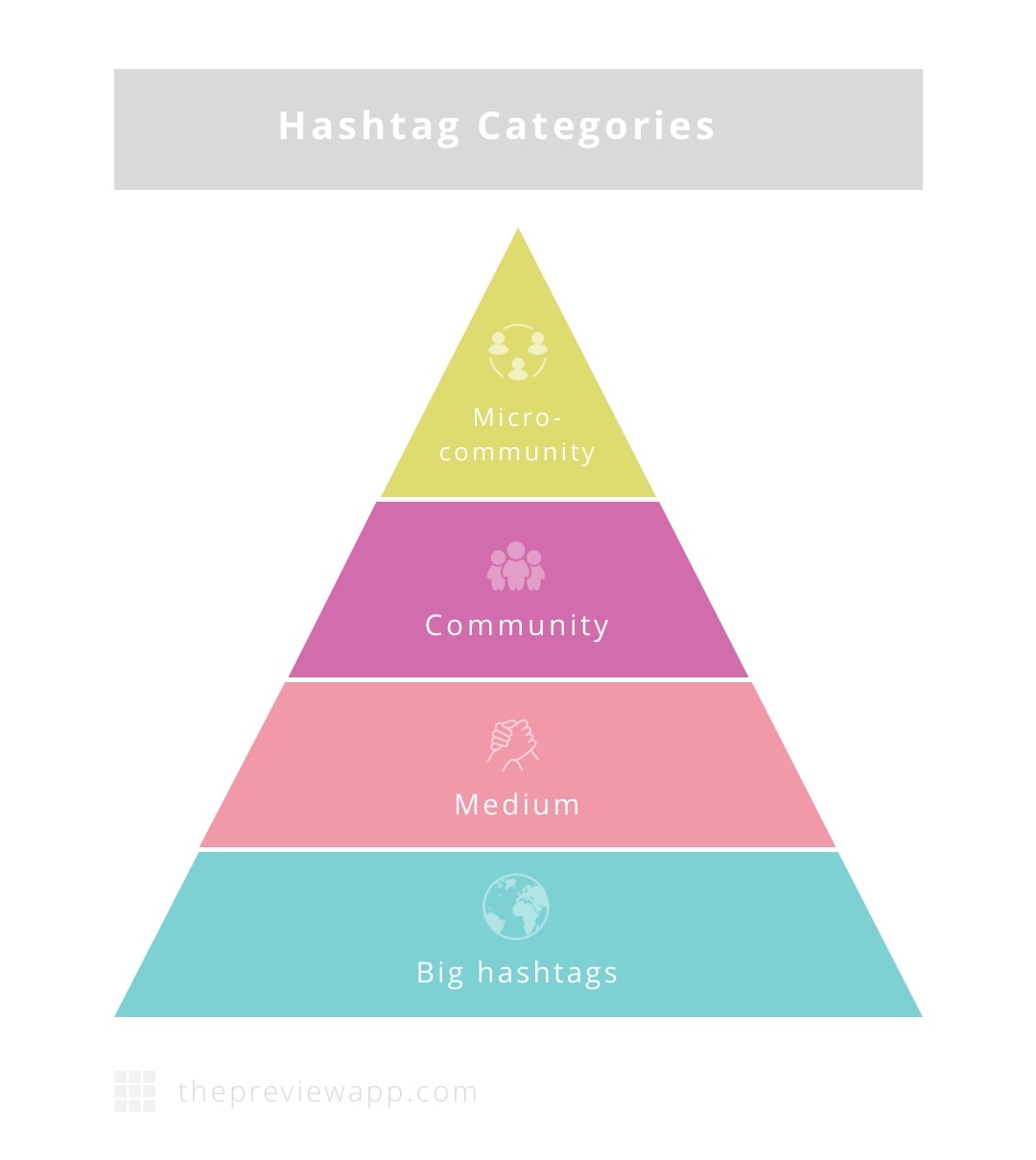 7. Find hashtag communities
I talked about Hashtag Communities our 2018 Instagram Trends Report. To recap: I said that the new trend is to join hashtag communities. People want to connect with people and support each other. That's what Instagram is all about.
More and more hashtag communities are being created. Here are some examples:
#womenwithaplan by @thecontentplanner for women business owners
#buzzingcreatives by @thebuzzingcreatives for women entrepreneur helping each other
#flatlatforever by @flatlayforever to get your flatlay photos reposted on their account
#communityovercompetition by @risingtidesociety
How to find hashtag communities:
Go on Instagram
Search for accounts who are "leaders" in their field (it can be anything: travel, bullet journaling, yoga, coffee)
Read their bio, usually they write what hashtag they have created
If not in their bio, look at their caption to see if they are using a hashtag they have created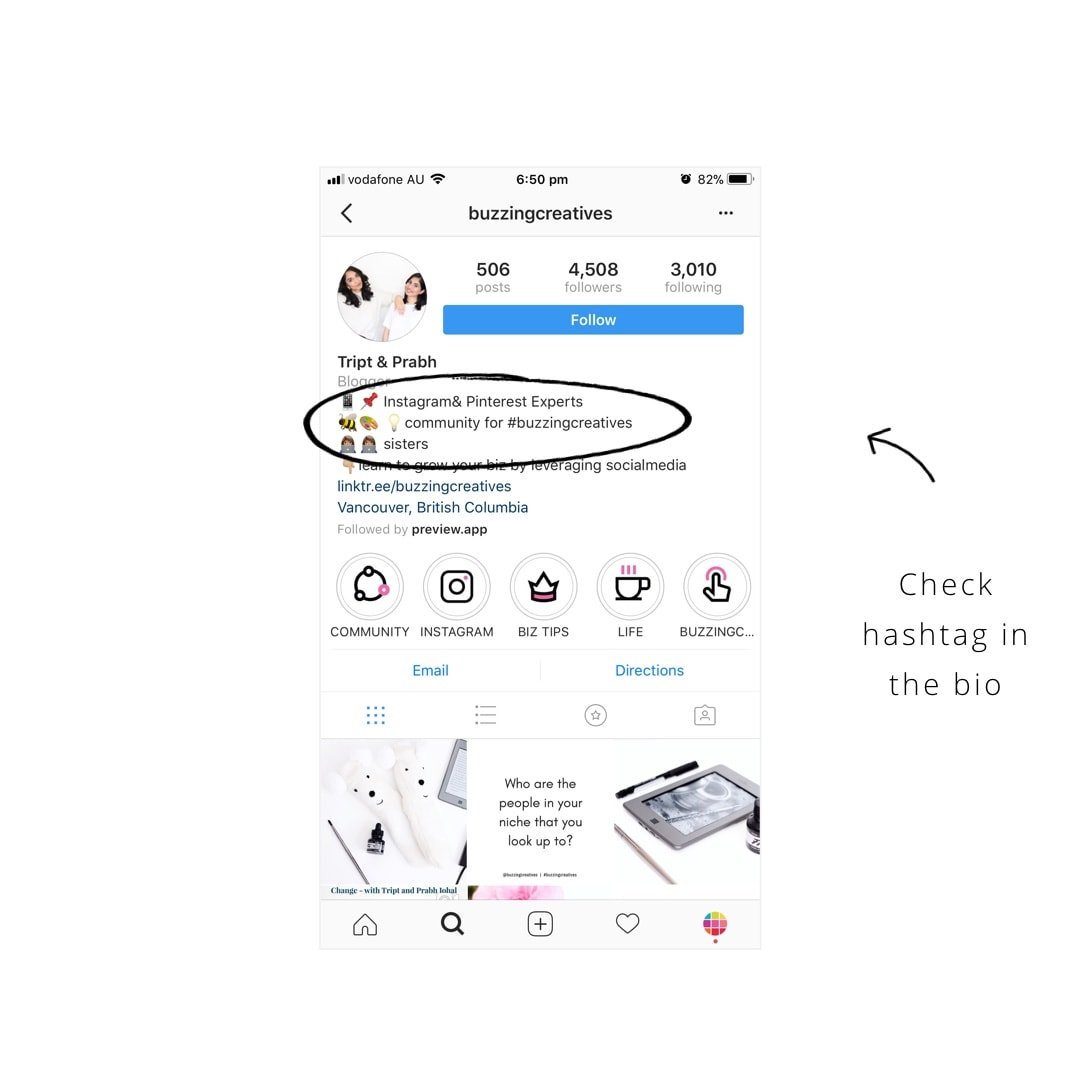 8. Have a business? Wanna grow your account? Use hashtags your ideal audience use
A hashtag is a keyword.
Find people who are like your ideal audience (i.e. the followers you want to attract)
Look what hashtags they are using
Use the same hashtags as them (hashtags that are relevant to you)
Also use hashtags people would type on Instagram to find an account (or product or service) like you
The Instagram algorithm loves keywords / hashtags. It links people who use the same hashtags together.
So if YOU and your ideal customer are using the same hashtags, Instagram could match you.
What does it mean?
It means that your posts might pop up in their Instagram feed.
It means that your ideal audience will look at your posts!
9. Make up your own Instagram hashtags
Some people like to use hashtags to organize their own posts. And that's an awesome idea because people can click on your hashtag and see all your posts.
@heleneinbetween: #heleneloveseurope to see all her photos from her travels throughout Europe
@carolyn_mara: #matchingonthemattress to see all her photos of her and her daughter in matching PJs in bed
Cool idea, uh?
Can you do the same for some of your content?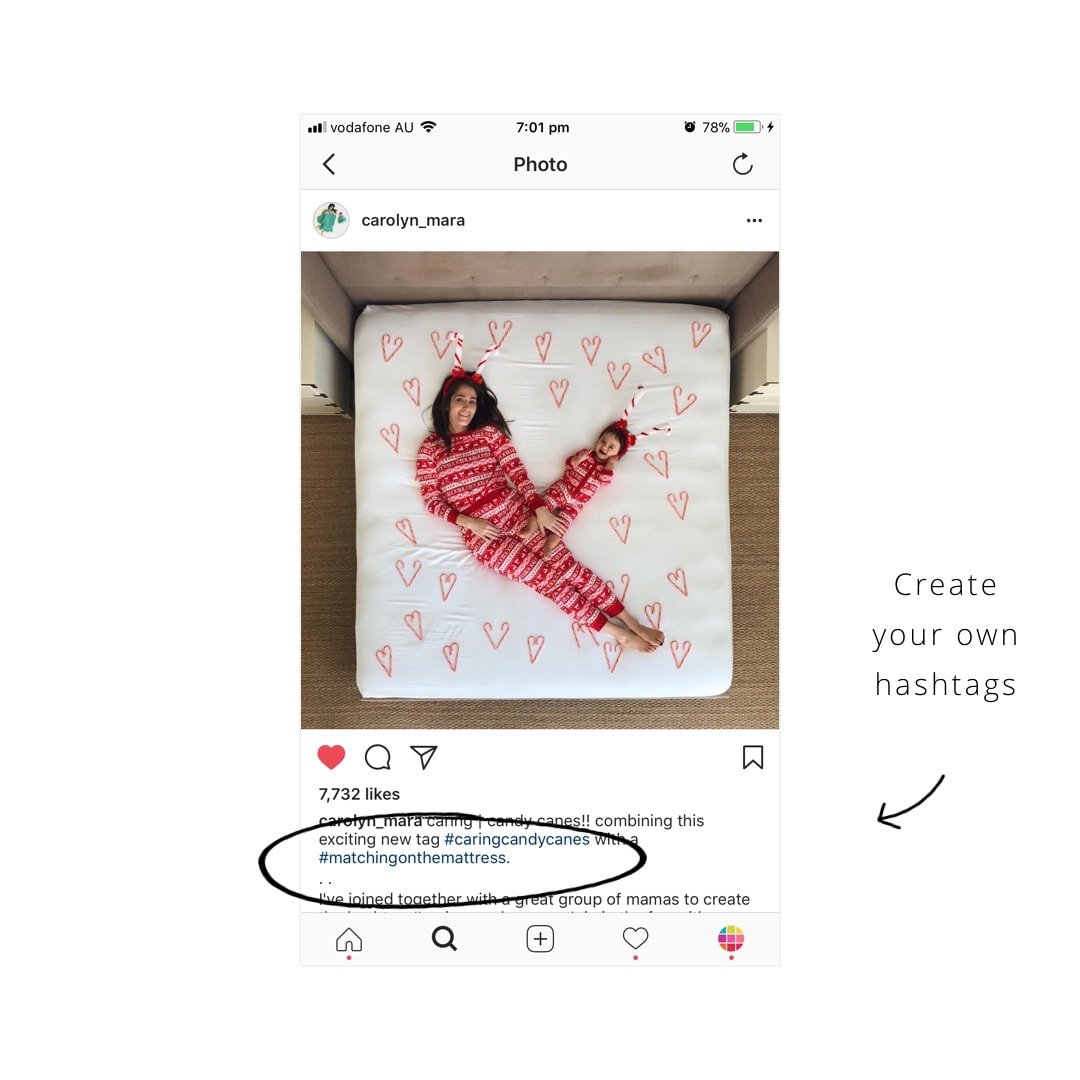 10. Mix the hashtags to get the best result
Now, you have a good idea of what hashtags to use.
Here's the trick: mix the hashtags.
Use a mix of big + medium + small + community hashtags
A big hashtag will get you a couple of likes and comments at the beginning
A medium to small hashtag will get you more likes and comments in the long run because people will be able to scroll through a hashtag page and find your post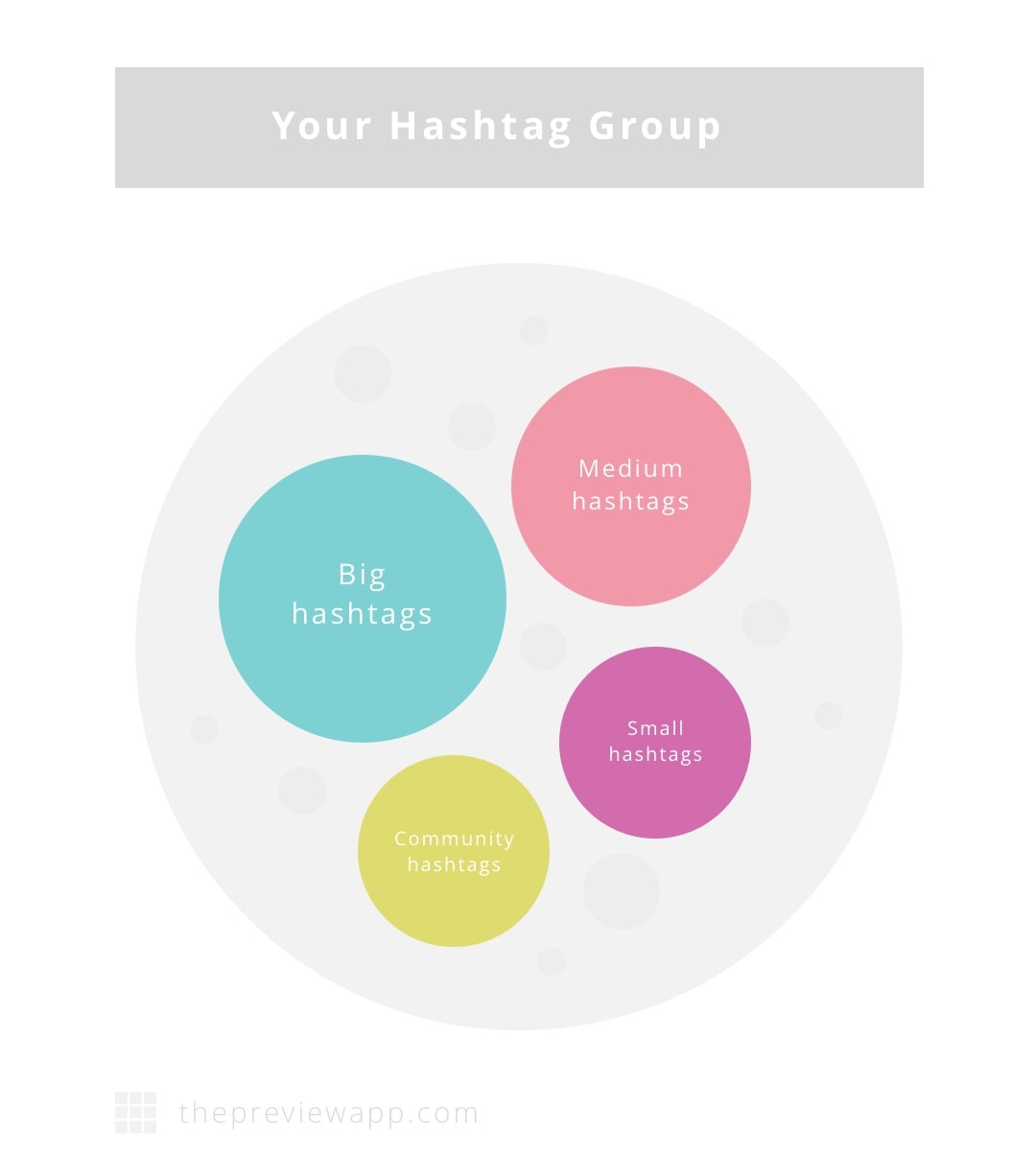 11. Organize your hashtags (save your hashtags in Preview app)
You know how we tend to use the same hashtags all the time? We call this group of hashtags a "hashtag group".
Instead of typing or copying and pasting them on each post all the time, you can save them in Preview app. This way you can reuse them whenever you need them. You just have to press on the hashtag group to automatically add it in your caption.
Quick tutorial: How to Save your Hashtag Groups in Preview app?
Note: Cool thing about saving your hashtags in Preview is that the app automatically tests them for you. You'll know which one gives you the most likes, comments and engagement.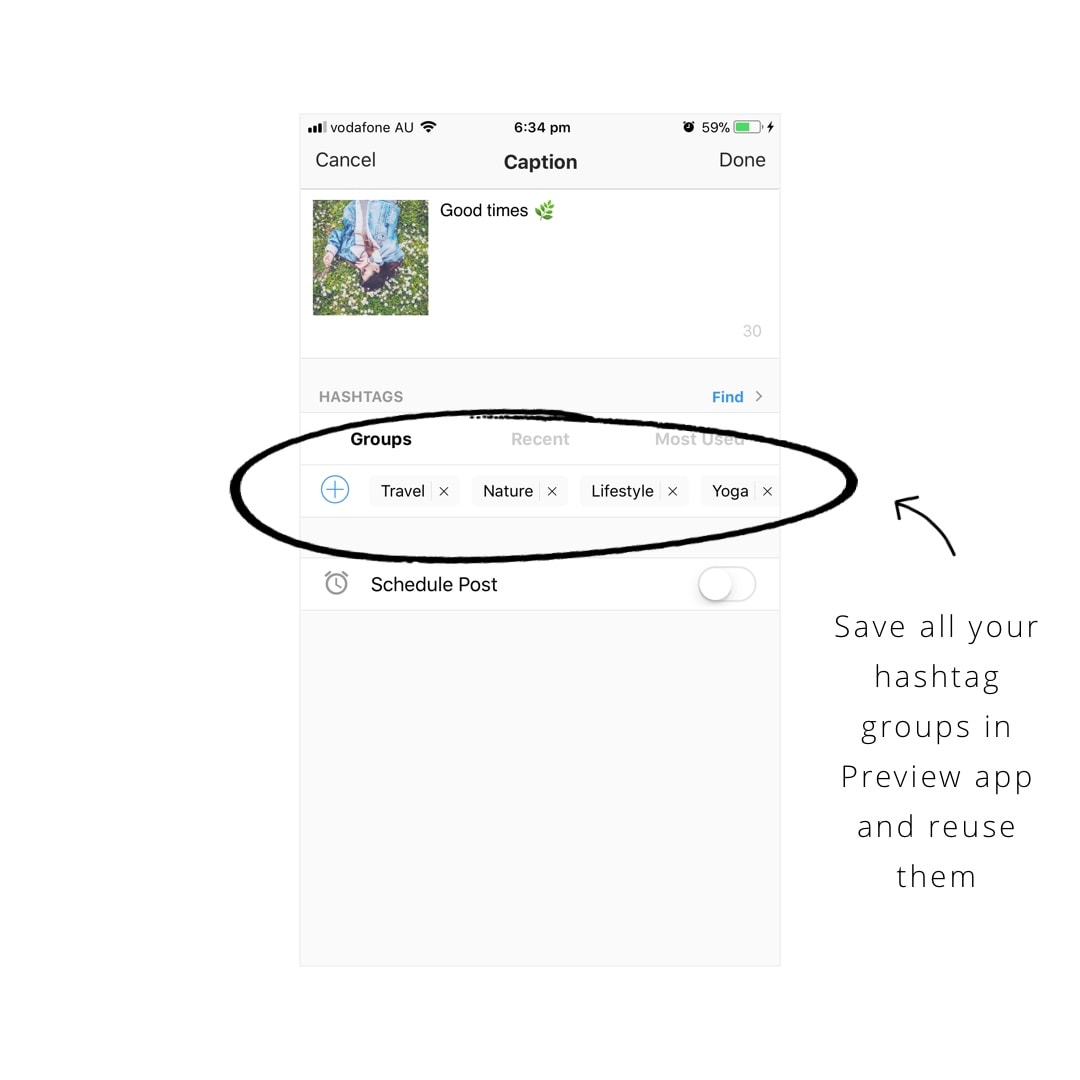 12. Look at your hashtag analytics in Preview app
You're putting so much work into your Instagram account. Know which hashtag works for you.
You can see your best hashtags and best hashtag groups in Preview app.
Preview tells you which hashtag gives you the most likes, comments and engagement.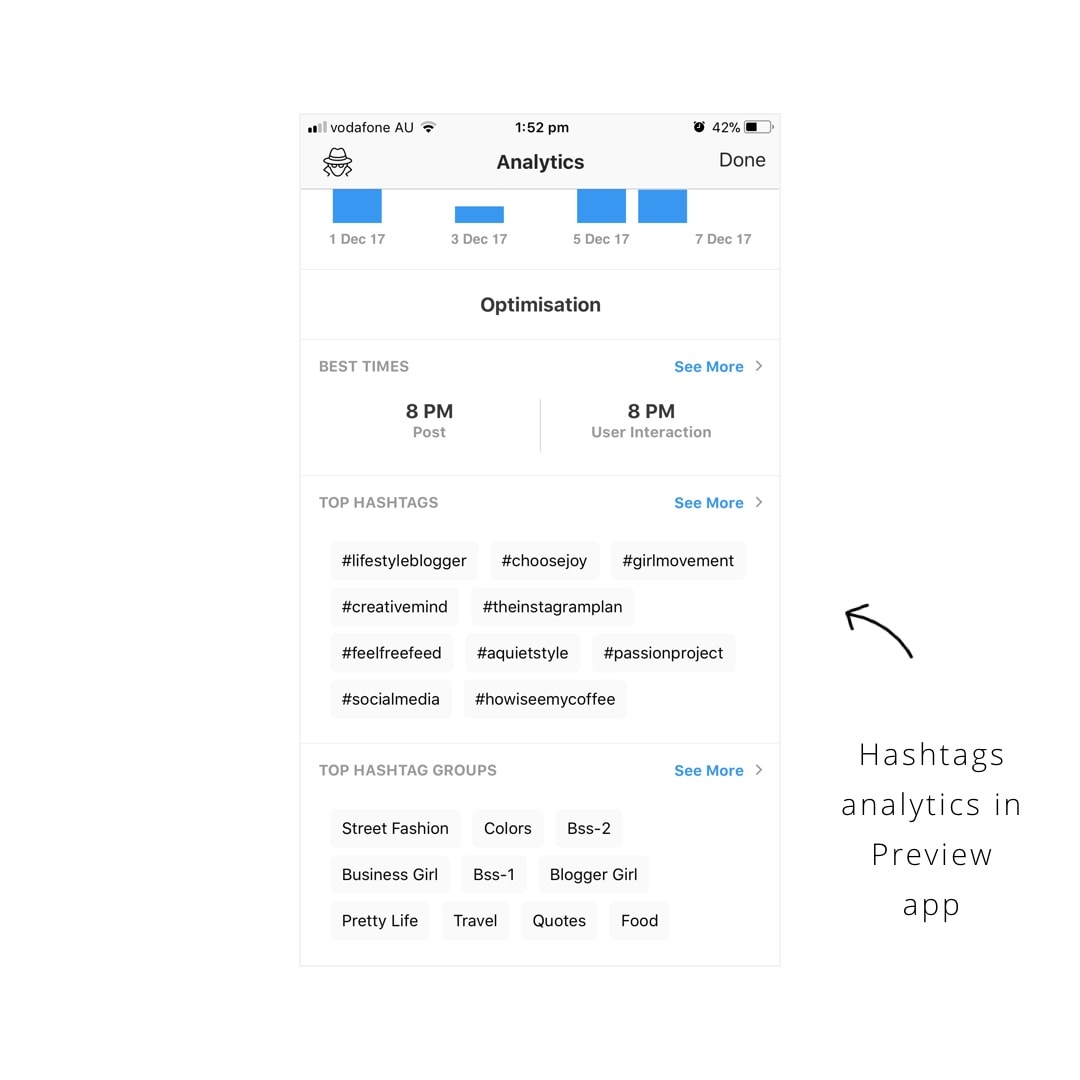 This is a new feature on Instagram. You can follow hashtags. When you follow a hashtag, posts from people (using that hashtag) will appear in your home feed.
It is a great way to connect with new people. When you like and comment on their photos, they can discover your account too. Win-win situation!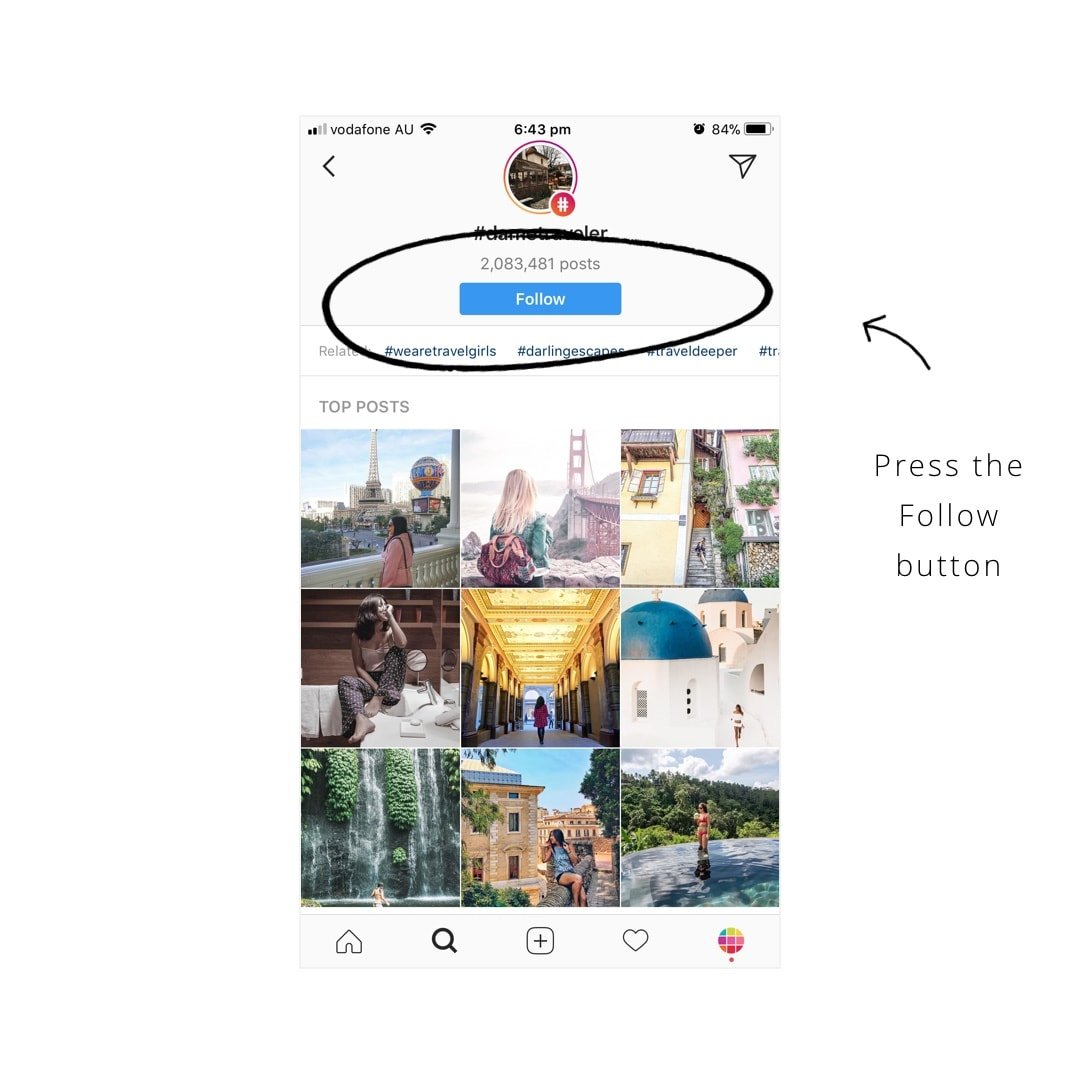 14. Put hashtags in the comments or caption?
If you put your hashtags in the caption, it makes it "heavy", "bulky" or "not pretty". So a lot of people started to put their hashtags in the comments to "hide" them and make their caption look "clean". Instagram allows it. Your hashtags still work.
But there's a new rumour on Instagram. It says that the algorithm doesn't like when people put their hashtags in the comments section.
Is this true? I'm not sure. My advice: test it yourself. See if you get more engagement if you put the hashtags in the comments or caption.
I personally put them in my caption now.
15. Keep your hashtags fresh to expand your reach
Don't use the same exact hashtags all the time. Keep them fresh.
Change your hashtag group every month (or more often if you want to):
Instagram will see that you're not a robot or spamming (they love when we show that we're active and act natural)

You will appear in front of new eyeballs
It's a strategy to keep growing your account
New hashtags = expand your reach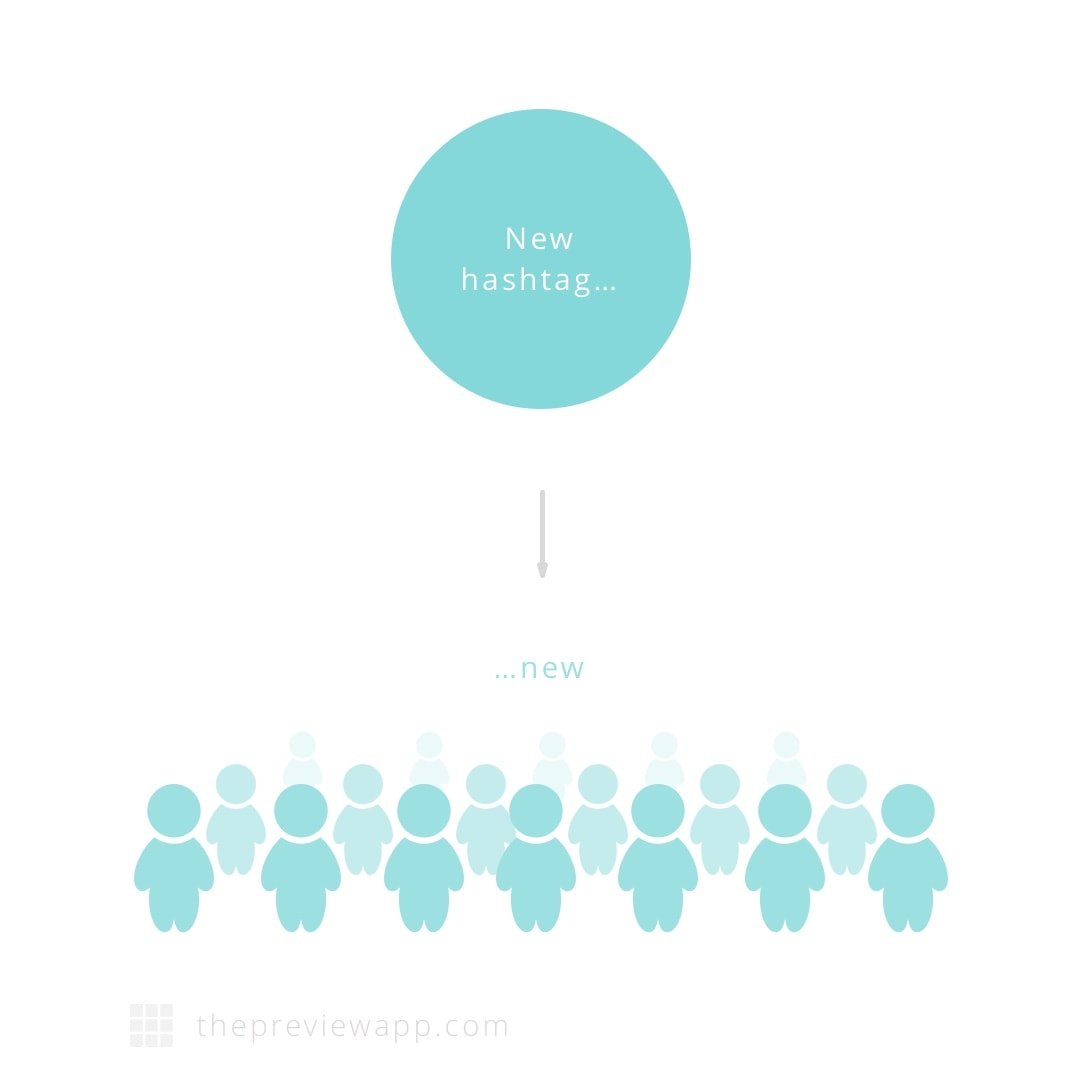 16. Don't just use a hashtag… Engage with people using the hashtag
Instagram is a social media. So be social. Interact with others. Instagram loves interaction.
So don't just use hashtags and post. From time to time go on a hashtag page and take a few minutes to like and comment on people's posts. People who use this hashtag might enjoy your account too!
And finally, the last tip. I hate to break it to you, but I have to say it.
None of the above tips matter if you don't post quality content.
Instagram is a visual platform. People will click on your post if it stands out.
Post good quality photos and videos
Share fun photos, videos or quotes
Stick to an Instagram theme to make your photos stand out
And have fun!!
That's it!
I hope this article was useful. Start by researching hashtags. Write them down and put them in groups of 30.
Please let me know in the comments if you have any questions.