Instagram's Insta Stories just got extremely powerful.
There are 5 new Insta Stories features:
I will now explain how to use each new feature. For each, I will include cool tricks and tips:
What are effective and creative ways to use these features?
How can you use the Insta Story hashtags & location tags to boost your Instagram account?
How can you combine the features to stand out?
This is the feature I'm the most excited about and a total game-changer.
In this section, I'm going to show you how Insta Story hashtags work and how to pick the best hashtags for your Insta Story.
Similar to location stickers and tagging people, you can now add hashtags in Insta Stories.
How many hashtags can you add on Insta Stories?
You can add up to 10 hashtags in one Insta Story.
There are 2 different ways to add hashtags in your Insta Stories:
Use the text tool.
Use the hashtag sticker.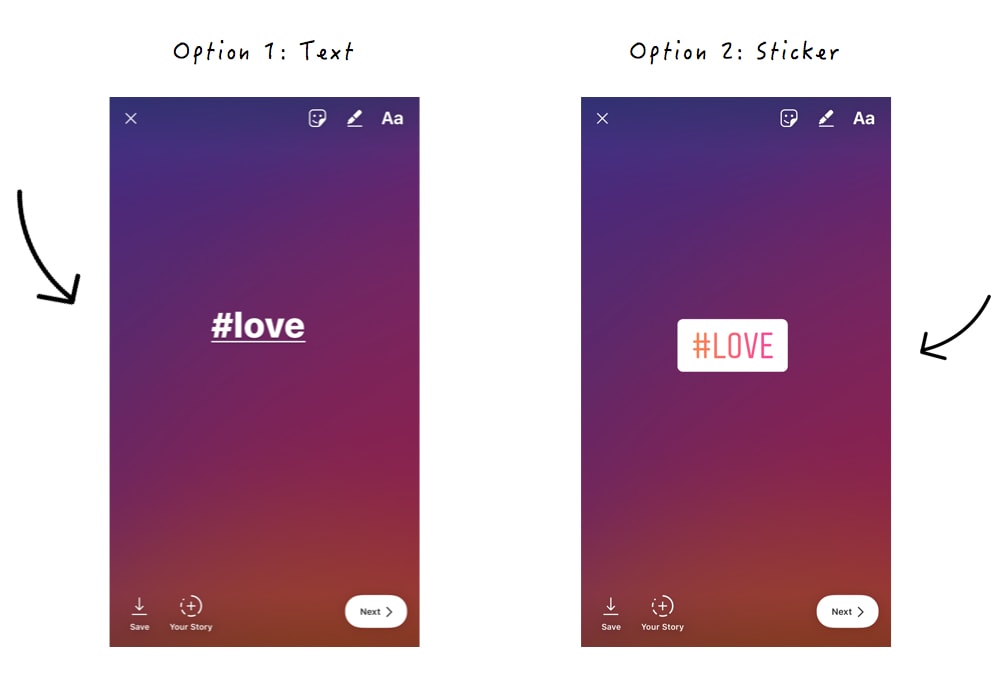 How to use Insta Story hashtags?
Option 1: use the Text tool to write a hashtag, as you normally would.
Type a hashtag
Instagram will give you hashtag suggestions, as usual
Pick a hashtag or create your own
What you can do with an Insta Story hashtag as a text:
Add the hashtag as part of your sentence and the hashtag will work
Put in a box
Change the color of the box
Change the color the text of the hashtag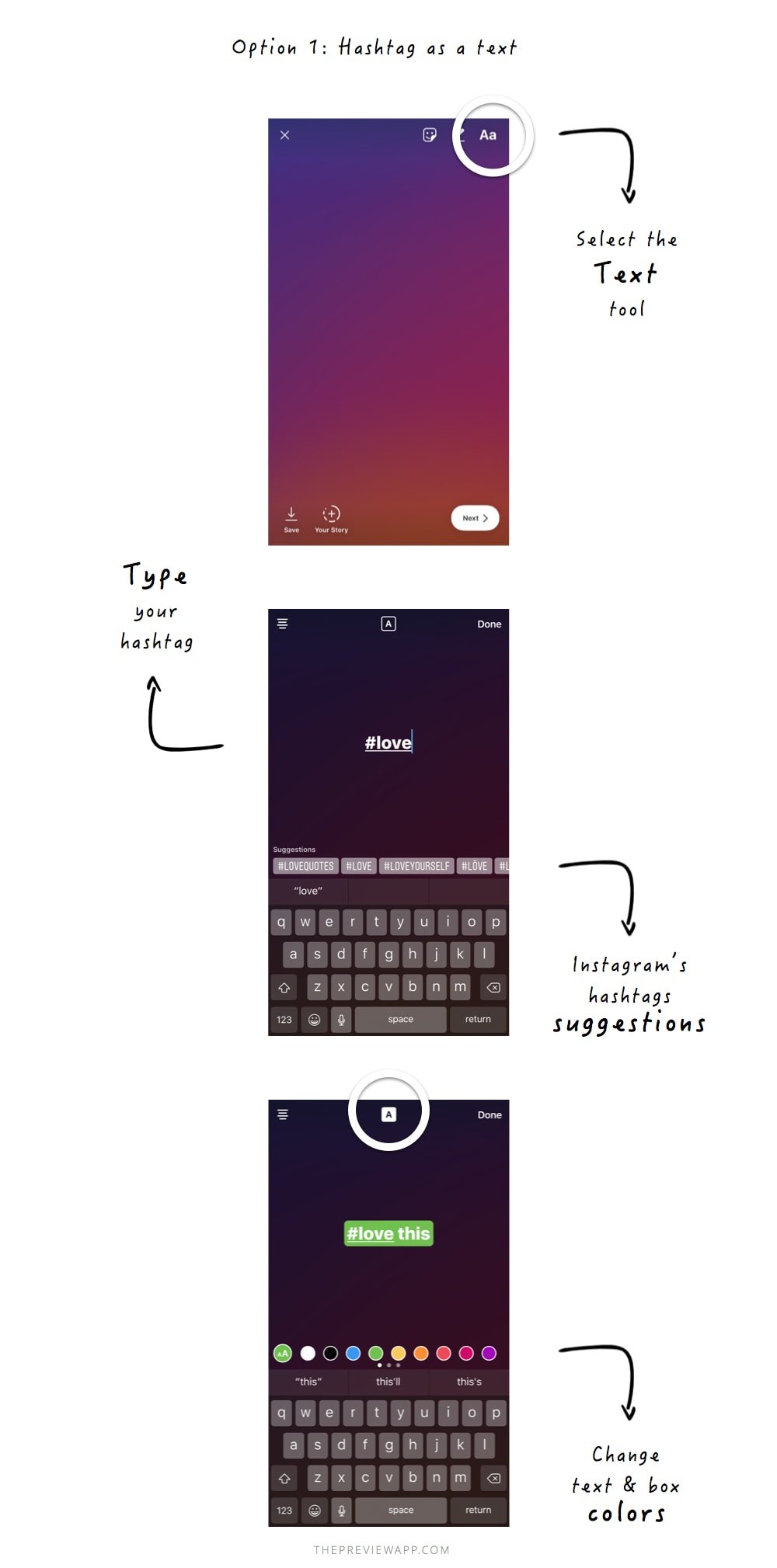 Option 2: use the Insta Story Hashtag Sticker.
Go in the Sticker section
Select the Hashtag Sticker
Type your hashtag
What you can't do with the Insta Story sticker hashtag:
Once you have typed a sticker hashtag, you cannot change the hashtag. You have to delete the sticker and create a new one.
To delete a hashtag sticker, drag it to the bottom of your screen. A rubbish bin icon will appear. Place the sticker on top of the icon.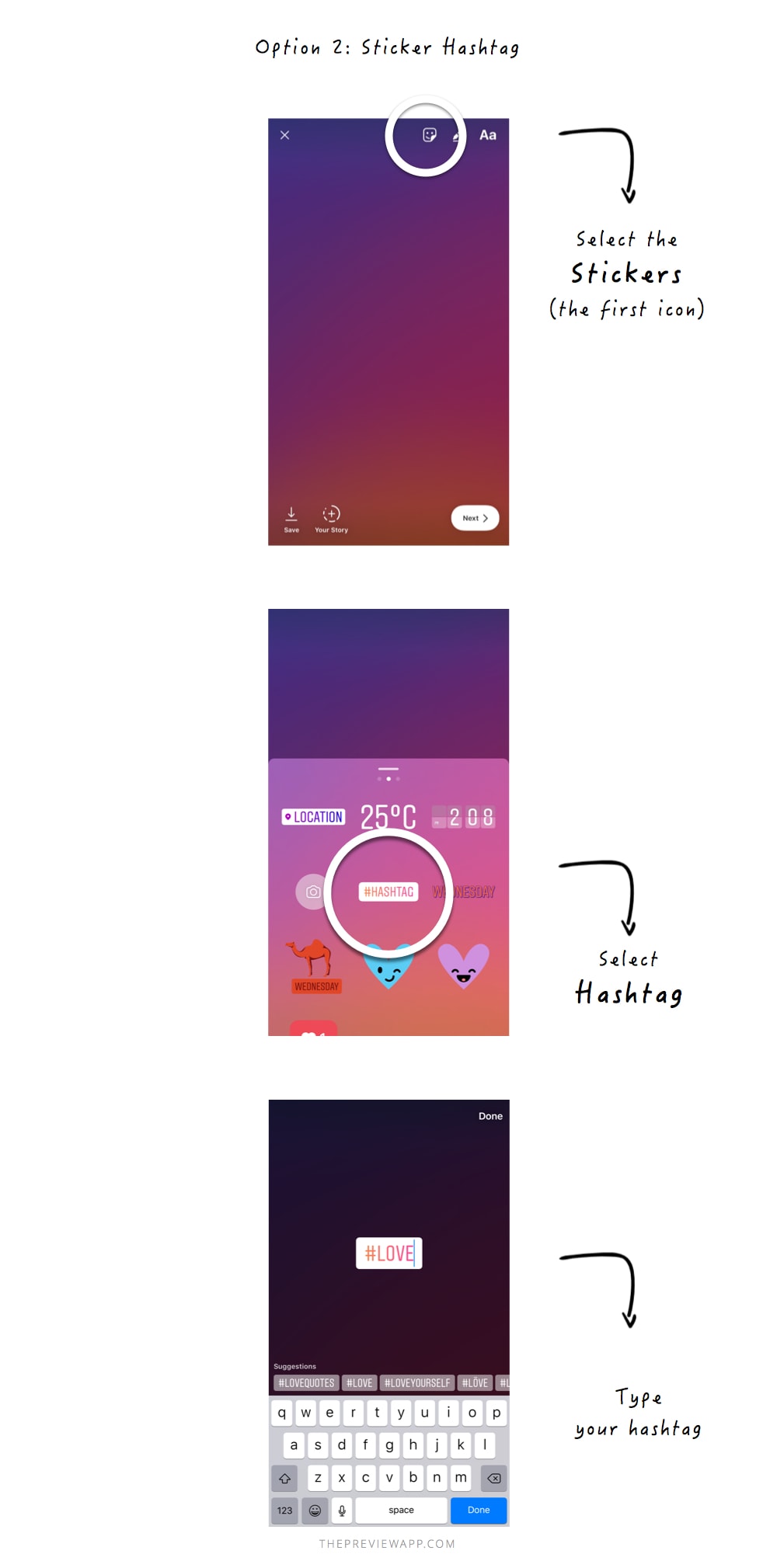 How do Insta Story hashtags work?
There are 3 things you need to know about Insta Story hashtags:
You can tap on an Insta Story hashtag
You can find other people's Insta Stories via hashtags
You can see how many people viewed your Insta Stories via hashtags
Let me show you how this works.
First, you can tap on an Insta Story hashtag.
This means that your followers will be able to tap on the hashtag to see all the posts on Instagram using that hashtag.
Tip: If you are a business, you can redirect your viewers to a specific branded hashtags (for example, I use #ThemeTip to show my people all my Instagram theme tips).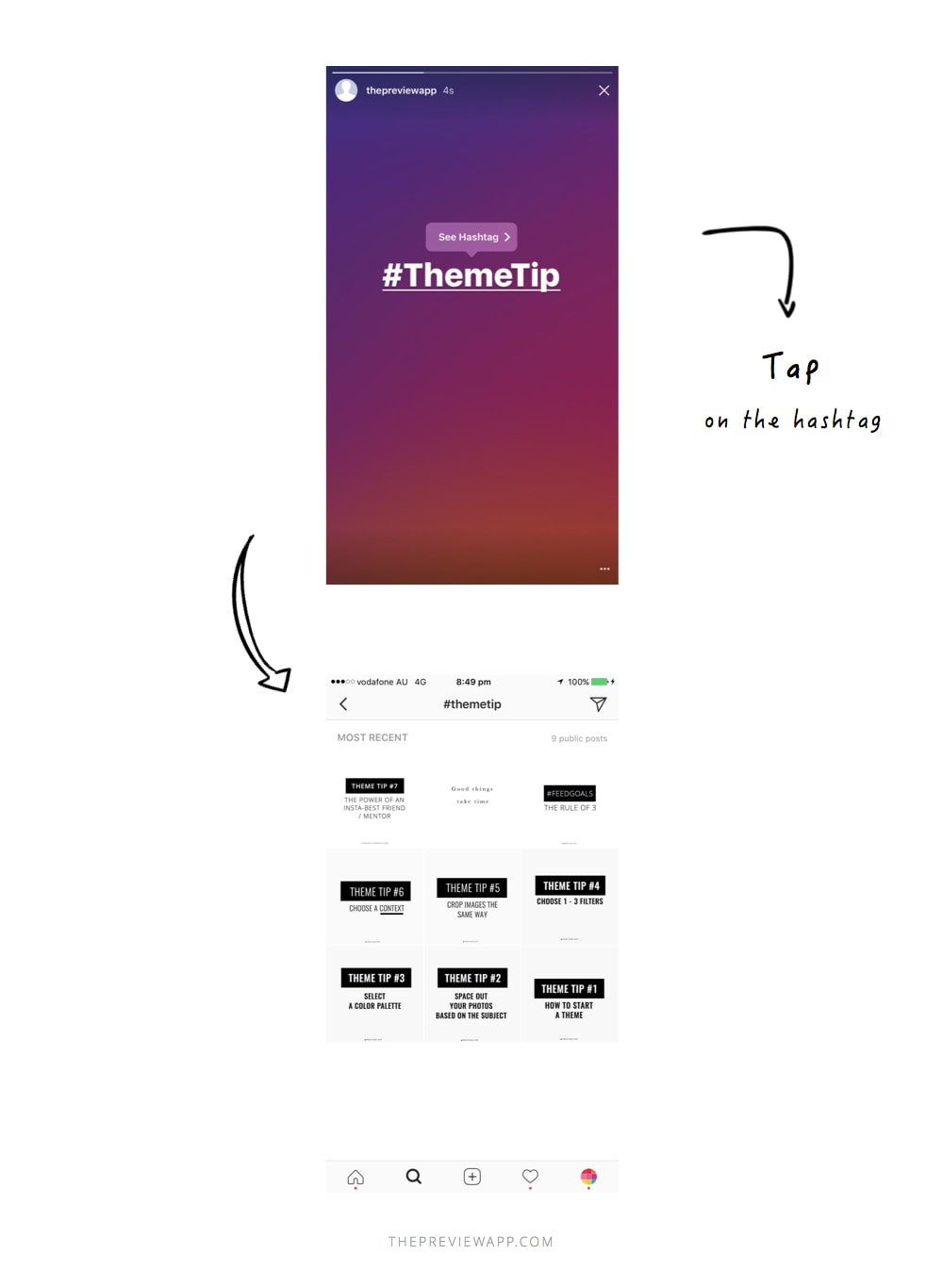 Second, other people can find your Insta Story via hashtags.
For example, I search for #travel. I can see the Insta Stories of people using #travel.

Lastly, you can view how many people found your Insta Stories using hashtags (see the screenshot below).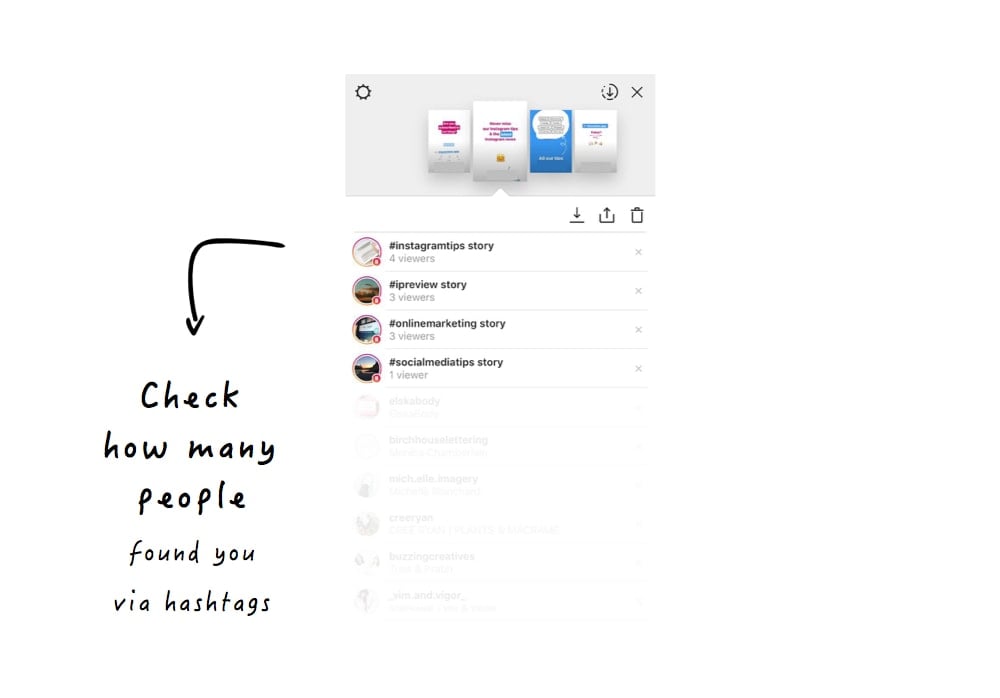 2. Insta Story Location Tags
The same logic applies for the Insta Story location tags.
You will hear people talking about "Geotagging" or "Location Stories".
There are 2 things you need to know about Insta Story locations.
First, Instagram will show your Insta Story based on your location, on top of the Explore page.
You need to have your "Location" turned on in your phone settings for this to work.
As you can see below, I am based in Brisbane. Therefore Instagram shows me Insta Stories of people located in Brisbane.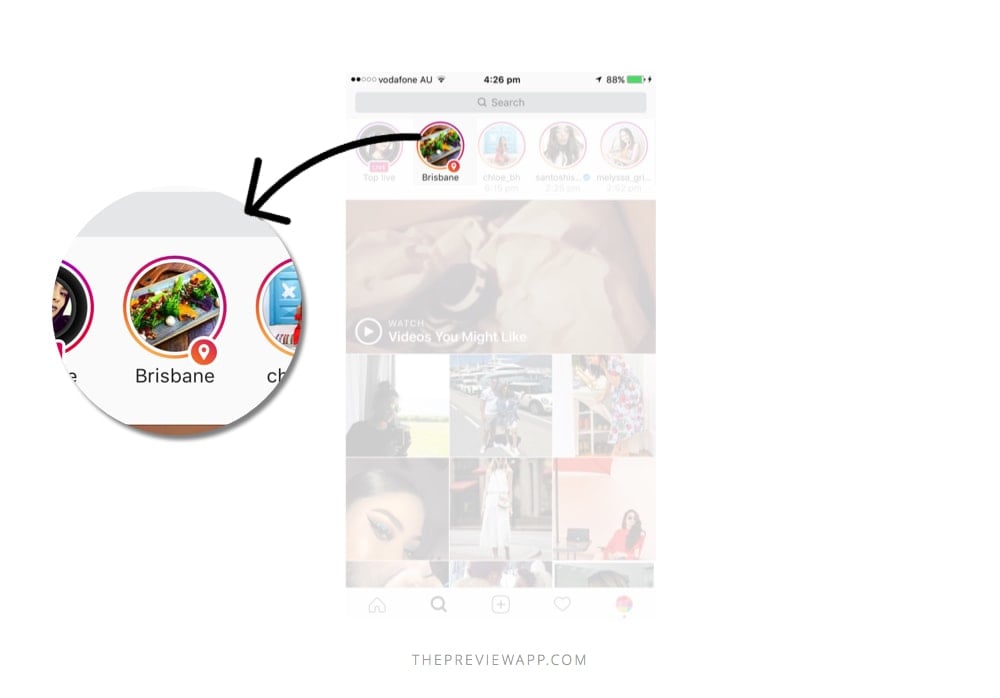 Second, you can search Insta Stories for any location in the world.
Go in the "Places" tab
Type any location
Watch the Insta Stories from that location
For example, I searched for New York: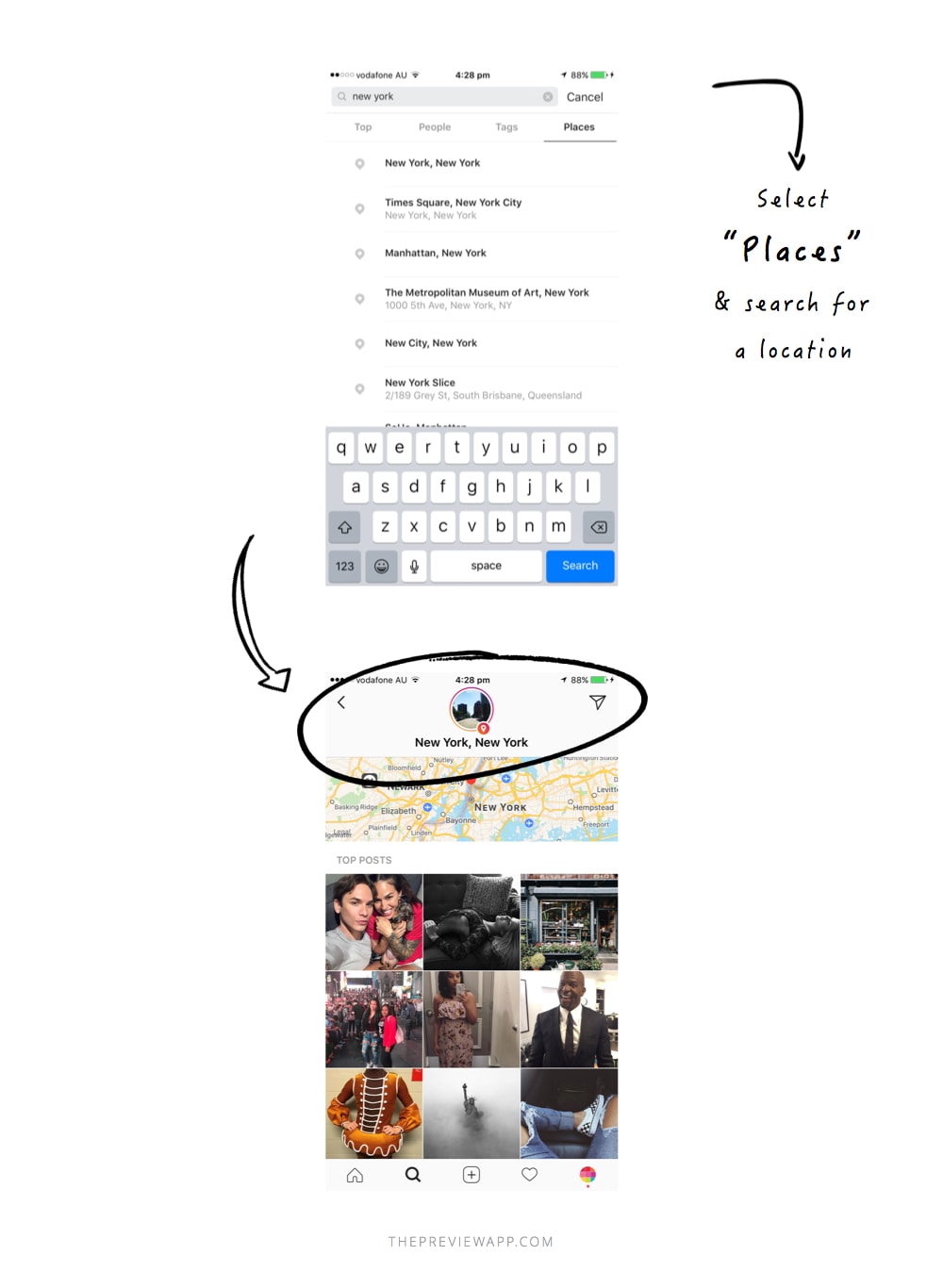 Snapchat's face filters have landed in Insta Stories.
You can add bunny ears and butterfly crowns on top of your Instagram photo, video and boomerang.
There are 8 face filters.
Go to your Insta Story
Select the Face icon
Choose a face filter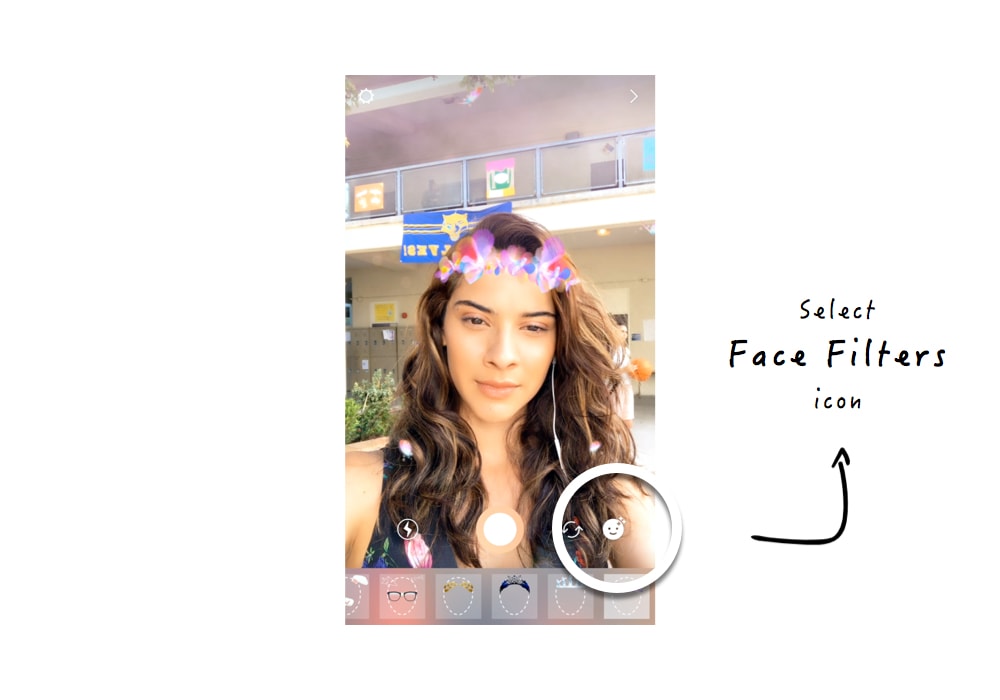 Instagram face filters work on:
Photos (one tap on "Normal")
Videos (hold your finger on "Normal")
Boomerang (slide left)
Rewind (I'll explain below)
Hands-free (to take a video without holding your finger down)
You can also send private photos and videos to your friends with the face filters on.
What you can do after you have recorded with a face filter:
Add an Instagram filters on top of your photo & video: slide your finger left and right to apply different filters.
Add another filter or emoji. You can also pin it.
Use the drawing tool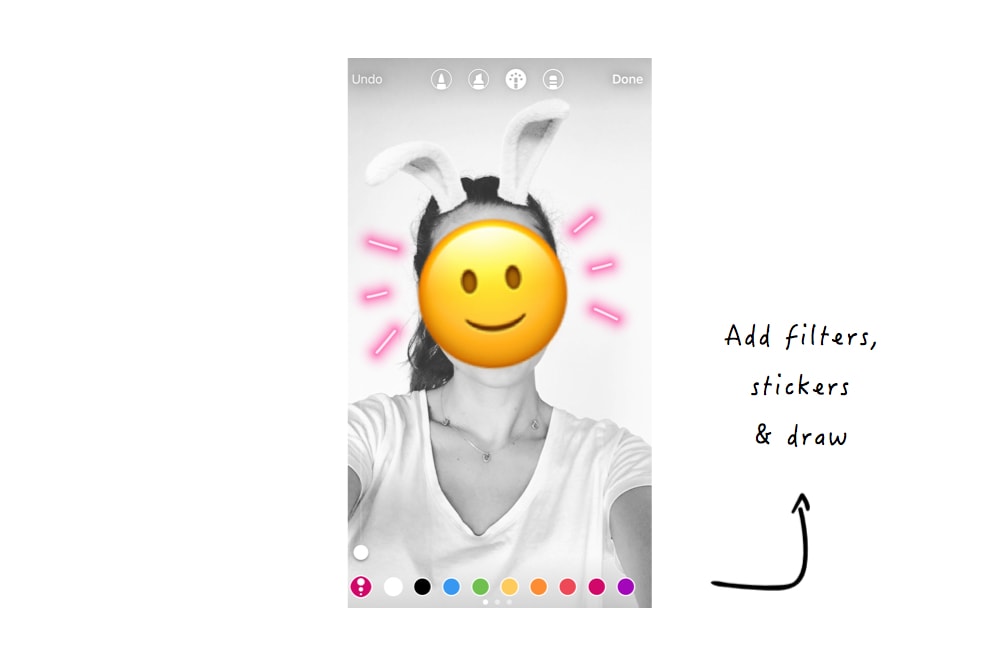 As the name suggests, it will play videos in reverse.
Drop a microphone and watch it fly up into your hand.
Cool Insta Story Rewind ideas:
Drop something
Pouring a drink in a glass
Showing your feet while walking
Writing
Behind the scenes (logo design, painting, lettering,
Food
Dominos
Jump off something in reverse
This is how to use the Eraser tool in Insta Stories:
Take a photo or video
Select the drawing icon
Select a color on the bottom color palette (or hold your finger to choose any color you want)
Now hold your finger pressed on your photo. It will cover your whole screen with that color
Select the eraser tool and drag your finger on the screen to write, draw and make the photo behind reappear.
You can select the size of the eraser

That's it for the new Insta Story features
Leave a comment below if you found this article useful.
Which feature are you the most excited about?
Until next time, see you all on Instagram (@preview.app) for more tips and tricks.
+400,000 Instagrammers are already using Preview App to edit, plan & schedule their feed. If you haven't tried it, you're missing out.