Have you seen the new Instagram captions for jewellery in Preview app?
There are hundreds of jewellery caption ideas, jewellery quotes and captions to promote your beautiful products (keep scrolling to see the examples).
I'm going to show you captions to advertise your jewellery and captions to connect with your followers.
The latter is perfect if you have a small business, a handmade jewellery shop or if you want to build an amazing community on Instagram. Because after all, people want to connect with people, and you are the maker behind the jewellery.
Where are the captions for jewellery?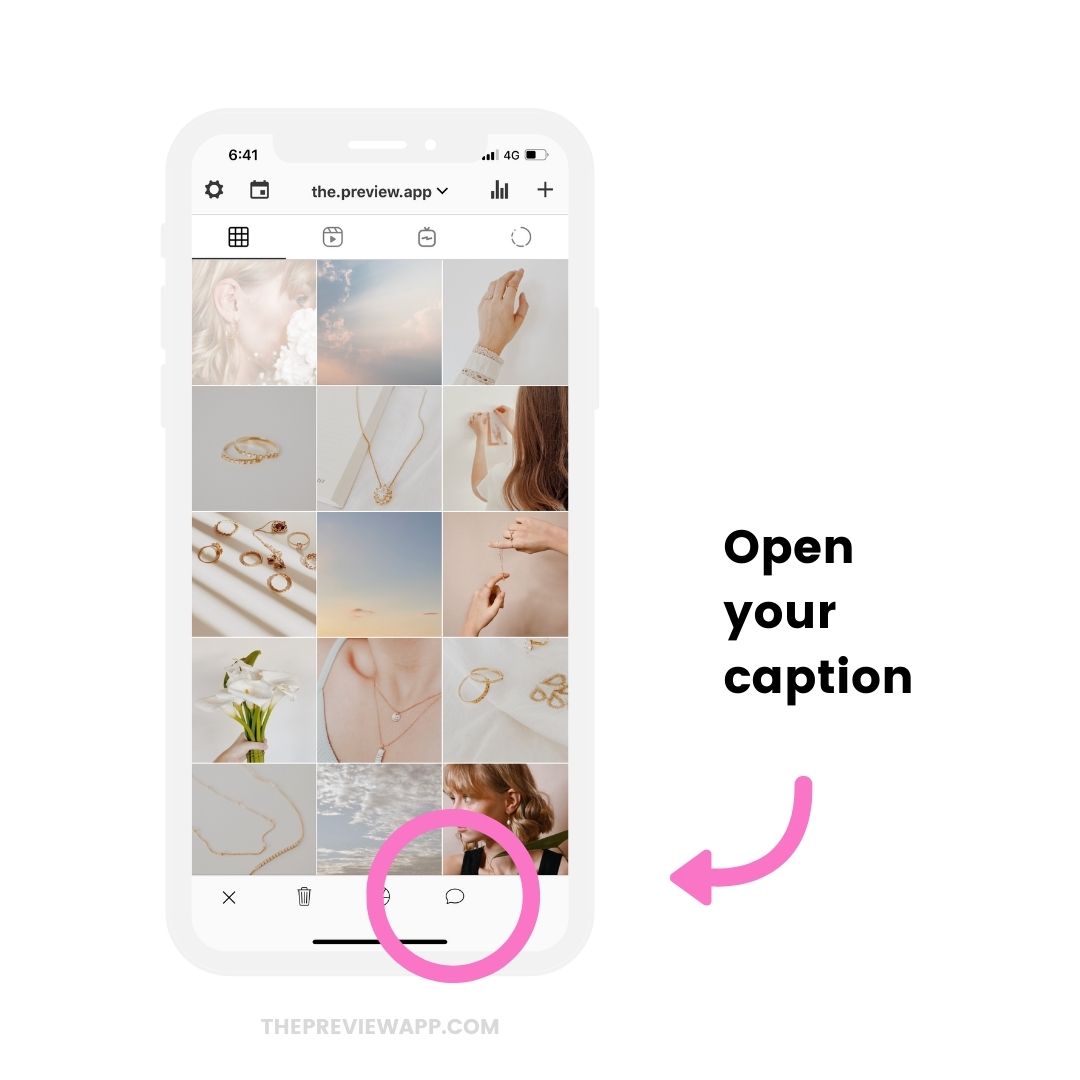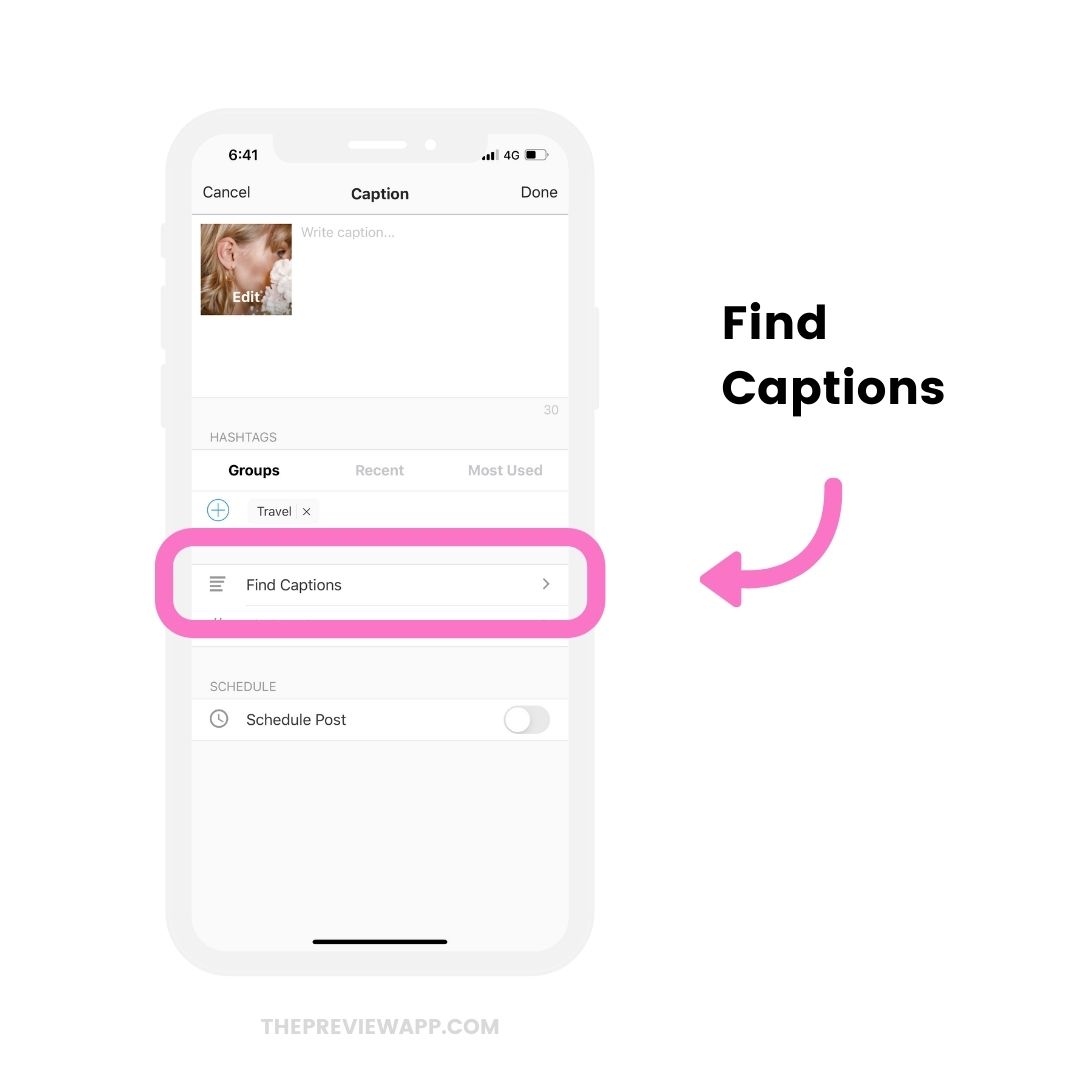 Type "Jewellery" in the search bar to see the recommended captions for jewellery businesses: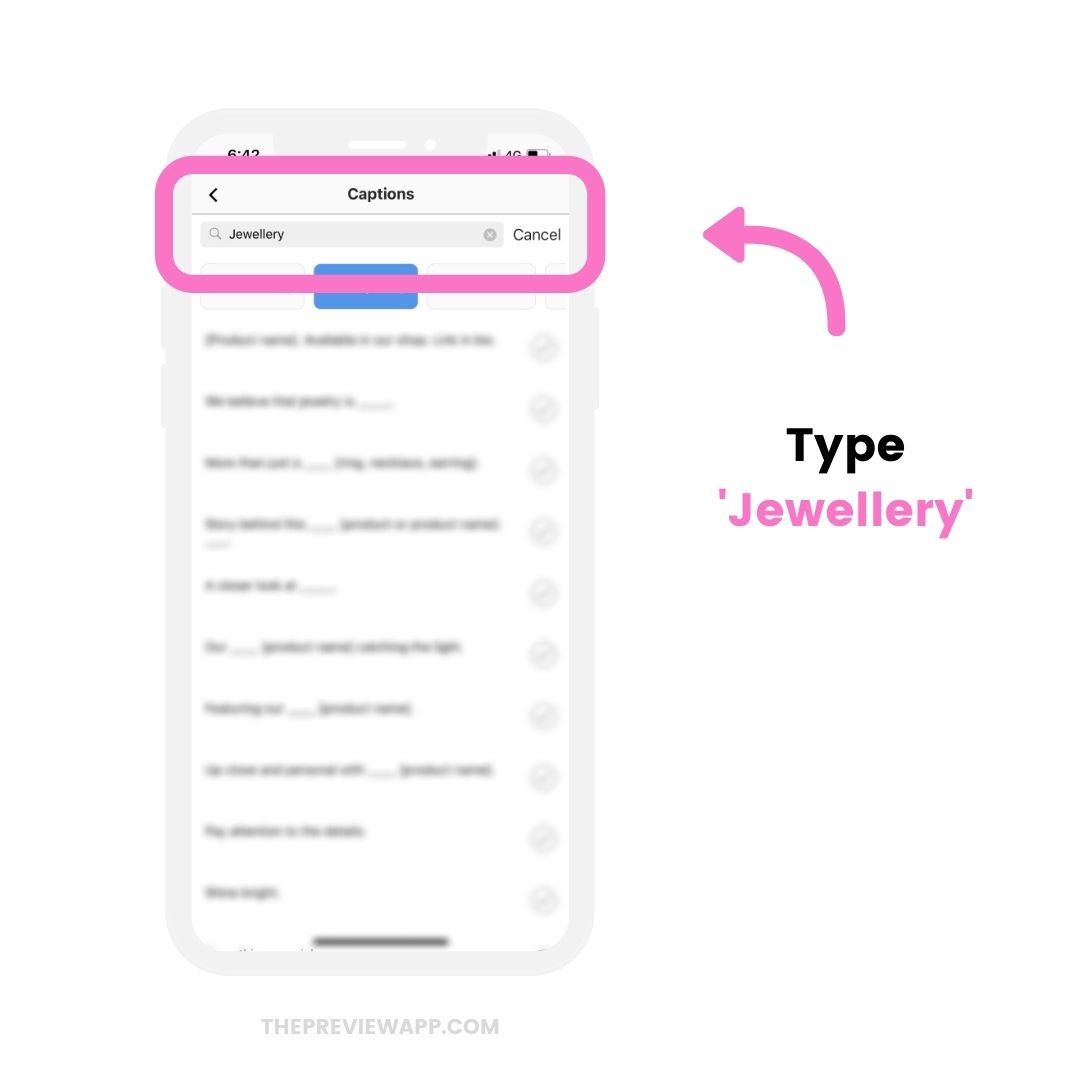 You will see all the recommended captions for jewellery, organized in different categories: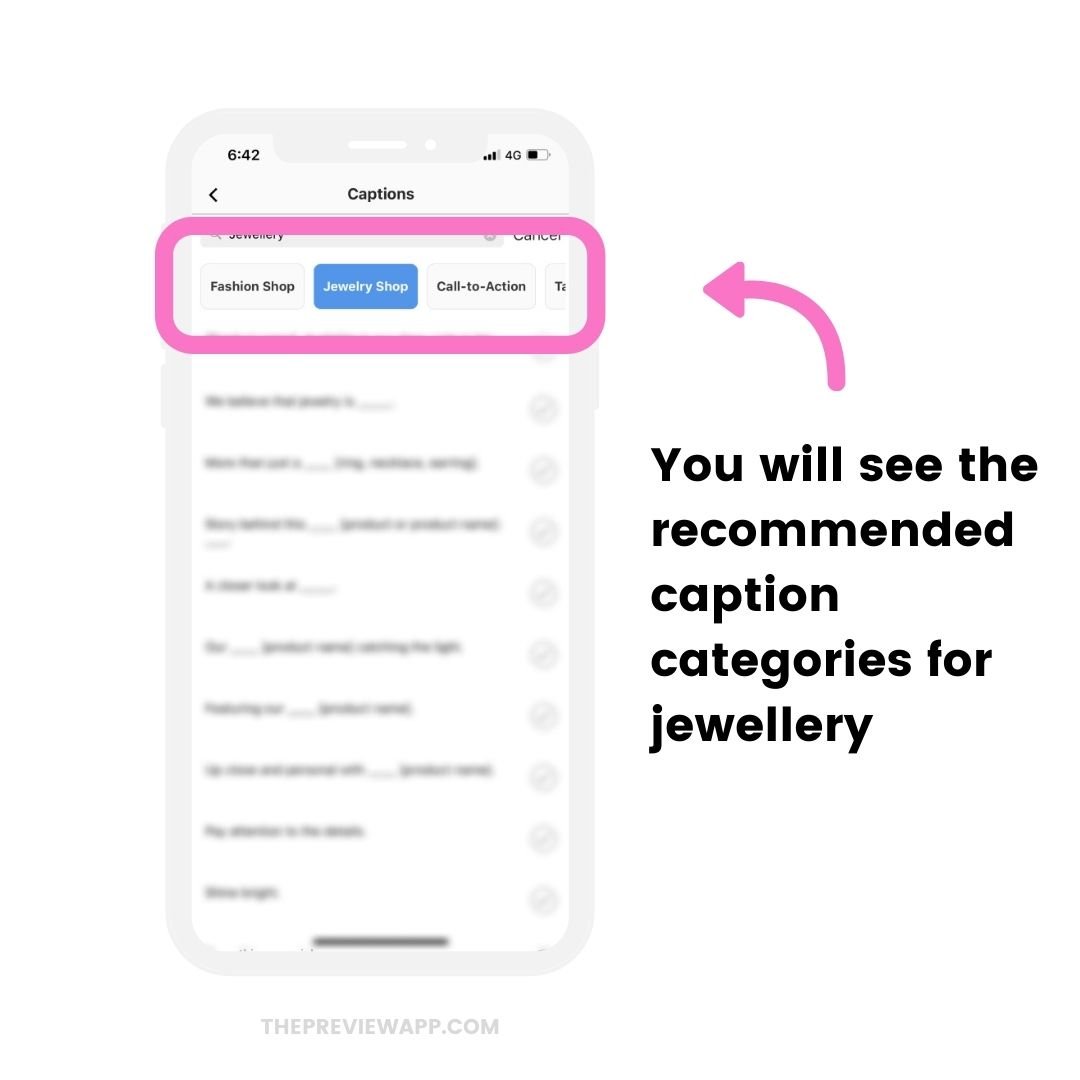 Here are some of 10 Instagram caption categories for jewellery businesses. Within each category, you will have caption ideas and templates you can choose from.
1. Jewellery shop captions
The first category you can check is called "Jewellery Shop".
These captions are made to sell your jewellery pieces (earrings, necklaces, bracelets, etc…).
Jewellery business owners usually keep their captions short and sweet.
This is because people are scrolling fast on Instagram.
The first few words in your captions should catch their attention and make people think, imagine wearing your products and take action (aka = shop now).
Your caption is all about making your followers dream about your beautiful jewellery pieces. Talk about how shiny it is, how it sparkles, or how it can elevate their look.
"Link in bio to shop".
Tired of writing the exact same thing?
The "Shop" category has a lot of different ways to invite people to shop via the link in your bio or by tapping on the post.
Tip: Rotate between these different "shop" calls-to-action to keep your captions different and fresh.
Other captions you can use:
Sales: when you have a sale going on
Urgency: when there are only a limited number of pieces left
Restock: when you want to announce or countdown until your next restock
New offer: when you are launching new pieces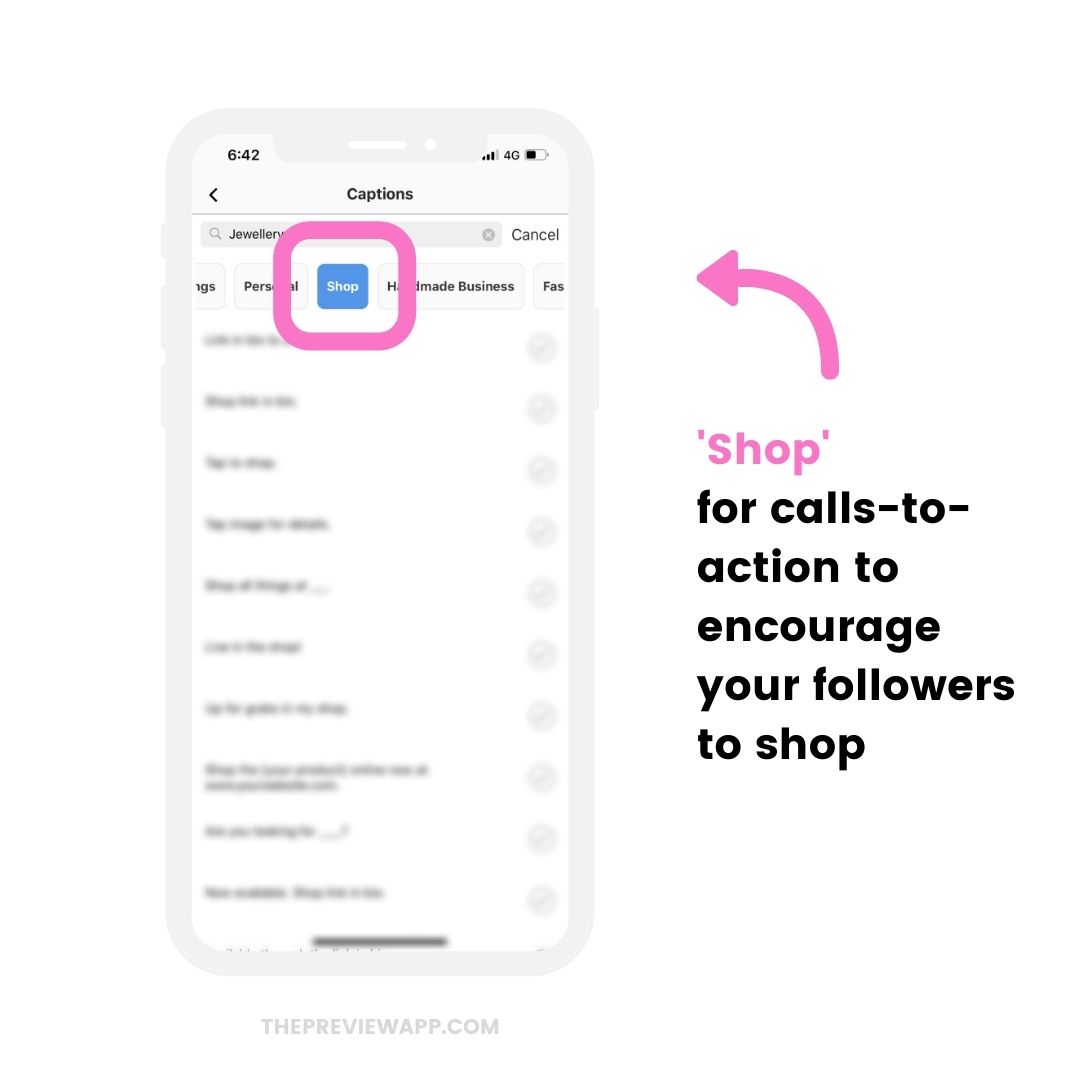 What if you don't want to tell your followers all the time: "tap to shop" / "link in bio"?
You can write different calls-to-action. Some businesses like engaging with their followers. So if it fits with your goals and your strategy: go for it! Try different calls-to-action.
Check these calls-to-action captions in the app:
Tag: to invite people to tag their friends in the comments section
Save this post: if you want people to save your post for later
Share this post: if you want people to share your post with their friends or in their Insta Stories
Link in bio: if you want to invite people to tap on the link in your bio
These are core captions that you can use if this is going to be your first time starting conversations with your followers.
As you (and your followers) start getting used to chatting, you can use the "Get Comments" captions. More about this below.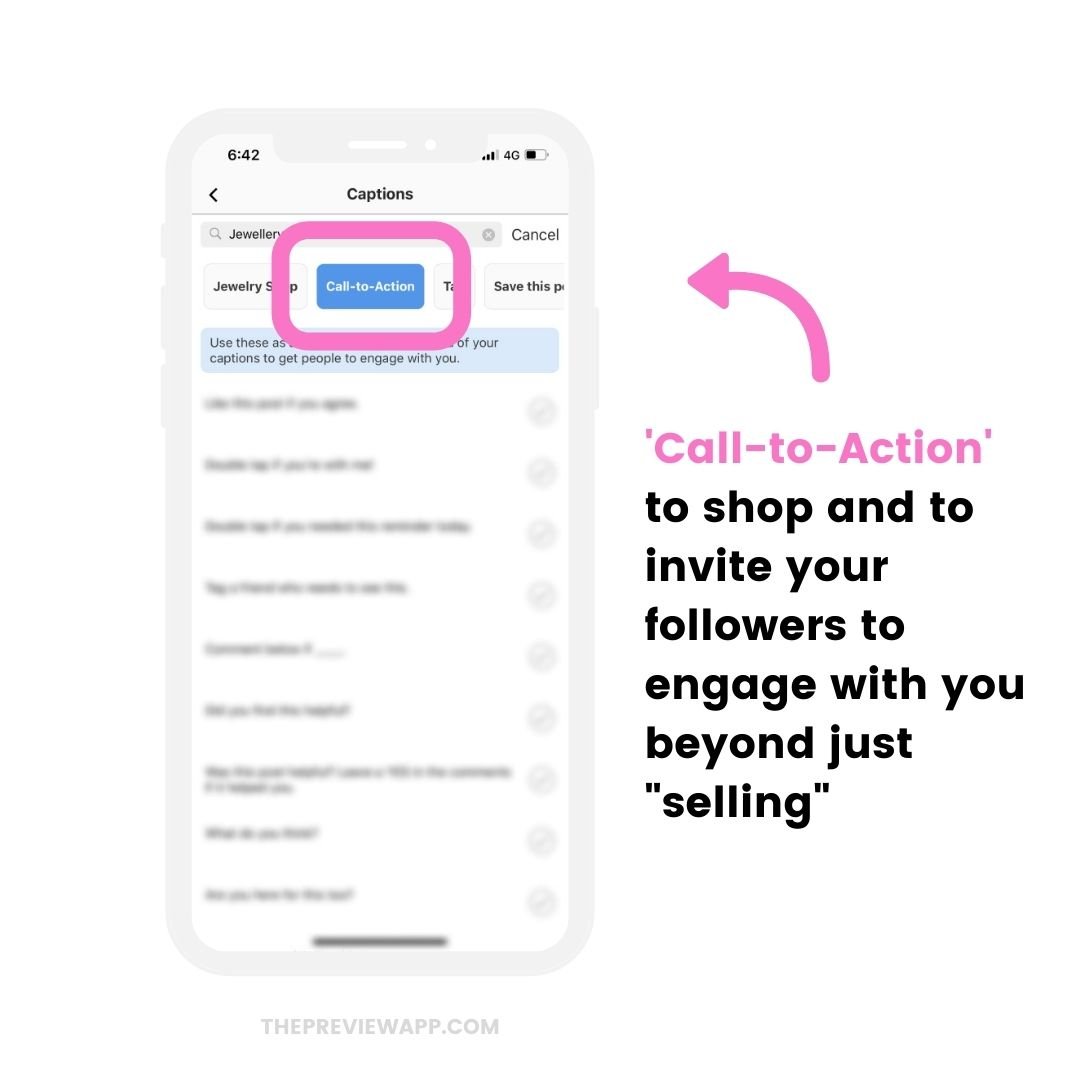 "Have you heard the news? ____ "
This 👆 is a caption "starter".
This caption category is one of our favorites in the app.
Why?
Because they grab people's attention. Which will make them stop scrolling and continue reading. The longer they stay on your caption = the better for you / the algorithm.
The key: If your first few words sound interesting or intriguing, they will continue to read.
So how to make it sound interesting or intriguing?
With a Caption Starter.
Think of a Caption Starter as a "hook".
Depending on your branding, you can definitely use these caption ideas for your jewellery business.
Here are more examples of Caption Starters you can find in Preview:
"First of all: let's address the elephant in the room: ____"
or
"Want to know a secret? ____"
or 
"Have you heard the news? ____ "
Complete the sentence with your story. Relate it back to your jewellery pieces or share a personal story if you are building a personal brand.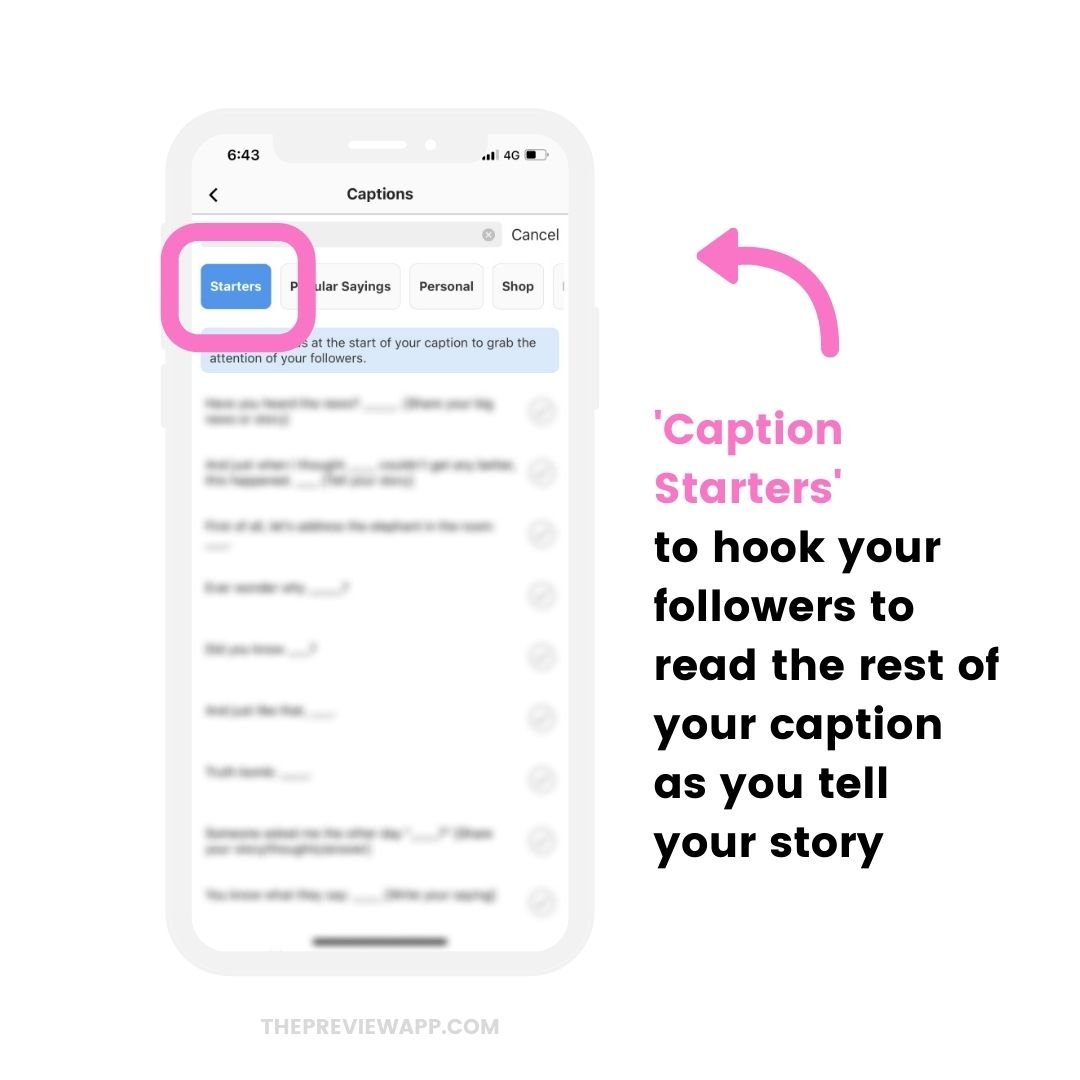 5. Handmade jewellery captions
Talking about being personal:
Are you making handmade jewellery pieces?
If you said yes:
Do you want to build a relationship with your followers beyond selling?
If so, check the captions in the "Handmade Business" category.
Feel free to use the captions as a base and then continue to write the rest of your caption to fit your photo and what's currently happening in your life and business.
The captions in this category can be used as caption prompts to get your passion to come out through words.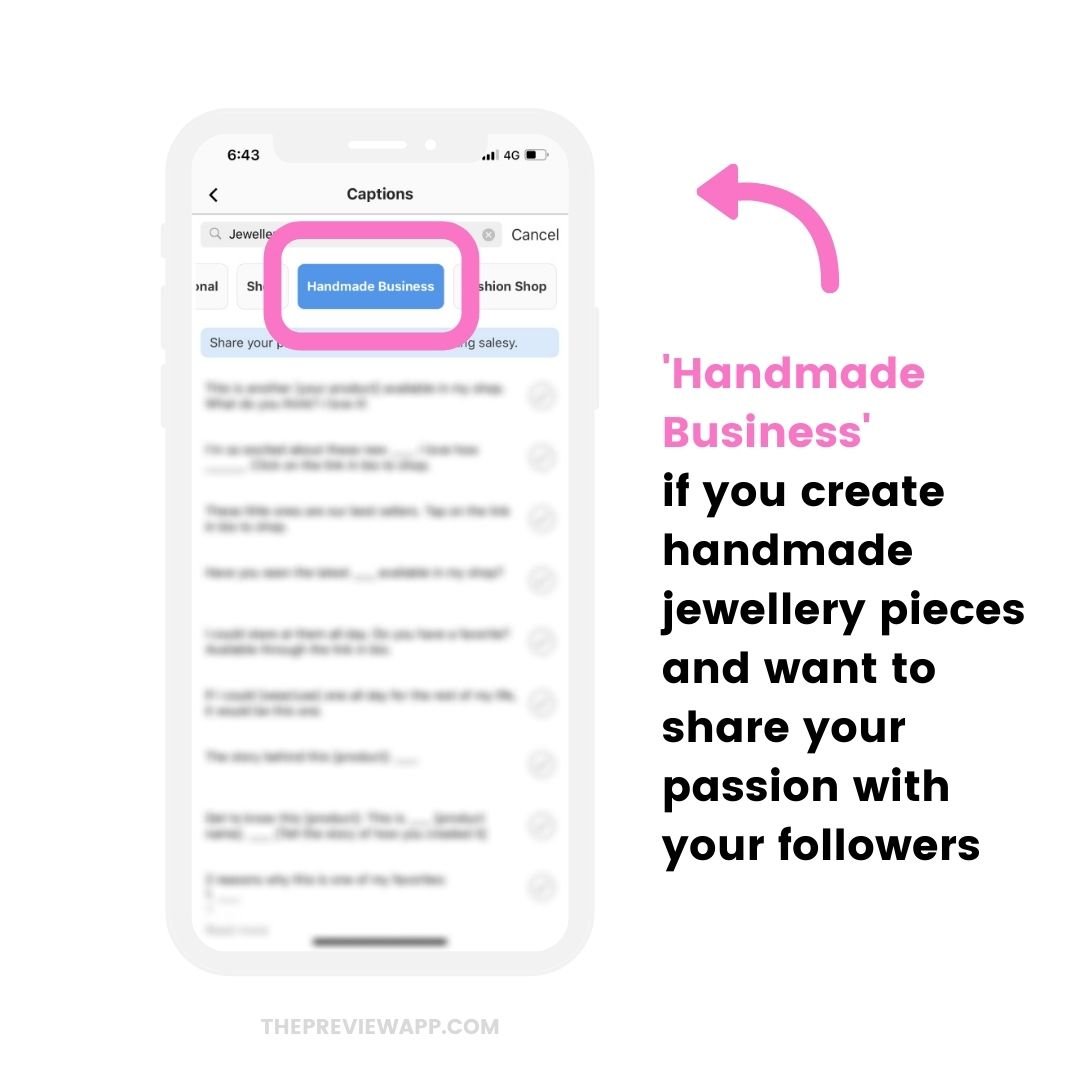 6. Personal captions for jewellery
"3 fun facts about me: ____"
Let's go even deeper.
Want your followers to feel more connected to you?
Or want to balance between "selling" and "personal" posts?
Then you can use the "Personal" caption category.
You can do a personal caption once a week, or once a month, or as many times as you'd like.
Don't want to get too personal? No problem. You can always use these caption ideas to write a story about your business or to make your product talk for themselves.
For example, instead of "3 fun facts about me", it could be "3 fun facts about [your product in the photo]".
There are more "personal" caption ideas in the "Personal" category. The captions are meant to be intriguing and interactive.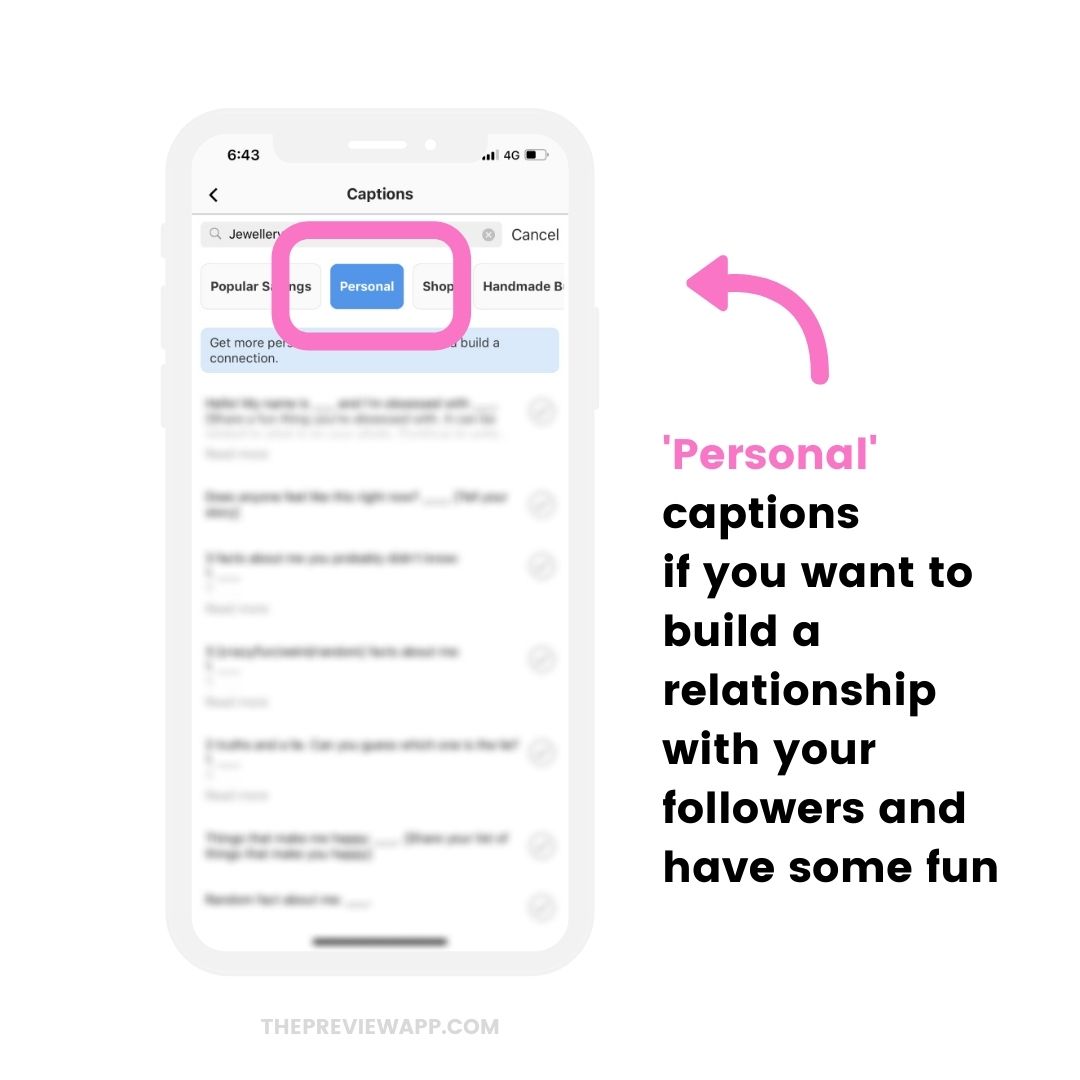 7. Behind the scenes of your jewellery business
These are perfect if you want to build a personal brand, or want your followers to get a taste for how you create your jewellery, what it takes to make them, what materials you use, why you chose a specific design, or how you create certain pieces.
To help you think of caption ideas, check the "Behind the Scenes" category:
If you are receiving testimonials and reviews, or if people DM (direct message) you, why not share their words on your feed?
It's a great way to show other potential customers, scrolling through your feed, that you already have satisfied customers enjoying your creations.
See the "Testimonials" captions: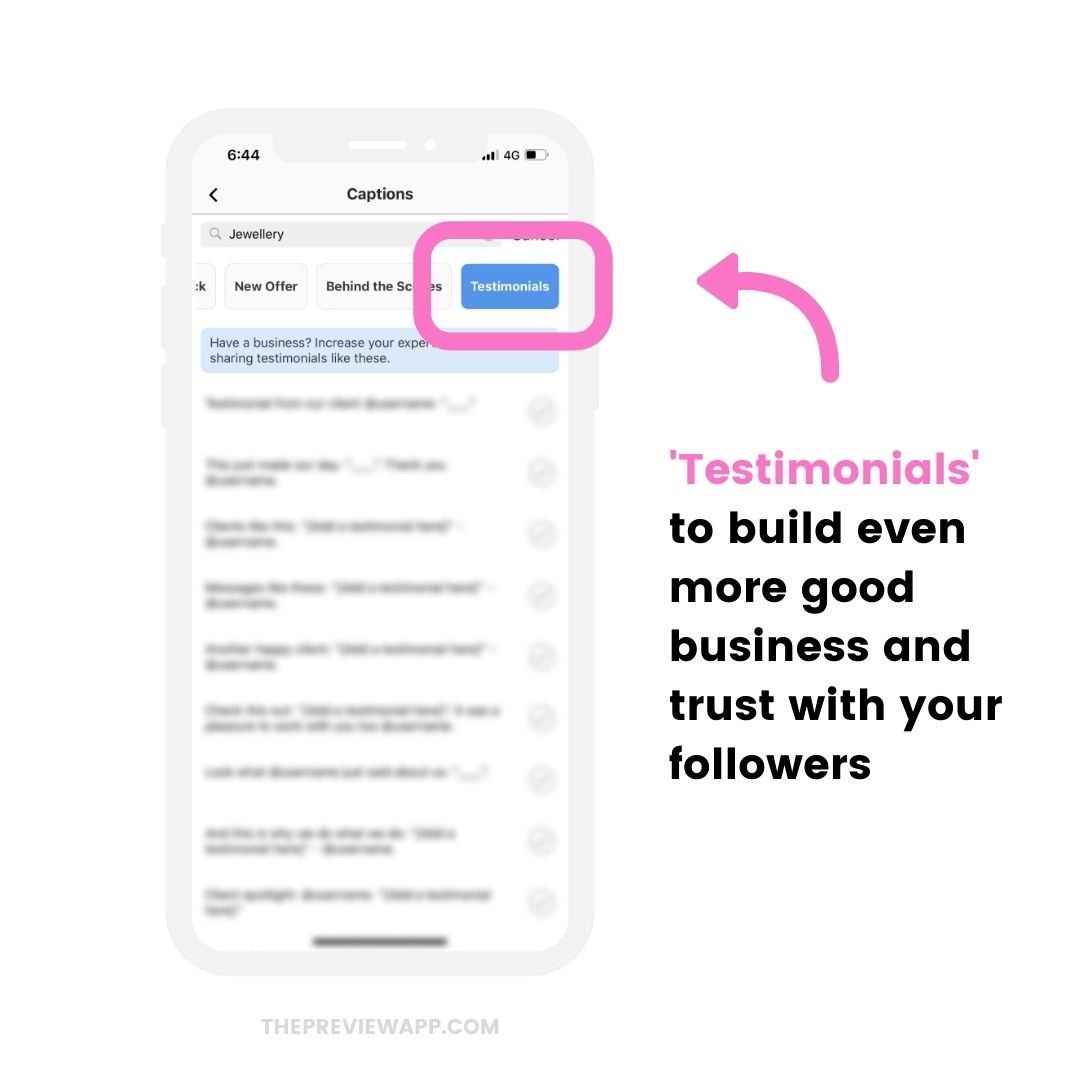 "Hey Siri, elevate my outfit"
"'I've got too many earrings.' Said no one ever."
These are in the "Popular Sayings" caption category.
Just use a popular saying and complete the sentences using something related to jewellery or fashion.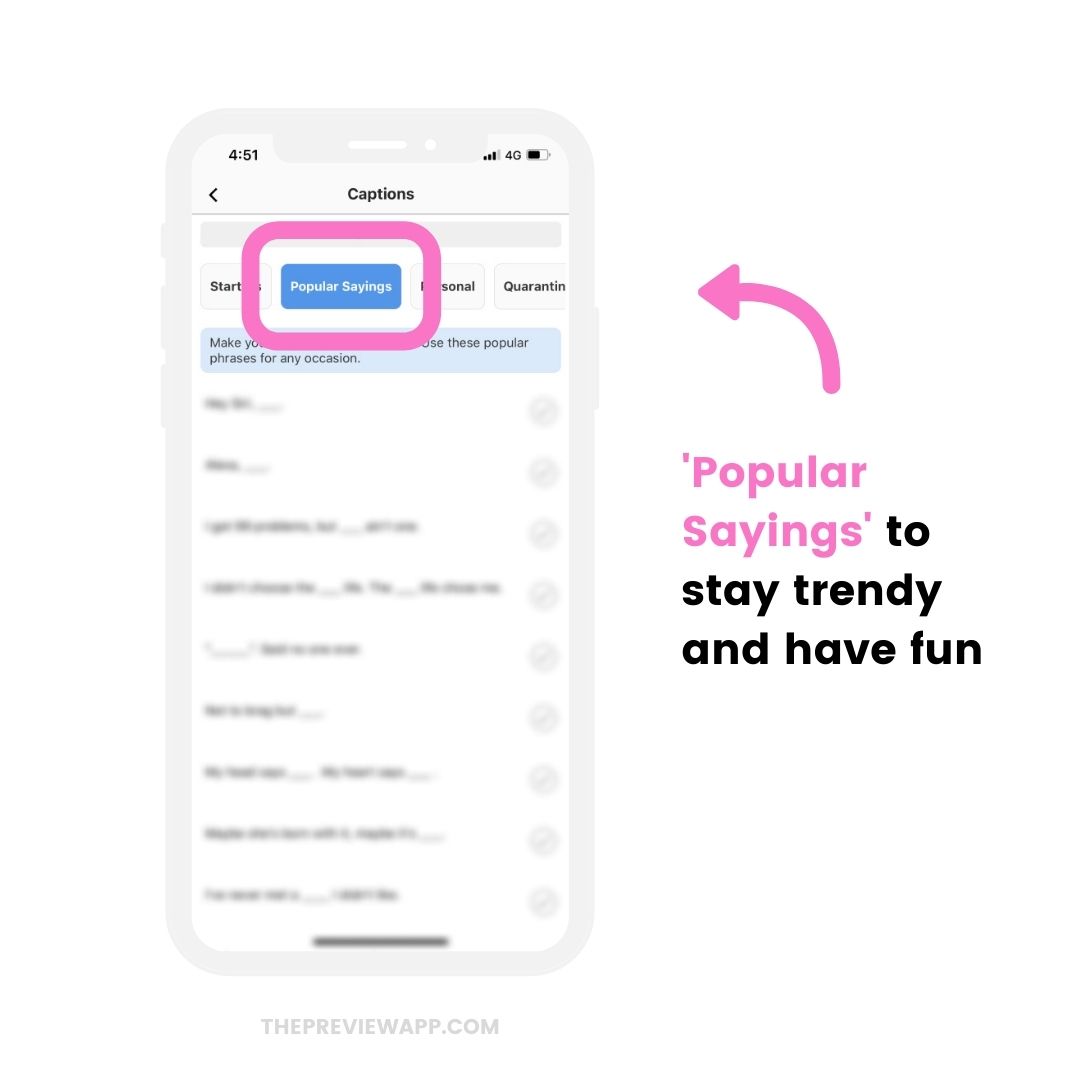 And last but not least: "Get Comments".
One of our favorite caption categories in the app too.
This one is for you if you want to have some fun with your followers. If you want to start conversations. Or if you want to get them to think (about you 😉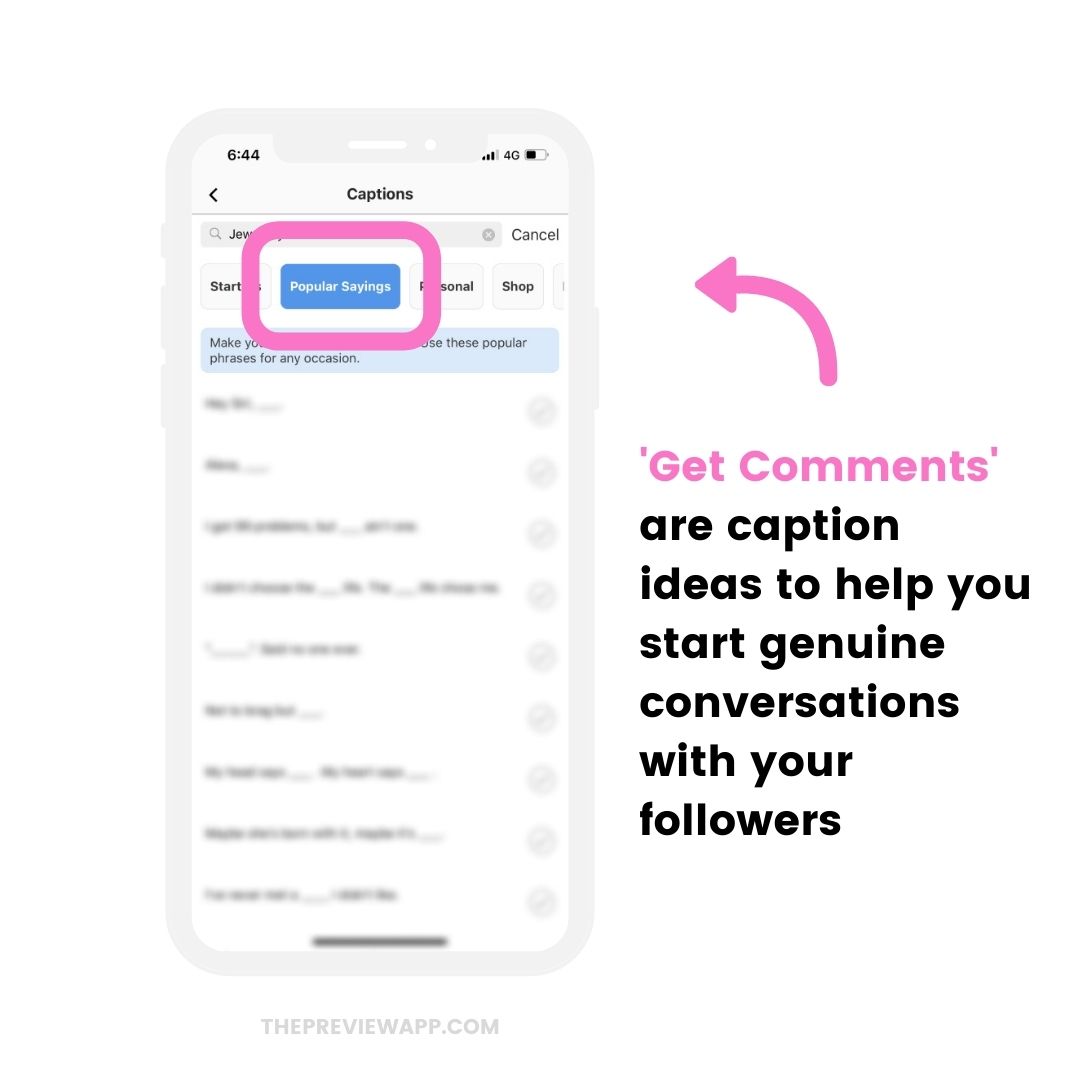 All these captions are at your fingertips (over 3,000 captions to be exact).
Have fun planning your posts and writing your captions!
More tips here: