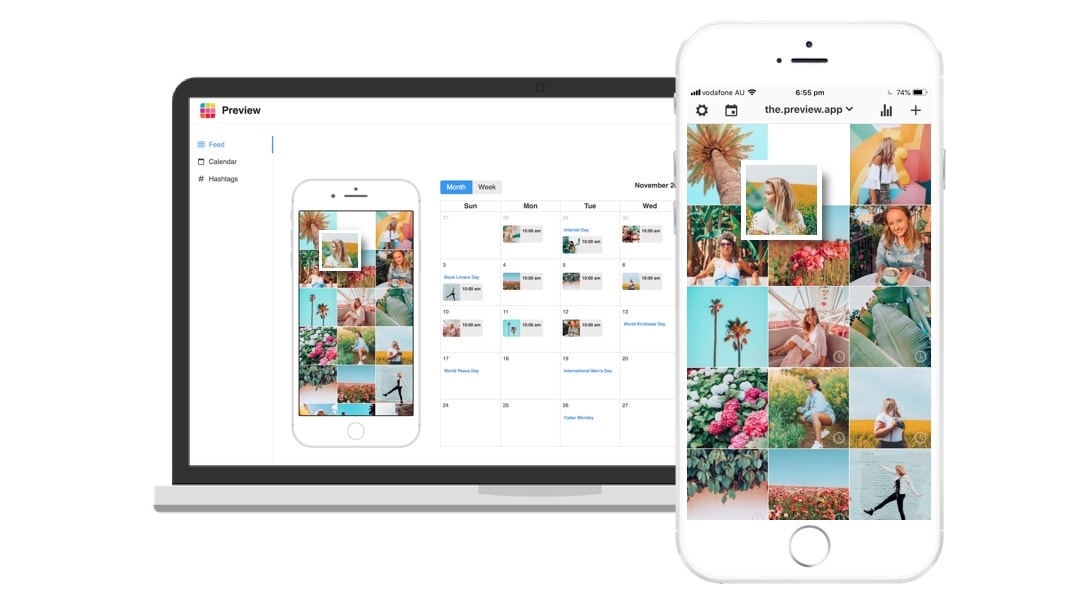 What's Preview app?
It's a brand-new Instagram Planner loved by 4 million Instagrammers.
If you're new, click here to join.
About the Calendar:
The Content Calendar is full of fun holidays to help you stay #relevant.
It will help you know exactly what post you can prepare when, and what to write in your Instagram caption (no more stressing out what to write, just plan around these awesome days).
With the calendar, you can always stay ahead of the crowd because you can see what's coming, and you can plan for it.
You can also use it to join the most popular events on Instagram.
Think of the Calendar as your map. Your map that gives you direction about "what to post".
Now, look at the Holidays in the Calendar: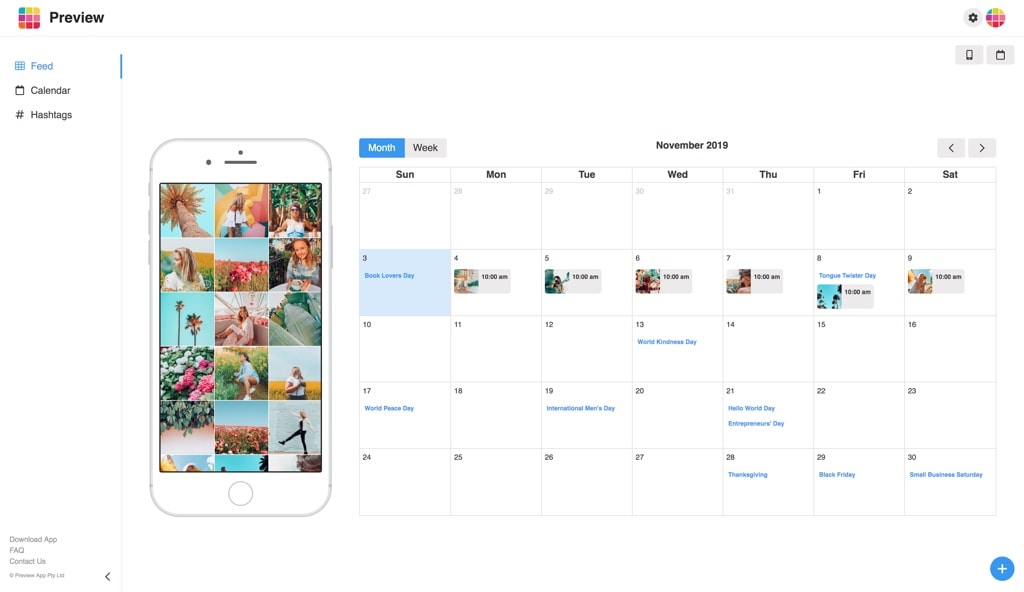 Let's use "Book Lovers Day" as an example.
How to use the Content Calendar to plan your content and to come up with awesome posts for your account?
3 ways:
1. Post a post related to the holiday, on the day of the holiday
For example, on "Book Lovers Day", post something related to books.
Here's a post idea:
"Happy Book Lovers Day! What is one book you would recommend everyone to read at least once in their life?"
I will plan a post for this day, and write this in my caption.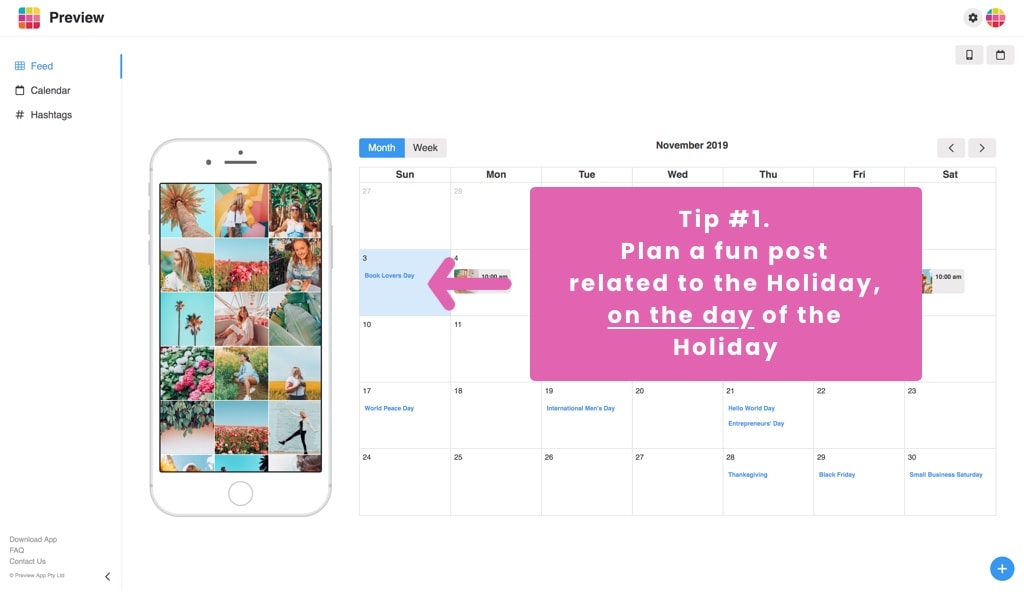 2. Choose a theme for the week
For the whole week, share posts related to the holiday.
In this example, books will be your "theme of the week".
Here are some post ideas:
? MONDAY:
"Happy Book Lovers day book lovers! I'm looking for new awesome books to read this month. Any recommendations?"
? TUESDAY:
"Are you more of an audio book or a physical book lover?"
? WEDNESDAY:
"My top 5 favorite books of all time are…"
? THURSDAY:
"A book that changed the way I see life is…"
? FRIDAY:
"What is one book you would read over and over again?"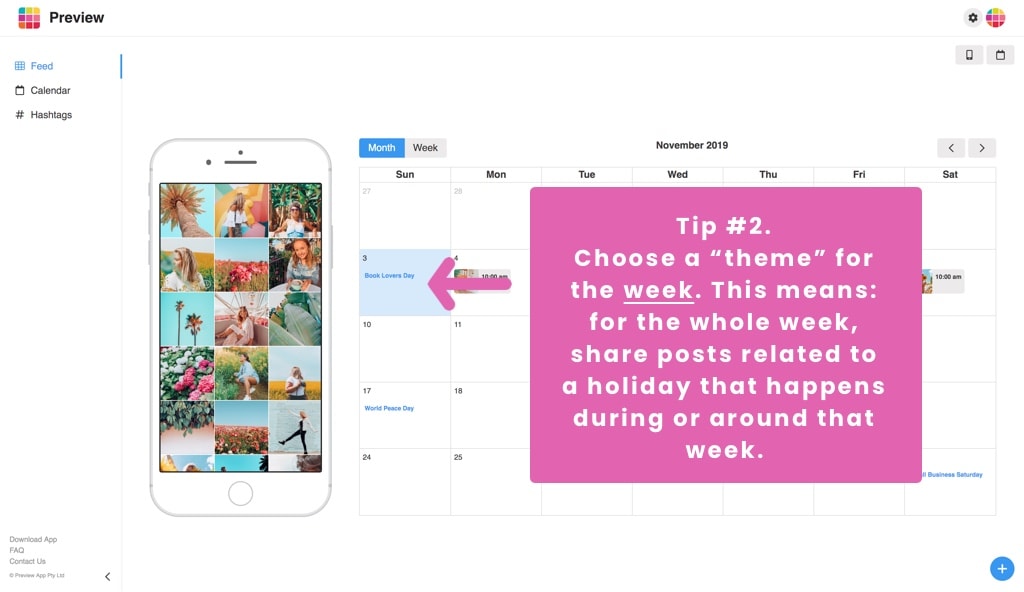 3. Choose a theme for the month
For the whole month, choose a holiday as a theme.
Look at the Content Calendar and see if there is a date that speaks to you or your brand.
This will help you stay relevant during the whole month, or create excitement around a theme/topic during the month.
This trick is especially awesome if you are planning to launch something, or if you like to change your Instagram theme based on holidays, events or seasons.
Let's go back to our example with books.
For the whole month, focus on creating content around books.
Have fun with the holidays and be creative!
Even if you think the holidays might be unrelated to your account at first: there is always a little something you can post. Have fun with it.
Think outside the box.
Use these holidays to make your posts and account relevant.
If you have a brand/business, ask yourself:
"How can I use these holidays to fit my brand and be part of the social media fun?"
That's it for now.
Click here to download Preview app now.
And have fun!