Hello wedding photographer!
Let's prepare your hashtags to get your posts seen by more people and your ideal clients.
I have been collecting the best Instagram hashtags for wedding photographers for the past couple of years.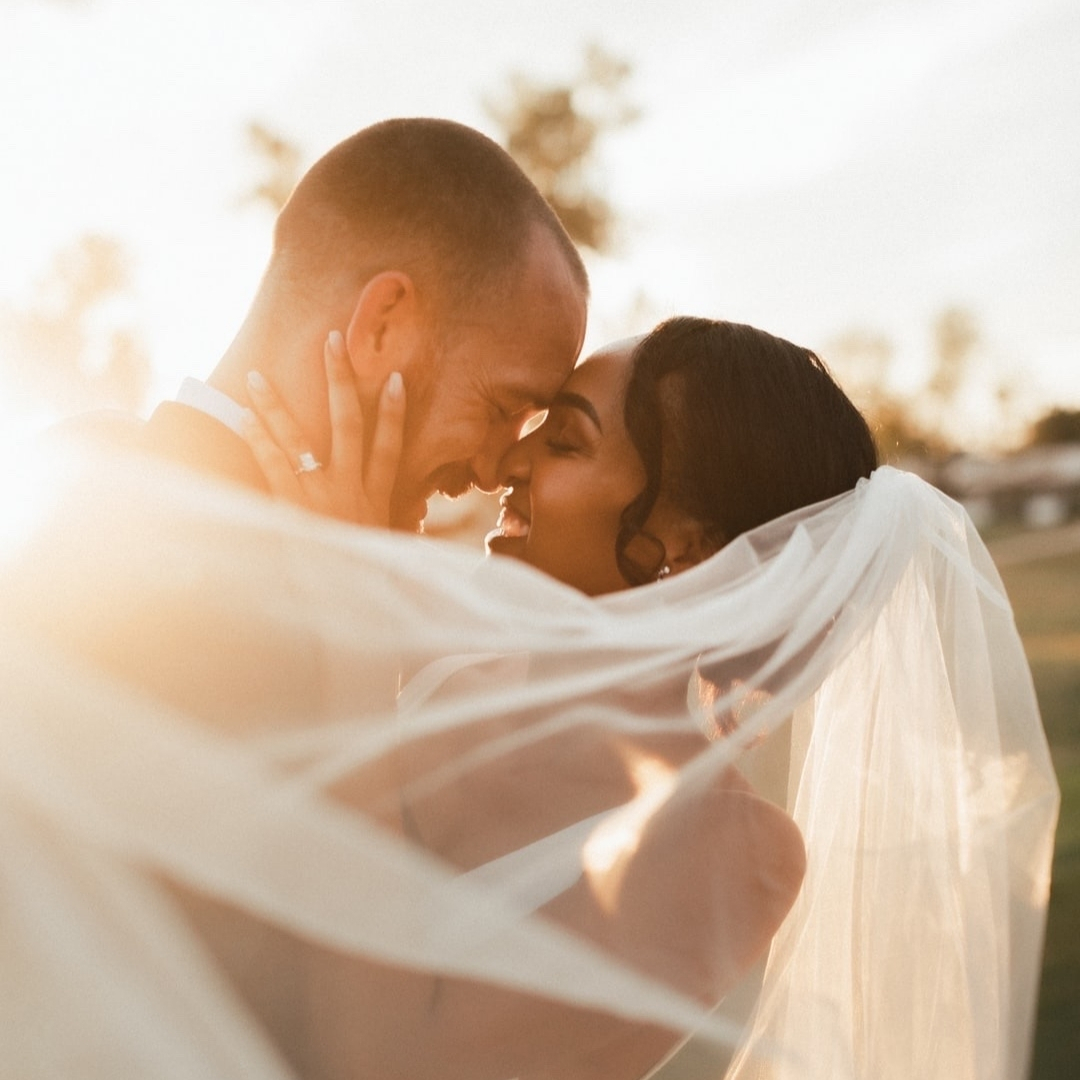 These hashtags are:
Curated for wedding photographers and business owners
Not banned or blocked by Instagram (therefore safe to use)
Community hashtags created by wedding photographers
Hashtags to help you get featured on specialised wedding accounts
Hashtags that your clients are using to find wedding inspiration (so that they can find your posts)
I'm going to show you Instagram hashtags for:
Wedding
Wedding Photographer
Bride
Groom
Couple Photographer
Engagement
Love Stories
Wedding Planner (remember, your ideal client will be scrolling on Instagram to find inspiration. So feel free to use hashtags they would use to search for wedding content – so they can find you).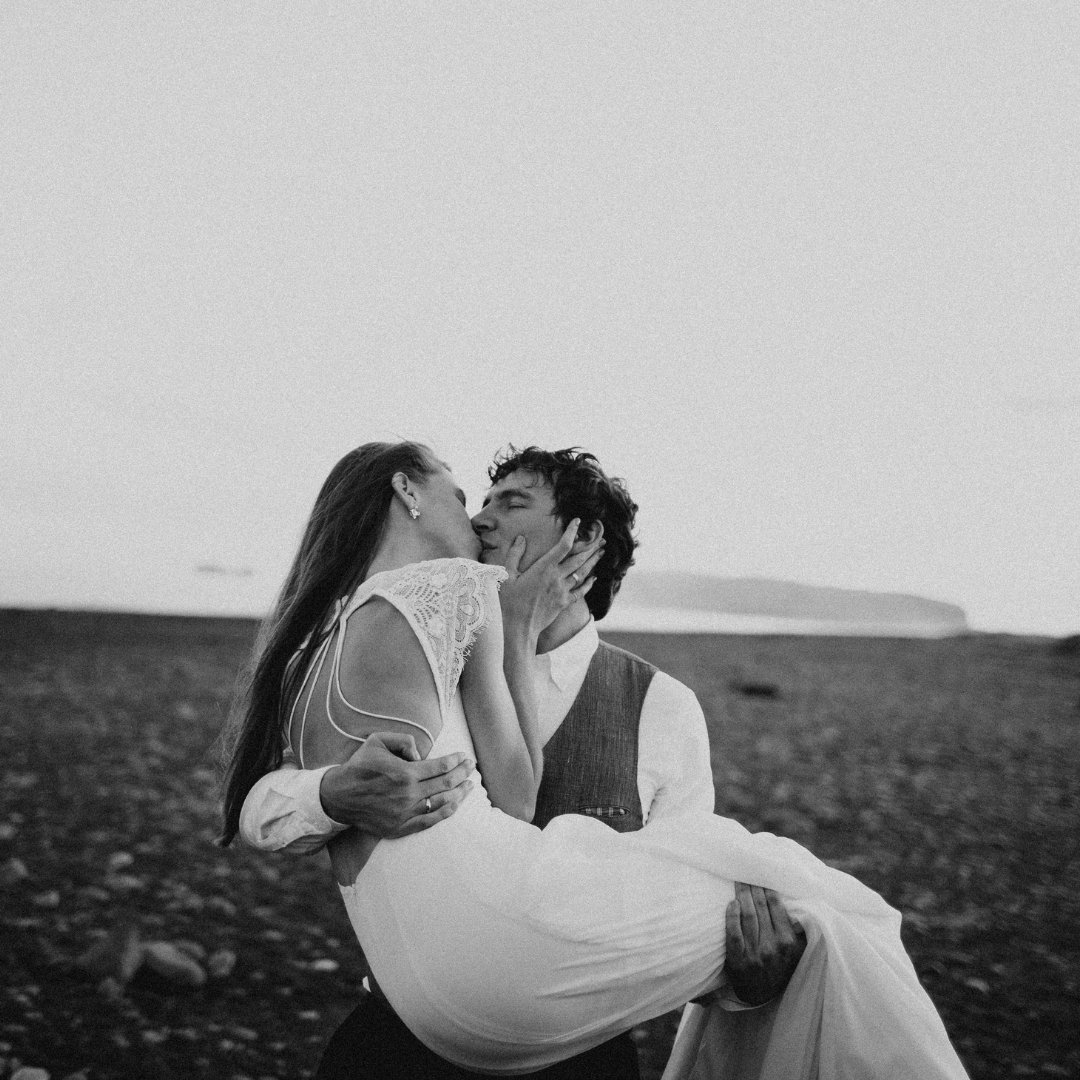 All the hashtags are neatly organized into hashtag groups inside Preview App.
You can:
Copy and paste the hashtags for your captions (or first comment)
Mix and match hashtags from different groups to create your own unique hashtag group
Schedule your post to post later (if you want to)
One more thing:
All the hashtags have been handpicked by an actual human.
This is important for me to stress because so many hashtag generators out there give you hashtags that are picked by an AI or robot – which ends up giving you very broad hashtags.
So you can rest assured that the hashtags in Preview are the best for wedding photographers.
Preview will make your Instagram life so much easier. And I hope, more fun too.
Without further ado, let's start.
Where are the Instagram hashtags for Wedding Photographers in Preview?
You can use Preview on the phone app or computer.
Let's use the phone app for this blog post.
To find the hashtags:
Open your Preview caption
Press on "Find Hashtags"
Type "Wedding" in the search bar
Choose a hashtag group
Press "Add All" to use all the hashtags from that group, or
Select hashtags one by one (great if you want to mix hashtags for other groups)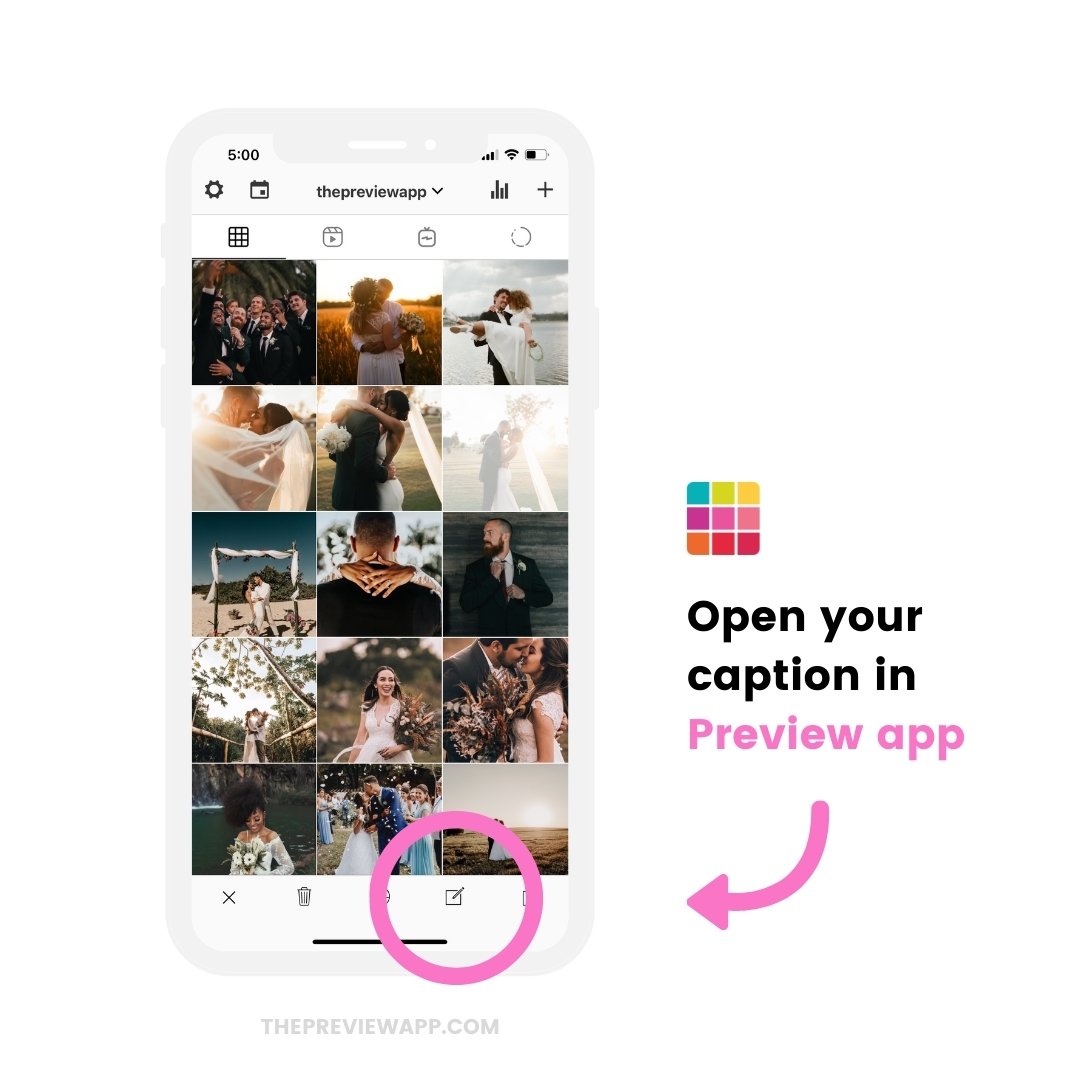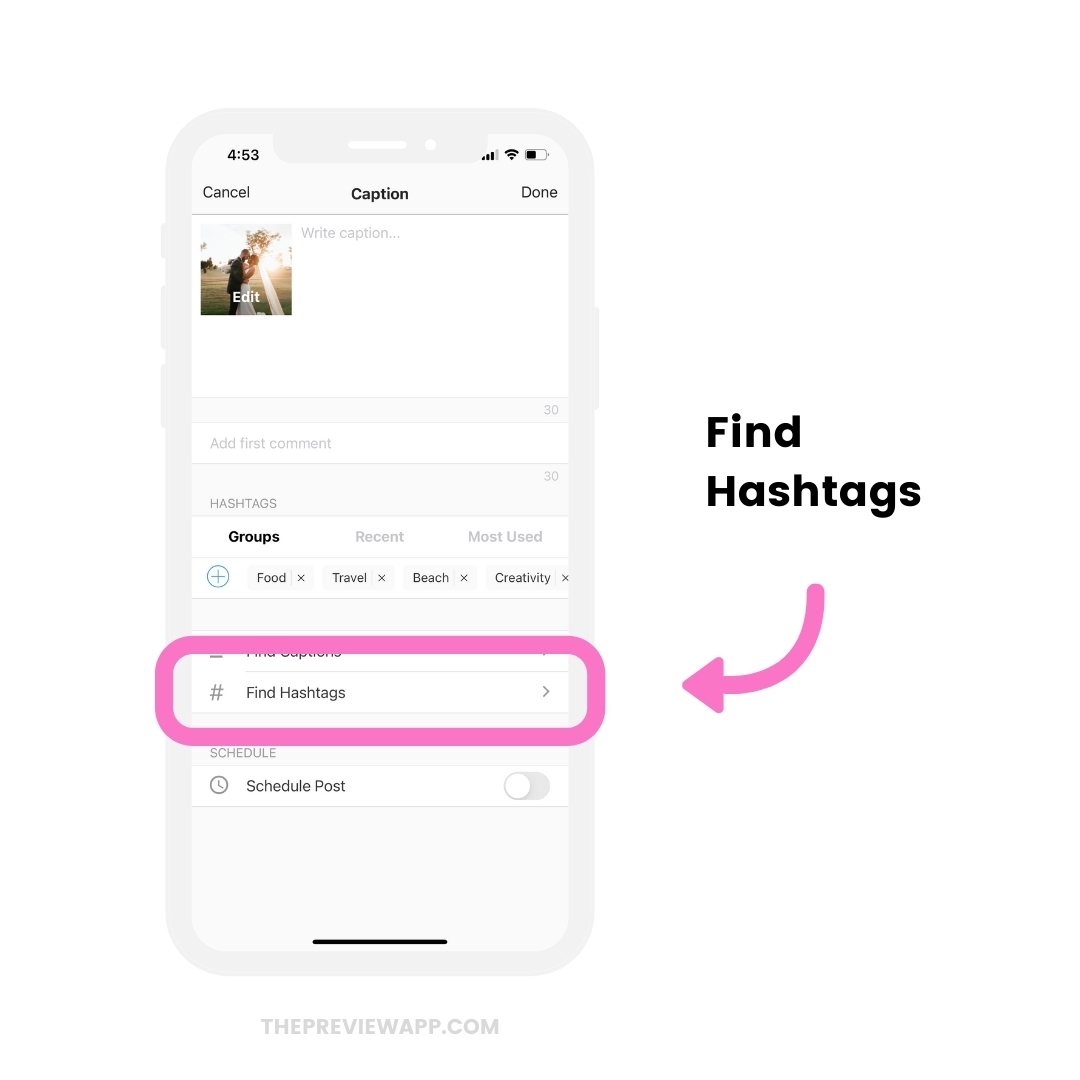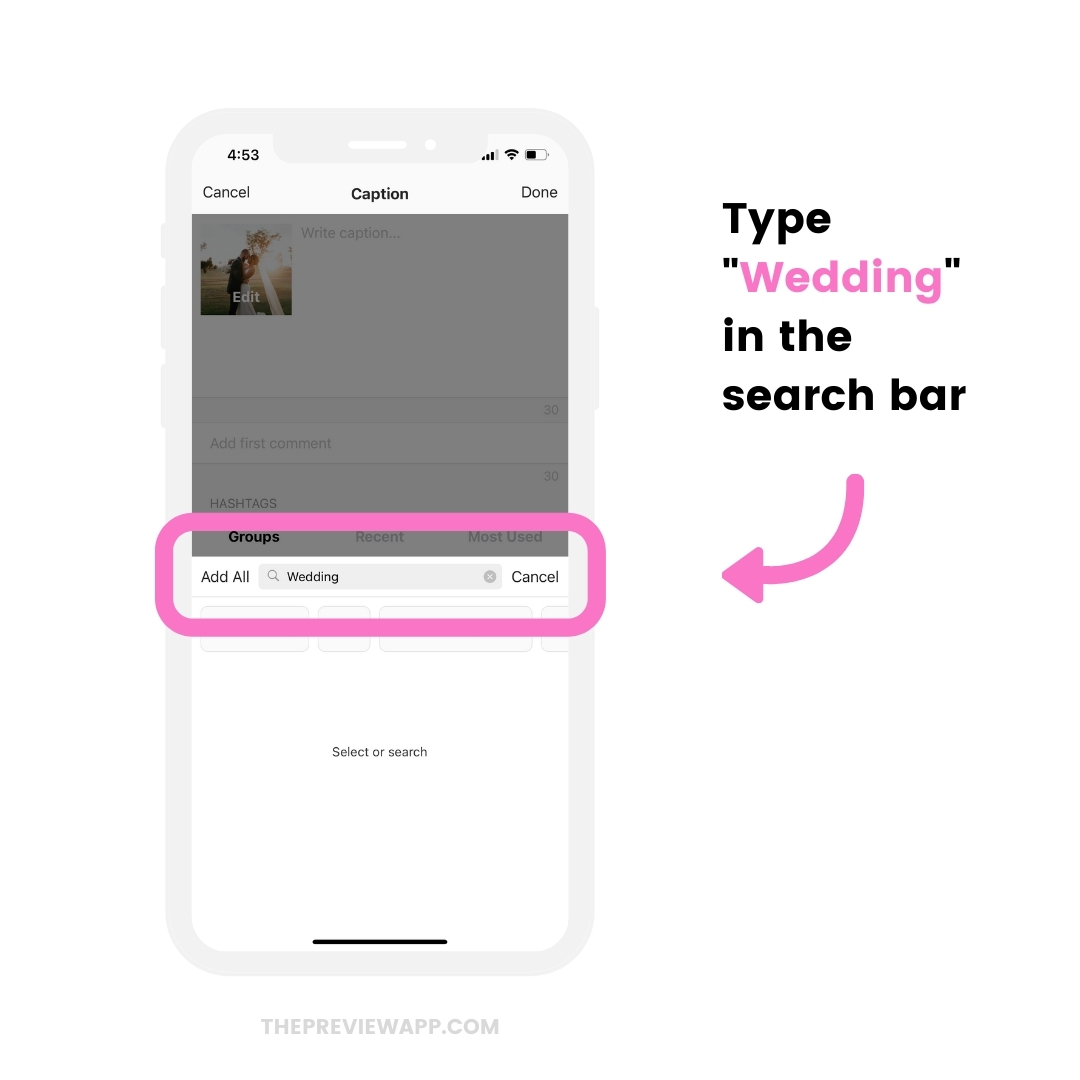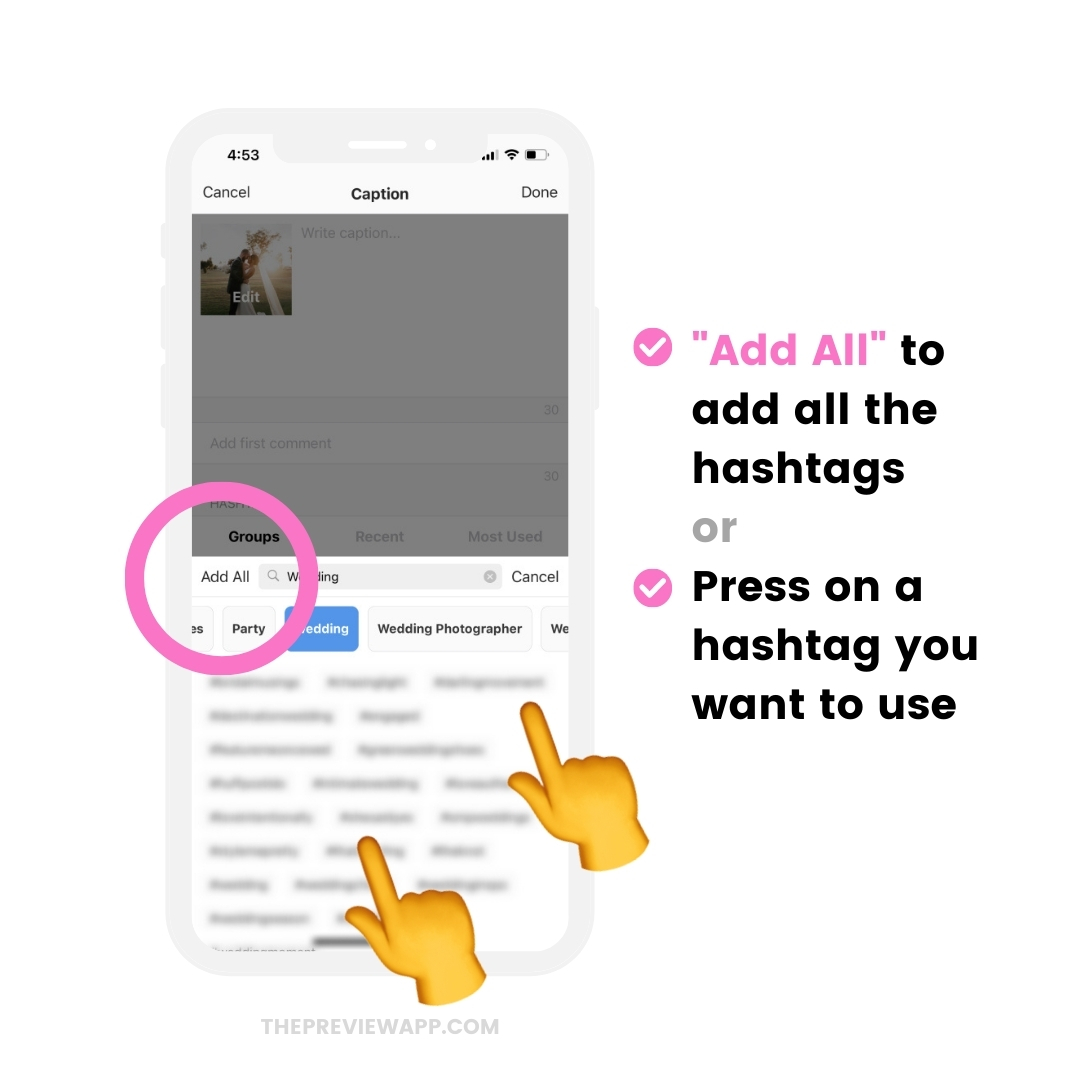 Bonus: Press on "Find Captions" to find caption ideas for wedding, love, romantic quotes, and for you as a service-based business. The latter are strategic captions that help you to talk directly to your clients' hearts and minds.
The first hashtag group you can use is the "Wedding" one.
It has all the core hashtags that wedding professionals use. People also use these hashtags to find wedding photo inspiration.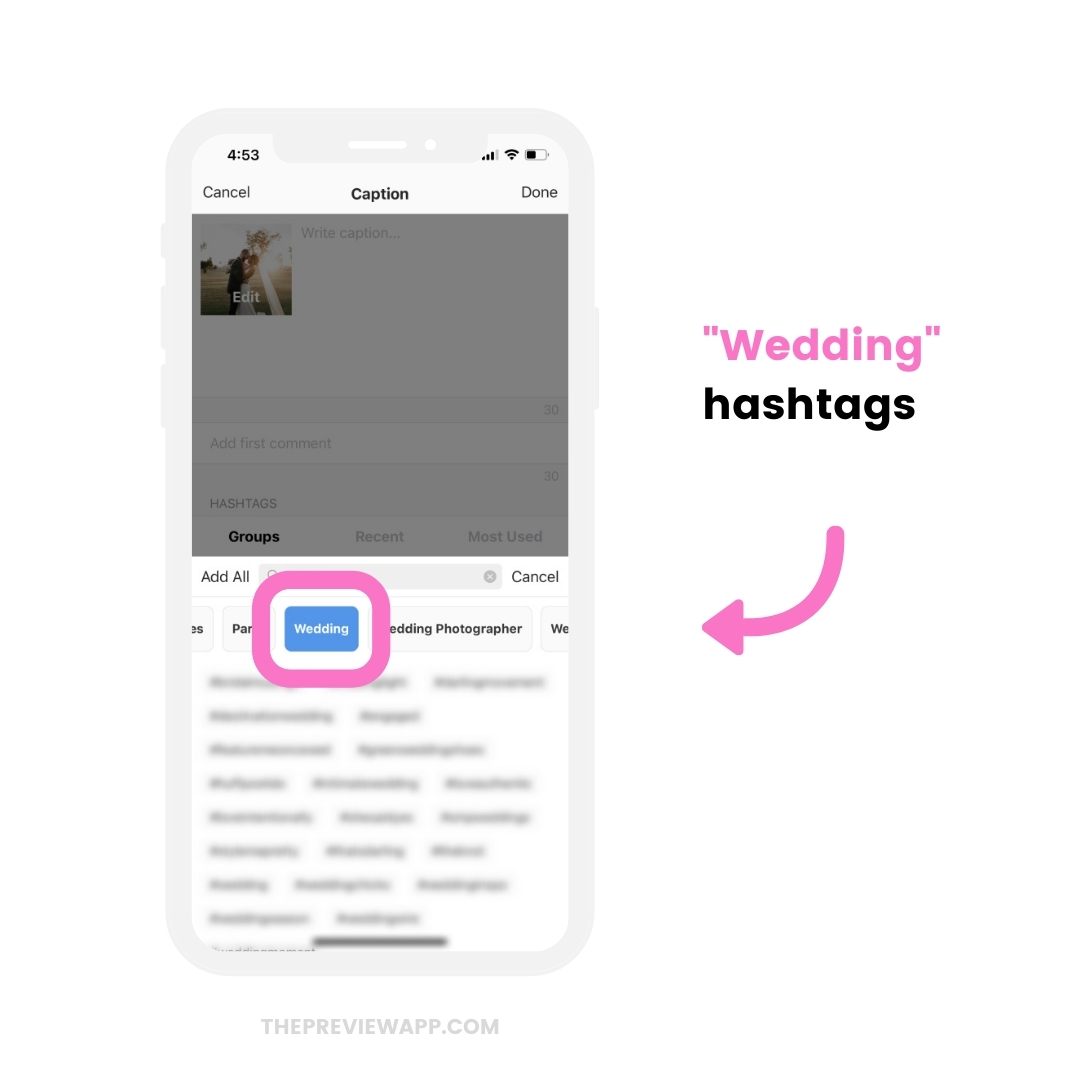 Wedding Photographer hashtags
The "Wedding Photographer" hashtag group is specifically for wedding photographers.
You will find:
Popular Instagram hashtags wedding photographers use
Hashtags wedding photographers created to connect with each other
Hashtags wedding photographers use to get featured on specific wedding accounts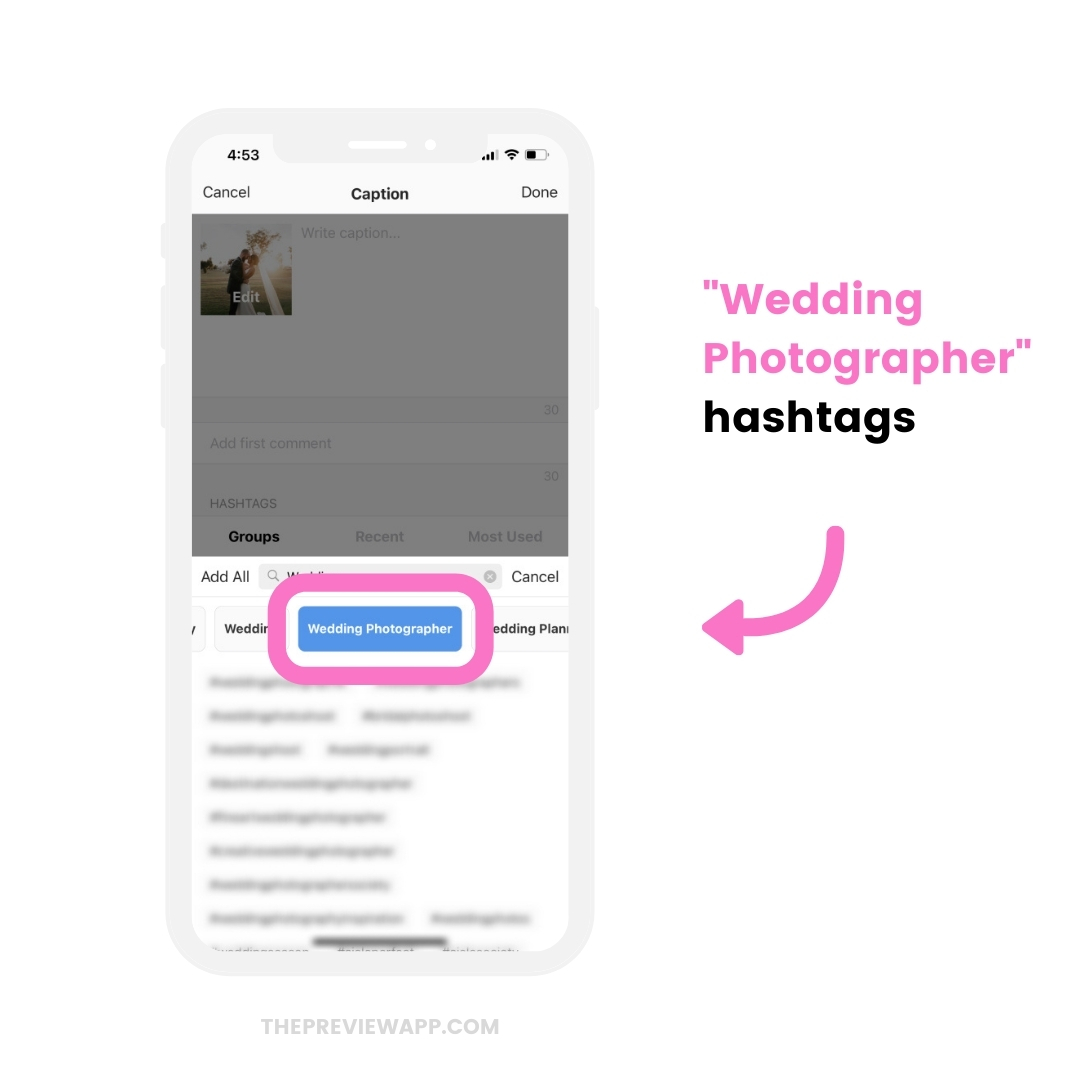 Want to share photos of the bride?
Use the "Bride" hashtags.
These hashtags are also great to connect with potential clients, who will be looking for bride, hair, makeup, and dress photo inspiration on Instagram. They could find you.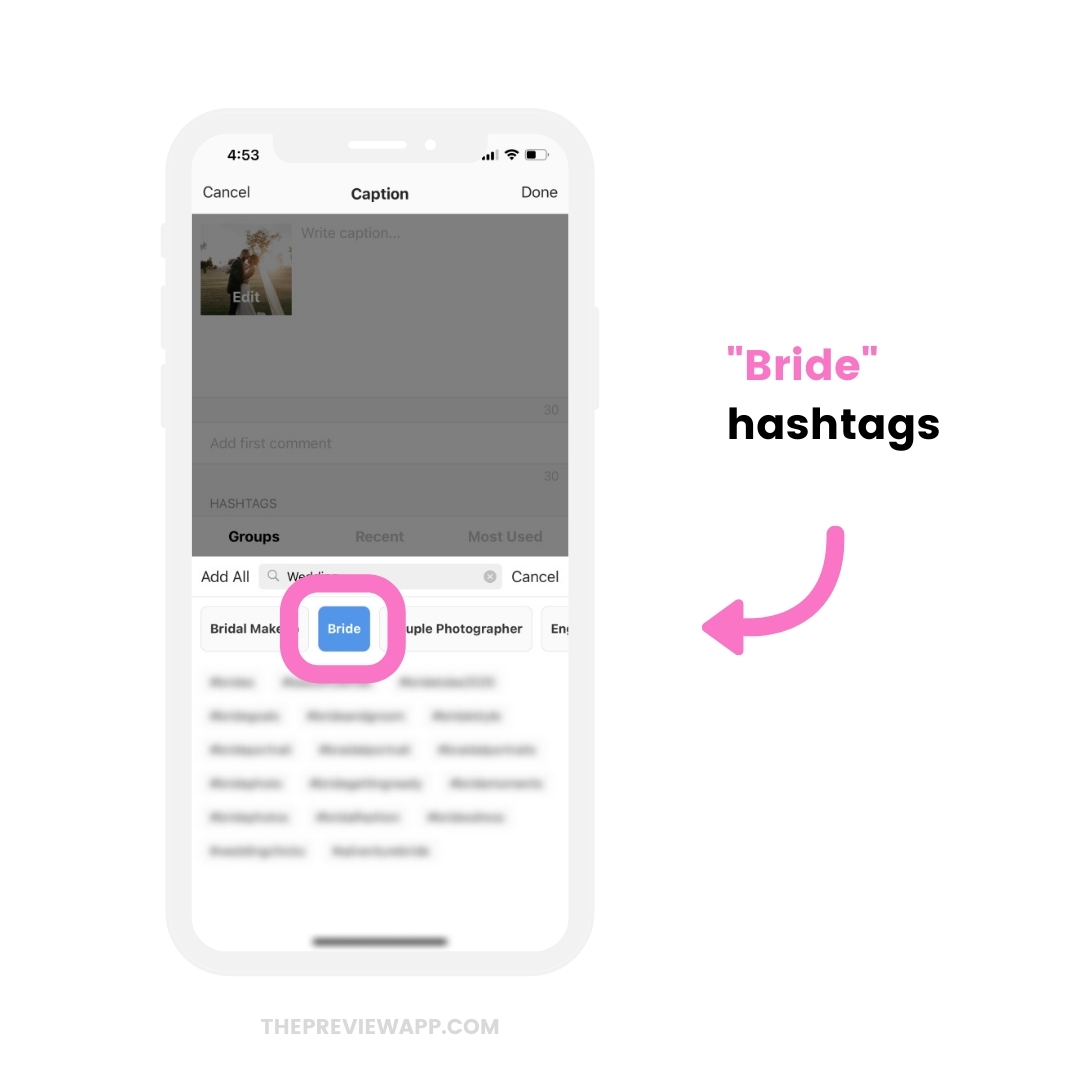 You can also use the "Groom" hashtags.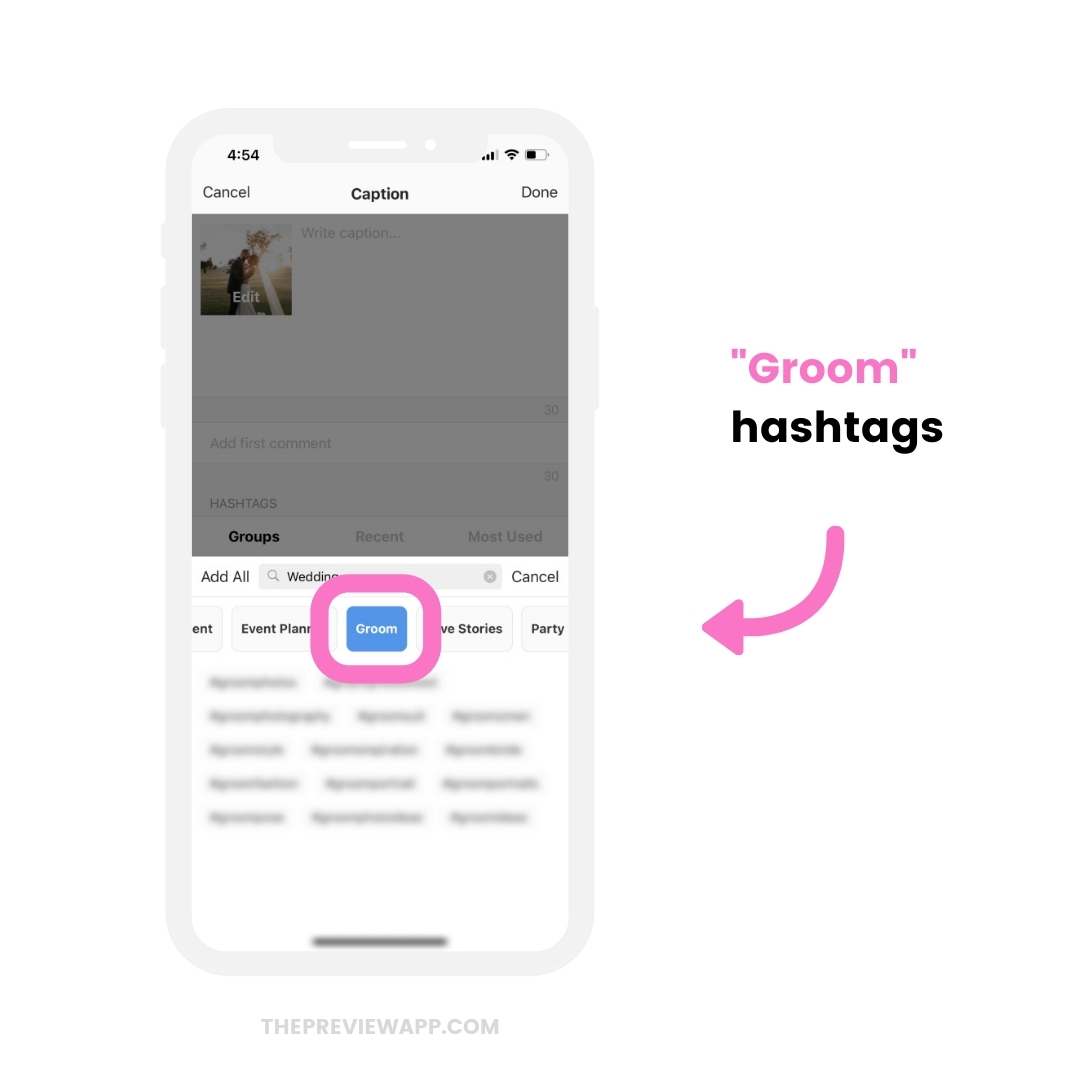 Couple Photographer hashtags
A lot of wedding photographers also use "Couple Photography" hashtags.
So feel free to use "Couple Photographer" hashtags on your posts. The Instagram algorithm also seems to like when people use a variety of hashtags.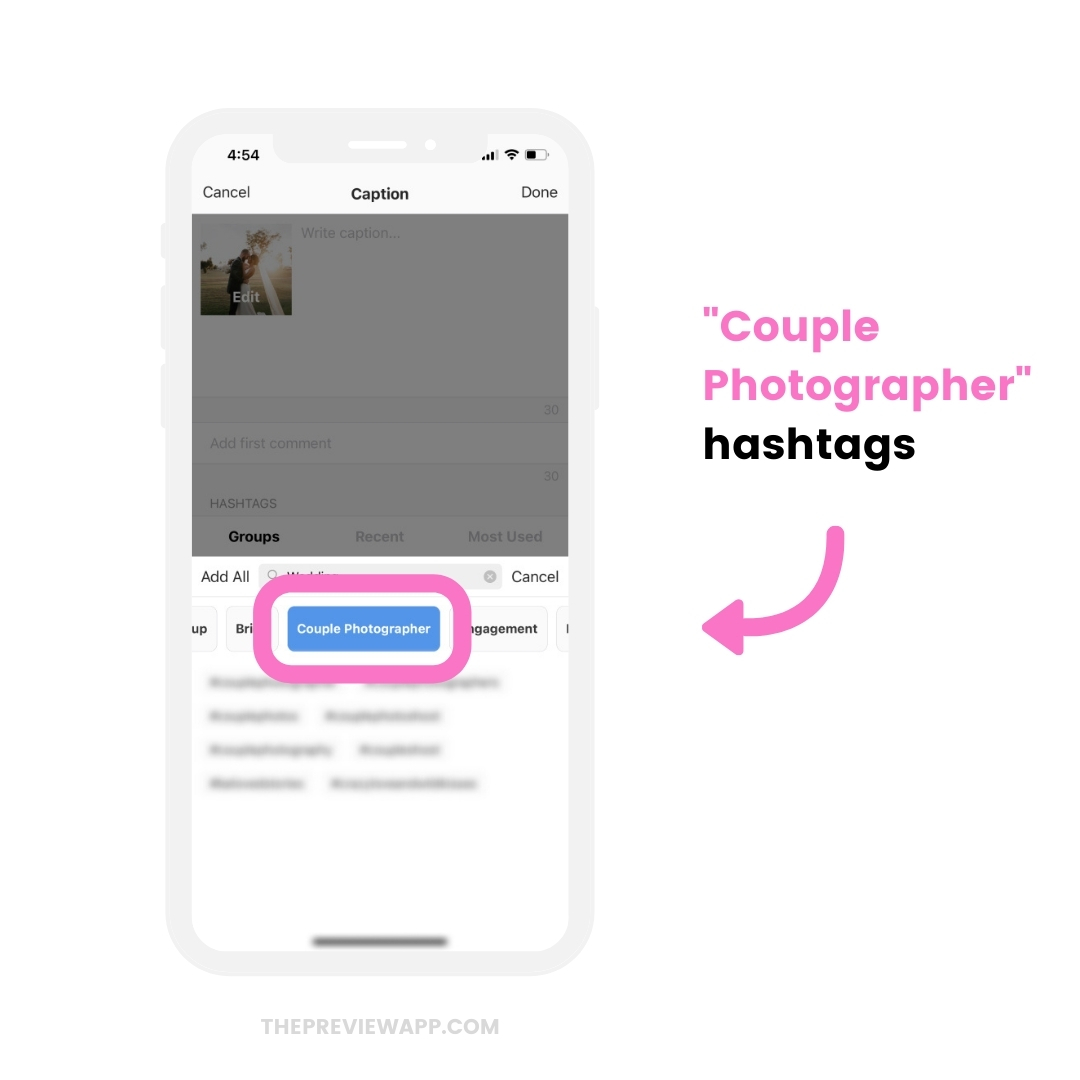 Engagement photography hashtags
You can also use the "Engagement" hashtags if you are posting engagement photos.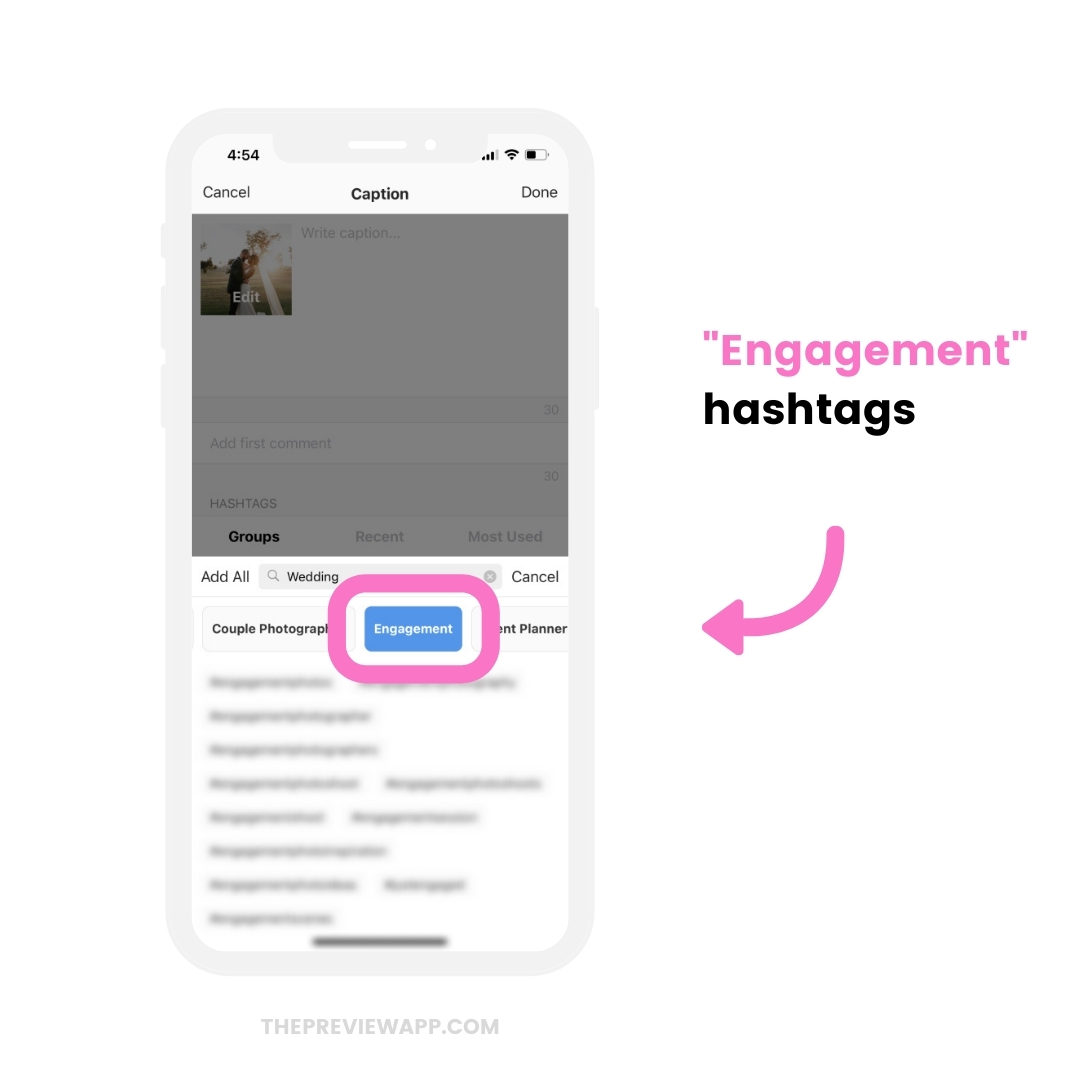 Did you know wedding photographers have created specific hashtags to share wedding love stories?
If you feel like sharing the story behind a picture, feel free to use the "Love Stories" hashtags.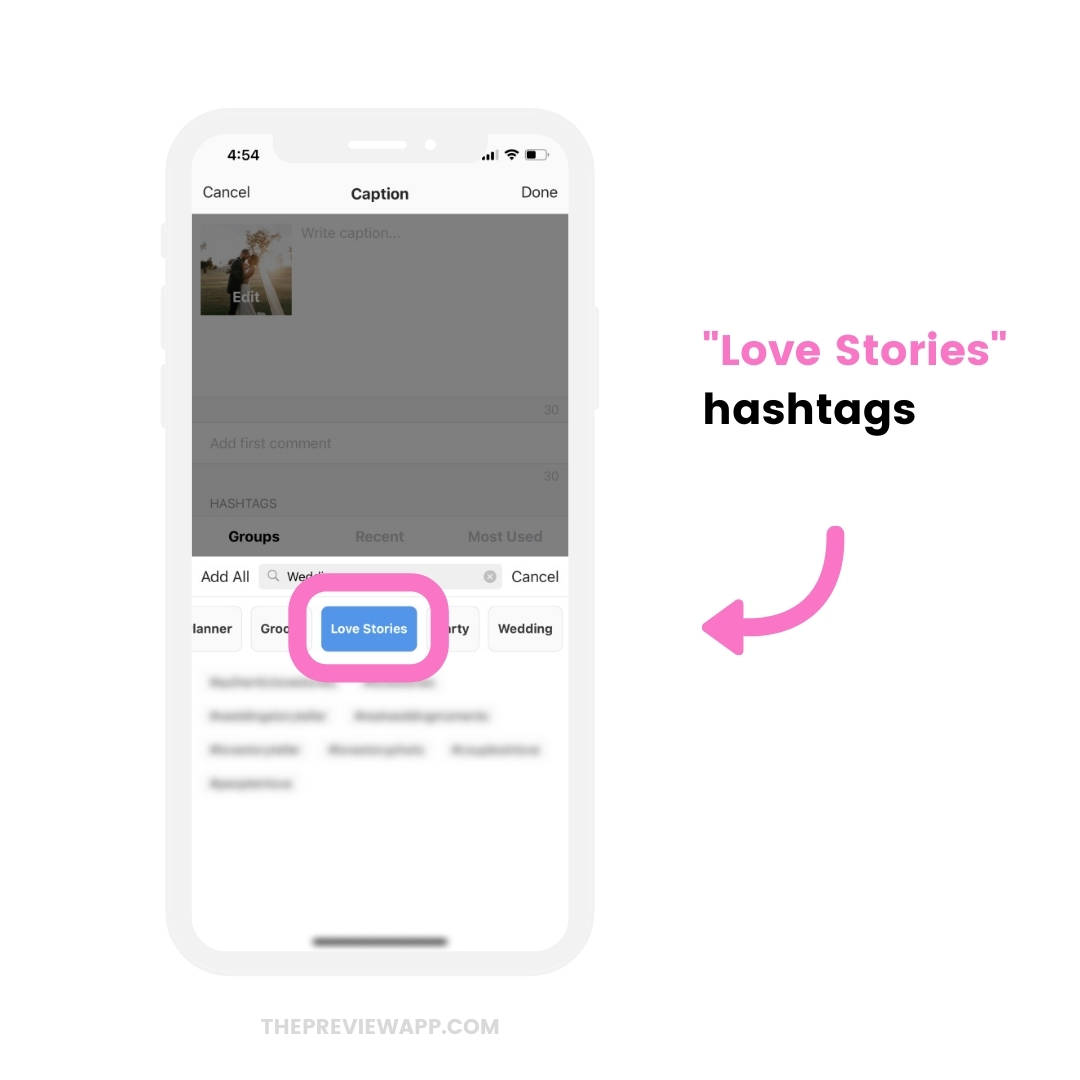 Brides and grooms will look for wedding planners. You can use "Wedding Planner" hashtags if you want to be found through these hashtags. Using different hashtags that complement each other within the industry is a great way to diversify your Instagram hashtag strategy.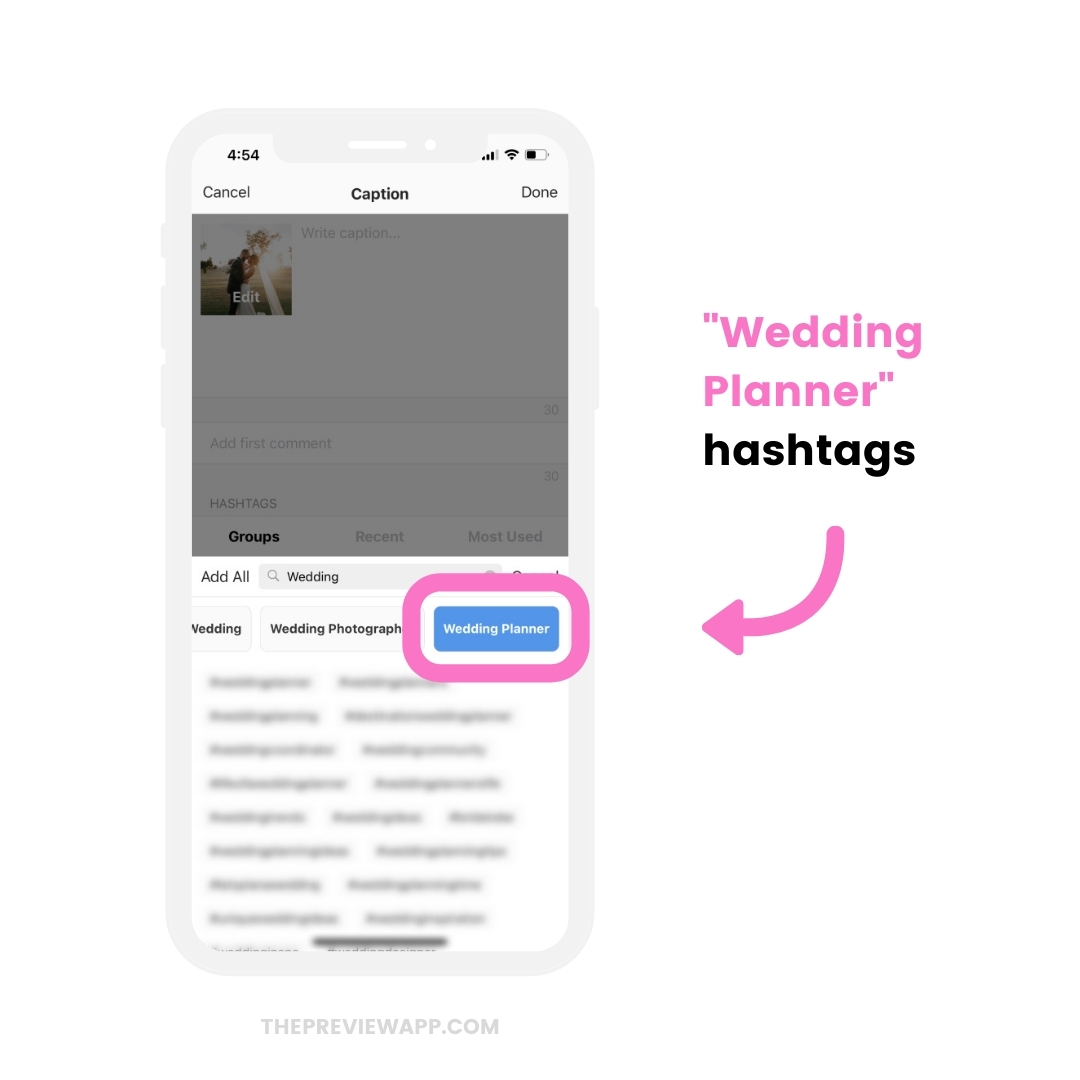 Country and City hashtags
Preview also has hashtags for different countries and cities. So if you want to be found by locals, use your city and country hashtags.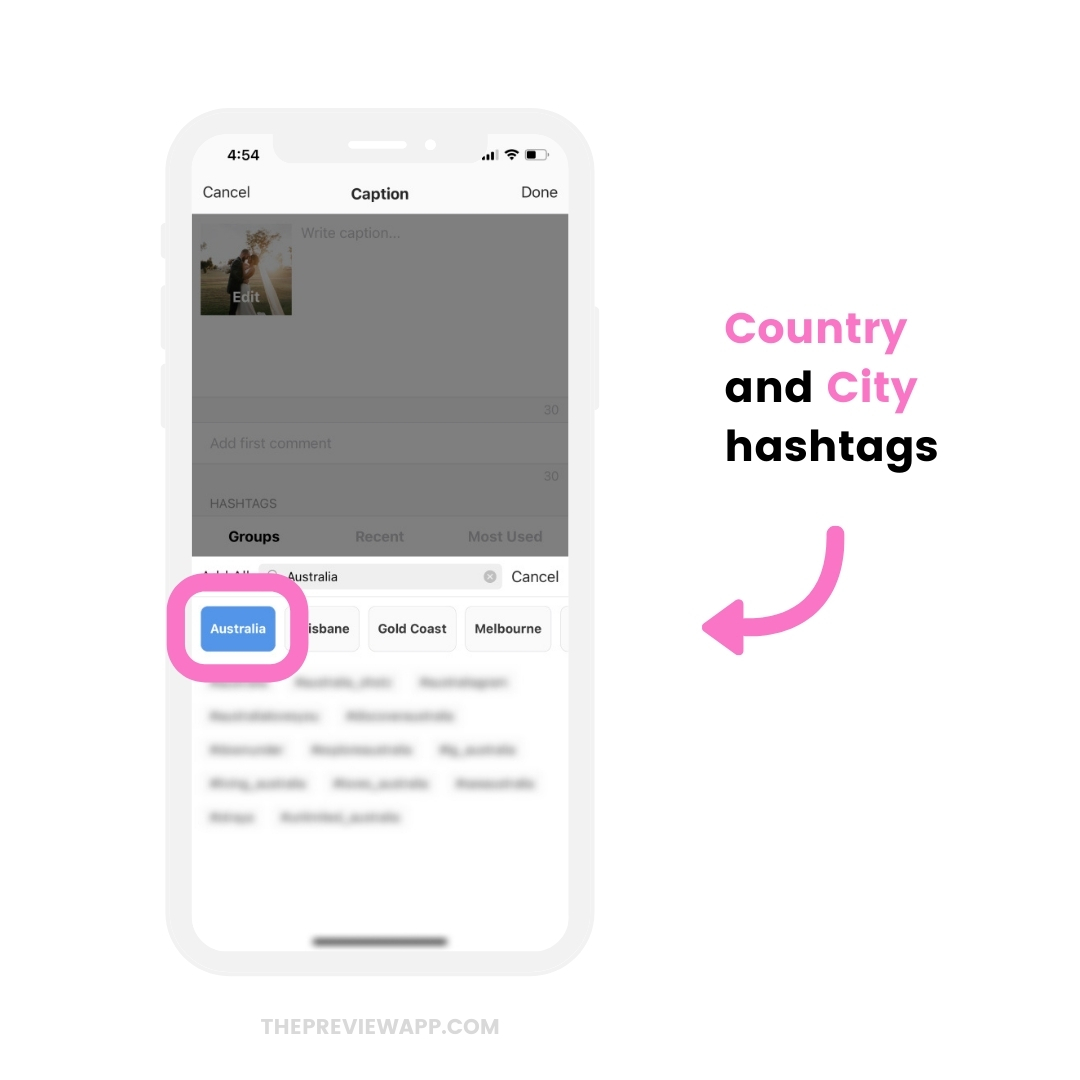 Create your own custom hashtag
Finally, create your own custom hashtags.
Mix 2 keywords:
wedding photographer + your city, or
wedding photographer + your country
For example:
#weddingphotographeraustralia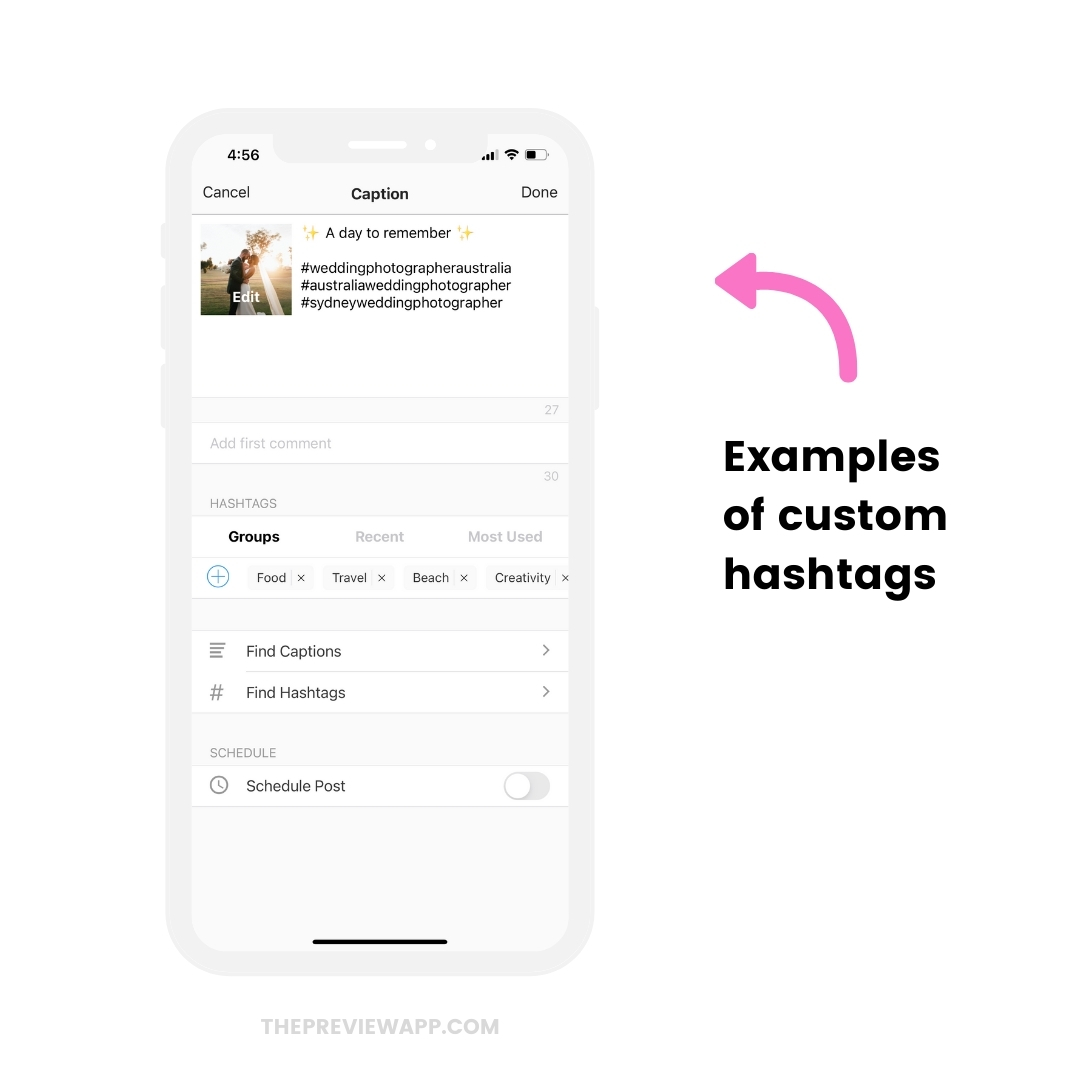 Have fun choosing your hashtags for your beautiful wedding photos!
Until next time, see you on Instagram.
More tips: