Wondering what Instagram Limits are in 2022 for likes, comments, following, hashtags, highlights, and EVERYTHING else?
Per hour and per day?
Let's get straight into it.
Instagram limits for established accounts
Have you had your Instagram account for months or years?
If so, here are restrictions to know:
How many "Likes" can you do?
120 per hour, or 
300-500 per day
Instagram "Comments" limits
Are you liking or commenting on other people's posts too fast?
Wait 20 – 30 seconds between each "like" or "comment".
If you go too fast, Instagram might think you are a bot and block you.
How many accounts can you follow per hour or day?
About 10 follows per hour
100-150 per day
You can follow a maximum of 7500 accounts.
Want to unfollow some accounts?
Don't do it all at once.
Unfollow 60 per hour
Unfollow about 150 per day
If you unfollow more than 150 per day, your account could get temporarily banned.
"Combined actions" is the combination of likes, comments, follows, unfollows and messages.
Overall, Instagram puts a limit on the total number of actions you can do in one day.
It is around:
How often can you message? How many Direct Messages (DMs) can you do?
Here are tips to not get blocked because of DMs:
Don't send the exact same text to multiple people 
Create different text versions of the same message
Send personalized messages
If you receive a lot of DMs, try to reply to them in batches (some in the morning, mid-day and afternoon for example, so you don't get action-blocked)
How many posts can you post on Instagram in one day?
Instagram hasn't revealed a limit.
You can post as many times as you want during the day.
However:
We recommend you leave time between each post (a few minutes, or even hours).
If you post too many posts all at once, the Instagram Algorithm might think you're a spam account and could block your account temporarily.
If you choose to auto-post to Instagram, make sure you schedule your posts at least 5 minutes apart.
Here is how I schedule posts with Preview App: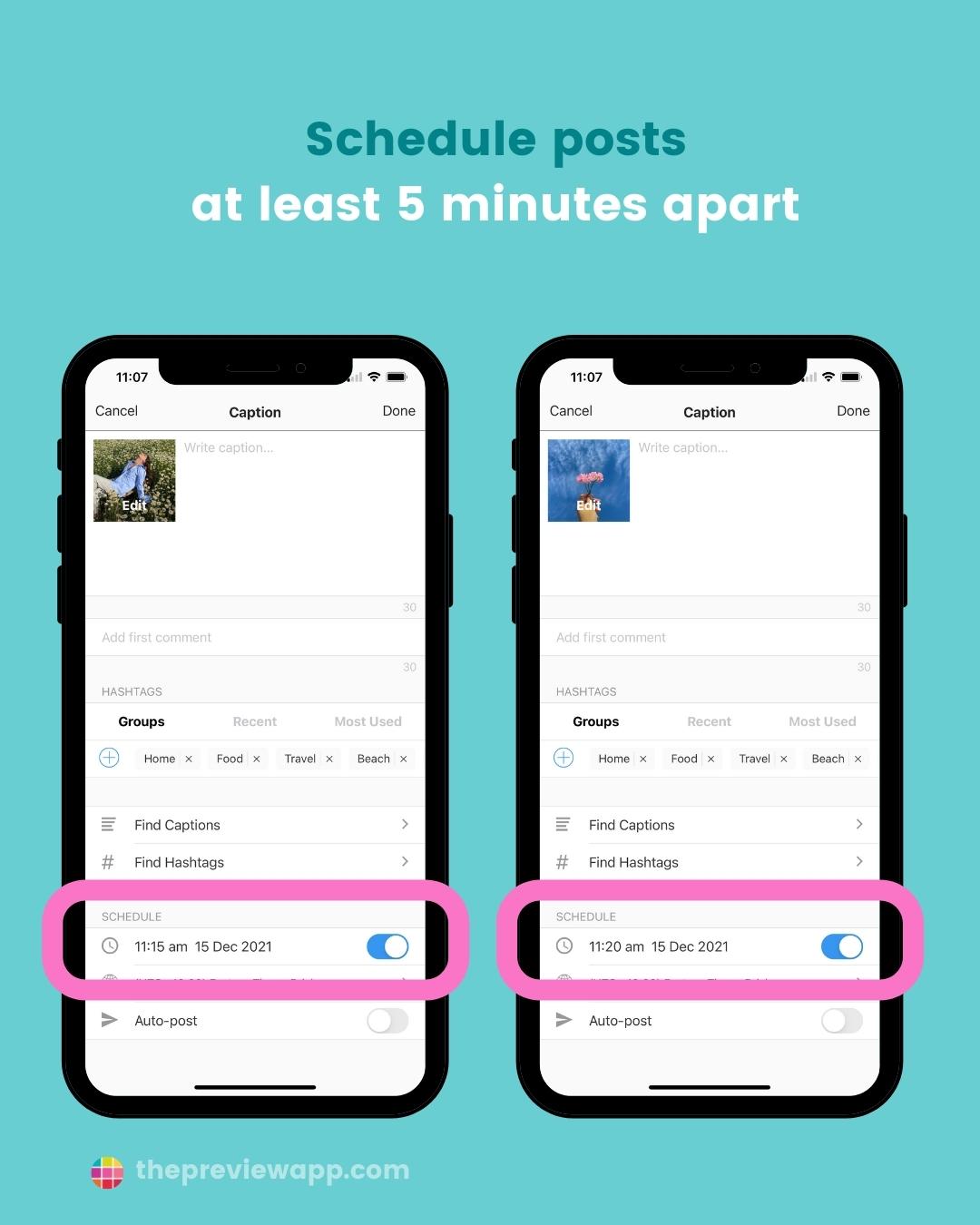 The less you look like a spam account, the better.
How many people can you tag on your post?
For a single post: 20 people per post
For a carousel post: 35 people per post
How many hashtags can you use on Instagram?
Want to delete posts from your feed?
At the moment there is no limit on how many posts you can delete in one go.
Instagram limits for new accounts
Did you just create a brand new Instagram account?
Instagram wants to make sure new accounts are not spam or bots.
So you will have some limits.
I know it can be annoying. But I'm sure you don't want fake followers or fake accounts liking or commenting on your posts.
So these Rules are important to keep fake accounts away from Instagram.
If you have a new account:
Take it easy.
Timing: Wait 30-50 seconds between any actions.
Timing between posts: To be safe, post no more than 5 times a day.  I recommend waiting 10-15 minutes between each post (or a few hours). If you want to be extra safe, post only once a day.
Combined actions in total: 500 actions a day. This includes the following, likes and unfollows.
Direct Message limits: 20-50 DMs per day.
After 4 weeks, you can go faster and send more DMs.
Now let's talk about Instagram Stories.
Number of Instagram Stories: 100 per day
Instagram Story length: 15 seconds per clip (Instagram will automatically split your long video into 15 second-clips)
Instagram Story dimensions: 1080 by 1920px
Instagram Story Highlights limits
Highlights are the circle under your Instagram bio.
Highlight title: 12 characters
How many Highlights you can create: Unlimited
Number of Stories per Highlight: 100
Instagram account profile limits
Here are other useful Instagram limits and rules:
Display name: 30 characters
Instagram bio: 150 characters
Square post dimension: 1080 by 1080px
Portrait post dimension: 1080 by 1350px
Landscape post dimension: 1080 by 608px
Feed video length limit: 1 hour
Reels video length limit: 1 minute
Captions: 2200 characters
Instagram accounts limit: 5 logged in account
Why does Instagram have those limits?
To limit spam and fake accounts.
Spam and fake accounts usually like, comment and message a lot, fast.
They act like "bots" (robots).
Instagram wants real people using the app.
What happens if you exceed Instagram's daily limits?
2 things can happen:
Action block: You can see a pop-up message that says "Try again later"
Account deletion: Your account could get deleted / banned temporarily or indefinitely.
How to avoid getting blocked or banned?
Super simple: Don't act like a bot.
Here are 4 things you can do:
Don't do too many actions too fast.
For example, don't like or comment too fast. Otherwise you will look like a bot.
2. Space out your Instagram tasks
I know a lot of you have your own business and might not want to spend a lot of time on Instagram.
If you can, try to divide your Instagram time into tasks and set your own Instagram limits.
For example:
Morning: Reply to DMs (15 minutes)
Afternoon: Like and comment on other people's accounts (15 minutes)
This will ensure you don't go over the limits.
3. Use your account regularly
If you have a brand new account, try to use your account regularly.
This will show to Instagram that you act like a human, not a bot doing a LOT of actions, all at once.
4. Do not use third party apps or websites that are NOT approved by Instagram
Many apps and websites out there are NOT approved by Instagram, and do NOT follow Instagram's Rules and Policies.
You might have logged into them, which means that they could have access to your Instagram password.
This means they could be liking, commenting, following and unfollowing with your account, without you knowing.
Which puts your account in danger of being blocked.
What to do?
If you suspect you used an unapproved app or website in the past, change your Instagram password right now.
Tip:
Preview App has been officially reviewed and approved by Instagram. Preview follows all Instagram's Rules and Policies to keep your account safe.​
To sum it up:
Don't act like a bot.
Act like a human (and go slow).
Use approved third-party apps.