Hi Instagram lovers! Let's make a dark Instagram theme.
If you want to know how to make a very dark Instagram theme like this one, keep reading. It's super simple.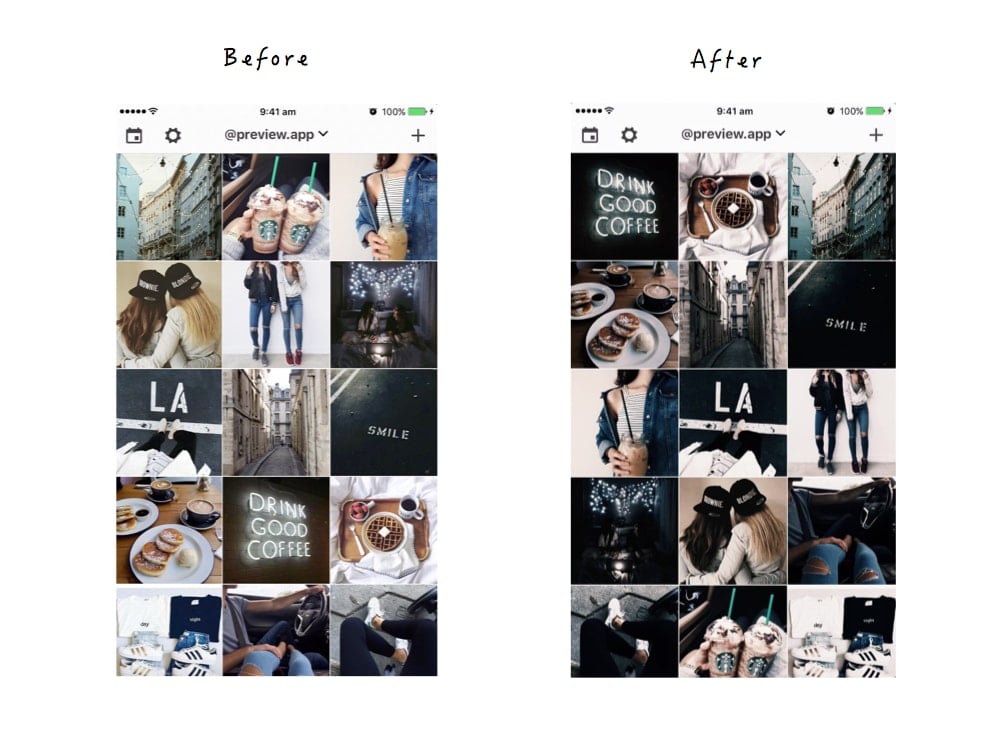 You don't need to do any edits. Just apply one filter.
You only need 2 things:
If you don't know what Preview App is, it's an app to plan your feed. You can rearrange your Instagram photos to see how they look like before you post them on Instagram. You can also edit them and schedule posts. Download it here.
I like to follow 5 steps when I make an Instagram theme:
Choose a color palette
Know what photos to post for a dark theme
Add photos in Preview App
Rearrange photos (drag & drop)
Use a Dark filter
Keep scrolling.
1. Choose a color palette
You don't have to do this step because the Dark filters can be applied on any photos.
But I like to start with a color palette in mind. I feel like it makes my whole Instagram theme flow.
For this dark theme, I want to focus on:
2. What photos to post for a dark Instagram theme
You can use any photos you want because this Filter Pack fits any photos.
Because I want to stick to a color palette, I will choose photos with:
Jeans (blue)
Roads or dark places (black)
Coffee / food / wood / buildings (brown)
3. Add your photos in Preview App
To add photos in Preview:
Tap the "+" icon, located on the top right corner or your screen
I recommend you add 9 photos to start a theme.
I find that it's much easier to start a theme with 9 photos only.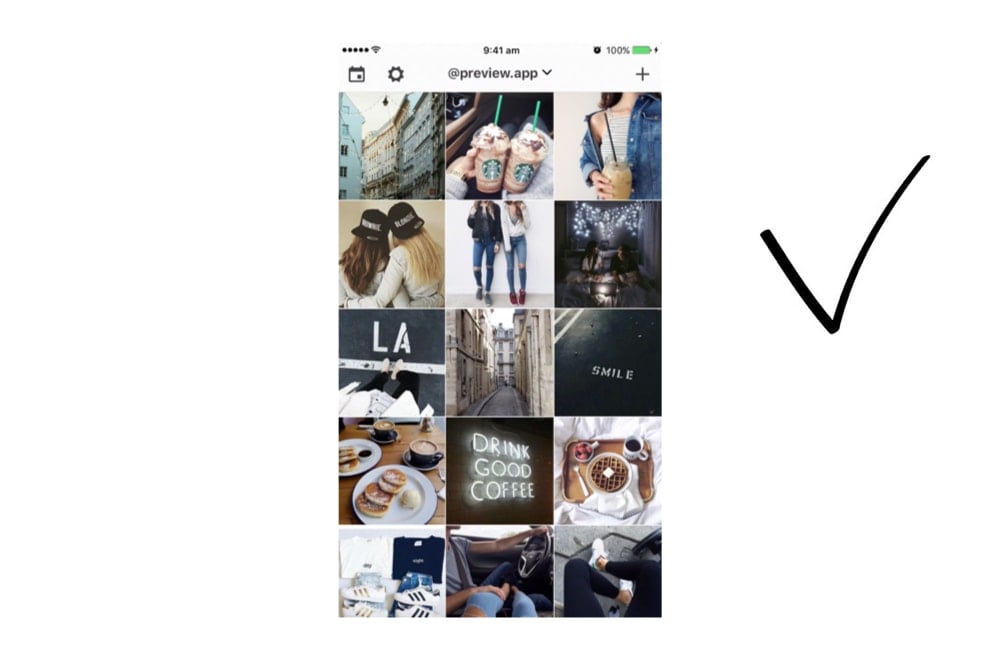 Note: All these photos are from Pinterest.
Time to rearrange photos before you post on Instagram.
Drag & drop to rearrange photos.
I like to rearrange photos based on colors.
I alternate between blue, black and brown photos. This way, I don't have all the blue (jeans) photos next to each other, all at once. I space them out.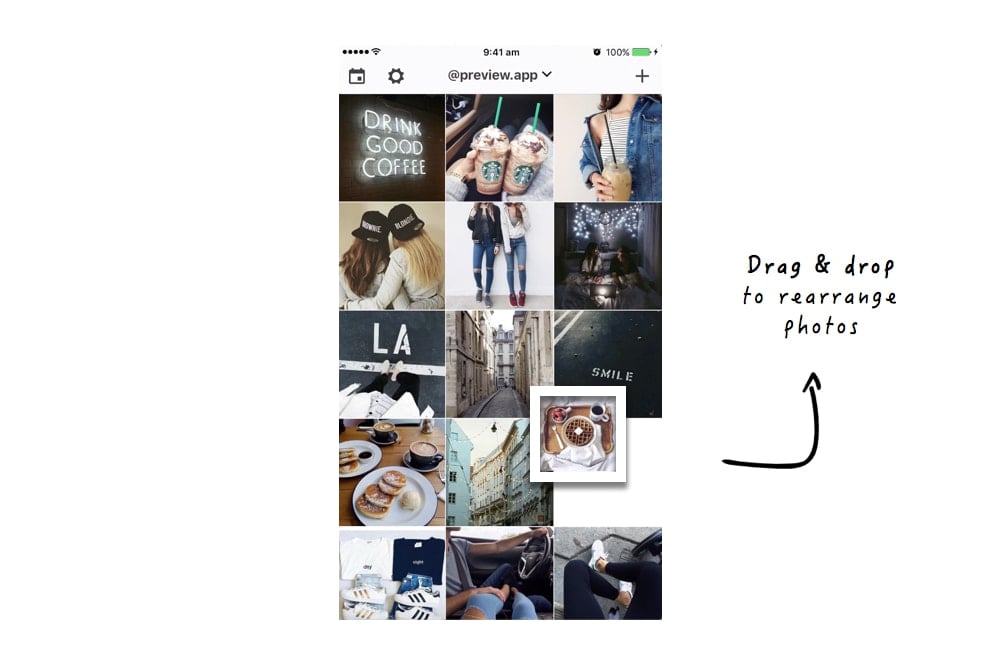 There are 6 filters in the Dark filter pack.
Select your favorite filter to start a theme.
I want a very deep, dark theme, so I choose M1.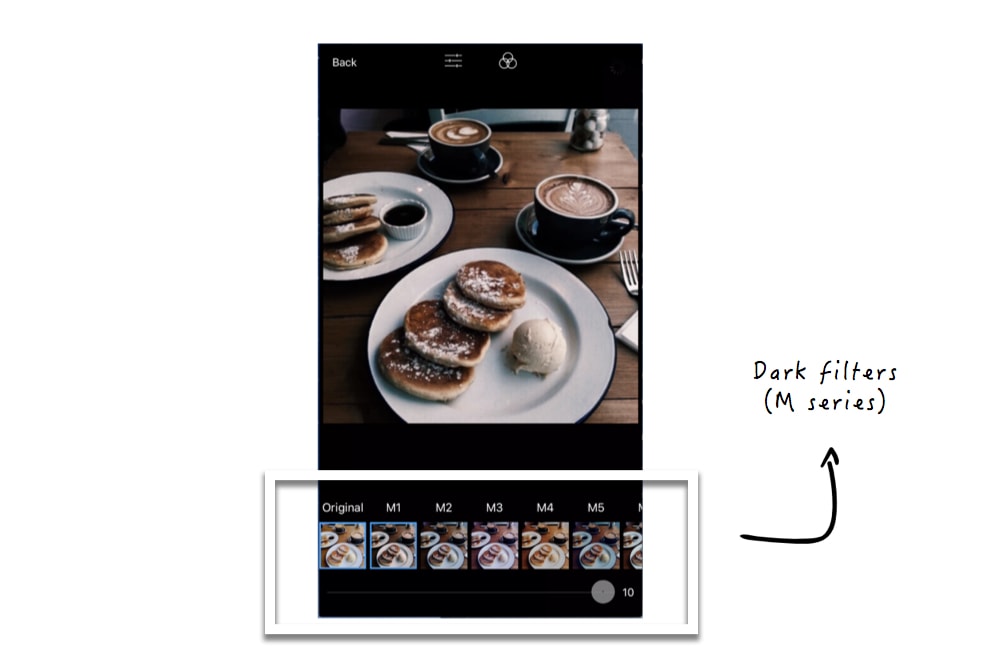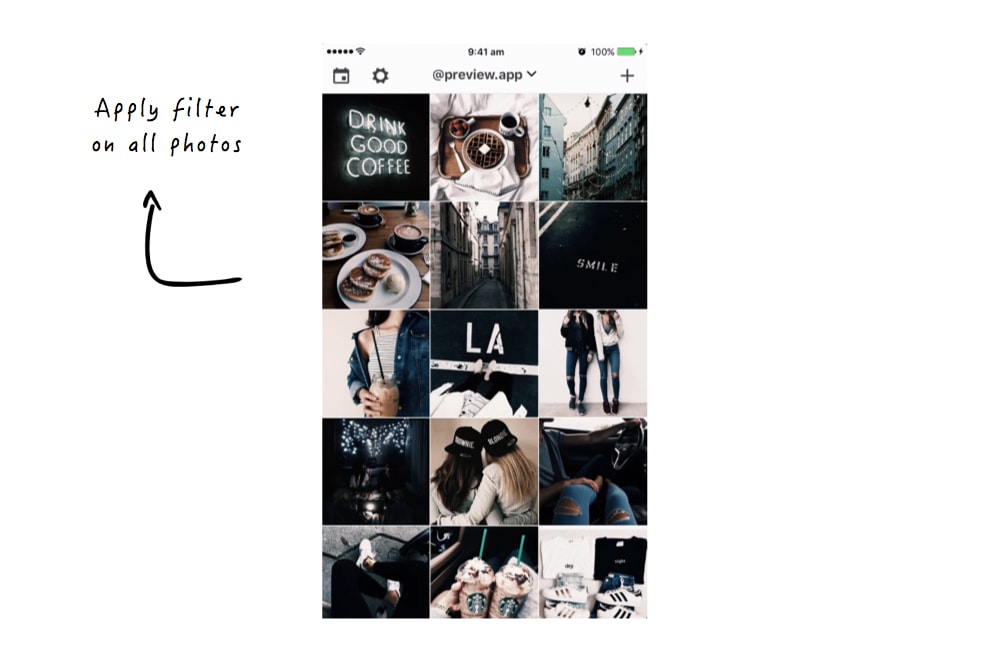 You don't have to stick to one filter to make a theme. But it is the easiest way to start. It will help make your feed look good instantly.
Other options:
If I want a more blue-ish, grunge dark theme I would select M2 or m3.
If I want a warmer dark theme I would select M4 or M5.
And for a desaturated, dark theme I would select M6.
This gives you an idea of the variety of filters in this Pack.
The Dark Filter Pack is pro pack you need to unlock. It is one of the best and most popular Filter Packs of the app.
Pro tip: For even darker vibes apply a vignette.
A vignette makes the corners of a photo black (see below). I think it's perfect for a dark Instagram feed.
To apply a vignette:
Select a photo
Go in the Photo Editor
Select "Vignette"
Adjust the intensity and size of the vignette
Save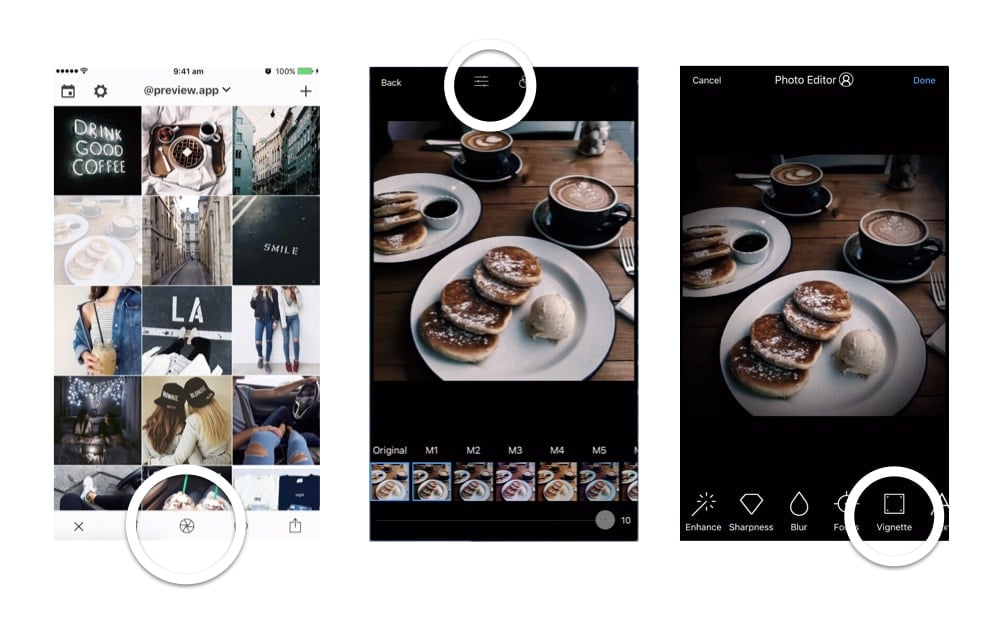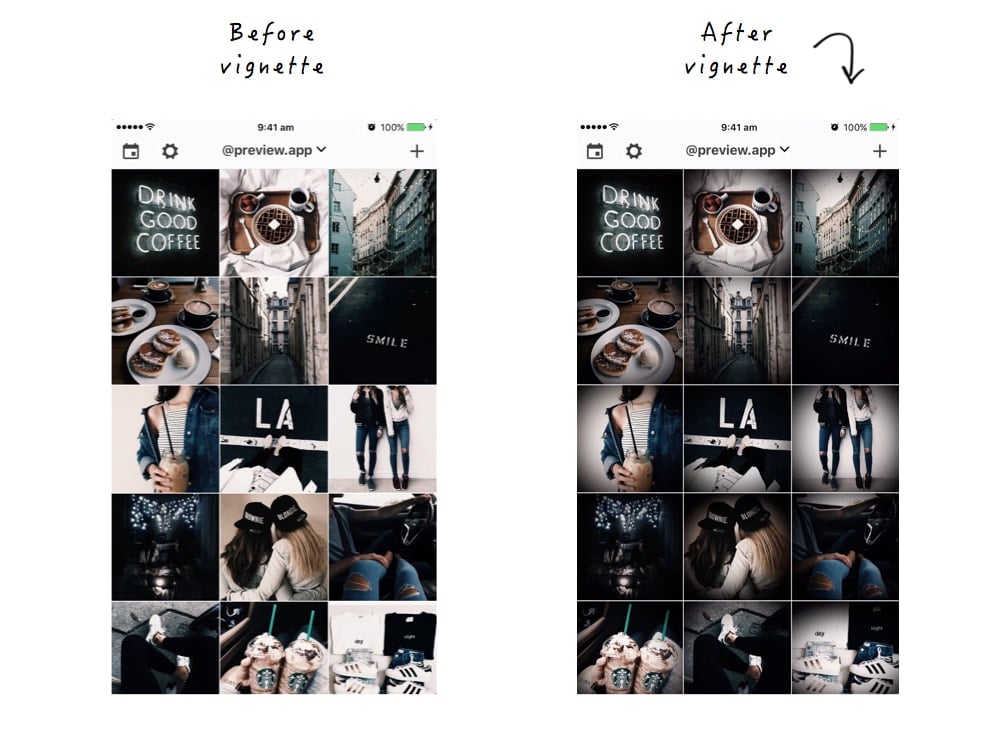 What do you think of this Dark Instagram theme?
Let me know in the comments below if you like this blog post.
Should I make more blog post like this?
And which theme do you want to see next?
Until next time, see you all on Instagram (@preview.app) for more tips & tricks.
+400,000 Instagrammers are already using Preview App to edit, plan & schedule their feed. If you haven't tried it, you're missing out.