Clean. Simple. Powerful.
It's here!
Welcome to Preview App Desktop: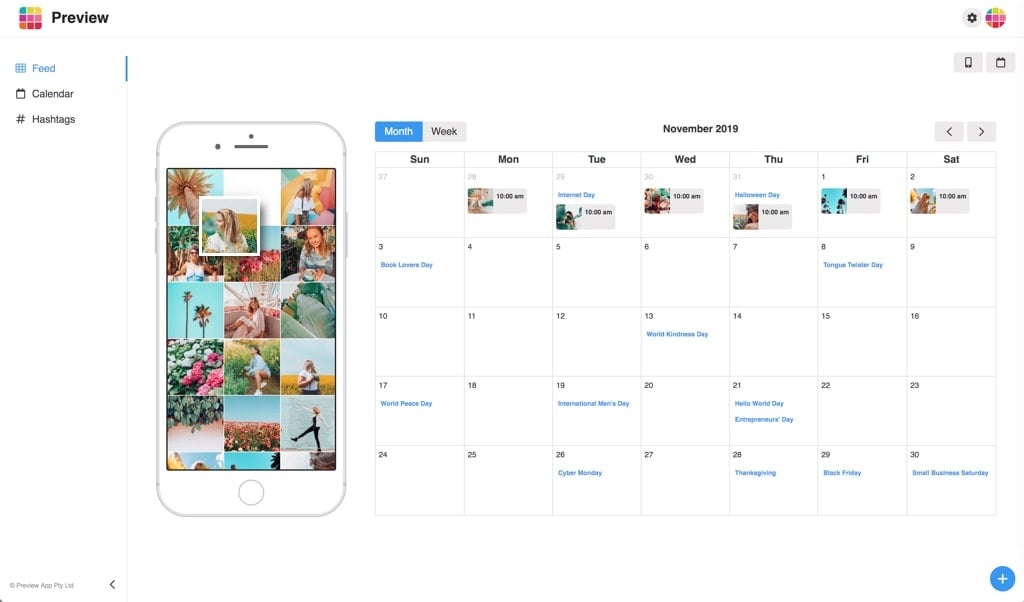 If you are new here: Welcome! Preview is a powerful (and very easy) Instagram Feed Planner, loved by over 9 million Instagrammers from all around the world. Which makes it the most used Instagram Planner in the world.
If you are already a Preview app lover: Welcome back!
The Desktop version will feel like home to you.
It has all your favorite features, in one simple place, on your big screen.
Ready to take a tour?
We've just created a new blog post showing you all the latest features: Click here!
Let's start.
1. Press + to upload posts
As always, you can upload as many photos, videos and carousels as you want (unlimited).
Press on the "+" button to upload new posts.
You can also upload posts from Dropbox or Google Drive.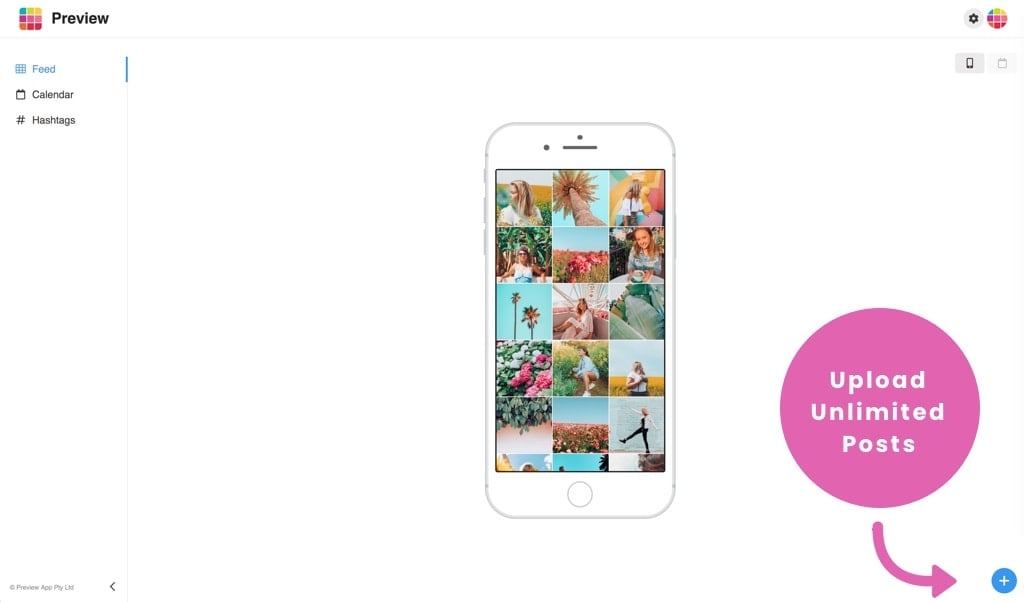 2. Rearrange the Order of your Posts
There are 3 ways to rearrange your posts:
Drag and Drop: Select a post and drag it somewhere else in your feed
Swap: Select 2 posts and press on the "Swap" button (the arrows)
Shuffle: Select more than 2 posts and press on the "arrows" button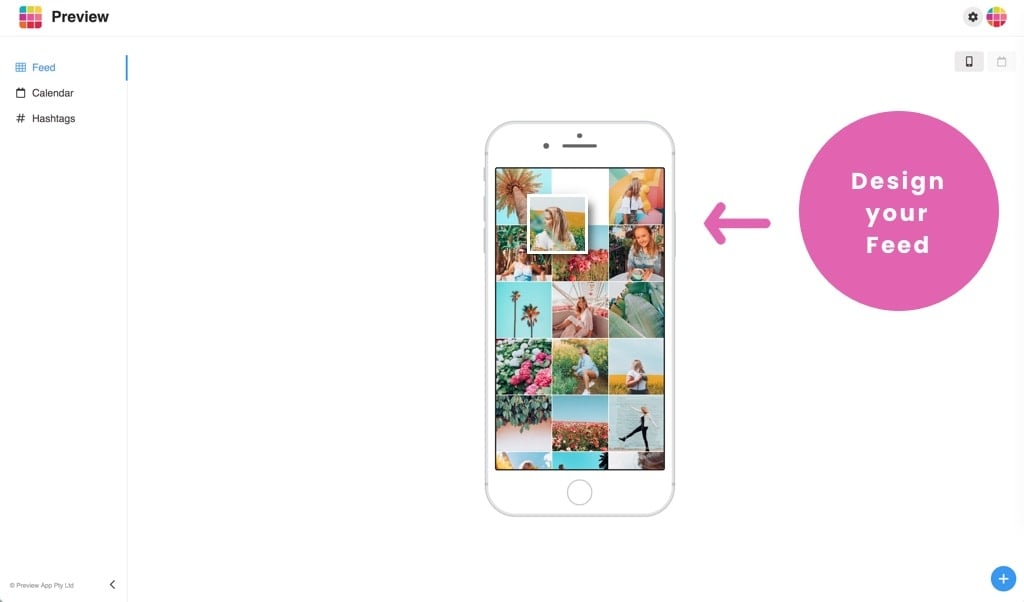 Let's have a look at the buttons on top of your screen.
3. Add a phone around your Preview feed
Make your feed even more real.
Truly preview your Instagram feed by adding a phone around it, so you can get a feel for how your feed would look like in someone's hand.
Press on the "phone" button
Choose a phone (or no phone)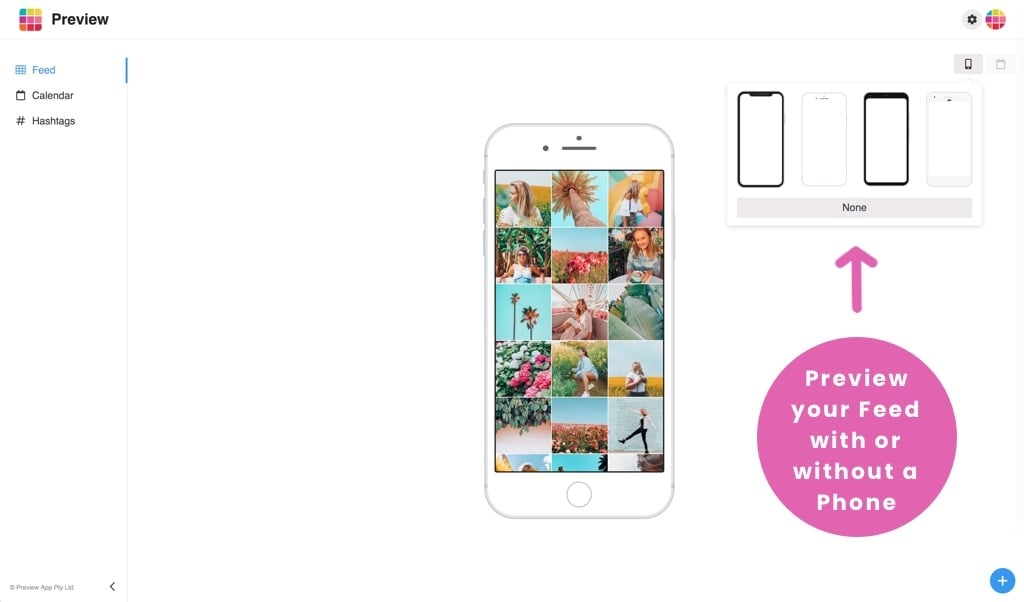 Press on the calendar button to see your Content Calendar.
Here you will see 2 things:
Your scheduled Instagram posts (if you have already scheduled some), and
Fun social media holidays to help you plan your content around these dates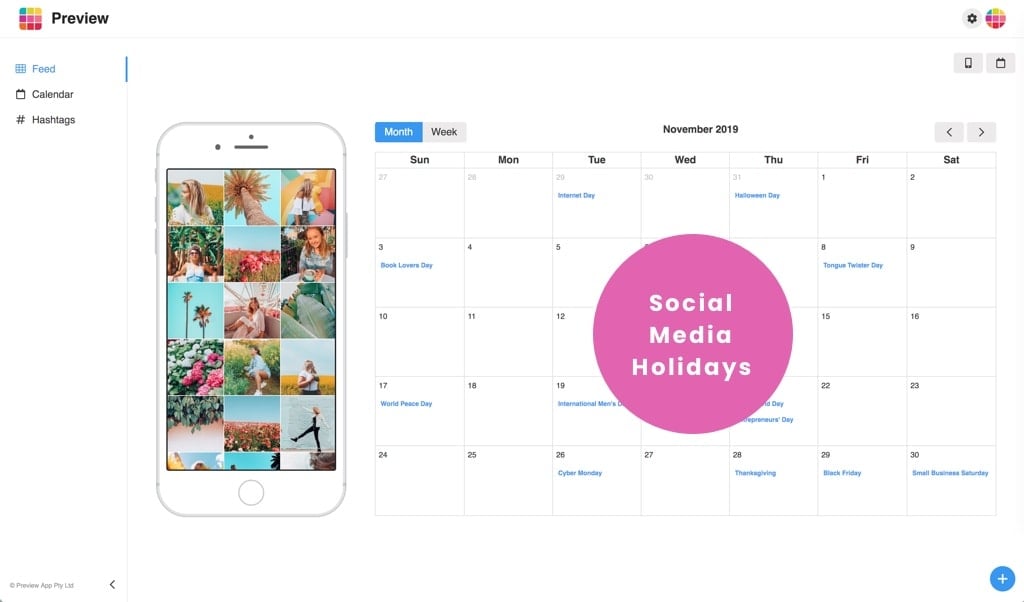 5. Quickly Schedule Instagram Posts by Moving them in your Calendar
Want to schedule a post?
Just drag and drop a post from your Feed to your Calendar.
Your post will be automatically scheduled for that day.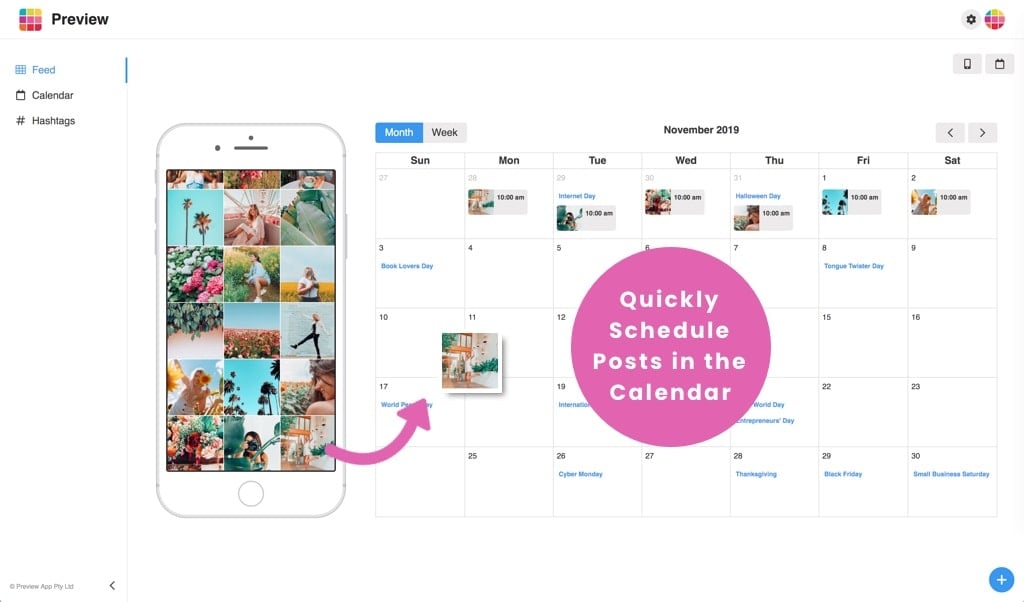 To write your caption:
Click on the post
Press on the "caption" button
Write your caption
Or:
Click on a post in your Calendar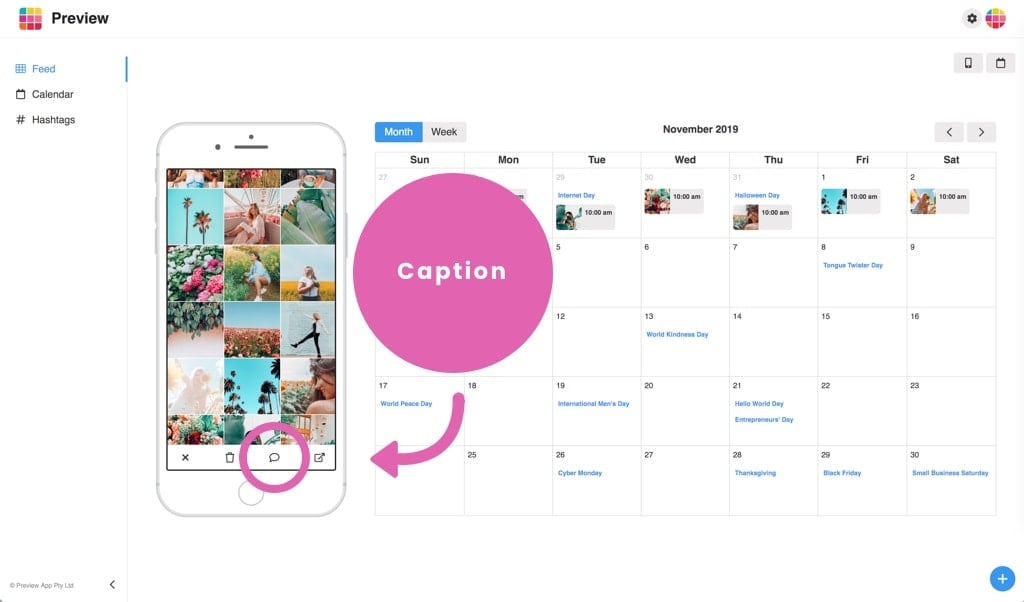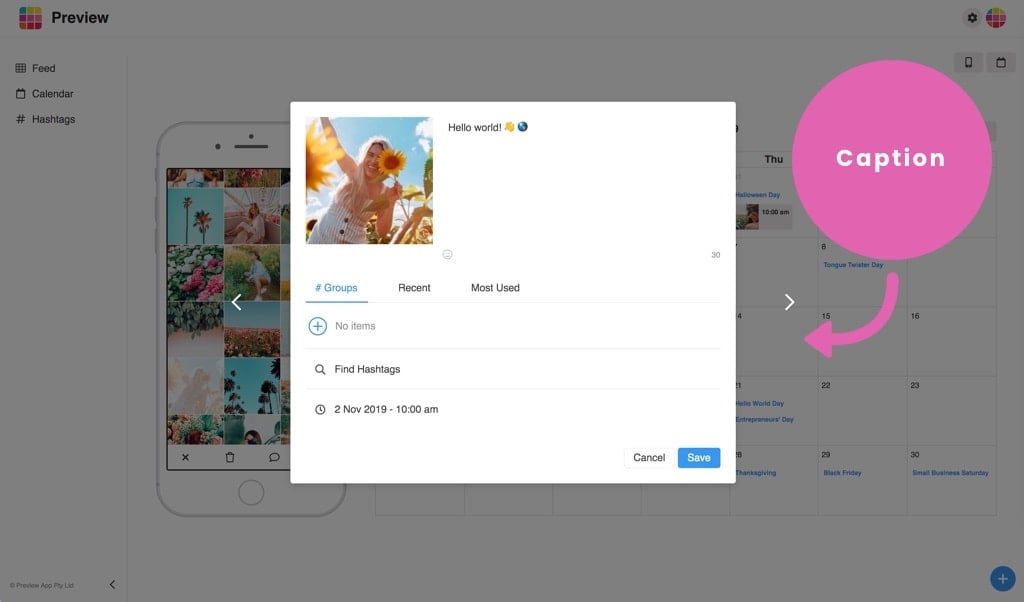 Need help finding Instagram hashtags?
We LOVE this feature. We hand-pick some of the best Instagram hashtags by category, country and Instagram community to help you grow your account.
Click on "Find Hashtags"
Type what you're looking for in the Search bar (for example: "Travel")
Click on any hashtags you want to use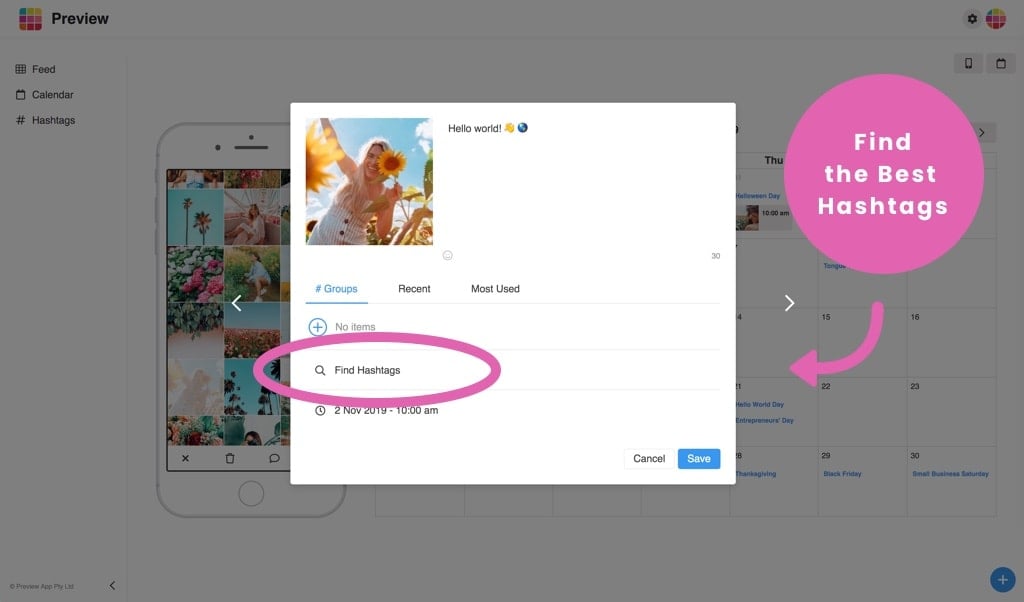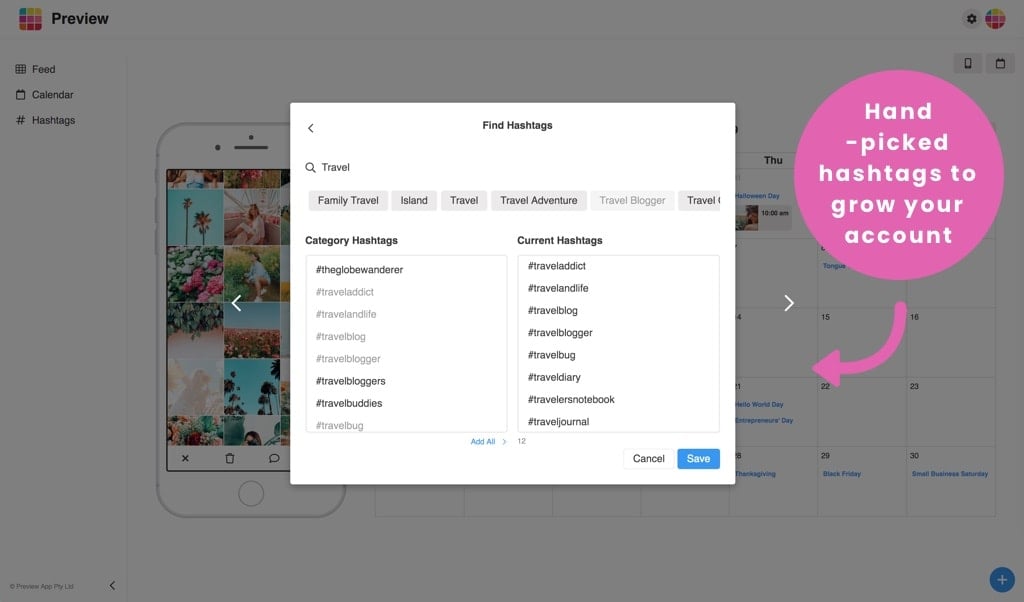 Do you use the same hashtags on your posts?
Save time. Save hashtag groups.
This way you won't have to type every single hashtag, every single time you plan a new post.
Once your hashtag group is saved, just click on it to add it in another caption.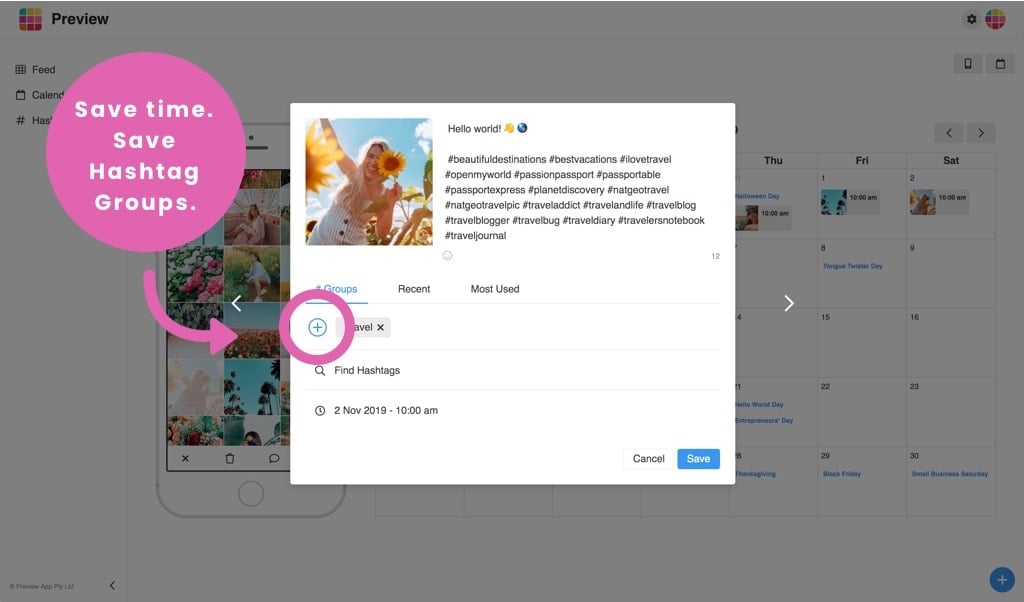 Schedule your Instagram post. Choose a day and time.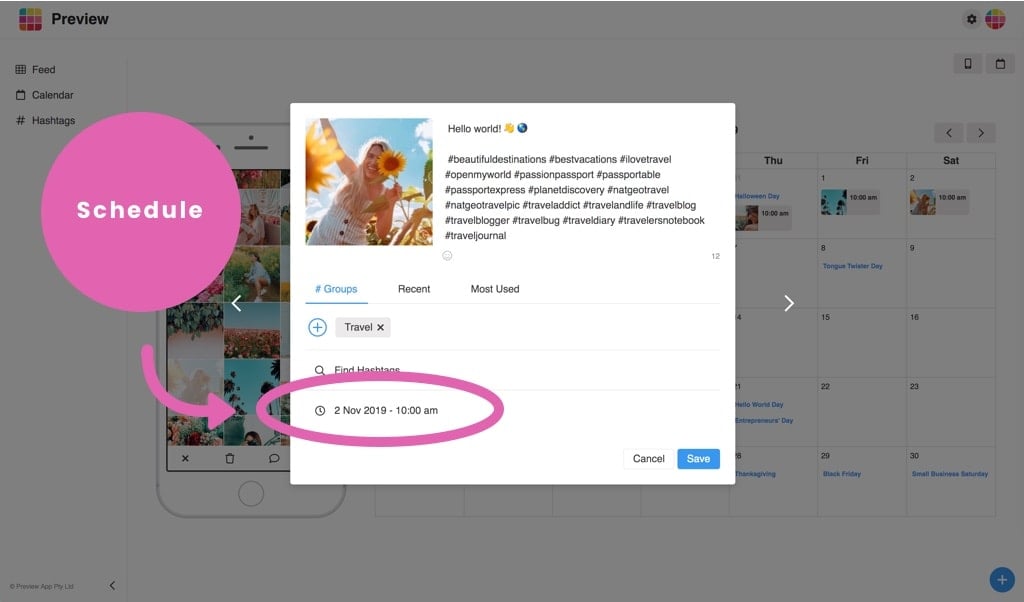 10. Manage multiple Instagram accounts
Want to add more Instagram accounts in Preview app?
Press on your profile photo on the top right corner of your screen.
Select "Add Account"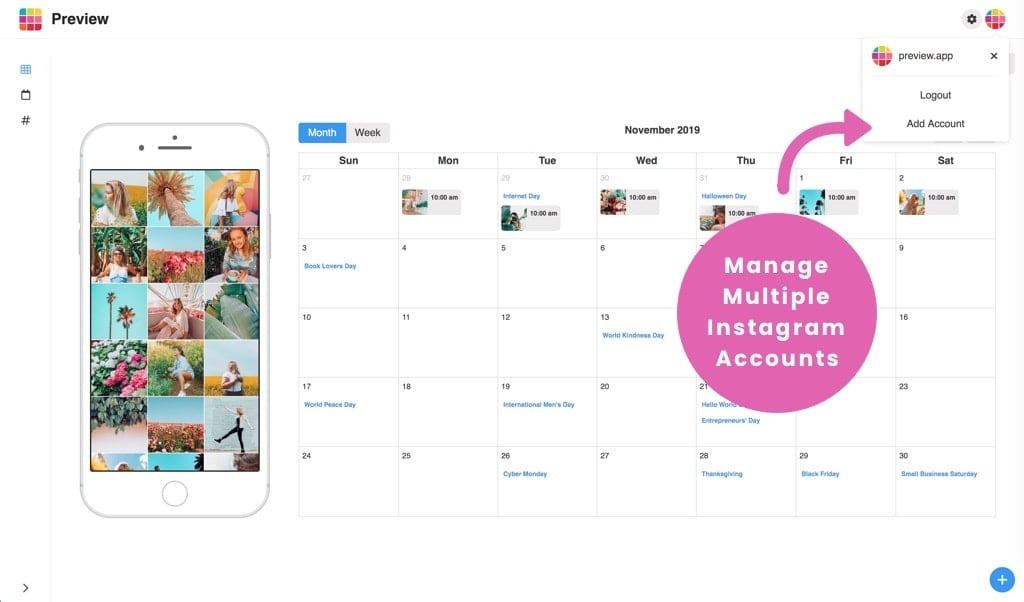 Want to manage your Instagram feed with other people?
Or want to show your feed to a friend before you start posting?
You can add them as Team Members. Invite as many people as you want.
Open your "Settings"
Select "Team Members"
Add your Team Member
Done!
Your Team Member will be able to access your Preview feed on his/her computer.
Bonus: Give special permission to your Team Member. Choose what you want them to do or not do, see or not see.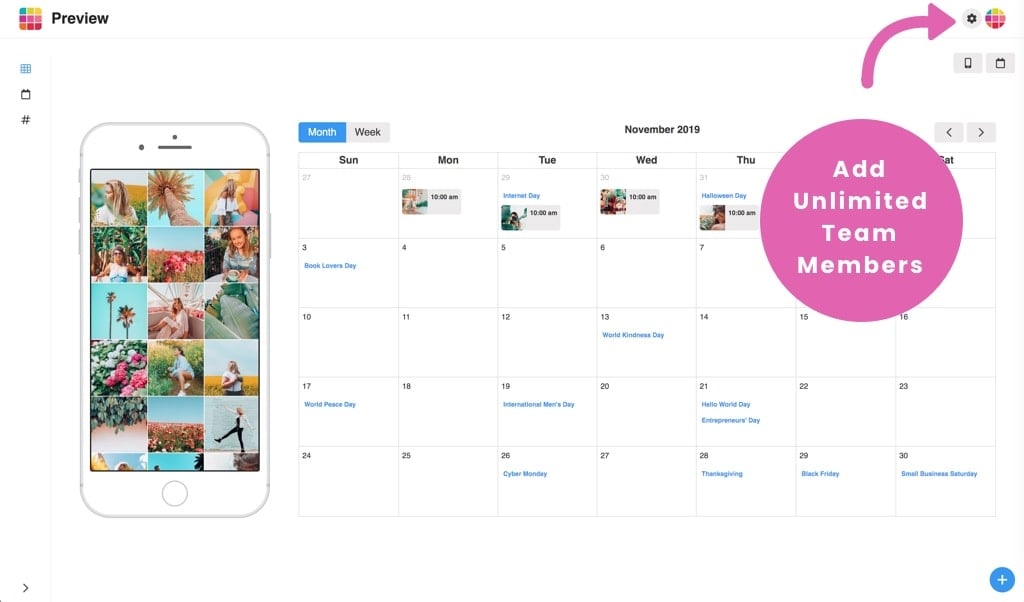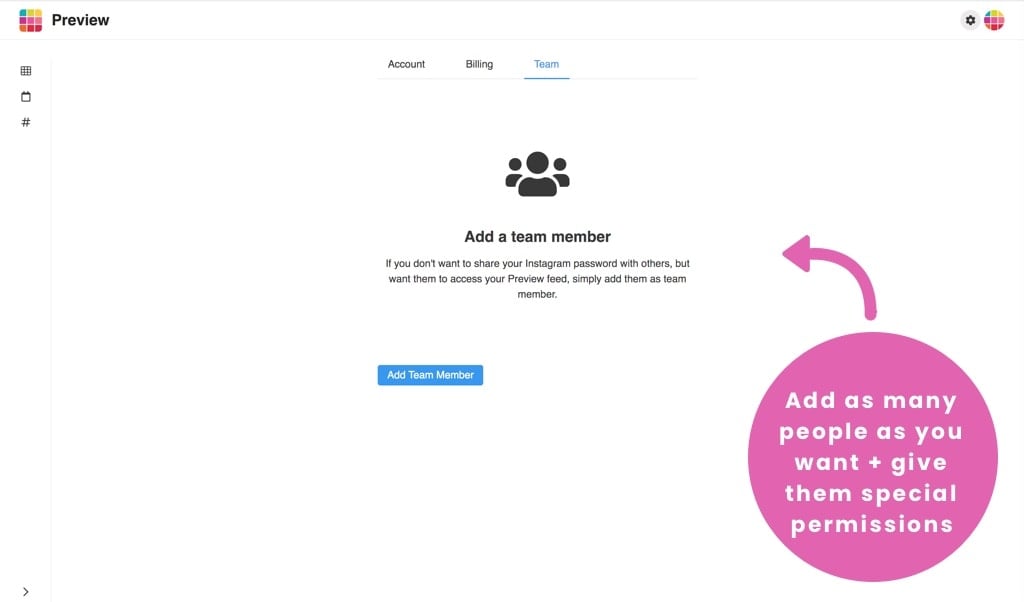 Easy. Simple. Fast.
The essentials are here to help you plan your Instagram feed in peace and confidence.
Start planning.
Start growing.
Start creating.
Make the best first impression on Instagram.
Create an Instagram feed you are proud of.
PS: More Desktop features coming soon ?
PS #2: Edit your photos in Preview too! For now, use the Preview app on your phone to edit your photos. Your Preview feed on your computer will update to show your edited photos ? The Most popular filter packs in Preview are: "Blogger", "Fun", "Cream" and "Retro".