If you're looking for a fast and super easy Instagram Feed Planner Desktop version: You've come to the right place.
I'm going to show you how to use the brand-new Preview App Desktop version: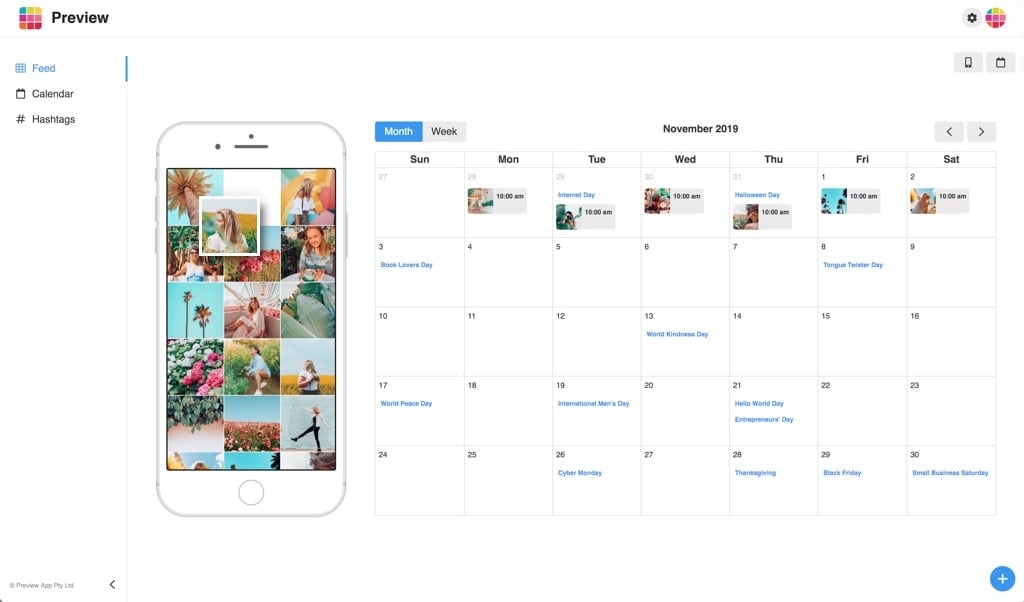 If you're new here: Welcome!
We're 4 million Instagrammers using Preview app everyday to plan our feeds, and we're loving every second of it.
I'm going to go through each feature of the Desktop Instagram Grid Planner.
Here's the thing:
Preview is super easy to use. And that's its power.
All the essential features are here for you to plan your feed in minutes, and most importantly in peace so you can focus on elevating your content.
Cool note:
Preview on your phone and on your computer are working together.
This means that if you do something in the app, on your phone, it will automatically show on your computer – and vice-versa. Your phone and your computer are synchronised: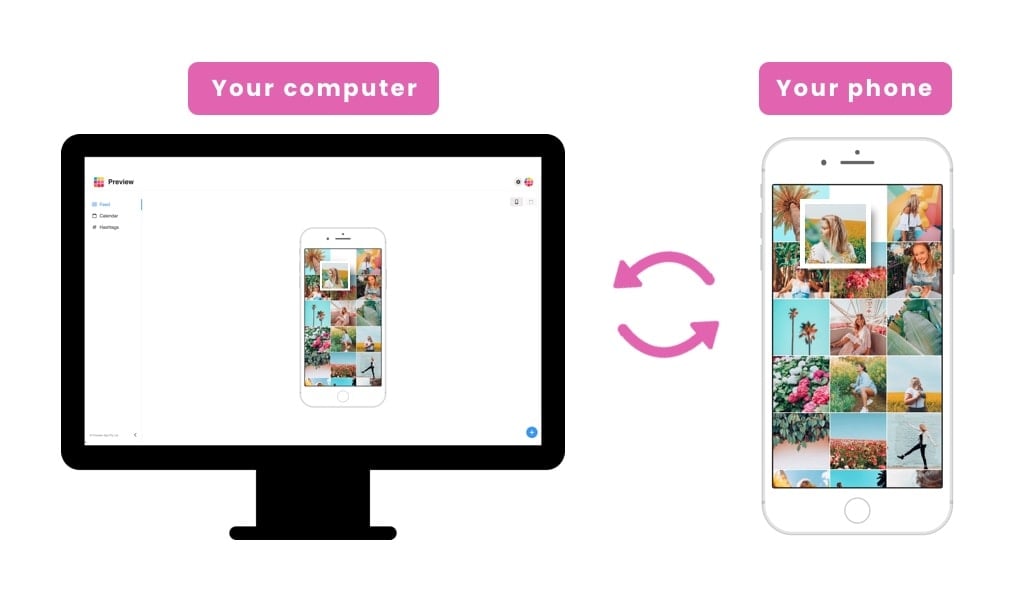 I will show you everything, so that you can plan with confidence, by yourself, or with your friends or with your team.
Ready?
As always, you can upload as many photos, videos and carousels as you want (unlimited).
Press on the "+" button
Drag and Drop your photos on the screen to upload them
Or upload posts from Dropbox or Google Drive.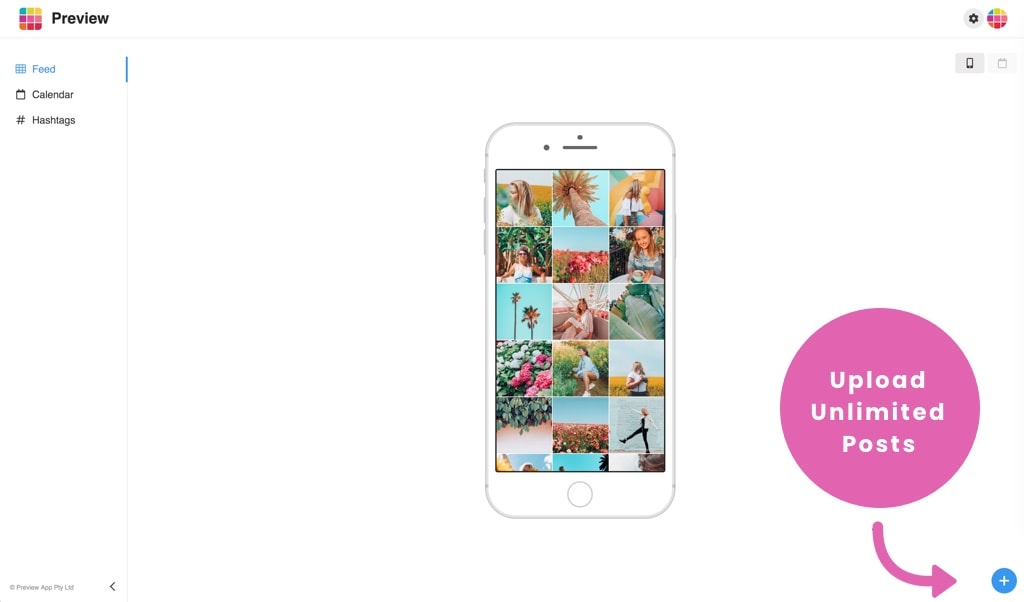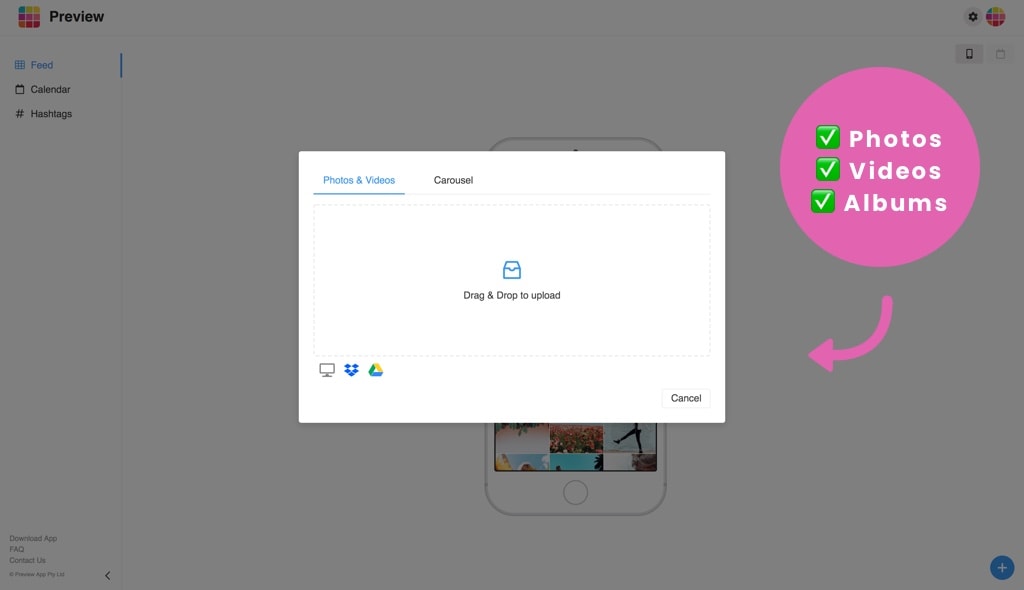 Carousel = also known as an Instagram photo album, where you can add multiple photos/videos into a single post.
Press on "Carousel"
Upload your photos/videos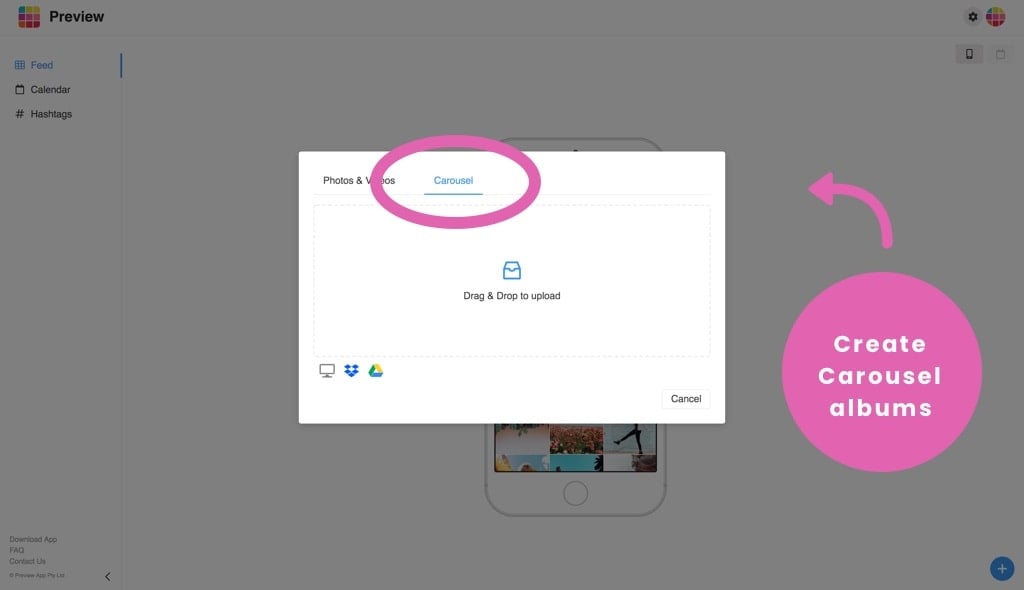 3. Rearrange the order of your posts
There are 3 ways to rearrange your posts in your grid:
Drag and Drop: Select a post and drag it somewhere else in your feed
Swap: Select 2 posts and press on the "Swap" button (the arrows)
Shuffle: Select more than 2 posts and press on the "arrows" button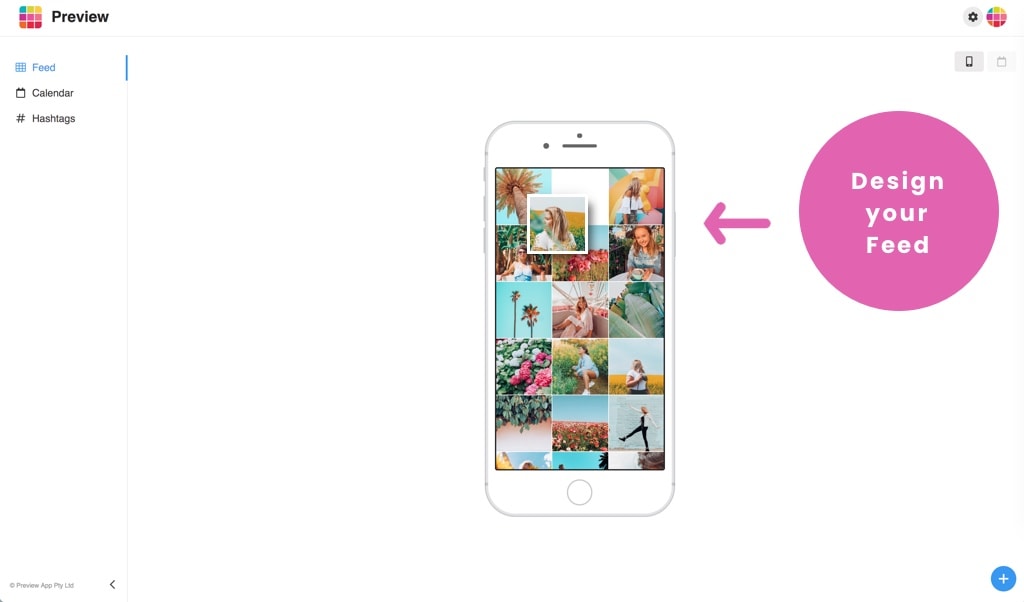 4. Add (or remove) phone around your Preview feed
Make your Preview feed even more real: add a phone around it.
Press on the "phone" button

Choose a phone (Android or iPhone)

Don't want a phone? Press "None"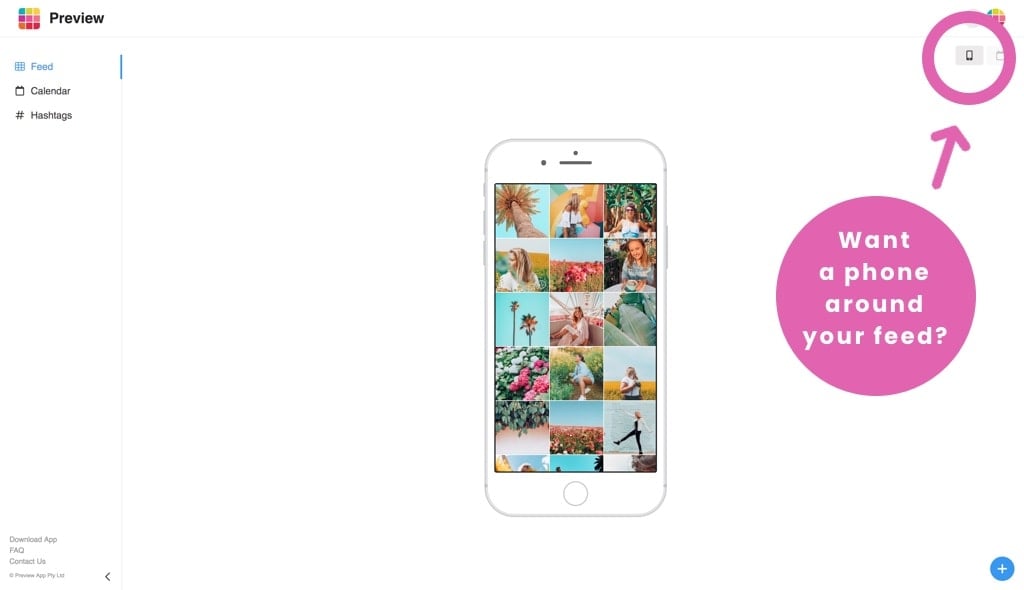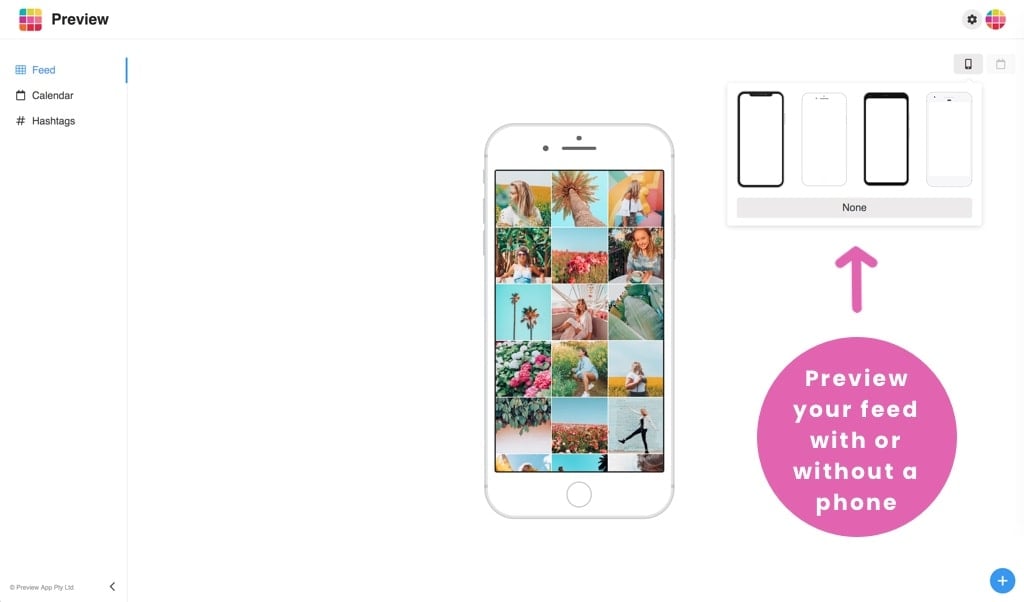 5. Calendar with Social Media Holidays
Press on the calendar button to see your Content Calendar.
Here you will see 2 things:
Your scheduled Instagram posts (if you have already scheduled some), and
Fun Social Media Holidays to help you plan your content around these dates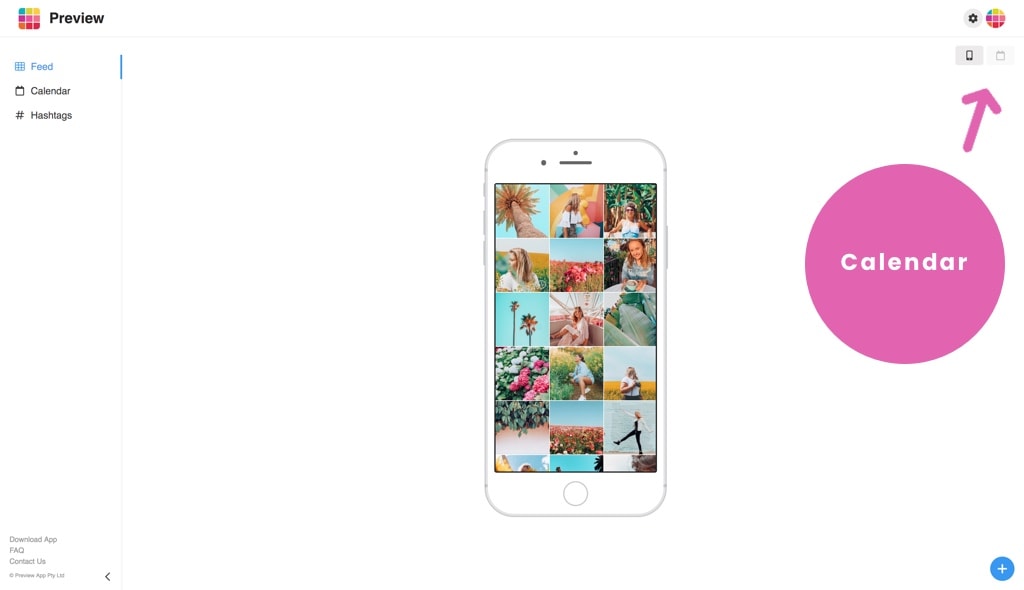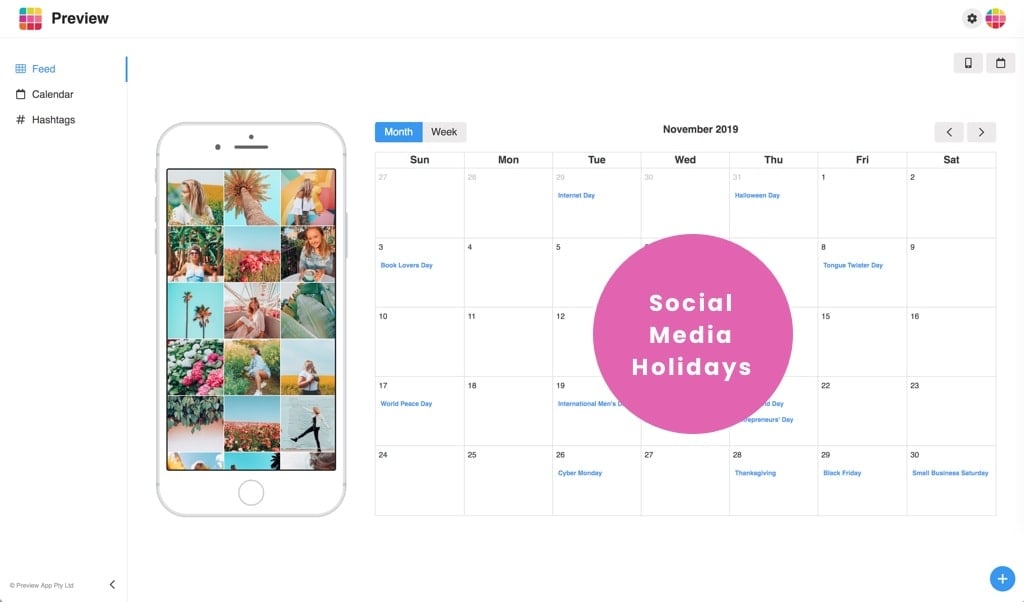 6. Schedule Instagram posts quickly
Want to schedule Instagram posts?
Just drag and drop a post from your Feed to your Calendar.
Your post will be automatically scheduled for that day.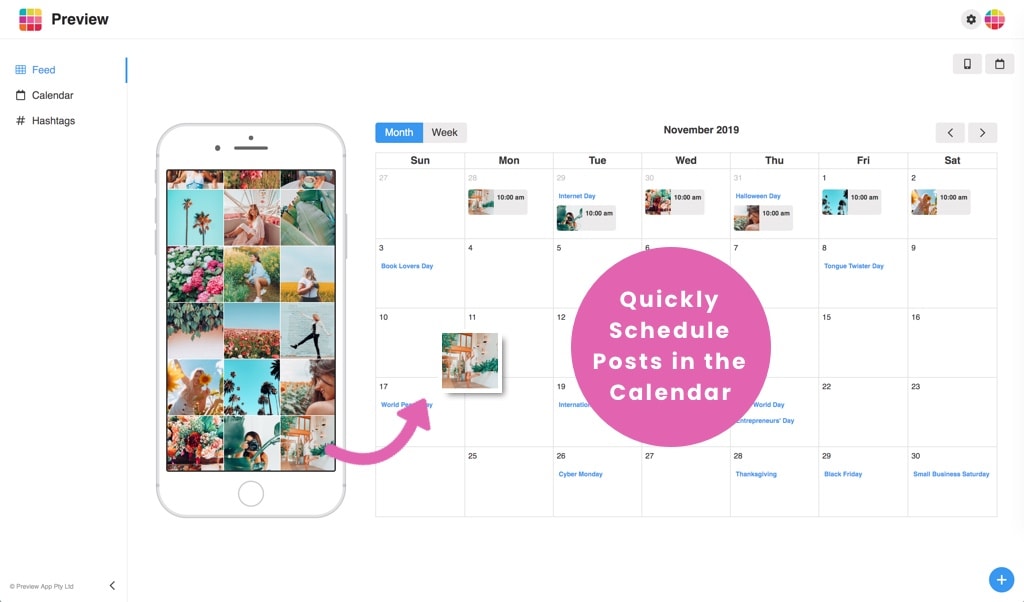 To write your caption:
Click on the post
Press on the "caption" button
Write your caption
Or (if you already have the post in your calendar): Click on the post in your Calendar.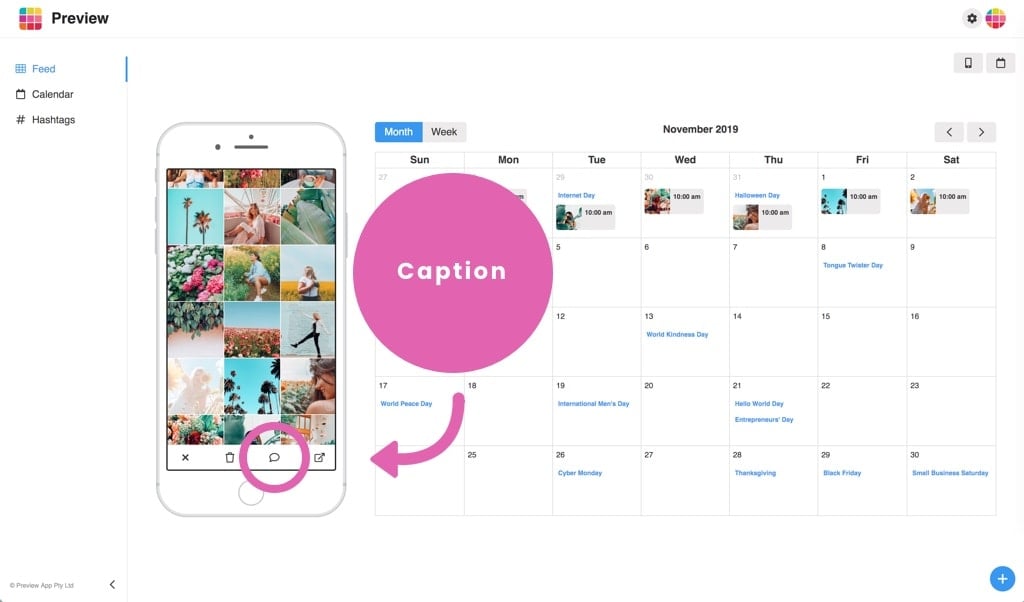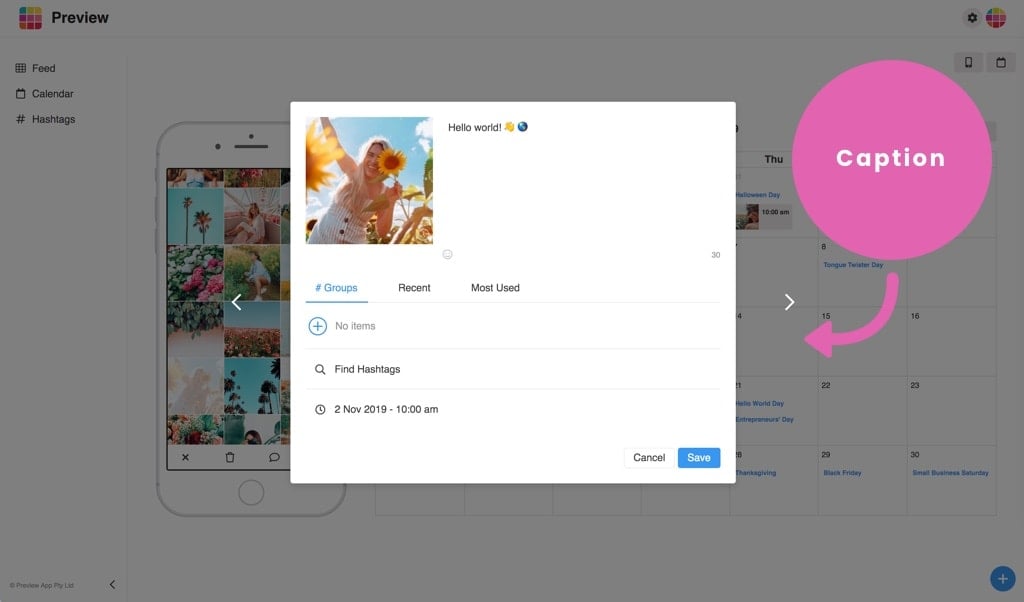 Need help finding Instagram hashtags?
We hand-pick and select the best Instagram hashtags to help you grow and connect with the right community.
Click on "Find Hashtags"
Type what you're looking for in the Search bar (for example: "Travel")
Click "Add All" to add all the hashtags in your caption, or
Click on any single hashtags you want to use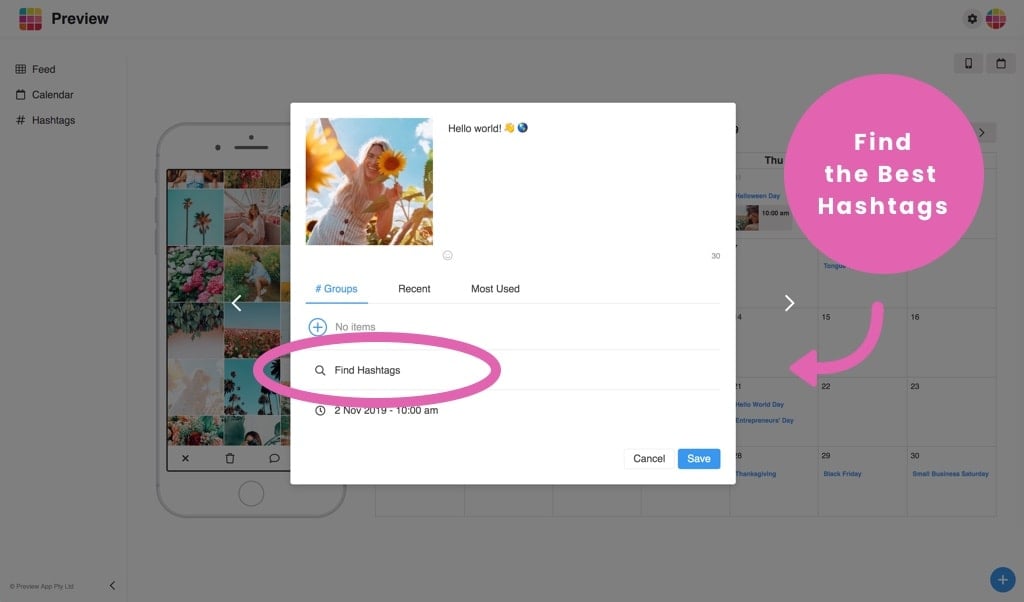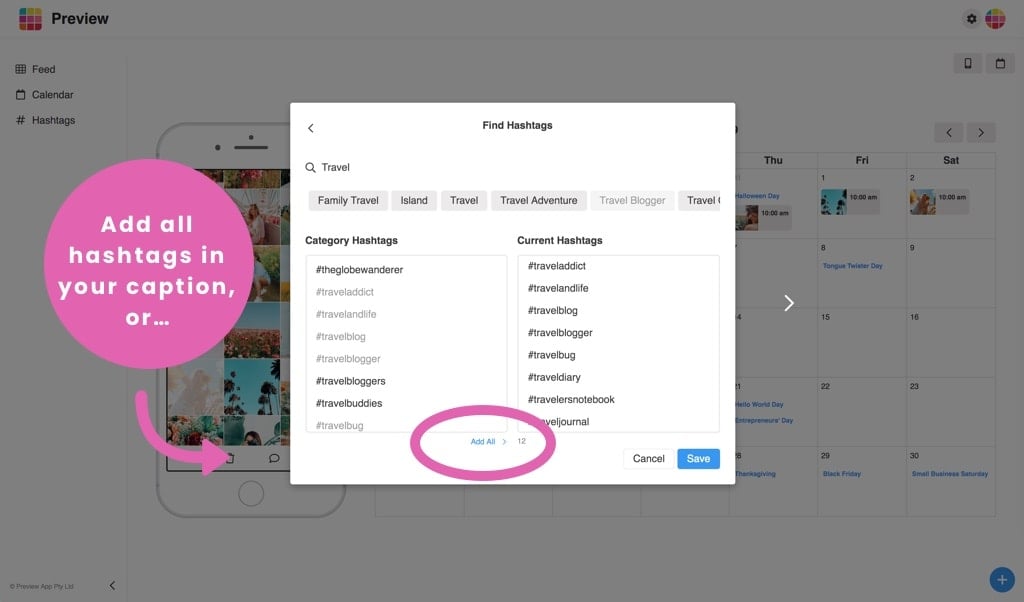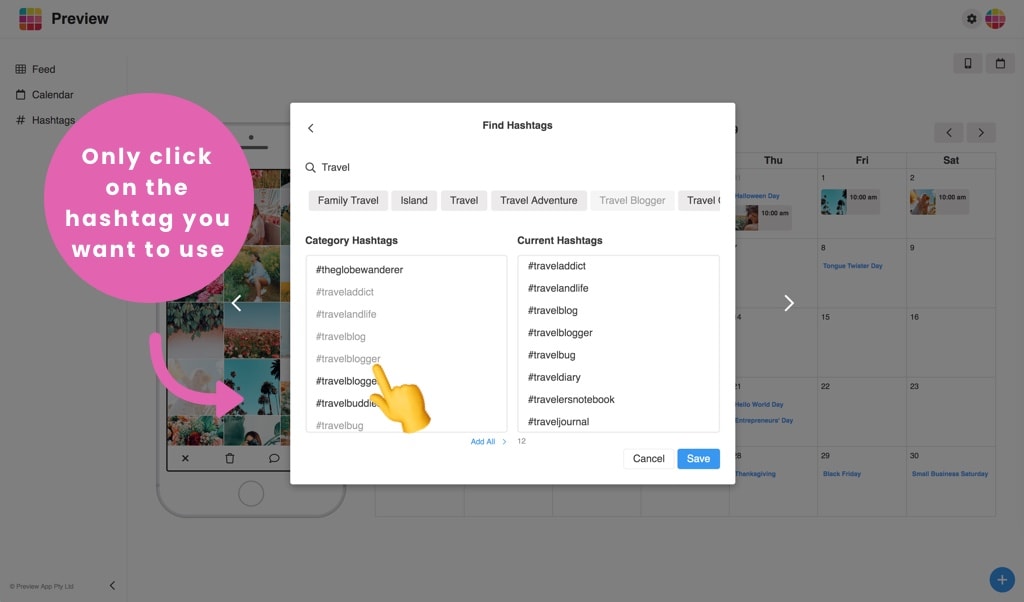 Save time. Save hashtag groups.
This way you won't have to type every single hashtag, every single time you plan a new post.
To save a hashtag group:
Write your hashtags in the caption
Press on the + button
Give a name to your hashtag group
Save!
Done.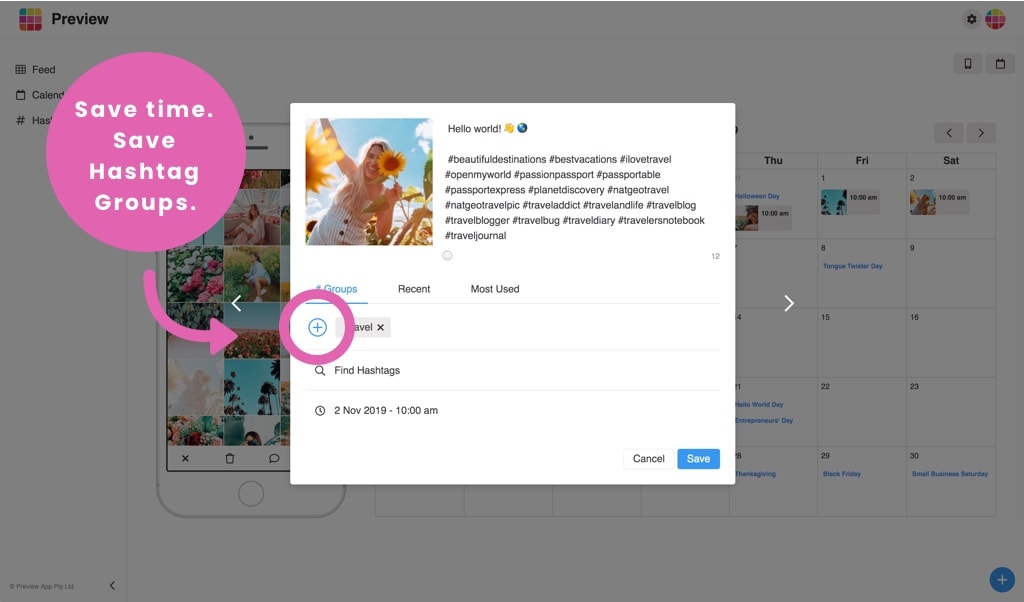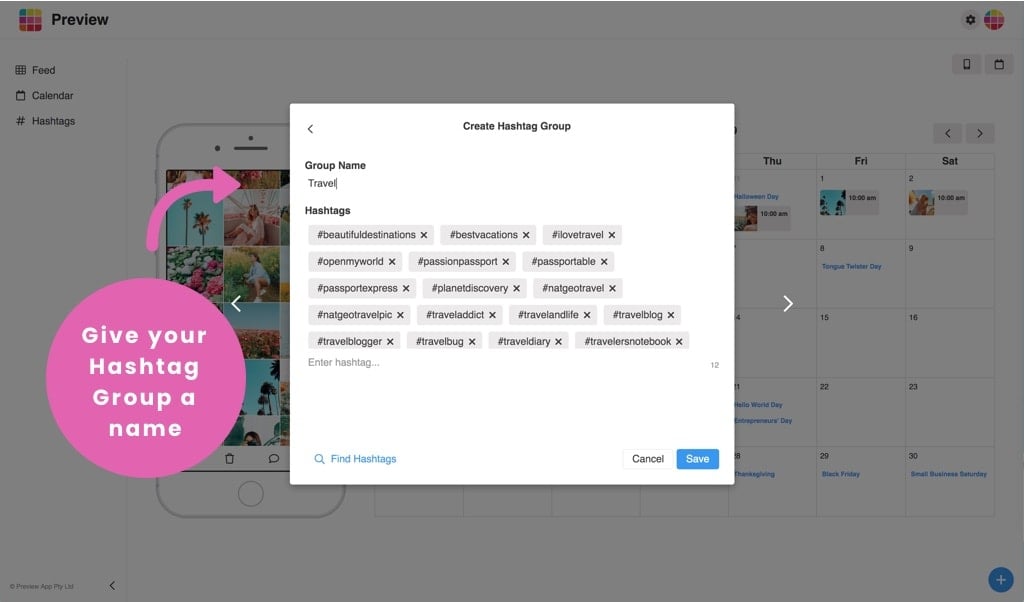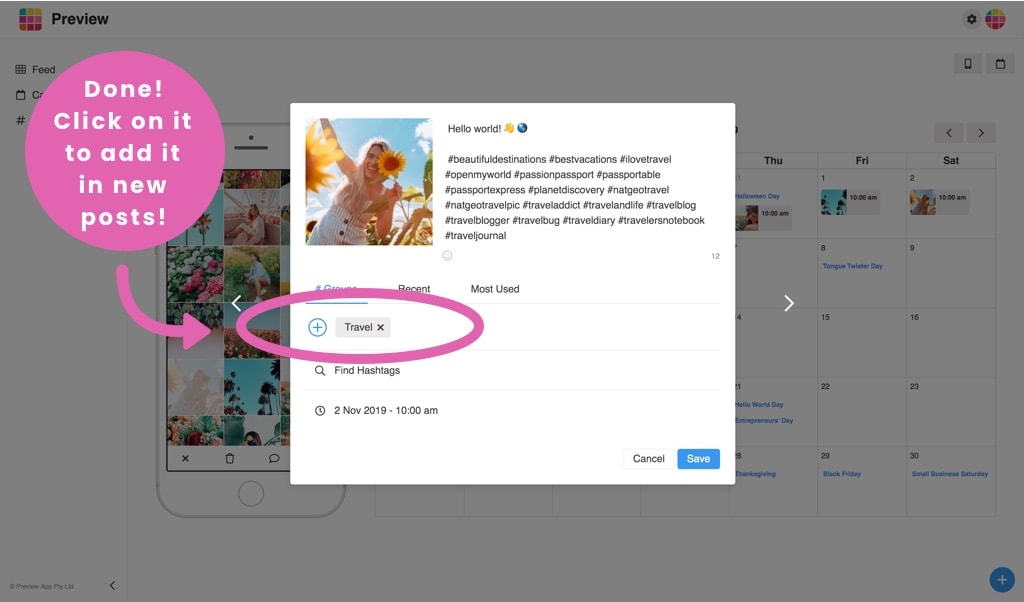 Next time you prepare a new post, just click on your hashtag group to add it in the caption.
Schedule your Instagram post. Choose a day and time.
11. Schedule for different timezone
Perfect if you are a Social Media Manager and have clients from all around the world (or if you're going to travel).
Don't waste your time calculating when to schedule Instagram posts.
Press on the country name
Select the country
Done.