Welcome back to our Instagram blog!
There's a strange thing happening on Instagram lately.
Instagram Reels Drafts disappear on some accounts.
Maybe it happened to your account. If that's the case, the big question is: can you get them back?
Let's get straight into it:
Why does Instagram delete Reels Drafts?
How to recover Instagram Reels Drafts? (4 ways)
How to make sure your Reels drafts don't disappear again.
Let's start.
Tip: Save our Instagram Reels Drafts in Preview App. You can plan your Reels feed, captions, hashtags and cover images. So if anything happens to your Instagram account, you won't lose your Reels, captions and cover images.
Why Instagram deleted Reels Drafts?
The big question: "Why did my Reels Drafts disappear?"
So far we don't know why Instagram Reels Drafts are disappearing. It could be a bug. Some people say it started happening after an Instagram update in April 2021.
We are now in June 2021. It seems to still be happening for some people. So let's check what we can do to recover deleted Reels Drafts.
How to recover Instagram Reels Drafts if they disappeared?
Let's see if your Reels Drafts are still somewhere on your account.
There are 4 places your Reels drafts could be.
1. Update your Instagram app
First, go to your App Store or Google PlayStore app.
Check if you have the latest version of Instagram installed on your phone. If there is an "Update" button, press on it.
Some people said that updating Instagram recovered their Reels Drafts.
If you have the latest version and your Reels are still gone, let's go to step 2.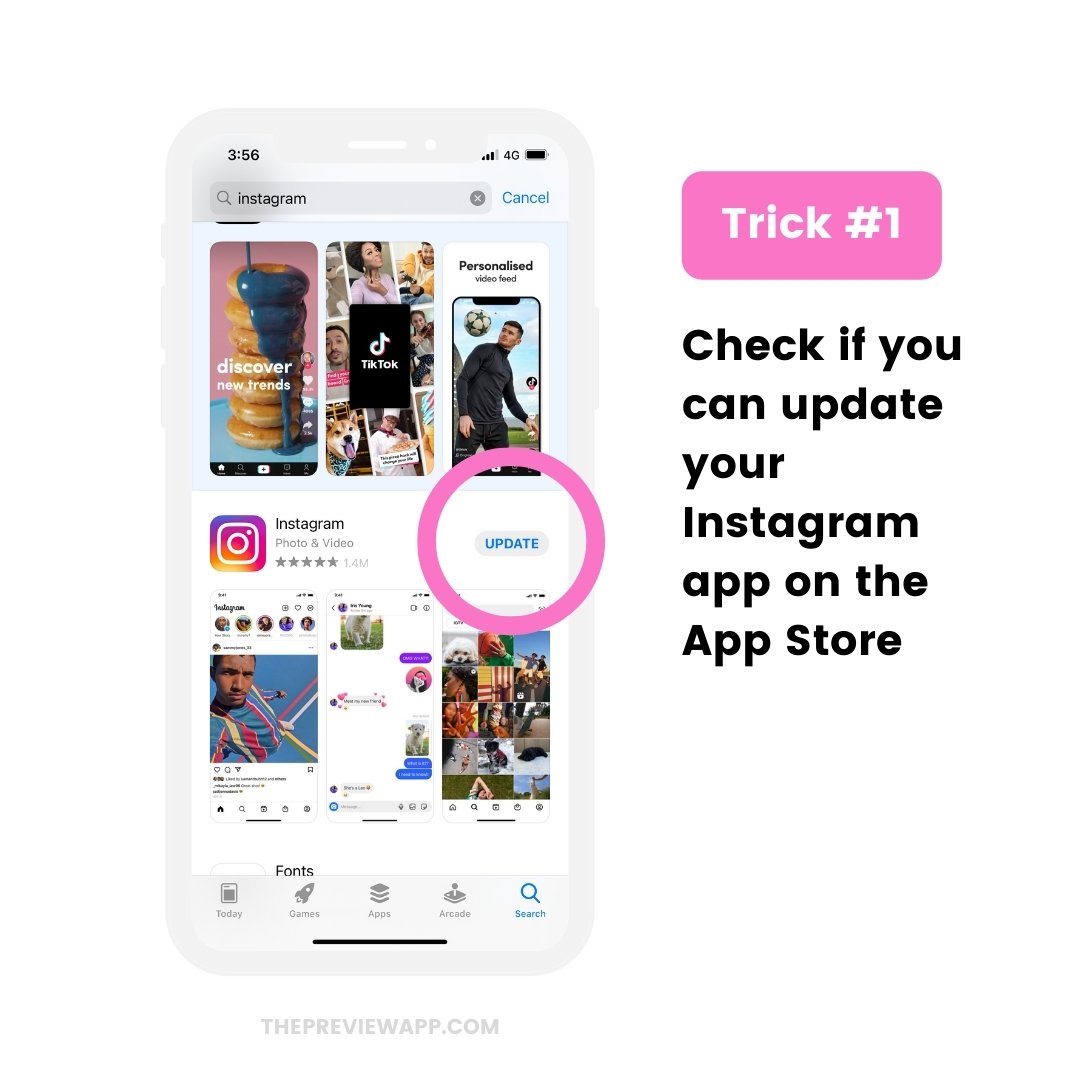 2. Check your Reels draft screen
Let's make sure we are on the same page and that your Reels Drafts are not in your actual Reels Draft Folder.
Open your Reels tab
Press "Drafts"
If you don't see your Reels Drafts, check the next 2 places.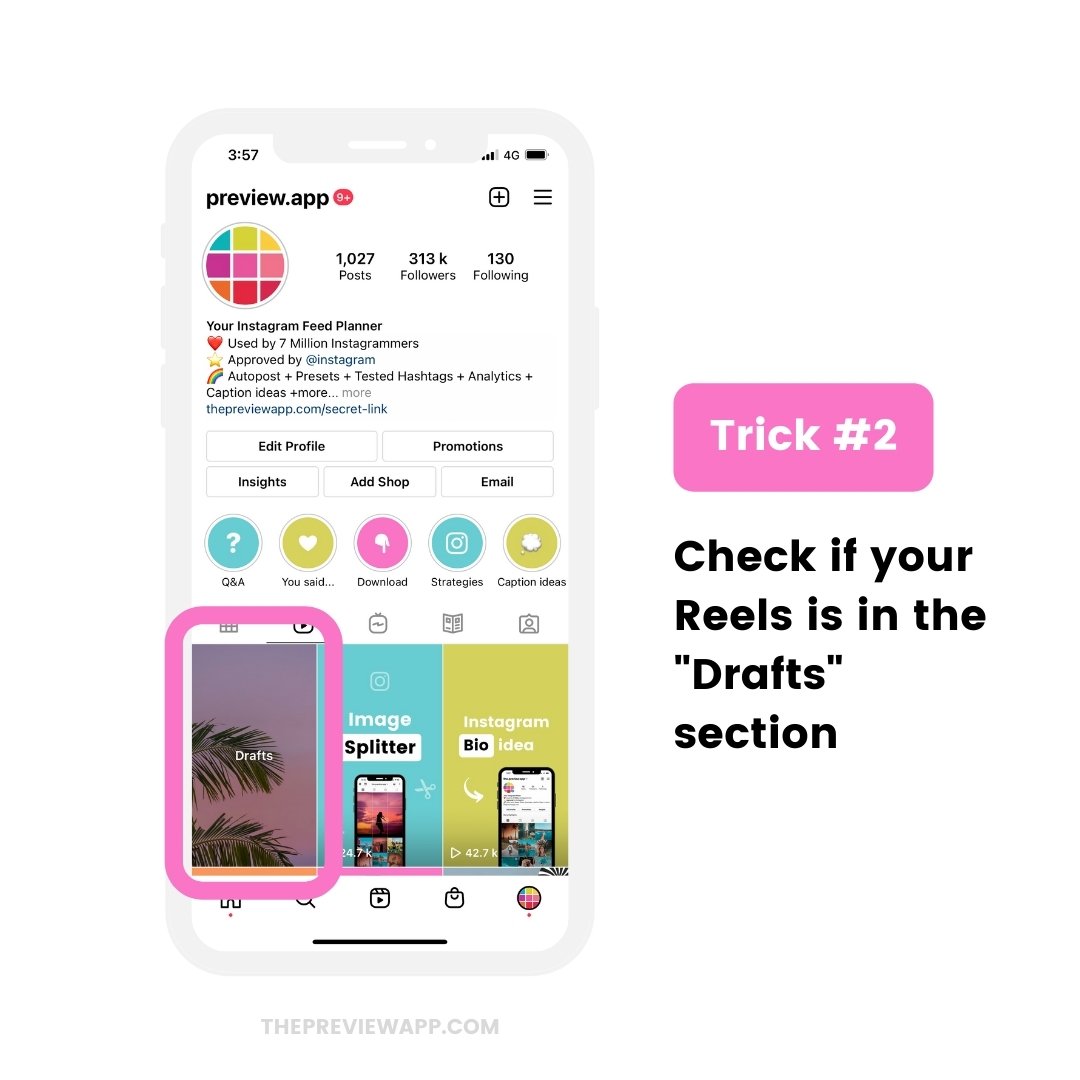 3. Check your deleted folder
Instagram has a new feature that allows you to recover deleted posts within 30 days.
Let's check if your deleted Reels appear there:
Open your Instagram Settings (the three lines on top of each other in the top right corner of your profile screen)
Choose "Account"
Scroll to find "Recently Deleted"
 
If you see your Reels Draft:
Press on the three dots "…"
Press on "Restore"
If you don't see your Reels drafts: let's check the last place where it could be.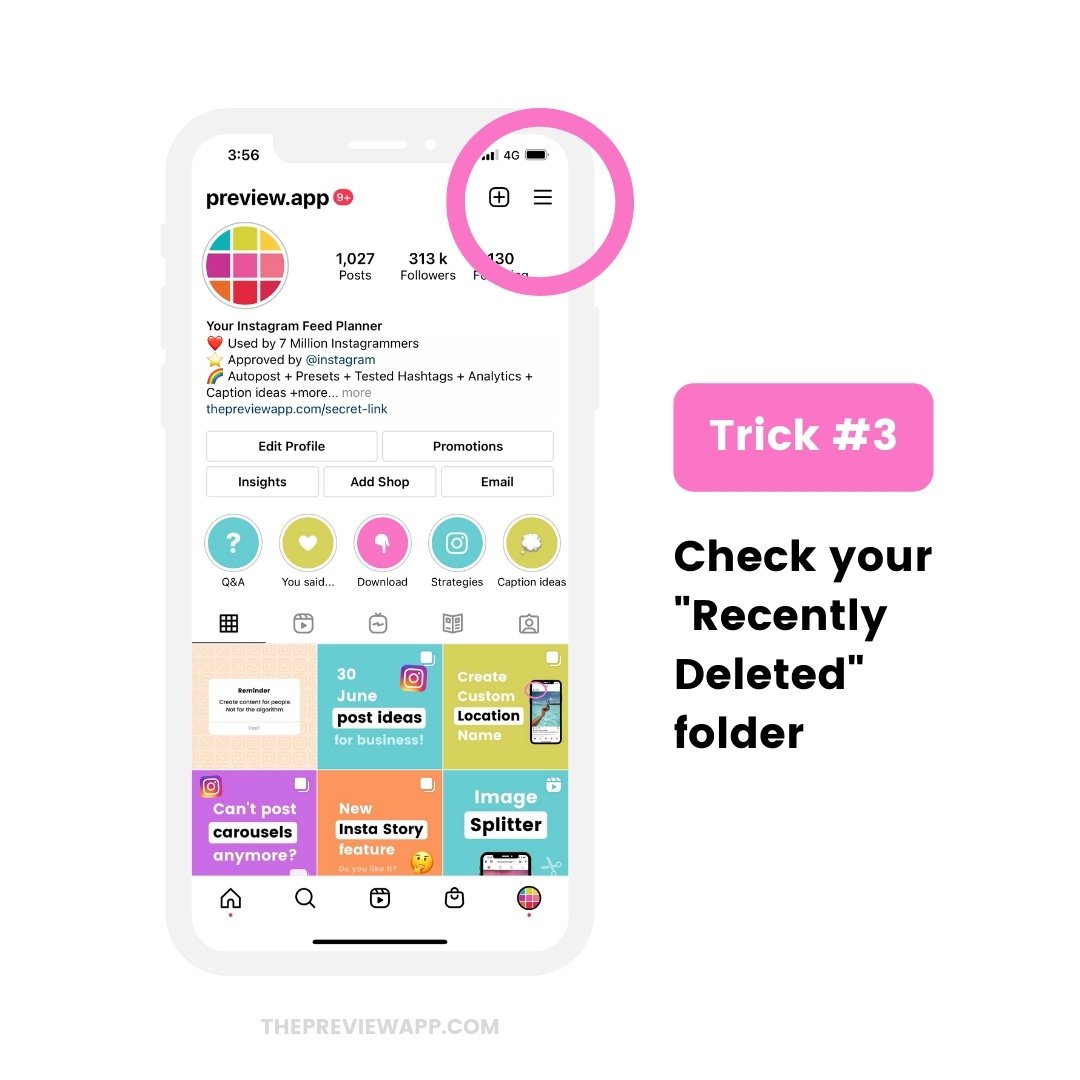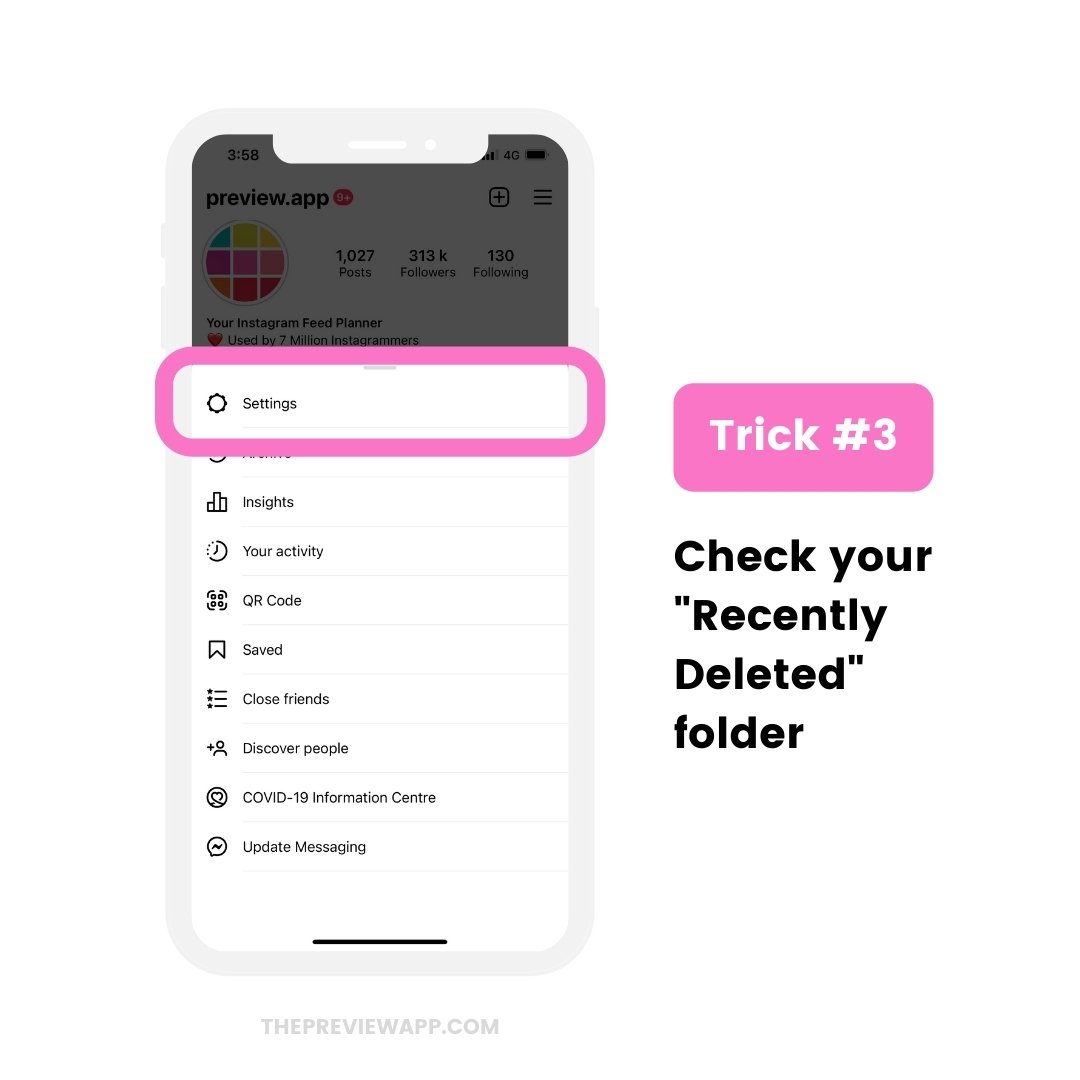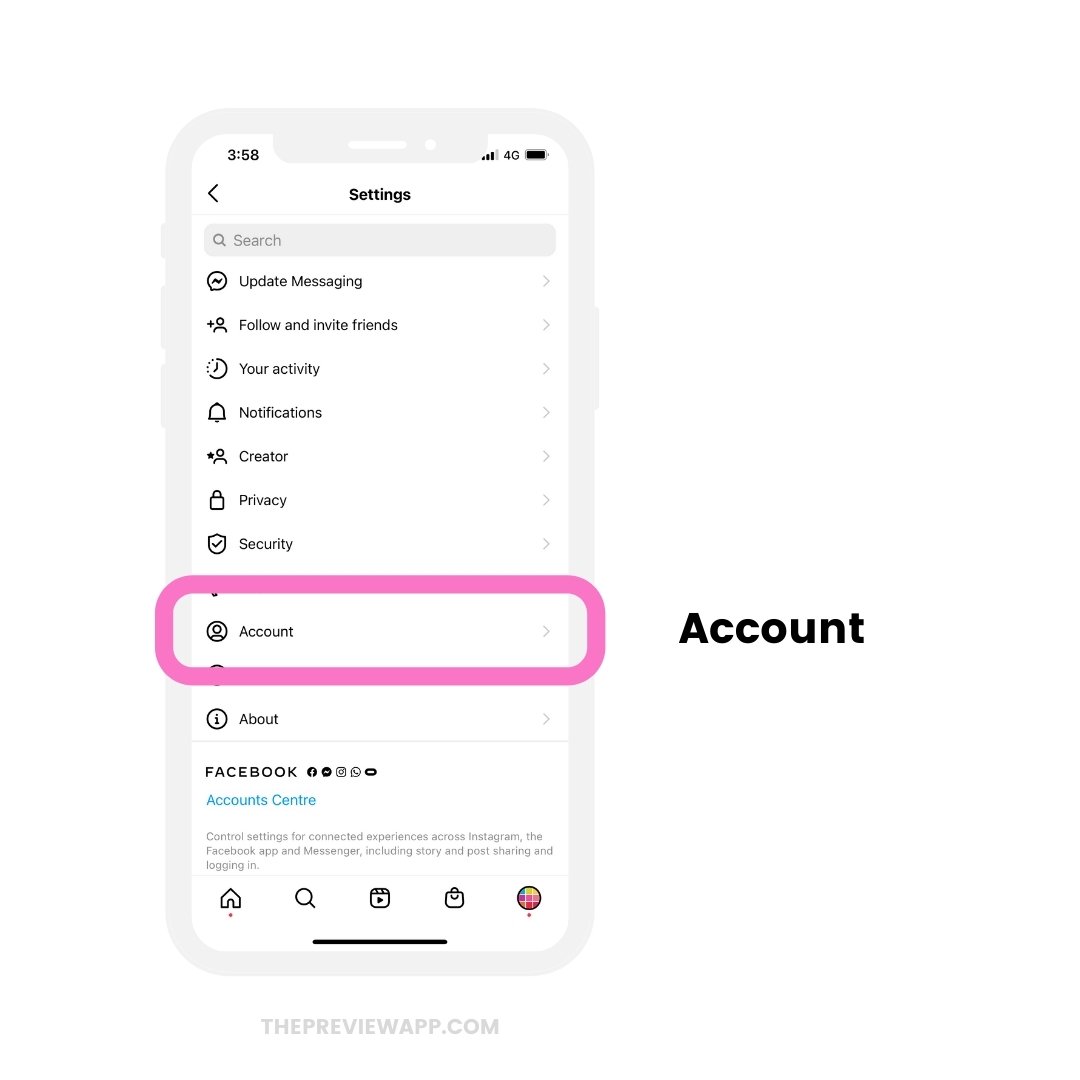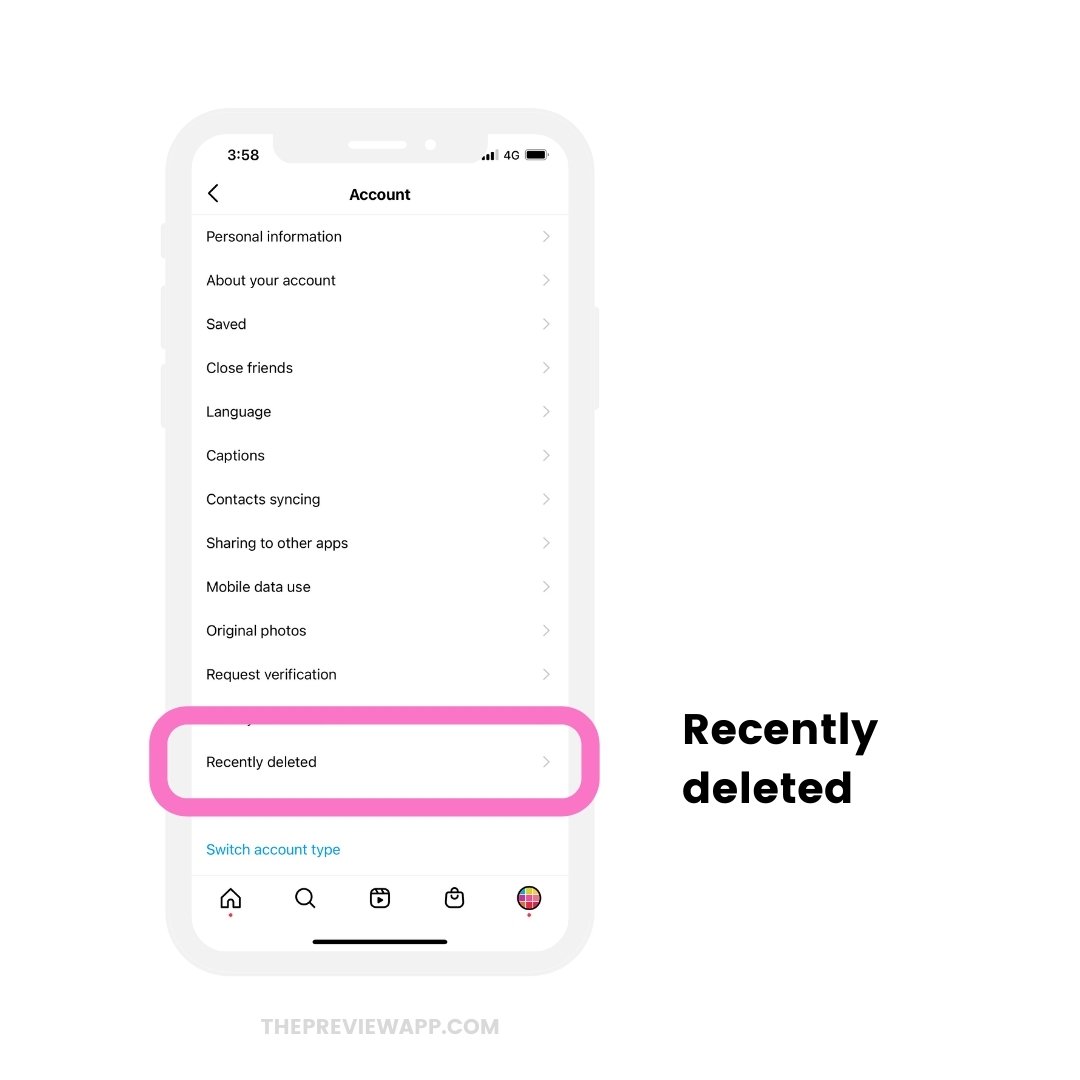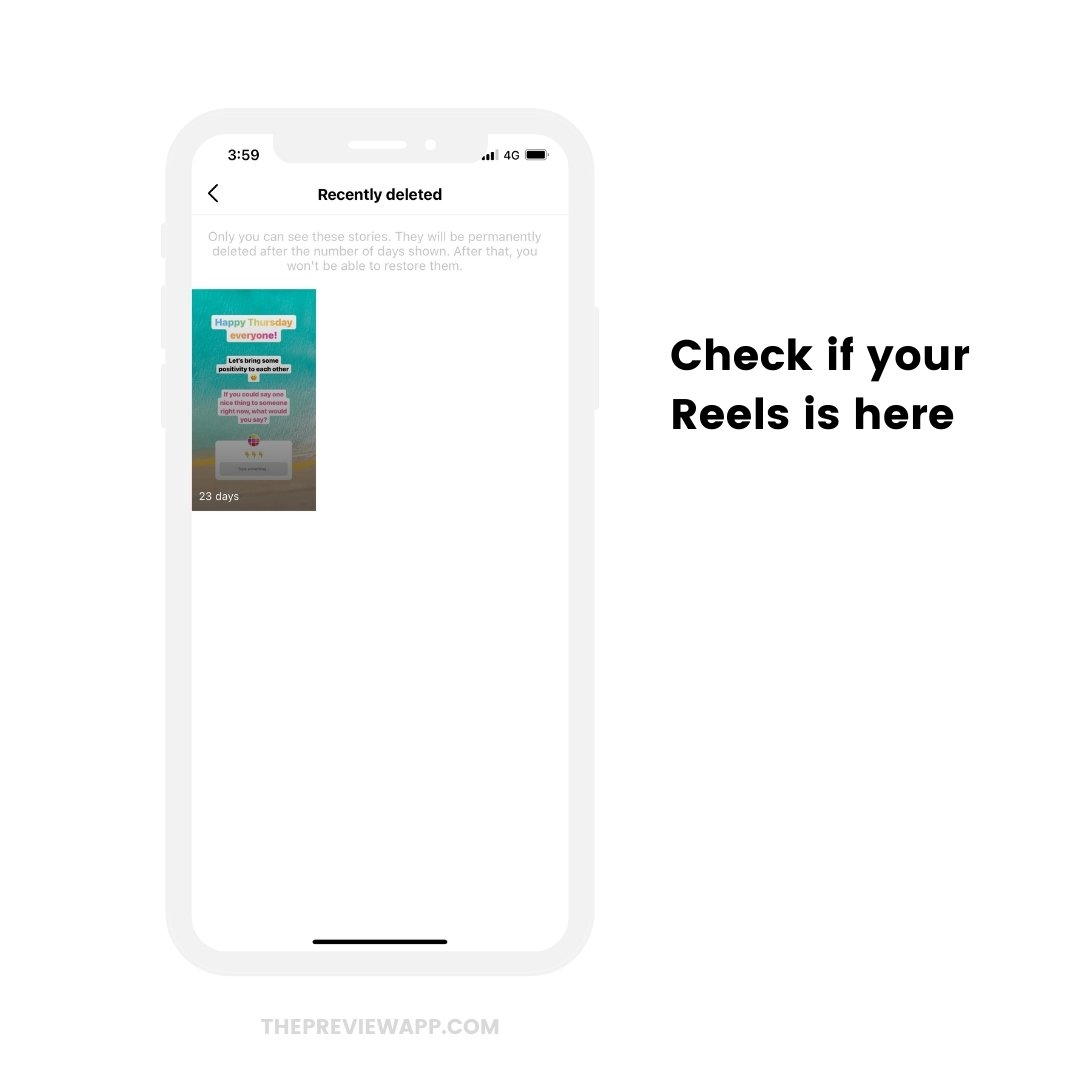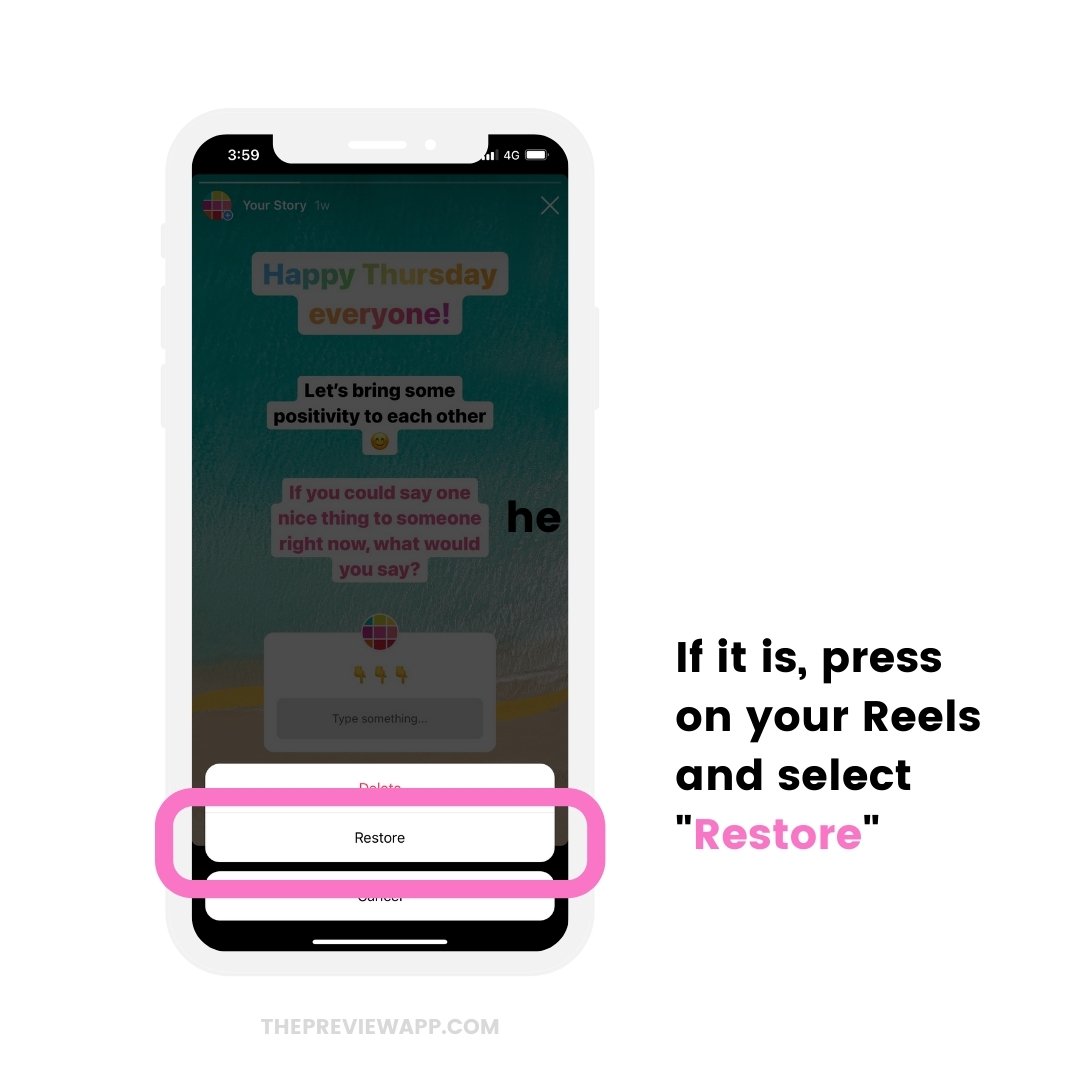 4. Check your Reels upload screen
If you were in the process of editing a Reels and left your phone fall asleep or accidentally closed your Instagram app, your Reels Draft might still be in the Reels upload stage.
Open your Reels upload screen
If a pop up might appear that says "Continue editing your video?"
Tap "Continue"
If you see this message: you can breathe. Your Reels Draft is recovered. You can continue editing your video. Keep scrolling for an extra Reels Draft tip.
If you don't see any draft: I'm so sorry. At the moment I don't know any other tricks to recover your Reels Drafts. But I will keep you posted on our Instagram (@preview.app) if we find any other solution.
How can you avoid this from happening again?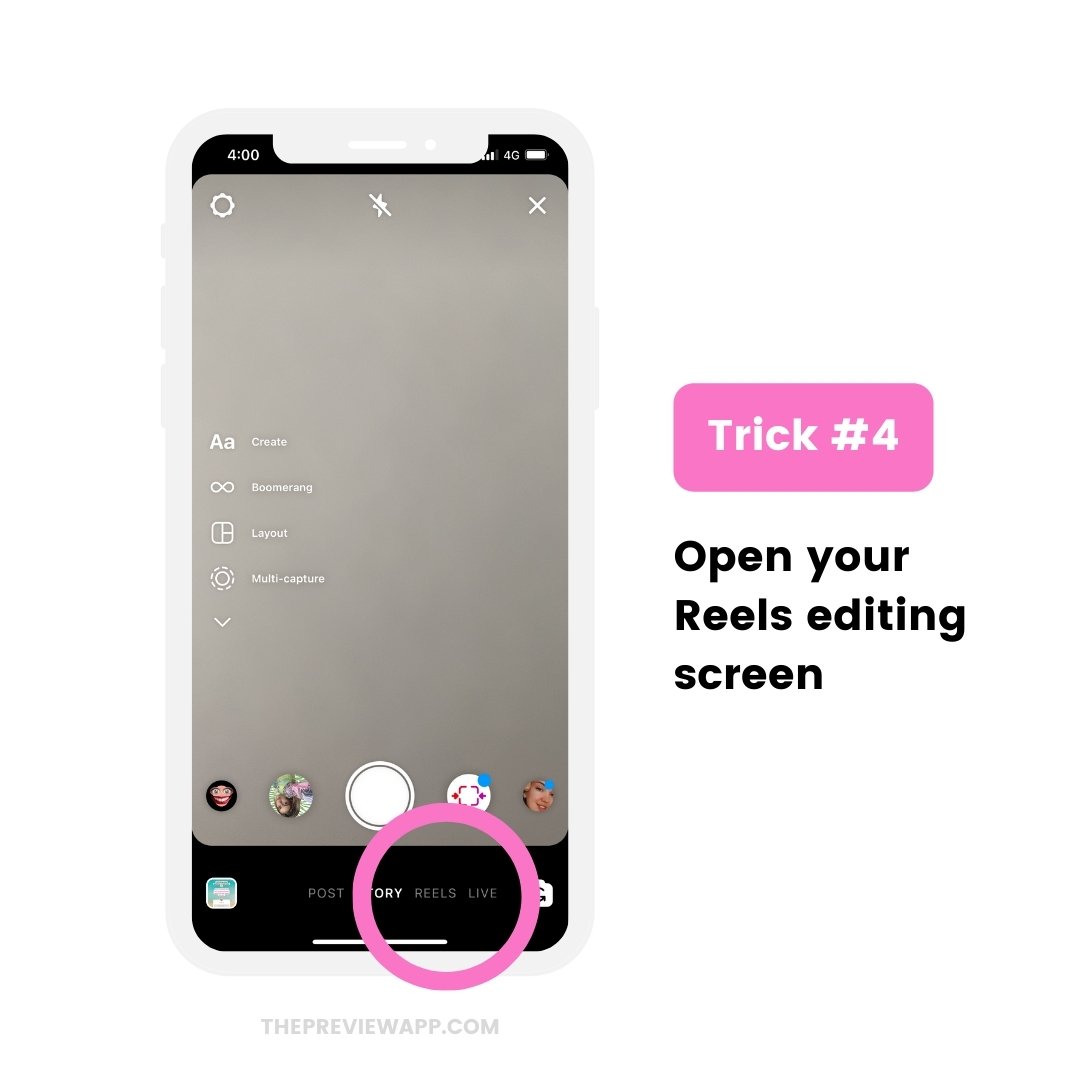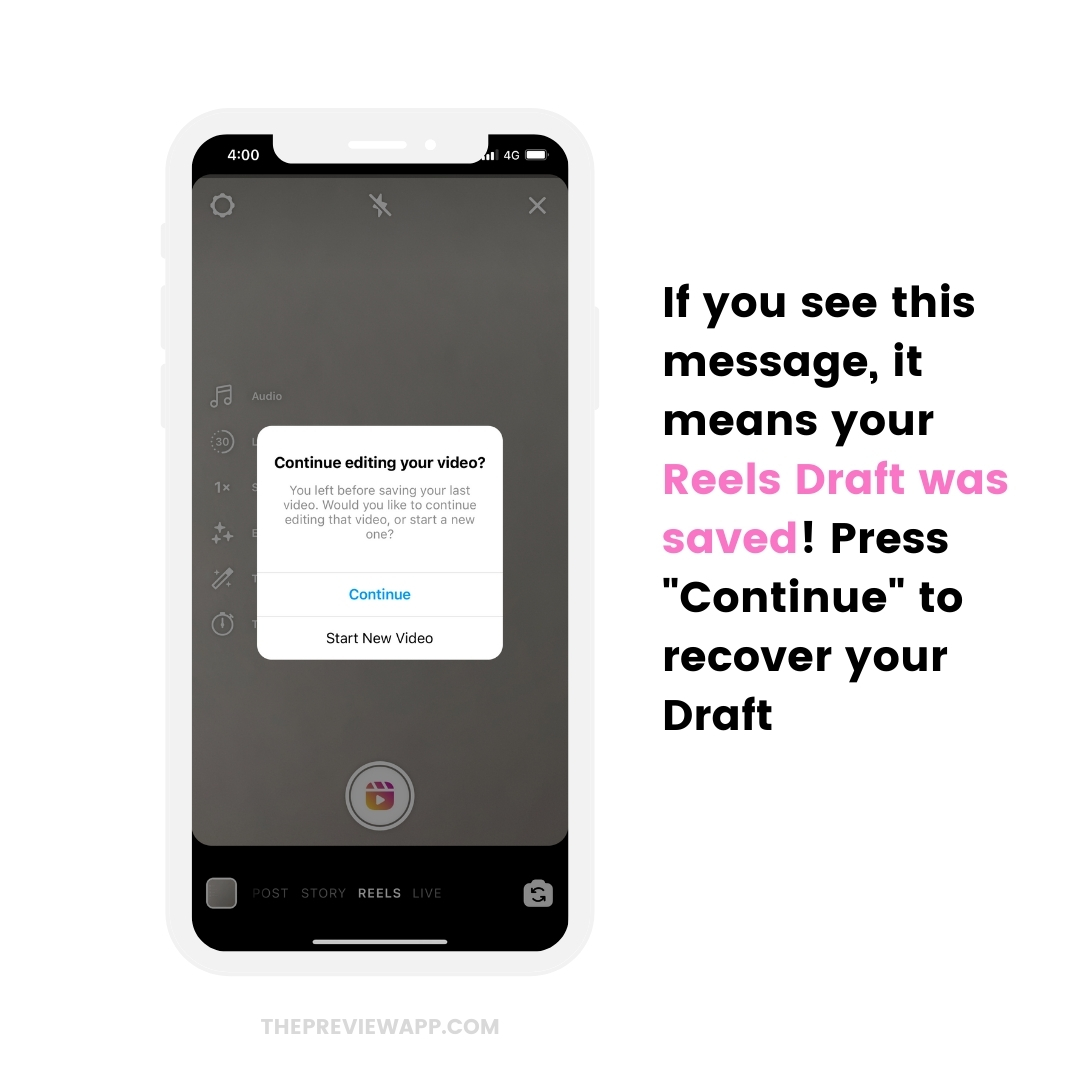 How to make sure your Reels Drafts don't disappear again
We never know if it could happen again. Instagram might have a bug one day that would cause you to lose your drafts.
Is there a solution?
The solution is to save your Reels draft.
Cool, but you might to:
Actually plan your Reels feed
Prepare your Reels caption
Preview your Reels feed before you post
Set different a cover images or change your thumbnail
In this case, you can use Preview App (tutorial below).
Preview has an Instagram Reels Planner on the phone app and on Desktop.
You can upload your Reels Drafts and post them later.
Frequently asked questions:
How many Reels can I upload?
As many as you want.
Can I choose my video thumbnail or set a cover image from my camera roll?
Yes. See the tutorial here.
Can I preview my Reels video with the rest of my Instagram feed?
Yes. Select the "Show in Feed" option. Your Reels Draft will appear with the rest of your posted Instagram feed and planned posts (if you want to plan photos, carousels and videos too).
Can I prepare my Reels captions?
Yes.
Can I prepare my hashtags?
Yes. There's also a "Hashtag Finder" feature. It's like an Instagram Hashtag Generator. All the hashtags have been handpicked by an actual human, not a robot or random AI. So you will get awesome suggestions if you ever need help choosing hashtags.
Can I save my Reels draft with the audio?
Yes. See the tutorial here.
Here is how to upload your Reels draft in Preview.
The steps are the same on the Desktop version (if you want to plan on your computer).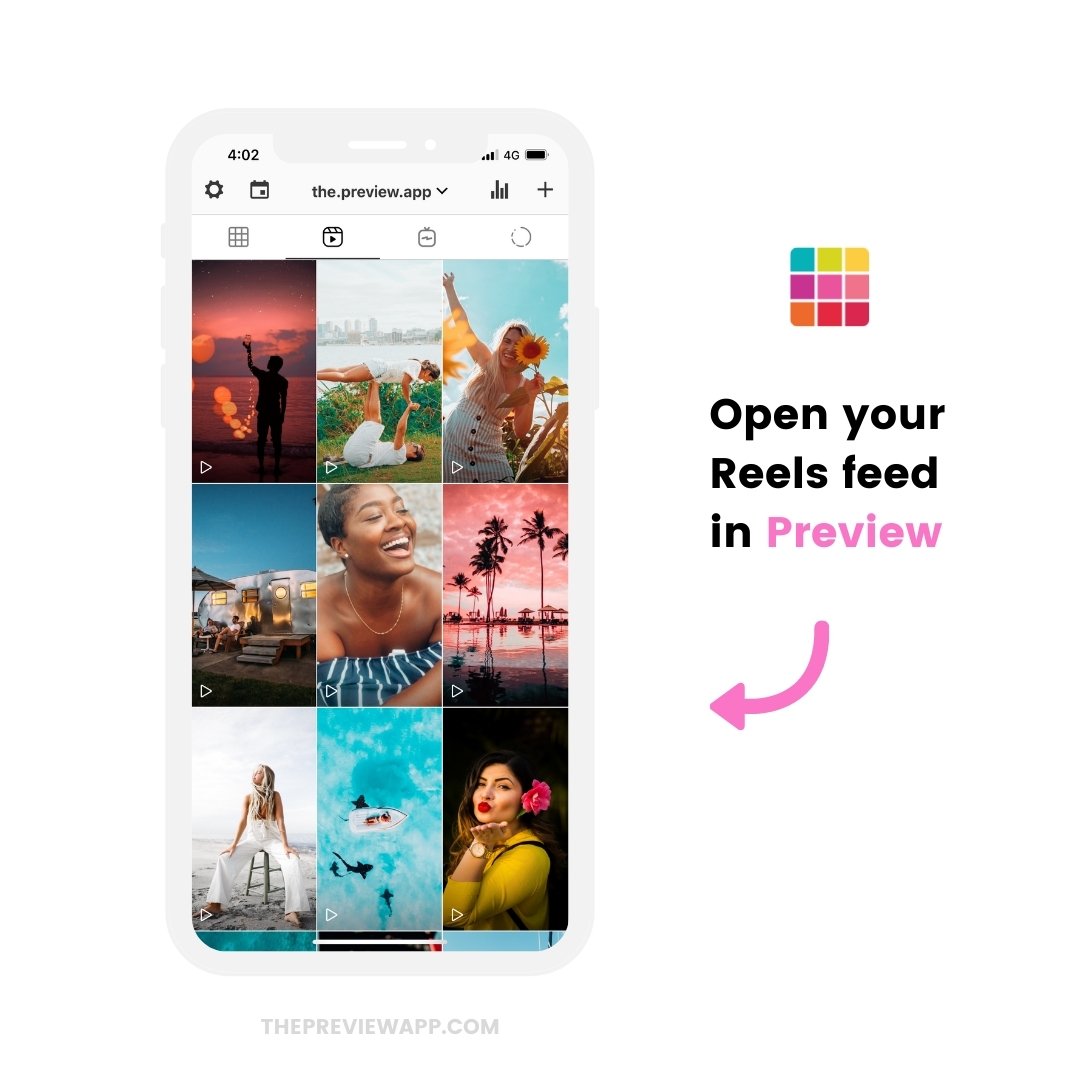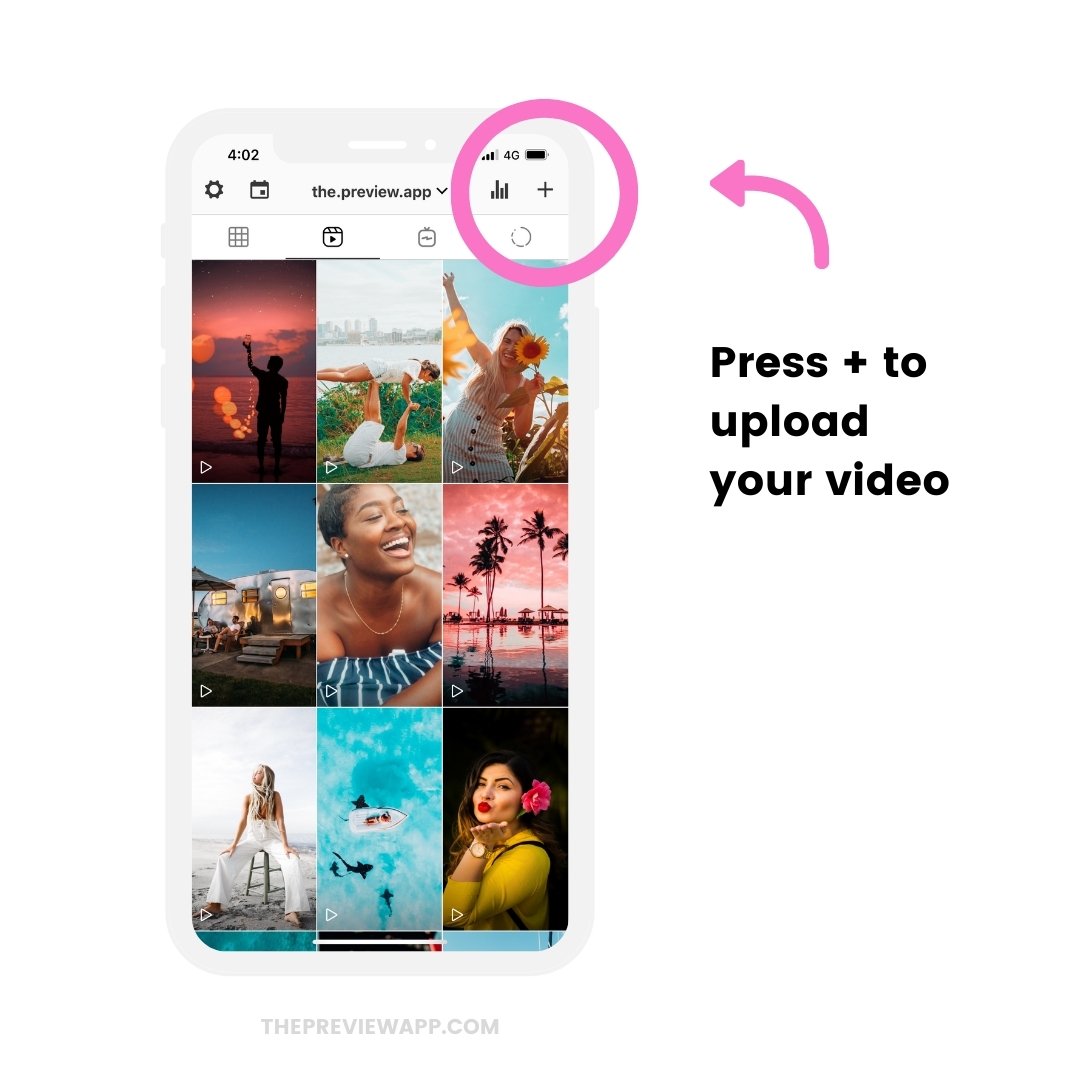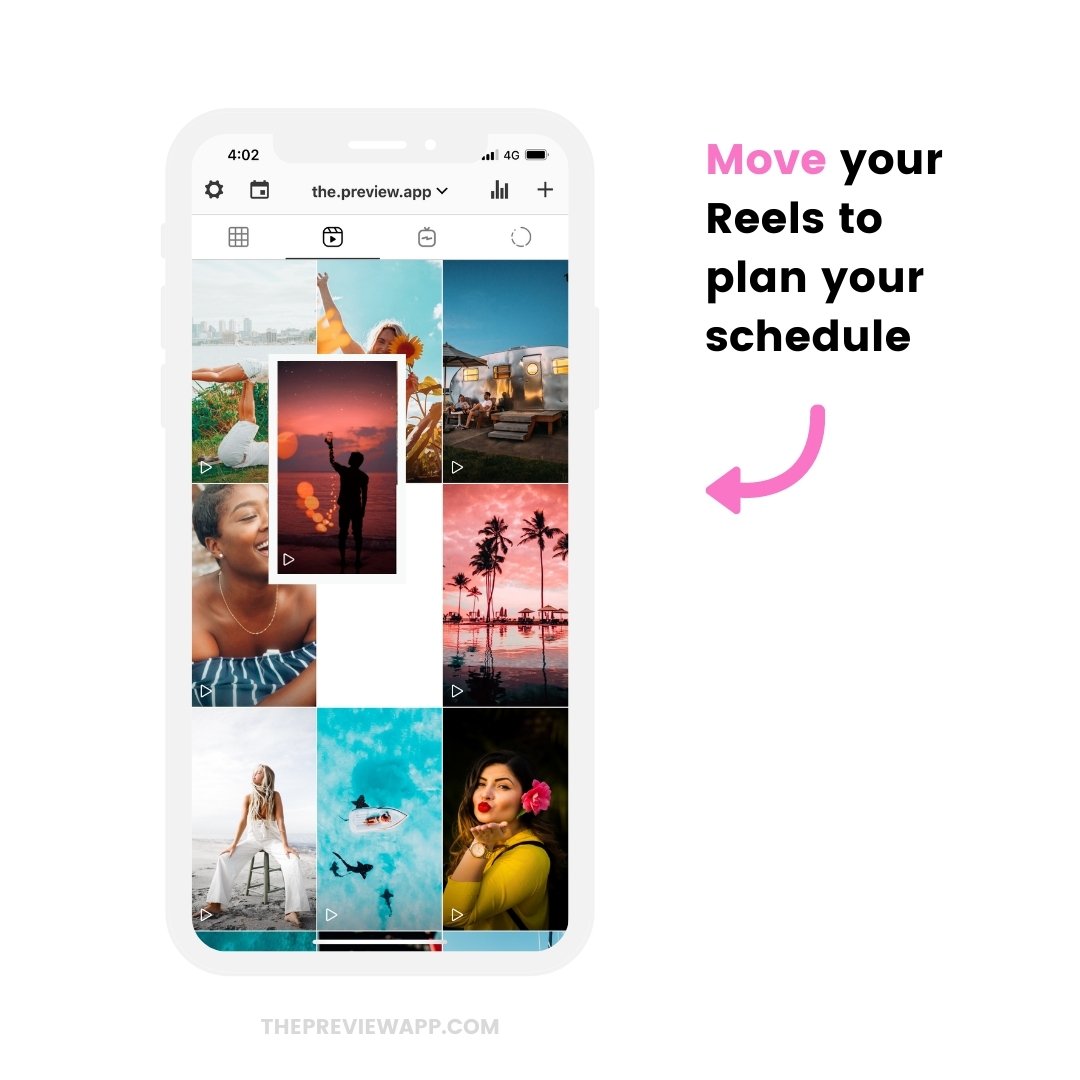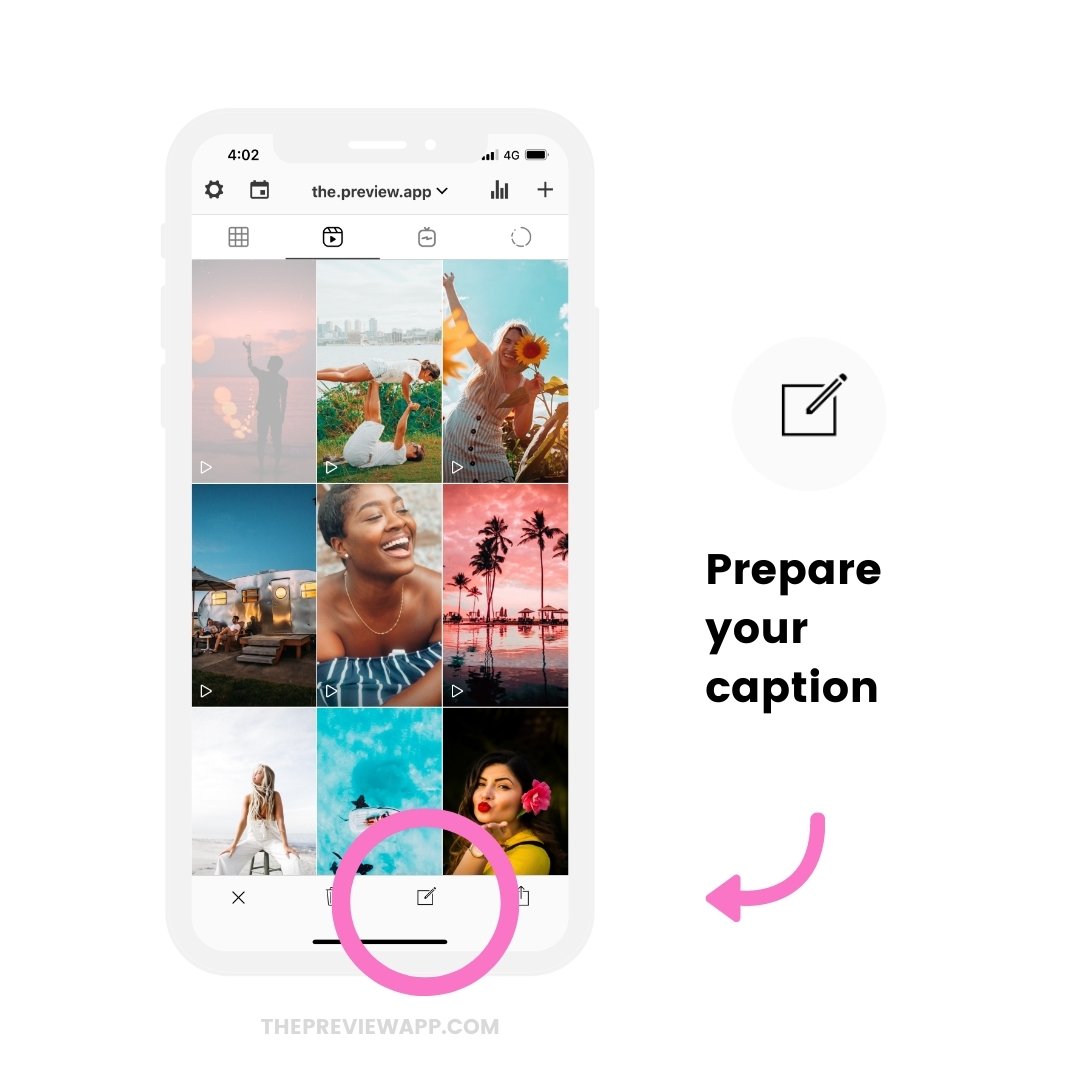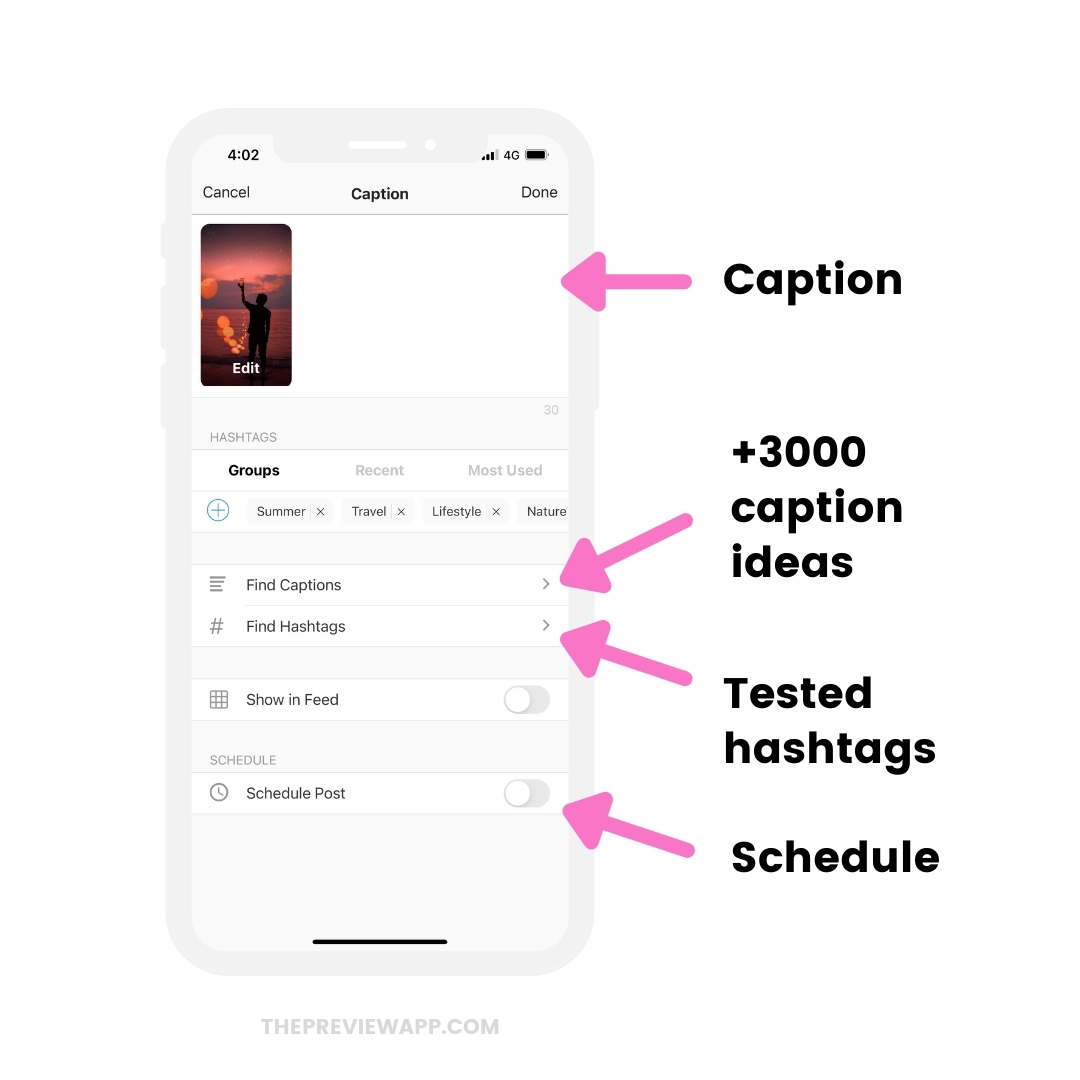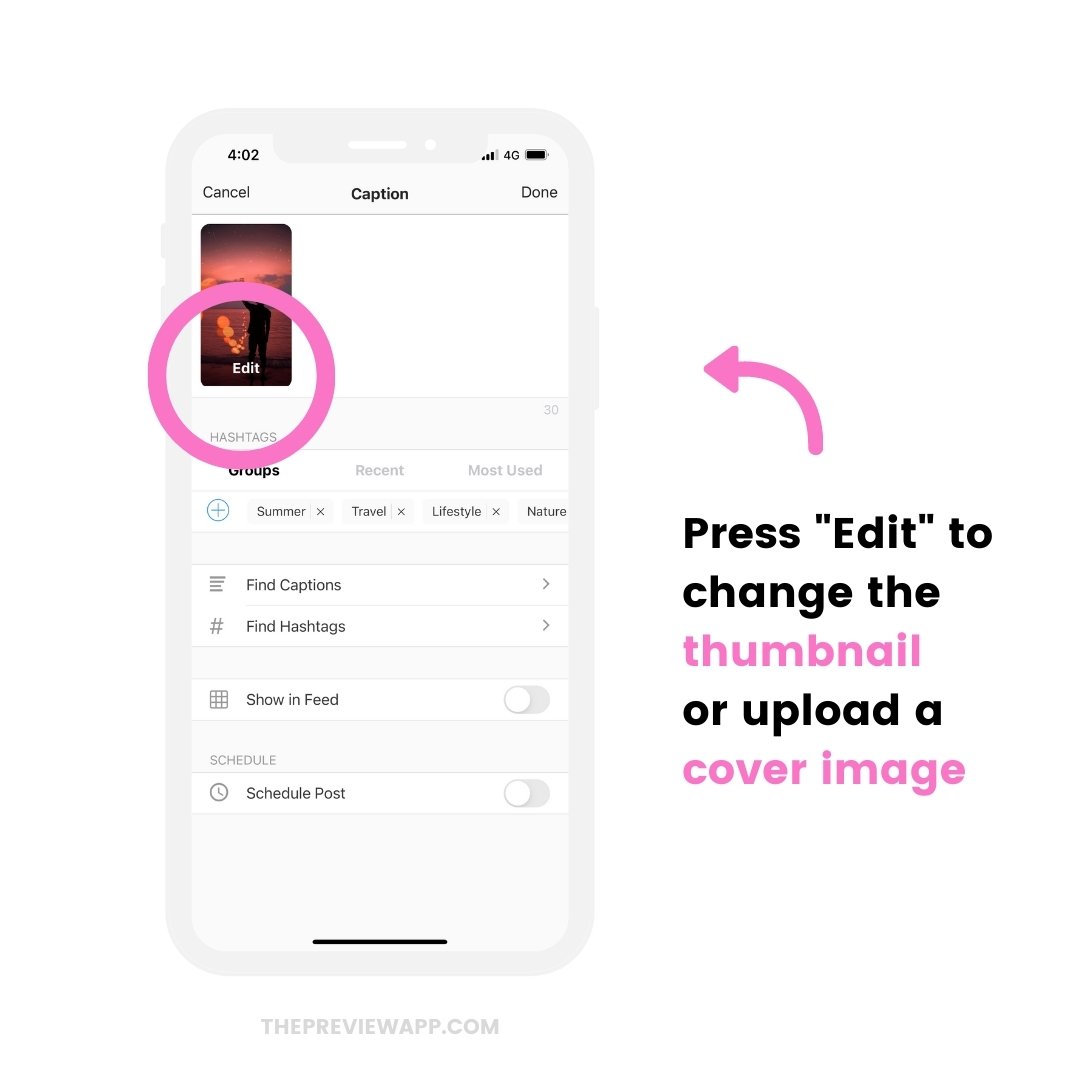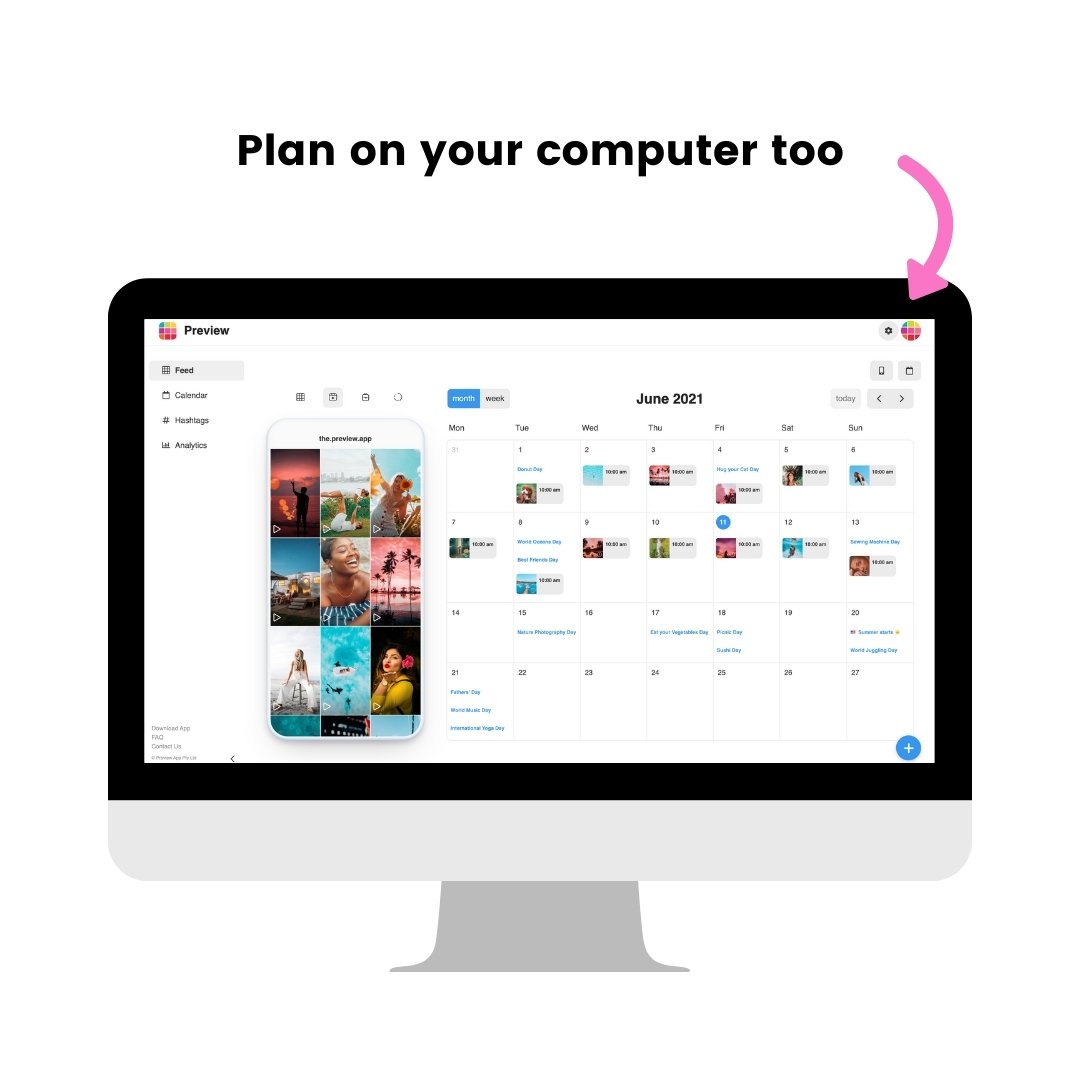 I hope one of the 4 tricks will work to recover your Instagram Reels Drafts.
Otherwise, get onto Preview to save your Reels and schedule them.
More tips: